You've probably seen photos of Bora Bora's overwater bungalows all over social media and travel magazines. The idyllic scenes include stunning blue water, white sandy beaches, and lively corals, all with towering green mountains in the background.
Friends, after visiting last month, I'm here to say it lives up to the hype. The wildlife, lagoons, and beautiful people all make it worth a visit. Here are my favorite things to do in Bora Bora:
Things to Do
Stay in an overwater bungalow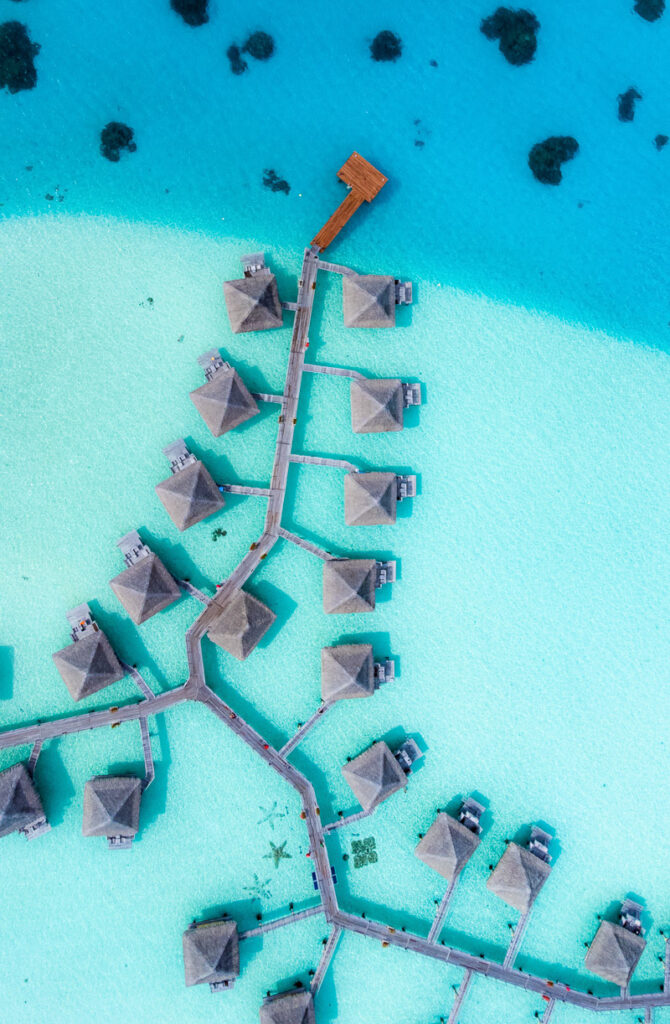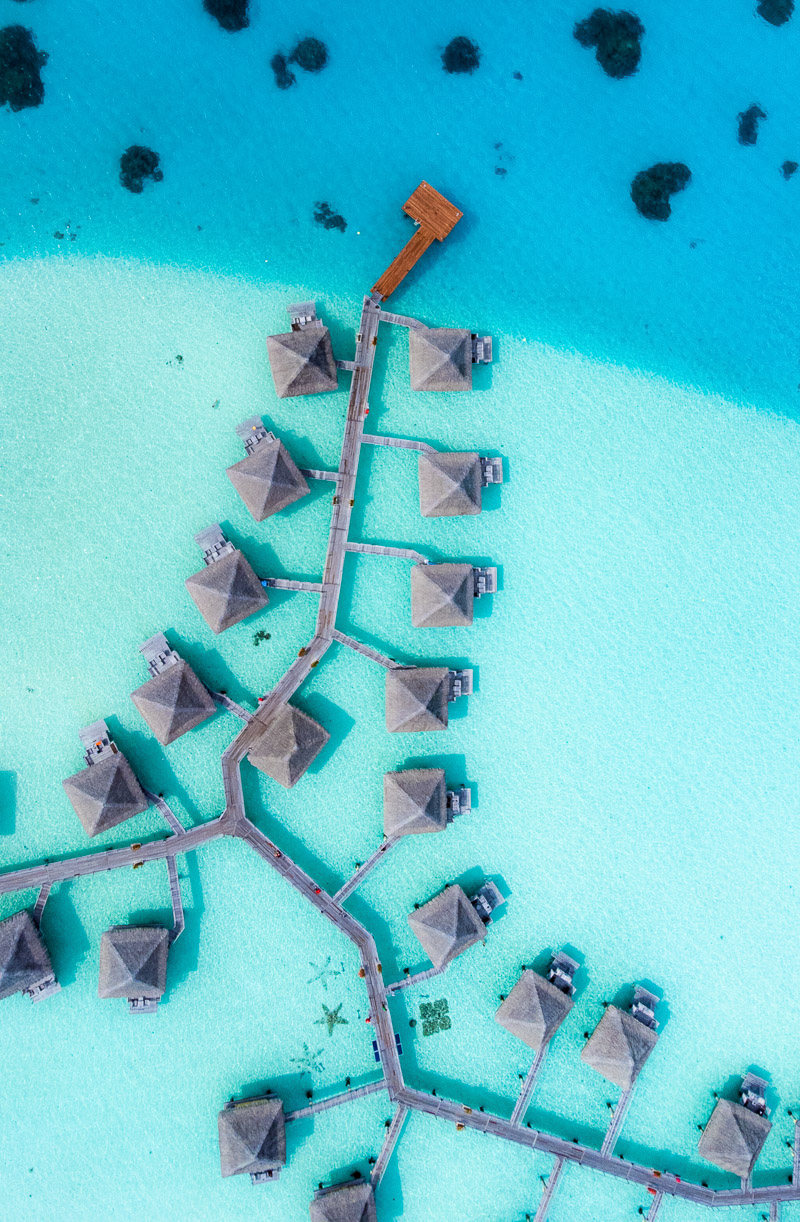 Staying in overwater bungalow really is as fancy and exciting as you dream it will be. It's so much fun to just go straight from your deck into the water. The bungalow I stayed in even had a little cutout in the floor and a clear coffee table so we could watch the reef and the creatures below. You might see rays or reef sharks, and of course all kinds of fish and lovely coral.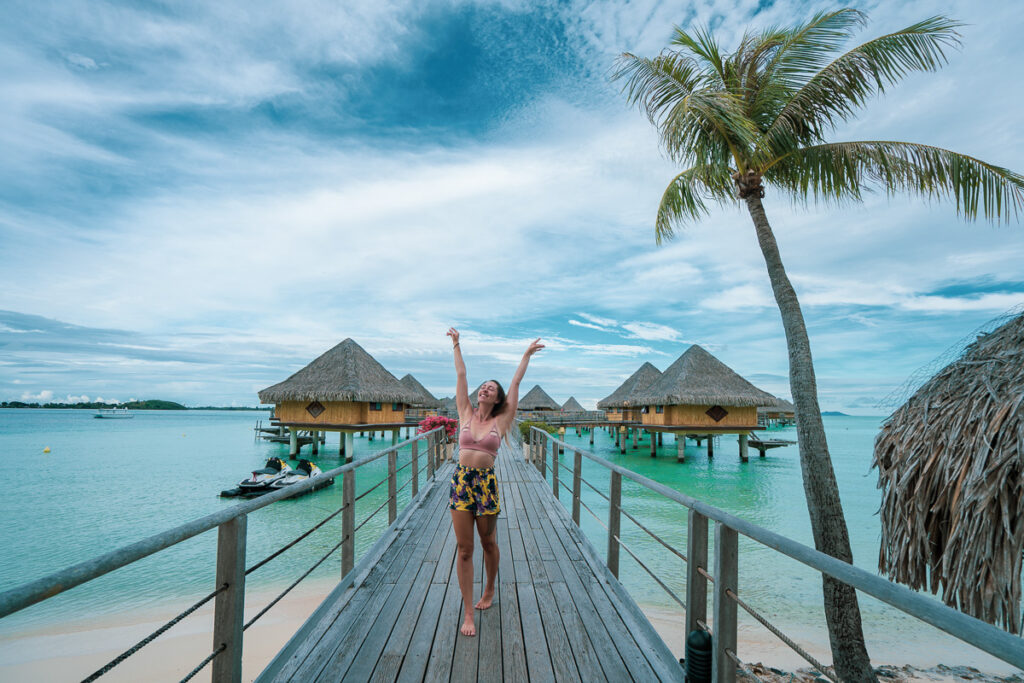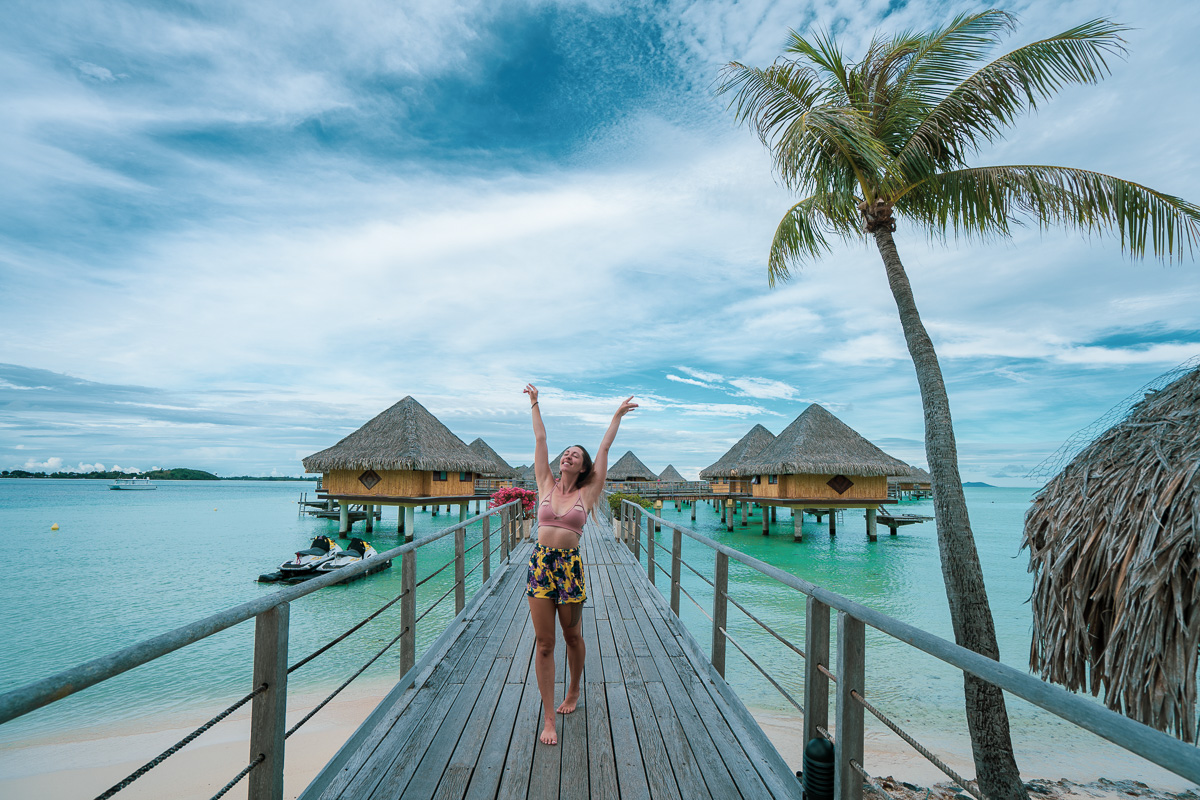 I stayed at the InterContinental Bora Bora Le Moana Resort and loved the lagoon there. The view we had was lovely, and it was also conveniently situated on the main island, which gave us the opportunity to hike, explore other parts of the island, and have a bit more flexibility than staying on a resort motu (reef islet).
There are loads of different places to choose from, and each has a different price point, but if you're going to go all the way to Bora Bora and it's in your budget, give an overwater bungalow a try! Don't fret if you are on a budget – here are 5 cheapest options.
*In the spirit of full disclosure, my stay was hosted by InterContinental. All positive thoughts toward the bungalow are my own!
Beach it at Matira
Matira Beach, on the southernmost tip of the island, is known to be one of the best, if not the best beach in Bora Bora. It's public, so you have easy access to its soft, white sandy shores and crystal-clear water. There are restaurants and cafés lining the beach, so you can easily spend an entire day relaxing and enjoying the food and drinks nearby.
Since it's free to visit Matira Beach and the bus to get there is just $5 from the cruise port, this is one of the most affordable ways to spend the day on Bora Bora if you're just passing through on a cruise.
Snorkel with sharks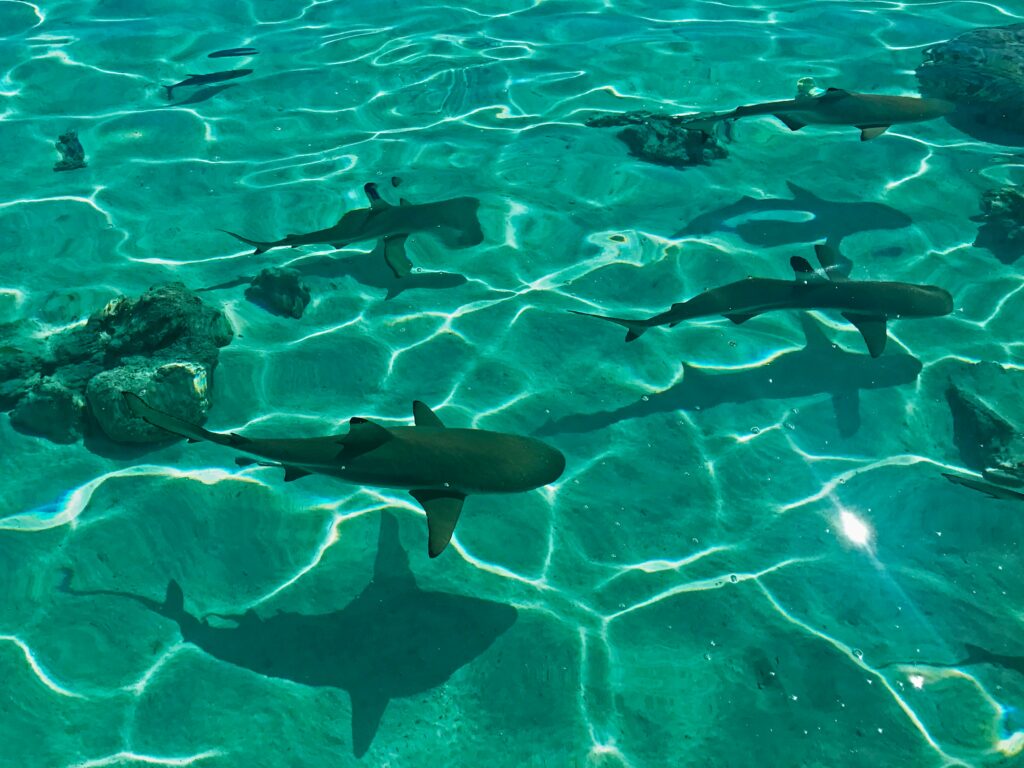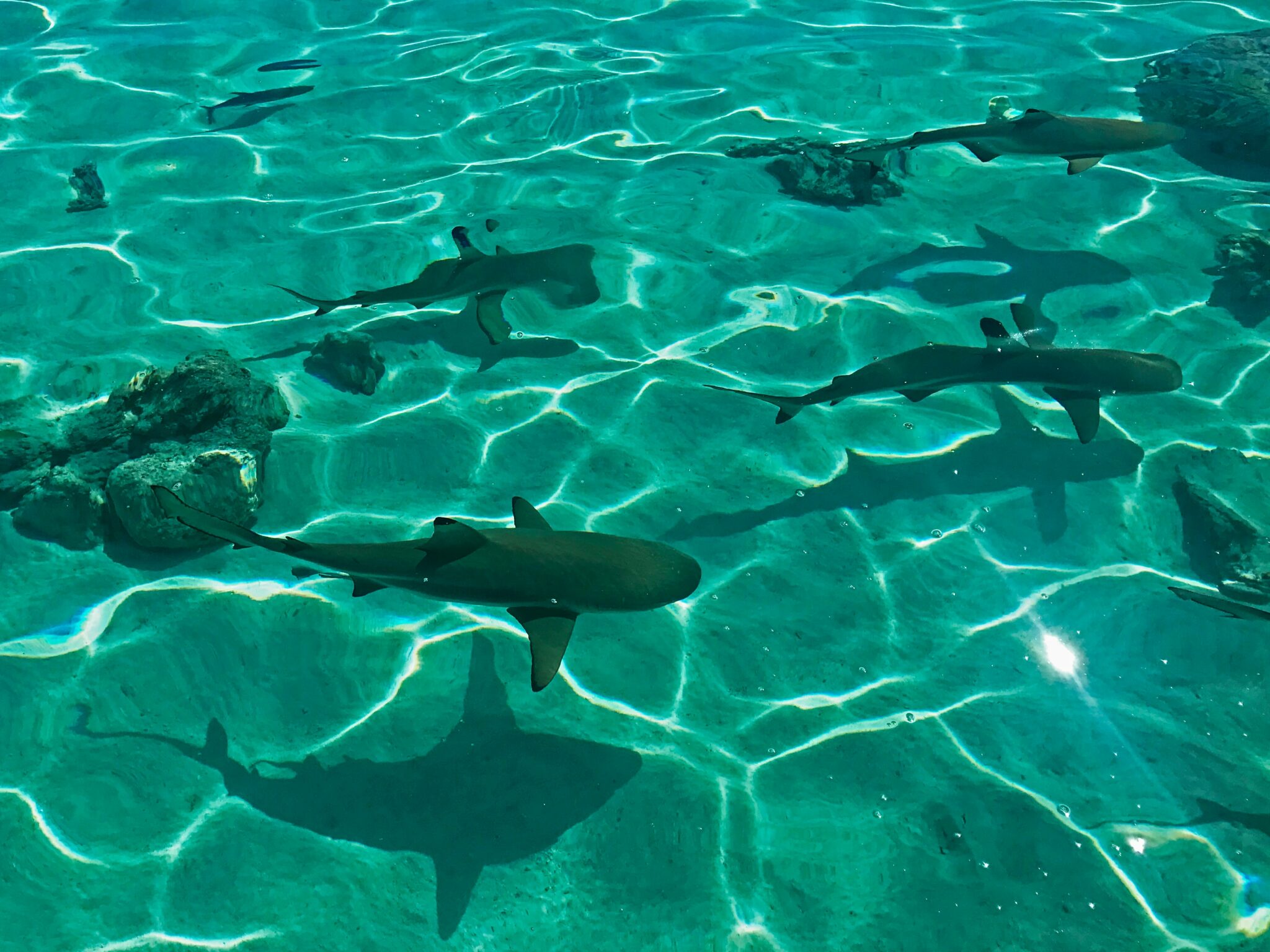 Black-tipped reef sharks are native to Bora Bora and tend to hang out in the shallow waters close to shore. Don't worry, though! These incredible animals are not dangerous to humans like other shark species are. Snorkeling with them (and other marine life) is one of the island's best attractions — definitely an experience you'll love to tell your friends about!
Check out this shark and snorkeling safari to get up close and personal with them.
Rent a bike
Sure, it might be pretty hot and humid in Bora Bora. But riding around the main island on a bike offers a sweet way to check out the sights on your own time. If peddling around in the heat sounds like too much effort, you can also rent an electric bike to get around. Keep in mind, though, that e-bike rentals are almost as expensive as renting a car.
Rentals are available through Avis Bora Bora.
Climb Mount Pahia
Since most visitors to Bora Bora tend to stick to the beaches and shallow waters, you probably won't see too many people out for a hike. But if you're an adventurous traveler and want to see the incredible views of Bora Bora from above, consider embarking on an uphill journey to the top of Mount Pahia.
This hike is quite challenging at times — some sections have ropes to help you climb and descend — so make sure to go prepared, with comfortable shoes and plenty of water. You should also avoid doing this hike if it's raining, as the rocks can get slippery.
The trailhead is in the center of Vaitape, and the trail is easy to follow, though many travelers recommend hiring a guide because of its difficulty. It takes some hikers just 6 hours round-trip, while others may take up to 6 hours just to descend.
Visit the Bora Bora Turtle Center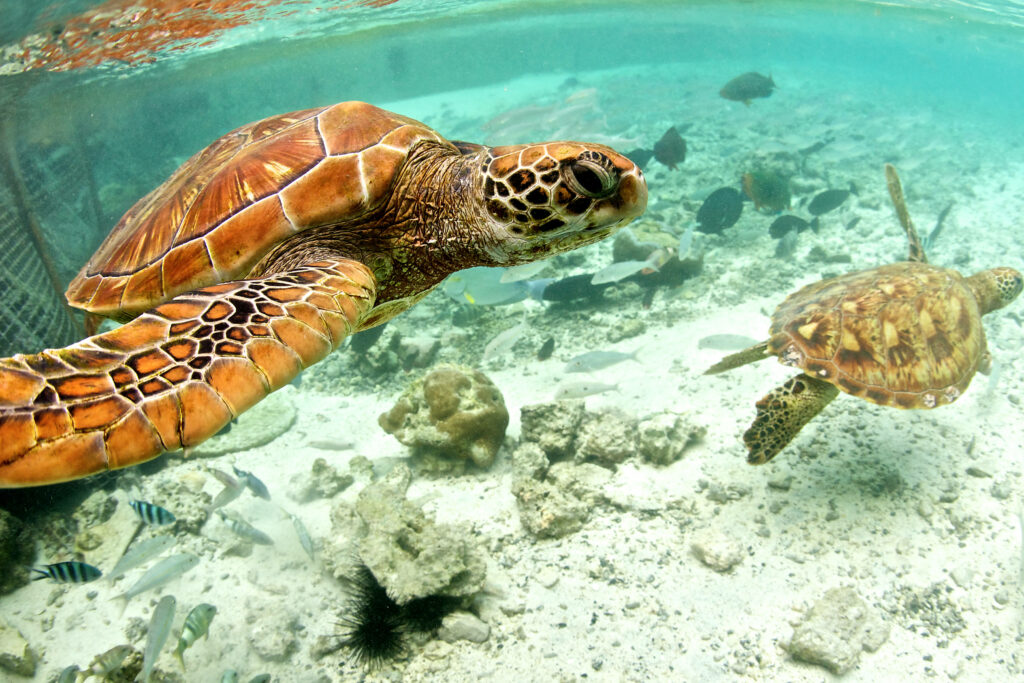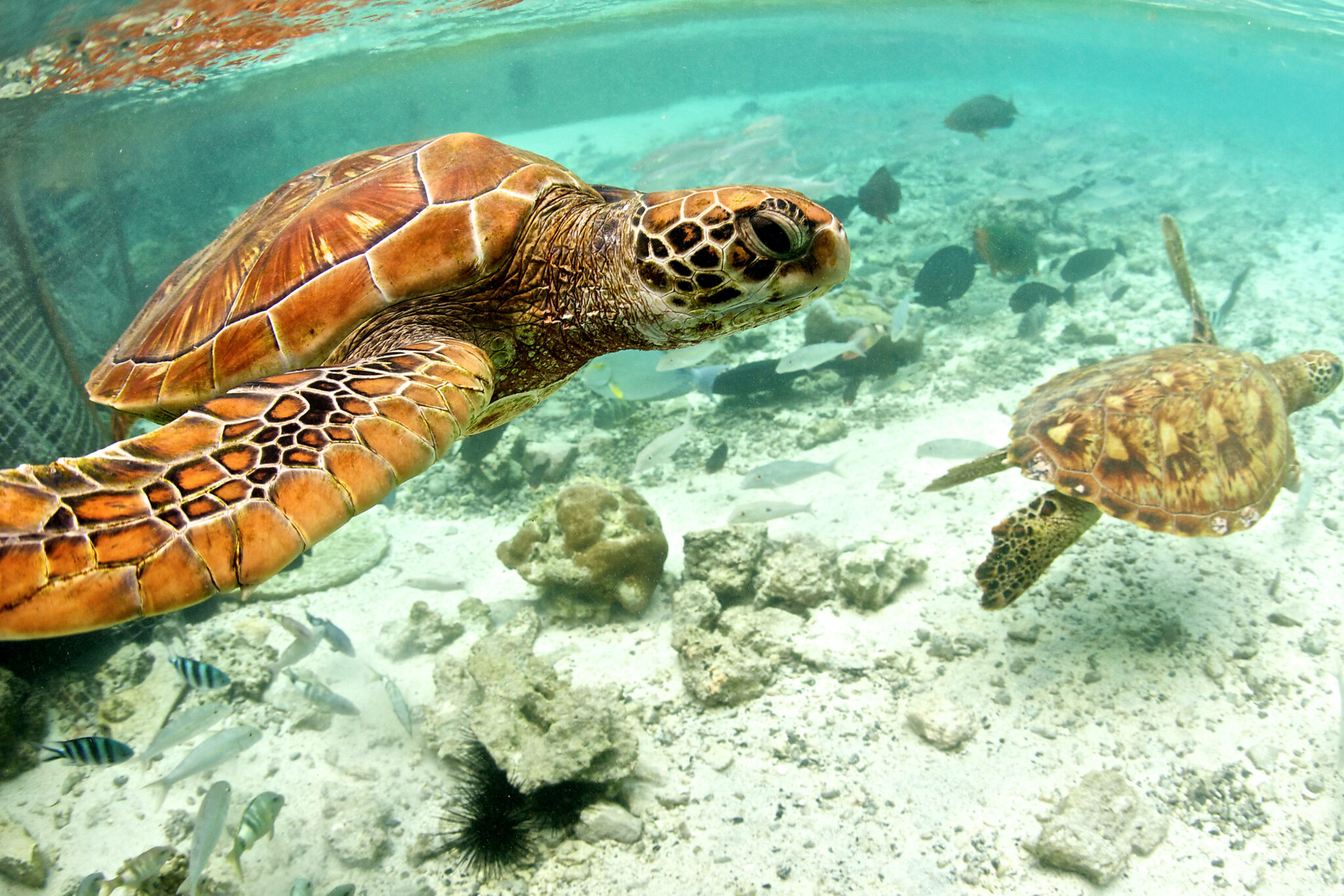 Located on the grounds of one of the island's luxury resorts, the Bora Bora Turtle Center is a nonprofit organization that teams up with the Ministry and the Delegation of the Environment to care for marine life. You can visit the center to see how biologists rehabilitate injured sea turtles before releasing them back into their natural habitat.
Learn more about how to visit the Bora Bora Turtle Center here.
Stand-up paddleboard
Bora Bora's calm, shallow waters are absolutely perfect for stand-up paddleboarding. Especially if you're new to it, this is your opportunity to improve your skills and take in the beauty of the island at the same time. Spot stingrays, peep at the vibrant corals, and float around at your own pace. You can find paddleboards to rent around the island; many hotels have them, like the InterContinental, for example.
Drive your own boat around the island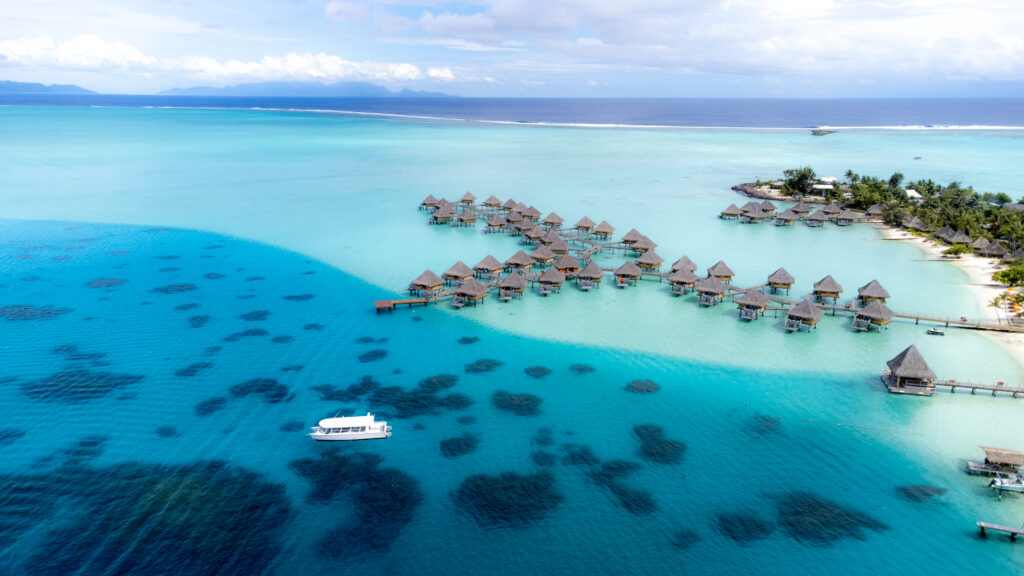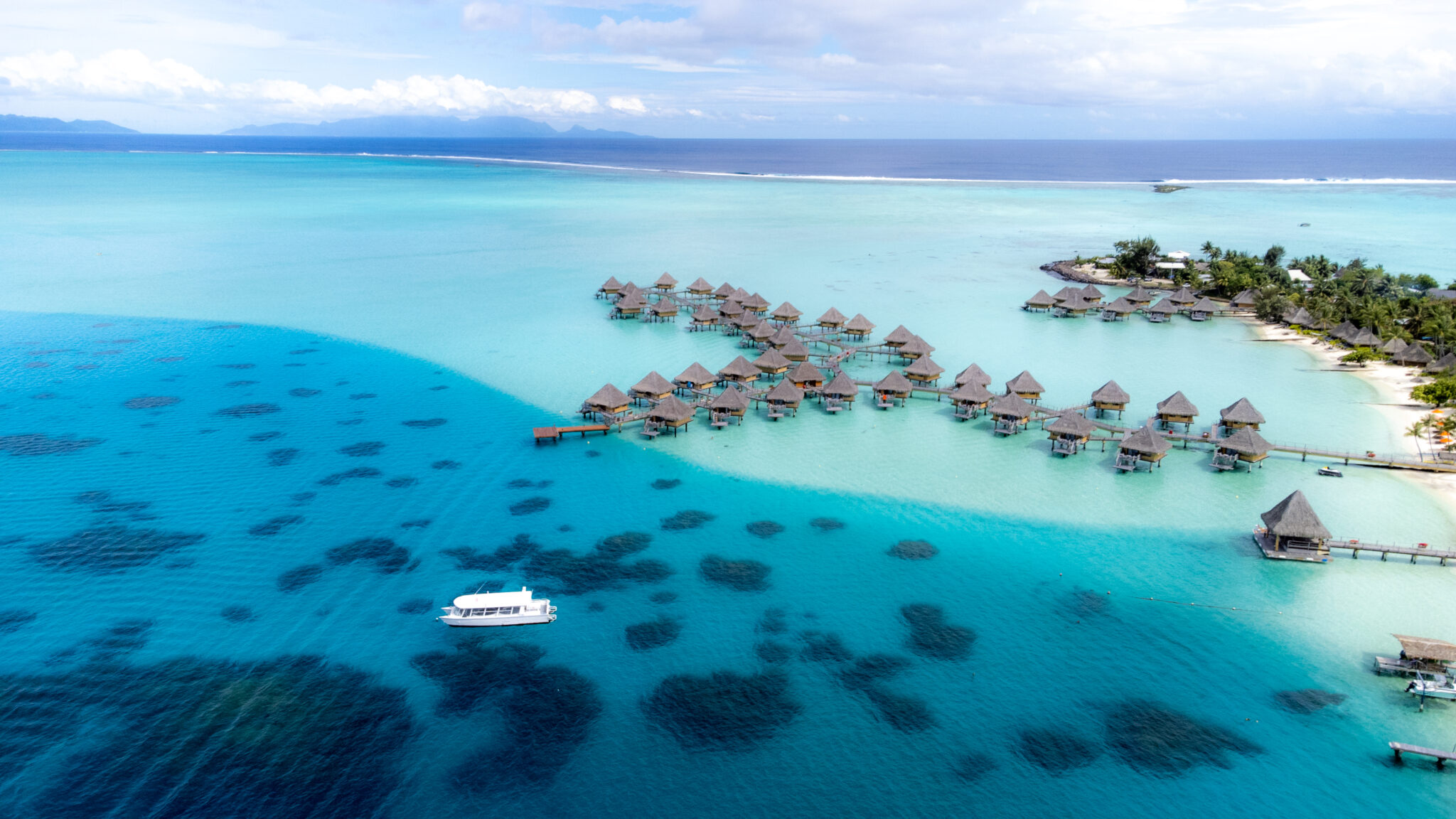 If you prefer touring new places on your own, consider renting your own boat for a half day or whole day. You don't need a boat license to do so, and many of them are quite easy to use. Take yourself on a tour to see corals, marine life, and sandy beaches, cruising around at your own pace.
You can rent your own boat here.
Tours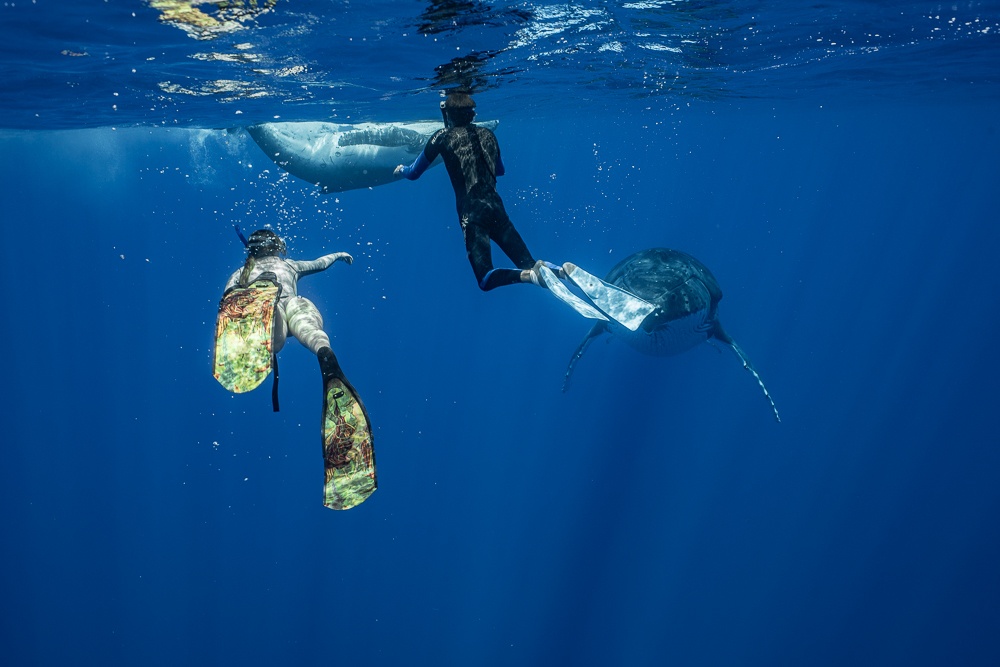 Lagoon boat tour with snorkeling
Enjoy all there is to see beneath the water's surface on this thrilling boat tour. You'll go from one popular snorkeling location to the next, taking in all the sights at each one. Your tour guide will be underwater with you to give you a rundown of everything you're seeing.
Keep an eye out for manta rays, stingrays, coral gardens, and even sharks! Feeding the stingrays is a popular activity; the animals have become accustomed to human interaction, so you might even be able to feed or touch them.
Book your lagoon boat tour here.
Ride around on a jet ski
Another popular activity is renting a jet ski and exploring the lagoons. You can drive your own with the guidance of a professional instructor on this two-hour guided outing with Moana Adventure Tours. You'll be able to encircle the entirety of Bora Bora, taking in its beauty the whole way. You'll also be able to stop and enjoy a few scenic locations on the route.
Jet ski + 4×4 tour
This epic adventure will have you exploring both land and sea in an exhilarating way. First, you'll head out in a 4×4 vehicle to traverse Bora Bora's rugged interior landscapes, stopping at several lookout points with your experienced guide. You'll then take a lunch break at a popular island hangout, Bloody Mary's (more on that below). Then, you'll make your way to the shore and hop on a jet ski and continue the tour, with a stop for a coconut-husking demo and a swim in the sparkling waters.
Whale watching and swimming private tour
If you are visiting Bora Bora between July and November, you'll have the chance to see (and maybe even swim with!) humpback whales in their natural habitat. These amazing creatures are a spectacular sight to see.
This private tour for 1-2 people includes an expert guide who will teach you all about humpback whales and determine if it is safe to join them in the water. It is important not to disturb whales, so your guide will give you instructions on how to get into the water without scaring them.
Lagoon Yoga Experience
Combine your love of travel with your yoga practice on this unique lagoon tour. You'll be able to spend three hours hanging out on a boat, snorkeling, and having a private yoga class on a small island. This is by far one of the most Zen ways to experience Bora Bora.
Book your lagoon yoga experience here.
Restaurants & More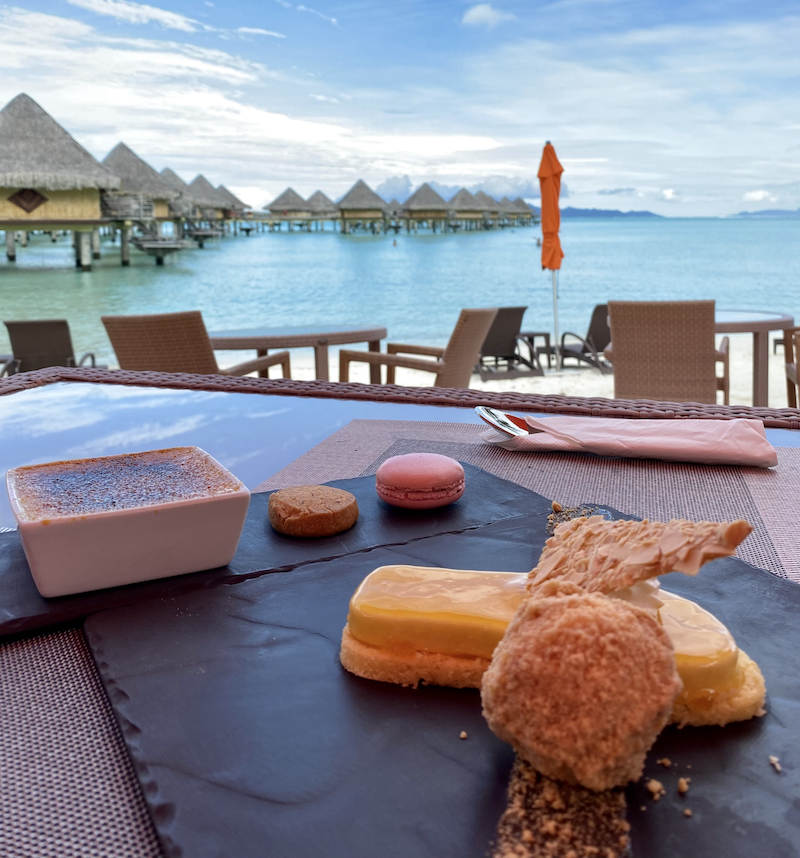 Bloody Mary's
Eating at Bloody Mary's is a rite of passage for all visitors because of its fame. The bamboo structure along with the sandy floors and over-the-top tiki decor make this place look like a movie set. The menu includes freshly caught fish straight from the boats of local fishers.
There is also a long list of celebrities who have stopped here for a meal; you can see who in the restaurant's "Hall of Fame" at the entrance. As you may imagine, Bloody Mary's gets quite crowded, so a reservation is recommended.
La Villa Mahana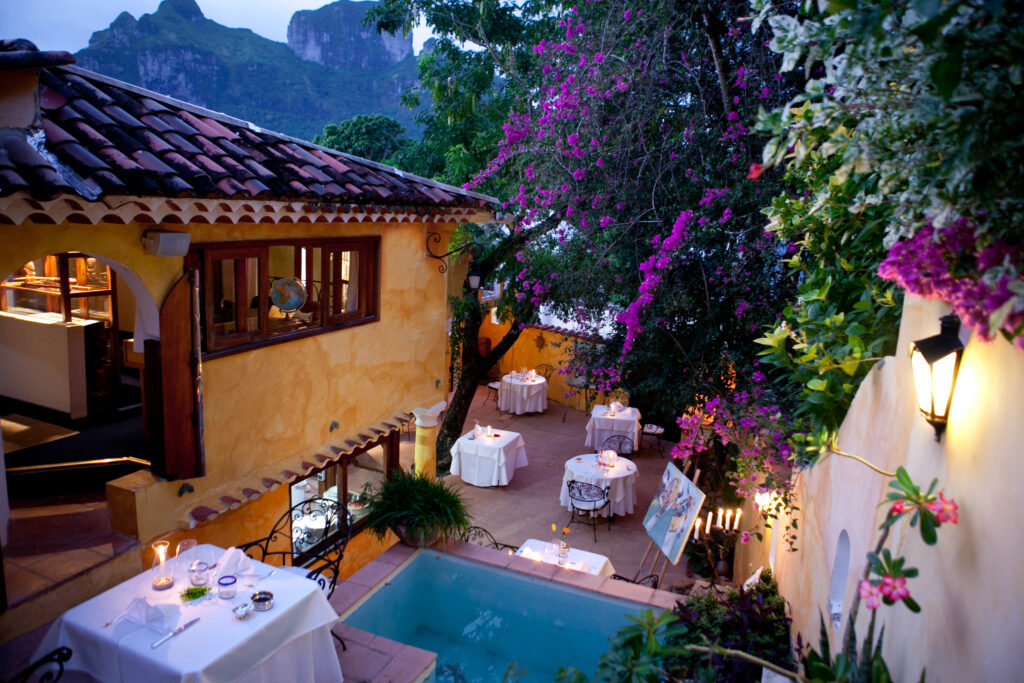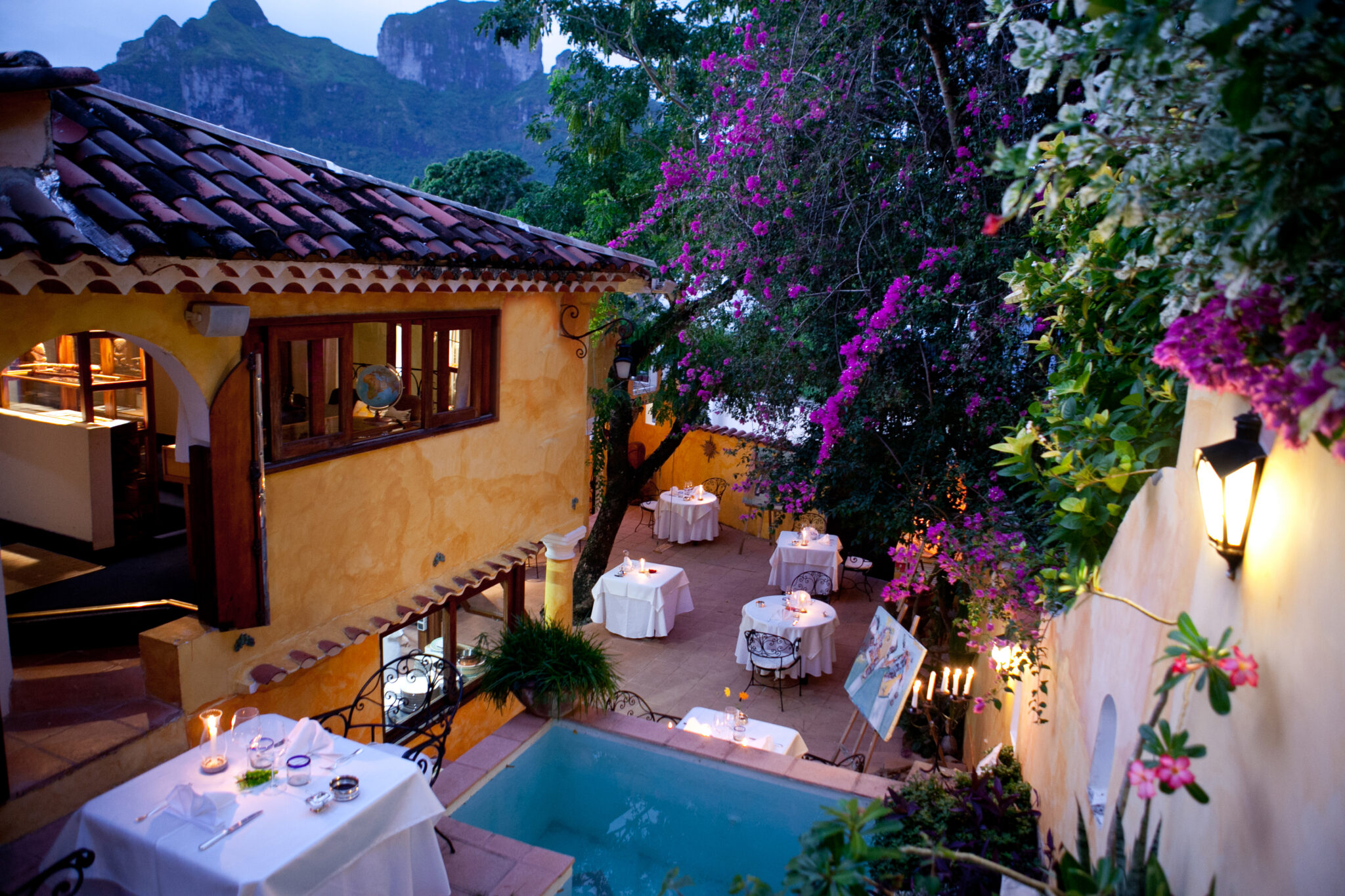 This innovative eatery takes patrons on a journey to the Mediterranean and French Polynesia with its unique mix of flavors. Using local ingredients, Corsican chef Damien Rinaldi brings a new take on the island's fresh catches, whilel offering flavor profiles inspired by Mediterranean dishes.
There are only nine tables at La Villa Mahana, so make sure to book a reservation ahead of time.
Aloe Café
For a laid-back meal or dessert, head to Aloe Café in the heart of Vaitape. This affordable and unpretentious eatery is a local favorite, offering delicious homemade ice cream and pastries. You can also grab a quick lunch there if you're on the go. It also has incredible pains au chocolat (chocolate croissants), which usually sell out by 10am, so get there early if you want to try them!
Les roulottes
In the main square of Vaitape, near the quay, there are a variety of cheap and delicious food trucks, called les roulottes. They sell anything from grilled fresh-caught fish plates to kebab to Chinese food, all for much less than your average restaurant in Bora Bora. There's also a famous one at Matira Beach, called Roulotte Matira, that has a reputation for having great food.
How to Get Around
Taxis are quite expensive on Bora Bora, and renting a vehicle for such a small island might not make much economic sense. Renting a bike or e-bike, though, is a great option for getting from place to place.
The entire island only takes a few hours to circumnavigate by bicycle, making renting one very appealing to many travelers. Bike rentals typically cost around $20/day, and you can easily find them at Avis Bora Bora (as mentioned above) or at many hotels and resorts.
Another cheap option is taking a bus from the island's public transport system, called Le Truck. These travel around the island and are easy to hail from the coastal road. However, they can be unreliable, and their arrival is very unpredictable.
Pin me for later:
That's a wrap, folks! You're now totally ready to have the Bora Bora vacation of your dreams, packed with adventure and relaxation at the same time.
Have you been to Bora Bora? Let us know what your favorite thing to do there is!