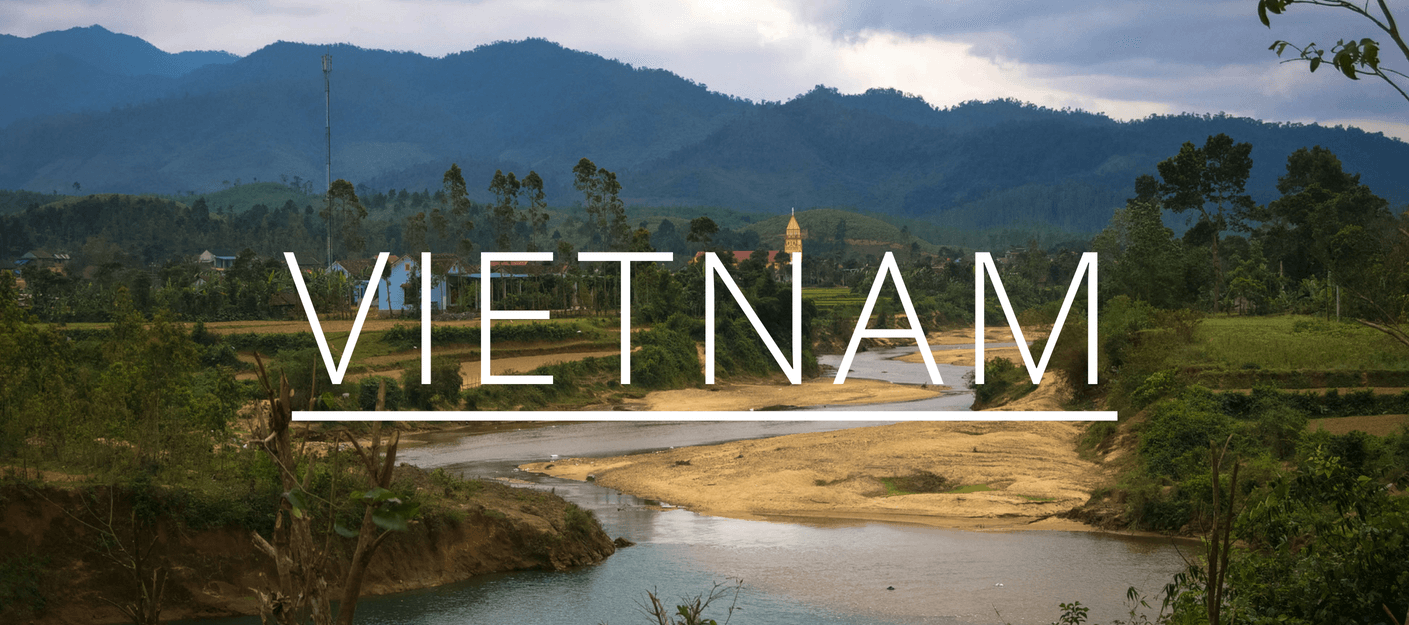 Vietnam is one of those countries that you come out of either loving or hating. As an American, Kiwi, or Australian, it can be a strange sensation to set foot on the same land that your nation was at war with only a few decades prior. Yet the general sentiment seems to be that the past is past, and traveling there, I typically encountered kindness or at least tolerance.
This coastal country is hot and humid in the south, and sometimes cold and foggy in the north. The cuisine is some of the best in Southeast Asia and even the world, morphing as one moves throughout the country. Stick to the smaller, rural areas and see a side of Vietnam that most tourists miss - one with friendly locals and gorgeous landscape. In the big cities, such as Hanoi and Saigon, remnants of the French colonial past remain in the architecture but Vietnamese culture and food have otherwise taken over. Don't forget to try the famous egg coffee in Hanoi, and in Hoi An, be sure to get custom clothes and shoes made!
Where in Vietnam?

Vietnam
Quick Tips
'Hello' and 'Thank You' in Lao: "Xin Chao" and "cam on"
Currency: Vietnamese Dong (click here for current conversion rates)
Visa: Visa MUST be organized ahead of time. Do this at a capital city of whichever Southeast Asian country you're in prior, online through myvietnamvisa.com, or at home. Typical cost is $45. If paying a stamping fee, pay in US Dollars. Paying in anything else, Including VND, results in higher charges
Safety rating: Ranked 57 on the Global Peace Index with a score of 1.88 (USA is ranked 128 with a score of 2.40)
Solo Travel Friendliness: I was pleasantly surprised by the warmth of Vietnamese towards solo travelers. People in the rural areas were especially friendly and helpful, even if there was a language barrier, they were always generous with their smile. In the major cities, scams and snatch thieves are on the rise so always agree on a price before ordering food or getting on a moto taxi, and be mindful of your belongings always.
Climate: Hot and humid year-round. Rainy season lasts from May to October
Best SIM cards: Viettel or Vinafone - Passport needed, best purchased at the airport or any shop that sells either SIM
Modesty Considerations: While allowance is given to tourists, most Vietnamese women dress modestly, sometimes covered from top to toe. It shows respect to dress modestly too, and visits to some temples require your shoulders and knees to be covered up
Random Useful Tip: Be sure to pay attention to how the culture and cuisine changes from South to North (or vice versa) - you'll see a lot of differences!
Accommodation
Budget Solo Travelers ($5 - $10): I am happy to report that accommodation in Vietnam is cheap and comfortable, and more and more quality hostels are popping up throughout the country. Strong Wi-Fi and free breakfast are provided at most hostels, some even offer free beer at certain hours! When I visited Vietnam in 2014, I was very pleased with the quality and cleanliness for the money I paid for most dorms I stayed at, and I am sure things could only get better since then.
Mid Budget Solo Travelers ($10 - $30): Budget hotels offer a basic private room for around $10. In major cities, Airbnbs are available at around $20 - $30 for a private room, and are usually very beautifully decorated by the friendly local hosts.
Transportation
Getting There: The main international airports are Tan Son Nhat International Airport (Ho Chi Minh City), Noi Bai International Airport (Hanoi), and Da Nang International Airport. There are direct flights from the US, Australia, and its neighboring countries, though an indirect flight routed through Singapore, Hong Kong or Bangkok is often cheaper. Crossing borders overland to Vietnam is possible from China, Cambodia, and Laos.
Getting Around Town: Moto taxi via Uber and Grab is very cheap and efficient. For a more localized experience, take the local buses that cost $0.20 for a single trip. As for local taxis, only take Vinasun and Mailinh taxis, which are trusted and reputable companies that don't fix the meters and will always agree to run the meter for you. Don't negotiate, request the meter.
Inter-city Traveling: Overnight buses and trains are cheap and comfortable, costing about $5 - $20 to get from one city to another – you also get to save on a night's accommodation. There are also hop-on-hop-off buses that travel throughout the country from North to South and vice versa. Most hostels will have information on the routes and prices. Keep a lookout for cheap domestic flight tickets as they can cost as low as $20.
Food
Local Food Spots ($1 - $3): The best Vietnamese food is found on the streets. There are many food stalls with tiny tables and even tinier chairs, and for $1.50 you can get soup, fresh spring rolls, rice with various accompaniments, or noodles with meat. A generally good rule of thumb is go to places that don't have an English menu, are full of locals, and don't have tablecloths. However, most places like that do not have prices on the menu, so make sure to agree on a price before you order. Another must-try is the Vietnamese coffee, which is amazing and usually costs only $1.
Cafes and Restaurants ($3 - $8): Most sit down restaurants are cheap and delicious, with a complete meal costing nothing more than $3. Though based on my personal experience, they sell the exact same things as the street stalls, only with bigger tables and chairs! Cafes and bakeries introduced by the French sell great coffee, dessert and pastries for about $3 - $5. Fancier restaurants serve both local and western cuisine, expect to pay $5 - $8 for a meal. Beer is very cheap in Vietnam – you can get a "fresh" bottle in Hoi An for less than $0.5!
Things to Do
Northern Vietnam
Trek the Rice Terraces and Stay with Hill Tribes: Take the overnight bus from Hanoi to Sapa, and book a trekking tour with the hill tribes - they normally gather at the bus station in the morning, dressed in colorful clothing. You can also book the tour ahead with your hostel in Hanoi. You will experience living with a hill tribe, eat and sleep with the family under the same roof, and admire the rice terraces that are just incredibly beautiful. Pack warmer clothes with you as the temperature can get pretty low especially at night.
Explore Halong Bay: There are hundreds of tour companies, from crazy party boats, to luxurious cruise ships, and to relaxing slow boats with on-board cooking classes, that offer trips to this UNESCO World Heritage site – pick one that fits your style (and pocket) best. You will sleep in the middle of the 1600 islands and islets, swim, hike, eat, and chill on the beach. Waking up to seeing thousands of islands and islets around you is an experience like no other.
Stay Off the Beaten Path in Phong Nha: Rent a bike and explore Phong Nha. Check out The Dark Cave, which is accessible by kayaking or swimming to the cave mouth. Paradise Cave is massive and unspoilt - one could spend hours in here, marveling at the shapes and seeing various things in them. But the best part of it all is to simply ride along the road and get lost on purpose. The views are beautiful and the people are some of the best I've met.
Central Vietnam
Get Custom Made Clothes & Shoes in Hoi An: Hoi An is popular for making custom-made clothes and shoes at a cheap price, without compromising on quality. I got my leather boots made there and I loved them. Other than that, Hoi An itself is pretty, quaint, and the UNESCO Heritage site itself is located on the beach – that always draws me in.
Eat Your Heart out in Hue: Hue is a quiet city that is often overlooked by most travelers. It was Bun Bo Hue, a beef noodles soup that drew me in the city, and I left Hue eating a lot more than just noodles. Other than the food, Hue is also home to the beautiful Perfume River and impressive Tombs of the Emperors.
Southern Vietnam
Cross the Streets in Ho Chi Minh City: It's absolutely terrifying to cross a road, any road, in Ho Chi Minh City. Everything seems to run in a sort of organized chaos of motorbikes and roundabouts in a city that still has some hints of French colonialism at every corner of the streets. When you've made it out alive, visit the museums and Cu Chi Tunnels to get a better understanding of Vietnam's history and culture, and check out Ben Thanh Market, which stores everything from clothes and shoes to food and drinks.
Relax and Unwind in Mui Ne: Mui Ne is famous for its sand dunes and Fairy Streams, and they are definitely worth checking out. If you are not into anything touristy, simply grab a book, order a beverage, and relax and unwind on the beach.
Hang Out at the Elephant Falls: The Elephant Falls at Da Lat is impressive and beautiful on its own, but what makes it worth exploring is that you can climb on some difficult and slippery rocks to see the base of the falls, and rainbow, if you are lucky. Rent a bike and ride your way to the falls, but only if you are confident on sandy roads. Otherwise, you can hire easyriders or simply take a metered taxi over.
Visit Yok Don National Park: This was where I felt like I was truly off the beaten path in Southern Vietnam. Yok Don National Park is a deciduous forest and the largest national park in Vietnam, with parts of it sitting along the Cambodian border. In this park, you can (and should!) simply laze on the banks of the river, go swimming, lay in hammocks, attempt to fish, and chat with whoever's there.