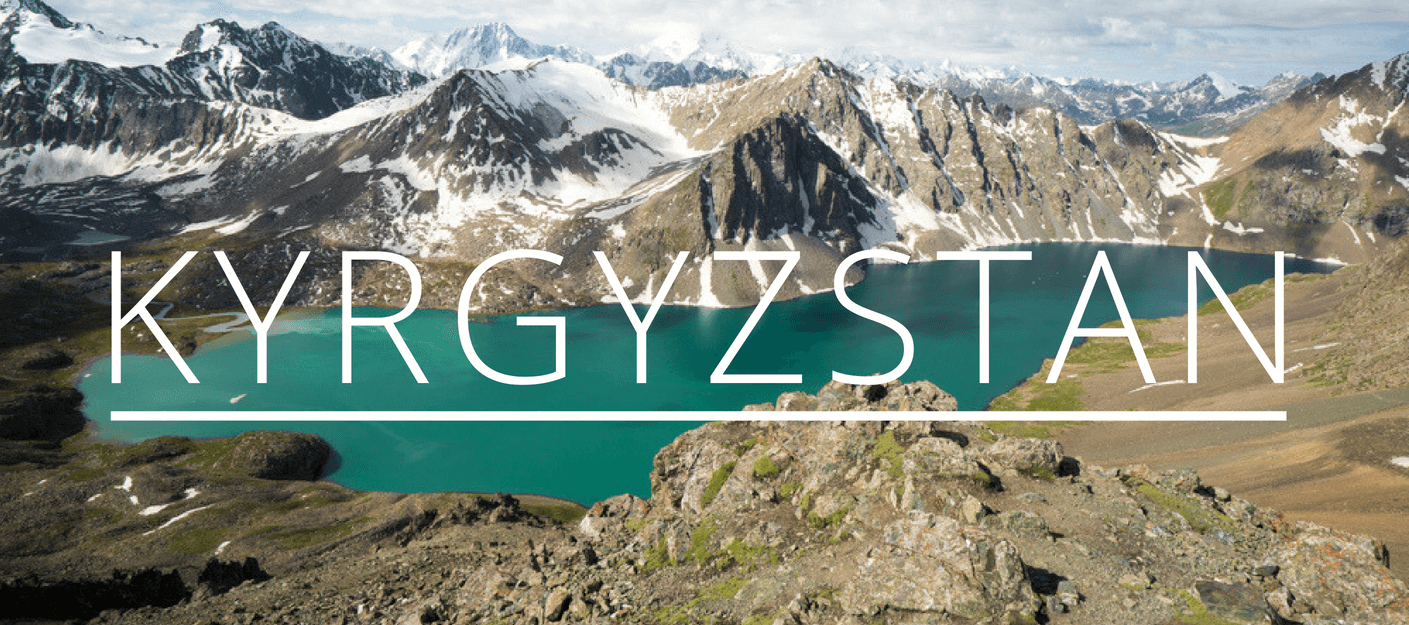 Kyrgyzstan is for mountain lovers. This picturesque country is located on the Silk Road, surrounded by China, Uzbekistan, Kazakhstan, and Tajikistan. Once part of the Soviet Union, Kyrgyzstan is an ethnically diverse country descended from nomads.
This is where you can attend the biannual nomad games, see what it's like to live in a yurt, trek through the Tian Shan mountains for weeks on end, and eat delicious, hearty food often garnished with dill. 
The landscape looks like a cross between Patagonia, the Alps, and Iceland. It's green, rocky, dramatic, and punctuated with deeply blue lakes. The population is small, and agriculture is is a mainstay. While on your trek, you're sure to run into some nomads on horseback, cows grazing, horses running, and sheep crossing the path. 
Where in Kyrgyzstan?

Kyrgyzstan
Quick Tips
'Hello' and 'Thank You' in Kyrgyz: Salaam and Rahmat
Currency: Kyrgyzstani Som (click here for current conversion rates)
Visa: 60-day visa-on-arrival is available for US citizens at no cost (Check here for their visa policy)
Safety rating: Ranked 95 on the Global Peace Index with a score of 2.11 (USA is ranked 128 with a score of 2.40).
Climate: Hot summers in the cities and long, cold winters. Trekking is best done between June and August to avoid snow. Always expect freezing temperatures at altitude
Best SIM cards: Beeline though this won't work in the mountains
Random useful tip: If you want to hike to Ala Kol lake but want some solitude too, begin in the Turgen-Aksu valley
Accommodation
Budget Solo Travelers ($10): For travelers on a budget, you are most likely to be staying in a hostels or yurts in Kyrgyzstan. Both options cost less than $10 per night in all of the major destinations. Camping is also available. Another accommodation option that's not only fun and cheap, but also helps travelers put the money to the hands of the locals, is to engage with the Community Based Tourism Association to make homestay arrangements for about $10 per night. Staying with a local family is also a great way to immerse yourself in the local culture, and the home-cooked food is just a plus.
Mid Budget Solo Travelers ($15 & up): Hotels can be found in the tourist areas like Bishkek, Osh, and Karakol. A budget hotel costs about $15 per night, whereas a mid range hotel with better amenities and facilities costs about $30 - $35 per night. Airbnb has made its way to the country, with a private room averaging about $10, and an entire unit at about $25.
Transportation
Getting There: The main international airports are Bishkek International Airport, and Osh International Airport. Direct international flights are available from China, Russia, Uzbekistan, Moscow and Turkey. Crossing borders overland is available twice a week by train from Moscow, whereas driving is possible from China, Kazakhstan, Tajikistan, and Uzbekistan, though borders could close without prior notice, and the journey could take a long time.
Getting Around: Local transportation, with some unique to the country, would be the main way to get around in Kyrgyzstan. Minivans called Marshrutka are available in major cities, and they cover most routes. While they are not the most comfortable mode of transportation, ticket price is standardized at less than $0.20, regardless of the distance. For intercity travels, the ticket price is standardized at about $4, again, regardless of the distance. Trains cover fairly limited routes, and for those short on time, taking a shared taxi would be the best. In the mountains, you can ride on horseback, though I trekked through the mountains on foot and would definitely prefer it that way.
Food
Hearty Homecooked Meals ($3 - $5): If you are anywhere outside of the major cities, restaurants can be hard to come by, but your hostel or homestay hosts would very likely provide food, and the dishes are typically hearty Kyrgyzstan food. Expect mutton with lots of fat, rice, and noodles on the table. If you are trekking through the mountains and staying in yurts, your guides will also cook for you. The food is delicious in Kyrgyzstan!
Restaurants ($5 - $10): In major cities like Bishkek, you will find a variety of local and international restaurants. Turkish, Chinese, Indian, and Italian food are pretty decent and even authentic. Tea is very popular, but if you are looking for something a dose stronger, vodka is also widely available. Tipping is increasingly customary - expect to tip at about 10%.
Things to Do
Trek the Tian Shan Mountains: I still can't wrap my head around the fact that a place like this actually exists. There are different routes you can discuss with your guide and choose from, but personally, I started off remote, then made my way to the beautiful lakes, and back out through a national park. A few things to know before trekking Kyrgyzstan is that it is definitely challenging, I had to bend my foot at a 45 degree angle to match the slope for hours, and there were barely any trails or anyone else in sight for some of it. It was one of the tougher treks I've done but also one of the most rewarding.
Experience Yurt Life on Lake Issyk-Kul: In many ways, Kyrgyzstan reminds me of Patagonia, but one distinctive difference is that you can only experience the yurt life in Central Asia. To do that, head to Lake Issyk-Kul, or include that as part of your trekking itinerary. The yurt camps scattered around the lake are mostly family-run places. Expect fantastic food (mostly meat and heavy on the dill, which I love), and even more fantastic hospitality. You could also swim in the lake if weather allows.
Explore Ala-Archa: The Ala Archa National Park is a few hours away from Bishkek, with many day trips available to those who want to hike, rock climb, or ski while being surrounded by the natural beauty. The Ala-Archa Canyon is stunning, there are also waterfalls, a pine forest and gorgeous mountain peaks.