Sitting on my balcony, sipping a welcome drink made especially for me, while eating a cupcake from the sweets pantry, it felt so good to be back in Cape Town, watching the sapphire waves roll in from my perfect vantage point.
There are many hotels in the world that are luxurious, from the Mendocino Coast of California to Bali, Indonesia, but what really makes a place worthy of its five-star rating is the service, and it's above and beyond at Ellerman House. Perched above Bantry Bay, it is a boutique luxury hotel where anything seems possible.
Ellerman House is located in one of the most exclusive neighborhoods in Cape Town, right on the coast. With expansive views of the Atlantic Ocean, it's near the iconic Table Mountain and the famous Camps Bay area and beach. While I don't generally recommend walking around Cape Town, this area is fairly safe and walkable.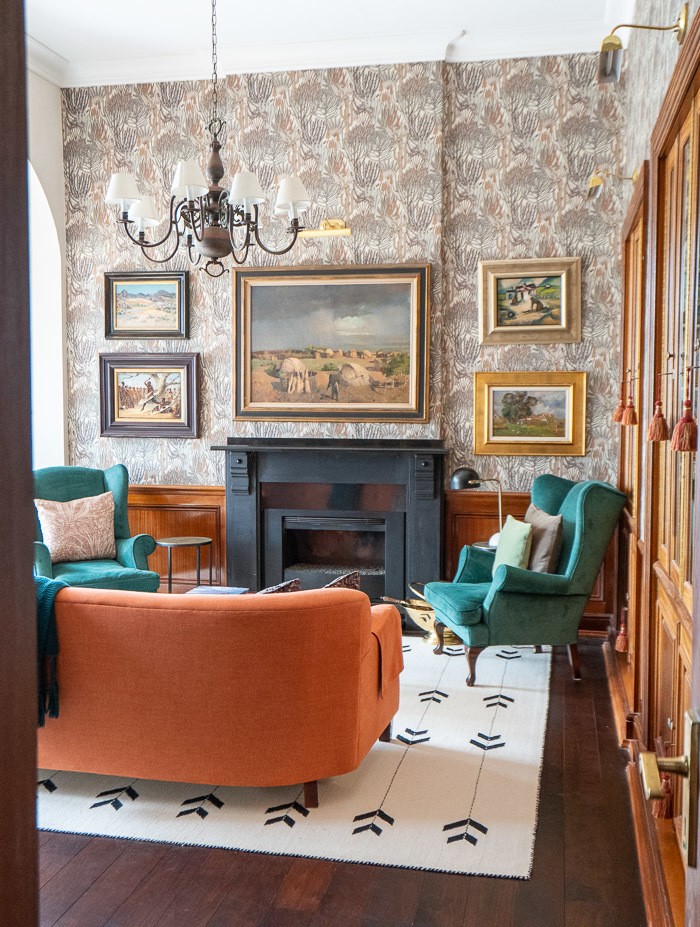 The 1906 building has charming original touches, a cozy atmosphere with fireplaces and plush couches, and more inclusions than I've ever seen before. You truly feel taken care of, from the body to the mind to the soul.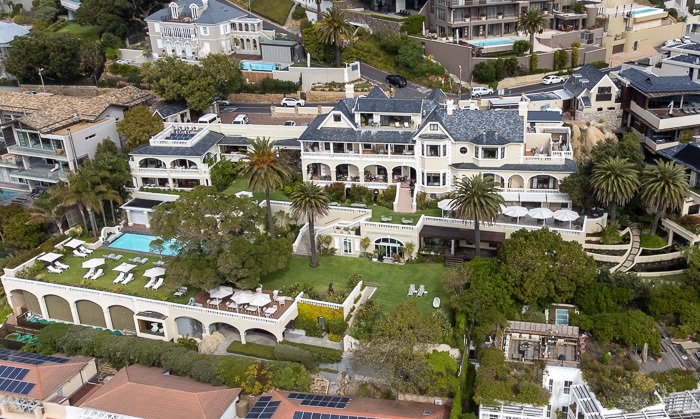 Everything felt so personal too. I only needed to say once what my preferences were, and the staff passed them along to each other. Their communication and attention to detail are what really sets this luxury stay apart.
Is it worth staying at Ellerman House? These are my thoughts::
The Room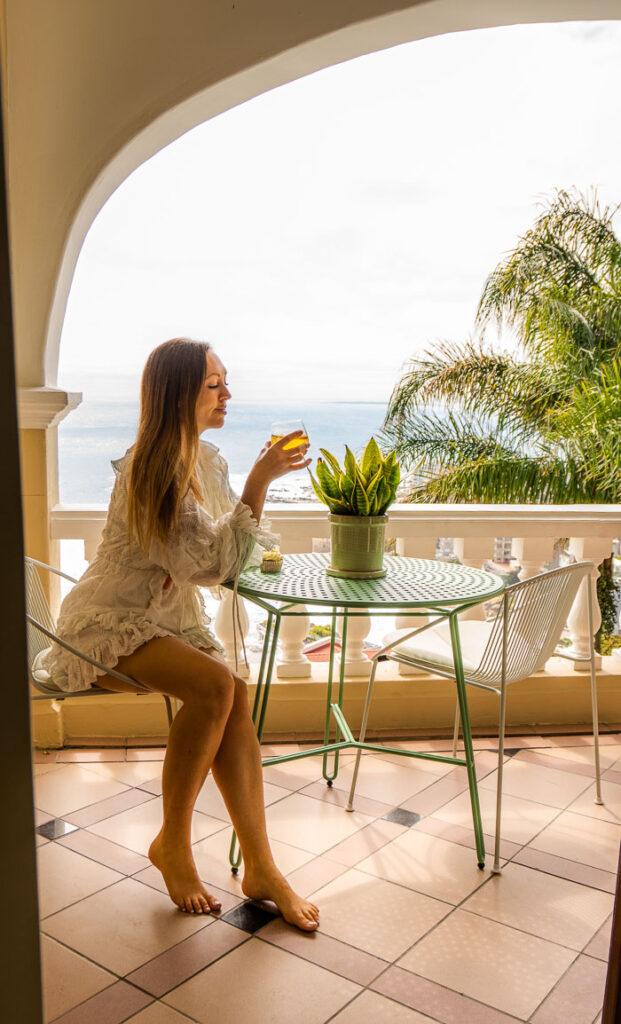 The spacious room was full of included amenities, including a minibar with large bottles of local wine, brandy, gin, and whiskey, as well as snacks, tea, and coffee, plus daily laundry service (all included).
Daily cocktails and canapés, daily breakfast, wine tasting in the impressive bar, a tour of the property's extensive all–South African art collection, and round-trip transfers to and from the hotel are also all included.
I stayed in a deluxe room in the main house — one of 16 rooms, in addition to two private villas on the property. It felt deluxe, indeed, with a closet that took up an entire wall, a desk, two seating areas, a king-sized bed, a bar area, a shower and bathtub, and a large balcony with a stellar view.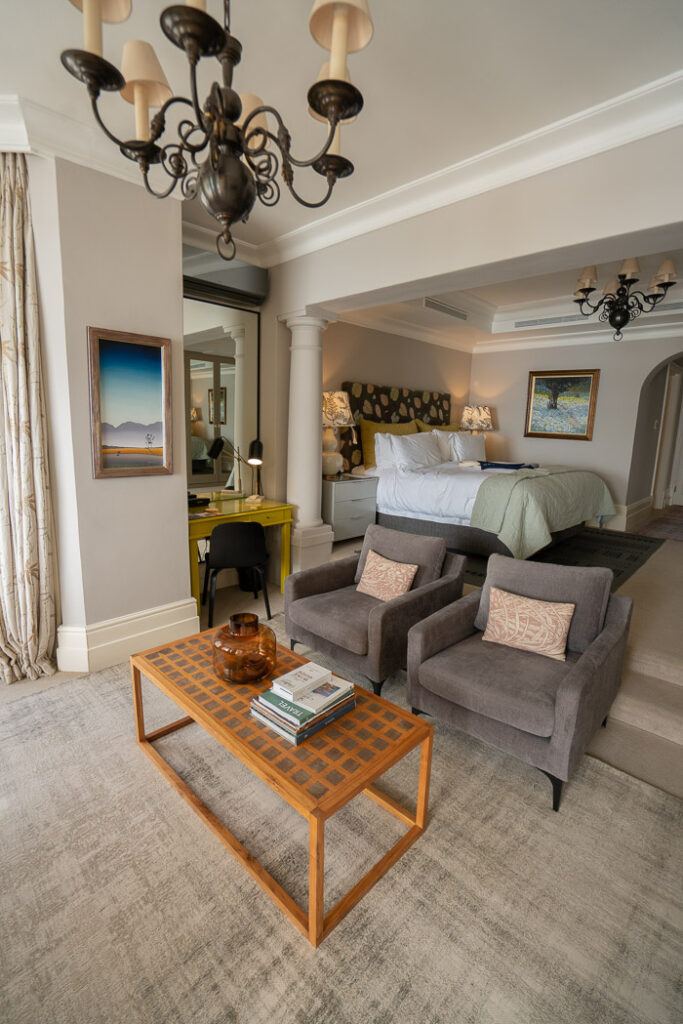 Each day it was serviced both in the morning and in the evening.
It also had such a lovely character, retaining the charm of its 1906 architecture but with modern upgrades.
The Grounds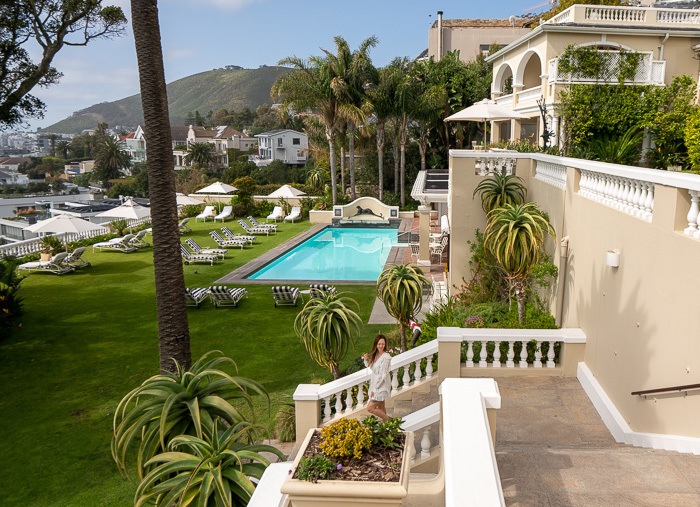 The building itself is a mix of the early 1900s and modern art and architecture. It's also essentially an art gallery in a hotel, as it is home to one of the most extensive such collections in South Africa, beginning on one end of the building with the earliest paintings and extending to the other side, housing the most modern art.
Be sure to take advantage of the included guided tour. It's a great way to get a sense not just of South African art but of its history as well.
The pool and garden are also lovely, with sweeping views of the bay and the sunset. On a sunny day, it's the place to be!
The Food and Drink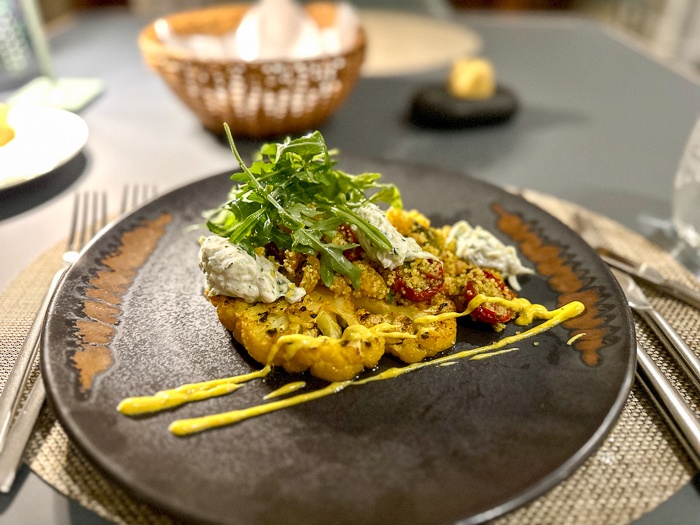 The restaurant serves breakfast, lunch, and dinner — all of which are delicious — with the menu changing daily. There's also a fully stocked dessert pantry (with gluten-free options too!) that guests can access at any time for free, which was both wonderful and dangerous for my insatiable sweet tooth.
The wine bar, even for nondrinkers like me, is worth seeing for the art inside. It's so creative, with a giant corkscrew and a pinotage vine that looks like the tree of life. Even the walls are not simply walls, but part of the art as well.
I'd originally just planned to have dinner at the hotel once, but it was so good and so hard to leave such a wonderful place that I decided to eat there both nights, enjoying the Karoo lamb (highly recommended!) and the vegetarian cauliflower steak the following night, which was the perfect marriage of flavors. As usual, the service was superb.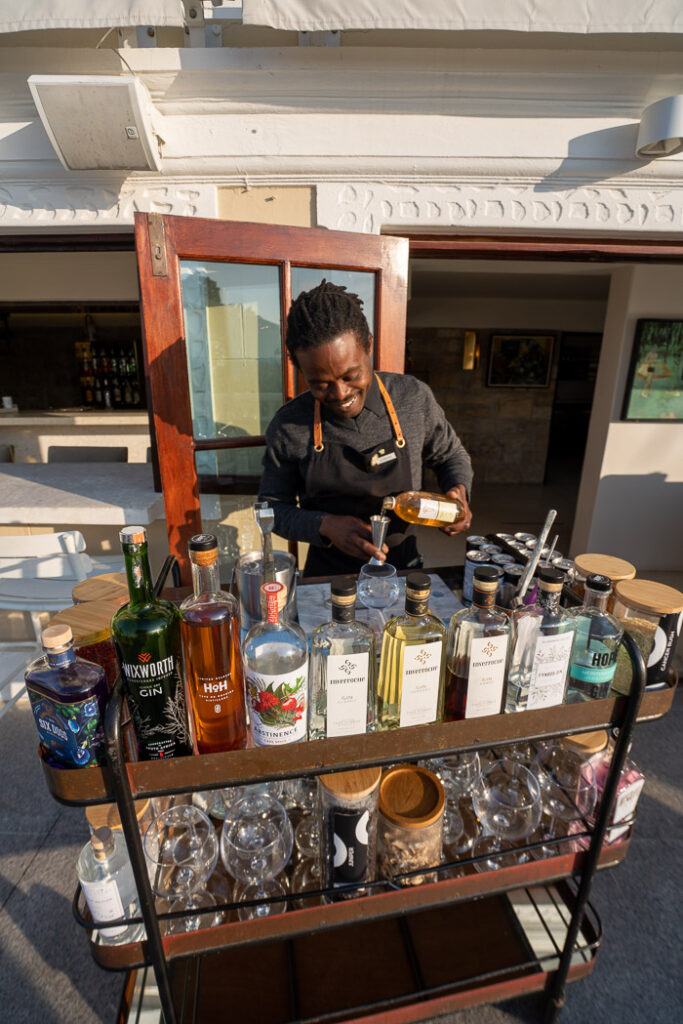 Each evening, there was an included cocktail and canapé hour. The mixologist already knew to make a mocktail for me without my having to ask, and I was so glad that he made a drink with deep flavors that wasn't full of sugar!
The property is definitely the place to enjoy sunset from, whether from your dinner table or private balcony.
The Spa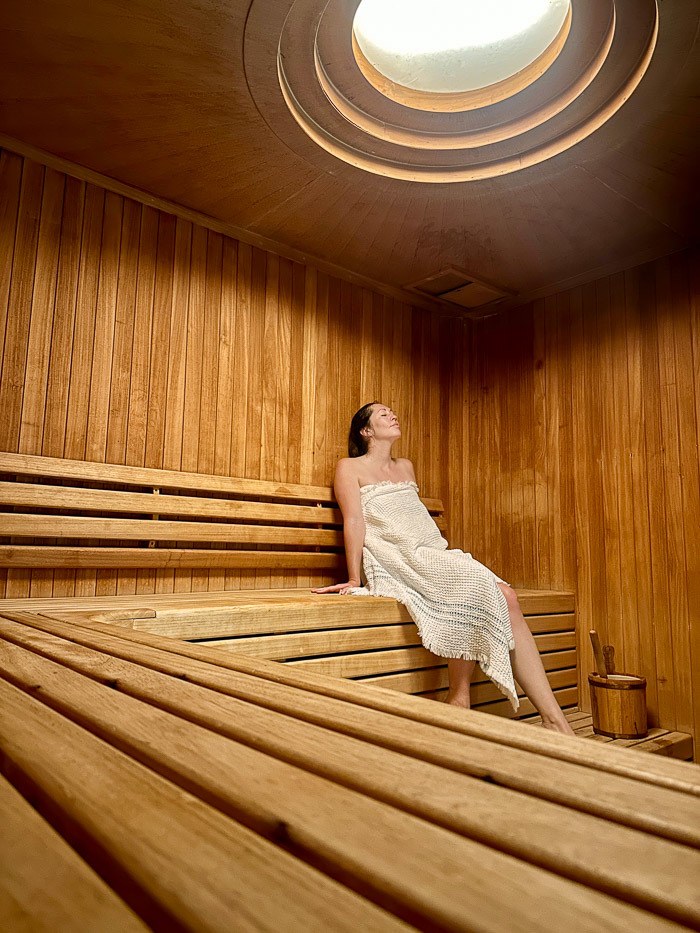 If you have the time and interest in indulging in a spa treatment, do it! I had the 60-minute deep-tissue massage before dinnertime, and it was a wonderful way to wind down the day.
Be sure to ask for the steam room to be turned on for before or after your treatment. I stuck around for a good hour afterward, alternating between the sauna, steam room, and cold shower. It just so happened I had it all to myself, too. Although that's not a guarantee, on a property with a small number of rooms, there's a good chance you can have the same.
As a new mom who was on her first solo international trip since giving birth, it was such a treat to be so pampered for a couple of days.
Final Thoughts on Ellerman House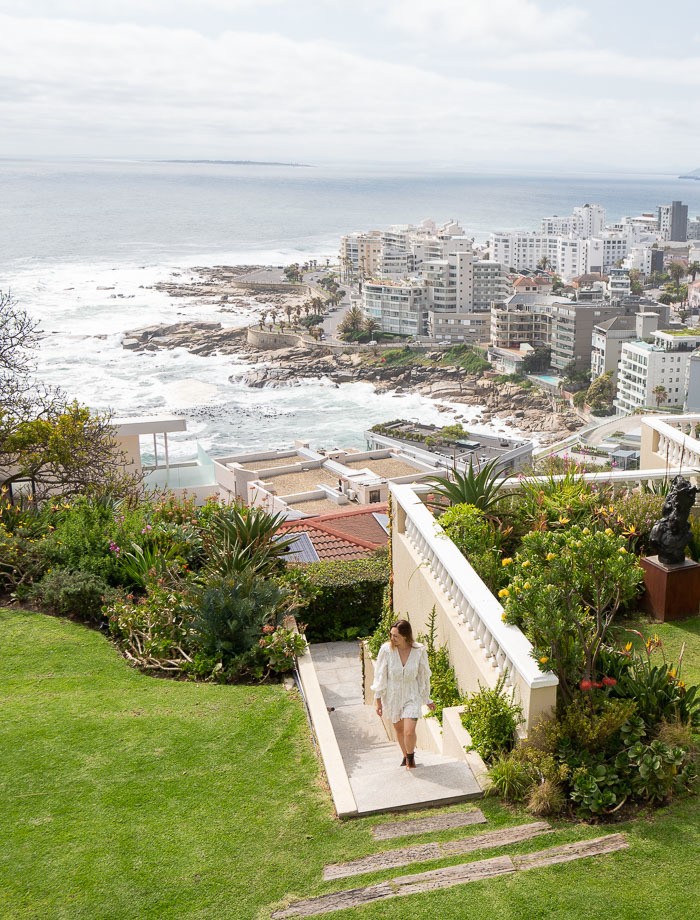 I've had the pleasure of experiencing some number of five-star luxury stays, but few had as many inclusions as Ellerman House. While many include airport transfers and breakfast, I've never seen a hotel offer so many included bottles of top-shelf liquor, a full minibar, wine tasting, and a private art tour.
It's worth mentioning the service again, which is clearly a point of passion for Ellerman House. Everything I asked was met with "of course," which is what one hopes to hear at a luxury resort.
I also appreciate that the hotel gives back to the community through its education initiatives, allowing guests to contribute as well by passing on their amenities if they so choose, i.e, when guests choose to pass on their amenities, R500 is donated to an organization that finds children's educational initiatives.
For couples and solo travelers alike, Ellerman House is an amazing accommodation, and just might be the best boutique hotel in Cape Town! Thanks, Ellerman House, for hosting me.
All thoughts on this amazing hotel are my own.