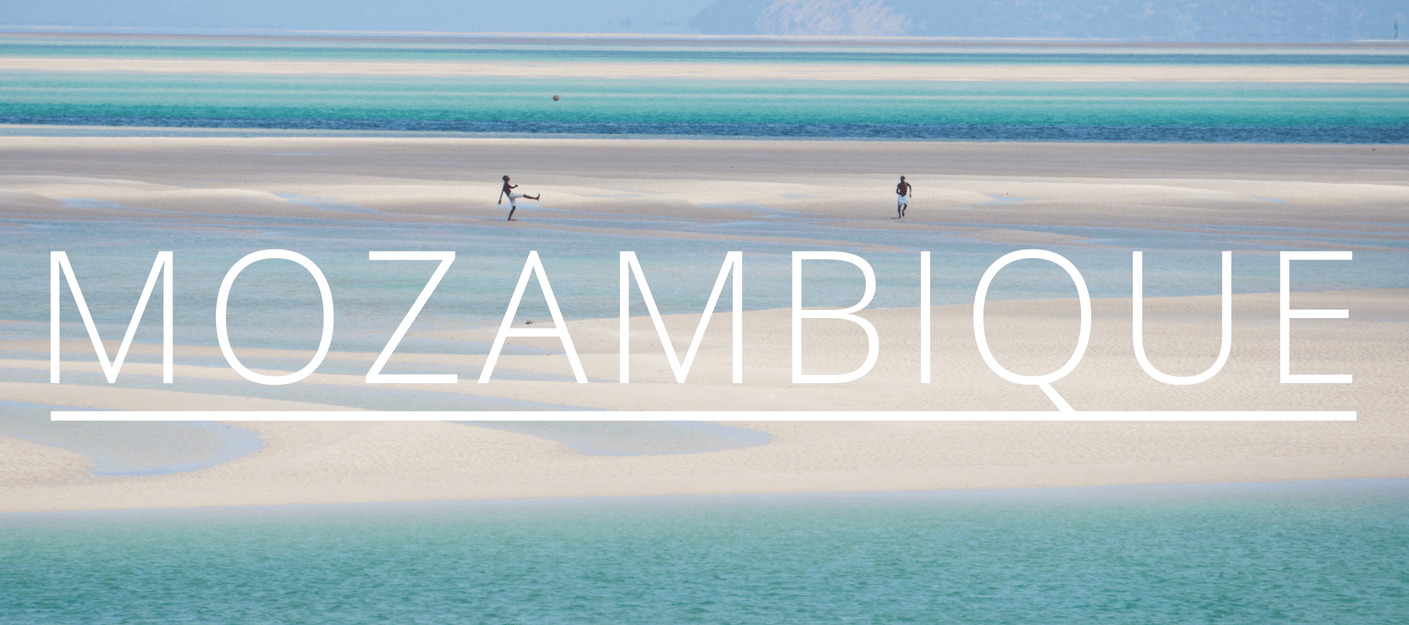 Mozambique is one of those countries that takes up residence in your heart and doesn't let go. How can beaches this beautiful be so underpopulated with guests? How can a country so amazing, full of delicious seafood and with such friendly locals be so far under the tourist radar? Then you realize, oh yeah, it's a pain to travel through!
The thing about Mozambique is, you will have a travel day here and there that is ridiculously frustrating and things will happen that just don't make any sense, then you'll have a night out with locals and a day out on beautiful sand bars with no match in the world for their beauty and you'll remember why you chose to go there - it's breathtaking in so many ways. The beauty is in the difficulty, and such is much of Africa. Welcome to your newest adventure. 
Where in Mozambique?

Mozambique
Quick Tips
'Hello' and 'Thank You' in Portuguese:"hola" and "obrigado" (males), and "obrigada" (females)
Currency: Mozambican Metical (click here for current conversion rates)
Visa: Depends heavily on where you are from. If your country has a consulate, obtain a visa beforehand (you can do so in neighboring countries). Americans, in theory, must have a visa prior to entry though whether you . Generally 30 days are granted
Safety rating: Ranked 94 on the Global Peace Index with a score of 2.10 (USA is ranked 128 with a score of 2.40)
Solo Travel Friendliness: Online forums will warn you not to travel to Mozambique alone, but I traveled solo and had a fantastic experience. Just make sure you pack along patience, common sense, and precautious with you. It is difficult to get around, and Maputo is not safe to walk around solo or at night, but I had a wonderful time traveling in Mozambique and still consider it one of my favorite countries
Climate: Generally hot in the summer months (Nov-March), weather is less hot and humid in other months
Best SIM cards: Vodacom – cards can be purchased from just about every little streetside stall and sidewalk hawker
Random useful tip: Hitchhiking is common in Moz, but don't do so alone unless you can speak Portuguese. Otherwise, go in a pair and you'll find that locals are helpful and friendly
Accommodation
Low Budget Solo Travelers ($3 - $10): If you are on a shoestring budget, camping is possible as there are quite a number of campsites across Mozambique. Expect to pay $3 - $5 for a spot at campsites with basic amenities. Couchsurfing is almost non-existent, while dorms are available at $8 - $10, depending on condition and season. I personally stayed and would recommend Fatima's Nest.
Mid Budget Travelers ($15 and up): On Tofo Beach and Vilanculos, I found beach front bungalows with working electricity (the power in Mozambique goes on and off sometimes) for less than $20. There are decent lodges and budget hotels that cost about $30 - $40 for a private double room. Airbnbs average at about $50 for a private room, and about $120 for an entire unit.
Food
Local Eats ($1 - $5): Food is unbelievably cheap and delicious in Mozambique. Seafood is almost always available and fresh. Expect to pay $6 for a a big plate of fresh Barracuda. Fruit is incredible and fresh – especially mango and coconut, which are cheap at markets but not bad if you haggle with the beach boys either, who will try to sell it to you daily. The country is also famous for prawns and lobster with piri-piri sauce so make sure to try that out if you like it hot!
Restaurants and Bars ($5 and up): Many hotels and lodges have on-site restaurants that serve authentic African cuisine with strong Portugese influence. Seafood is a specialty so spoil yourself with a huge seafood platter and wash it down with a glass of beer – expect to pay about $10 for that. Tipping is only expected in Maputo and other major tourist areas.
Transportation
Getting There: To get to Mozambique from abroad you will probably have to route through Johannesburg or another close airport. In some cases the flight onwards to Tofo or Maputo is prohibitively expensive, but luckily the buses to Maputo from Joburg are decent. Expect to travel for about 10 hours from Joburg to Maputo and an additional 10 or so from Maputo to Tofo on the chapas.
Getting Around: There are mainly 3 options – chapas, car rental, and hitchhiking. Unfortunately, none are ideal. Chapas, or minibus taxis, are cheap, though you'll overpay as a foriegner. They are usually set to depart at 4am and will drive around for several hours finding people to pick up before they leave. They're a slow and often unsafe options. Car rentals from South Africa are another option, though you will have to make sure to have the right documentation that allows you to drive across the border. Expect to be pulled over by the police for some bribes as well. Keep in mind that bags should be on the floor or in the trunk and not to rest your arm outside the window – two typical reasons why people get pulled over. Hitchhiking is relatively easy but it would be helpful to speak Portugese. Generally, make sure to go in pairs.
Things To Do
Dive in Tofo: The water in Tofo is perfect for goldilocks type – not too warm and not too cold. There are a few diving schools, and the spot itself is famous for the big stuff, like manta rays and whale sharks. Surfing is also big in Tofo. It's not easy to get there, and the electrcity goes on and off sometimes, but if you are looking for an undisturbed paradise, Look no further than Tofo.
Hire A Captain and Sail: Boat trips are a fun and cheap way to fill an afternoon in Mozambique. In Tofo, you can usually organize one with a local or through your hostel with a group of friends for around $30 USD per person. It's as easy as just asking the question. Chances are good that someone will know someone who has a boat who can take you. It's the way Tofo works. The boats are simple, with sideways sails and rudders made out of old wood. It won't be fancy, but it will be beautiful. Bring your own beer, sit back, and enjoy.
Make Local Friends: Mozambicans are friendly. Those who can speak English are almost always interested in hanging out with foreigners, and sometimes you can enjoy a heartwarming experience as a result. So don't be too shy to start a conversation and see where it leads you! I personally met Orlando and Nate, a Mozambican-American duo who bonded and ended up traveling the country together. It was humbling learning their stories!
Quad-Bike Through the Sand Dunes: Rent a quad bike and take it through some of the small villages in the sand dunes behind the beach – we are talking about 5-10 grass huts here. Kids will run out and either wave or decide to be little rascals and try to grab onto the back of the quad bike as you ride by. With a quad bike, you can find all kinds of little enclaves and beaches that aren't accessible directly, and an adventure off the beaten path is always fun.
Relax in Vilanculos: In Vilaculos, you could spend hours and hours watching the fishermen, the kids, the waves, the sand bars as far as the eye could see; you can go diving or snorkelling, and you can stay in a beautiful hut that costs only $19. Vilanculos is the place to truly live, even just for a little while. Vilanculos was my last stop in Mozambique, and as I flew out over the sand bars back to South Africa, I silently promised to find a way back one day. It's the kind of place that make you pinky promise yourself, like a child again.
Mozambique on BMTM's Instagram