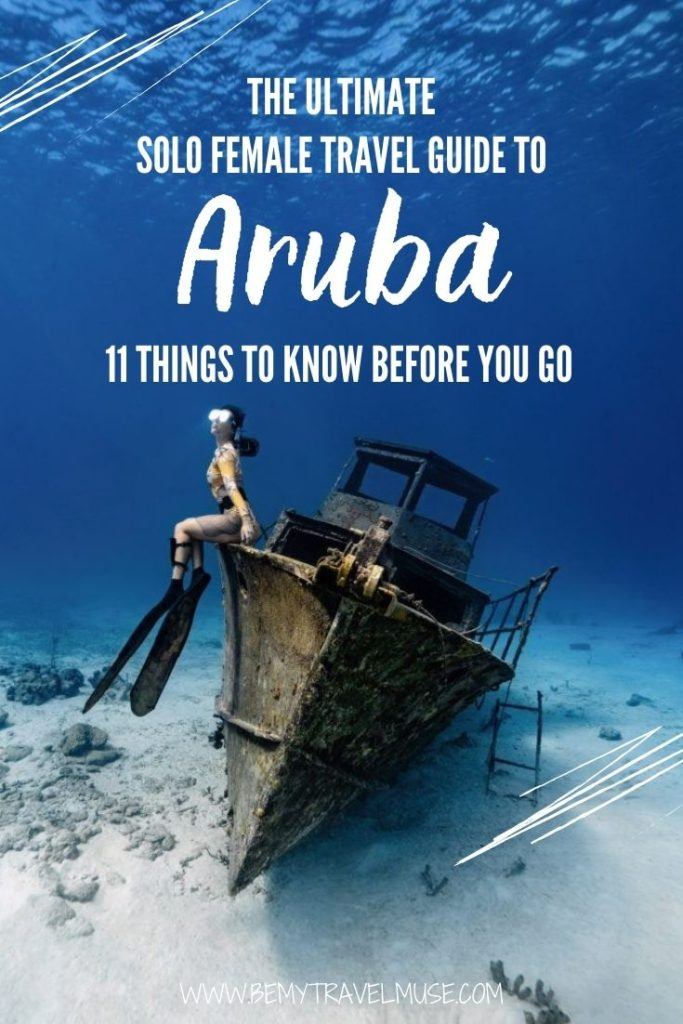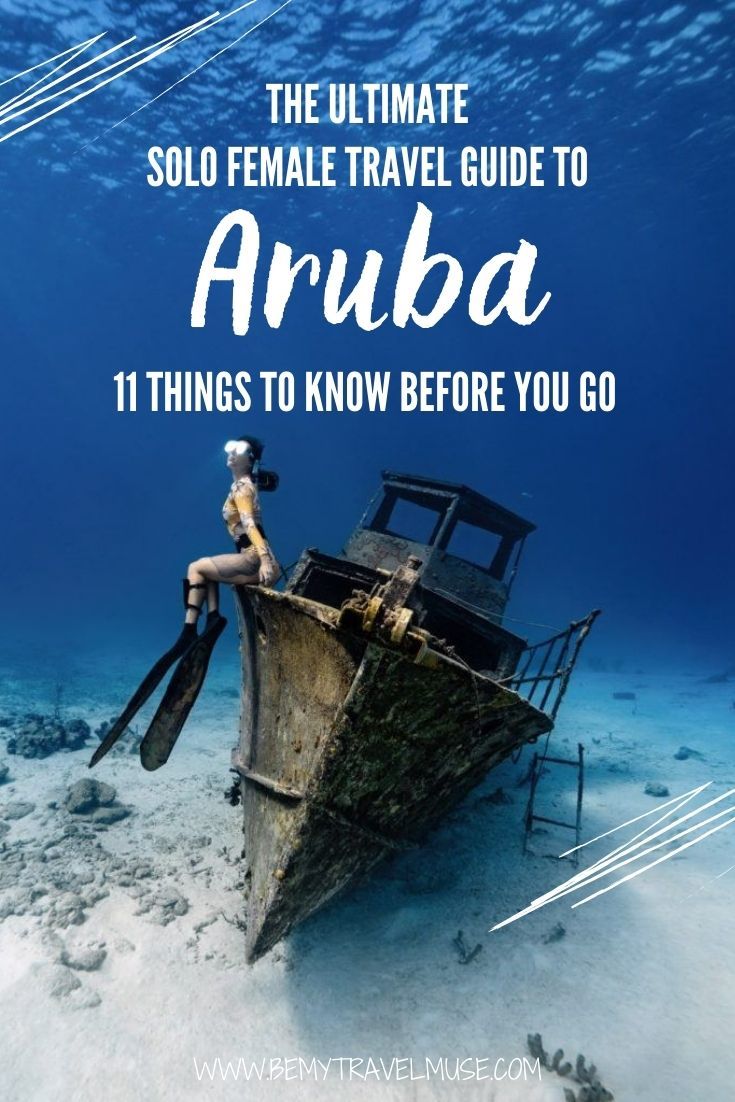 I'm standing on Manchebo beach on Aruba, my third time back, amazed yet again at the perfection of the sunset unfolding in front of me. Every 20-degree rotation of my line of sight presents a delightful new color palette of periwinkle blues, purples, and cotton candy pinks.
It's a little wonder why Aruba has more repeat visitors than other top Caribbean islands. It's full of natural wonders, it's easy to get to, it's incredibly welcoming, with at least four languages spoken by natives on the island, and it has more sunshine than any other Caribbean island to boot.
As a solo female traveler, I love how easy Aruba is to explore. It's small, safe, and easy to drive around. From my Jeep adventures to the underwater world, Aruba has been a playground I keep returning to throughout the years. Thinking of visiting yourself? These are the best adventure, culinary, and beach adventures for solo female travelers:
Solo Female Travel Considerations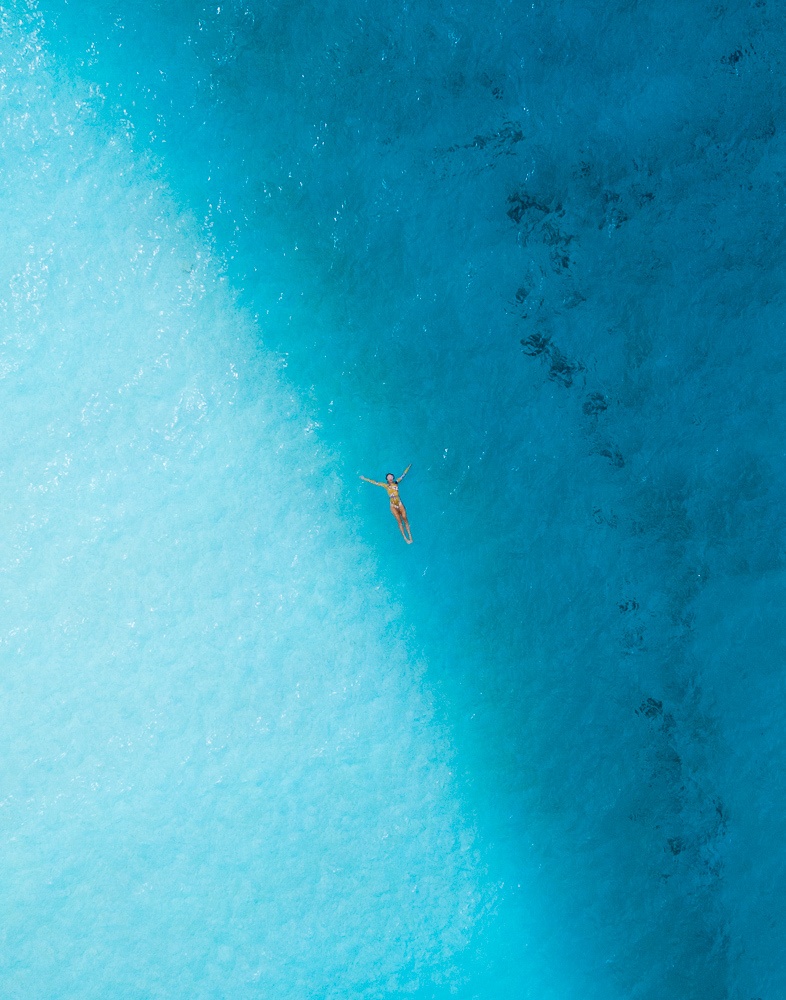 One of the first things I wonder about beachy destinations is, will there be enough to do so that I feel entertained and not just surrounded by couples?
Are the locals friendly and welcoming, easy to communicate with, and will there be other solo travelers too? Is it easy to get around and to navigate solo?
Thankfully Aruba ticks all the boxes, since its proximity to a lot of states in the US makes it easy to get to and attractive to solo travelers, it's pretty safe with low crime rates, and it's not too big, meaning that you can get around and see quite a lot of it during a short stay.
That said, I always feel like there's something new to do and despite having been back three times, I still make discoveries each time I return. The following activities are my favorite things to do there, particularly for those who are traveling alone.
Stay: Manchebo Beach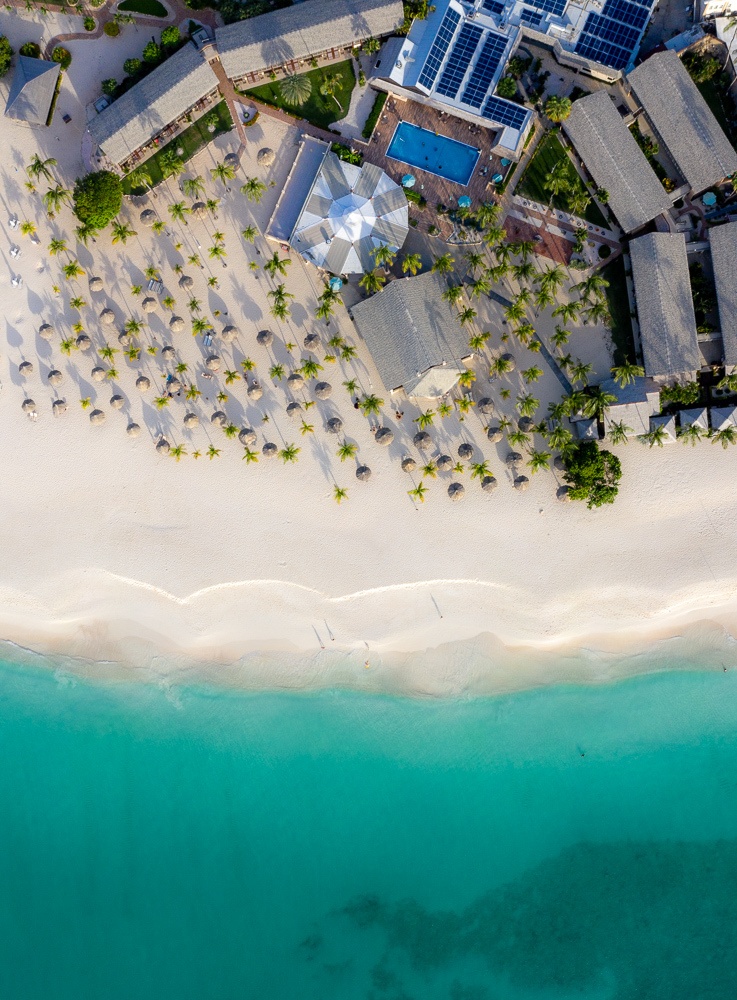 There are many pristine, white sand beaches in Aruba, but Manchebo beach has been my favorite one to stay on. Palm Beach is the famous area with high-rise hotels, but if you prefer something less crowded and more boutique, I loved Manchebo Beach Resort and Spa.
It's centrally located, it's perfectly situated for sunset, and I found at least two other solo female travelers while I was there! That little bit of extra calm and seclusion was what attracted them as well.
Arikok National Park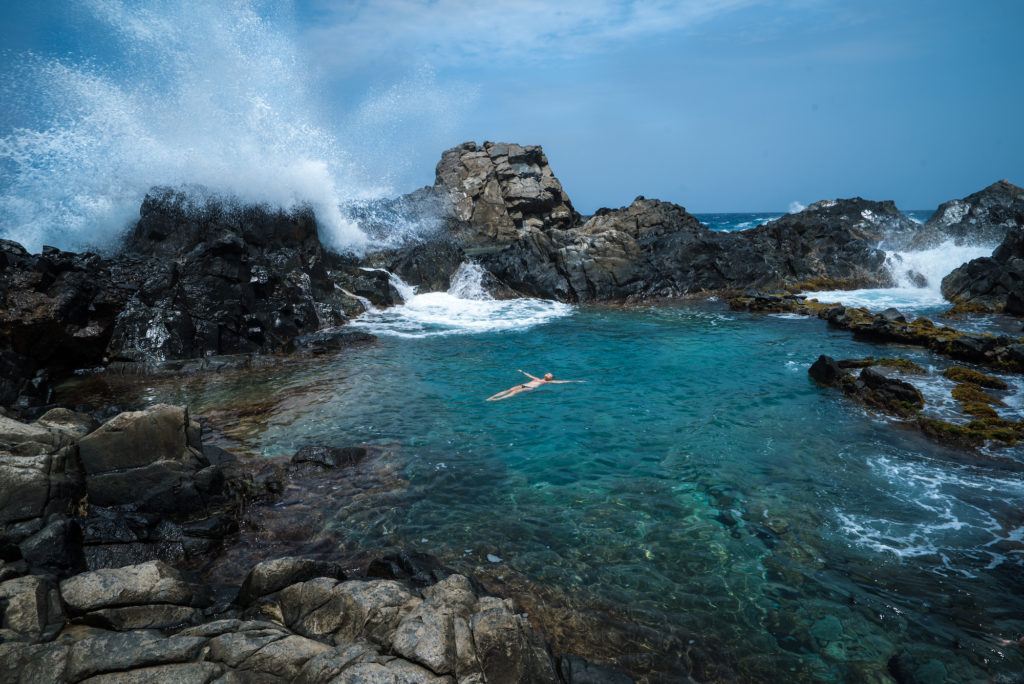 This is where you can get to know Aruba's more wild, rugged side. The national Park is only accessible for four-wheel-drive vehicles, so you can rent a Jeep and take yourself through, or you can take a day tour.
If you're not as comfortable with driving on the rocky terrain, I have found that the day trips to the park are loads of fun and give you an opportunity to hang with some other people. Be sure to book one that takes you to the caves with beams of light, with cave drawings dating back thousands of years.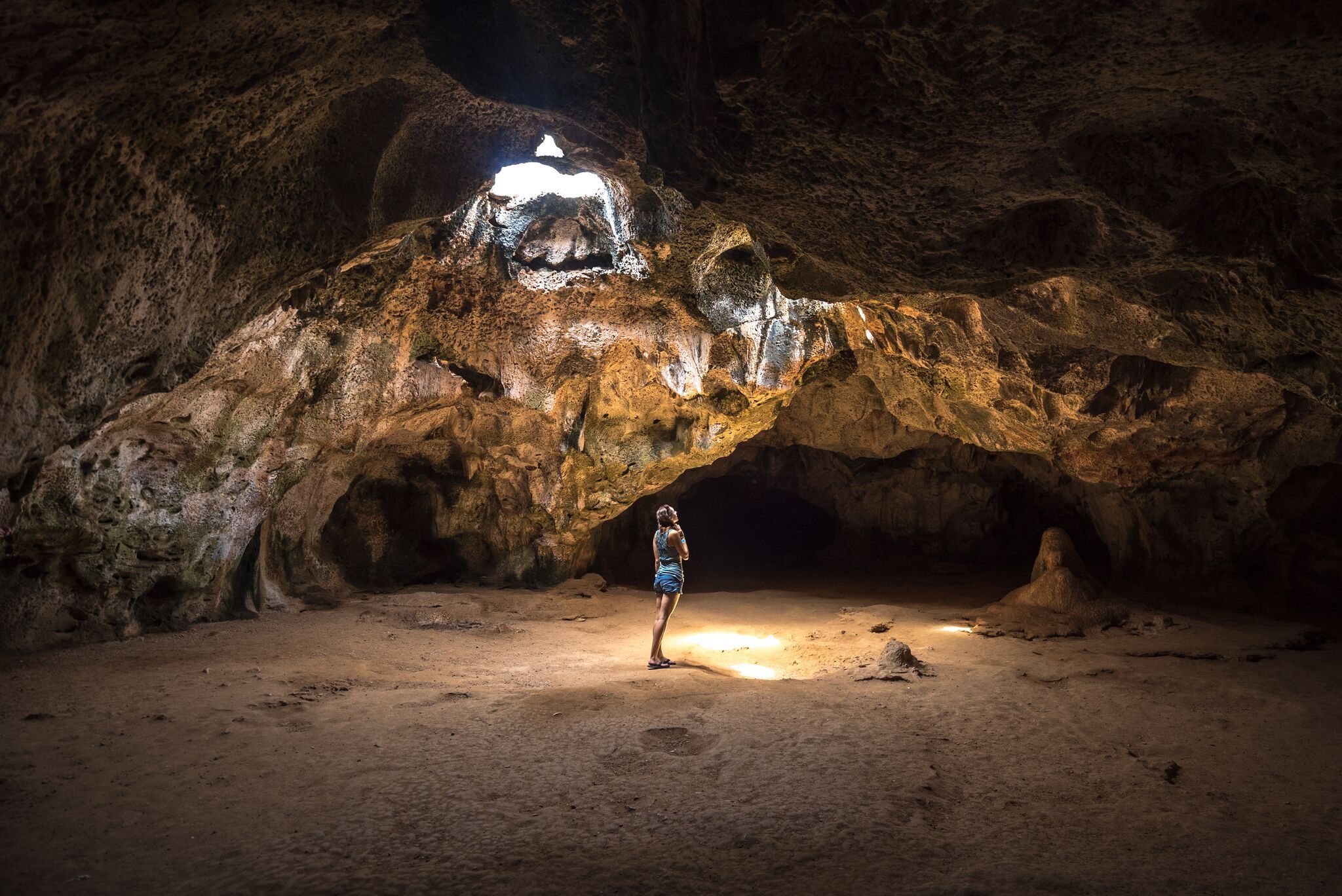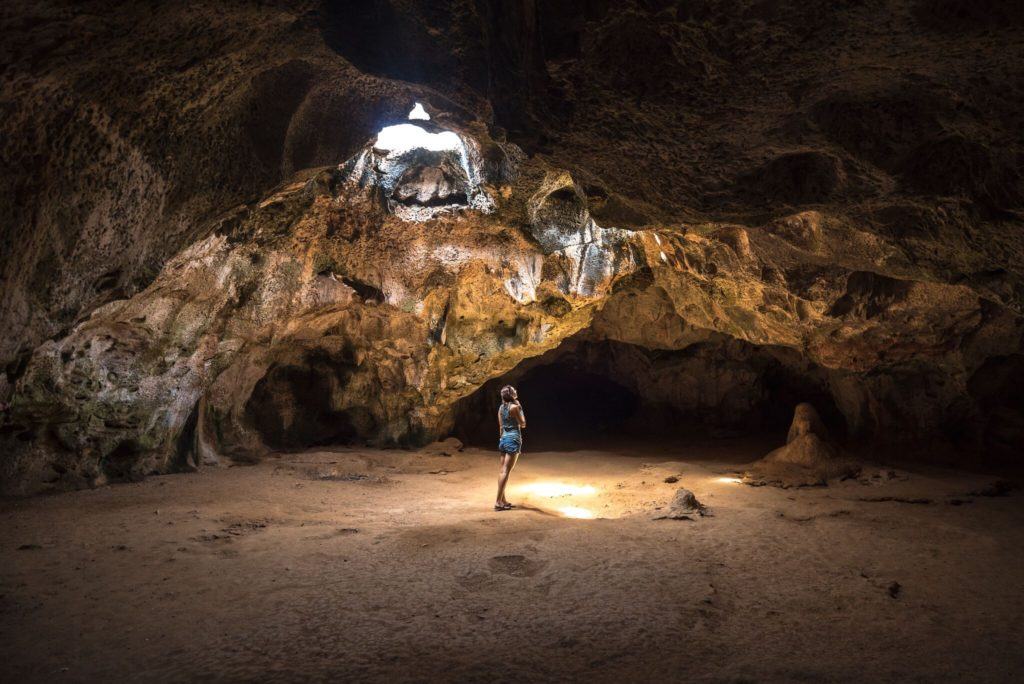 You will also check out the natural pool, a gorgeous rocky tide pool that presents the perfect photo opportunity.
Take Yourself on a Jeep Adventure down Aruba's East Coast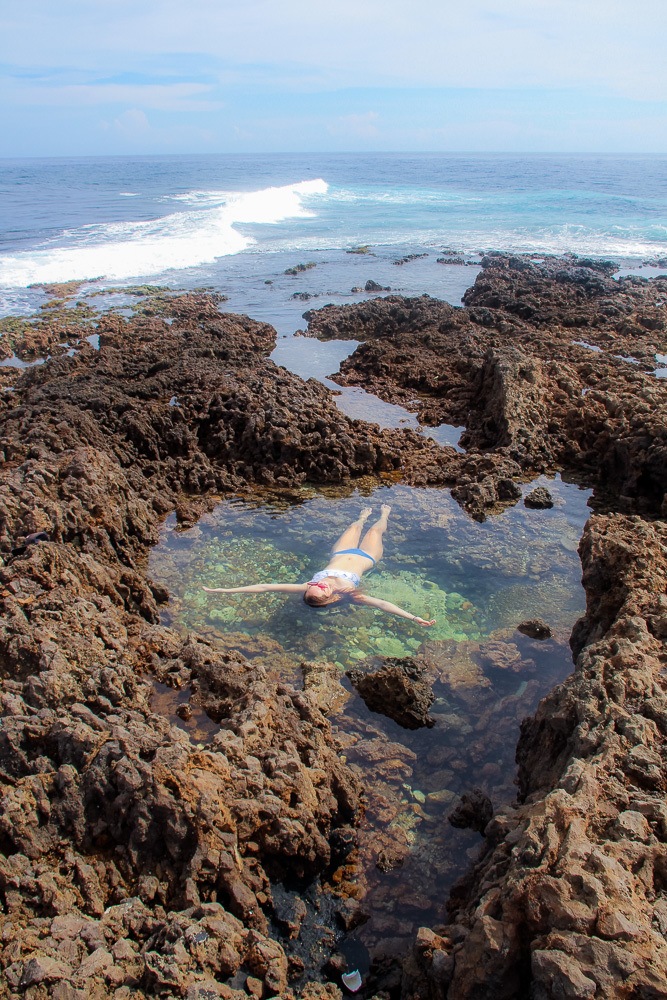 I remember being struck by how different the east side of the island is, full of volcanic rock and tons of cacti! If you really want to get away from it all, the east side of the island is almost a different world.
It's less about beaches and swimming as it is rock arches, forests of cacti, and hidden tide pools. Definitely wear some proper shoes and don't plan on getting in the ocean here as it can be rough, but rather enjoy the solitude and this very different look at Aruba.
Check out Aruba's Wrecks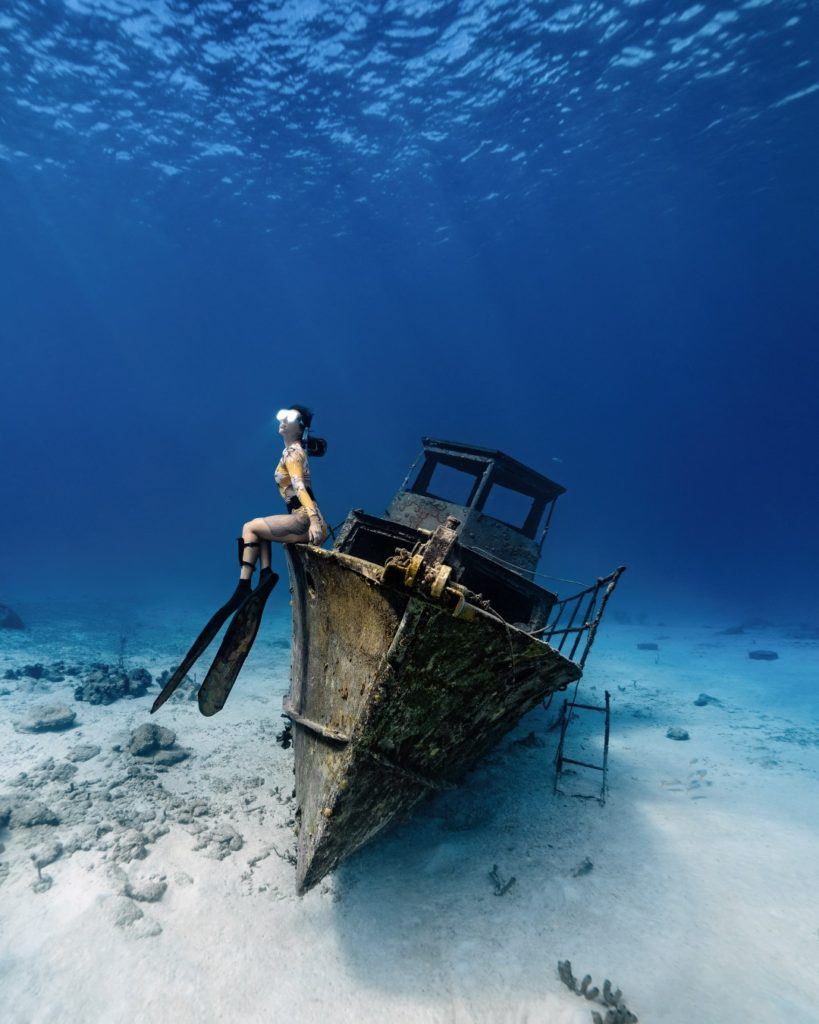 There are several ship and even plane wrecks around Aruba of varying degrees of accessibility and depth.
The Antilla shipwreck is close to Eagle Beach and tres trapi, and shallow enough and close enough to shore to SUP out to.
Pictured above, I'm sitting on a shipwreck just off of Mangel Halto. While plenty of these are shallow enough to free dive to, and accessible from the boat snorkeling trips, you can also scuba dive to them with Red Sail Sports Aruba.
Get Unda Da Sea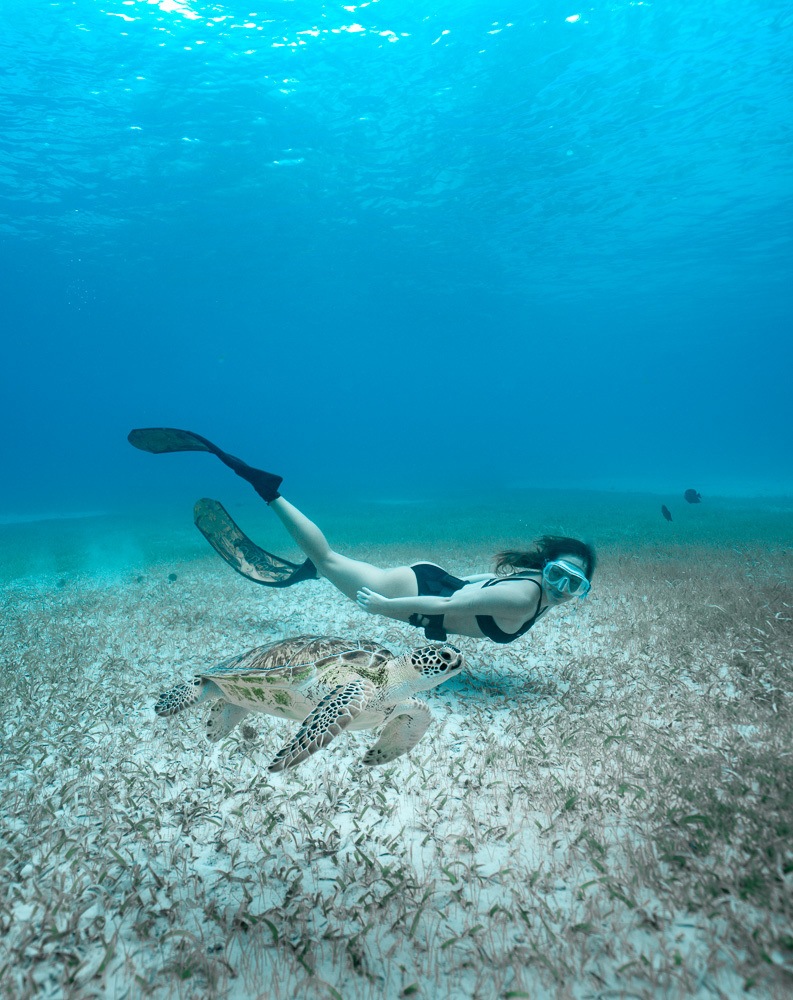 You've got a couple of options when it comes to snorkeling in Aruba. Much of the fish and coral are easily accessible from the shore, so you can drive yourself to Tres Trapi and Mangel Halto to check out some crystal clear, gorgeous waters.
Alternatively, join a snorkeling cruise along the northwest coast of Aruba They will also bring you to similar snorkeling spots. Another great way to get to meet people if you're up for it, and especially around sunset to see the gorgeous colors.
The Best Culinary Experience for Solo Travelers in Aruba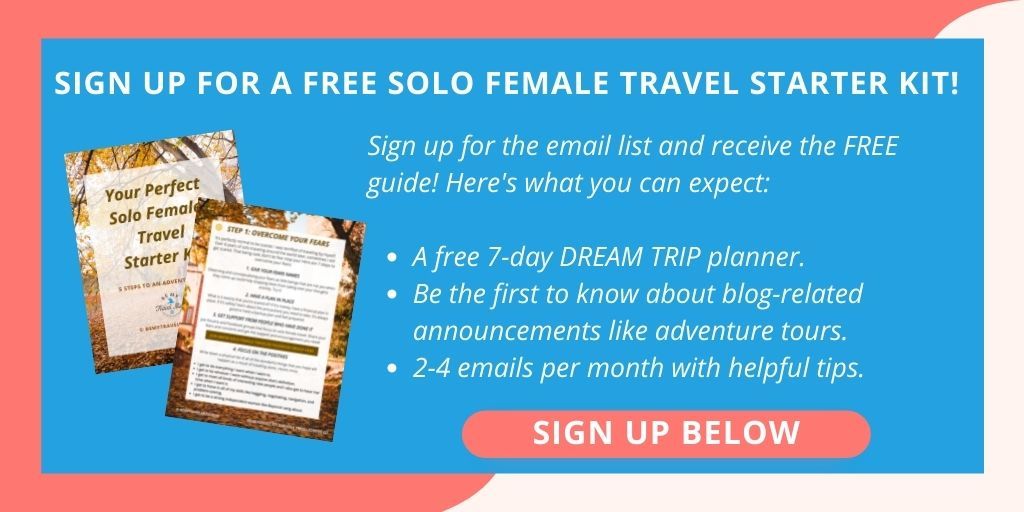 I don't know about you, but I find meal times can be the hardest when I'm traveling alone. I'm a big fan of room service for this reason, but I also wanted to get out and have a true culinary experience in Aruba.
Senses Fine Dining was the perfect solution. Similar to my Kaiseki dining experience in Tokyo, the entire table is set up like a counter with a view of the chef. 
At Senses, Chef Kelt created an eight-course dining experience with homegrown herbs and vegetables, and all of the other ingredients painstakingly sourced from the best possible place, including sea scallops a friend of his hand harvested in Norway! That was my favorite dish, and this is coming from someone who didn't think she liked scallops.
The best part is he walks you through each dish, talking about the inspiration, and the hours or sometimes days involved in slow cooking the meats and developing deep, aromatic flavors.
Instead of a lonely dinner, this feels much more like an experience where you really get to know the process behind the food, and watch as it's created right in front of you.This was the best food I had on Aruba, you can book it here.
Spas and Wellness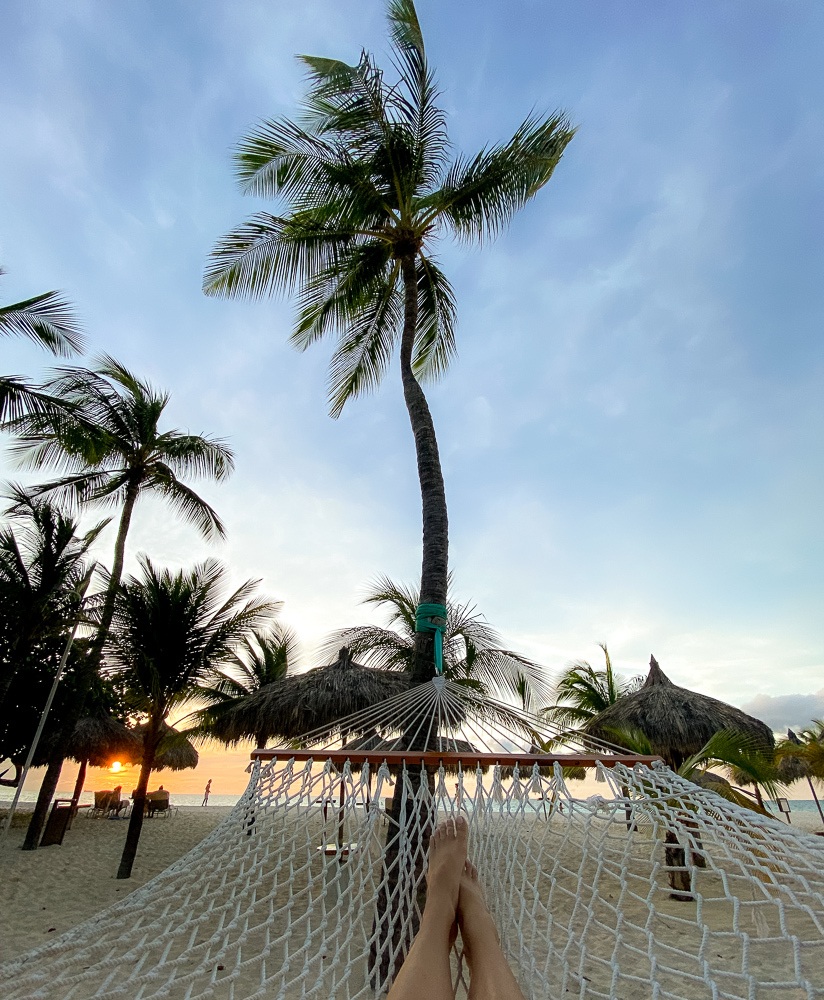 What better time to treat yourself than when traveling solo? This was my logic when booking the full experience at the Manchebo Resort and Spa's Spa del Sol.
It includes a volcano scrub and wrap, a full body massage, facial, manicure, and pedicure. It was 4 1/2 hours of bliss at the hands of great masseuses and facialists!
The wrap left my skin feeling silky smooth, followed by a lavender aromatherapy massage. The facial was thorough, including extractions! And the pedicure made me realize how long it had been since I really treated myself to such a thing! My feet were so soft afterwards I couldn't stop looking at how pretty they were.
Additionally, many of the hotels, including Manchebo Resort and Spa, offer multiple yoga and Pilates classes per day. The island also has plenty of yoga studios and stand up paddleboard yoga. Check out Aruba's wellbeing offerings here.
Meeting People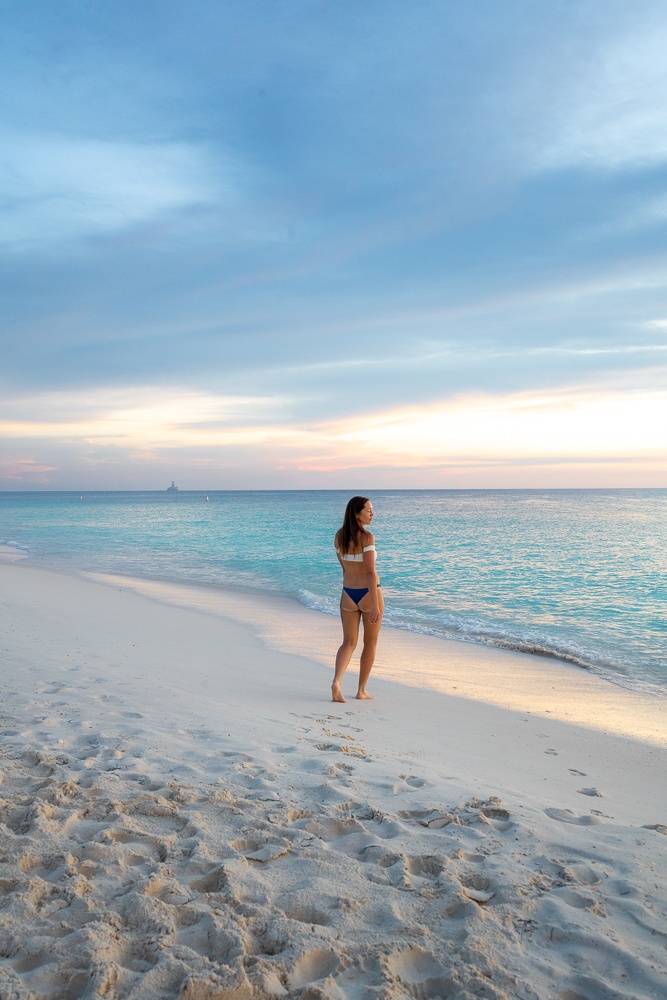 I have found that it's pretty easy to meet people to hang with in Aruba. I really like using Instagram to find other photographers to collaborate with, or if you're not a photographer yourself, they often charge pretty reasonable rates to take pics for you on vacation!
But beyond that, I just find people who work at the resorts and restaurants to be friendly and happy to chat with you. Plus many are multilingual!
As I mentioned previously, I've met my fair share of fellow solo travelers there as well, and they often become my exploration buddies for the day.
Getting Around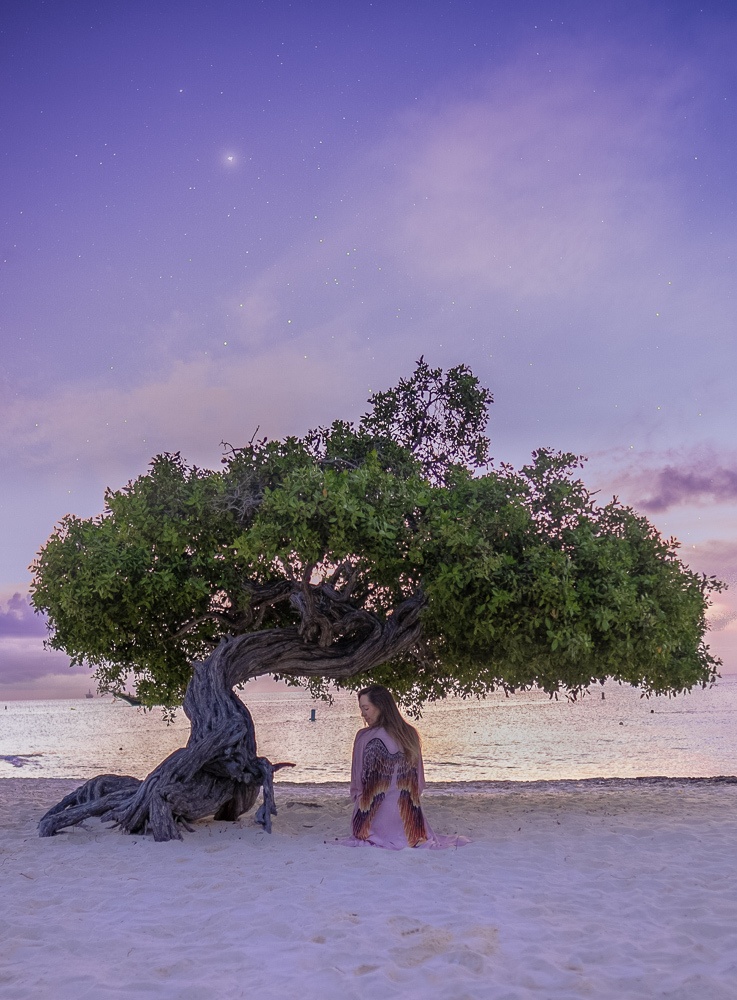 I've done Aruba in several different ways – staying at an all-inclusive resort on Palm beach without my own transport, and staying in the more boutique areas with my own transport, including my second trip where I rented a Jeep from Amigo car rental for my entire stay.
I do truly love having my own transport on Aruba. Once you get used to the roundabouts, driving there is pretty simple, without too many lanes or high speed.
That said taking day tours for snorkeling and Arikok national Park also works, giving you a pretty good overview of the little island, particularly if it's a shorter trip. There are also taxis available.
COVID Considerations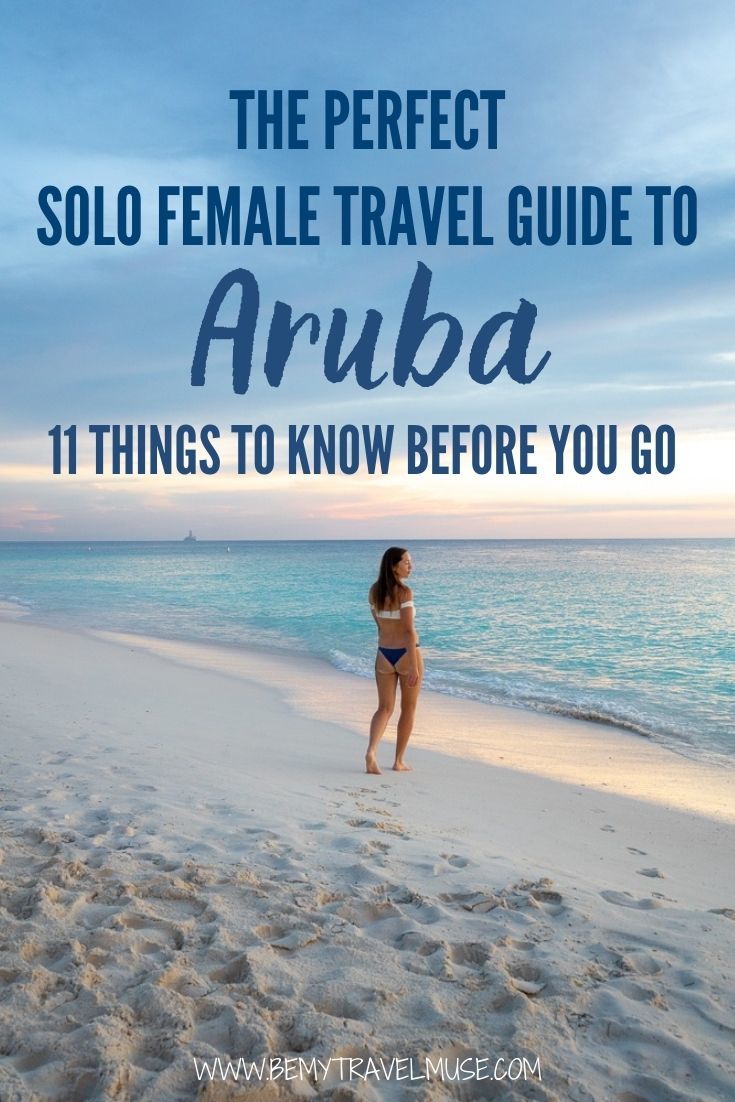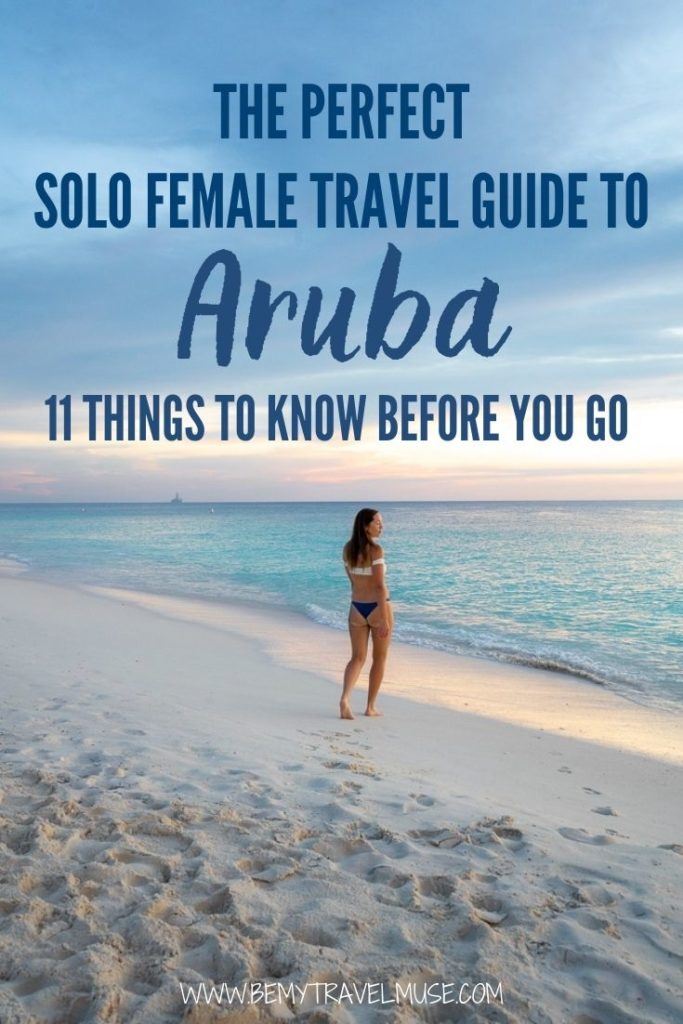 Things are of course, ever-changing, but at the moment Aruba requires visitors to have a negative COVID test to enter. You are also required to buy their insurance for the duration of your stay, which is only $30 and covers expenses arising from COVID on the island.
Depending on which state you're from, you may have to obtain your COVID test prior to arriving, or can get it on arrival at the airport for $75. You will have to quarantine in your hotel until the results come in, which usually takes around eight hours.
You'll find that every establishment requires mask wearing, and there are social distancing rules in place as well. I feel like Aruba is doing a great job navigating this new normal, with their health and happiness code requiring sanitation, and mask wearing in any establishment in Aruba. I felt safe traveling there and would not hesitate to return. You can read more about the requirements here.
My third trip back to Aruba reminded me of how much I love visiting this little island. The contrast, colors, and friendliness get me every time. Whether you were traveling solo or with friends, I hope you do get the chance to do a little bit of solo on Aruba. It's so unique, friendly, and easy to love.
*This post was brought to you in collaboration with Aruba tourism authority. All thoughts and love towards Aruba are genuine and my own.