This post was written by Nicole Edwards, a solo-sailing freelance writer for BMTM.
If you want to get a feel of the Caribbean climate and waters, there's really no better place in the continental US than in Key West. This southernmost island in the continental US is known for its high energy and beautiful ocean views. With so many established boat tours and excursion companies, however, it can be hard to pick the best ones.
In my humble opinion, the most valuable excursions are unique, have a smaller passenger count, and offer multiple experiences at the same time. If this sounds good to you, read on for 10 of "all of the above":
1. Full-Moon Cruise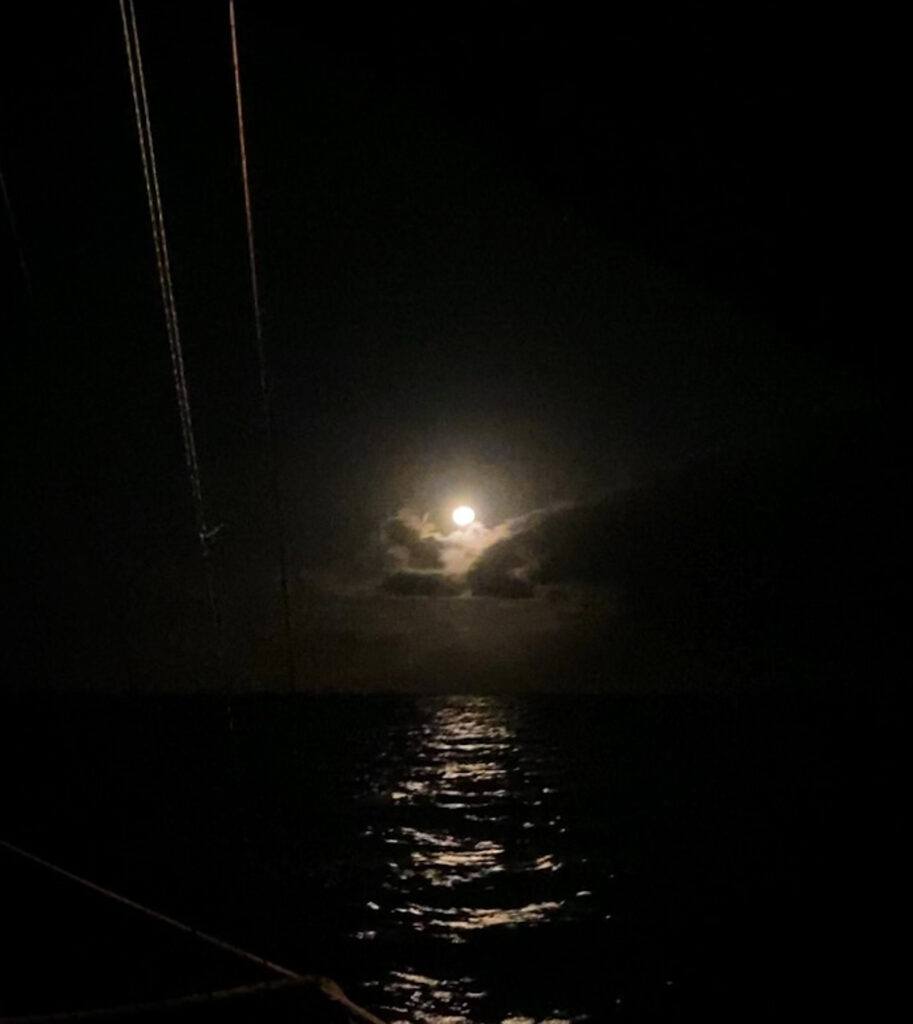 Have you ever sailed by the light of a full moon? I have, on my own sailboat, and it felt like I was the only one in the world. All I could see was the moon (it was too cloudy for stars). Everything else — the water, the boat, the sails — merged into darkness. For all I knew, I could have been floating in space, and the surreality was humbling.
You can experience a full-moon sail aboard the famous schooner America, which won the first America's Cup regatta in 1851. This 105-foot classic sailing vessel is the only Key West sailboat that will take you on a quiet stargazing sail by the light of a full moon. Spots fill up fast, as the full moon happens only once a month, but if you plan in advance, it's worth the dedication. The booking process is somewhat particular and they prefer that you call — you'll even get the 6% booking fee waived. When you call to purchase your ticket, they will tell you the exact departure time and meeting location.
Where: Schooner Wharf
Duration: 1.5 hours
What's included: snacks and nonalcoholic drinks
Price: $64.80, but tipping the crew is recommended. Book over the phone at 305-293-7245.
2. Afternoon Sail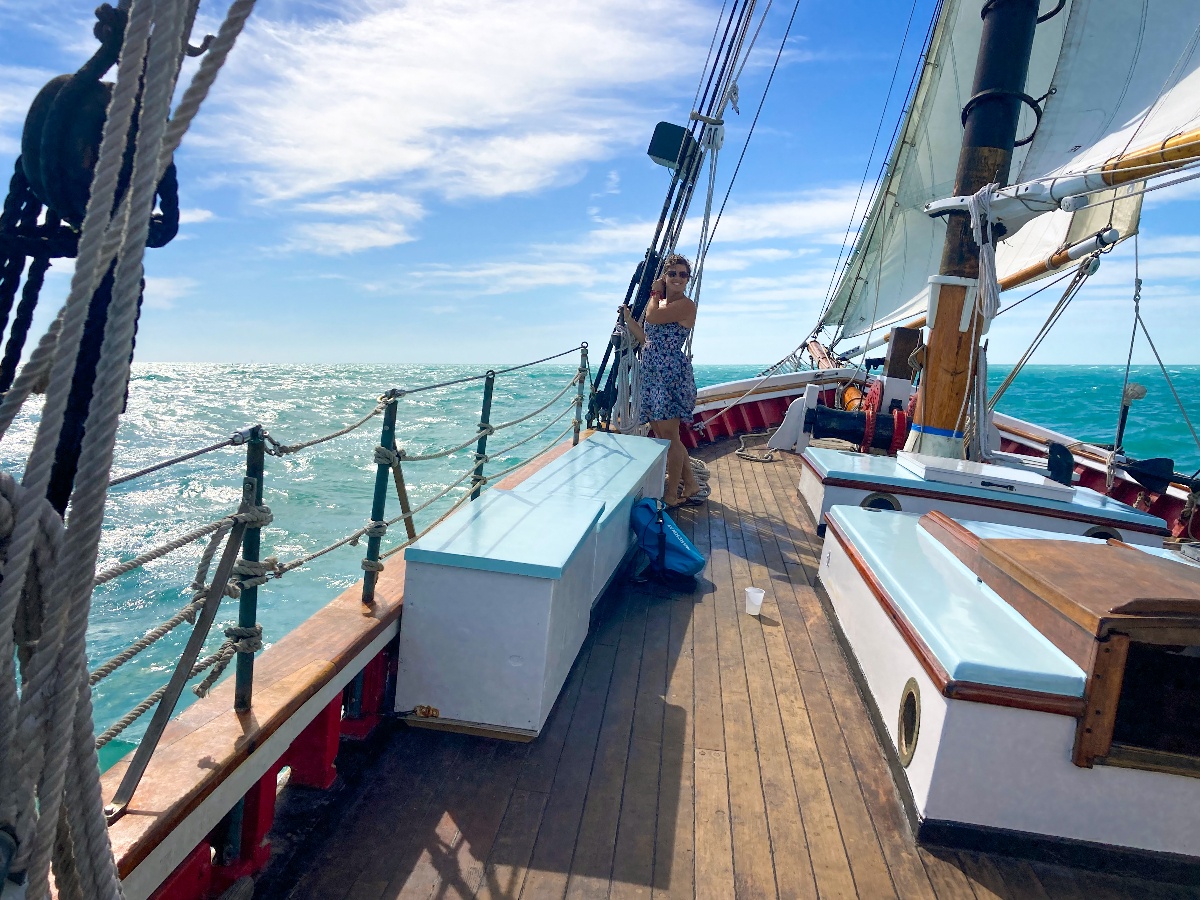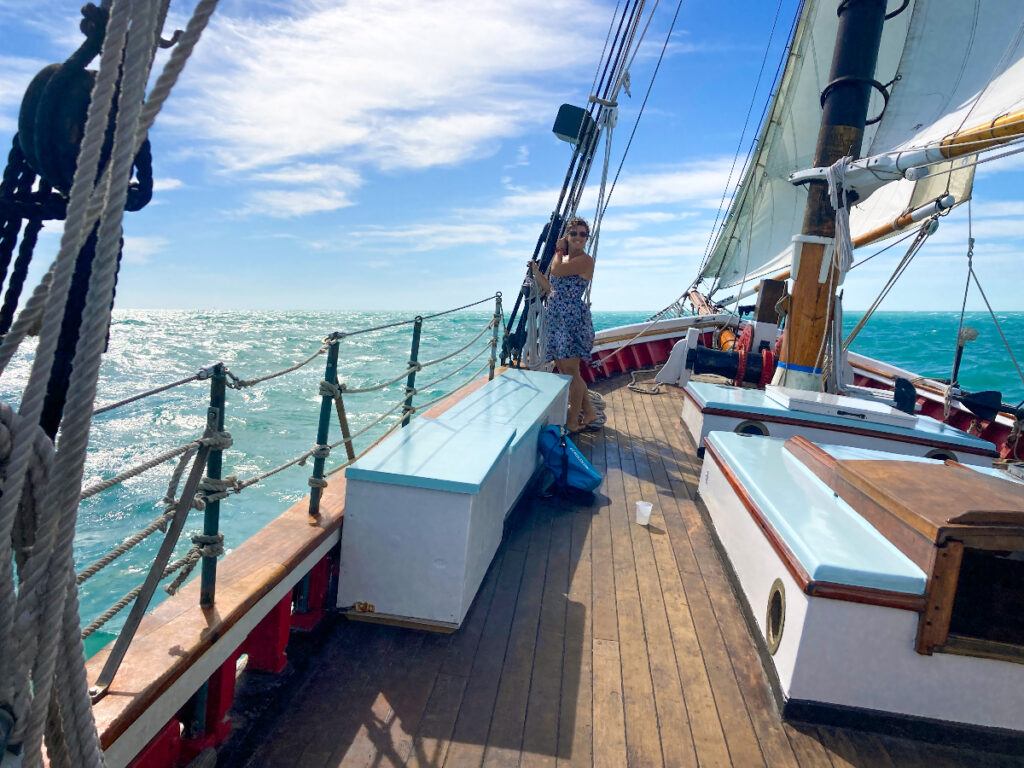 I had so much fun on the Appledore II! We left Schooner Wharf around 1:30pm and sailed offshore for about 2 hours. We had beautiful conditions: about 18 knots of wind and 2-3 foot seas. In other words, it was a true sailing experience. There were only about 10 guests on board, probably because it was a Sunday afternoon. When they asked for volunteers to help raise the sails, I hopped up and they showed me where to grab hold of the halyard (the line that pulls the sail up the mast). It was so heavy. They weren't asking for volunteers, they were asking for help! I hoisted with another of the crew members, using my entire body weight to pull the sail up the mast.
The rest of the sail I talked with the crew and enjoyed the views. Because the waves and current were opposing each other, there was a refreshing salty spray. This ship is all wood, the crew live aboard and they do all of their own maintenance and repairs. Every year this ship travels over 3000 miles. In early June, the Appledore II heads north to Camden, Maine for the summer season. The afternoon sail wrapped up with a brief history of the impact of these ships in the Key West economy, helping to make Key West one of the richest cities in the United States. The Appledore II has also sailed around the world.
Where: Schooner Wharf
Duration: 2 hours
What's included: drinks
Price: $59.95, but tipping the crew is recommended. Book here
3. Champagne Sunset Cruise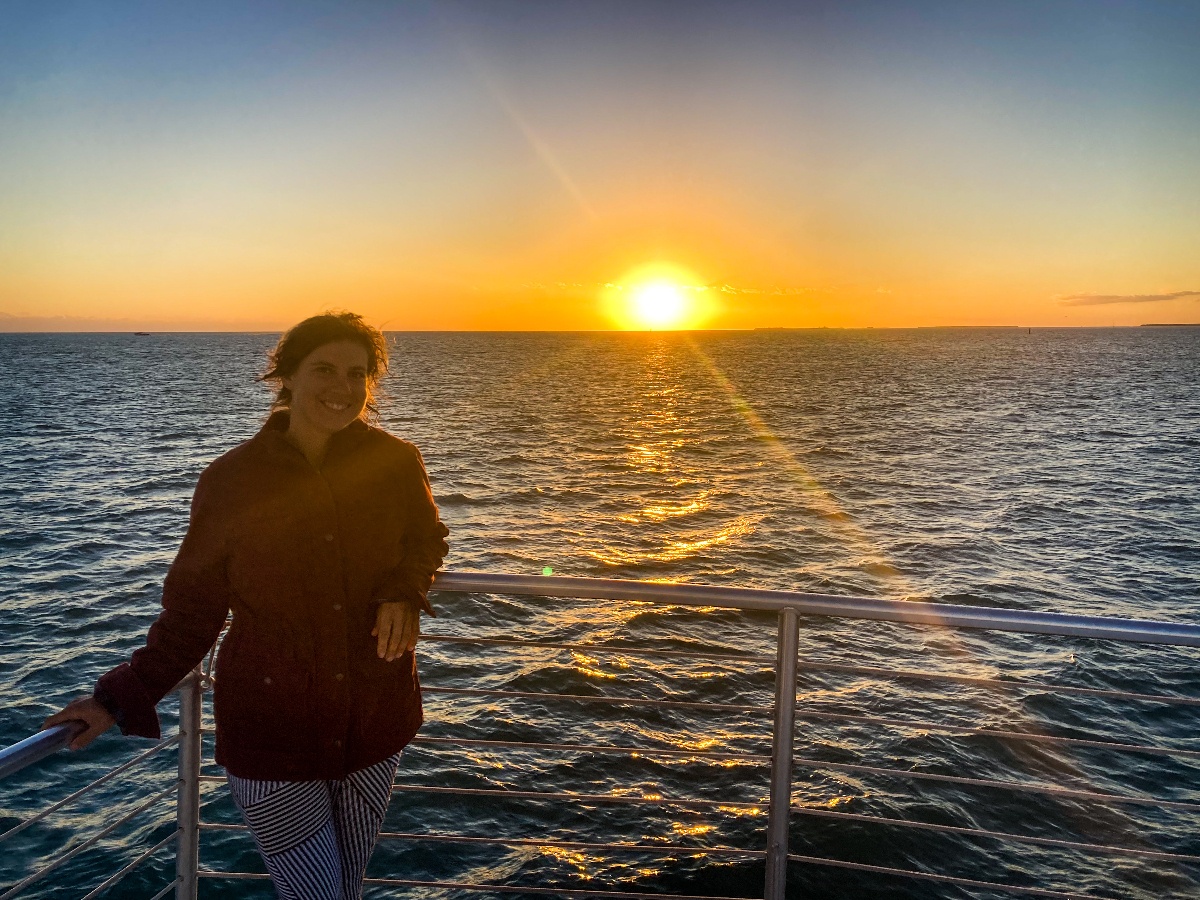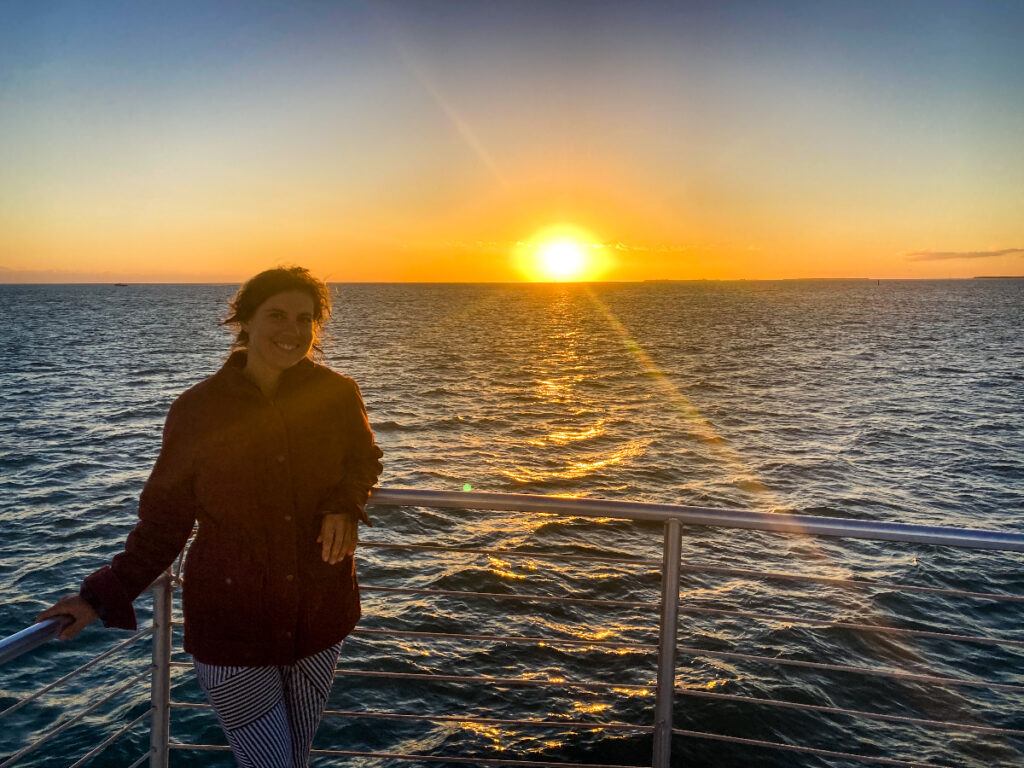 I love watching sunsets on the water. And with my own sailboat, I'm fortunate to do it any night I choose. I did, however, hop on a sunset charter, because it's relaxing to not have to worry about the boat! A January cold front had moved through so I brought a jacket, but it was in the low 80s the rest of the time.
If you prefer a sailboat that stays very level on the water, go on a catamaran. Most such sunset sails are packed, but this champagne cruise is still respecting COVID social distancing and is currently maxing out at only 10 passengers (adults only). Meet at the dock and then you'll head out through the harbor and into the Atlantic Ocean to catch the gorgeous Key West sunset, while being served champagne and a gourmet cheese platter. Before you return, you'll circle back in front of Mallory Square, where you can smile and wave at the people along the waterfront.
Where: Schooner Wharf
Duration: 2 hours
What's included: champagne and a cheese platter
Price: $81.40, but tipping the crew is recommended. Book the tour here.
4. Eco-Tour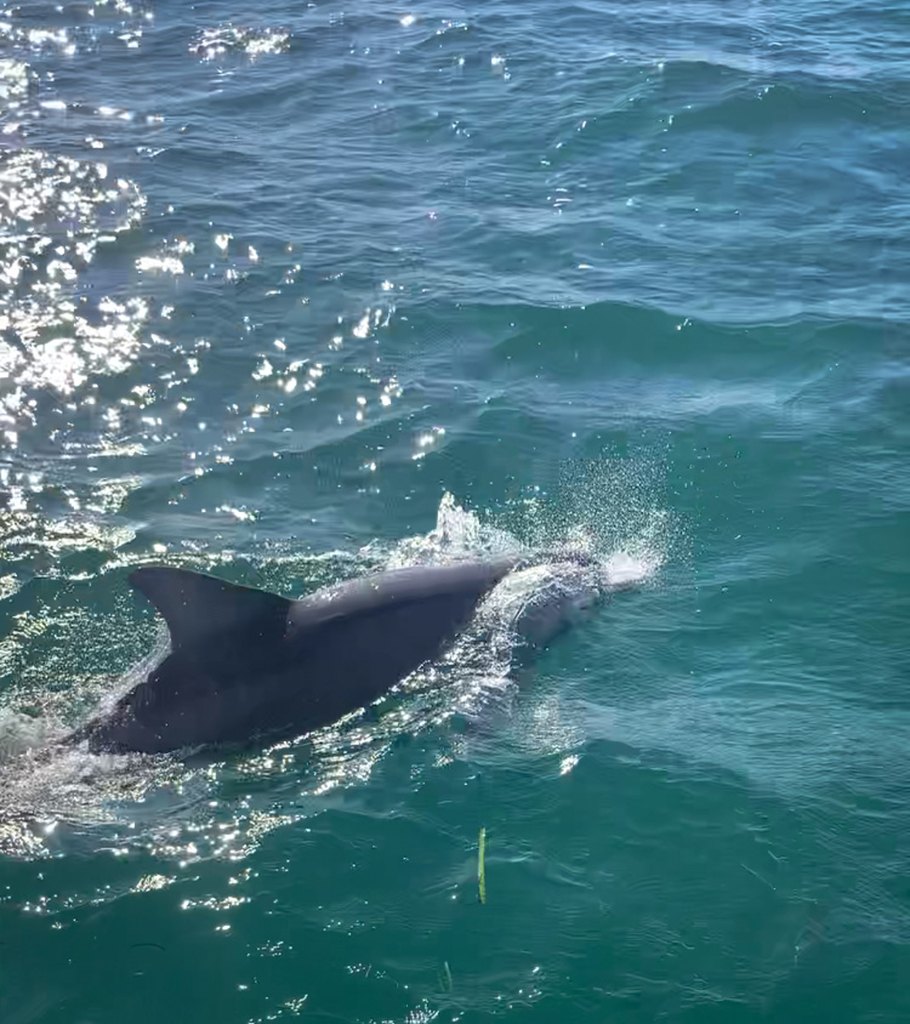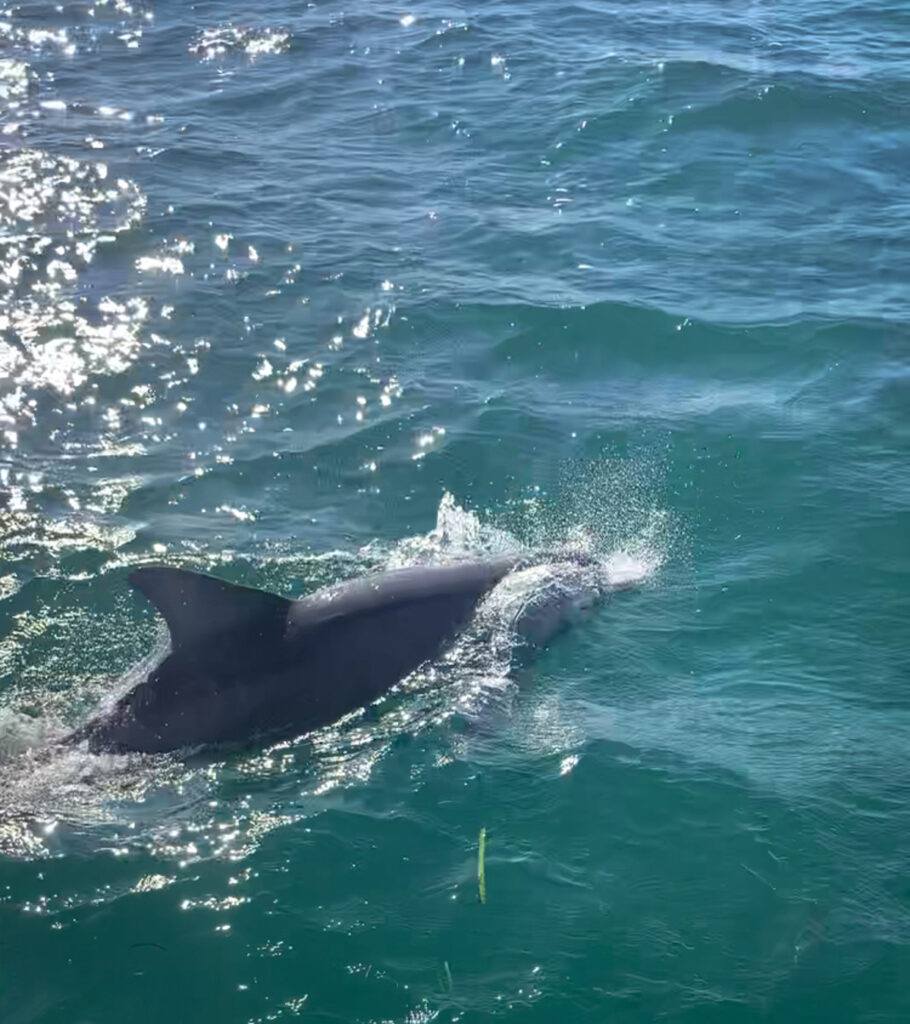 I tend to gravitate toward anything that is environmentally friendly and healthy, so when I learned about an electric boat that did eco-tours, I was hooked. Electric boats use the power or the sun to charge a bank of batteries, which power the boat. They don't have to use gas or diesel (but usually they do employ an emergency generator, especially if the sun hasn't been shining!) Electric motors are much quieter than diesel or gasoline, too, increasing your chances of seeing birds, sea turtles, and dolphins.
The motor vessel Squid is Key West's first electric catamaran eco-tour cruise boat. The tour is capped at 16 passengers and includes kayaking, snorkeling, sailing, dolphin watching, and an organic and healthy lunch from Date & Thyme. In addition to the captain, you will also have a biologist as your tour guide, who will not only accompany you on your kayak and snorkeling tour but also talk about the environment and wildlife, and answer any questions you might have.
Arrive by 9am for a 9:30 departure. The trip is about six hours; however, there is also a four-hour dolphin and snorkel excursion (no kayaking) that leaves at 9am and 2pm.
Where: Schooner Wharf
Duration: 6 hours
What's included: organic lunch
Price: $81.40, but tipping the crew is recommended. Book here.
5. Sunset Snorkeling Tour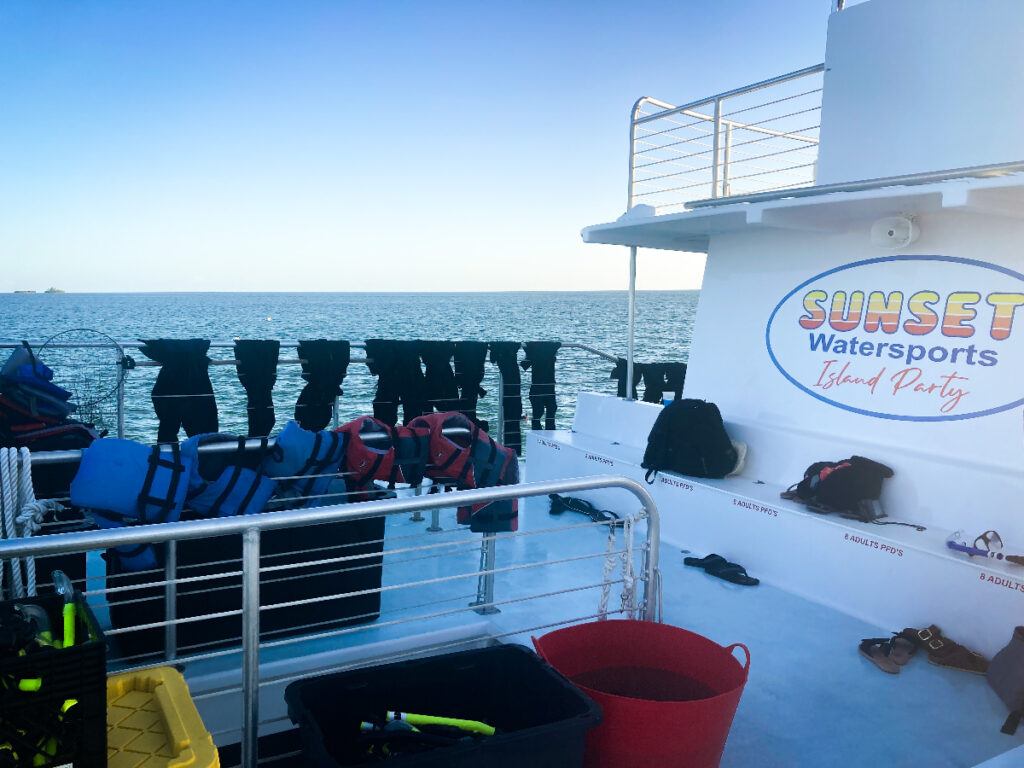 I joined a small group of about 35 people for a three-hour excursion of snorkeling through sponge gardens and patch reefs. Vibey music played the entire time, except when we were on the hunt for dolphins, as we didn't want to scare them away. What I loved most about the excursion was the crew's hospitality and the captain's skills on the water.
It was easy to hop into the water: the crew lowered a set of stairs off the front of the boat. When I was ready to climb back aboard, I swam around to the back of the boat and stepped up a set of stairs. The bathrooms onboard were clean and spacious enough for me to change out of my wet clothes. On the way back from snorkeling, we were able to catch the sunset before heading back to the dock.
Where: Schooner Wharf
Duration: 3 hours
What's included: drinks (alcoholic and nonalcoholic), dive equipment, life jackets
Price: $74.95, but tipping the crew is recommended. Book the tour here.
6. Backcountry Tour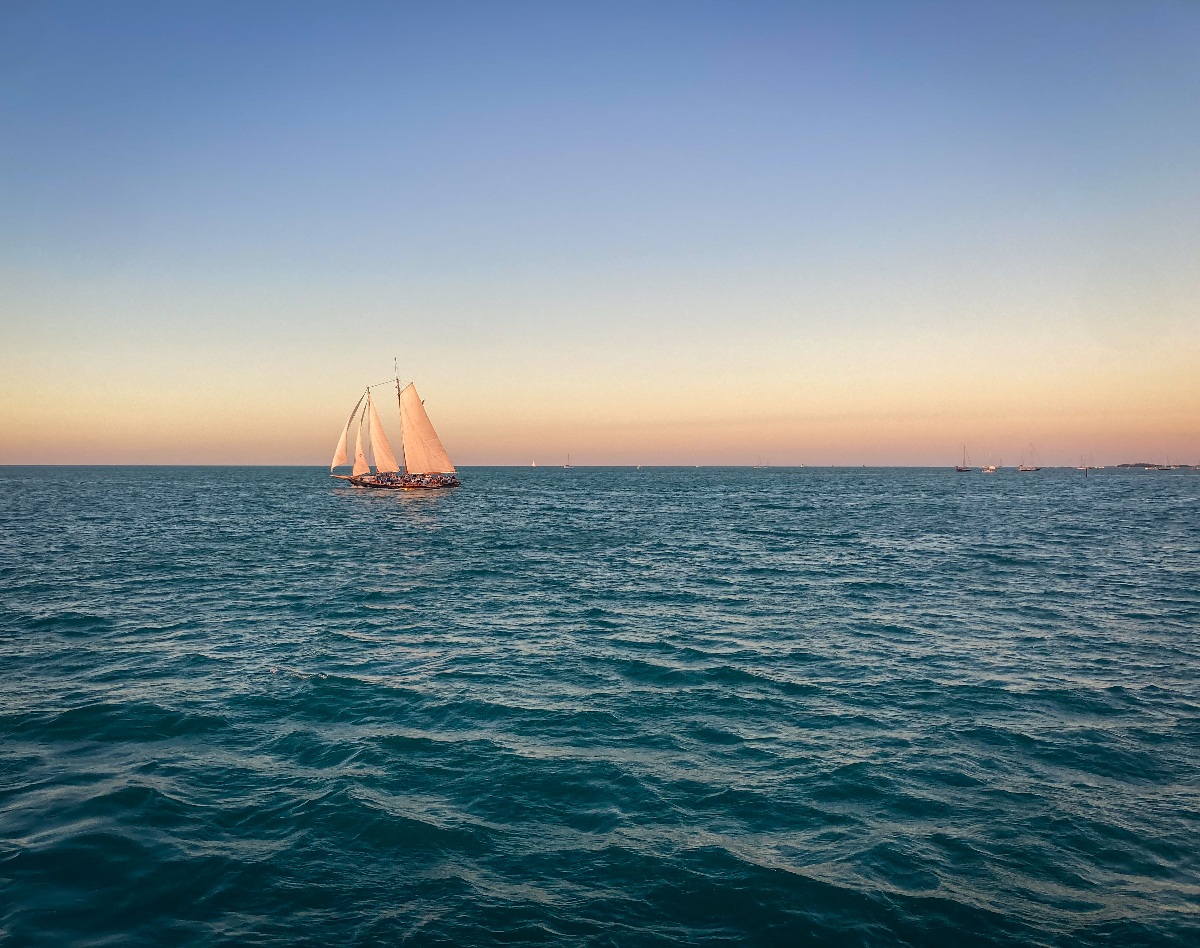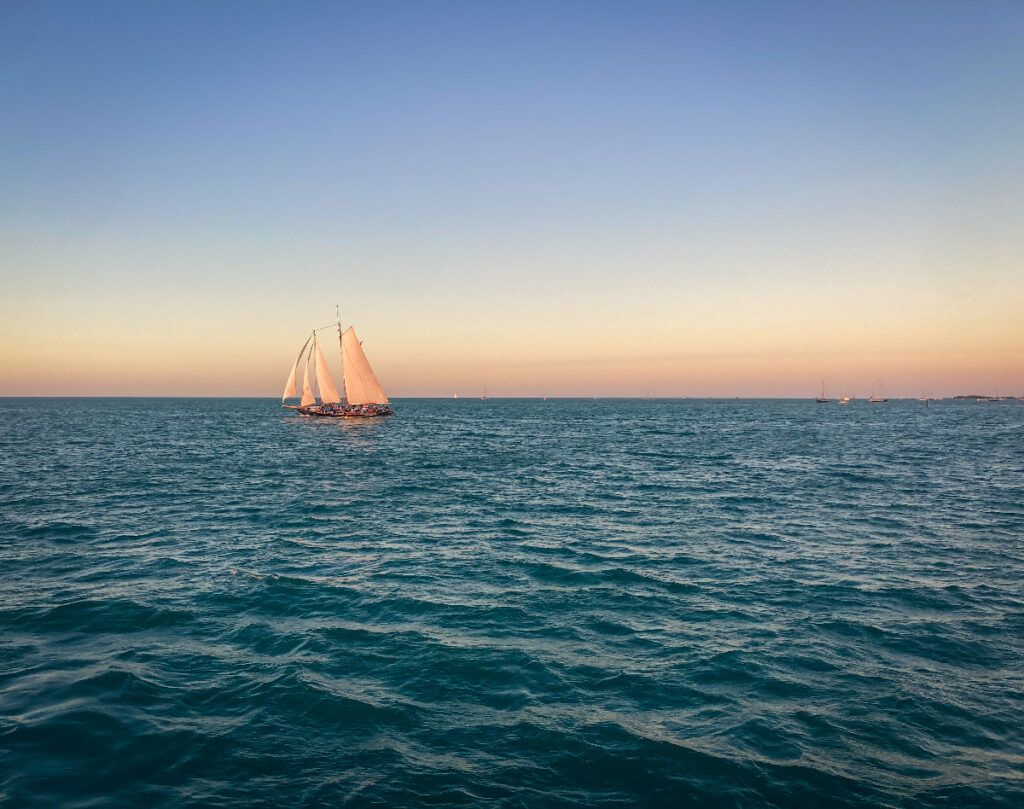 Key West is home to a smattering of uninhabited islands (except Wisteria, the self-proclaimed homeless island), called the backcountry. There's great swimming, snorkeling, and sunbathing opportunities on keys like Woman's, Man's, and at least five others. The backcountry is not to be missed!
Many of the sunset charter boats take half-day trips out to the smaller islands. I've noticed that the longer I spend out on the water, the more peaceful it becomes. (However, it is easy to forget to hydrate and reapply sunscreen, so be sure to look after yourself.) Also note that many cruises do not allow you to drink alcohol until after the snorkeling and kayaking part of the tour is done.
Your snorkel and kayak tours are guided, and while it is highly recommended that you be comfortable with the water and somewhat physically fit (a requirement for many sailboat excursions because of the reboarding process), your tour guide will show you everything you need to know. Specifically, there is a swim platform just below the waterline that you will kayak or snorkel up to. You'll then stand on the swim platform and climb up a ladder.
(If you would rather look at the reefs from the comfort of a boat, check out the glass-bottom boat tour discussed next.)
Where: Schooner Wharf
Duration: 5 hours
What's included: dive equipment, nonalcoholic drinks, and an all-you-can-eat buffet
Price: $129.95, but tipping the crew is recommended. Book the tour here.
7. Fury's Glass-Bottom Boat Tour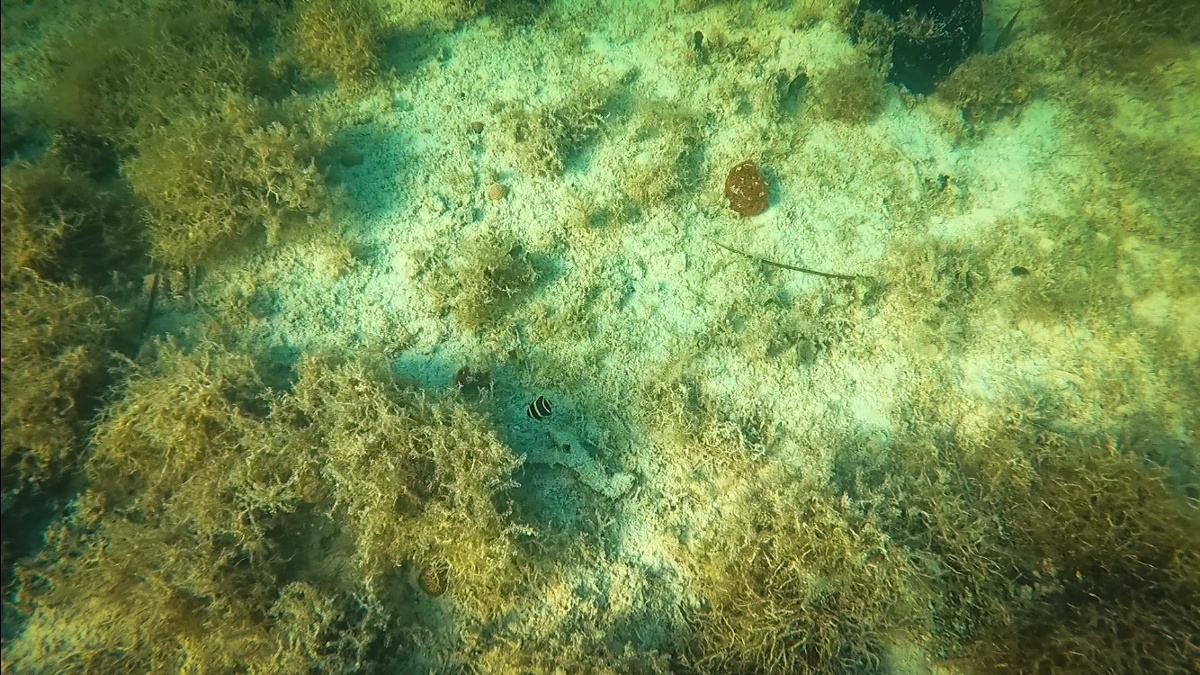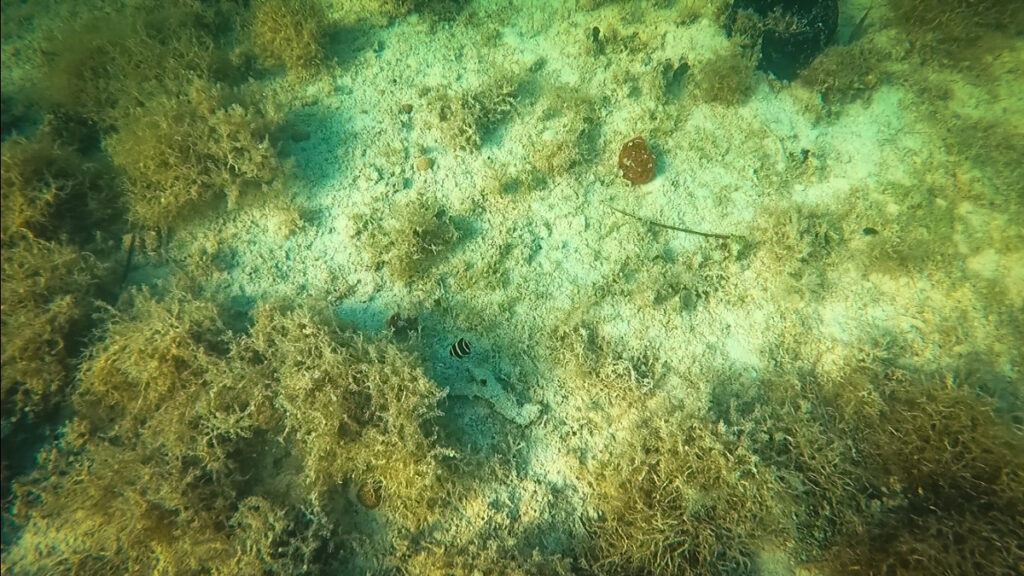 I get it. Sometimes you just don't want to hop in the water. And the fact is, you don't have to. When I was a child living on my parents' sailboat, my dad actually had a five-gallon bucket with the bottom cut out and replaced with a piece of plexiglass. My sister and I would compete for the bucket, which we could stick in the water and peer through without getting wet. We found the best reefs this way.
Fury has a glass-bottom boat that makes it possible to get a glimpse of the only living coral reef in North America without even going outside – you can stay in the air conditioned boat and look at the reef through the floor. A tour guide will talk about the reef while you look through a glass window on the floor. This is pretty neat, because you can learn about what you're looking at, whereas if you were in the water, you could only guess.
People have seen jellyfish, sea turtles, fish, sharks, and of course, the reef. The stable catamaran has air conditioning, and the captain caps the tour at a cozy 17 passengers. Tours depart at 12pm, 2pm, and 4pm.
Where: Schooner Wharf
Duration: 2 hours
What's included: snack bar
Price: $64.45, but tipping the crew is recommended. Book the tour here.
8. Island Jet Ski Tour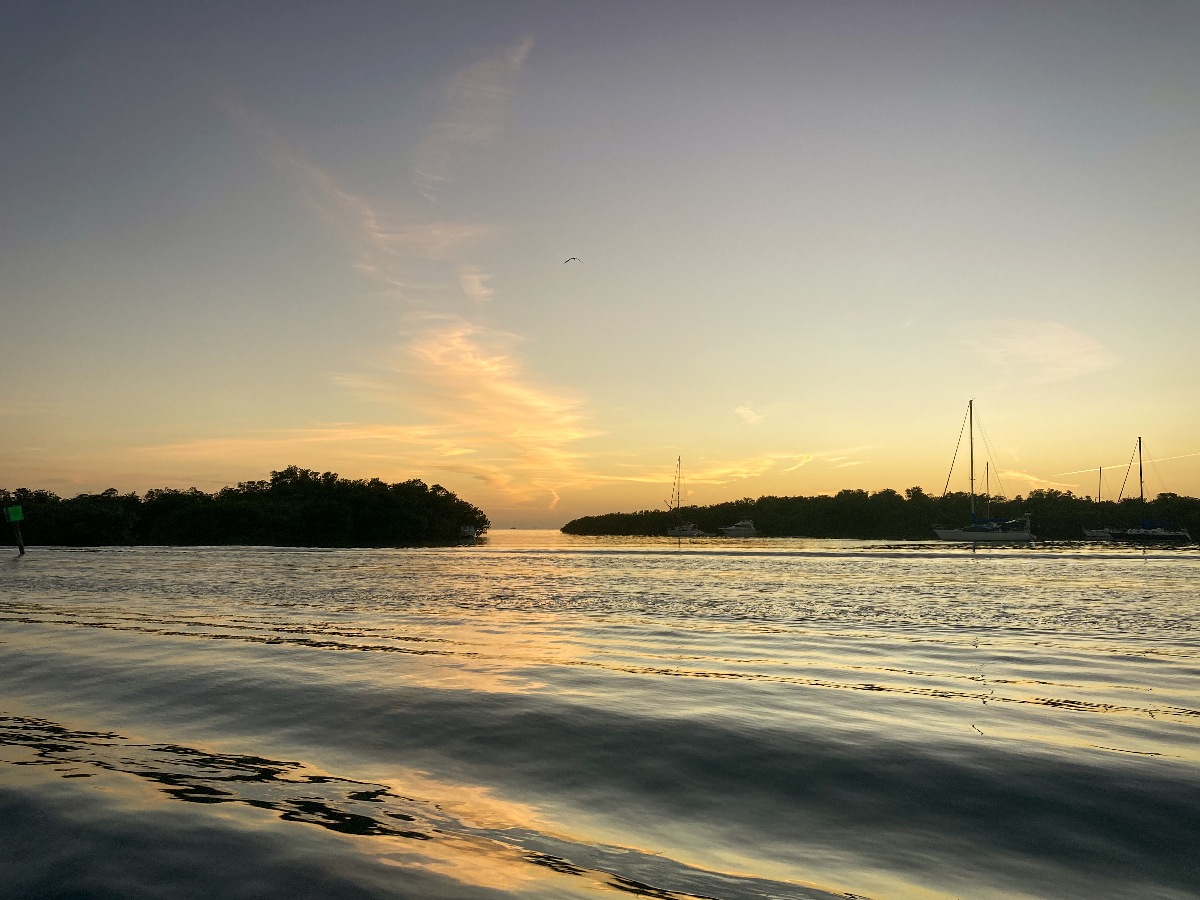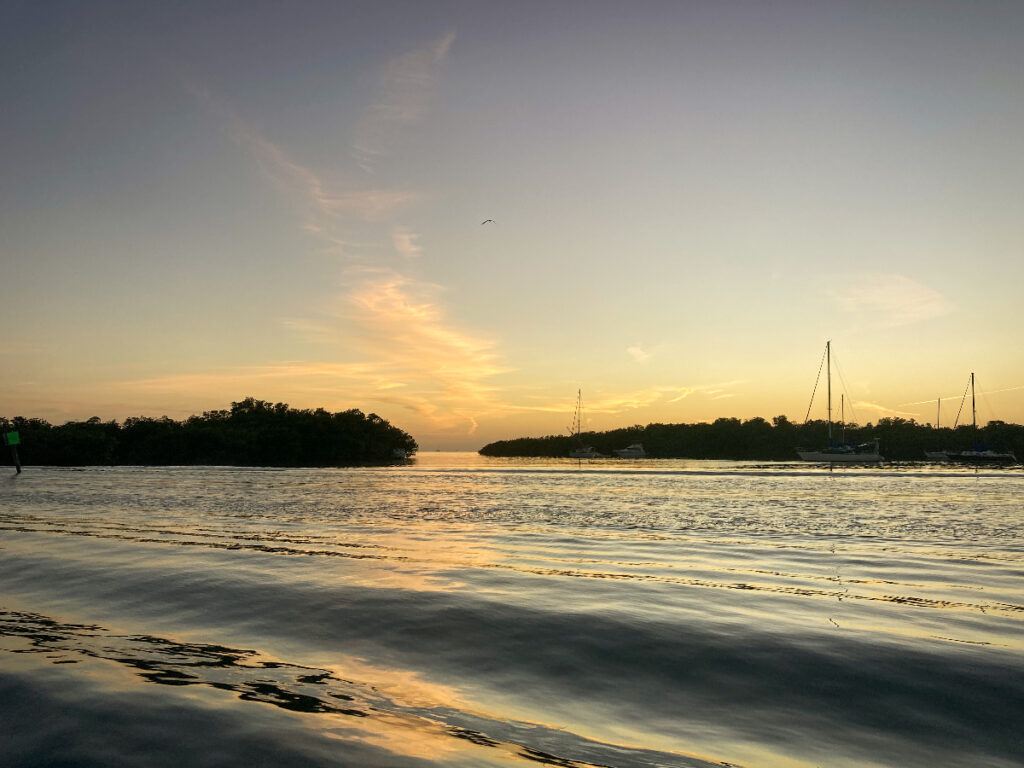 It's really liberating to skim over the water on your own Jet Ski, because it's a small enough boat to easily control, and you're in charge. On bigger boats, somebody else is driving, and there's less freedom about where to go. And with an experienced tour guide leading the way, it's bliss to fly over miles and miles of calm waters. Also, on a Jet Ski, you can get right up close to a dolphin — I've almost touched them when they've popped out of the water to say hi. (Be sure to bring your own waterproof camera!) Many of the Key West Jet Ski tours will take you all around the backcountry islands; you can get right up close to them and sailboats anchored nearby.
Since I was born after 1988, I was required to have my Boaters Safety Certification, which many Jet Ski rental facilities will provide on-site. You have to arrive at least an hour before your tour leaves, so that you have time to take the test. The other option is to take it online; it takes about four hours to complete the course and take the test, but it is free, never expires, and is transferable to any state.
Where: Schooner Wharf
Duration: 1.5 hours
What's included: life jacket and towels
Price: $150, but tipping the staff is recommended. Book the tour here.
9. Off-Shore Fishing
There's nothing like fresh seafood for dinner, so why not catch your own? A rod and reel rental is $5 and includes a fishing license and bait. It'll be a 45-60-minute ride out to the reef, where you'll fish for about three hours before returning to the dock.
The helpful crew will show you some tricks, especially if you've never fished before. When you reel in your catch, they will fillet it for you for free, if you don't want to do it yourself. You are allowed to bring a 10-15-quart cooler if you'd rather pack your own lunch (make sure you save room for your fillets).
You'll be joined by a maximum of 48 other passengers; however, there is also a minimum passenger count, and if it's not met, you will be refunded or rescheduled on a different date.
Where: Schooner Wharf
Duration: 5 hours
What's included: fishing license, bait
Price: $50-60, but tipping the staff is recommended. Book the tour here.
10. Parasailing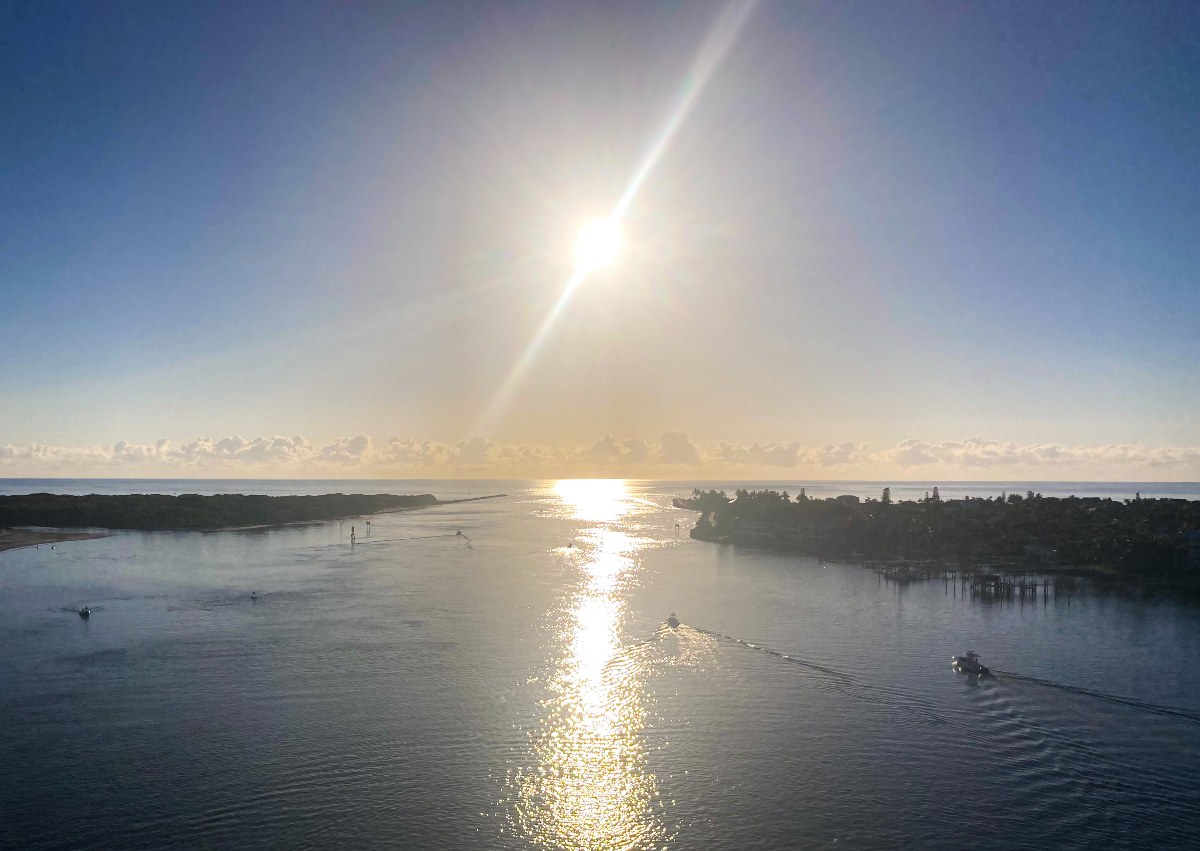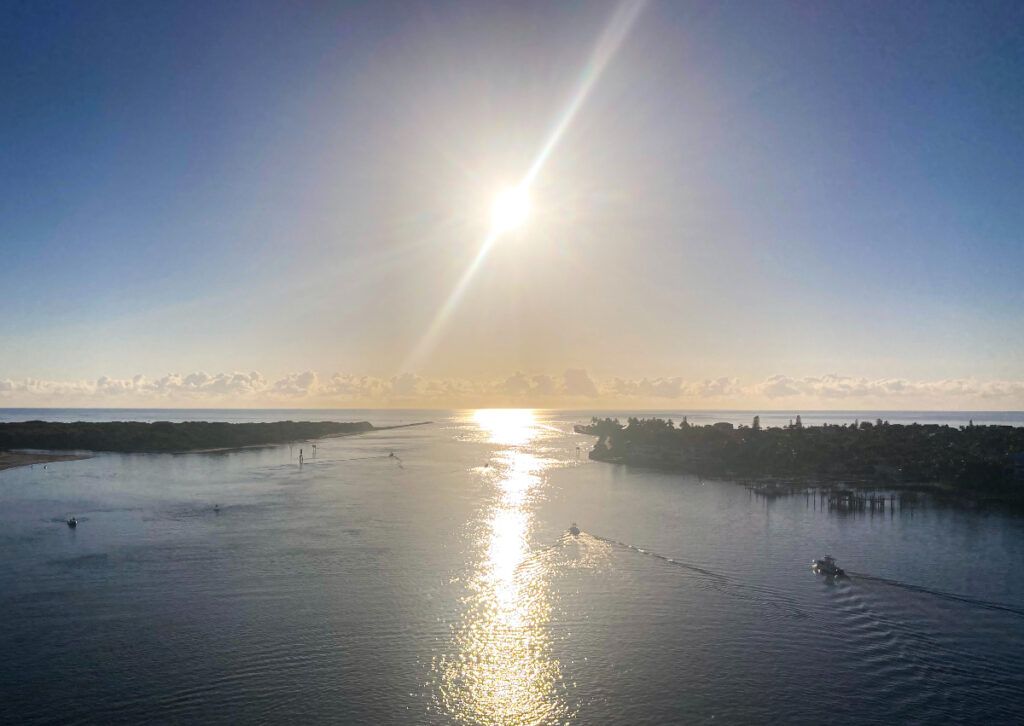 I love getting a bird's-eye view of my surroundings (the pic above is from Fort Pierce). Though you can do so with a camera on a drone, the most immersive way is to ride in an ultra-lite or go parasailing, because then you're in the air.
Key West is a supreme location for parasailing because of the open water. You'll be weightless about 300 feet up, with a 12-mile view out to the Atlantic Ocean and Gulf of Mexico.
After you get to a spot where there's less traffic and open water according to the wind and current direction, your tour guide will help get you in the air, where you'll have 10 minutes to search for sea turtles and sharks, and see Key West from above. It's up to you if you want to relax or take on more of an adventurous airborne ride.
There is a minimum weight requirement of 90 pounds, and the excursion is capped at 10 people.
Where: Schooner Wharf
Duration: 1 hour
What's included: life jacket
Price: $79.95, but tipping the staff is recommended. Book the tour here.
***
All the listed excursions require that you show up half an hour before your departure time and with a government-issued ID. Your sunscreen also needs to be reef-friendly. If the weather is bad, don't worry. All the companies have the same policy: you can pick a different date or get your money back.
Hopefully this list of excursions helps round out your trip plans. If you had to pick one, which would it be?
About the author: Nicole Edwards is a solo sailor who is currently cruising around the world on her 1968 Columbia 26, the S/V Arta. She has visited Costa Rica, Russia, Ukraine, Germany, Poland, and about half of the United States, including Alaska. Her favorite part about traveling is making connections with locals who share inside knowledge, being introduced to another part of her home on planet earth and adding it all to her heart.