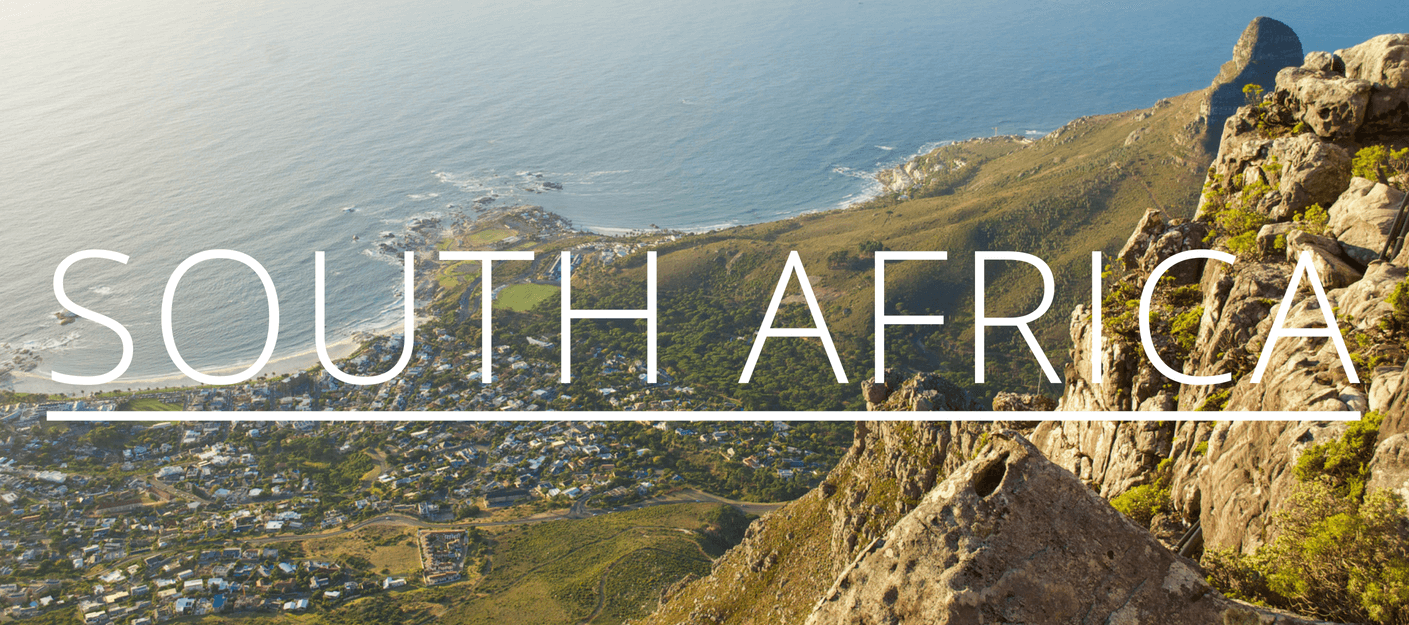 It used to be that I couldn't answer the question when asked what my favorite country in the world is. Now, I don't hesitate to say 'South Africa'. It's easy to love, with locals who are open and inviting, landscape that changes constantly as one moves through the country, and pretty awesome BBQs for meat lovers (like myself).
South Africa really has it all, from beautiful mountains and hiking trails to gorgeous beaches and vibrant cities. Stick around a while and talk to the locals, as South Africa provides many opportunities for rich cultural interaction. I was invited into homes and made to feel like part of my surroundings more in South Africa than in any other place I've been.
Though not as safe as the other countries on this site, I solo traveled through without any mishaps for nine weeks, falling in love with the people and the scenery. Thanks to the incredible amount of diversity amongst both the people and the landscape, South Africa definitely lives up to its nickname, the 'rainbow nation'.
Where in South Africa?

South Africa
Quick Tips
'Hello' and 'Thank You' in Xhosa:In most of South Africa, English will work just fine, but it's nice to know a bit of the most spoken language in the country as well -'Molo' (singular), 'Moweni' (plural), and 'Enkosi'
Currency: South African Rand (click here for current conversion rates)
Visa: 90 day visa-on-arrival available for most nationalities (click here for more info). MUST have a yellow fever vaccine to be granted entry if coming from a yellow fever-zone (such as other countries in Africa and much of South America)
Safety Rating: Ranked 127 on the Global Peace Index with a score of 2.40 (USA is ranked 128 with a score of 2.40). While most tourists are not victims of violent crime, theft and robberies are very common
Solo Travel Friendliness: Tourist areas are generally safe. However, entering into townships or heading out at night alone will not be a good idea as they are where most crimes take place. This is in no way stating that South Africa is dangerous for solo travelers, in fact I met the most amazing people in this beautiful country – just use common sense as you would in anywhere else in the world
Climate: Warm summers (November to March) and cool and rainy winters
Best SIM cards: MTN – Cards can be purchased at the airport, authorized shops or major gas stations and supermarkets.
Random useful tip: The best way to see South Africa is by taking a road trip
Accommodation
Low Budget Solo Travelers ($5 - $15): If you want to save money on accommodation, camping would be the cheapest option. There are many campsites all around South Africa, and some hostels have space that travelers can pitch a tent in. Expect to pay about $5 - $10 for a night. Another option is hostels, which cost about $10 - $15 per night. Free Wi-Fi is usually provided, though whether it works or not is a another question. Note that a guesthouse/hostel/tourist accommodation in South Africa is called a "backpackers." I personally love this kind of accommodation since it's all-encompassing and provides a diverse range of other travellers to connect with.
Best hotels for mid budget solo female travelers ($20 and up): A basic hostel private room costs about $20. Hotels in South Africa are generally more expensive but offer value for money. A mid range hotel usually comes with free Wi-Fi, breakfast, a nice garden, a pool, and excellent service. Expect to pay about $40 - $60 for those. In areas outside of the main towns, you can get a private bungalow with beach view for about $50. Airbnbs are as low as $30 for a private room and about $85 for an entire unit. I recommend using it in Cape Town, as it provides better value than the hostels.
Other Accommodation Options: I stayed at a permaculture farm that runs solely on solar power and offers outdoor showers (my favorite!) in Hogsback. You can volunteer in exchange for accommodation at some farms – I did that in the Karoo. There are also beautiful eco lodges and luxurious hotels located in the middle of nowhere, though those are usually very expensive.
Transportation
Getting There: The main international airport in South Africa is Johannesburg/O.R. Tambo International Airport, followed by Cape Town International Airport. Direct flights are available from North America, UK, Ireland, and Australia. Crossing borders overland, typically by car, from its surrounding countries is generally pretty easy. Make sure to have your yellow fever certificate with you if you're coming from Tanzania and/or Zanzibar. 
Getting Around: Unlike much of Asia and Europe, there isn't much public transportation in South Africa. There's a metro train in Johannesburg that serves a few places and a muni bus in Cape Town but otherwise, transport is limited to minibus kombi taxis. Uber is available in Cape Town, Johannesburg, Pretoria, Durban, Port Elizabeth, and Alexandria. There is also a private company geared towards backpackers called Baz Bus. However renting a private car is, in my opinion, the best way to get around. Car rentals are inexpensive, especially if you can find someone to share with.
Inter-city Traveling: Buses the most reliable public transportation to get from one city to another if you're not driving yourself. Greyhound and Intercape are some of the best intercity bus companies in South Africa. Departures are frequent, and the trips aren't expensive. Trains are much slower than buses, but they offer comfort especially for overnight rides. If time is short, domestic flights are available across the 90 airports in South Africa and are often inexpensive, even last minute. Based on my personal experience though, a rental car is the best way to travel across the country - the roads are mostly good, petrol stations are plentiful, and driving allows you more access. For more, check out this extensive post I wrote on getting around South Africa on Nomadic Matt.
Food
Local Eats ($3 - $5): South Africa is a carnivore's paradise. The game meat here is top notch – think Kudu, Springbok, Zebra, Ostrich, and even Alligator. For an authentic South African cuisine experience, Be sure to check out Langa in Cape Town, and Soweto in Johannesburg. A plate full of meat, sausages, and pap run as cheap as $3. You could also save money by cooking your own food. Grocery stores are plentiful and have reasonable prices. Backpackers accommodation have communal kitchens where guests can cook and store their own food. It's also worth checking out South Africa's home-grown fast food chains, such as Spur and Nando's where a meal starts at $3.
Restaurants & Cafes ($10 - $20): Expect to pay about $15 - $20 for a 3-course meal at a mid-range restaurant. South Africa is a major wine-producing country, so it is only natural that the wine is exceptional and cheap, with a decent bottle costing as low as $4! Cafes are also on the rise especially in Cape Town, with a light meal with drinks costing about $10.
Things to Do
Go On A South African Road Trip: Not only is it the best way to see South Africa, a road trip will also give you the freedom to plan your itinerary and stops. South Africa is packed with different landscapes and activities so do your research and plan ahead. Renting a car and going on a road trip across South Africa also makes sense as the public transportation option is rather limited. I recommend going with a buddy (or 2, or 3, or 4!). It will make the whole experience more fun, and you get to take turns driving!
Bungee Jump at Boulkrans Bridge: This one's for the adrenaline junkies (like me). The bungee jump at Bloukrans Bridge is the "highest commercial natural bungee jump in the world," at 216 meters (709 feet) of free-fall. The employees and overall atmosphere were great and the jump, well, you will have to experience it for yourself to know how it feels.
Do a Few Short Treks: I did two short treks in South Africa that I thought were perfect, especially when short on time. Golden Gate Highlands National Park is home to many game animals. I remember seeing zebras, kudus, ostriches and more. The sunset reflection on the rocks is incredible (it's how it got its name, after all). The trek itself takes about 3-4 hours and is suitable for beginners. Another option is the Drakensberg mountains, where I saw the second tallest waterfall in the world. Like Golden Gate, the trek takes about 4 hours to complete and it was a pretty easy hike.
Wine Tasting at Stellenbosch: You are in one of the most popular wine-producing countries so if you enjoy wine, indulge in Stellenbosch!. My personal favorite variety was Pinotage, and I made sure to do a wine tasting and chocolate pairing while in Stellenbosch, Pinotage's birthplace. The cherry on top was that I even got to blend my own wine and put a BMTM label on it!
Experience a Farm Stay in the Karoo: I stayed at a farm in the Karoo with the coolest, loveliest, and sweetest hosts, Paula and her husband, E. I went cattle herding on foot with them, and took Paula's advice to go to the rock labyrinth to find answers to questions I did not know I had. It is a transformative place that will leave a mark on your heart. If you do get there, make sure do some hiking in Graaff Reinet.
Visit Cape Town: Cape Town is the place of models and movie stars, lovely mountians, glittering frigid waters, and a tourist favorite. It is one of the most beautiful cities I have ever been to. The surroundings are also famously beautiful, and it's the gateway to the garden route.