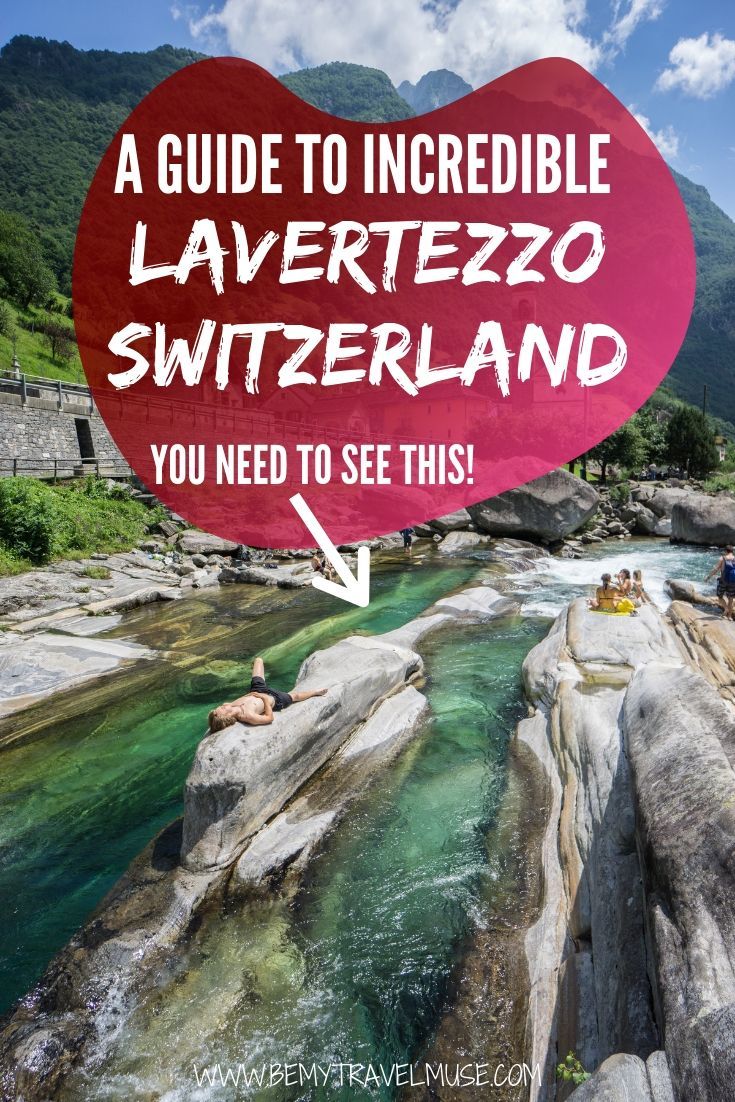 It felt like standing in the Mediterranean sun that day, atop a rock, ready to jump into the clearest water I had ever seen.
I thought that photos of Lavertezzo were highly edited, then I saw it for myself and realized that no, this is probably some of the clearest, cleanest water on earth.
In this sunny, Italian-speaking area of Switzerland, the cold river running through Lavertezzo is perfection.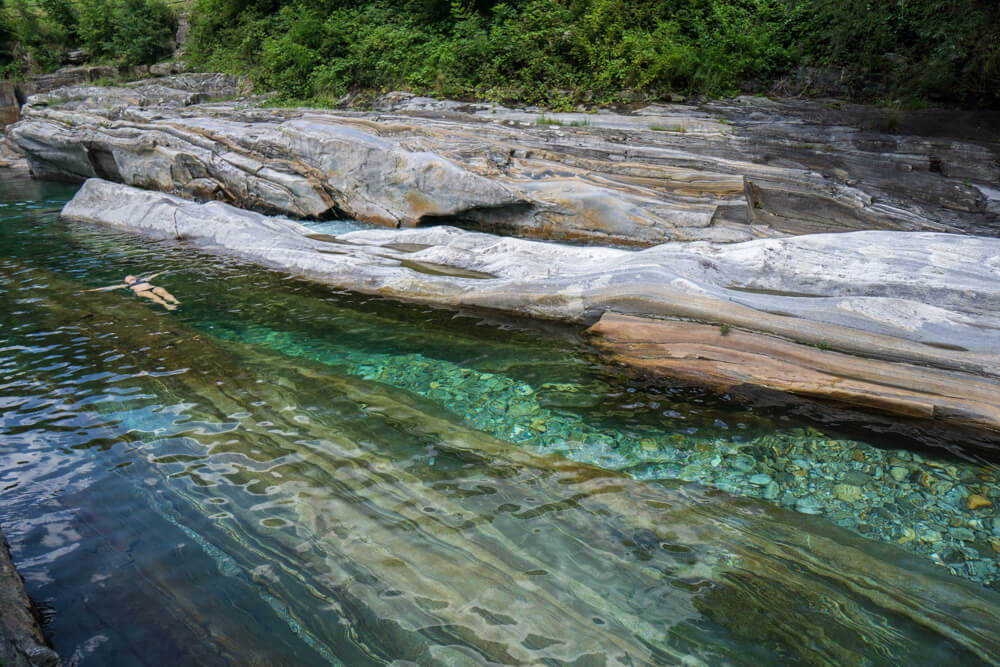 I visited with Swiss friend of mine, Patrice, whom I met in Mozambique and then again in Austria, and again in Indonesia. We love adventures that involve water and the sun so it seemed only appropriate to form a plan to see some of the places that he hadn't seen yet (and me neither) in his home country.
Lavertezzo seemed perfect. It's in a warm part of the Italian-speaking part of Switzerland, and it had water that looked like this running through it. I ask you, is there a better summer activity?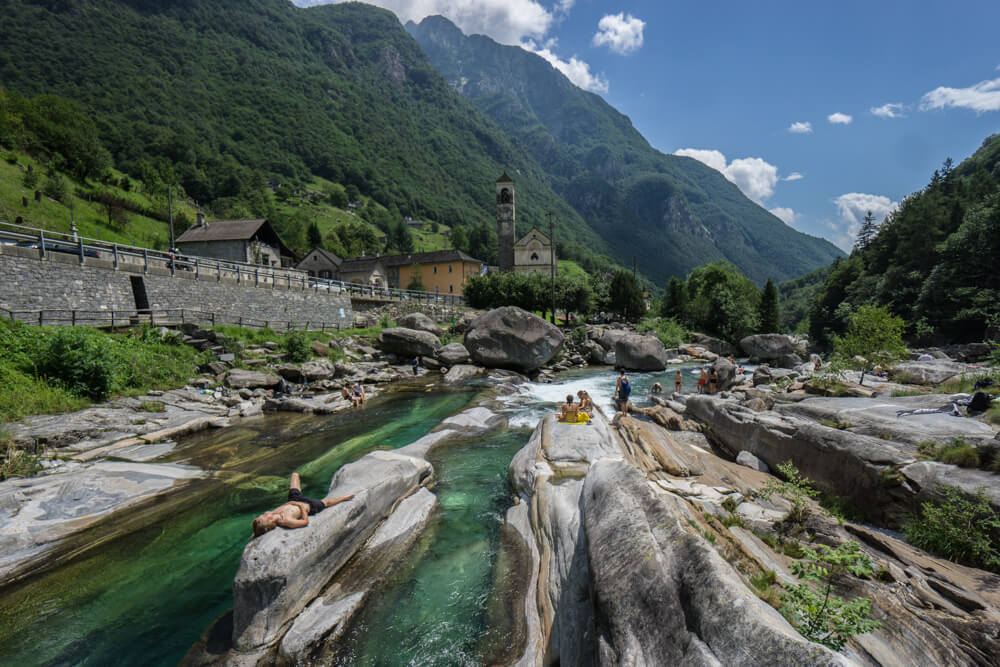 The Valle Verzasca is charming as well, with a small population of around 1350 and little buildings made mostly of stone.
While we're on the topic of stone, the 17th century Roman double arch stone bridge at Ponte dei Salti that runs over this pristine river is one of the biggest draws to the area.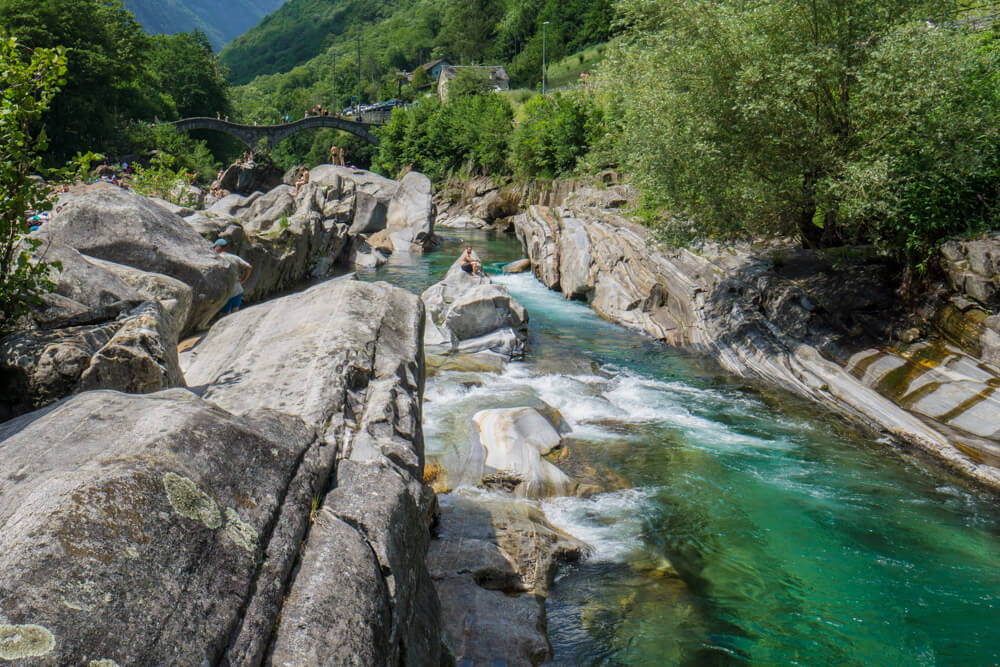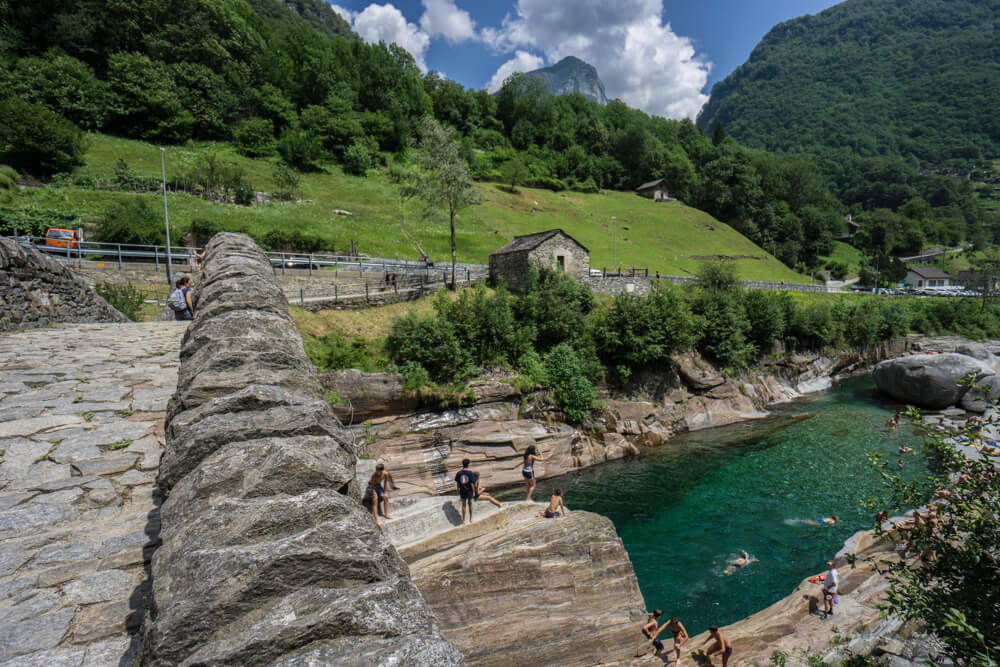 If you are in the area, or even if you aren't, if you're in Switzerland in the summer do yourself a favor and go here! Here's how:
Getting There
The nearest train station to the valley is Tenero, and from there you can access a post bus right across the street with a kiosk where you can purchase your ticket for 6.50 Francs. It takes credit cards. Catch bus 321 towards Sonogno and get off at Lavertezzo, Paese. This bus runs infrequently so check timetables on Google maps before you go.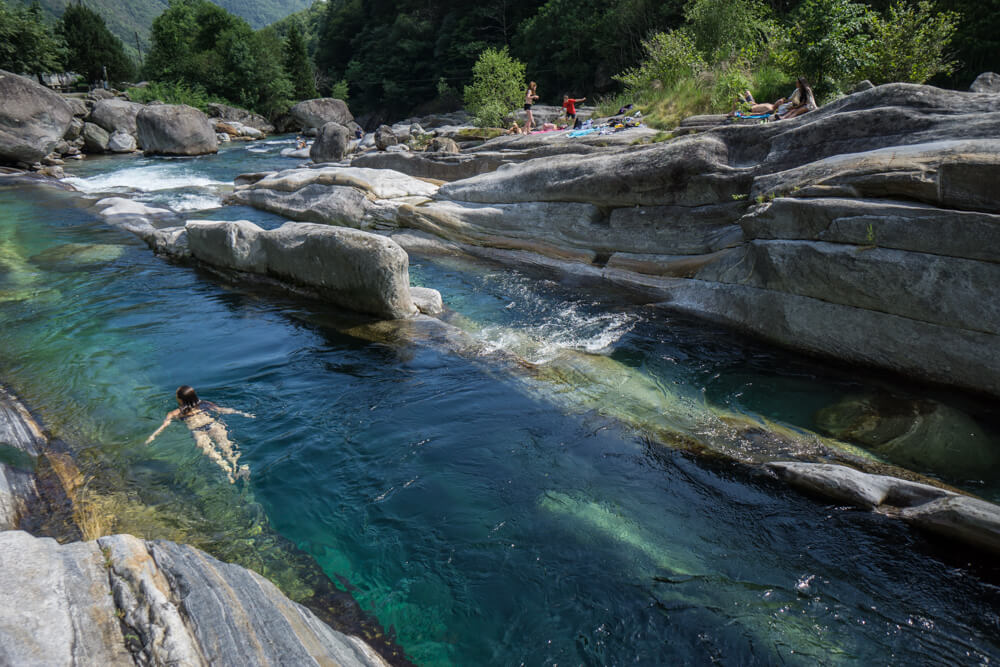 We took off from the Zurich area, using public transport to go the whole way. It's painful, at a total of about 8 hours RT and 155 Francs for the train and bus, but then the rest of the day was totally free, and worth it, I'll add. You can also save a lot of money by booking the tickets ahead of time instead of last minute like I did.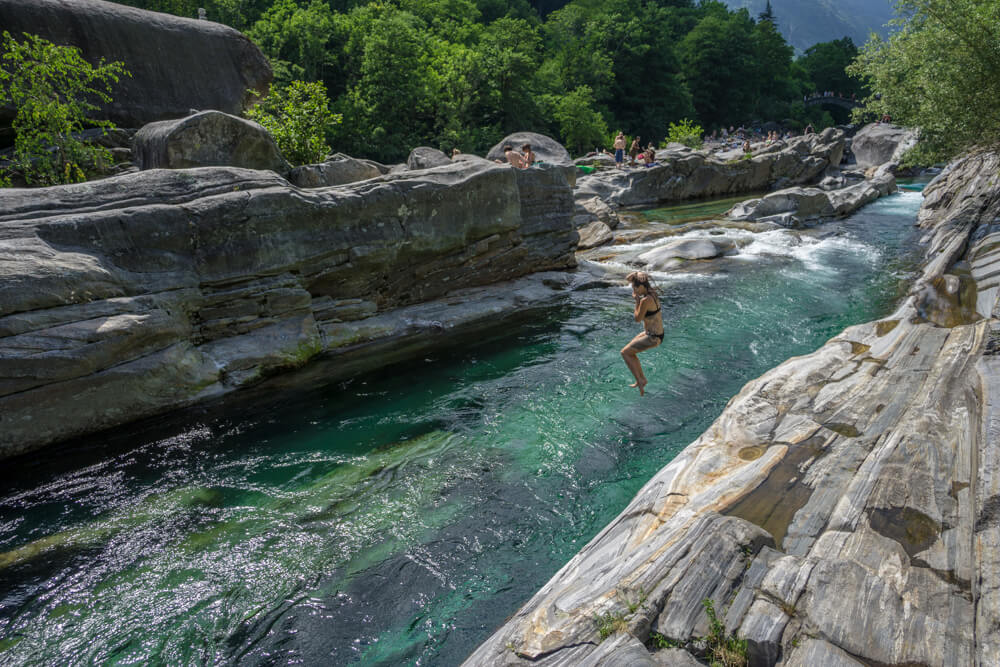 Be cautious
One of the wonderful things about this river is it's free in many senses – you don't have to pay to enjoy it and nobody's there monitoring what you can and can't do.
The signs on display make it clear that you enjoy at your own risk. The bridge jump is about 15 meters, the rocks are slippery, and the current can be strong.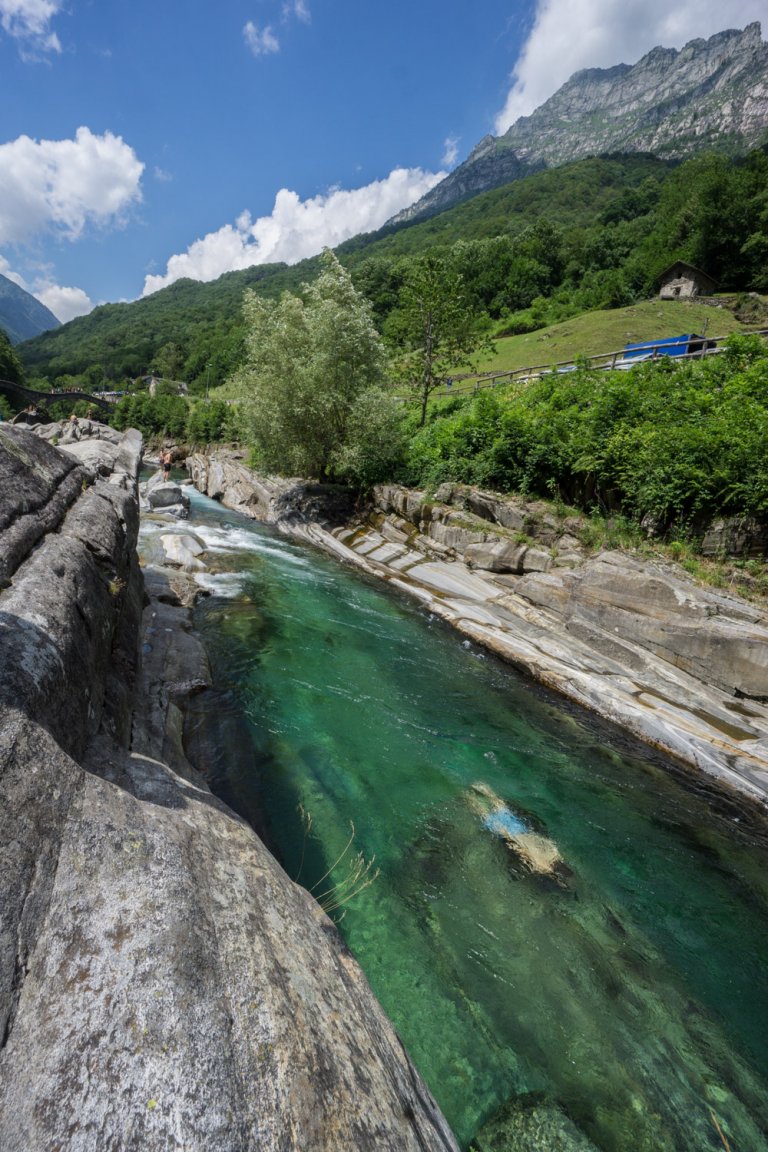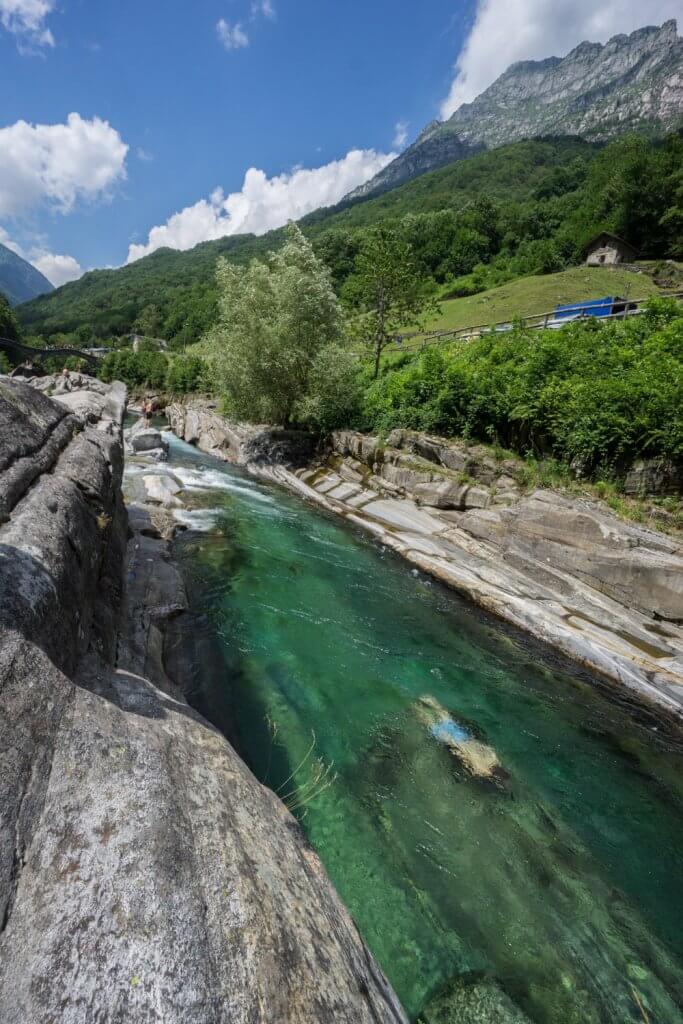 Always make sure that where you're jumping in is deep and not near a waterfall. It's also advisable to float feet-first. The current is fast!
It's not rocket science to come out unscathed, though.
Bring sunscreen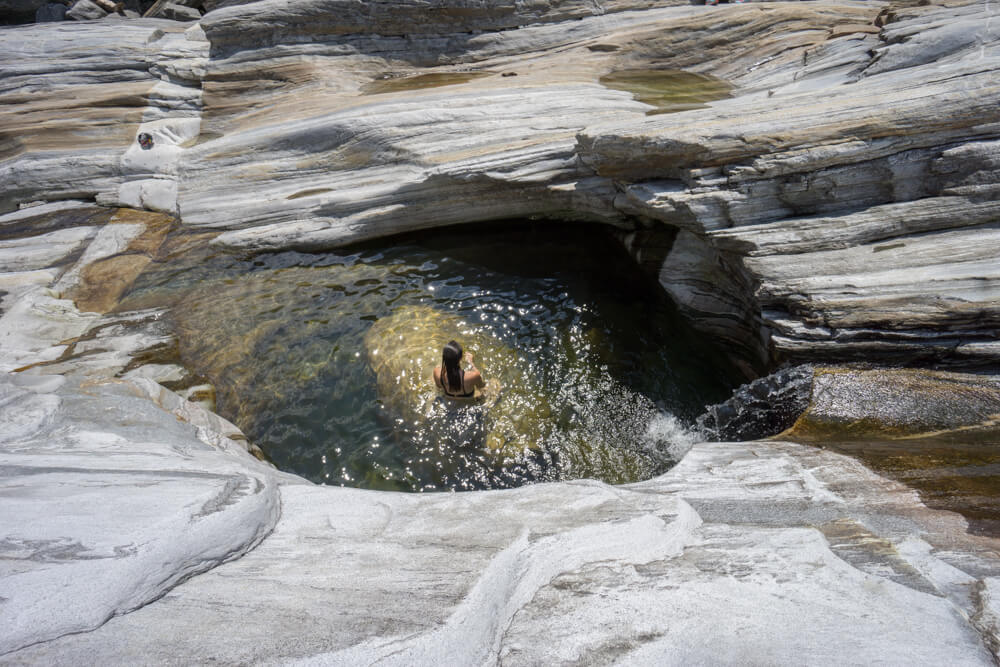 If you want to hang out right on the river and regularly jump into the water and climb on rocks (and why wouldn't you?) you'll be right in the sun. Definitely bring along some sunscreen!
I didn't think of doing so but at a high elevation and in a part of Switzerland that's known for being sunny, after three hours in the sun I got a bit burned.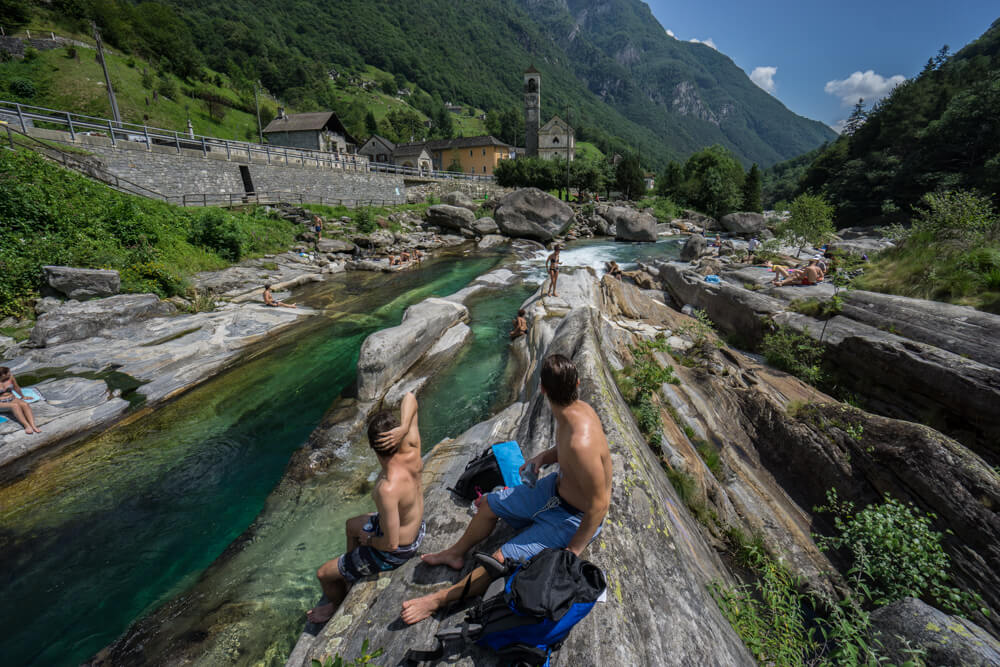 Bring food and beverages
there's not a lot in the village near the river, so might as well bring your own lunch and drinks and make it into a picnic. You're allowed to do so there, but obviously, clean everything up after yourself.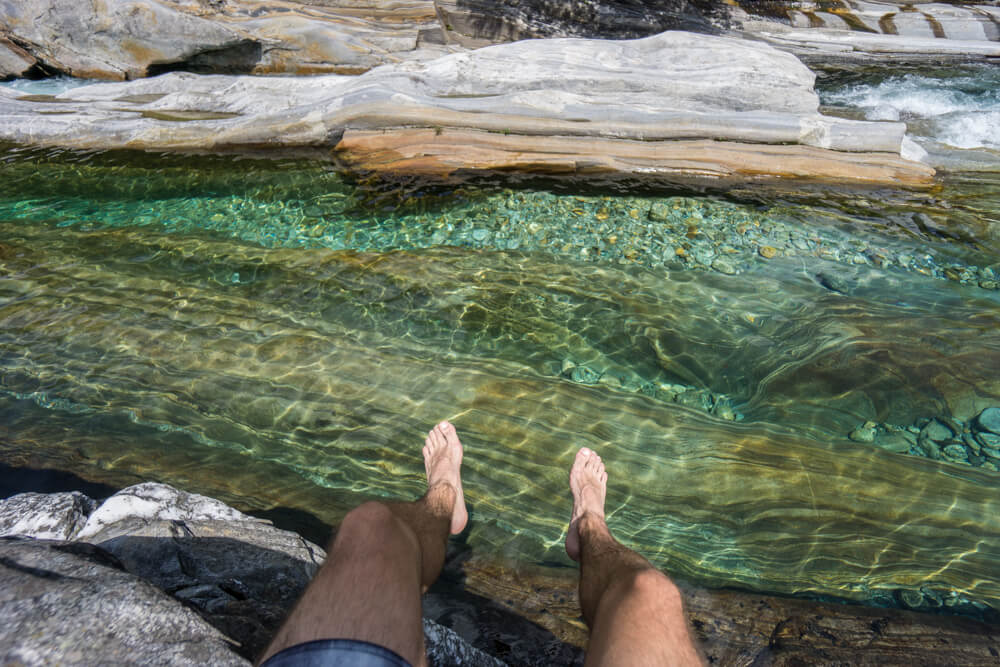 In the future, I'd love to leave some extra time and stay in the area, camping and hiking. I can only imagine how beautiful the surroundings to this old bridge and river are, and how much less crowded it could be as well!
But even if you only have a few hours like we did, this valley is incredible. Go for a swim, lay on the rocks, and soak it all in.
This is a side of Switzerland I never knew existed. I'm blown away.