Last week I departed my beloved (but cold and dark) Berlin in favor of summer, and after 24 hours of travel, landed in Johannesburg, South Africa, with weather reminiscent of back home in Southern California.
I almost didn't know what to make of it at first. My face started sweating (I suffer from what my family jokingly calls EFS – Excessive Face Sweat), I instantly felt tired in the heat, and I wondered why the heck I was wearing all black, boots, and long sleeves in the middle of summer.
Oh yeah, that's because I had just left a gnarly German winter.
I landed and quickly changed into summer garb at my Airbnb-rented room at a lovely little house in Randburg.
These days, since I'm not staying in hostels as much anymore, meeting people requires a bit more resourcefulness. Luckily in Jo'burg, I had some mutual friends who were kind enough to show me around some really cool parts of the city, thereby allowing me to meet even more new friends, and so on. Plus, some readers of mine noticed via Instagram that I was in the area and invited me out as well. It worked out perfectly!
Here are some great ways to spend a few days like a local would in the city:
Northcliff Ridge
Check out Northcliff Ridge, which my Airbnb host kindly took me to during his lunch break one day.
He mentioned it's not typically in guide books but provides one of the best lookout points in the entire city. The 360-degree view gave me a great introduction to what would turn out to be a great week in Johannesburg. Stretching in every which direction, the city seems endless.
The best way to get there is to drive a car up:
Drinks (or bungee jumps) at the Orlando Towers in Soweto
An old power plant that has been revamped into a bar/bungee jump/paintball arena is a great place to see some talented buskers and to drink cheap drinks in Soweto.
It's full of adrenaline-pumping activities and has a great vibe.
A few words on Soweto: It is the largest township in South Africa along the mining belt and was central to the movement to resist apartheid.  It's also home to many of the city's most disadvantaged residents yet boasts a heavy amount of history and culture. It's also where the Nelson Mandela National Museum is located.
I visited with a friend of a friend who is a resident of the township. He provided me a private tour for less money than many of the group tours I had seen, plus he gives a lot back to his community and can show you a side of the city that not everybody gets to see. Definitely recommended if you find yourself in Johannesburg. Contact him here.
Neighbourgoods Market in Braamfontein
Each Saturday from 9am to 3pm, a parking lot in the heart of downtown turns into a market with craft beer and all kinds of inventive eats. Grab some food from one of the pop-up stalls then head up to the rooftop for some drinks and sunshine.
I loved the mix of people here, as well as the large variety of cooked-to-order meals, drinks, and artisanal foods available.
Market on Main
Much like the Neighbourgoods Market, Market on Main (Open Sundays in the Arts on Main creative hub) is full of delicious food with a patio-bar in the back with a mixed crowd who love to dance and drink everything from champagne to German-style Hefewiezen.
The food and design stalls promote inner-city living and ended up being my personal favorite of the weekend, probably because of the awesome and super friendly people I met there.
There are still plenty of things that tourists normally see that are entirely worth seeing, such as the Apartheid Museum.
But if you end up in Johannesburg and check any of these more local areas out, let me know what you thought!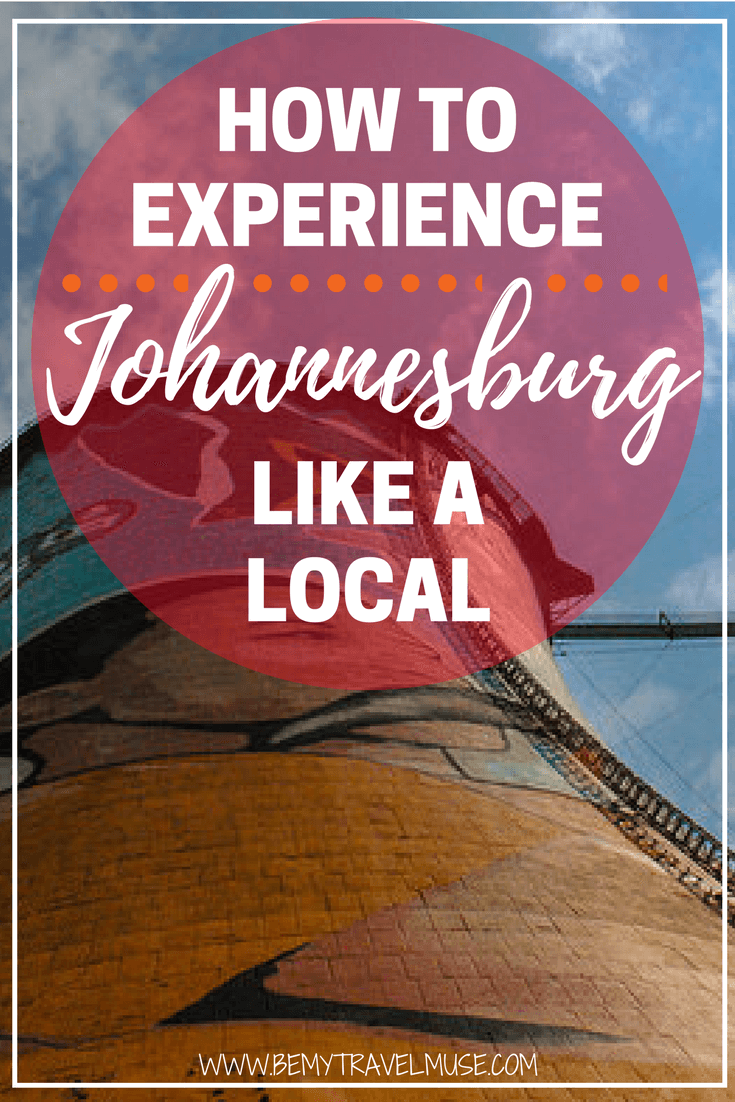 Have anything to add to this list? Let me know in the comments!
Click to read more posts about