One week back in 2015, I departed my beloved (but cold and dark) Berlin in favor of summer. After 24 hours of travel, I landed in Johannesburg, South Africa, with weather reminiscent of back home in Southern California.
I almost didn't know what to make of it at first. My face started sweating (I suffer from what my family jokingly calls EFS – Excessive Face Sweat), I instantly felt tired in the heat, and I wondered why the heck I was wearing all black, boots, and long sleeves in the middle of summer.
Oh yeah, that's because I had just left a gnarly German winter.
I landed and quickly changed into summer garb at my Airbnb-rented room at a lovely little house in Randburg.
These days, since I'm not staying in hostels as much anymore, meeting people requires a bit more resourcefulness. Luckily in Jo'burg, I had some mutual friends who were kind enough to show me around some really cool parts of the city, thereby allowing me to meet even more new friends, and so on. Plus, some readers of mine noticed via Instagram that I was in the area and invited me out as well. It worked out perfectly!
Here are some great ways to spend a few days like a local would in the city:
1. Northcliff Ridge
Check out Northcliff Ridge, which my Airbnb host kindly took me to during his lunch break one day.
He mentioned it's not typically in guide books but provides one of the best lookout points in the entire city. The 360-degree view gave me a great introduction to what would turn out to be a great week in Johannesburg. Stretching in every which direction, the city seems endless.
The best way to get there is to drive a car up:
2. Drinks (or bungee jumps) at the Orlando Towers in Soweto
An old power plant that has been revamped into a bar/bungee jump/paintball arena is a great place to see some talented buskers and to drink cheap drinks in Soweto.
It's full of adrenaline-pumping activities and has a great vibe.
A few words on Soweto: It is the largest township in South Africa along the mining belt and was central to the movement to resist apartheid. It's also home to many of the city's most disadvantaged residents yet boasts a heavy amount of history and culture. It's also where the Nelson Mandela National Museum is located.
I visited with a friend of a friend who is a resident of the township. He provided me a private tour for less money than many of the group tours I had seen, plus he gives a lot back to his community and can show you a side of the city that not everybody gets to see. Definitely recommended if you find yourself in Johannesburg. Contact him here.
3. Chow down on sisha nyama at Chaf Pozi
Also in the heart of Soweto is Chaf Pozi, one of Joburg's most famous places to have sisha nyama, aka South African open-flame barbeque. This type of barbeque is also known as a "brai," but here in Soweto it's strictly called by its Zulu name, sisha nyama, which means "burnt meat."
Chaf Pozi serves different cuts of meat, as well as cheap beer on tap. Wear your dancing shoes, because this is also THE place to dance to Afro House and other rhythms in Soweto.
4. Neighbourgoods Market in Braamfontein
Each Saturday from 9am to 4pm and Sunday from 10am to 5pm, a parking lot in the heart of downtown turns into a market with craft beer and all kinds of inventive eats. Grab some food from one of the pop-up stalls then head up to the rooftop for some drinks and sunshine.
I loved the mix of people here, as well as the large variety of cooked-to-order meals, drinks, and artisanal foods available.
5. Market on Main
Much like the Neighbourgoods Market, Market on Main (open Sundays in the Arts on Main creative hub from 10am to 3pm) is full of delicious food with a patio-bar in the back with a mixed crowd who love to dance and drink everything from champagne to German-style Hefewiezen.
The food and design stalls promote inner-city living and ended up being my personal favorite of the weekend, probably because of the awesome and super friendly people I met there.
6. Apartheid Museum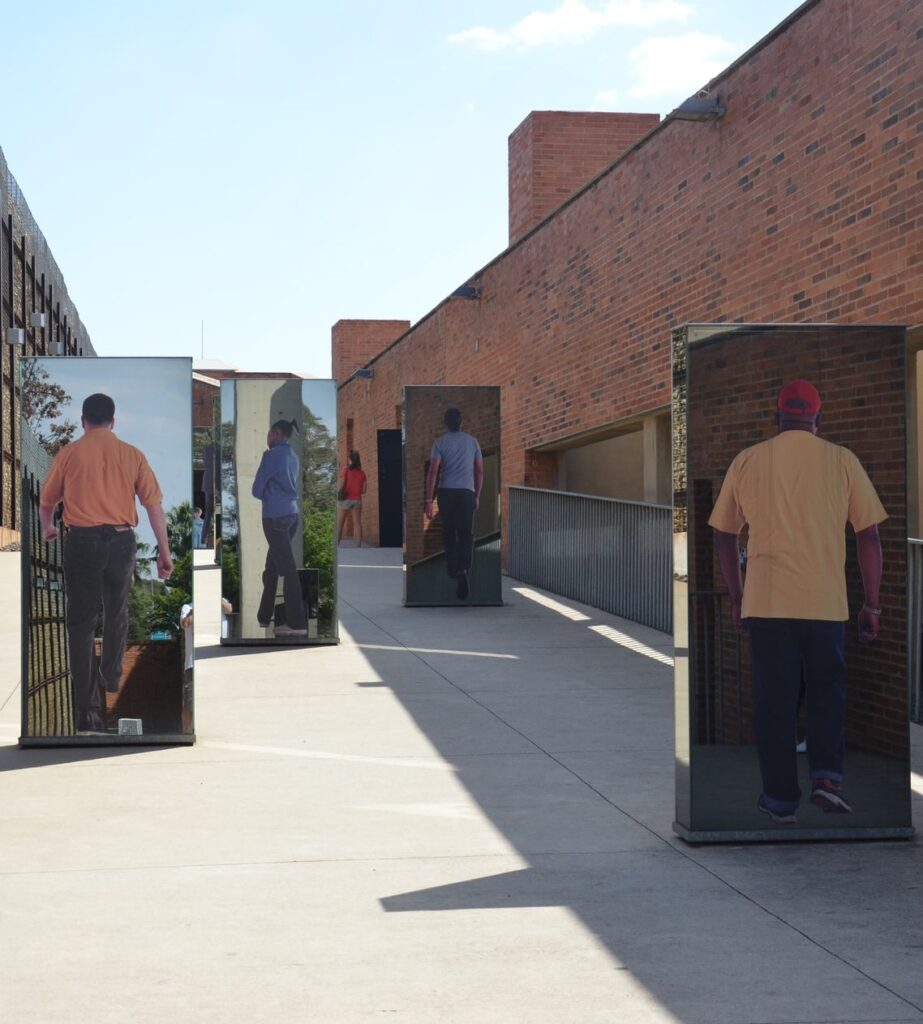 Sure, this might be one of the main tourist attractions in Joburg, but locals still visit to check out the rotating exhibits and it's a must-see in the city. This museum is the first of its kind and illustrates the 20th century realities of South Africa, post-apartheid. Not only can you learn about the country's history, but you can get valuable insight into how the apartheid has shaped present-day South Africa.
Because the apartheid in South Africa only ended a few decades ago, the remnants of racism, classism and colorism still affect people today. Visiting the Apartheid Museum is a great way to gain some insight to better understand the struggles and triumphs of South Africans.
7. Cullinan Diamond Mines
This is a popular day trip from Joburg which locals and tourists alike can enjoy. In the town of Cullinan lie the famous Cullinan diamond mines. I recommend this day tour which provides a guide who will explain the geological processes of the diamonds along with the unique history of the mines.
8. Live music at Poppy's
If you want a chill place to listen to local artists spin discs, play jazz, and more, Poppy's is the place. Joburg is an amazing musical hub for not only South Africa, but the entire continent. You'll find that some of Africa's most popular music comes out of Johannesburg, so you definitely won't want to skip an opportunity to see some live music while you're here. Poppy's has a laid-back atmosphere and serves delicious food and drinks, so head there in the evening to get a comfy seat and enjoy the vibe.
9. Market Theatre
Known as the home of South African theater, this relatively small space is by far the best place to catch a show in the city. Market Theatre was once a prominent site where South Africans took a stand against racial segregation during apartheid, so its impressive history extends past its theatrical accolades.
Boasting talent from all around the country and an intimate setting, Market Theatre is the place to see a performance that showcases South Africa's beautiful creative diversity. See what shows are running here.
10. Walter Sisulu National Botanical Garden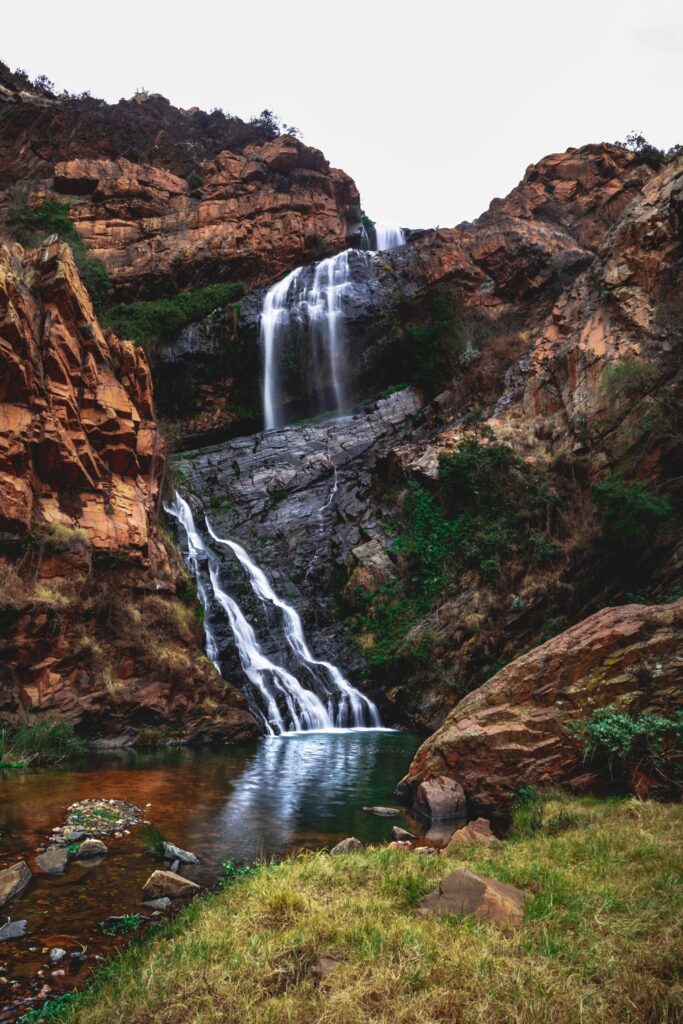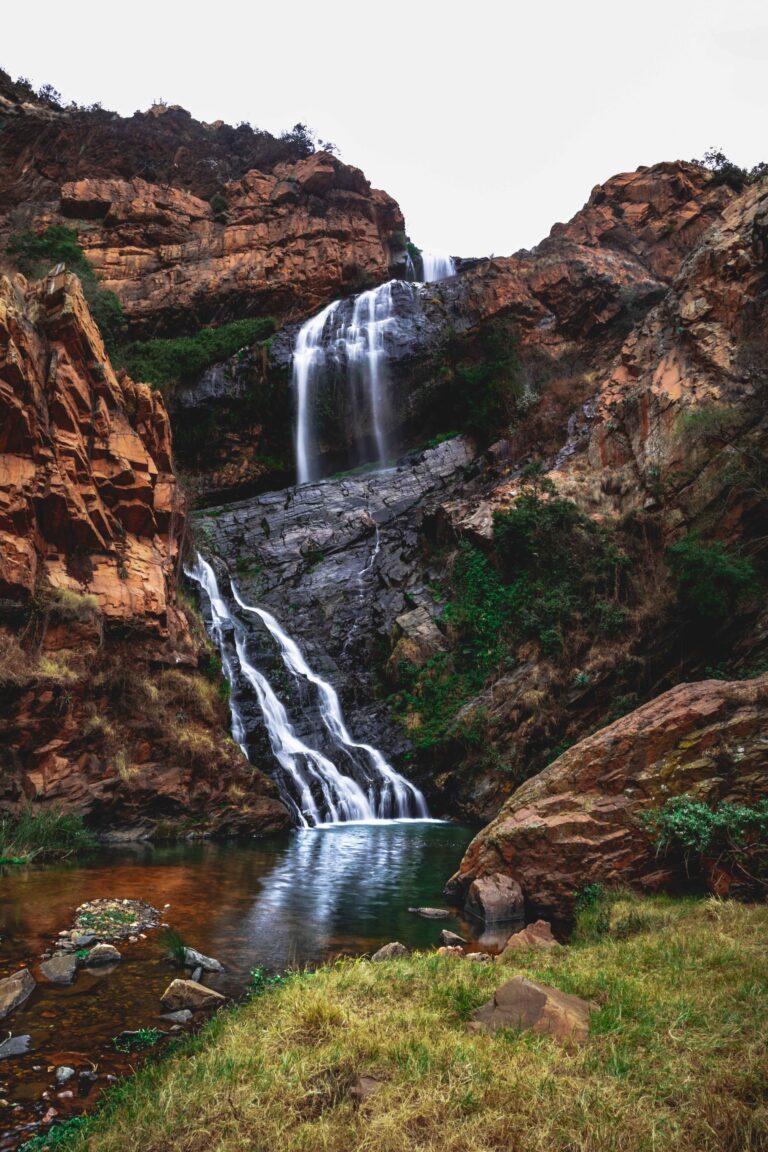 Unlike South Africa's nature-filled city of Cape Town, Johannesburg has much more of a hustle and bustle, urban feel. That's why Walter Sisulu National Botanical Garden is so popular among locals as a hang out spot. On any given weekend, you can find plenty of Joburg residents hiking the trails or having a relaxing picnic in the grass here.
This beautiful garden oasis features a waterfall, hundreds of different plant species, and even some wildlife. It's less crowded during the week, but a great place to meet up with friends on the weekend.
11. Maropeng and Sterkfontein Caves
Only about 90 minutes away from the center of Joburg is the Cradle of Humankind World Heritage Site at Maropeng and Sterkfontein Caves. This mystical archaeological site details the evolutionary process of the planet, focusing on mankind. You'll see an extensive collection of fossils and bones that date back thousands of years, with stone tools as much as 1 million years old.
You can also explore the Sterkfontein Caves, where archaeologists have found fossils which date back over 4 million years. You can book a half-day tour to the site here.
12. Street art peep in Maboneng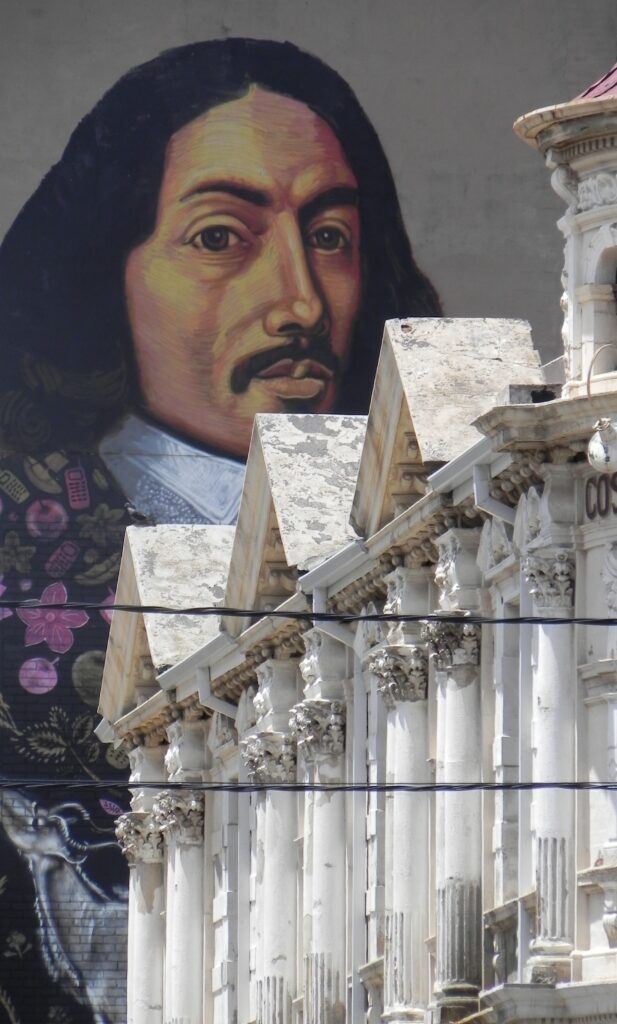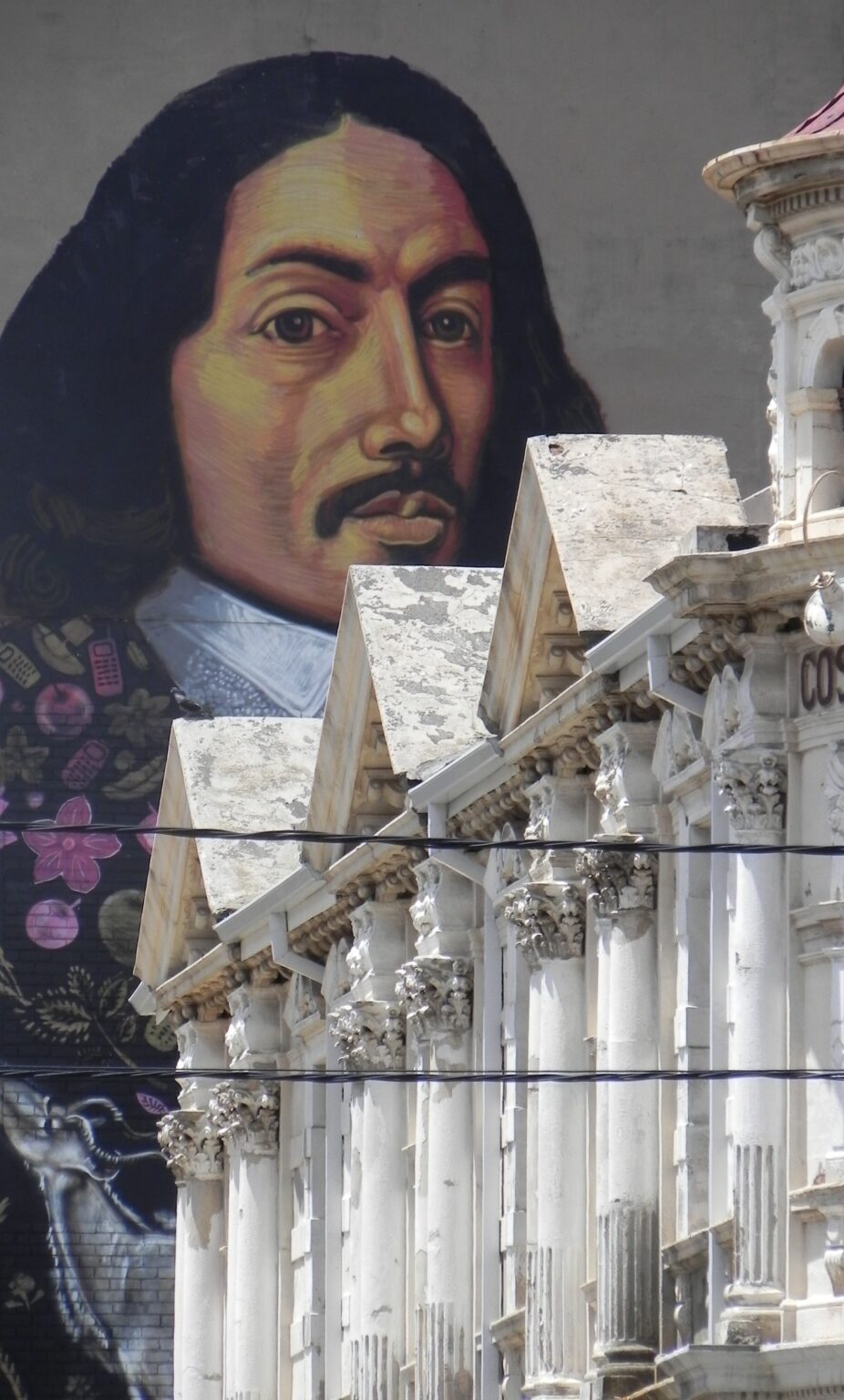 As one of Joburg's most colorful areas, don't pass up the opportunity to explore Maboneng. Here you'll see hundreds of murals throughout the neighborhood, many of them depicting strong social and cultural messages. While the average local might not stop to savor each and every mural, street art in Joburg is something residents pride themselves on. Take a 2-hour tour through Maboneng to see the murals with a guide who can provide valuable context.
***
If you end up in Johannesburg and check any of these more local areas out, let me know what you thought!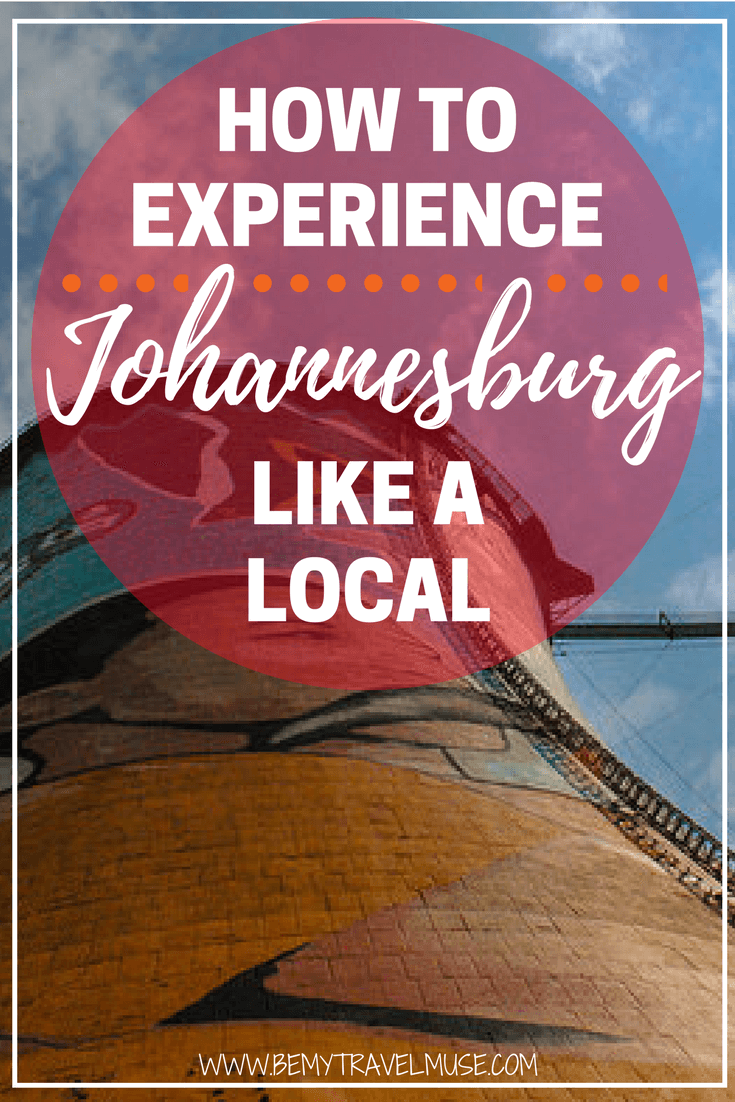 Have anything to add to this list? Let me know in the comments!