I'm not much of a go-shopping-eat-at-this-restaurant kind of traveler. I want to swim, I want to get dirty, I want to look around and see nobody else and feel satisfied that I made it off the beaten path.
On Aruba, despite it being a small island, it's actually quite easy to get away from the crowds and have an adventurous and outdoorsy trip.
This island has a lot to offer – great diving and snorkeling, including wrecks, amazing beaches, wind perfect for kiting, surfing waves, caves, natural rock pools, rock arches, rolling hills covered in cacti, and lots of off roading. I've thrown in a few more accessible and touristy favorites as well, just for good measure.
You will need: maps.me offline maps for Aruba, ideally a Jeep or similar, and a love for the outdoors. Ready? Let's do this!
1. Walk on the white sand of Eagle Beach
Not far from the high-rise hotels of Palm Beach, you'll find Eagle Beach with white sand and perfect positioning for the sunset each night. Watch as boats sail by, or consider staying at a boutique hotel on this beach for a slightly quieter experience.
2. Snorkel at Baby Beach
Baby Beach, and the beaches that border it on either side, are some of the nicest, least crowded white sand beaches on Aruba. They're also a favorite for snorkeling, swimming, and basking in the sun. You'll find this one on the south side of the island.
3. Kite surf at Boca Grandi
More south on the eastern side of the island, the surf is bigger and the wind is stronger, which makes it perfect for kite boarding. If you're a kiter then this is the perfect spot.
4. Catch sunset at the California Lighthouse
Since it's high up on the island, the California Lighthouse is the perfect place to catch the sunset. It's not far from Palm Beach, where most of the hotels are, so it's easy to stop by after a long day at the beach and watch as the sun dips below the horizon. It's also a good spot for stargazing and astrophotography if you're into it.
5. Take an ATV or Jeep Tour of Arikok National Park
You can't go to Aruba without seeing Arikok National Park! It's the rugged, enchanting side of the island which ended up being my favorite during my time in Aruba. Different tours will take you to different places, like the Ayo Rock Formations or the caves listed below, but in general they all take you up and down rocky roads in a Jeep with a driver or self driving an ATV in a group with a guide. You can pick your tour depending on what you'd most like to see, choosing from more of the options listed in this article. I went with ABC tours and had a great time.
6. Scuba dive
The diving is pretty good in Aruba. It's not the hands down best in the world, but for such an easy variety of dive sites that you can access in water that isn't that deep and not too far from shore, I was pretty impressed! You can ask your hotel or one of the many dive operators along Palm Beach for a morning or afternoon dive. It only takes a few hours and in my opinion, is worth the time and money if you're a diver.
7. Snorkel a wreck
If you're not a diver, or even if you are, there's a wreck that almost every boat cruise stops by that's incredibly shallow compared to most wrecks. You can either freedive down to it, or swim above it with the possibility of seeing much of the wreck on a day with clear water.
8. Visit the Wariruri Bridge
After the Natural Bridge collapsed years ago, this is now the largest natural bridge on Aruba. It's on a remote road that you'll need either a 4×4 or an ATV tour to get to, but if you want to see the more adventurous side of Aruba that fewer tourists see, I recommend taking a drive all along the east coast, including this spot. I did a solo drive here and absolutely loved it. You can rent a 4×4 Jeep at the airport when you arrive.
Bonus: If you're a surfer, there's a popular surf spot nearby. Just be careful, the waves crash right up on rocks along this part of the coast.
9. See the Trinity/Tripod Bridge at sunrise
Yet another natural bridge, this one has three arches and is a bit less remote to reach, though you'll still need a 4×4. I headed here for the sunrise thinking I'd get it rising right in front of the bridge, but it was actually a bit more to my right. That said, heading there first thing in the morning meant I got it all to myself!
10. Visit Guadirikiri Cave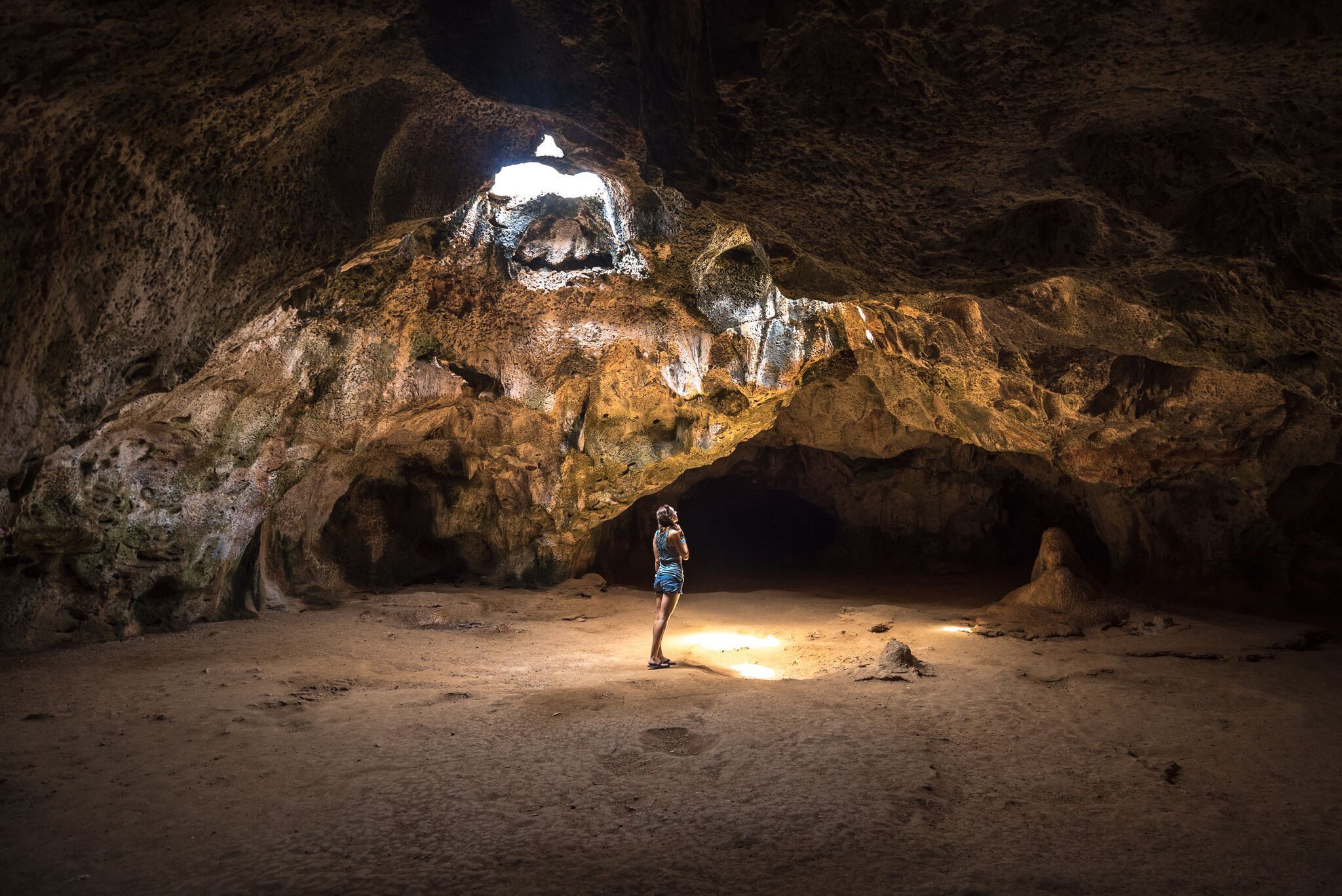 Some of the Jeep tours in Arikok National Park will stop by this cave, which is even cooler than I expected! If you get there at the right time of day you can see light beams coming down as well. Aim for midday to see this. You can either self-drive with a 4×4 or book a tour that takes you here as well as the next stop, the Natural Pool.
11. Swim in the Natural Pool
This was easily my favorite thing to do in Aruba. The rocks that perfectly form this natural pool, and a natural 'jacuzzi' to the right of my right shoulder in the photo above, make for a perfect swimming area. It can get a little crazy with the waves crashing over the side, but there's a park guide nearby who closes the pool if the waves get too rough. If you can, try to go on a calmer day. Earlier in the morning or later in the afternoon are good times to avoid crowds.
12. See the Flamingos on Renaissance Island
In the spirit of full disclosure, flamingos are not native to Aruba and these guys are here more as a spectacle than anything. You can buy food to feed to them and take photos with them, though it does come with a $120 price tag to visit Renaissance Island unless you're staying at the hotel, in which case it's free. The rest of the island is lovely as well, but there's not much shade. You can find out more about how to visit here.
13. Hike amongst the cacti
I was surprised to see cacti all over Aruba the first time I went. I had no idea that it was more of a desert island than the humid Caribbean islands I'm used to seeing. There are plenty of trails in Arikok for exploring to get up and close with them. You'll also pass plenty when driving along the east coast. If you do end up hiking, keep in mind that there's little to no shade, and you'll want to bring lots of water with you. Opt for the early morning hours to avoid peak day heat. Here are some great hiking options.
14. Take yourself on a Jeep adventure
If you're up for a self-drive adventure, I can't recommend renting a Jeep and driving along the north and east coast enough. I took my Jeep out on a 4×4 road every day that I was on Aruba, and loved the freedom it gave me. It also allows you to see parts of the island that others don't see. You can compare options here.
15. Horseback ride at Dos Playa
For a dreamy beachy horseback ride, Dos Playa in Arikok is the spot. You'll find this near the Natural Pool where the horses hang out. Personally I'm pretty scared of horses (I know it's silly that I'll solo hitchhike before I'll get on a horse but we all have our weird fears). If you enjoy horseback riding, though, you can book it here.
16. Swim at Tres Trapi
Just up the coast from Palm Beach, Tres Trapi is a swimming spot with three steps carved into the rock that lead to incredibly clear water. There's a tiny sea cave near the steps, and it's another favorite snorkeling spot on the island. You can either drive yourself there or potentially walk along the sand from Palm Beach.
17. Surf at Andicuri Beach
If you're a surfer, head to the east coast's Andicuri Beach for the best surfing on Aruba. I didn't test this out myself and can't speak to how great the surf is, but to access it you'll want a vehicle that you can take through sand. Alternatively, check surfline for the best surf of the day. In some cases, you'll be ok to get there with a standard vehicle. If you don't have a board in tow or want to learn, check out the Aruba Surf and Paddleboard school.
18. Catch sunset/snorkel at Mangel Halto
Mangel Halto is one of the best spots for sunset, and for a secluded beach amongst the mangroves. It takes a while to get there from Palm Beach or Eagle Beach, so leave yourself at least an hour before sunset if you want to be able to enjoy it without getting stuck in too much traffic. Bring along a mask and snorkel, too!
19. Snorkel Cruise
If you're into being on the water and love boats, then I highly recommend a sunset sail, departing from Palm Beach. They'll take you to the shipwreck and provide evening beverages while going along the coast as the sun goes down. It's a fantastic evening activity. You can book here.
20. Skydive
Though I didn't try this, I was pretty curious about the skydiving on Aruba. It must look pretty insane to dive down to such a small island from the air. You can find out more and book here.
While those are some of the best outdoorsy things to do on Aruba, there are also colorful buildings, famous restaurants, and even a donkey sanctuary. Now that I've had the pleasure of exploring Aruba twice, I'm pretty impressed by how much there is to do for such a small island, particularly if you're into 4×4 driving and rugged coastline.
*Some links in this post are affiliate links. Any booking you make through this site supports us at no extra cost to you. This post was brought to you in collaboration with Aruba Tourism Authority. All reviews and thoughts are genuine.  
Click to read more posts about
Aruba