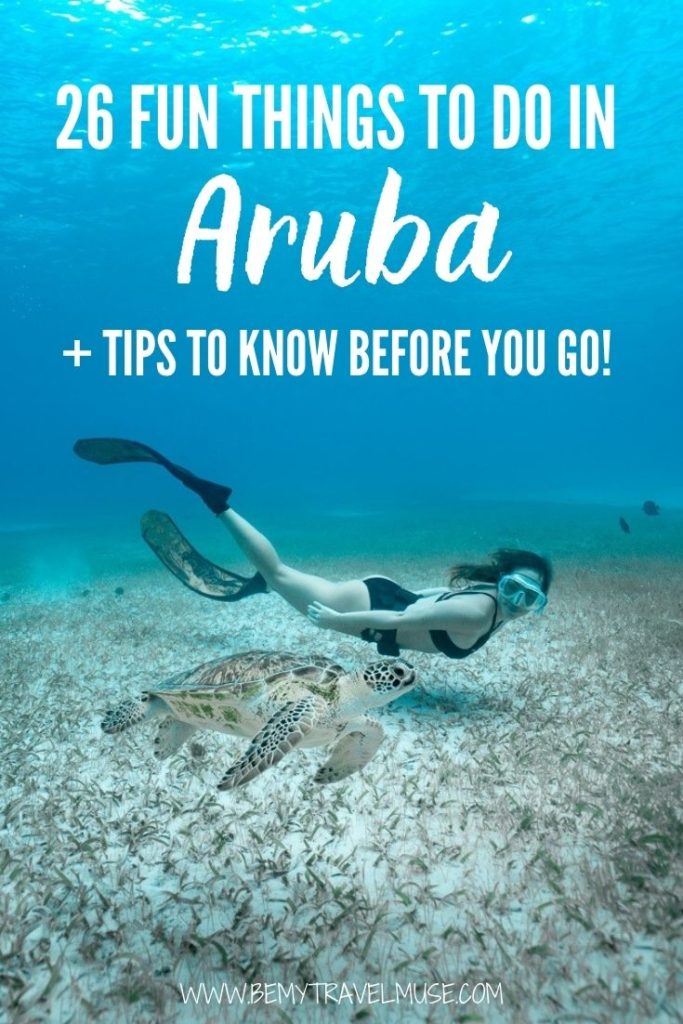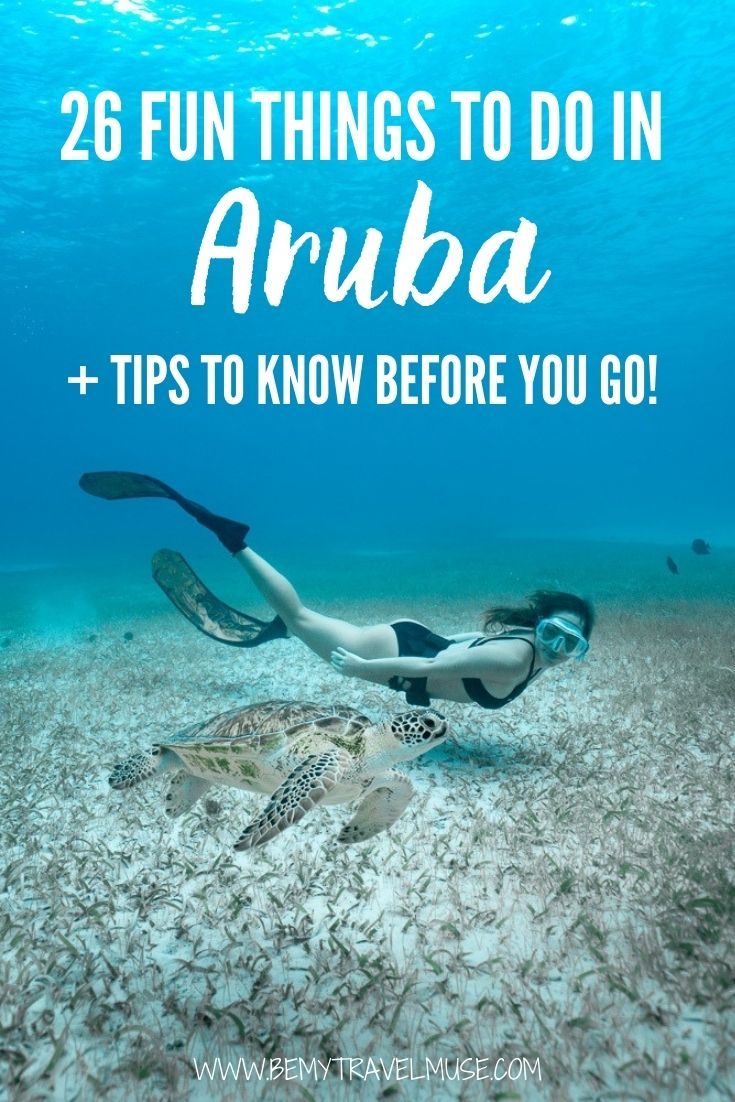 Aruba is one of my favorite spots in the Caribbean. The water and white sand are perfect, it's just small enough and just big enough to have plenty to do without too much FOMO or long drives, and it's not too hard to get away from the crowds and have a real adventure. I love it so much, I've been three times!
This island has a lot to offer – great diving and snorkeling, including wrecks, amazing beaches, wind perfect for kiting, surfing waves, caves, natural rock pools, rock arches, rolling hills covered in cacti, and lots of off roading. I've thrown in a few foodie and wellness favorites too, just for good measure.
These are the best things to do on Aruba:
1. Walk on the white sand of Eagle Beach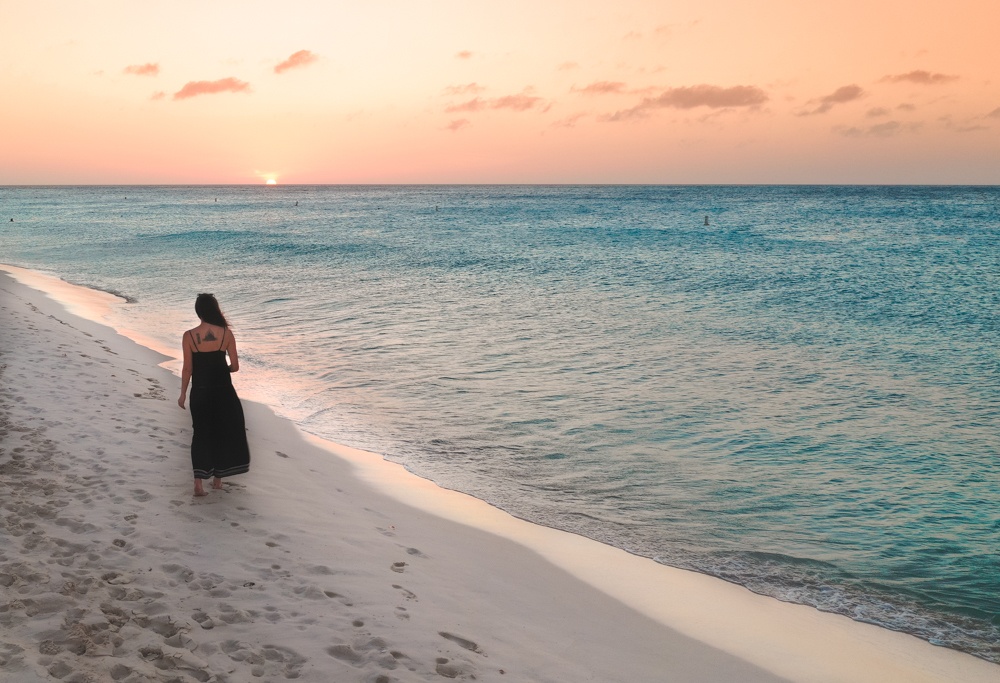 Not far from the high-rise hotels of Palm Beach, you'll find Eagle Beach with white sand and perfect positioning for the sunset each night. Watch as boats sail by, or consider staying at a boutique hotel on this beach for a slightly quieter experience.
2. Check out the Divi-Divi Trees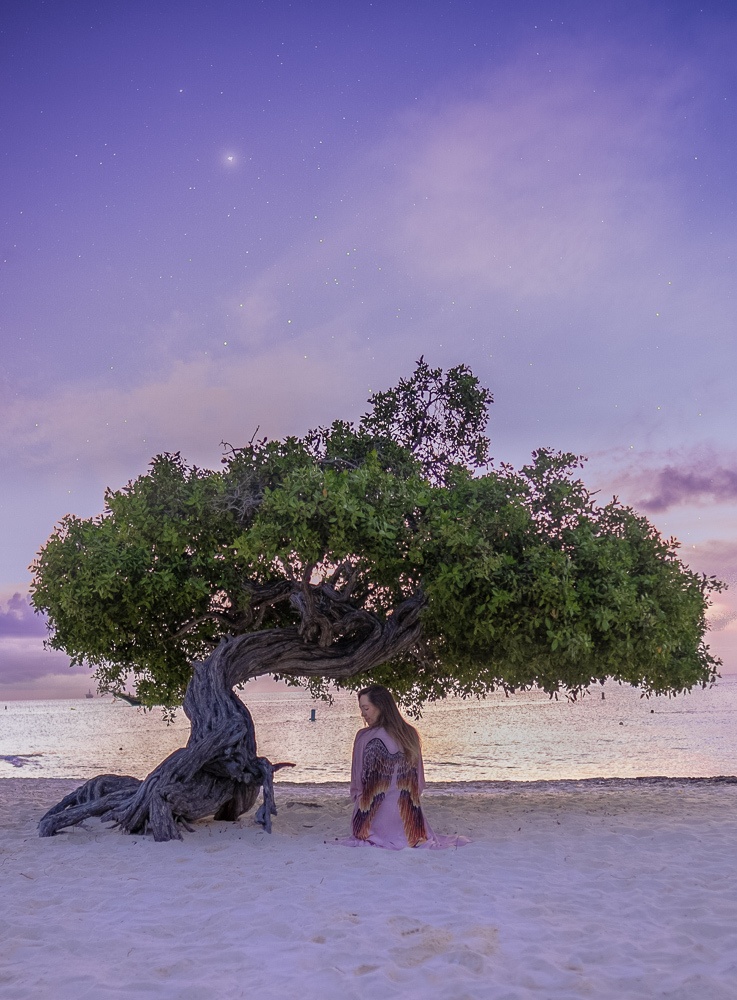 Also on Eagle beach, check out these unique trees growing right on the beach. It's probably worth mentioning that these are not the true Divi-divi trees — they are mis-marked on Google maps — but they're still incredibly cool looking and worth checking out!
You can also see the true Divi-divi trees while driving around, particularly in San Nicolas. They almost looked arched over to entirely in one direction, and they only grow on Aruba!
3. Get Some Sun at Baby Beach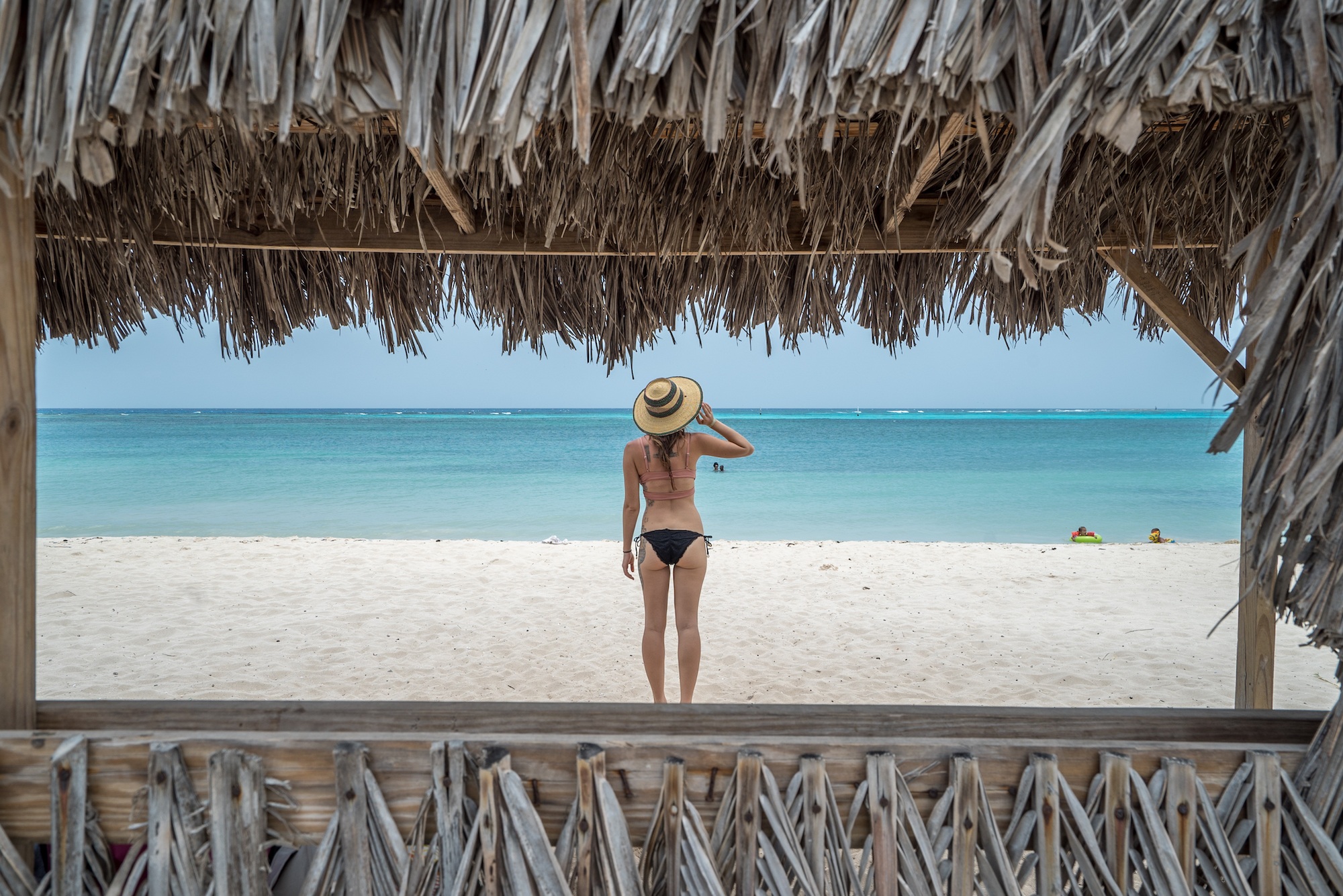 Baby Beach, and the beaches that border it on either side, are some of the nicest, least crowded white sand beaches on Aruba. They're also a favorite for snorkeling, swimming, and basking in the sun. You'll find this one on the south side of the island.
4. Take Jeep Tour of Arikok National Park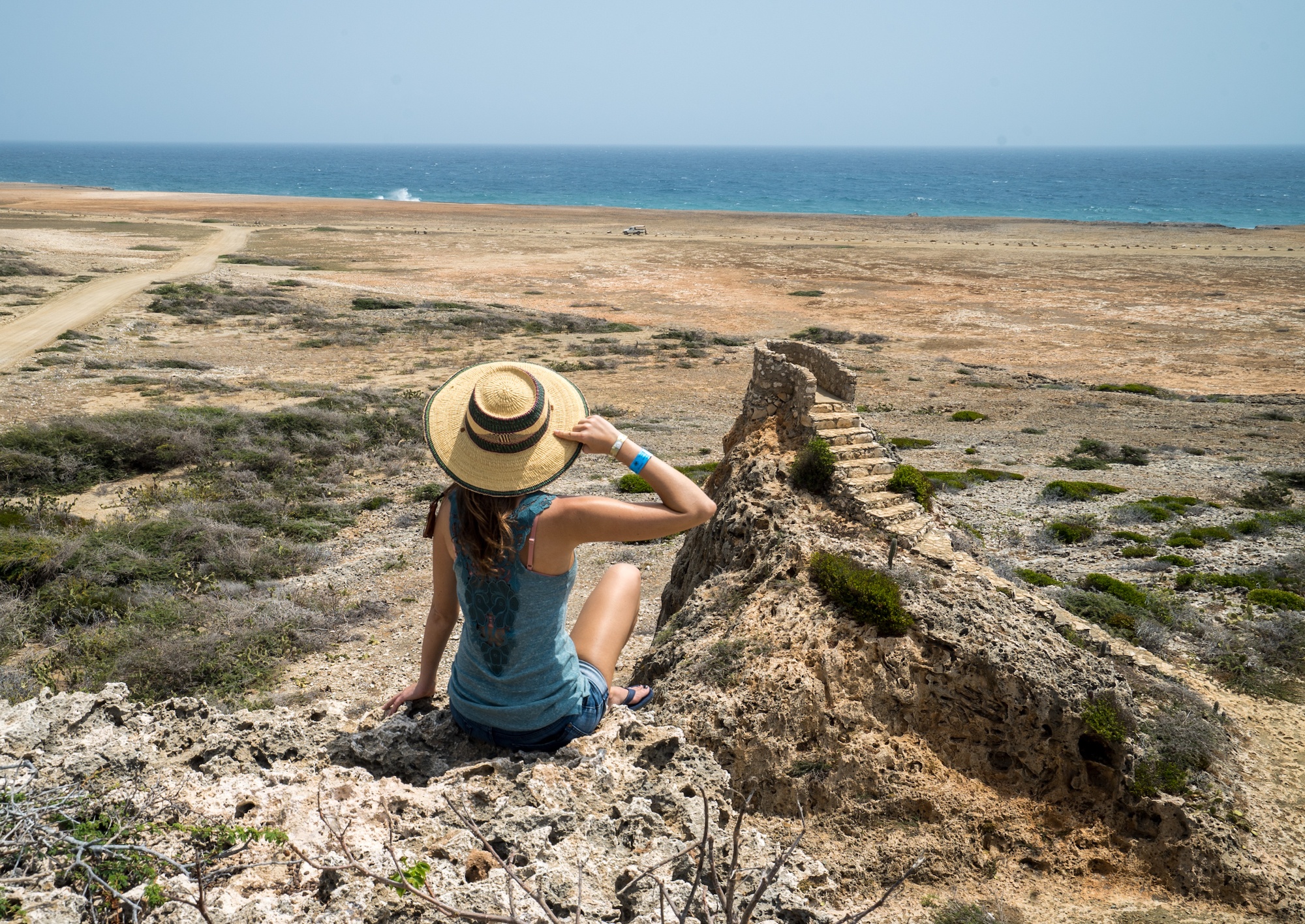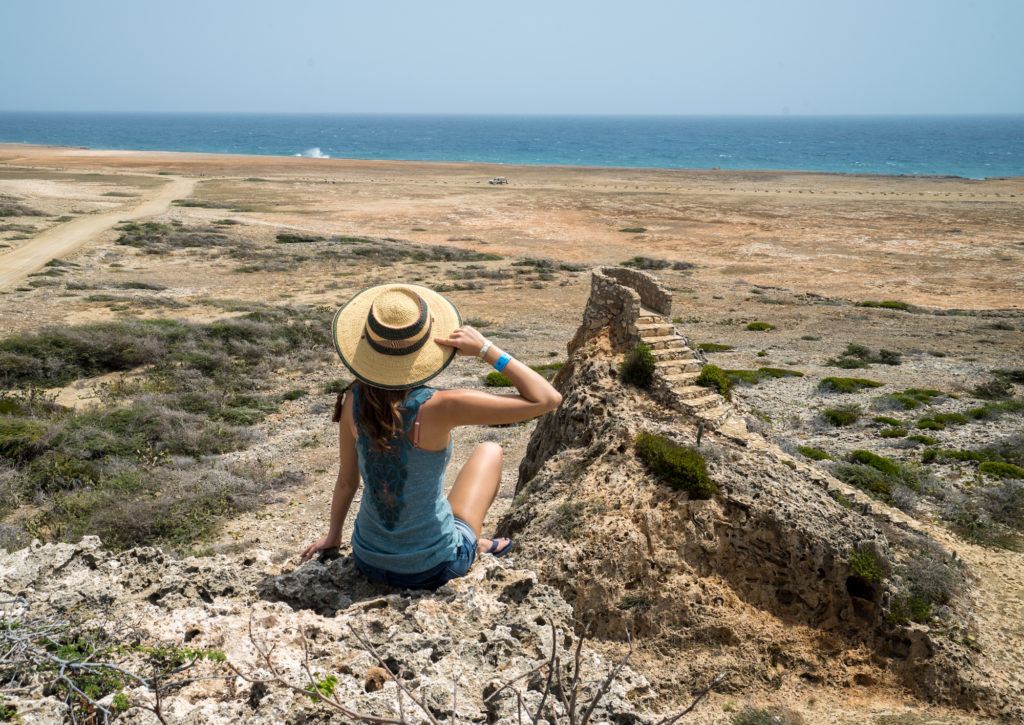 You can't go to Aruba without seeing Arikok National Park! It's the rugged, enchanting side of the island which ended up being my favorite during my time in Aruba. Different tours will take you to different places, like the Ayo Rock Formations or the caves listed below, but in general they all take you up and down rocky roads in a Jeep with a driver or self driving an ATV in a group with a guide.
You can pick your tour depending on what you'd most like to see, choosing from more of the options listed in this article. I recommend the full day tour, which includes caves and the stairway to heaven pictured above. If you prefer to tour the park without a 4×4 and are into the animals, try a tour that includes the Donkey Sanctuary Aruba.
5. Visit Guadirikiri Cave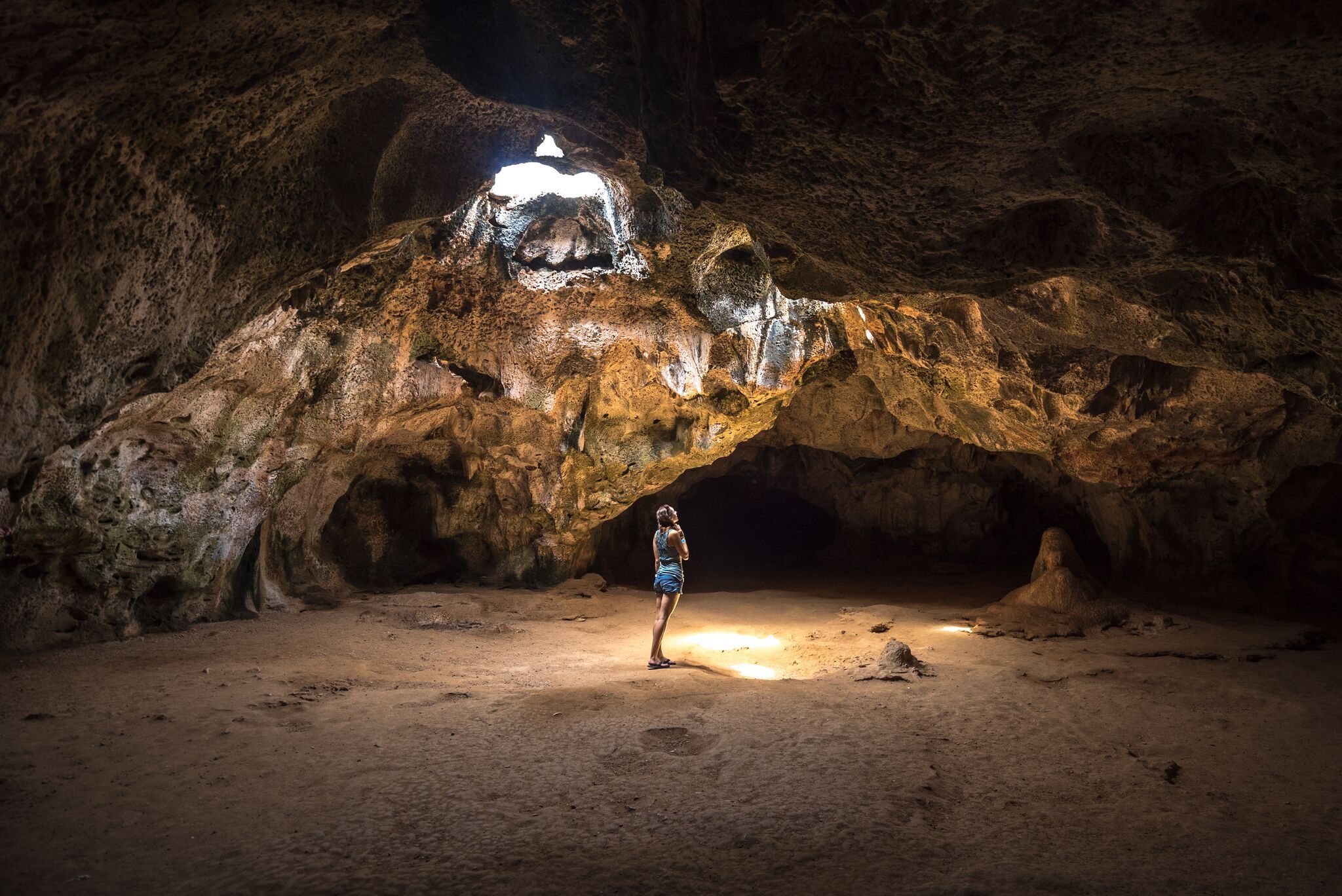 Some of the Jeep tours in Arikok National Park will stop by this cave, which is even cooler than I expected! If you get there at the right time of day you can see light beams coming down as well.
Aim for midday to see this. You can either self-drive with a 4×4 or book a tour that takes you here as well as the next stop, the Natural Pool.
6. Swim in the Natural Pool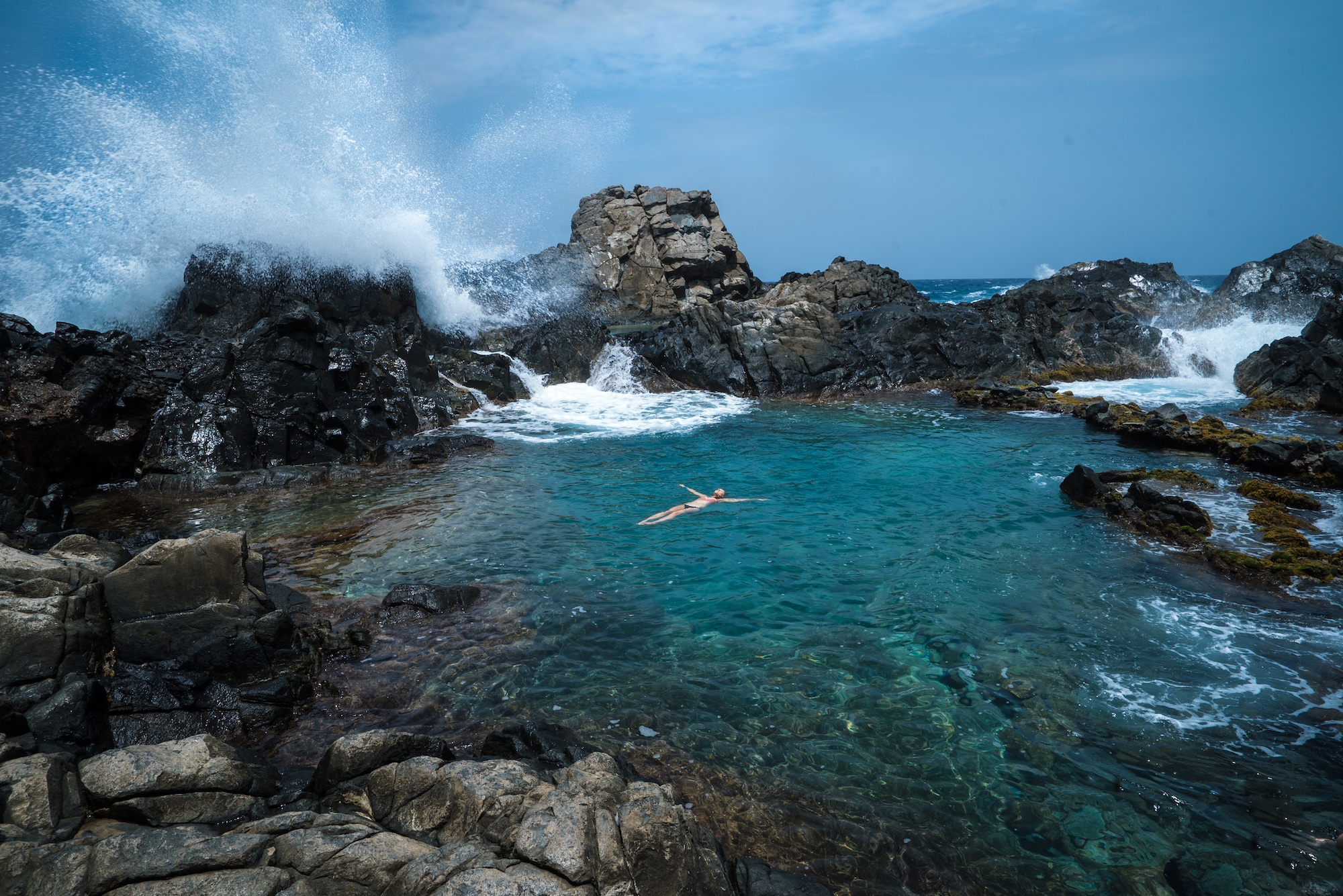 This was easily my favorite thing to do the first time I visited Aruba. The rocks that perfectly form this natural pool, and a natural 'jacuzzi' to the right of my right shoulder in the photo above, make for a perfect swimming area. It can get a little crazy with the waves crashing over the side, but there's a park guide nearby who closes the pool if the waves get too rough. If you can, try to go on a calmer day. Earlier in the morning or later in the afternoon are good times to avoid crowds.
Bonus: If you're a surfer, there's a popular surf spot nearby. Just be careful, the waves crash right up on rocks along this part of the coast.
7. Scuba Dive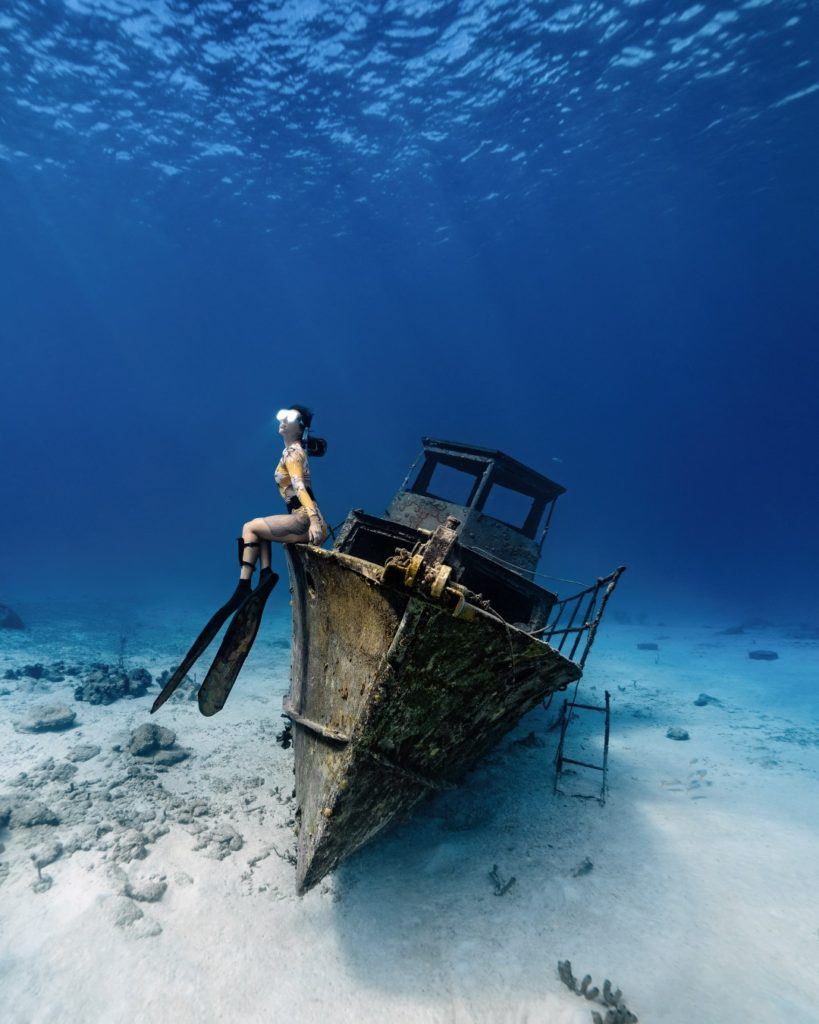 The diving is pretty good in Aruba. It's not the hands down best in the world, but for such an easy variety of dive sites that you can access in water that isn't that deep, and not too far from shore, I was pretty impressed!
Aruba also has several wrecks around the island, including a plane! Though it's possible to freedive to them, as pictured above, you can book Scuba dives to the wrecks as well. Check out Red Sail Sports for dive options.
8. Snorkel Tres Trapi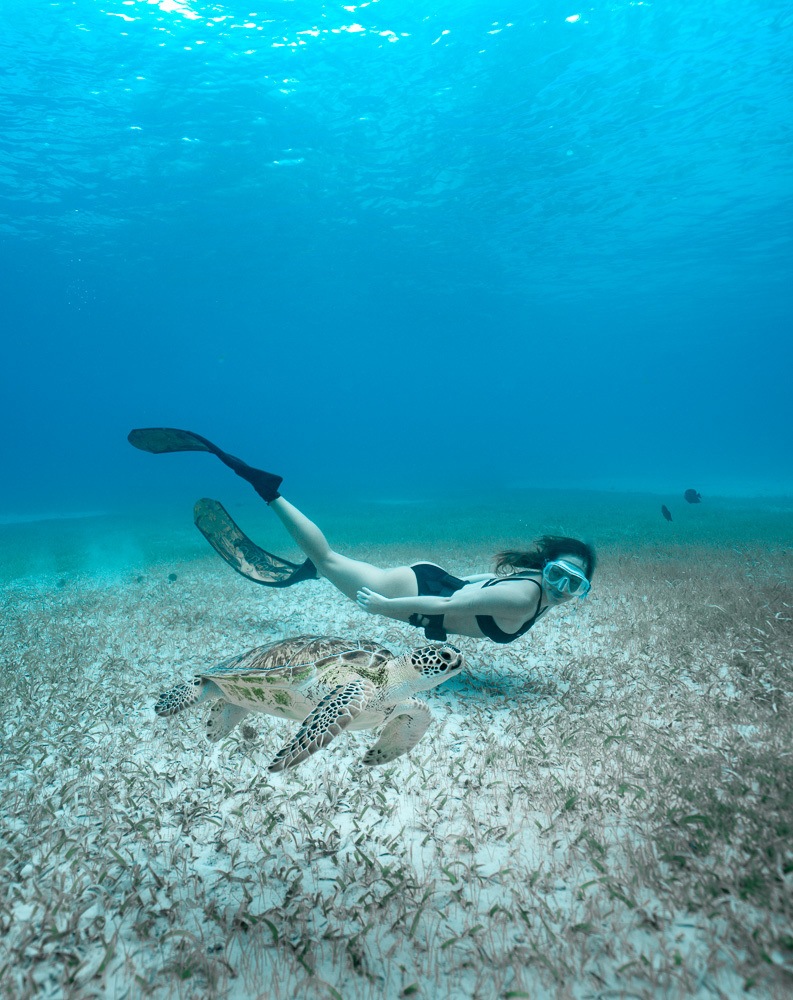 Tres trapi looks like 3 steps carved out of volcanic rock on the roadside. It's characterized by white sand, clear water, and if you're not a diver, or even if you are, there's a menagerie of fish to check out. You can self drive or take a snorkeling tour to this area, just above Palm Beach.
Pro tip: Go earlier in the morning to avoid other people, and also to enjoy more turtles! There tend to be more animals around in the morning, and I saw 10 the day that I went!
Also, please respect the turtles by not chasing nor touching them.
9. See the Flamingos on Renaissance Island
When I saw the photos of famous flamingos on the beach, I knew I wanted to check them out for myself!
It turns out that they're not native to Aruba, and these guys are here more as a spectacle than anything. You can buy food to feed to them and take photos with them, though it does come with a $125 price tag to visit Renaissance Island unless you're staying at the hotel, in which case it's free.
The rest of the island is lovely as well, but there's not much shade. You can find out more about how to visit here.
10. Kite surf at Boca Grandi
More south on the eastern side of the island, the surf is bigger and the wind is stronger, which makes it perfect for kite boarding. If you're a kiter then this is the perfect spot.
11. Catch Sunset at the California Lighthouse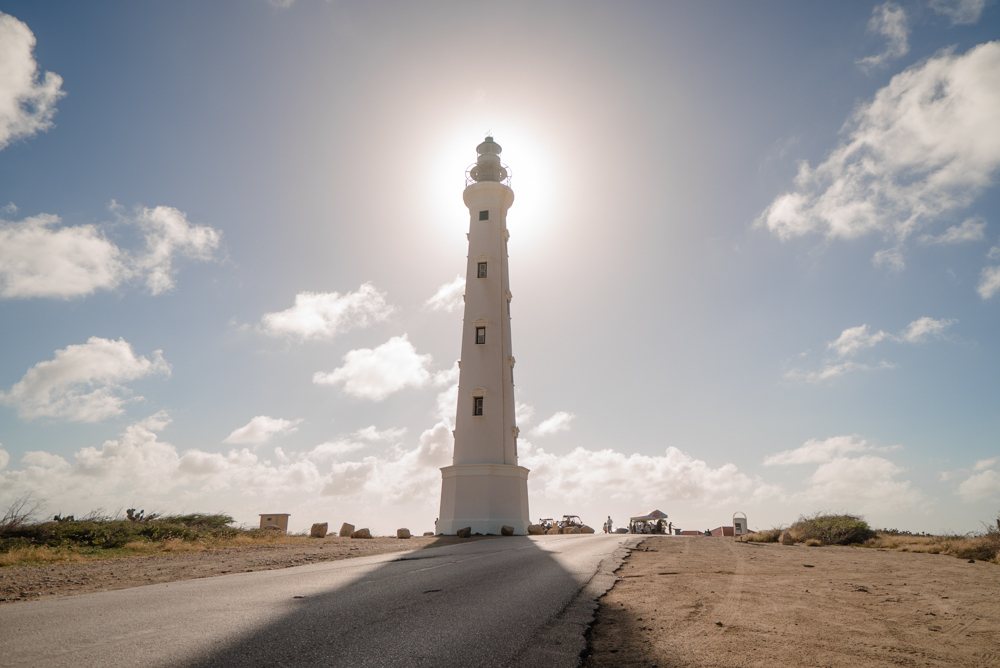 Since it's high up on the island, the California Lighthouse is the perfect place to catch the sunset. It's not far from Palm Beach, where most of the hotels are, so it's easy to stop by after a long day at the beach and watch as the sun dips below the horizon. It's also a good spot for stargazing and astrophotography if you're into it.
The California sand dunes are also nearby. Though you can't drive on them, you can drive right up to them and go for a little hike. This is also a great spot to catch sunset.
12. Visit the Wariruri Bridge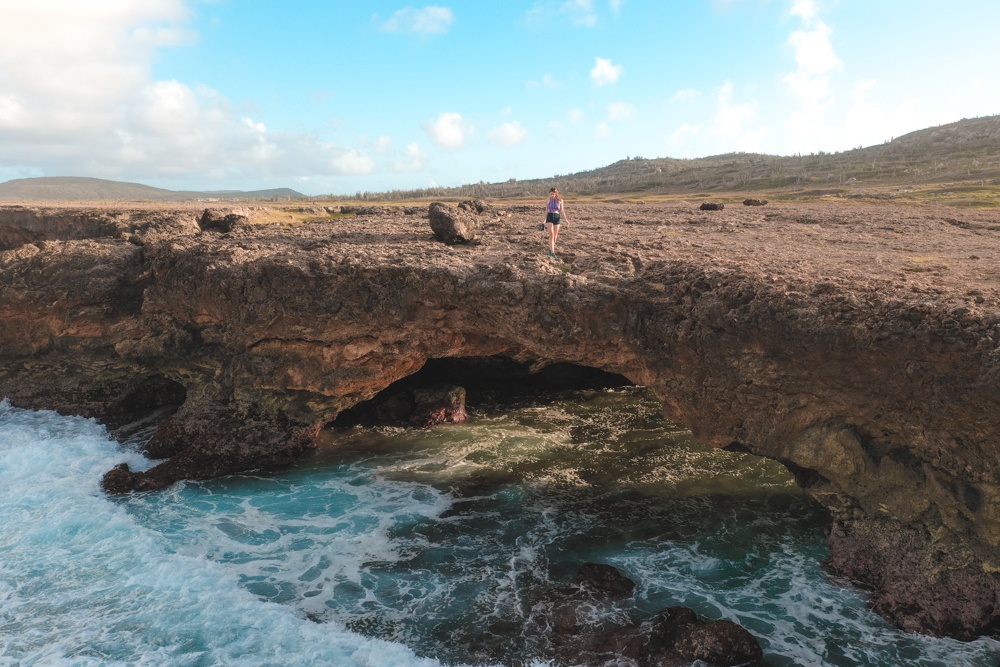 After the Natural Bridge collapsed years ago, this is now the largest natural bridge on Aruba. It's on a remote road that you'll need either a 4×4 or an ATV tour to get to, but if you want to see the more adventurous side of Aruba that fewer tourists see, I recommend taking a drive all along the east coast, including this spot.
I did a solo drive here and absolutely loved it. You can rent a 4×4 Jeep at the airport when you arrive.
13. See the Trinity/Tripod Bridge at Sunrise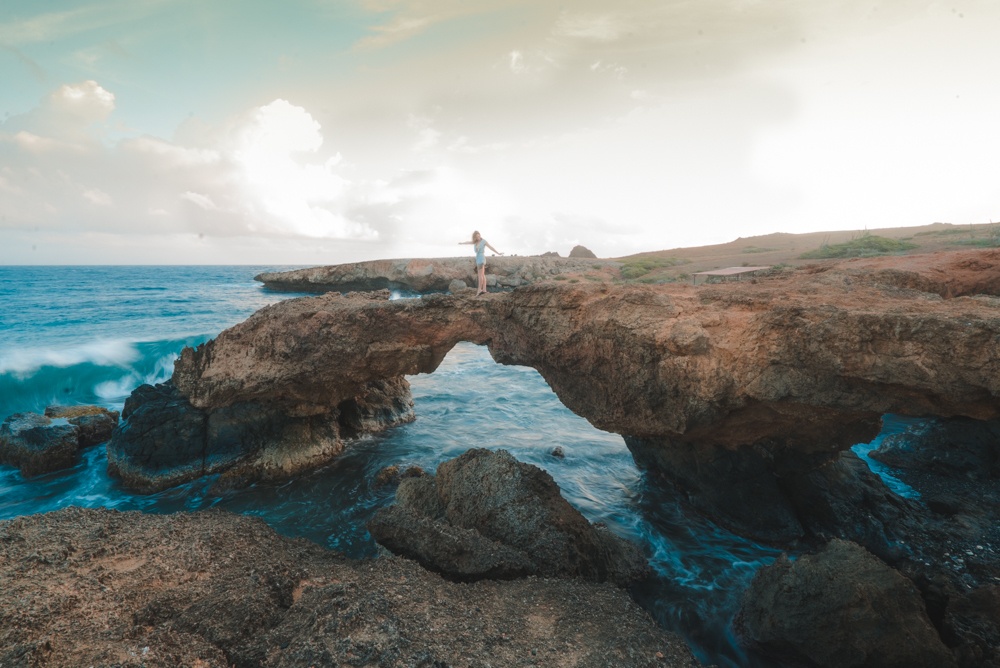 Yet another natural bridge, this one has three arches and is a bit less remote to reach, though you'll still need a 4×4. I headed here for the sunrise thinking I'd get it rising right in front of the bridge, but it was actually a bit more to my right. That said, heading there first thing in the morning meant I got it all to myself!
14. Hike Amongst the Cacti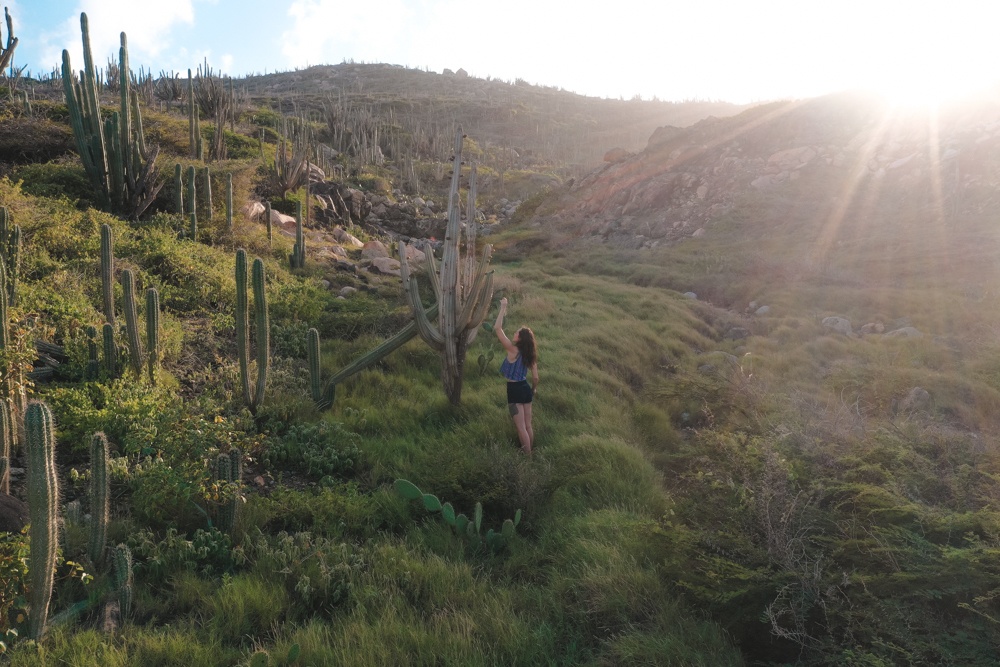 I was surprised to see cacti all over Aruba the first time I went. I had no idea that it was more of a desert island than the humid Caribbean islands I'm used to seeing. There are plenty of trails in Arikok for exploring to get up and close with them. You'll also pass plenty when driving along the east coast. If you do end up hiking, keep in mind that there's little to no shade, and you'll want to bring lots of water with you. Opt for the early morning hours to avoid peak day heat. Here are some great hiking options.
15. Take yourself on a Jeep adventure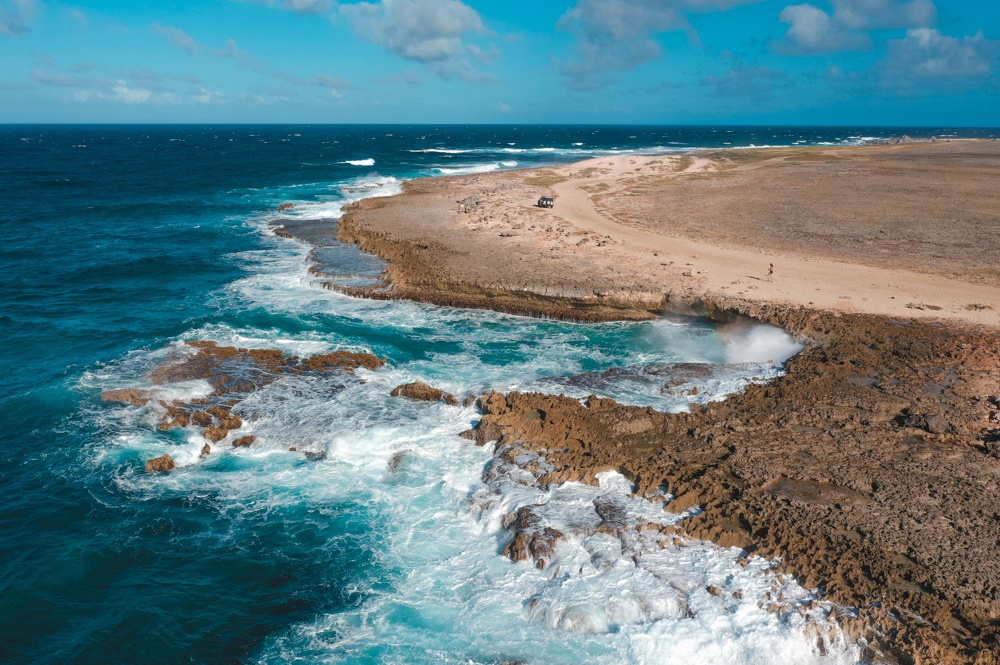 If you're up for a self-drive adventure, I can't recommend renting a Jeep and driving along the north and east coast enough. I took my Jeep out on a 4×4 road trip every day that I was on Aruba, and loved the freedom it gave me. It also allows you to see parts of the island that others don't see. You can compare options here.
16. Horseback Ride at Dos Playa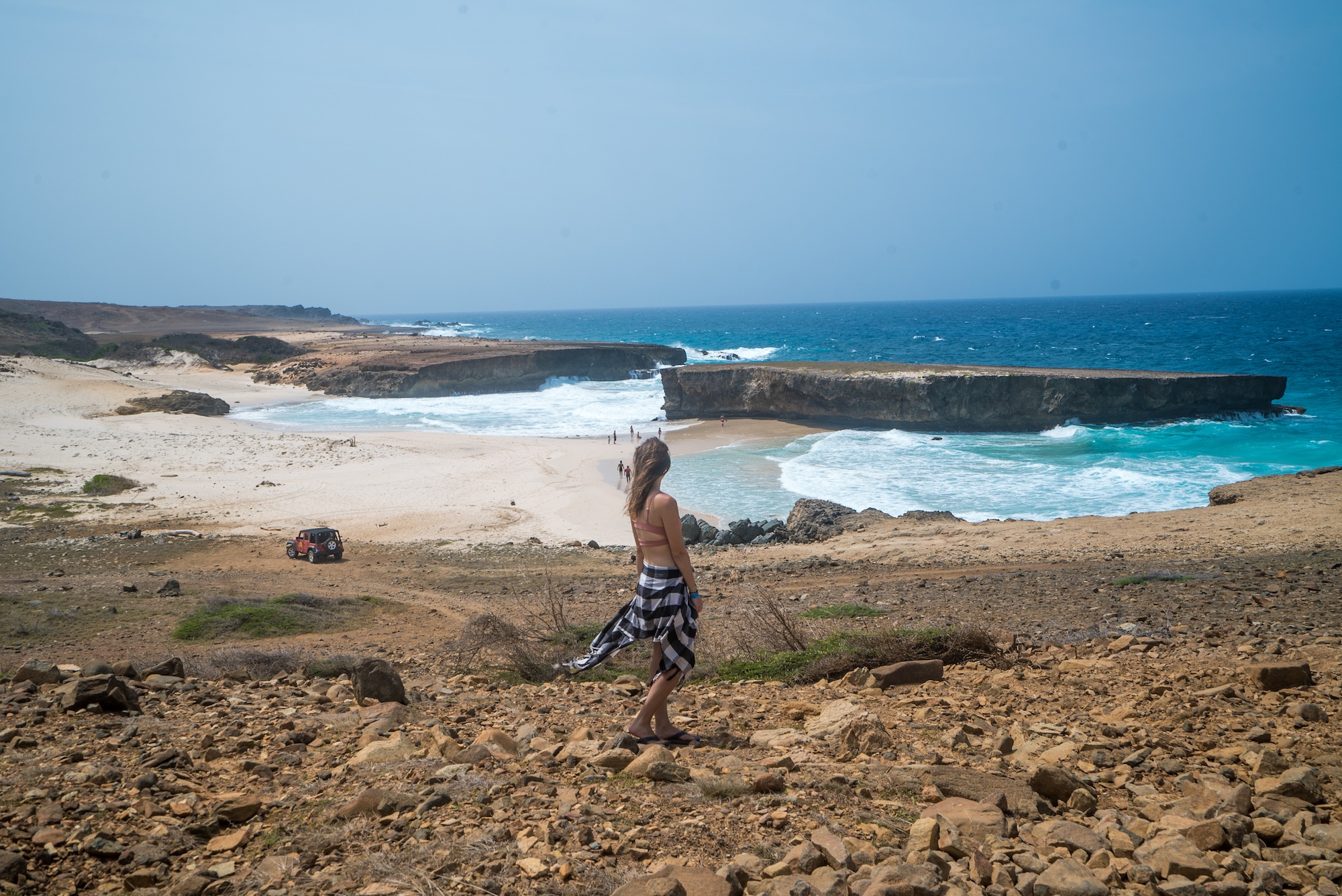 For a dreamy beachy horseback ride, Dos Playa in Arikok is the spot. You'll find this near the Natural Pool where the horses hang out. Personally I'm pretty scared of horses (but I'll happily hitchhike – I know my preferences are odd). If you enjoy horseback riding, though, you can book it here.
17. Find Paradise at Manchebo Beach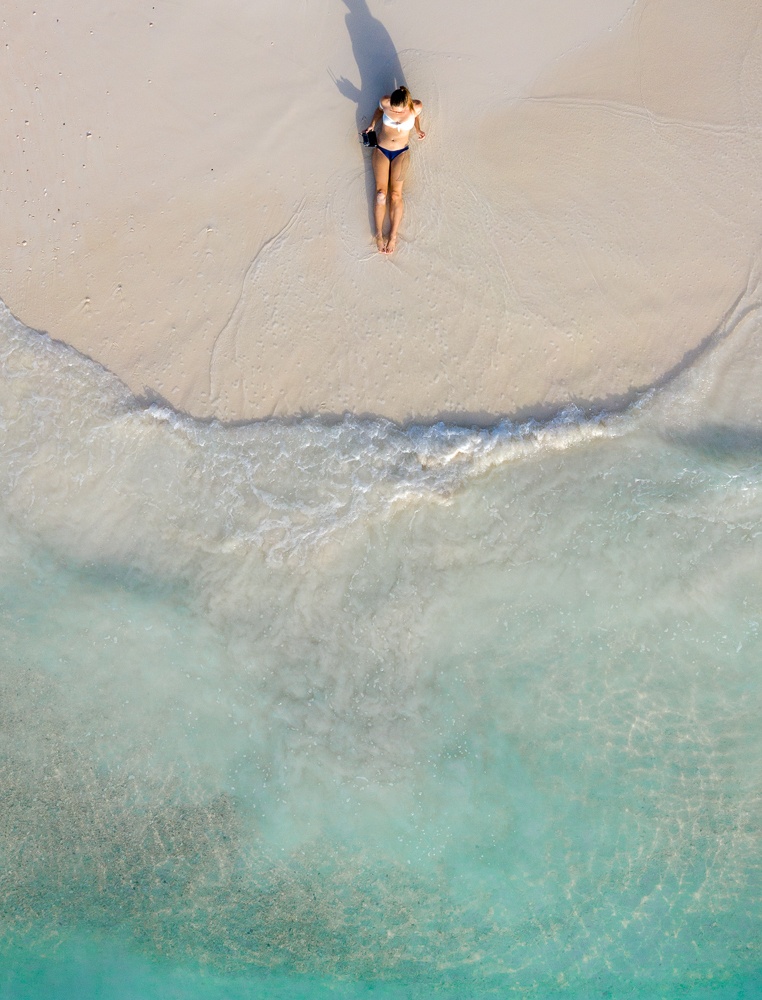 Just down the coast from Palm and then Eagle beaches, Manchebo boasts similarly white sand and crystal clear, blue waters, but is a slightly quieter beach with fewer people around. It's on a western point which makes it ideal for sunset as well. This is my favorite place to stay in Aruba (more on that later!)
18. Try the Tasting Menu at Senses Fine Dining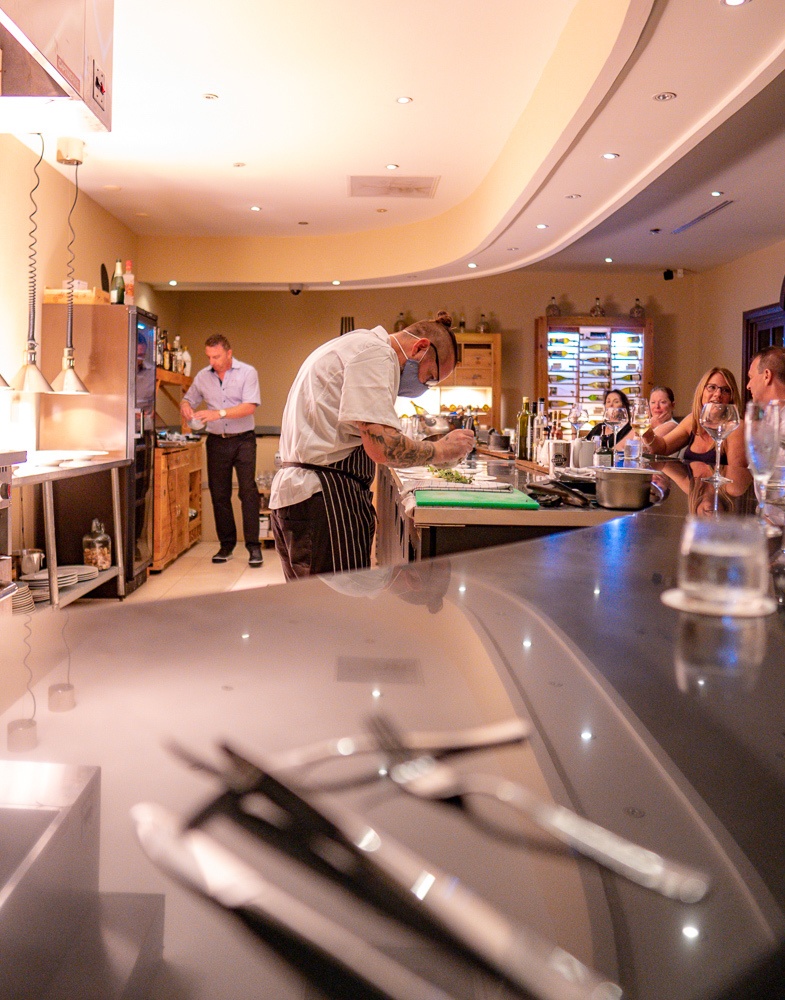 This was one of the most delicious dining experiences I've had, not just in Aruba, but anywhere!
Unlike most restaurants, customers sit along a table that faces the open kitchen, and Chef Kelt walks you through each of the dishes that he has created. Most of them take a minimum of a few hours but up to a few days to create even the smallest of details. Do yourself a favor and check this one out!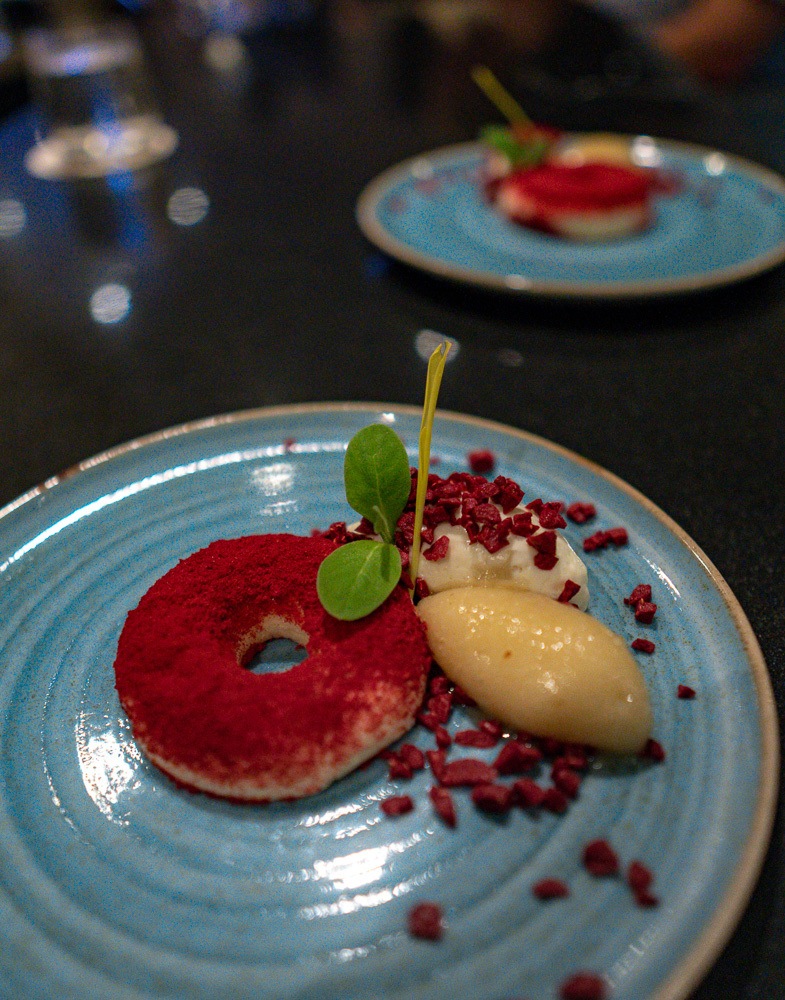 Book ahead of time here.
19. Spa Experience at Spa Del Sol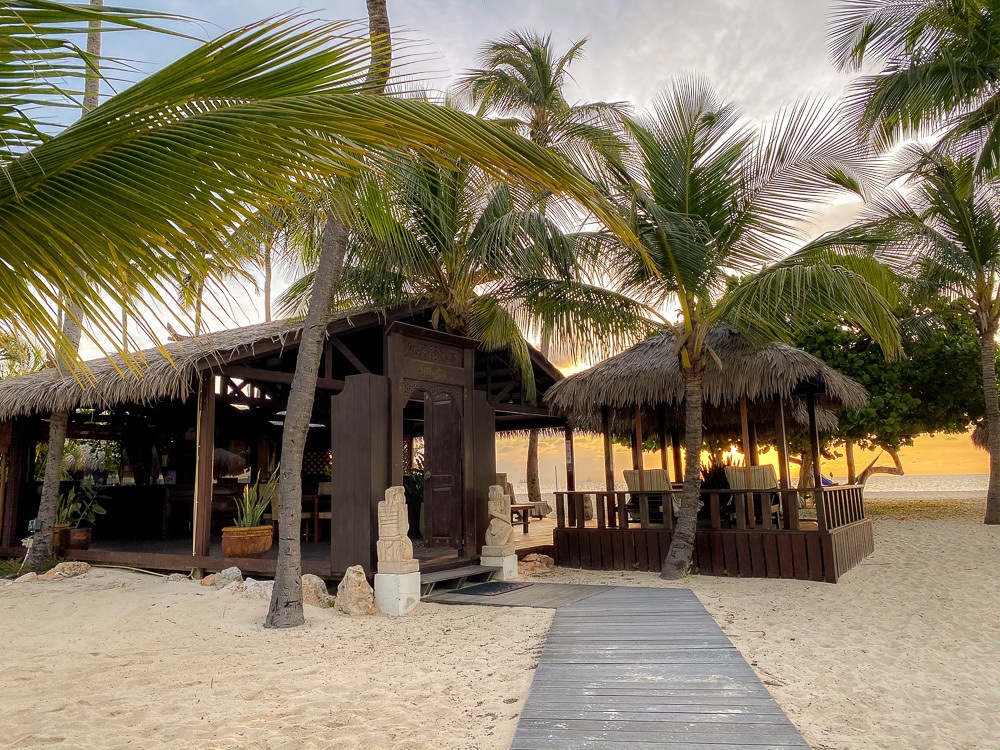 I'll be real honest with you, I would normally have opted for just a massage or just a wrap, but why not indulge and go for the full experience? Spa Del Sol's full experience includes a volcano scrub and wrap, aromatherapy massage, lunch, facial, manicure, and pedicure.
I've never done such an involved spa package and felt so pampered all day long! Plus, it's on one of the most beautiful beaches in Aruba, at Manchebo Beach Resort and Spa. Book here.
20. Surf at Andicuri Beach
If you're a surfer, head to the east coast's Andicuri Beach for the best surfing on Aruba. I didn't test this out myself and can't speak to how great the surf is, but to access it you'll want a vehicle that you can take through sand. Alternatively, check Surfline for the best surf of the day. In some cases, you'll be ok to get there with a standard vehicle. If you don't have a board in tow or want to learn, check out the Aruba Surf and Paddle School.
21. Catch sunset/snorkel at Mangel Halto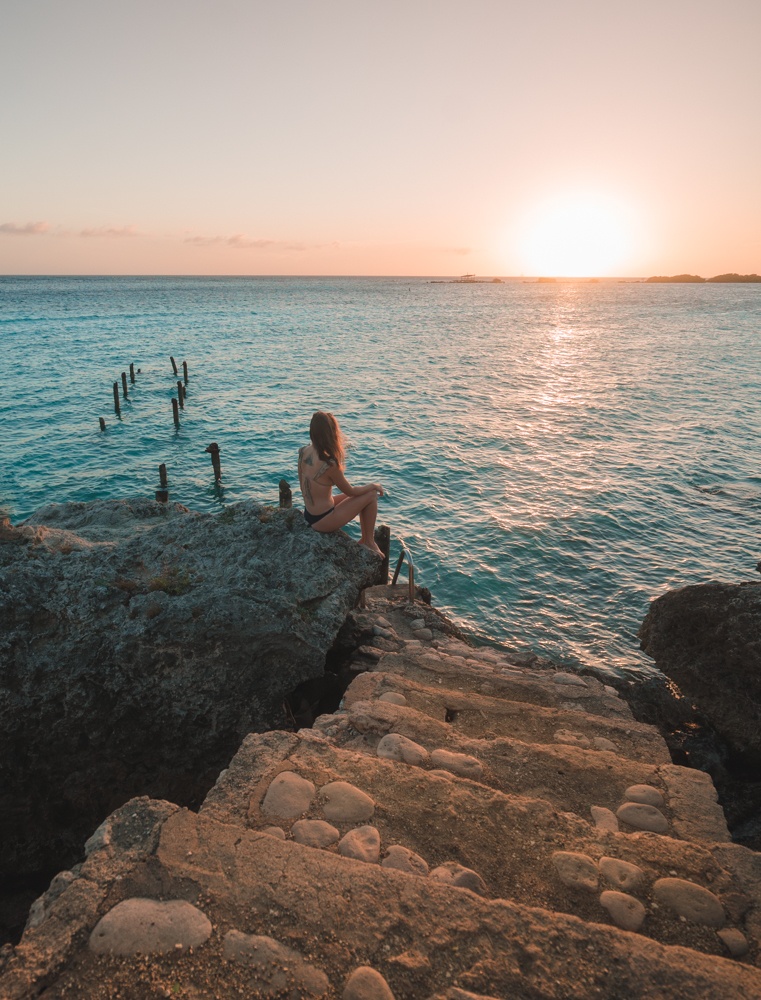 Mangel Halto is one of the best spots for sunset and for a secluded beach amongst the mangroves.
It takes a while to get there from Palm Beach or Eagle Beach, so leave yourself at least an hour before sunset if you want to be able to enjoy it without getting stuck in too much traffic.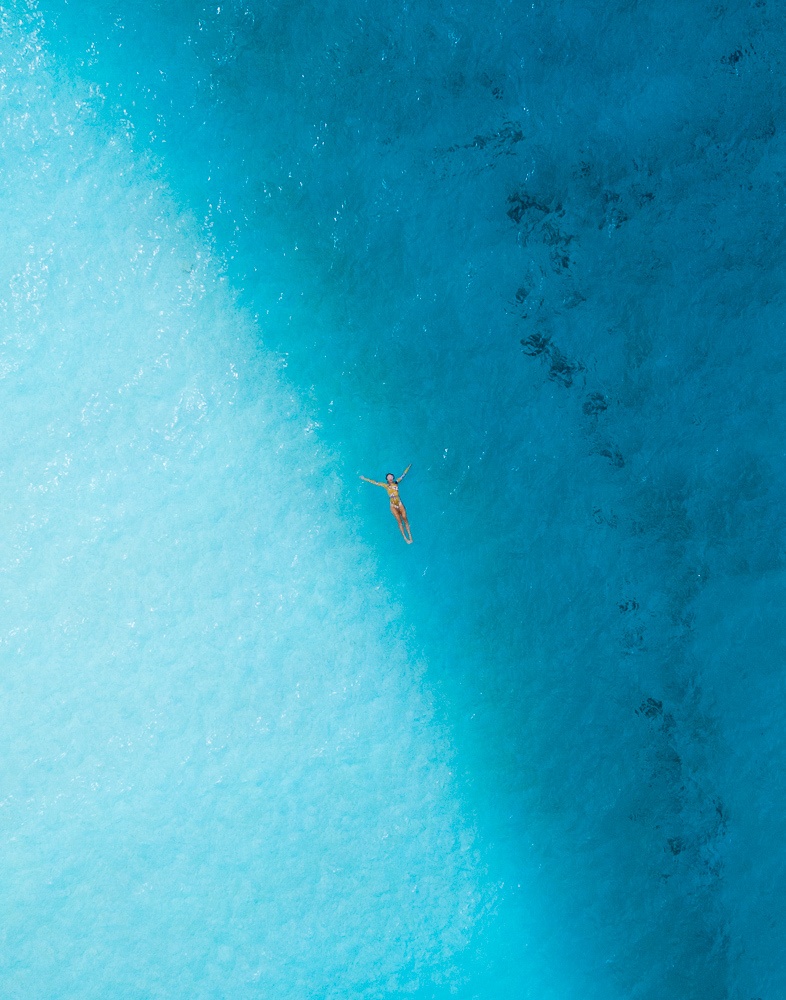 I recommend going in the afternoon while it's still light out as well. It's great for snorkeling and those gorgeous azure waters. Bring along a mask and snorkel!
22. Check out the Murals Downtown
For some colorful houses and murals, check out the downtown area on your way to baby beach or San Nicolas.
If you stop by the visitor center downtown, they can give you a map that will help you find each of the murals. It takes about an hour and a half to two hours to see them all.
23. Sunset Cruise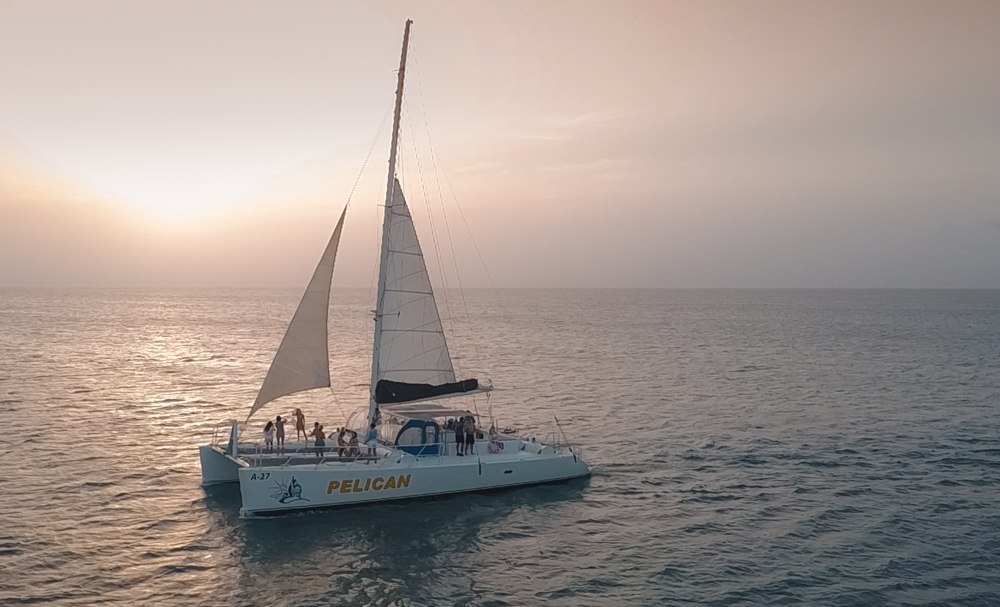 If you're into being on the water and love boats, then I highly recommend a sunset sail, departing from Palm Beach. They'll take you to the shipwreck and provide evening beverages while going along the coast as the sun goes down. It's a fantastic evening activity. You can book here.
24. Skydive
Though I didn't try this, I was pretty curious about the skydiving on Aruba. It must look pretty insane to dive down to such a small island from the air. You can find out more and book here.
While those are some of the best outdoorsy things to do on Aruba, there are also colorful buildings, famous restaurants, and even a donkey sanctuary. Now that I've had the pleasure of exploring Aruba thrice, I'm pretty impressed by how much there is to do for such a small island, particularly if you're into 4×4 driving and rugged coastline.
25. Explore in San Nicolas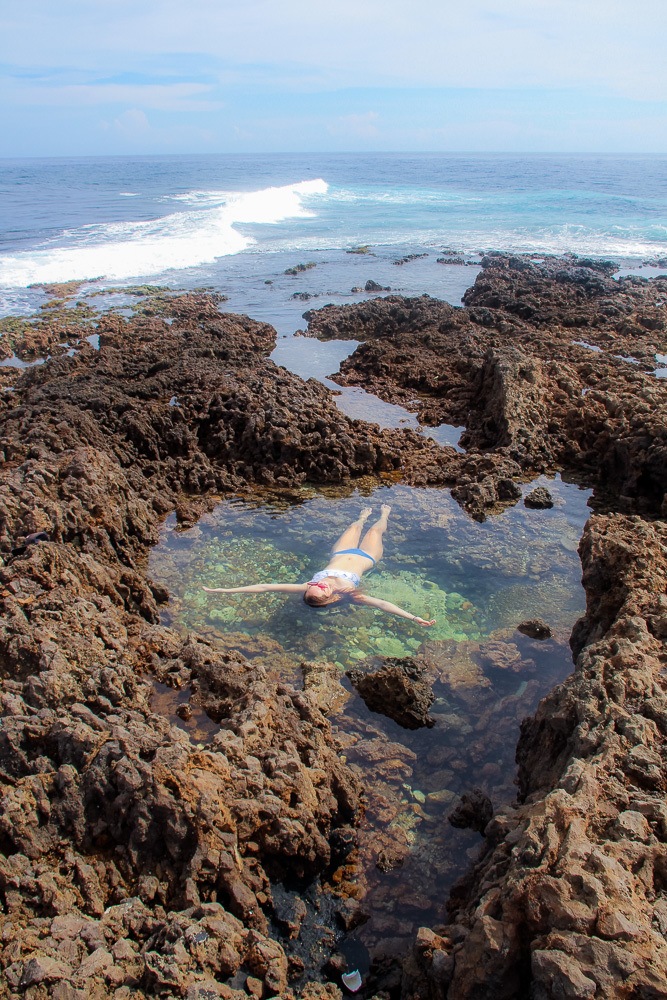 No jeep? No problem! Drive yourself to the San Nicolas lighthouse, park your car, put on some shoes with tread and explore the rocks nearby. There are natural arches, and on calm days, you can find natural pools as well.
26. SUP Yoga
Island yoga on Aruba offers SUP board yoga sessions, for something a little different in the most beautiful water on earth.
Stay
Manchebo Beach Resort and Spa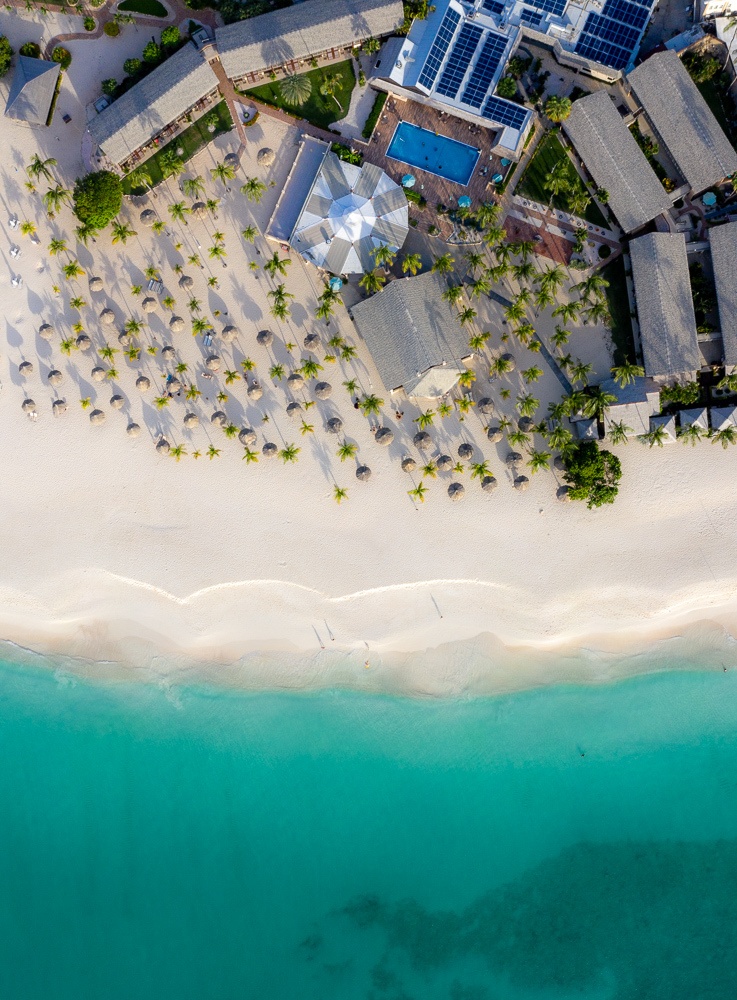 For a beachfront paradise, I absolutely loved staying at Manchebo. It has one of the quietest, nicest beaches on Aruba, perfectly facing westward for sunset. They also have the lovely spa mentioned above, and daily yoga and Pilates classes.
Palm Beach – Boardwalk Boutique Hotel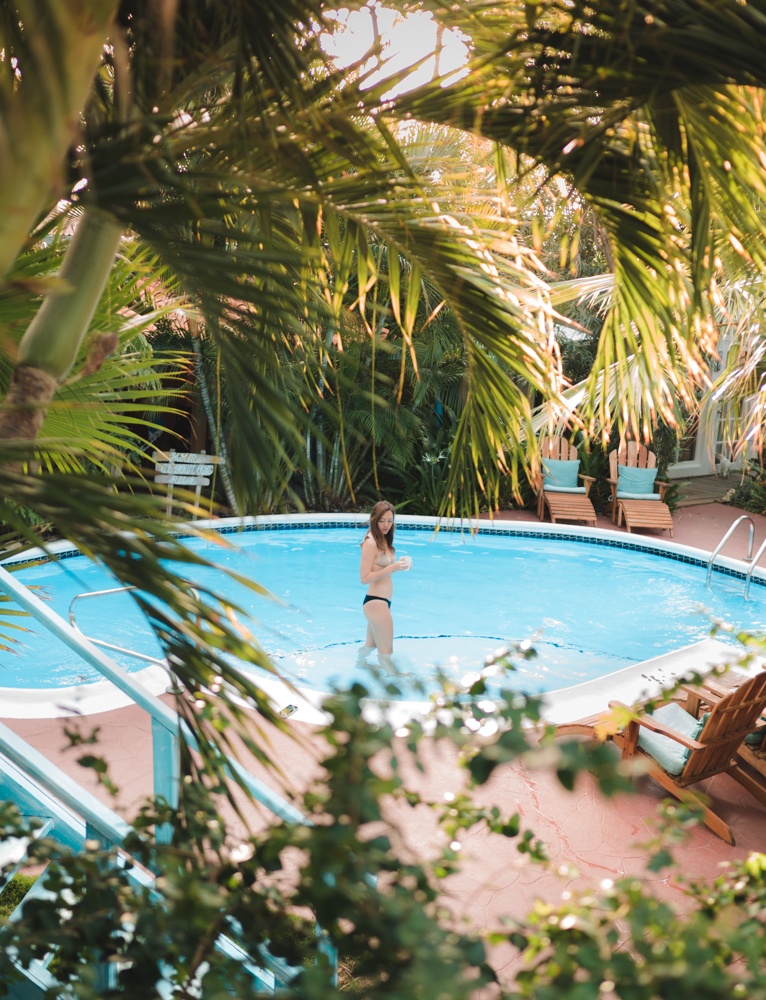 On more of a local feel? The Boardwalk Boutique Hotel is not just a room, but an entire little apartment complete with patio, living room, kitchen, and a separate bedroom. It's a smaller, female-owned resort with a much more boutique feel.
This one is near all of the activities of Palm Beach, and though not directly on the sand, they've got their own little beachy area near the Marriott for guests.
I hope these 26 amazing things to do in Aruba take you on a perfect adventure. With a few days, you can truly get a taste of almost everything in Aruba, from the delicious food to the gorgeous beaches and its rugged side. Enjoy this happy little island!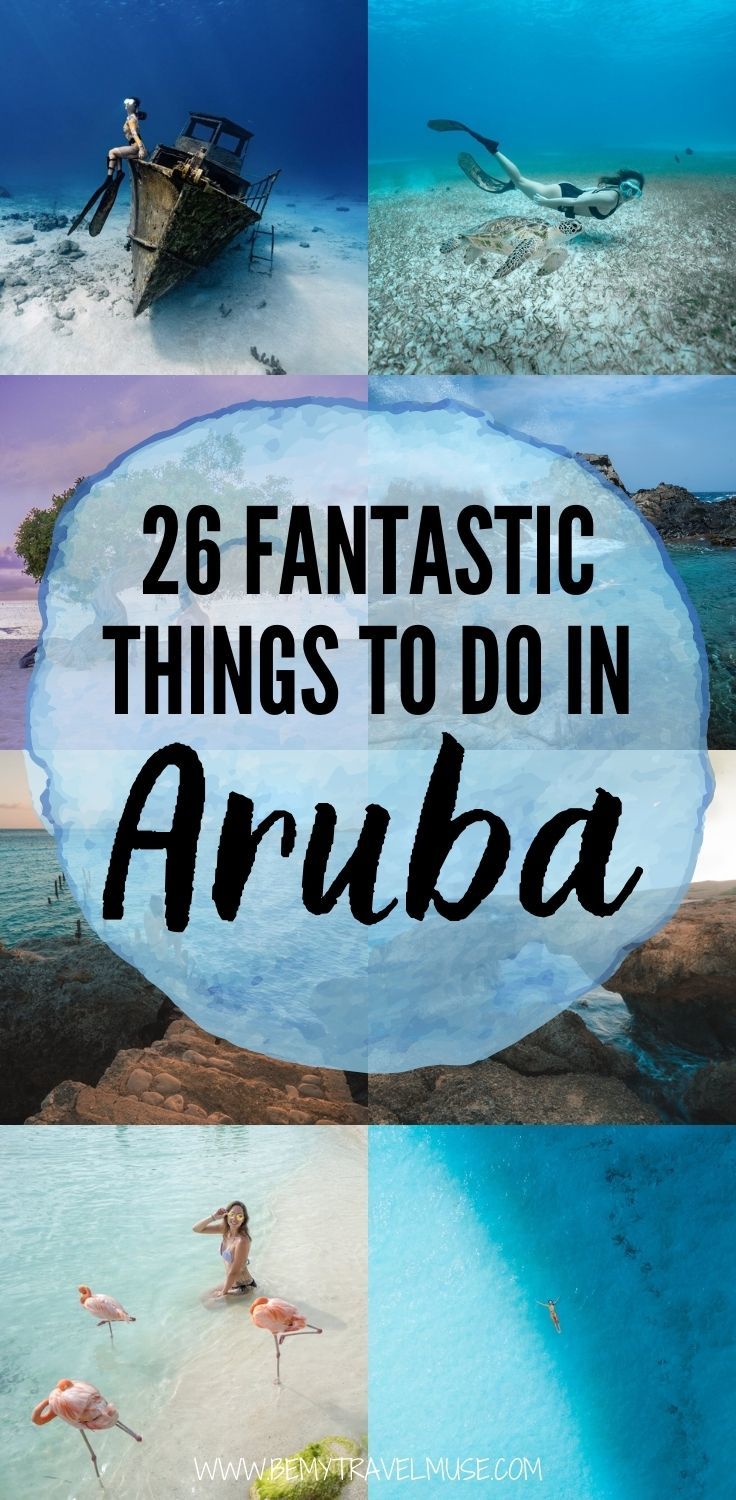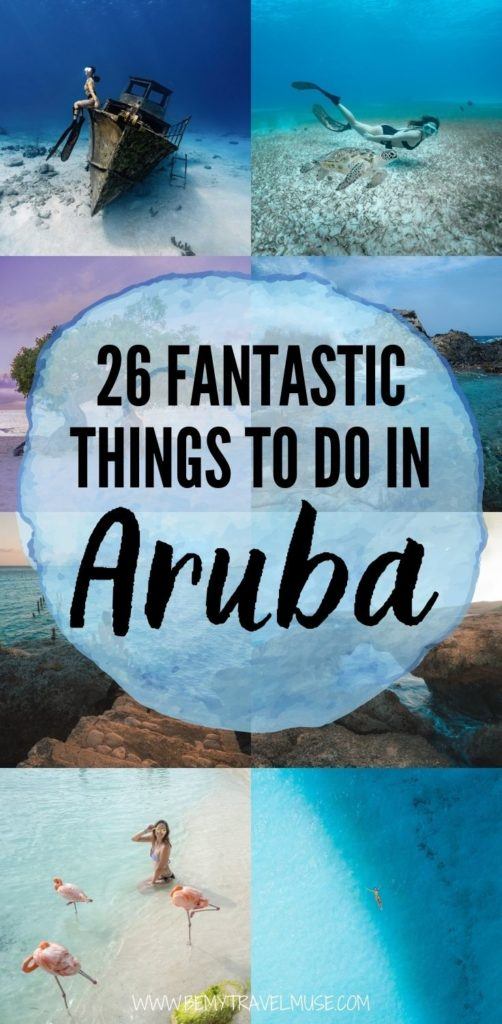 *Some links in this post are affiliate links. Any booking you make through this site supports us at no extra cost to you. This post was brought to you in collaboration with Aruba Tourism Authority. All reviews and thoughts are genuine.