If you've been dreaming of perfectly soft, white sand, crystal clear azure waters, and calm seas to wade in, look no further than Aruba. I've visited three times now and the more of the Caribbean I see, the more special Aruba becomes to me. It's just so easy and beautiful.
The island itself is relatively small with an area of around 70 square miles, so it isn't all that difficult to stumble upon a beach or two. But each one has characteristics that make it unique. To help you pick, these are the best beaches in Aruba:
If you're looking for white sand:
Baby Beach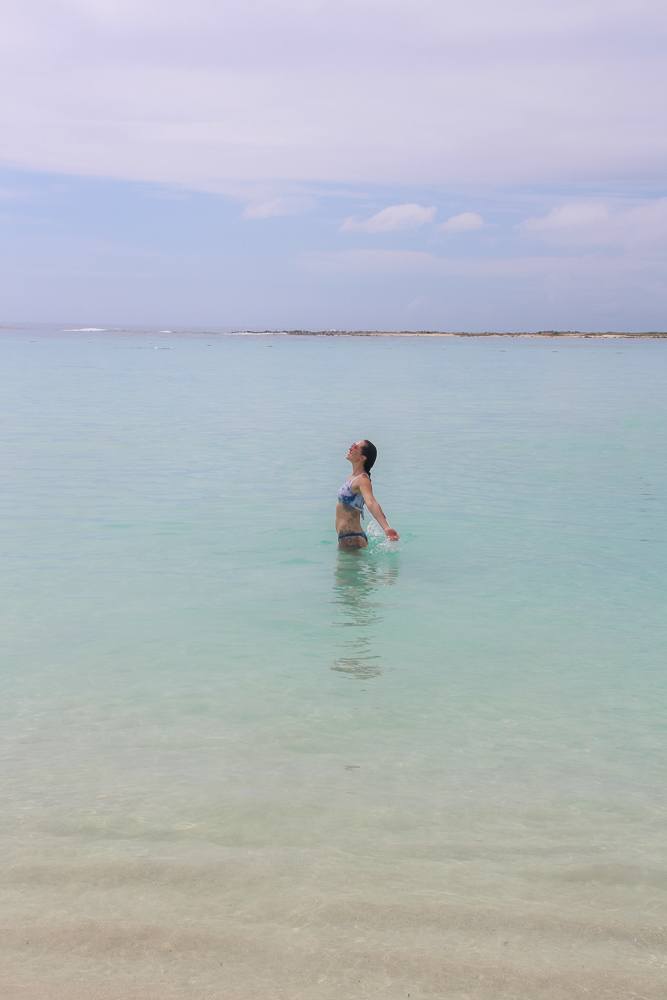 Aruba's Baby Beach is a famous cove on the southern point of the island near San Nicolas. It gets its name since the water is so calm that it's suitable for small children to swim in.
It's mostly shallow, perfect for floating, and has that lovely baby blue color that the beaches on Aruba's west coast are known for.
Rodger's Beach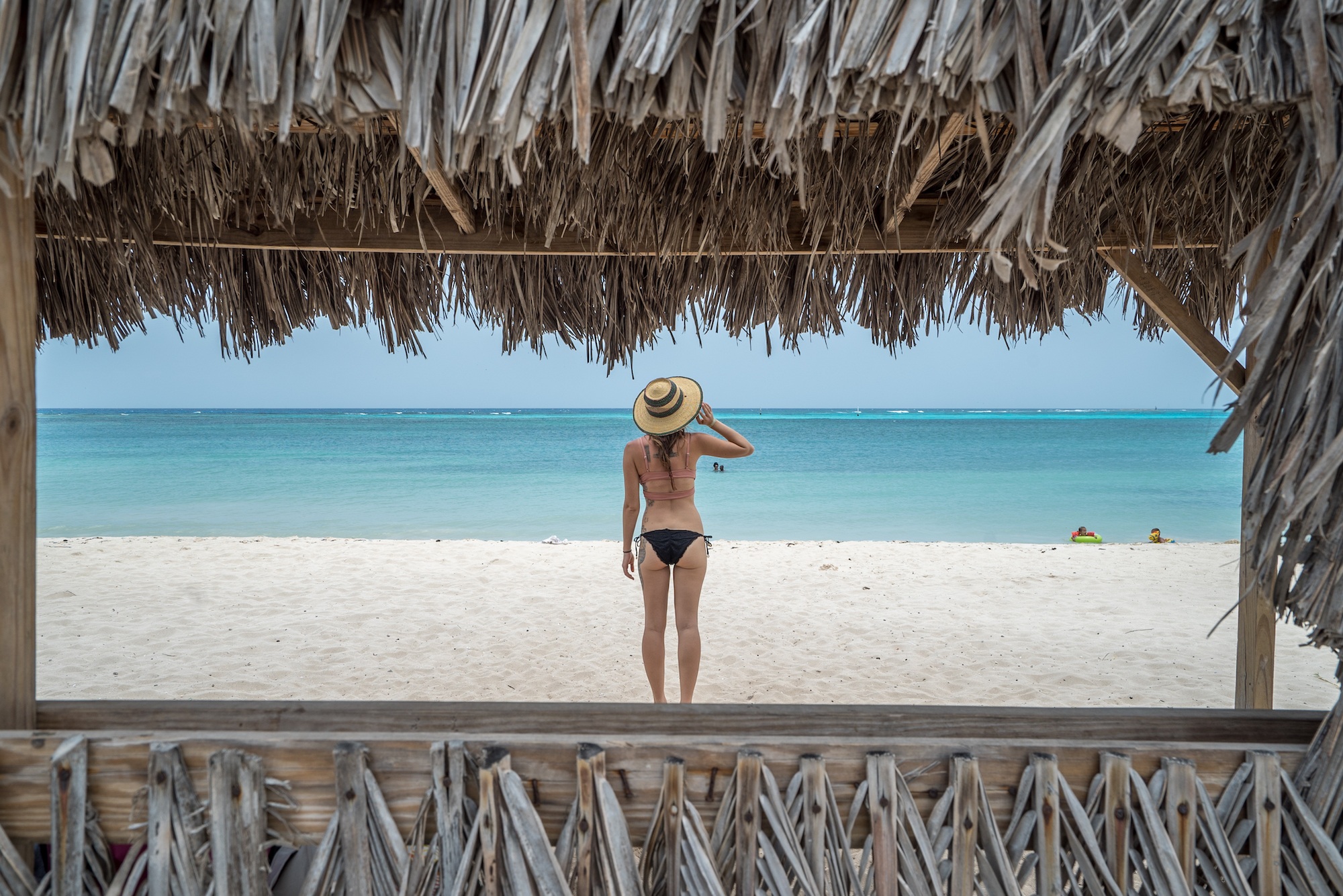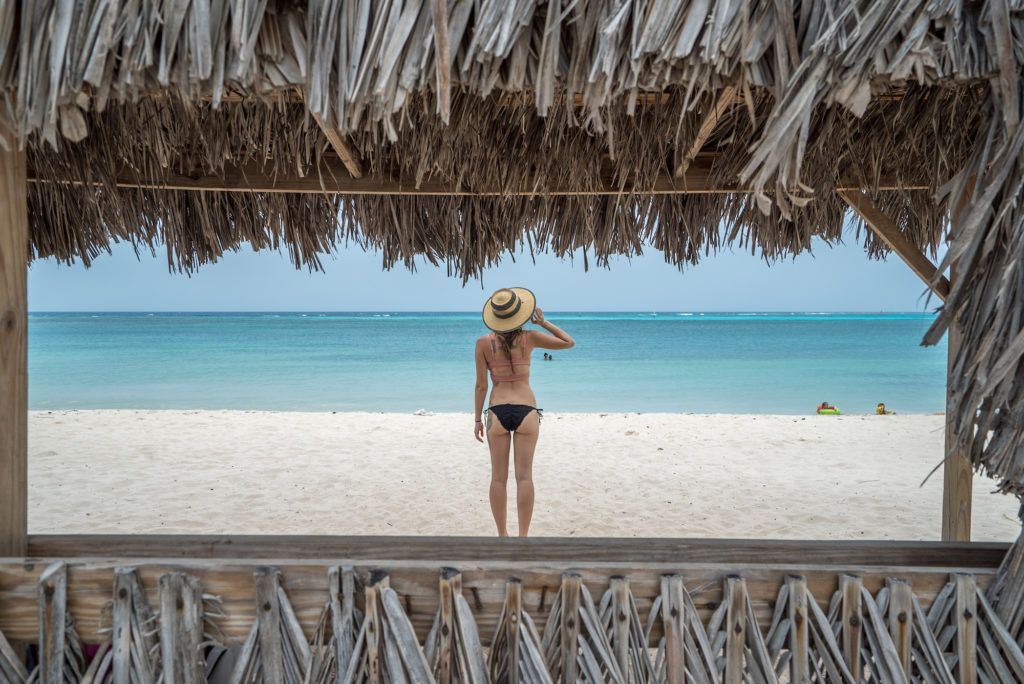 While checking out Baby Beach, might as well stop by Rodger's right next door. It's also known for calm waters and might give you a bit more seclusion than Baby Beach. You'll notice signs for both as you make your way down.
Manchebo Beach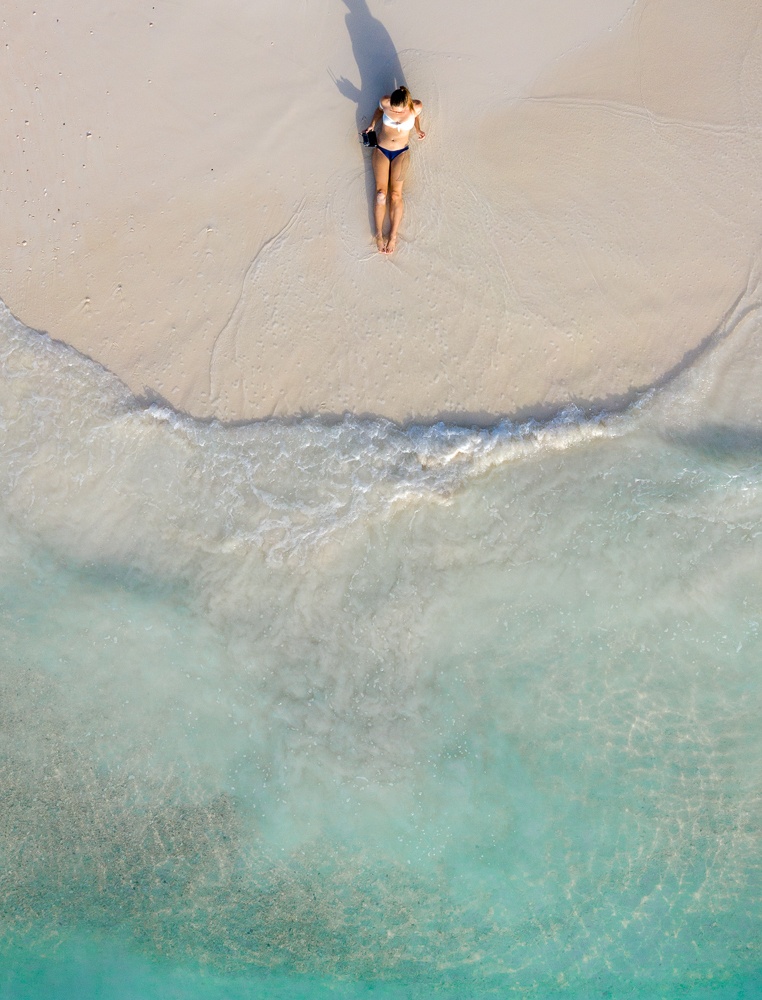 Manchebo Beach is my personal favorite on the west coast of Aruba. It's got that perfect white sand and blue water that the more popular Eagle and Palm beaches just north are famous for, but it's less crowded and is truly idyllic.
It's also my favorite place to stay on Aruba. I highly recommend Manchebo Beach Resort and Spa if you haven't already picked out your accommodation. It's a boutique hotel on the best beach in Aruba, IMHO.
Eagle Beach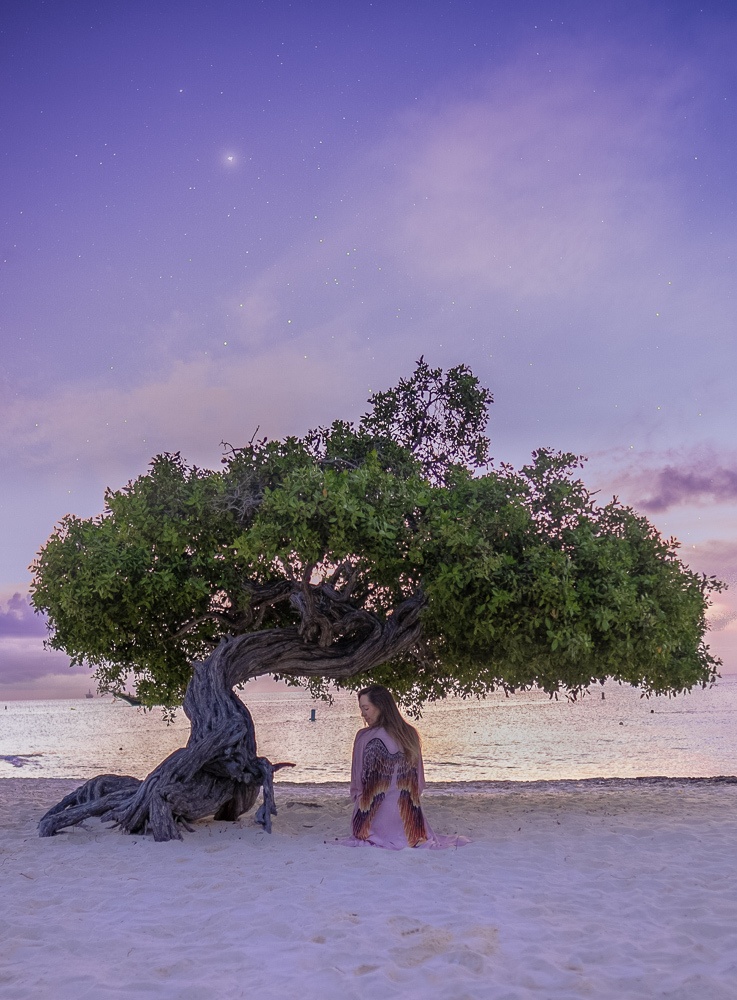 Similar to Manchebo, Eagle beach has that gorgeous white sand and perfect sunset positioning that makes it a favorite for both locals and tourists. It's a bit busier than Manchebo, but not nearly as much as Palm Beach where the high-rise hotels are.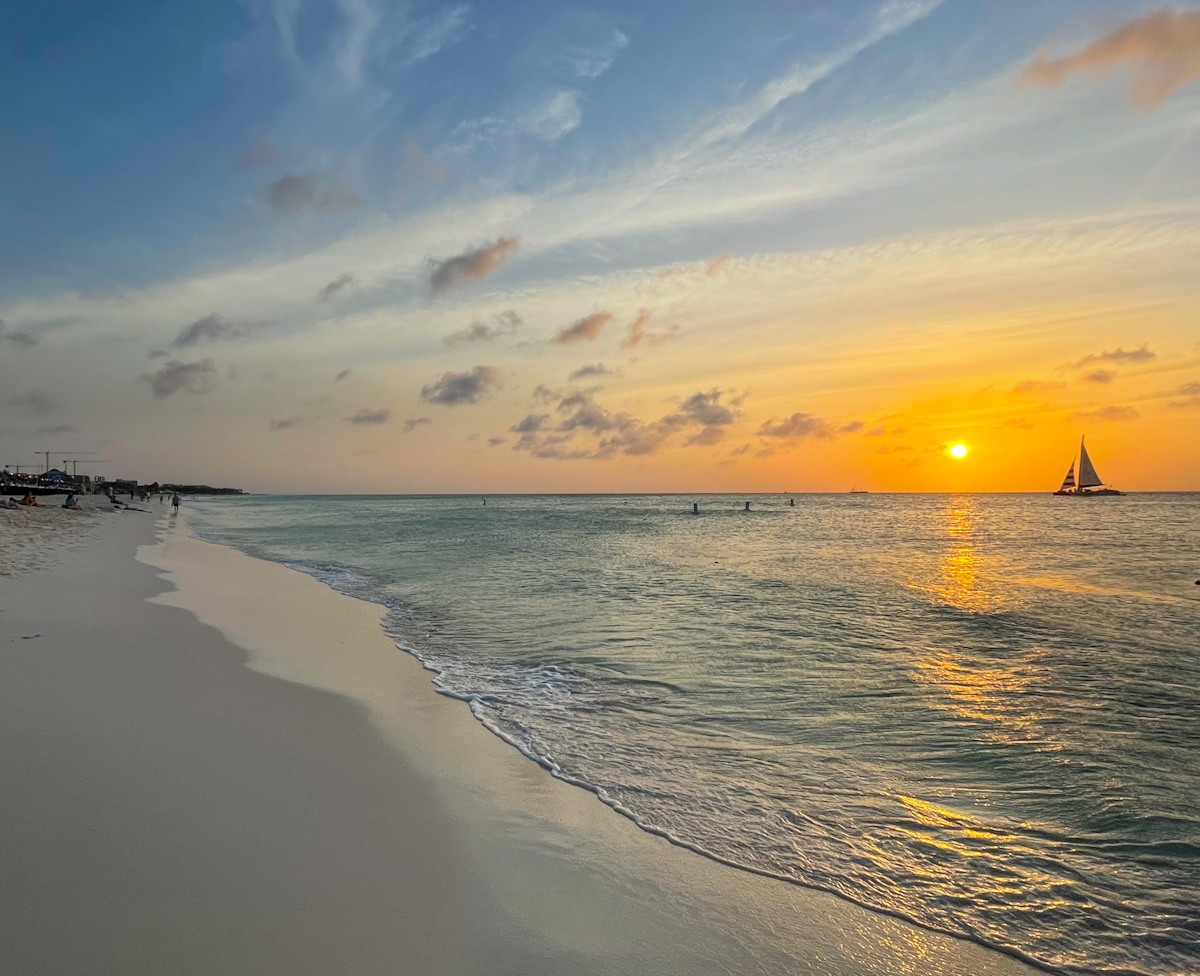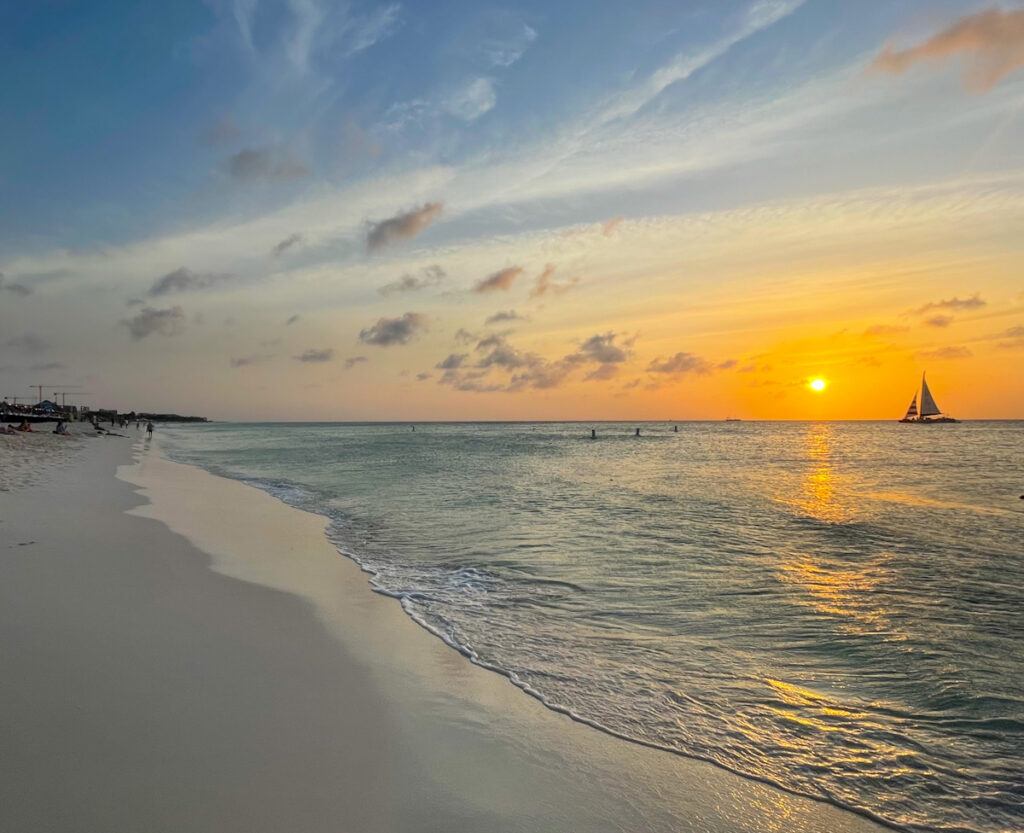 You'll find plenty of activities to do on Eagle as well, and restaurants!
Finally, check out the incorrectly-marked Divi Divi trees at the top of the beach. Though they aren't the actual Divi Divi trees of Aruba, they look very similar and make for a great photo op.
Arashi Beach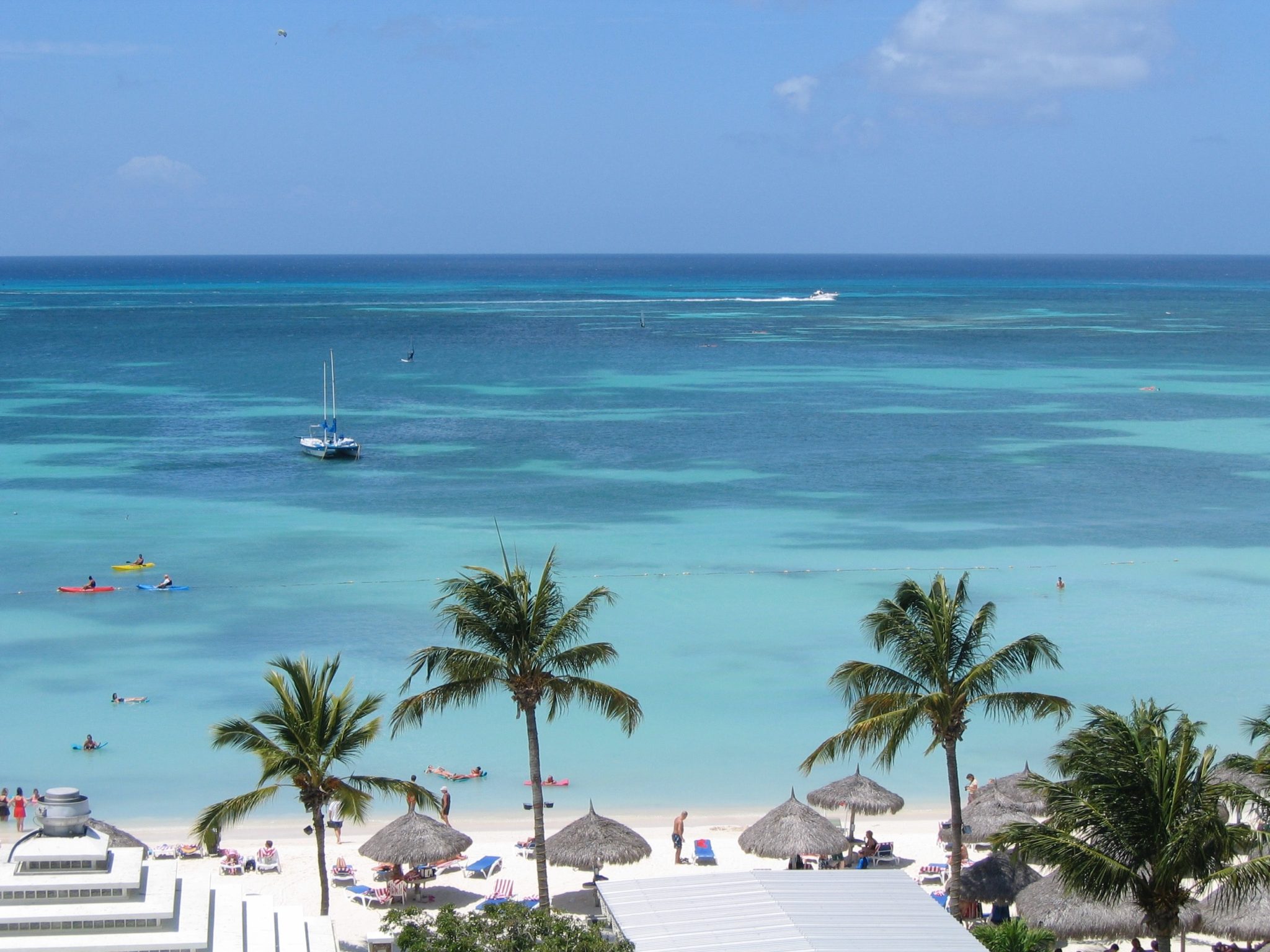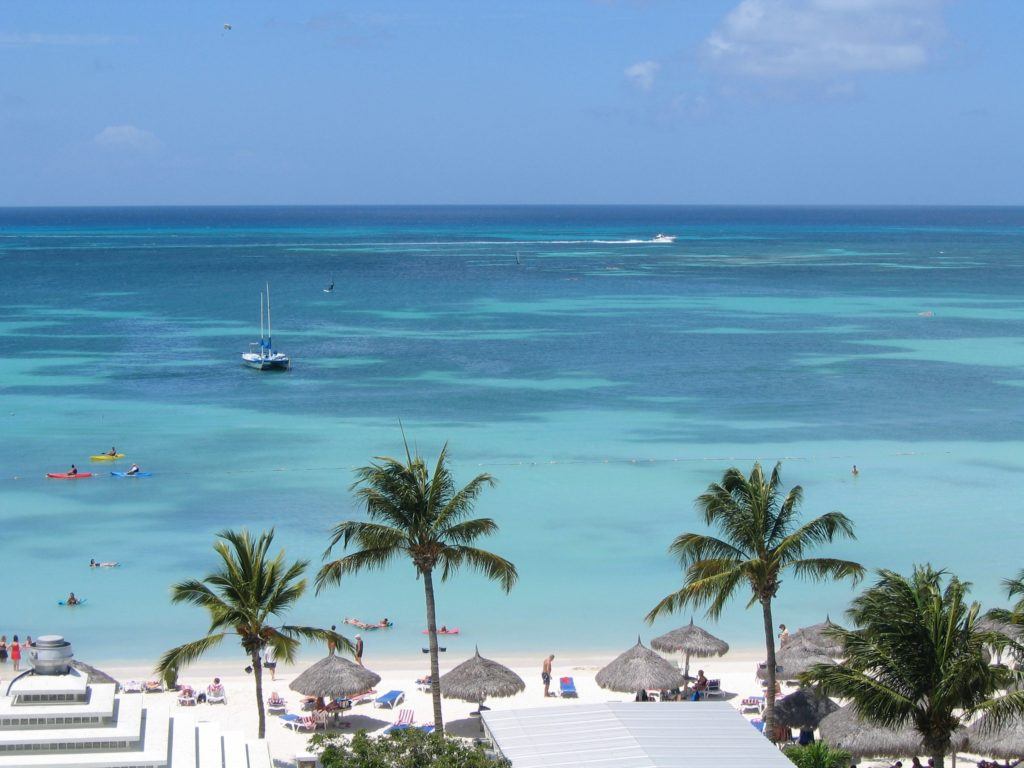 Arashi Beach has a few more visitors than Manchebo, but that's mainly because it is easier to reach and friendlier for all ages. Its waters are typically calm and offer a great location for swimming and snorkeling. Also, beach huts are dotted across the shoreline, offering an opportunity to rest in the shade.
There is also a bar located on Arashi Beach for those who prefer to spend the evening relaxing and enjoying the sunset. Occasionally, live music is played at the bar, and showers and lounge chair rentals were recently added to enhance the experience.
Arashi Beach is easily accessible by taxi or car, and there's plenty of parking so you won't have to worry about not having space. If you prefer to burn a few extra calories, it can also be reached with a 10-minute walk from the last bus stop on Malmok Beach.
Palm Beach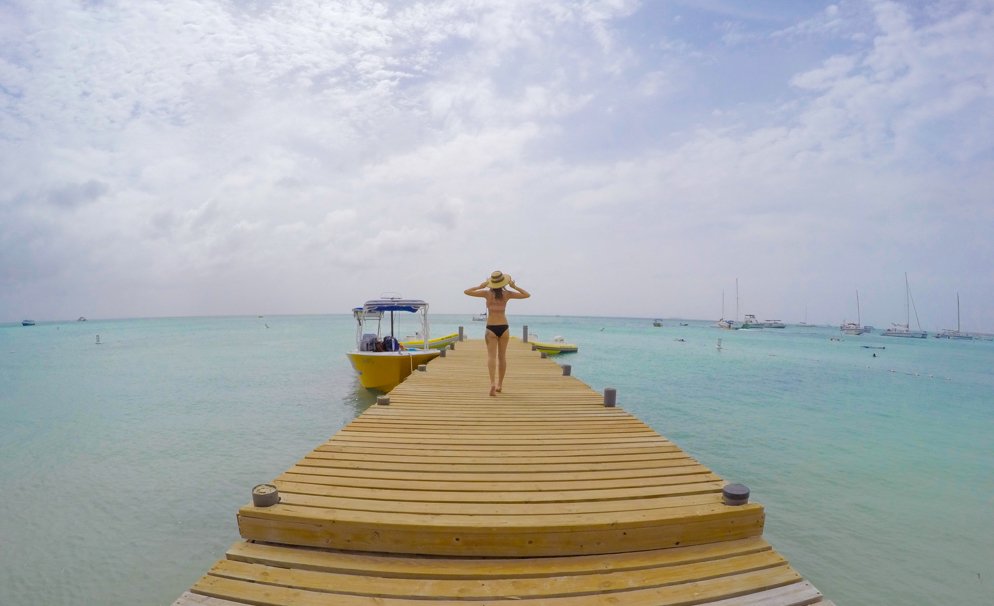 The two-mile long stretch of Palm Beach is one of the most popular in Aruba. The calm water is ideal for snorkeling and swimming, and it's surrounded by hotels, casinos, restaurants, and shops.
Palm Beach is a perfect place to watch the sunset, but your fun doesn't have to end when the sun goes to bed. The busy nightlife in the nearby clubs and casinos offers entertainment for the whole evening.
Palm Beach is around 4 miles (6 km) from Oranjestad, and just under 1.5 miles (2 km) from Eagle Beach.
If you're searching for seclusion:
Andicuri Beach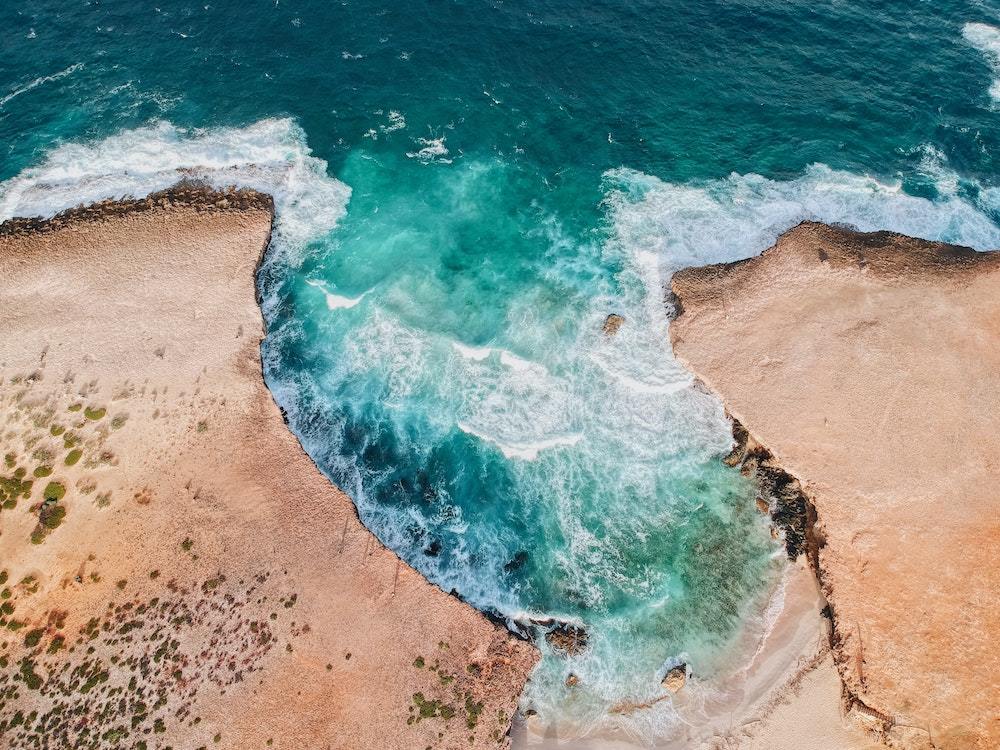 Andicuri Beach is a sandy cove backed by towering bluffs. It's frequented by Arubian locals because of the quiet and isolation created by the coral-stone cliffs. The surf tends to be stronger at Andicuri, so the water is more of a welcoming environment for the experienced swimmer who knows how to avoid currents. It's also a great place to learn to surf! You can find more information at the Aruba Surf and Paddle School. Also, the sandy inlet offers a perfect scenic sunbathing location.
To get here, you'll need a 4×4 vehicle. Cars aren't recommended because of the windy dirt path to reach the beach, so a Jeep or UTV is the best method. Andicuri Beach is located in Arikok National Park, so there are options to take a tour as well.
Make sure to pack snacks, water, and sunscreen, because there aren't any facilities to purchase things nearby. It is a bit of a journey to get to Andicuri, but the breathtaking views more than make up for it!
Boca Catalina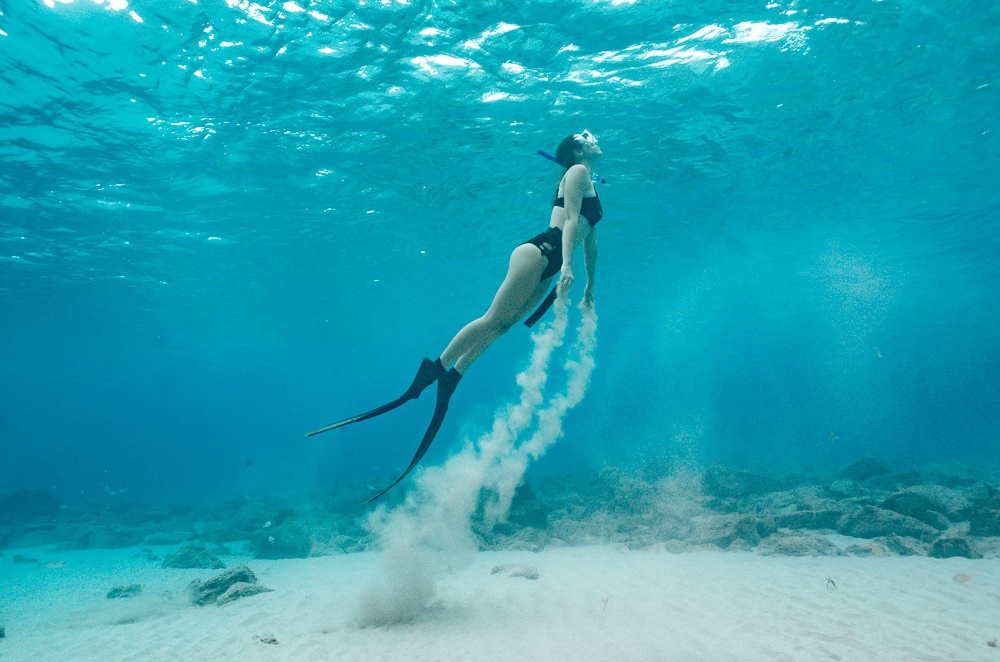 Boca Catalina is a getaway for those looking to enjoy some peace and quiet and small ocean waves. The beach itself is a bit rocky, but the abundance of sea life in the area makes it a really exciting location for snorkeling and swimming. It's perfect for a calm and casual beach day!
Part of the reason that Boca Catalina is so quiet is because of its proximity to more popular beaches. Palm Beach is a 5-minute drive from its shores, which draws most of the crowds during the weekdays. Boca Catalina can get a bit busier with families on the weekends, but most days you have a good shot of being one of the only people there.
It's also right next to tres trapi, one of the best snorkeling spots to see turtles!
Boca Keto(u)
For travelers really looking for an adventure, Boca Keto(u) is a hidden gem worth checking out. It is located on the eastern side of Aruba and only accessible by traveling through Arikok National Park.
The steep dirt roads and rough terrain make it almost impossible to reach in a regular car, so the best way to go is by hiking, horseback, off-road vehicles, or ATVs. It takes effort to get to Boca Keto(u), but the difficulty of the journey ensures that this beach is almost always empty. It's an incredible location to see the wild, natural beauty of Aruba and experience rough and real waves in an off-the-beaten-path sort of way.
Boca Prins
Boca Prins is a beach worth visiting strictly for the environment. White, powdery sand dunes and rocky cliffs surround the shoreline and offer some incredible photo opportunities.
The beach is known for its dangerous undercurrents and high waves, so it's not a place for water activities. However, it makes the perfect location for a bit of relaxation while listening to the crashing waves.
Boca Prins is also located in Arikok National Park, but is much more easily accessible than Boca Keto(u). It is possible to drive near the beach, but the last stretch is done on foot over uneven ground. Close-toed shoes are a great idea for the last few minutes, which take you down a rocky path and two flights of wooden stairs.
There is limited parking at Boca Prins, but it's usually not a problem because most prefer to reach this secluded beach on off-road vehicles. Also, within a short drive, you can find the Boca Prins Bar & Restaurant, offering restrooms and refreshments.
Dos Playa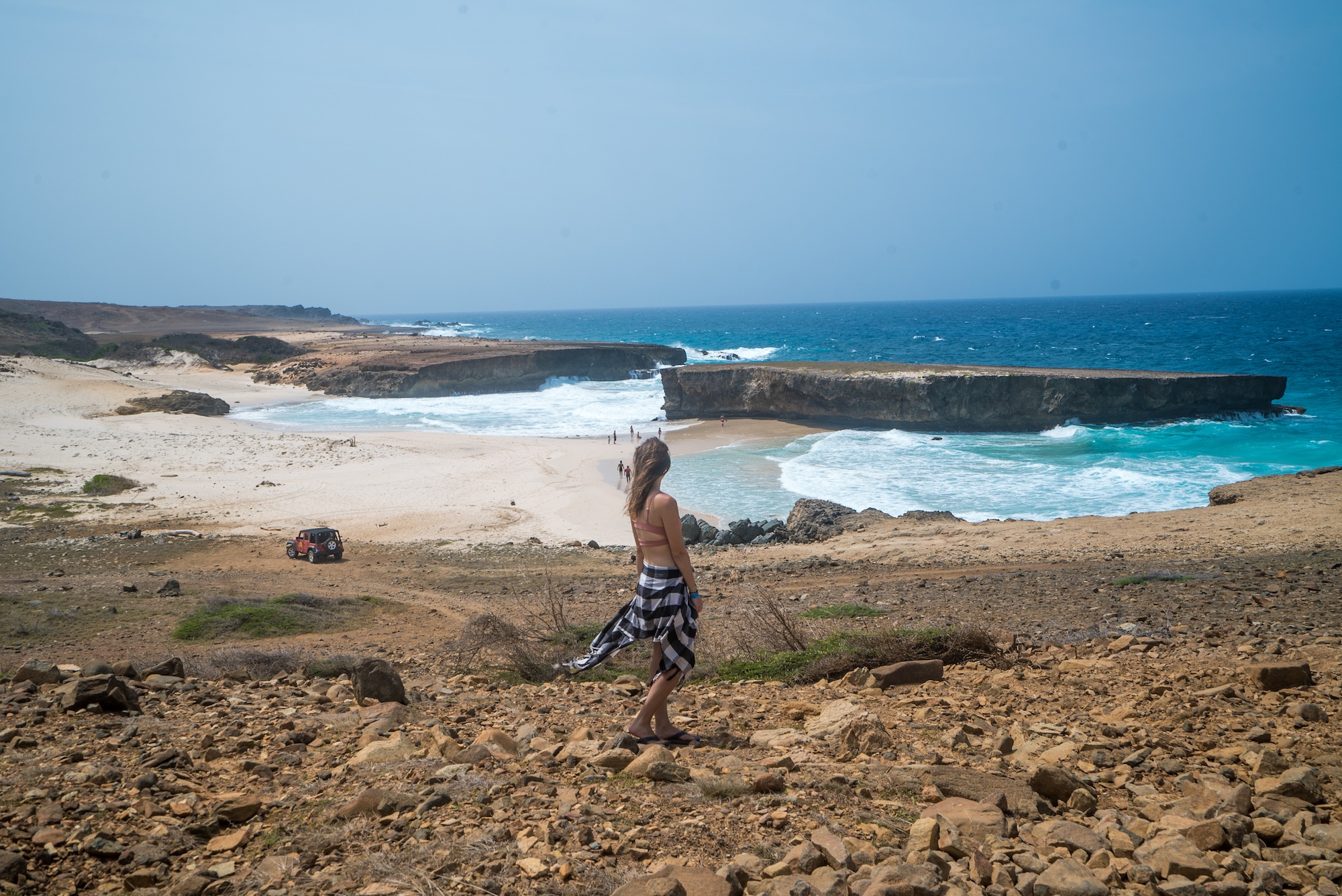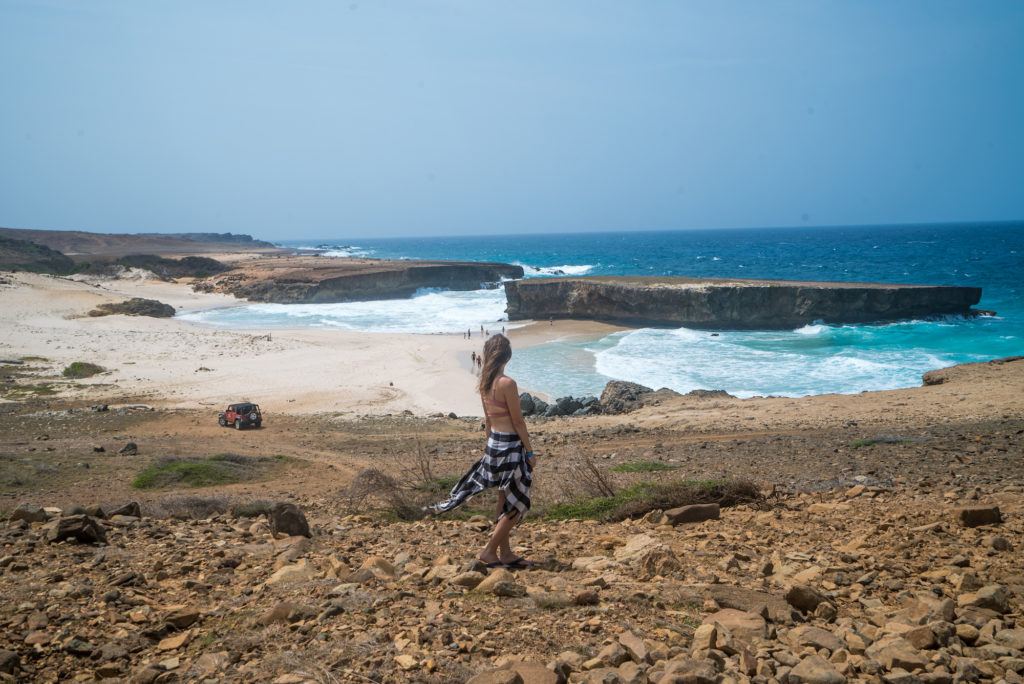 Neighboring Boca Prins is Dos Playa, which translates to "two beaches." Basically, it's two beaches side by side, separated by a limestone barrier. This beach is similar to Boca Prins in that the water is a little too violent for the average swimmer. The strong undertow and waves are suitable only for the most experienced surfers and body-boarders when the conditions are good.
However, you're not missing out by staying on the shore. Dos Playa is one of the most pristine natural beaches in Aruba, and offers incredible views of the desert island. The landscape is rugged, but in the coves of Dos Playa, you'll never want to leave!
This beach is usually fairly empty, which is interesting considering the relative ease it takes to reach it. A conventional car will get the job done for you if you drive slowly, but off-road vehicles are always a better option.
Grapefield Beach
For a good chance of being alone with the ocean, take a trip over to Grapefield Beach. It's located on the Southeastern end of the island and provides a picturesque landscape with surrounding cliffs and vegetation-decorated sand.
It's not recommended that you go out too far into the water because of the strong tides, but many visitors love to venture into the shallows and enjoy the crystal clear waves. This beach is also a go-to spot for kitesurfers, if that's your style.
Grapefield Beach is easily accessible. The road is unpaved, but you shouldn't have any trouble reaching it in a small car.
If you're in the mood for activities:
Mangel Halto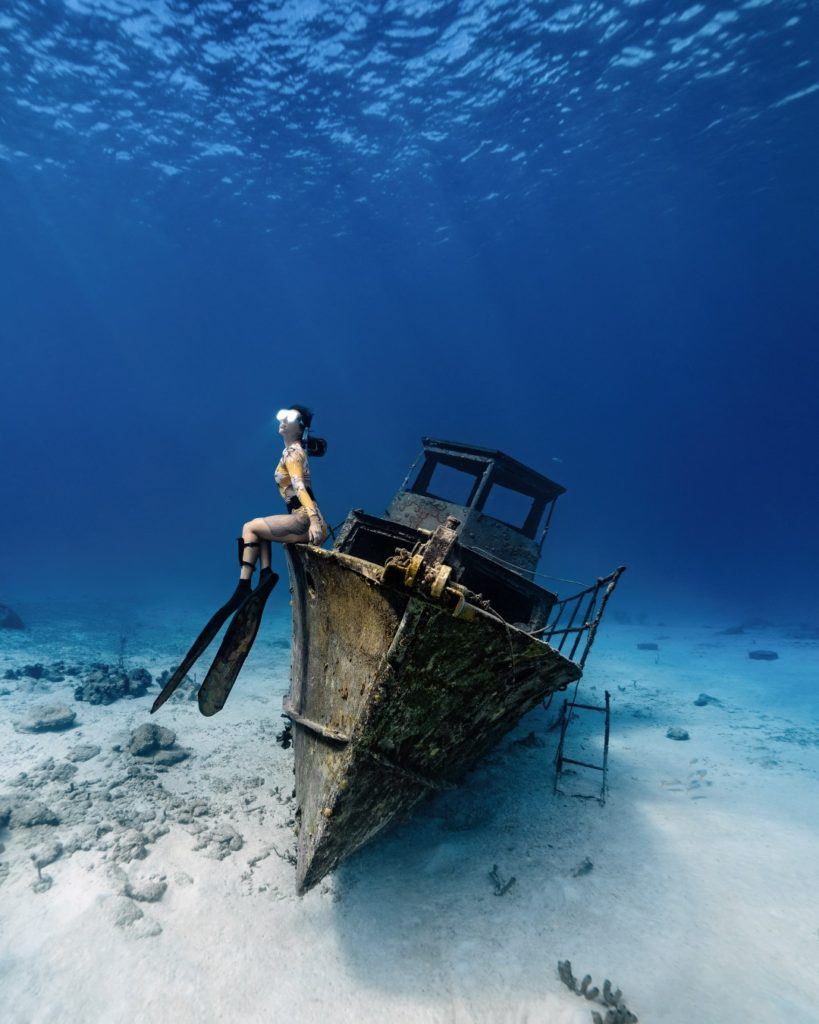 Mangel Halto is my second favorite beachy area in Aruba. While not famous for sandy beaches, as there really aren't any, this is more of an aquatic adventure-lover's area. It's great for checking out corals and the Kappel wreck, which is about 15 meters (50 feet) down. Even if you're not a freediver, the water is typically so clear you'll have no problem seeing it.
There are also brain corals, mangroves, and great sunset ops in Mangel Halto. The azure water is gorgeous as well.
Boca Grandi
Boca Grandi is the beach for people looking to ride the waves. Its constant winds and strong currents create the ultimate environment for people who love to take on the ocean. The water isn't the most inviting for swimming because of its strength, but watching the surfers and kite surfers with a cool drink in hand from the beach bar is a great alternative to being in the water!
Boca Grandi is near Grapefield Beach and on the way to Baby Beach, so it's easily accessible. If you plan on spending the day under the sun, be sure to pack the necessities for the heat, so you can worry about getting in your relaxation instead of getting a sunburn!
Druif Beach
Druif Beach (incorrectly labeled Drulf beach on Google Maps) is an escape from the business of downtown Oranjestad. It is directly connected to the larger and more populous Eagle Beach, so it tends a bit quieter for people who prefer to be away from the crowds. There are plenty of beach huts and chair rentals in the area for lounging, and both motorized and non-motorized sports are allowed in the azure waters offshore. If you prefer to stay dry, there are volleyball fields available to take on family and friends.
Just be warned that a lot of coral tends to wash up on shore at Druif Beach, so some people prefer to wear water shoes to avoid discomfort. Other than that, this location is exemplary for relaxing, sunbathing, and water sports of all kinds!
Hadicurari Beach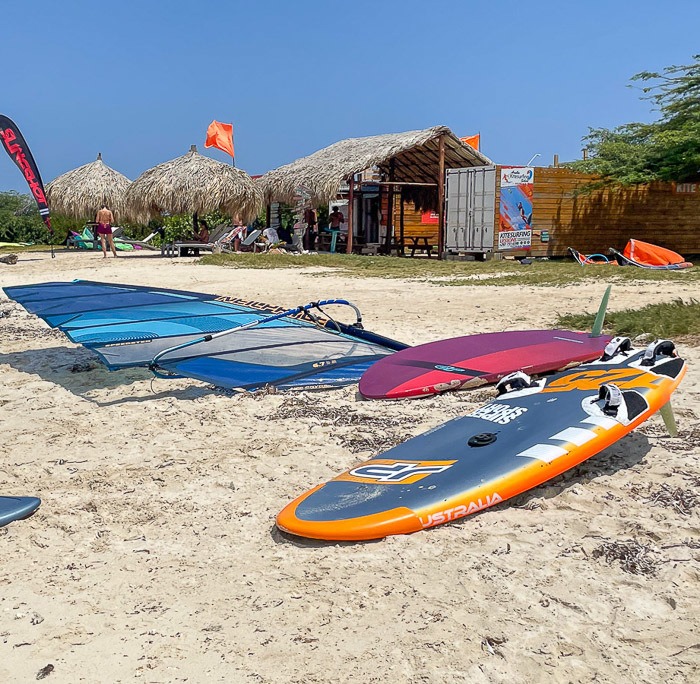 Hadicurari Beach is the home of surfing. One of the largest windsurfing competitions in the Caribbean is held here every year! The waves are calm and inviting, so people of all levels of experience are welcome to join in the watersports. Wind and kite surfing classes are accessible, and snorkeling, swimming, paddleboarding, and other non-motorized watersports are also available.
Hadicurari Beach is sometimes referred to as Fisherman's Huts and is at its busiest in mid-June and July, when the Aruba Hi-Winds World Challenge windsurfing event takes place. During those months, it can be a little difficult to find parking, so be sure to arrive early in the day if you plan on visiting during this time of year. Although Hadicurari is meant for windsurfing and kitesurfing, if you take a quick stroll down the beach, you will find yourself behind the Ritz-Carlton. Like all the beaches in Aruba, it's a public area that offers a designated swimming area and beach cabanas to relax in.
Malmok Beach/ Tres Trapi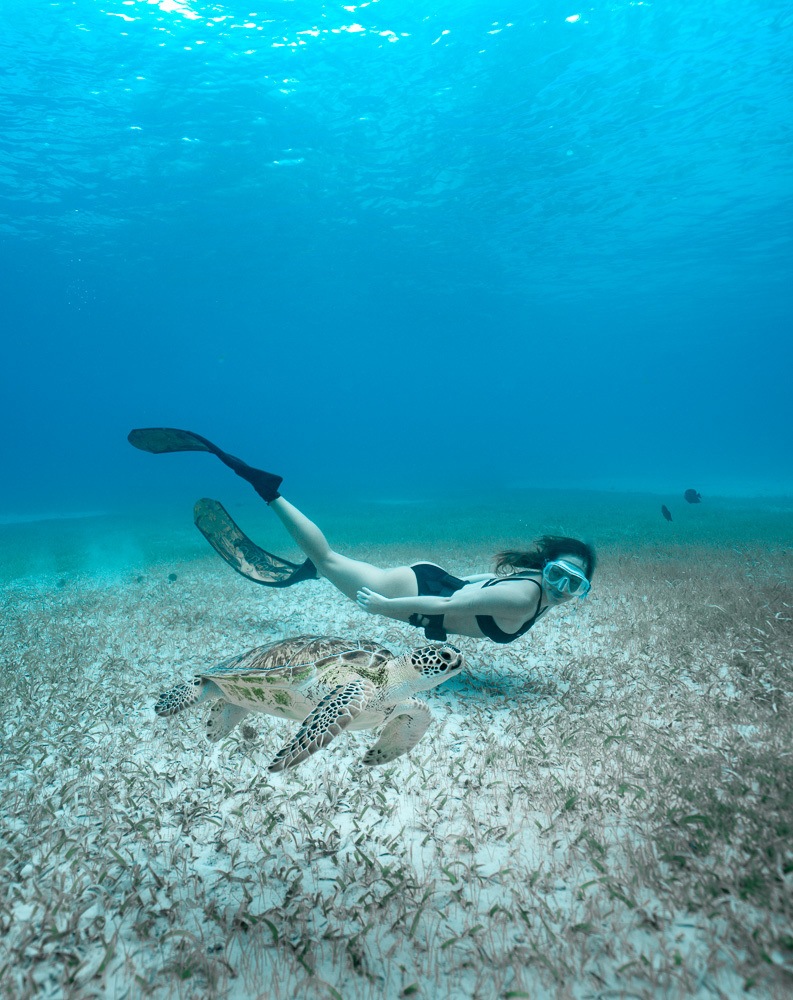 If you're on the lookout for snorkeling paradise, Malmok Beach is the place to be. It is different from many other beaches in that most of the shore is lined with limestone. There isn't a lot of sand to lounge around in, but most people visit this beach to get in the water, and for good reason. The underwater life is bustling with fish, and it's not unusual to share the space with a sea turtle or two.
Tour guides often sail people away from shore to see The Antilla, the shipwrecked remains of a German freighter sunk during World War II.
The coral reefs, shipwrecks, and sea life make this one of the most interesting snorkeling locations in Aruba.
Surfside Beach
Surfside Beach is a popular spot among local families. Here, the water is perfect for swimming, paddle-boarding, and canoeing, as well as underwater activities like scuba diving and snorkeling. Further from shore, the waves grow and provide excellent surfing conditions.
Surfside is a city beach, located only a few minutes from the cruise dock and the airport. Because of this, it's surrounded by restaurants and bars, so there's no shortage of options when it comes to food or happy hour!
Additionally, the growing downtown area nearby offers shopping and entertainment options, if you're tired of the sand and sun. You won't have to worry about parking, as there are plenty of options, and all of the attractions are within walking distance of each other.
If you're looking for something out of the ordinary:
Flamingo Beach
Flamingo beach/island can only be reached with a visit to Renaissance Island, owned by Renaissance Aruba Resort and Casino. Guests of the resort have free access to the island by boat taxi, but non-visitors are able to purchase a day pass for some fun on the beach.
The pass is $125.00 per person. While it's a little spendy for a day trip, there's a lot included with the price. Besides the lunch, transportation, and towel provided by the resort, you gain access to a unique private beach complete with Flamingoes!
The safety of the shallow and calm waters surrounding the island provide the ideal environment for some relaxed swimming or snorkeling. Lounging chairs and parasols are also available for free use, if you prefer to stay dry.
Also, it's not unusual to see iguanas roaming around in the sand. These wild reptiles are definitely a sight to see if you've never encountered one. The resort also gives you the opportunity to get up close and personal with them by giving out food that the iguanas will eat out of your hand!
It's a somewhat unusual experience, but definitely unforgettable! You can read more about it here.
There you have just about every beach Aruba has to offer, with lots of options for whatever your style or desires might be. Best of all, you can easily visit any one of them from any other part of the island in less than an hour, provided you have the right vehicle for the job.
If you're looking for more tips and tricks about traveling to Aruba, check out this Aruba Guide. If you're looking for specific suggestions on island activities, you might find 26 Outdoorsy Things to Do in Aruba helpful!
Enjoy Aruba, and let me know in the comments which beach is your favorite!