This post is a collaboration written by Kristin Addis and Monica Chapon:
I am a sucker for the desert. The dry heat, the endless sun, and the prickly plant life are all positives, in my book. For anyone who is skeptical that a desert can actually be fun, I have the perfect location to change your mind: Joshua Tree National Park.
No matter how many times I visit, I always find a new nook or cranny to explore. This park is so unique that I think every visitor will find something to appreciate!
The wild and confused-looking yuccas — known as Joshua Trees — have such personality, and the geology of the park is so unlike the surrounding areas. This untamed stretch of land was designated a National Park in 1994, and it's easy to see why.
From hiking, to climbing, to photography, to stargazing, Joshua Tree has something for you! Here is everything you need to know in order to plan your visit to Joshua Tree National Park in California:
What To Do in Joshua Tree National Park
Joshua Tree is situated roughly 2.5 hours east from both Los Angeles and San Diego, and is a popular nature getaway from both cities.
The unique look and feel of this park is exactly why hiking and wandering here is so special. If you visit in the springtime, you are likely to see colorful wildflower blooms on many of the trails, and even blooming cacti in the Colorado Desert.
1. Admire the Joshua Trees!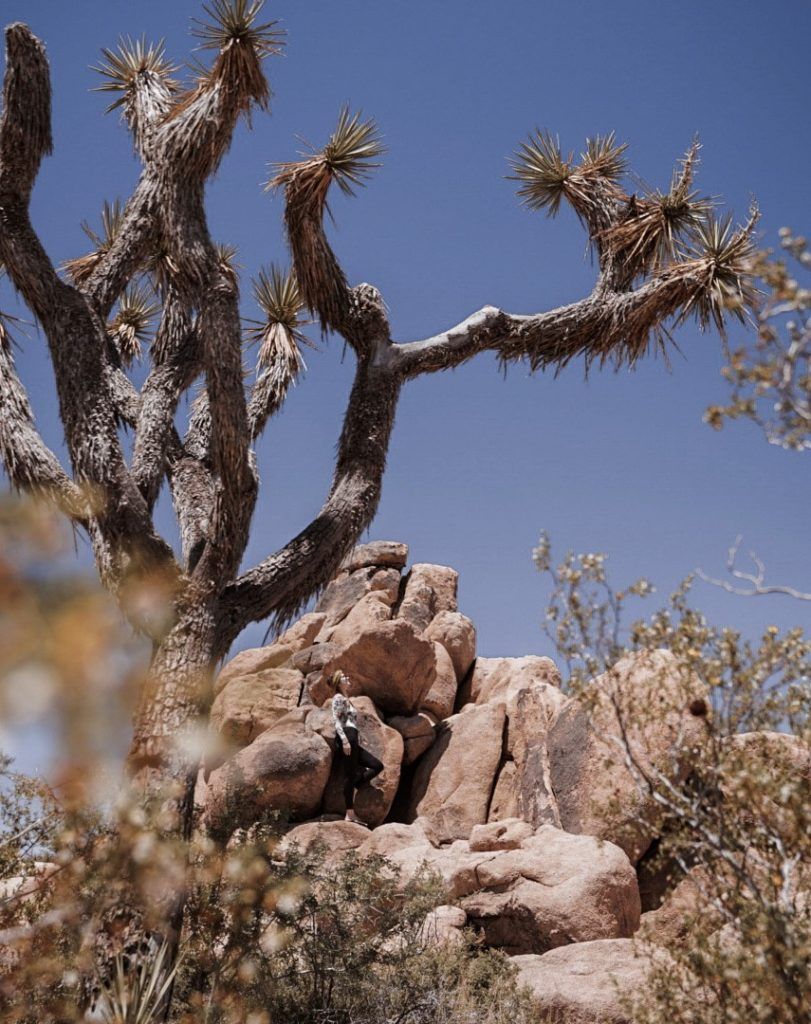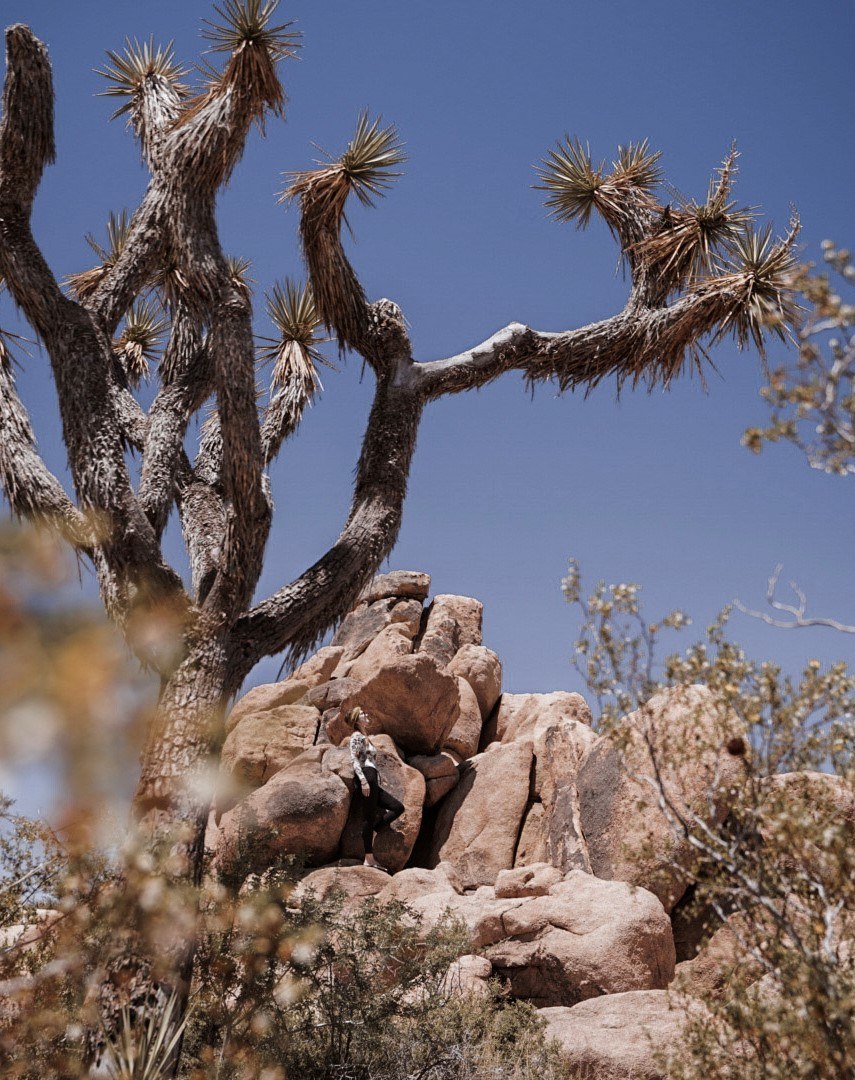 My favorite way to enter Joshua Tree National Park is through the Park Blvd entrance in Twentynine Palms. This is where you'll see some of the biggest, most impressive Joshua Trees, which is actually a type of succulent, that only grows in very specific areas of the American Southwest. There are many roadside pull-offs and mini trails all along this drive. Please stick to established trails when enjoying, as the desert is a surprisingly fragile ecosystem.
2. Sunset at Keys View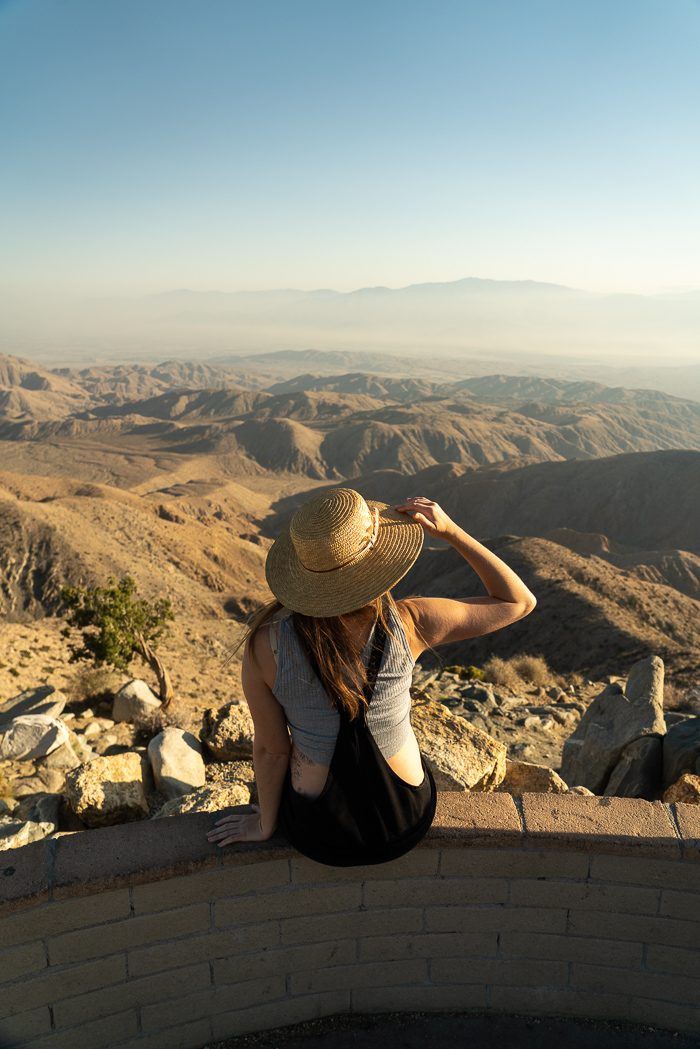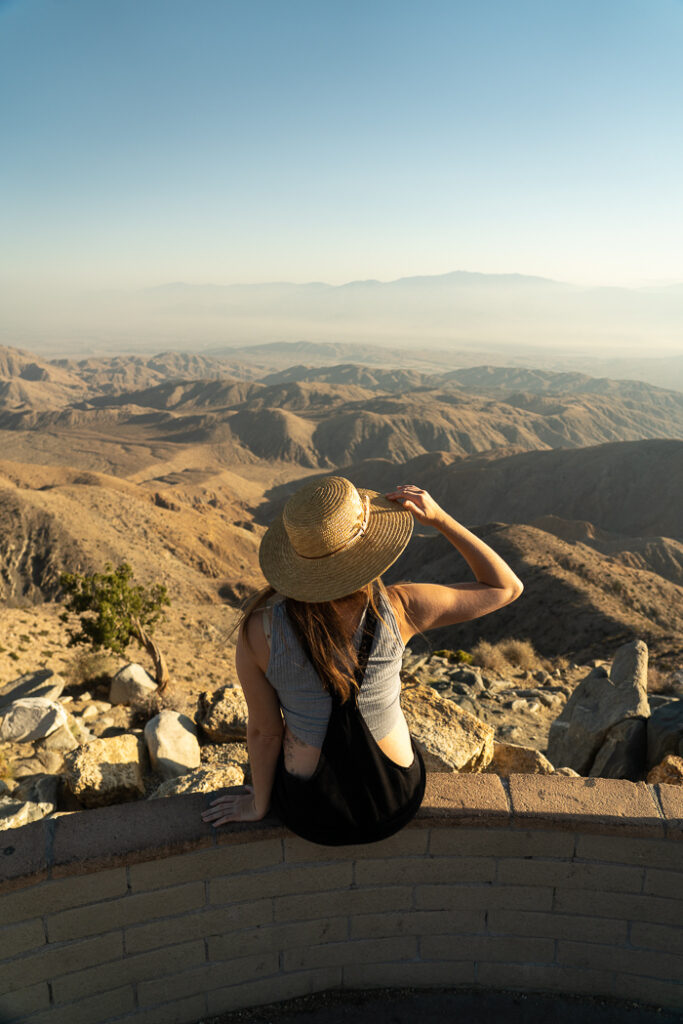 This is easily the most famous and popular place to catch the sunset in the park. With views all the way out to Palm Springs and Mount San Jacinto. Be sure to get there a bit early if visiting on a weekend or during a busy time like Spring or Christmas break, as parking fills up fast.
3. Sunrise at Cholla Cactus Garden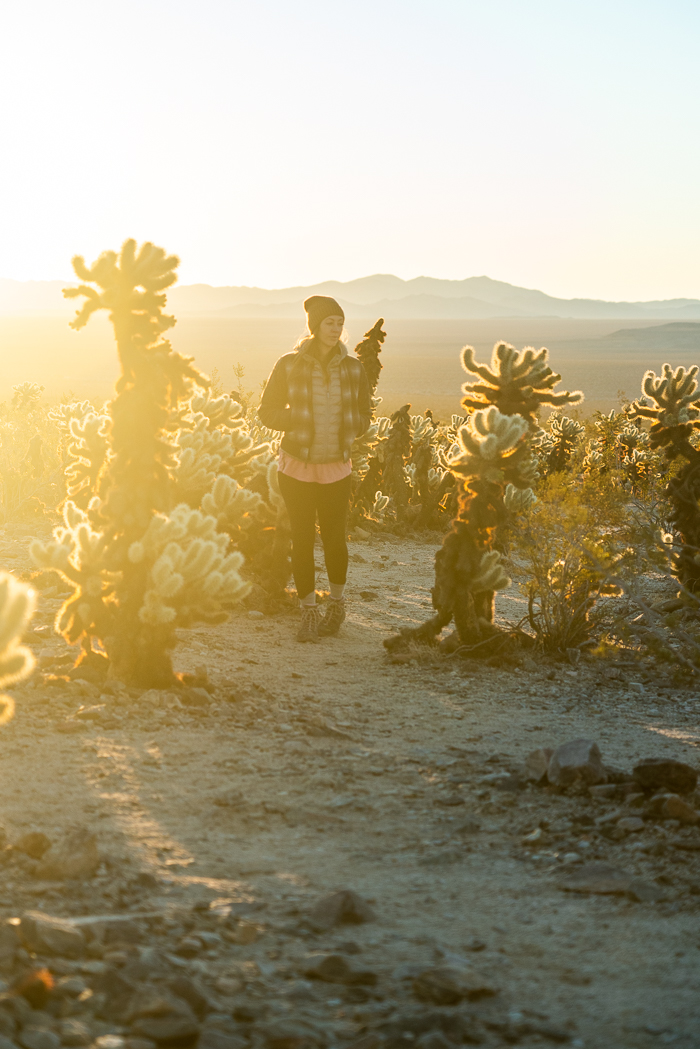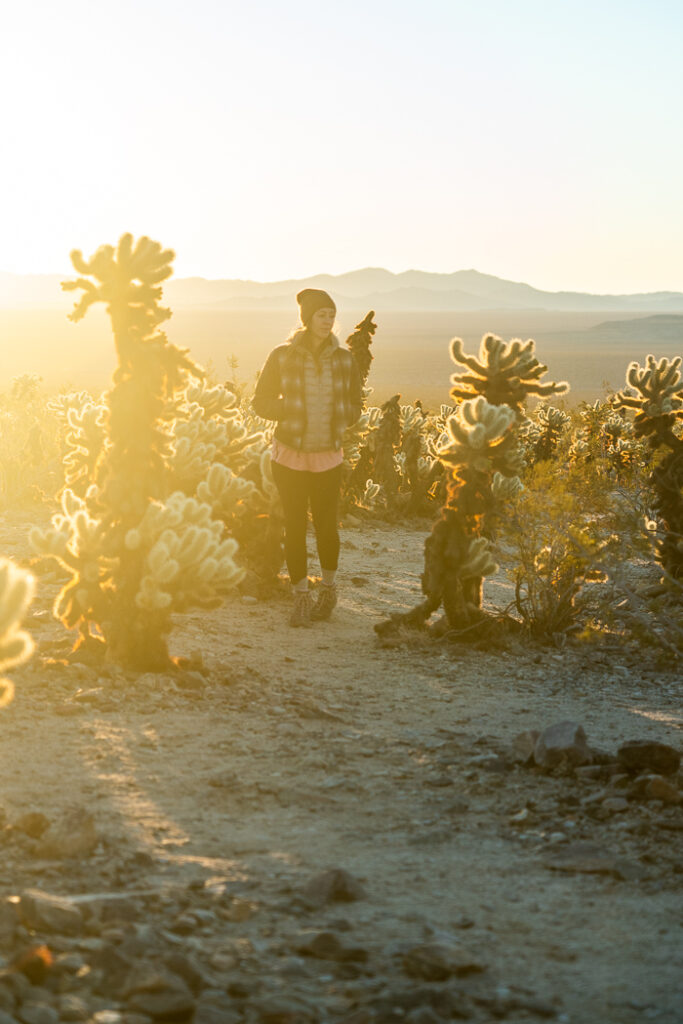 The Cholla Cactus Garden is a flat and Easy .5 mile loop. This trail is located in the Colorado Desert region, so people often skip this stop and opt to stay in the north. Though it's a very short loop, I promise you it is worth the drive! Photogenic chollas crop up out of nowhere and decorate the landscape. Be wary though – these cacti will stubbornly stick into clothes and shoes (and skin!) if you get too close.
4. Arch Rock Nature Trail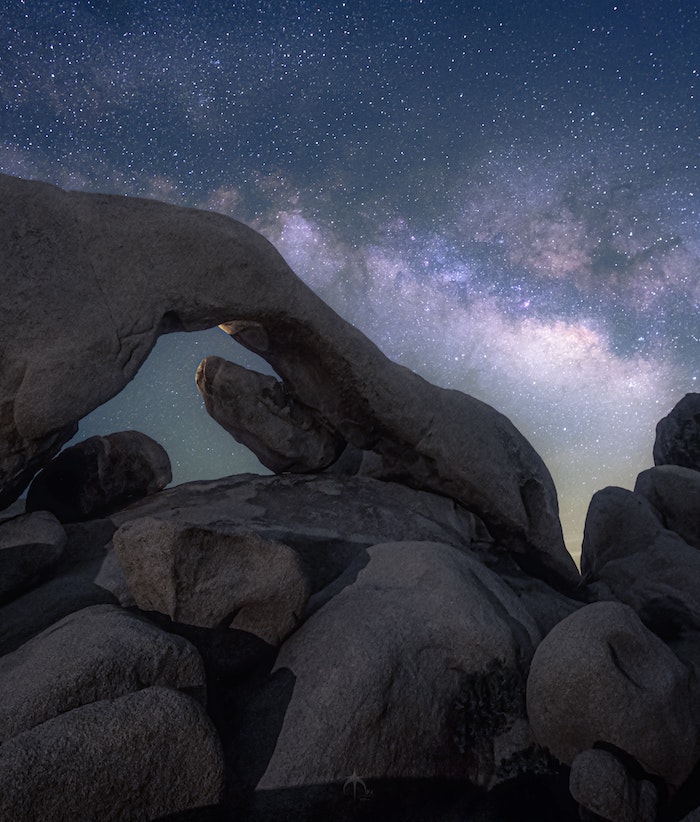 This is an Easy 1.2 mile out and back hike leading to the iconic Arch Rock. To hike to Arch Rock, visitors have to park across the street in the designated parking zone and cross over on the trail, toward piles of large rock groupings. The trail is well marked and flat. This is a very popular trail so expect crowds!
5. 49 Palms Oasis Trail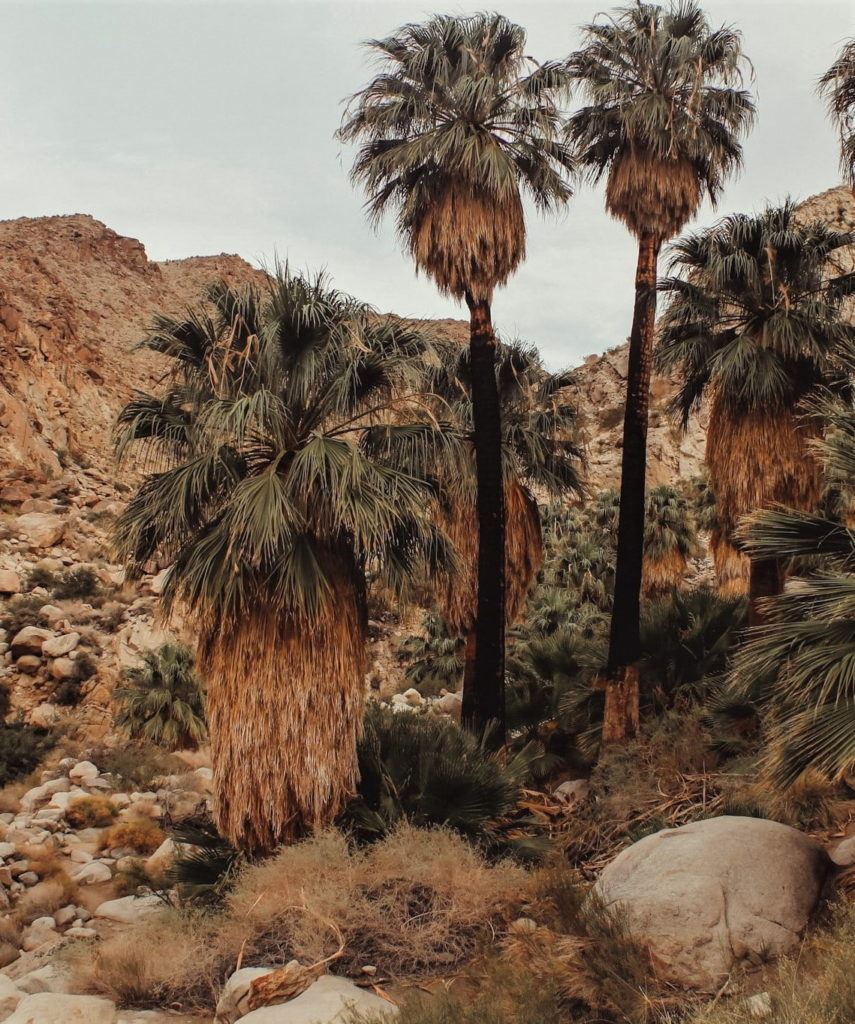 This is a Moderate 3.1 mile trail traversing the rugged mountains. This out and back hike features barrel cacti laying low on the mountains, sweeping views of the valley below, and a real life oasis in the middle of the desert. This is the only patch of shade on the entire hike so be sure to stop and rest here before turning back.
6. Barker Dam Nature Trail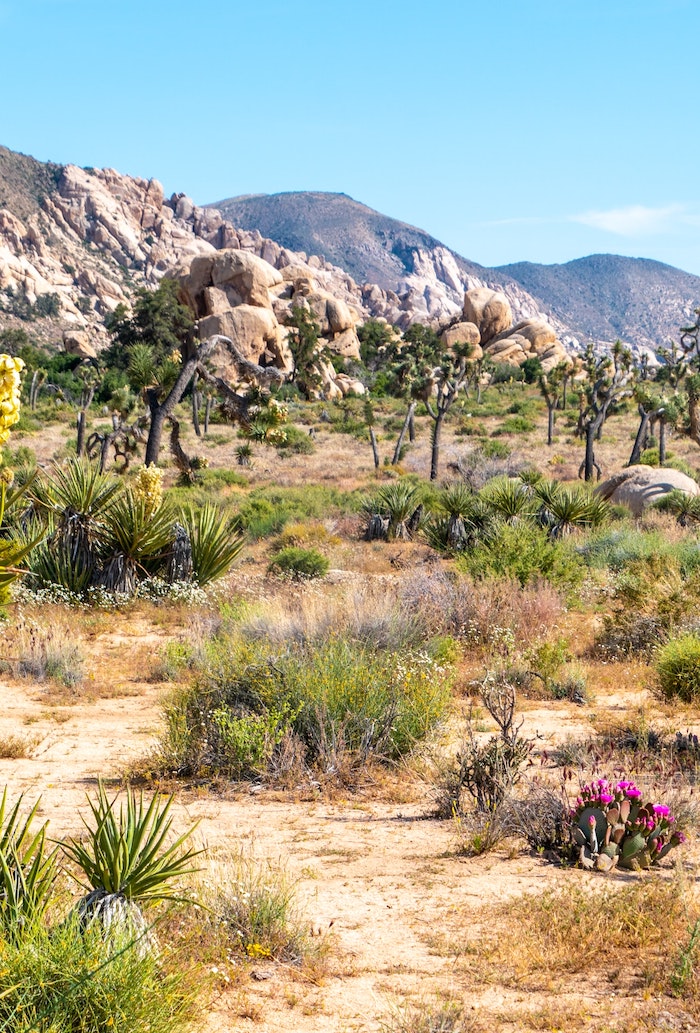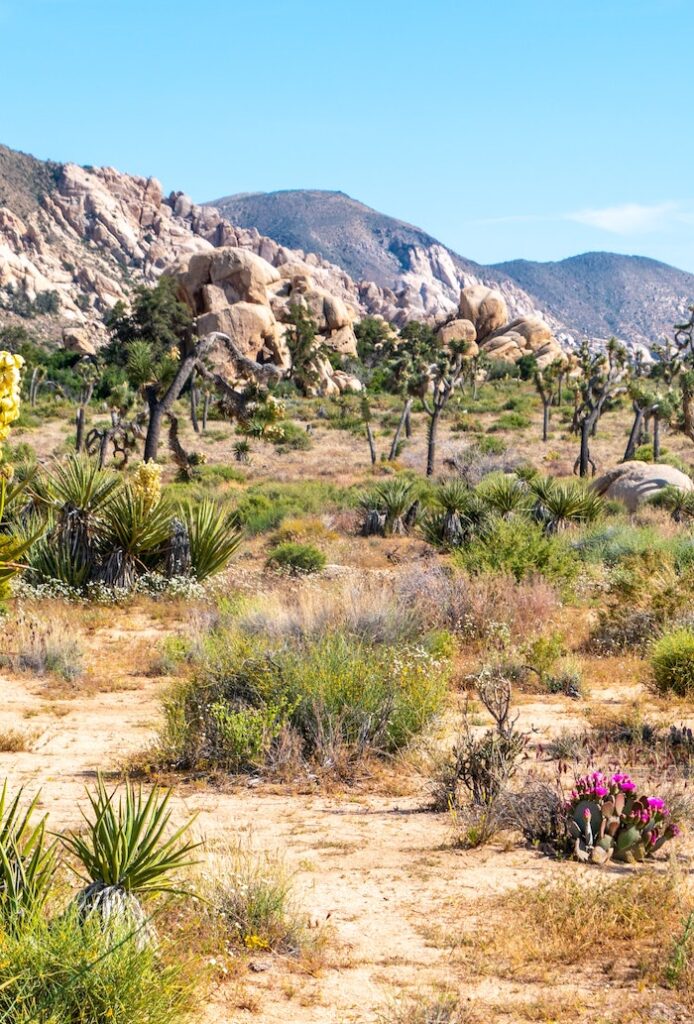 A desert oasis, this rare sighting of water in the desert makes for the perfect short, relatively flat hike in the park. You'll see plenty of Joshua trees, cacti that just might be in bloom depending on time of year, and the lovely reflection of the rocks on the water. Sunrise is a great time to enjoy without crowds.
7. Skull Rock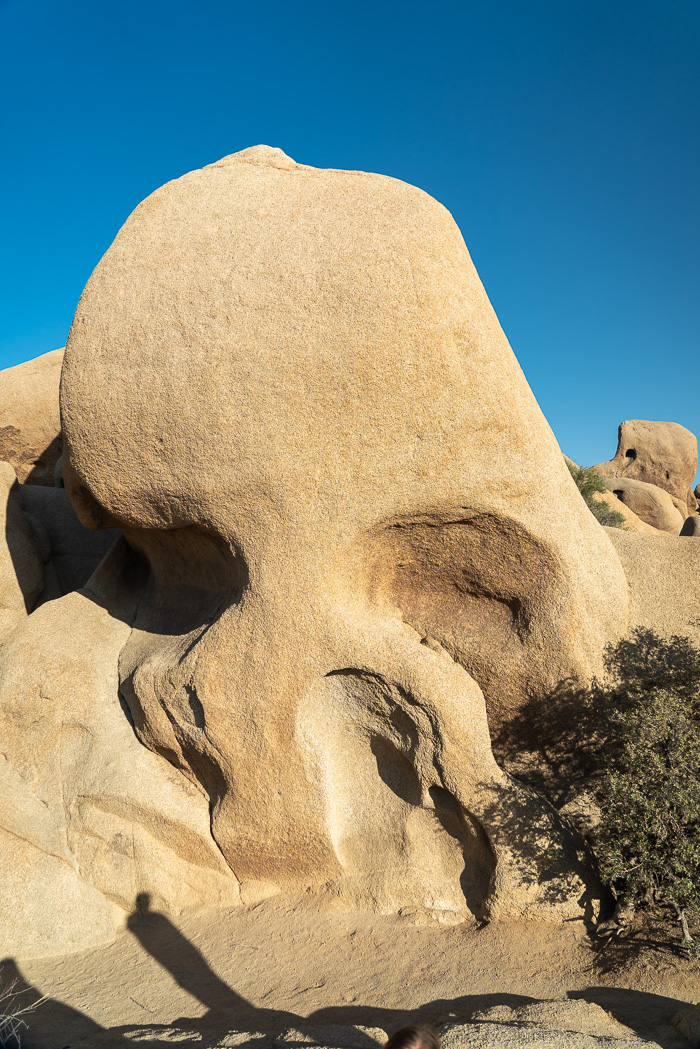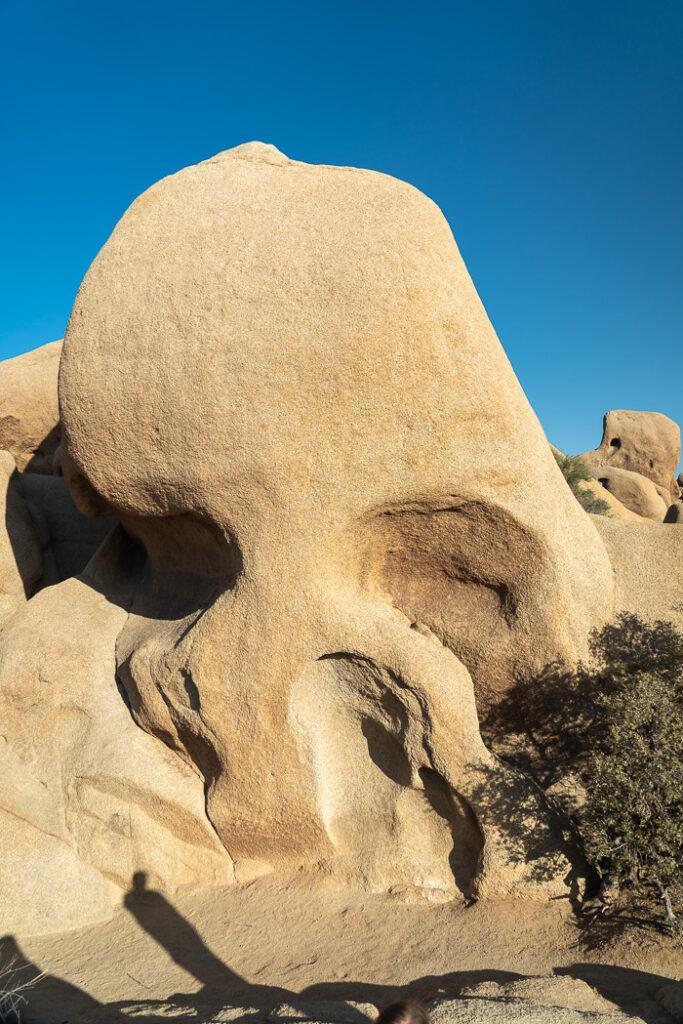 An easy roadside pull-off, the skull rock truly does look like a skull! There's not much to it other than a collection of rocks for an easy photo-op, but if it's hot out or you're trying to avoid long hikes, this is an easy stop and a fun photo, too.
8. Lost Horse Mine Loop
This is a difficult, 6.8 mile loop hike named after an old mine within the park. Though you will pass the actual mine, there isn't all that much to see here as it is fenced off for safety. However, for me the highlight of this trail are the plentiful Joshua Trees hikers get to see close-up. If a 6.8 mile loop sounds too long in the hot desert sun, feel free to hike this as a shorter out and back.
9. Boy Scout Trail To Willow Hole Extended Route
This is a moderate 17.6 mile out and back backpacking trail. Note that I do not recommend this trail during the summer months! Tackle this one in winter months only. It's in the north section of the park and features some mini rock scrambles near Willow Hole. It's a good route if you're looking for a longer workout. Allow around 8 or 9 hours to complete this route.
10. Rock Climbing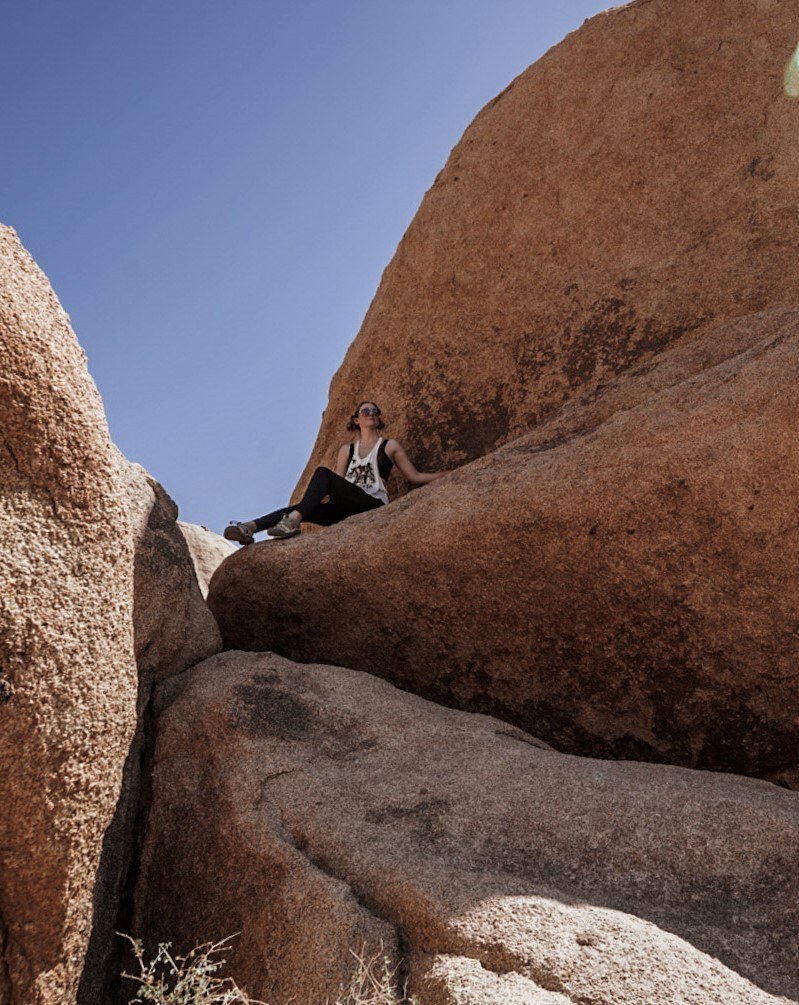 Joshua Tree National Park has gained quite the reputation for rock climbing. The park offers over 8,000 documented climbing spots, with the majority being bouldering and trad climbing locations. Though not as common, there are a few sport climbing routes as well.
I have climbed in Joshua Tree before, and my best advice is to start early! The midday sun can be brutal.
For climbing information as well as current rock climbing closures, click here.
Where to Stay
Staying out near Joshua tree is almost an experience in end of itself! There are so many unique Airbnbs as well as camping under the stars. I've stayed in many places over the years that I've visited, though I have a few favorites:
The Birdhouse Joshua Tree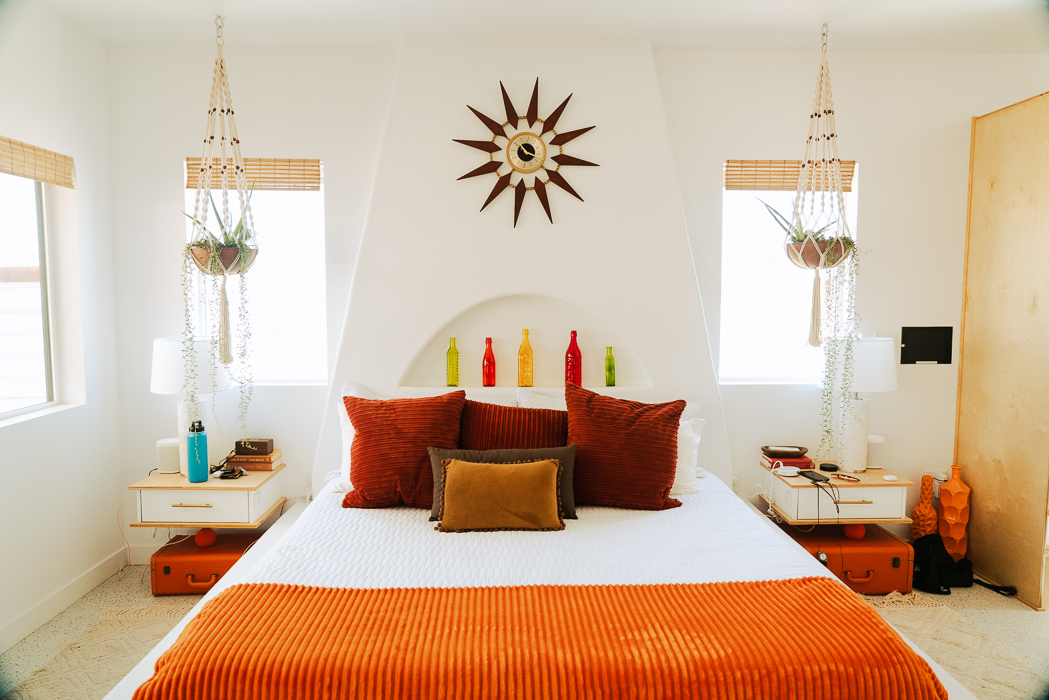 A design dream, this retro Airbnb in Twentynine Palms is perfectly situated between both of the park entrances, making it an easy loop. I loved the seclusion of it, and how up close we felt to the desert. It was perfectly quiet, the stars were gorgeous, and I loved the heated pool! This is big enough for 6-8 people, although when I visited with my partner for our babymoon, it was perfect as just the two of us, as well. Book it here.
Camping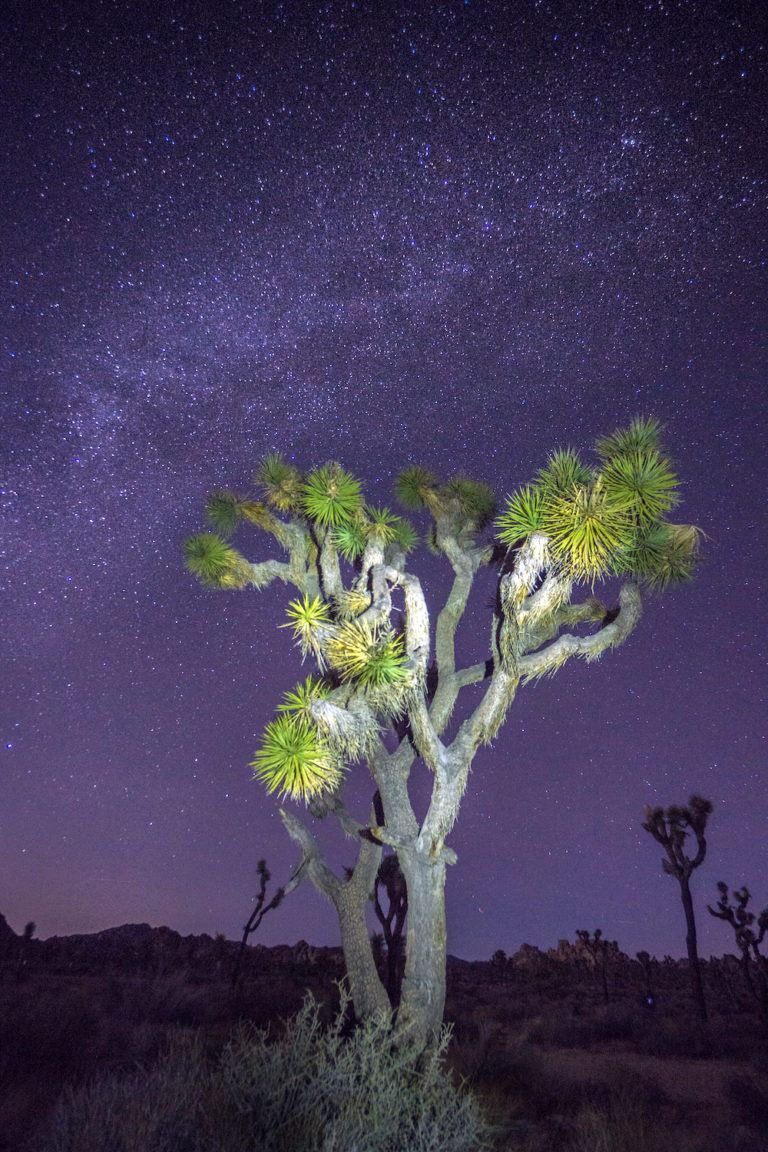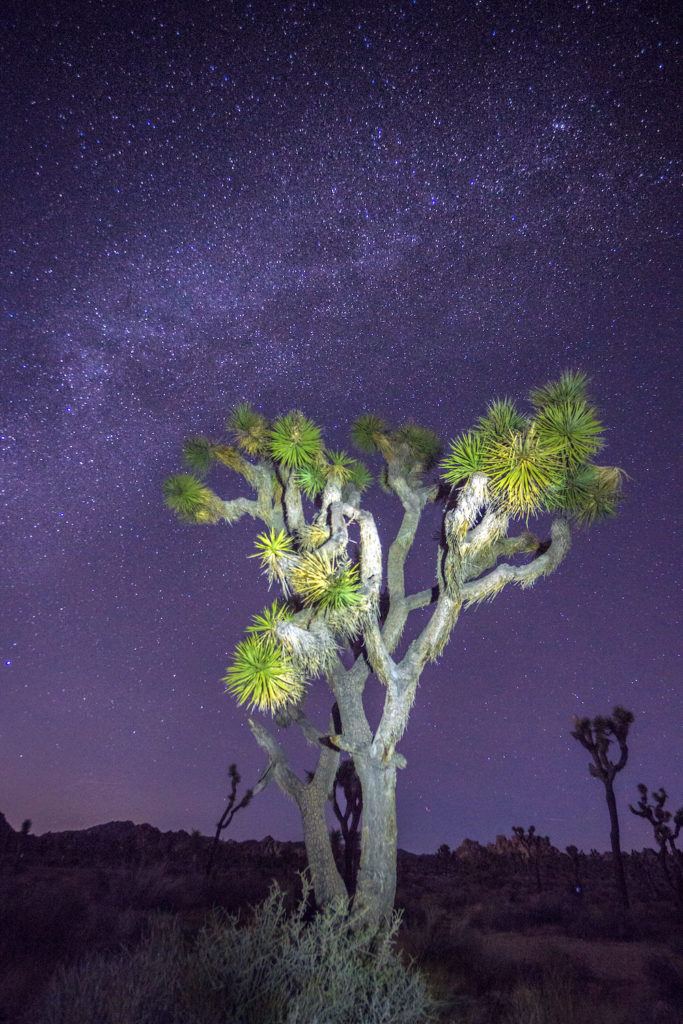 Many people visit the park for a quick 24 hour time span. If this is the case for you, I promise that you can have a fun-filled and jam-packed one day itinerary in Joshua Tree. However, if you are able to stay for a few nights, try camping out in the desert!
The peace and solitude of sleeping in the desert is something that we don't get enough of these days! And Joshua Tree in particular is a special desert to spend a night in.
Designated an International Dark Sky Park in 2017, the stargazing here is unreal. Since the park is located hours from Los Angeles and San Diego, the light pollution is kept to a minimum. On clear nights, this is one of the best places for stargazing on the planet!
Mornings in the desert are just as peaceful. You'll awake to the rising sun, the sounds of small birds and critters in the distance, and with an unbeatable view once you unzip your tent.
With colorful desert sunsets, epic stargazing, and surreal landscapes seemingly from outer space, it's really a no brainer. You've got to try camping here.
There are over 500 campsites within the park. While that may sound like a lot, they are spread out across nine campgrounds within the 1235 square miles of park.
The campsites are a mix of Reservation Only and First Come First Served. Note that many campsites are closed in summer months due to the heat. Check your options carefully before you go.
Also, plan as early as possible! The Reservation Only sites typically sell out well in advance, particularly in Spring and Fall. Reservations can be made up to six months in advance.
Campsites that accept Reservations: Black Rock; Cottonwood; Indian Cove; Jumbo Rocks; Ryan; Sheep Pass.
First Come, First Serve Campsites: Belle; Hidden Valley; White Tank.
Pro Tip: For an epic sunrise, camp at White Tank. The campsites are separated by the iconic giant boulders of Joshua Tree, making it a semi-private and striking area to camp. Before dawn, you can catch the final .5 miles of the trail leading to Arch Rock (White Tank is directly on the hiking route) and experience the sunrise at Arch Rock.
Campsite prices range from $15-$25 per night and offer varying facilities. You can find all relevant booking information here.
When To Visit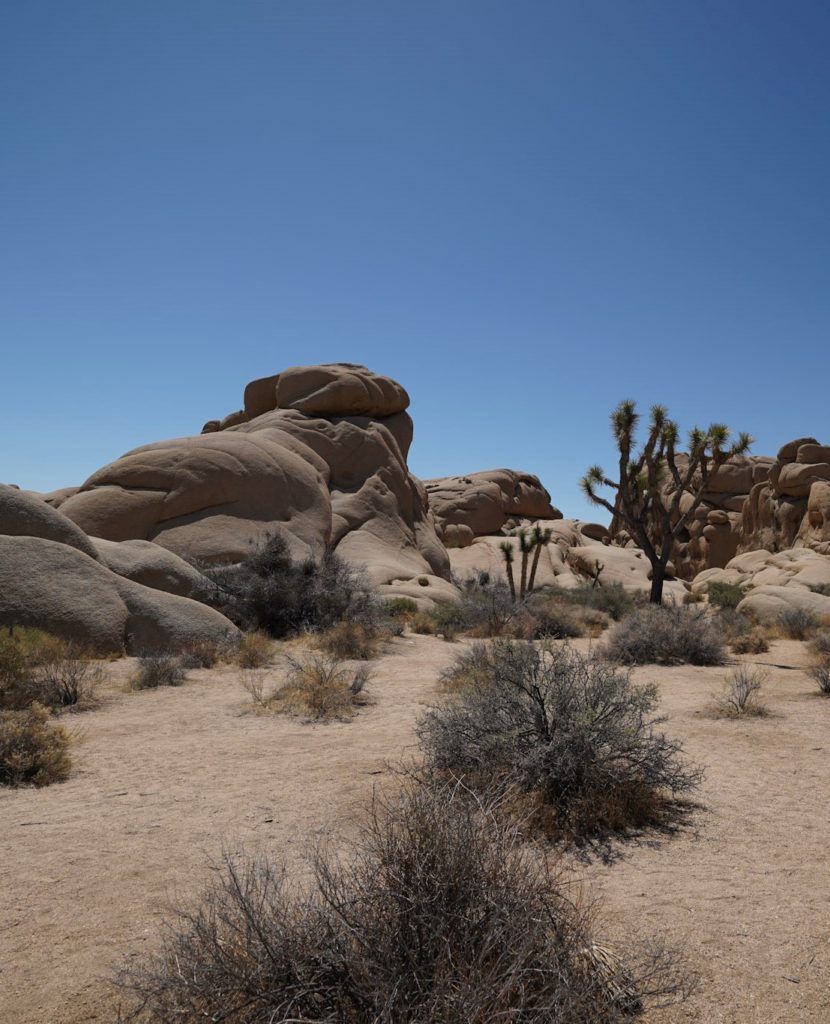 While I can honestly say that I've braved (and enjoyed) park visits here year-round, hands-down the best seasons to visit Joshua Tree are the spring and fall.
Spring (February – April): The milder temperatures are much more pleasant for hiking and climbing in the springtime. Colorful wildflowers dot the landscape, making this the most popular season to visit Joshua Tree. Cacti and Joshua Trees show off their white and pink blossoms. Fiery red ocotillo flowers can be spotted toward the southern end of the park. With temperatures hovering between a comfortable 50 and 85 degrees, visitors flock here.
Summer (May to September): The beauty of a summer visit is that many people will avoid the desert due to triple digit temperatures. Crowds will be thin and there are more daylight hours. The downside is that summer heat in Joshua Tree can be dangerous. Hikes and strenuous activities should all take place as early as possible, and visitors should come prepared with ample water supply and sunscreen!
Fall (October – November): Fall is a popular time to visit. Once again temperatures fall within the comfortable 50 to 85 degree range. Campgrounds tend to sell out, particularly over the weekends, and parking at the trailheads becomes sparse. Remember that the daylight hours become shorter in the Fall, so plan your hikes wisely.
Winter (December – January): The winter months can vary quite a bit, ranging from 32 to 60 degrees. Though rare, it does snow in Joshua Tree when the conditions are right. It's a beautiful sight! On the other end of the spectrum, some winter days can be sunny and warm. Winter is still a great time for the longer hikes – dress in layers to cover all bases.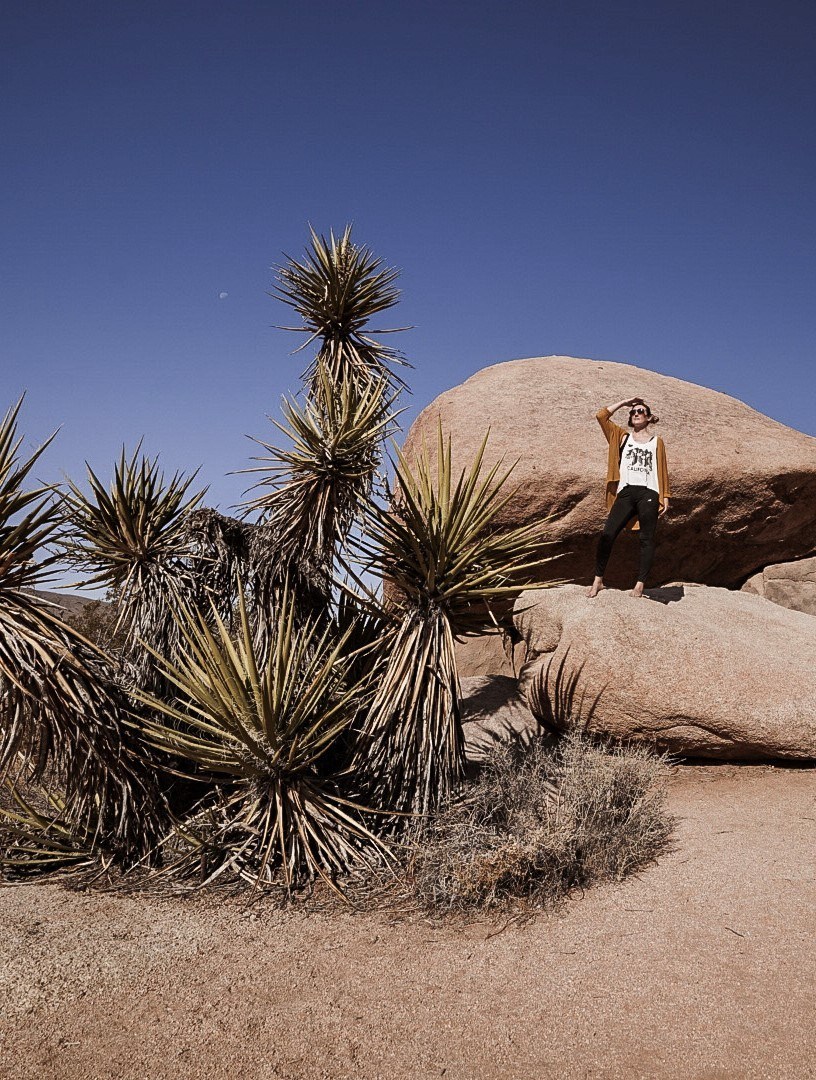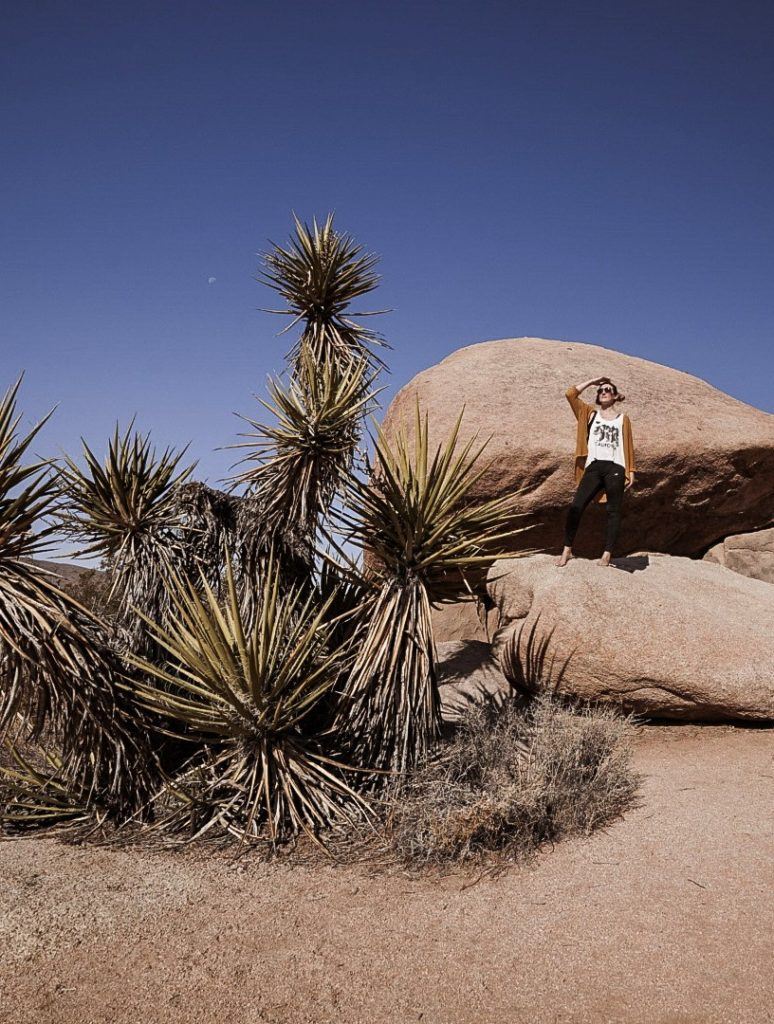 Entry Into Joshua Tree National Park
If you don't already have the America The Beautiful Annual National Park Pass, which I highly recommend, you have several payment options for the park.
A 7-Day Pass: $30
An annual Pass for Joshua Tree National Park: $55
The America the Beautiful Annual National Park Pass (for ALL National Parks in the USA): $80
Each of these passes can be purchased at any entrance into Joshua Tree.
As you drive deeper into the park, you'll start to notice the changing landscapes. Joshua Tree actually holds two deserts within the park boundaries; the Mojave Desert to the north and the Colorado Desert to the south.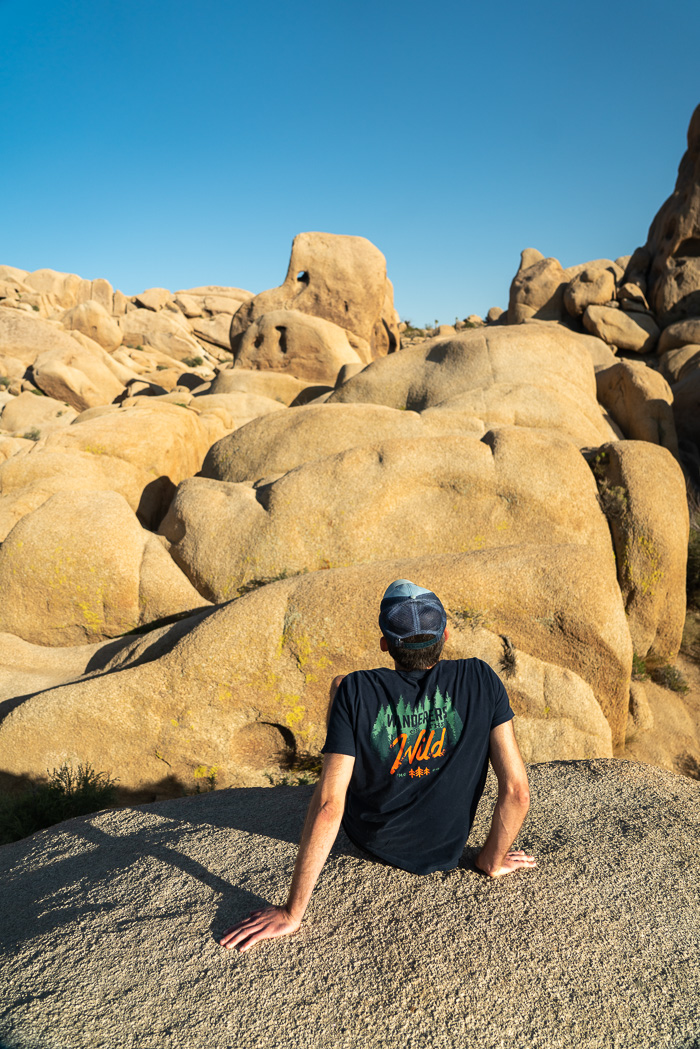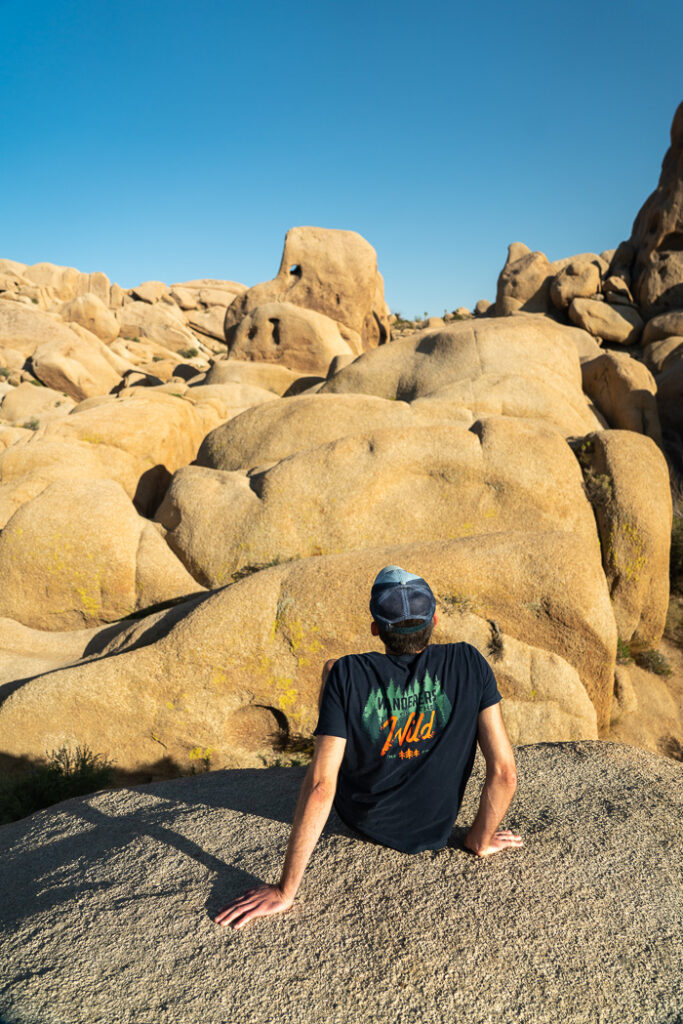 The northern section of the park is home to some of the iconic views associated with Joshua Tree National Park – the giant bulbous rock piles, the majority of the hiking trails, and of course the Joshua Tree itself.
The southern landscape is a bit more sparse, featuring hotter temperatures, loads of cacti, and rugged purple mountains. There are very few Joshua Trees in the Colorado Desert section because it is not the correct elevation for the species.
Though the northern half is more popular, I highly recommend driving and hiking in both areas, as they offer visitors something completely different from one another!
Joshua Tree National Park Safety
Bring double the amount of water you think you'll need. Park rangers recommend one gallon per person, per day (at least). Wear proper hiking shoes and dress in layers; the desert temperatures can fluctuate up to 40 degrees within a 24 hour time span!
There is nowhere to buy food within the park boundaries. Pack snacks, sandwiches, fruit, etc. before you venture into the park.
You are likely to catch sight of small desert critters like lizards and bees here. You may very well see a scorpion or a rattlesnake while you're out and about, so keep your eyes on the trails. They are not aggressive unless provoked, so give them plenty of space and you'll be fine.
There are even herds of big horn sheep in the park who, while I haven't seen them recently, like to climb some of the rocky crags along the roadway.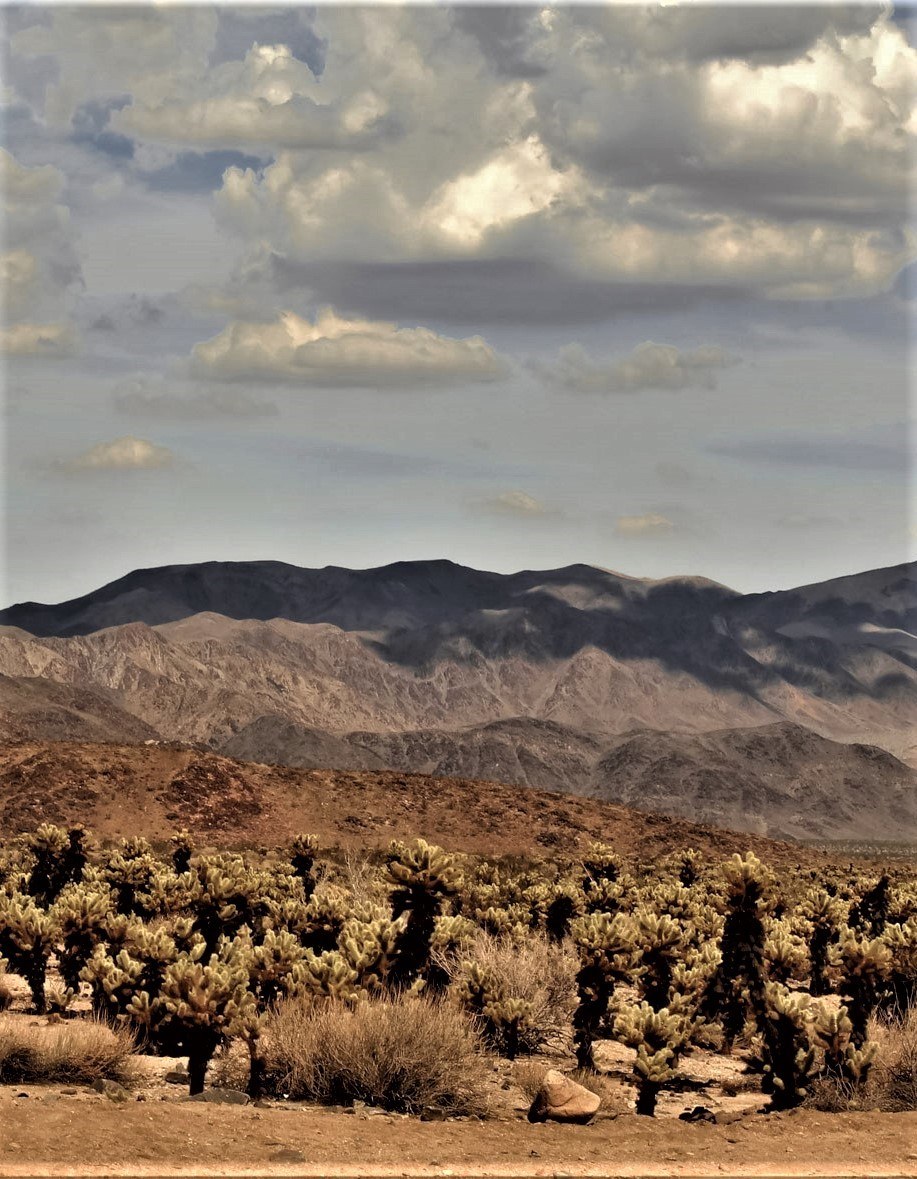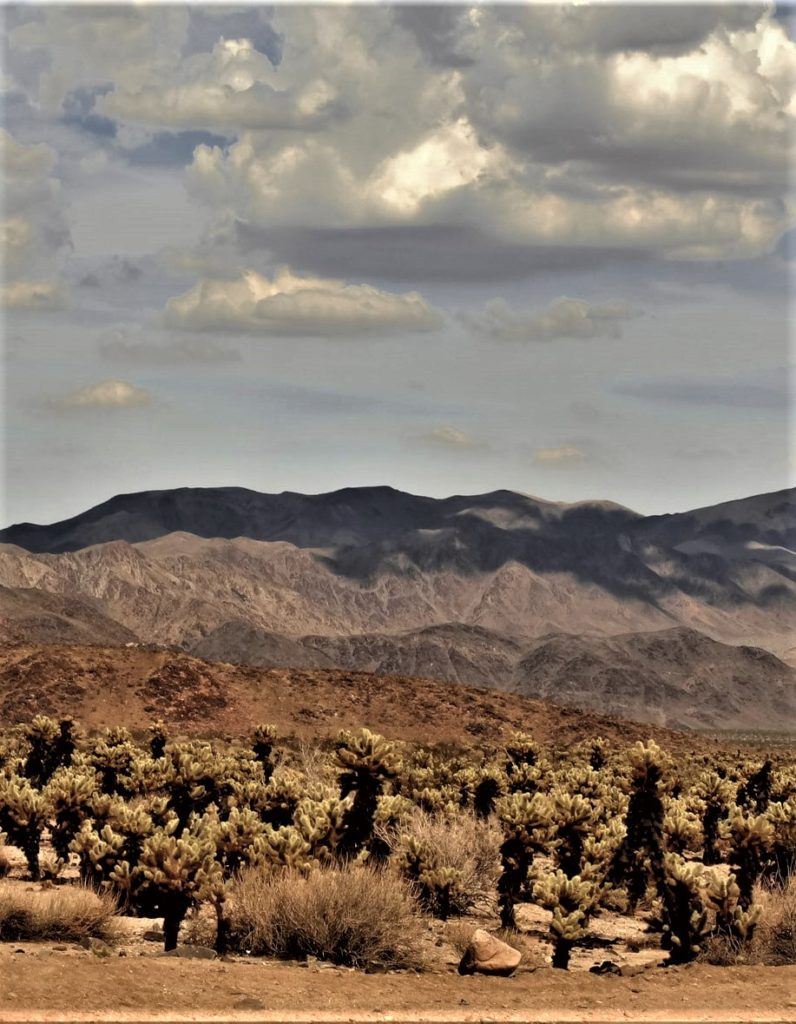 Park your vehicle only in designated areas. Many hikes have small lots and there are paved areas to pull over for good photo spots. Driving off-road is forbidden within the park.
Watch out for flash floods! Always check the weather before heading off on the longer hikes. And, be aware that cell phone reception is weak and in some areas non-existent. Download offline maps before you enter or pick up a paper copy at the Visitors Center.
As long as you prepare for the experience, I promise that the desert is an awesome escape.
Have I convinced you yet?!
With all of this information handy, I'd say it's time you visit the park and see for yourself! Take in the views, meet the Joshua Trees, snap some awesome photos, and hike or climb the day away. Camp overnight if time allows, and then do it all again the next day.
I have no doubt that Joshua Tree will prove just how incredible the desert climate and landscape can be!
Pin me for later: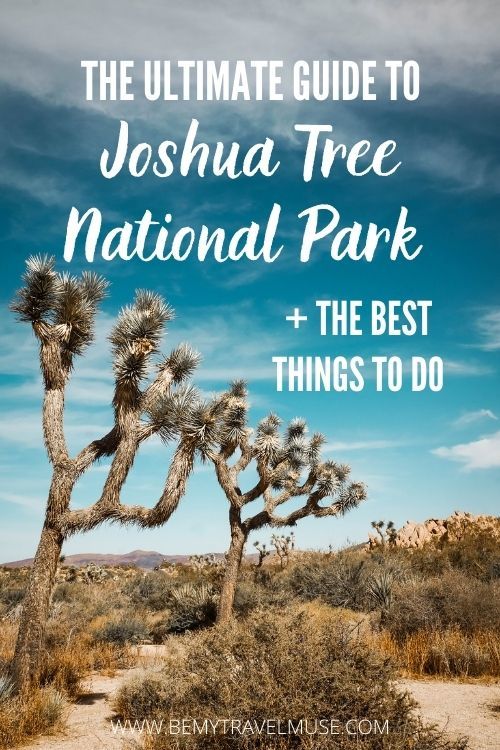 About the author: Monica Chapon has traveled to 6 continents solo and chronicles her adventures on her blog, This Rare Earth. She can usually be found exploring the deserts of the world, taking impromptu road trips, or performing as an aerialist on silks. Follow along with Monica's adventures on Instagram.