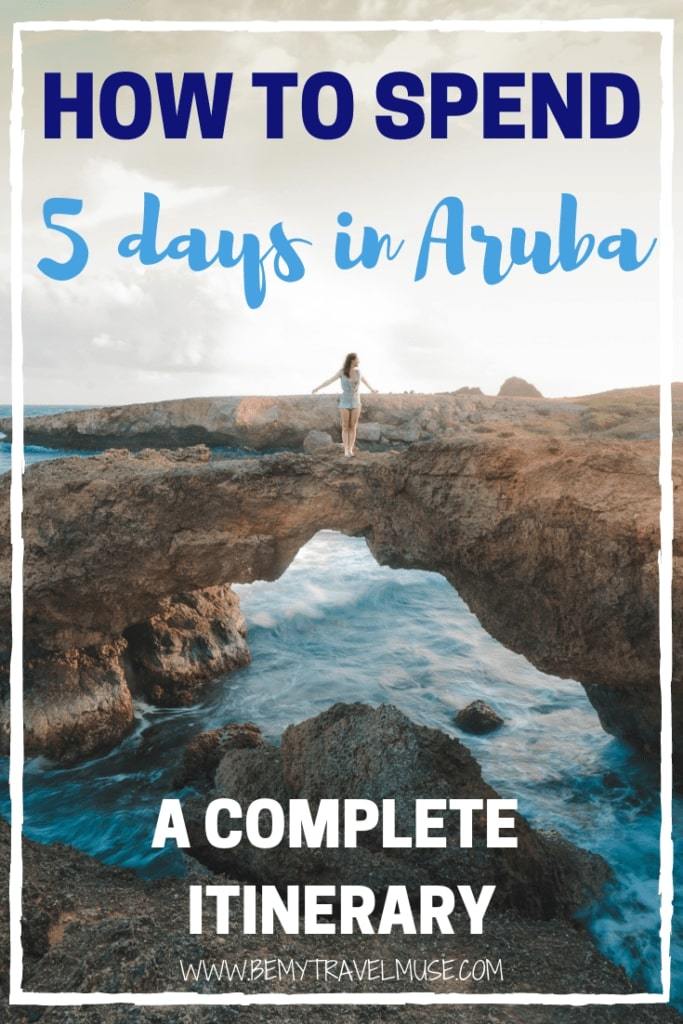 As I wrap up my second visit to Aruba I can't help but feel amazed by how adventurous this island can be and by how much variety there is for such a small place. I got to see all kinds of landscape, have daily experiences that were all totally different, and get a tan in the process!
Many who visit Aruba are happy to lounge on a beach chair all day and don't need much adventure to enjoy their vacay. While there's absolutely nothing wrong with that, I just can't do it for long and need to be either walking on the beach, swimming, or doing something active.
If you're like me, the following itinerary will get you out and exploring the adventurous and outdoorsy side of Aruba, with some beach time included, of course!
Day One: Go for a Swim, Check out the Lighthouse for Sunset
Aruba has tons of beaches – either long stretches of sand or hidden behind rocky coves and inlets. I stumbled upon them constantly during my exploration, though some are much friendlier for swimmers than others. The following are the best ones for snorkeling, swimming, and general chilling:
Palm Beach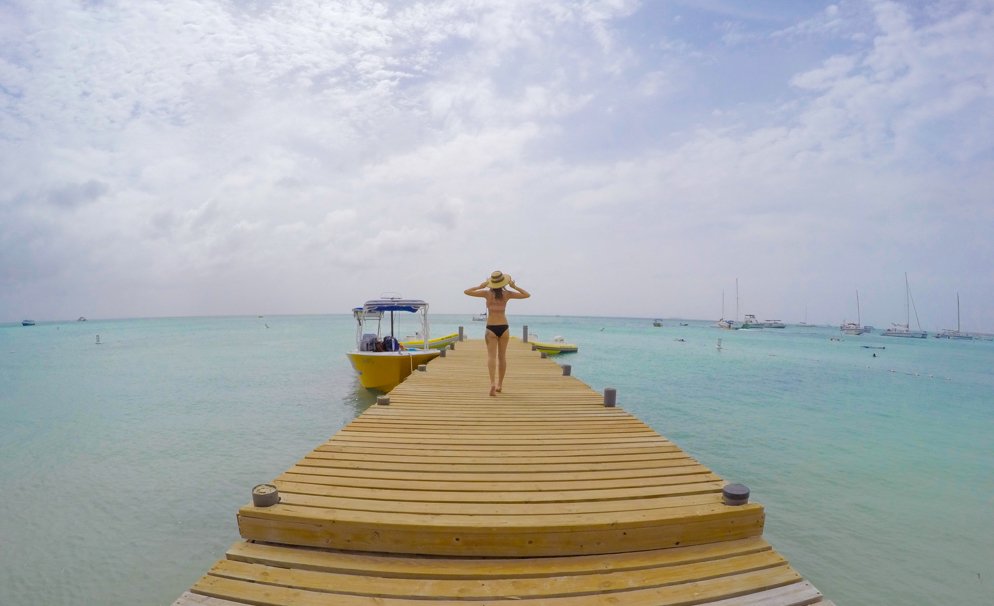 Palm Beach is the most touristy beach with high-rise hotels and lots of restaurants and water activities.  When you see the white sand and the clear baby blue water, it's clear why. You can standup paddleboard, parasail, and of course swim. You'll find people all along the sand offering activities, and most hotels also offer a free mask and snorkel.
Chances are you'll be staying on either this beach or the next one, so check it out, especially at sunset.
Baby Beach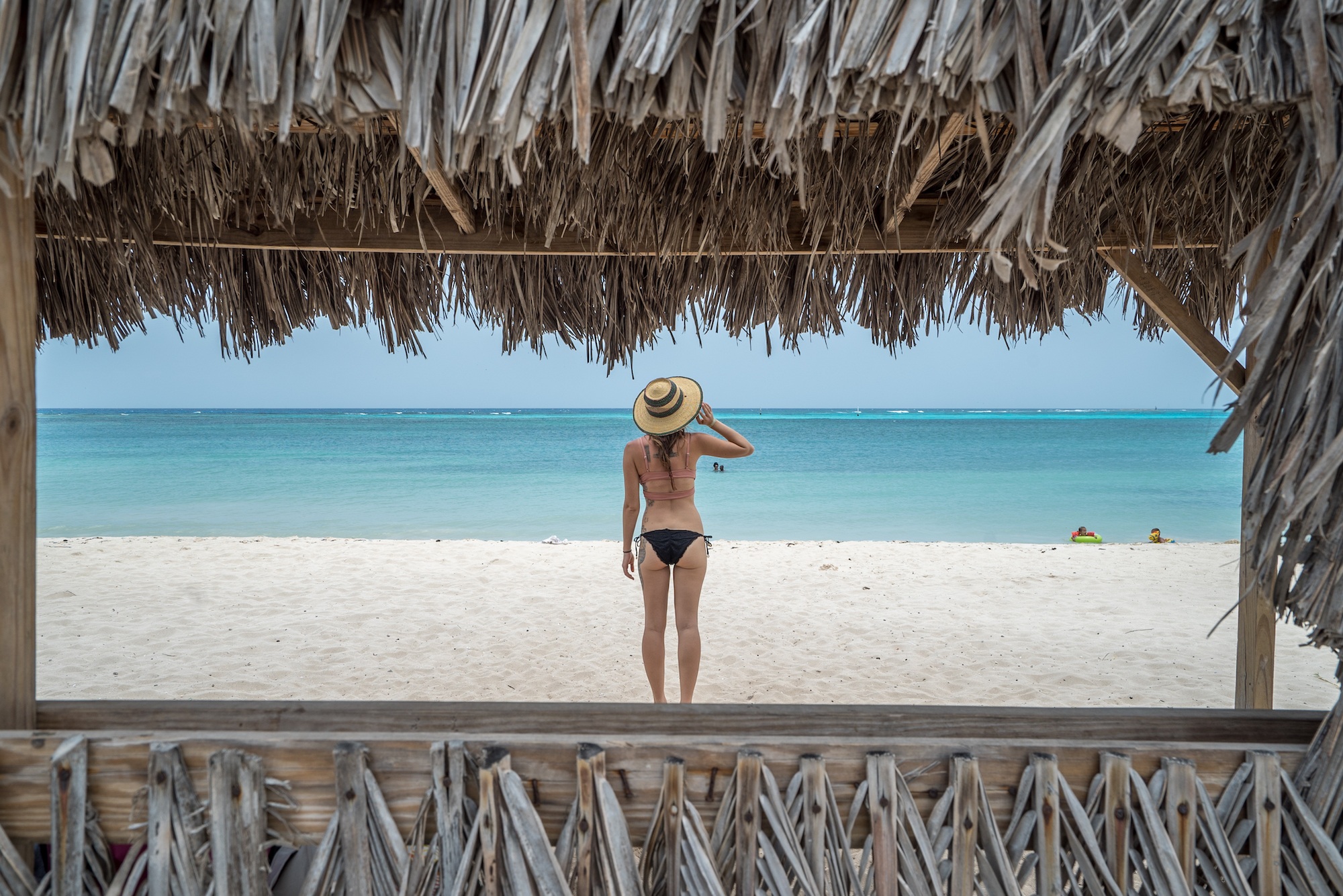 Baby Beach on the southern tip of the island is known for having great snorkeling and white sand. It also has fewer tourists than the beaches up north. I was a big fan of this one!
Eagle Beach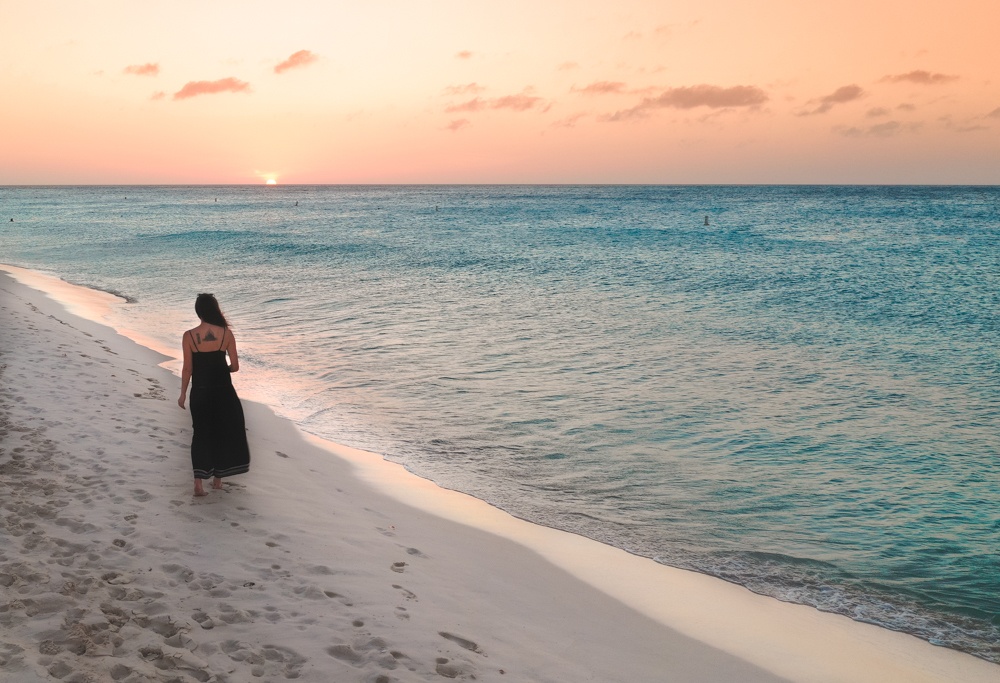 Eagle Beach is slightly less crowded than Palm Beach and is famous for its perfect white sand and baby blue water. It is west facing and therefore perfect for sunset.
Tres Trapi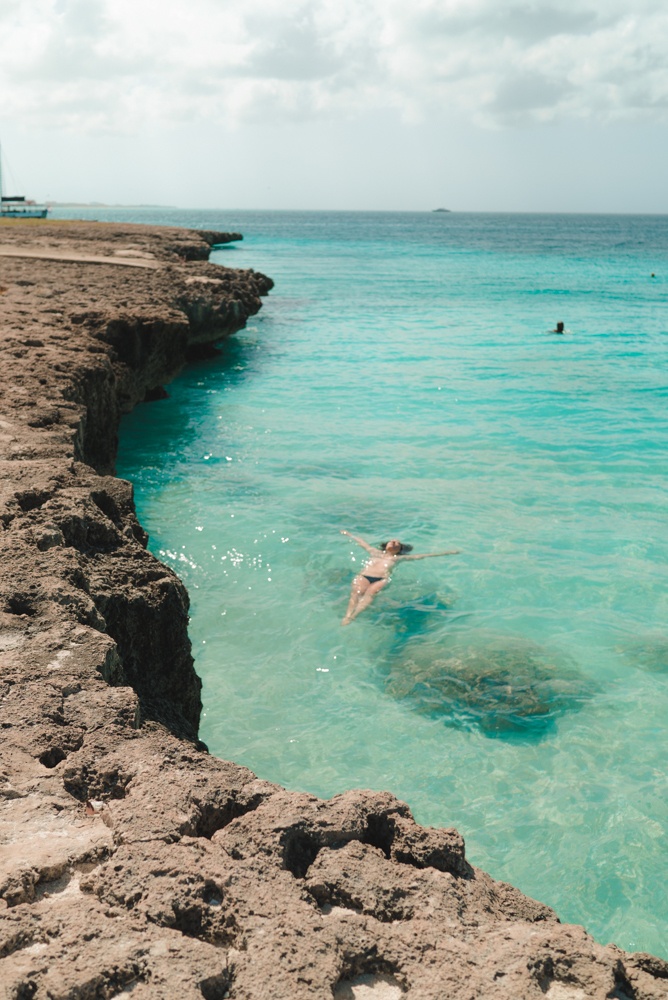 North of Palm Beach, you'll find Malmok Beach and a few other great swimming and snorkeling spots. The picture above is at Tres Trapi, which are three stairs carved into the volcanic rock that lead to this lovely blue water. Many of the snorkeling tours stop here, so you can plan on seeing sea birds all around and fish under the water if you bring your mask and snorkel.
California Lighthouse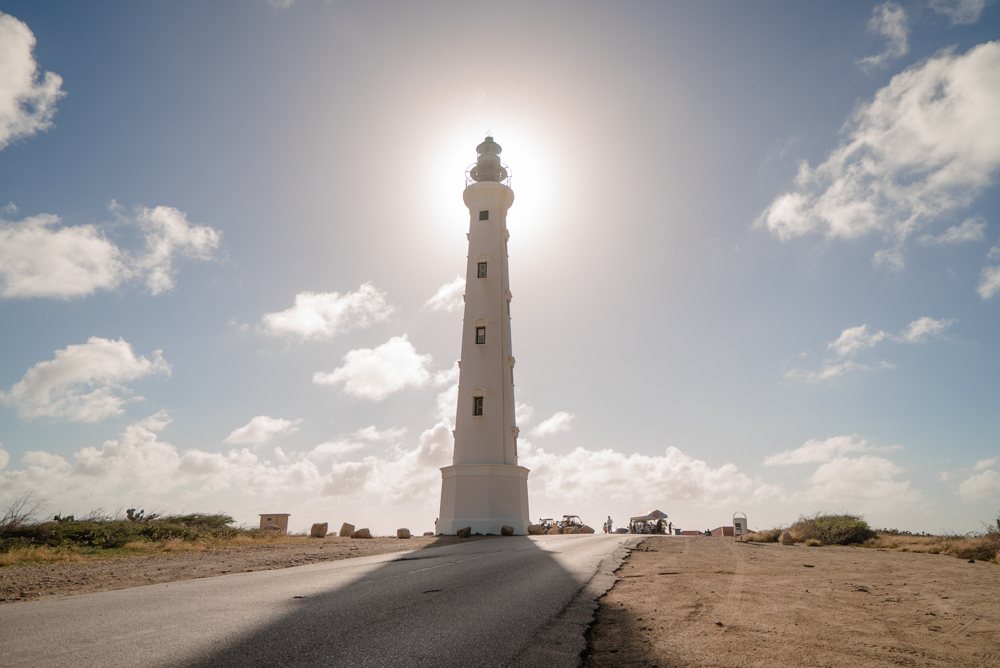 In the afternoon, I recommend heading to the California Lighthouse on the northern tip of the island for sunset. You get a fantastic view, and the lighthouse is a great photo spot as well.
I also enjoyed driving around the coastal roads nearby where you can find sand dunes, beautiful rocky outcroppings, and a more rugged Aruba experience. If you stick to the trail that borders the water, a normal car is probably OK as the road is mostly dirt with a few rocks and potholes, but a 4×4 will give you ultimate flexibility.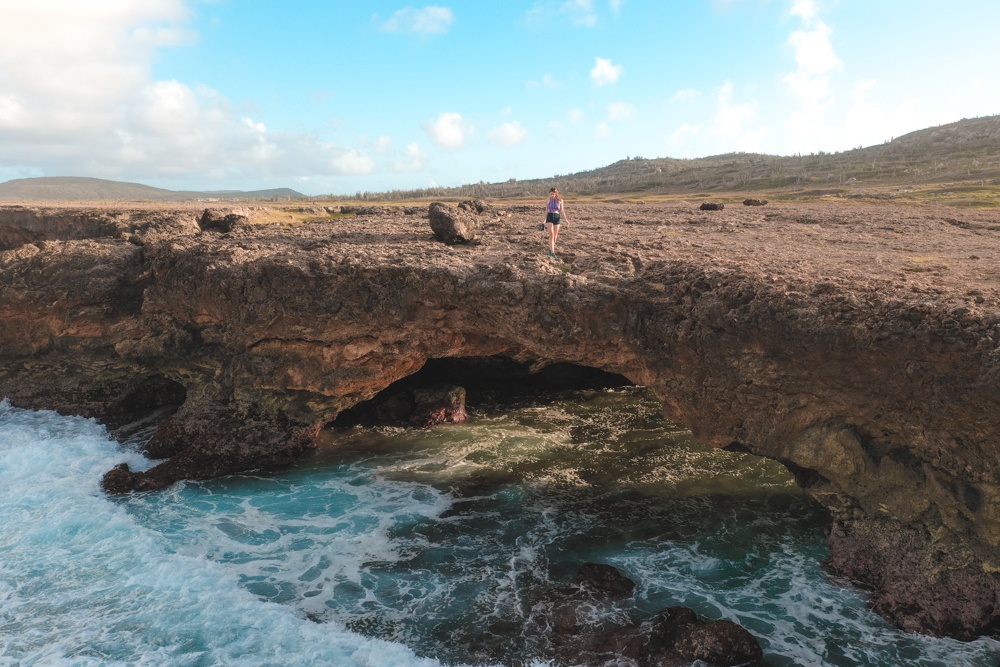 If you have a 4×4 and feel like continuing onwards, I had a lot of fun on the rocky road from the lighthouse to the Wariruri rock bridge. Following the collapse of the Natural Bridge in 2005, this is now the largest natural bridge in Aruba. The road is rough, but to me that's a lot of fun, and you can plan on having it almost all to yourself. I made plenty of stops along the way and truly enjoyed this solo adventure.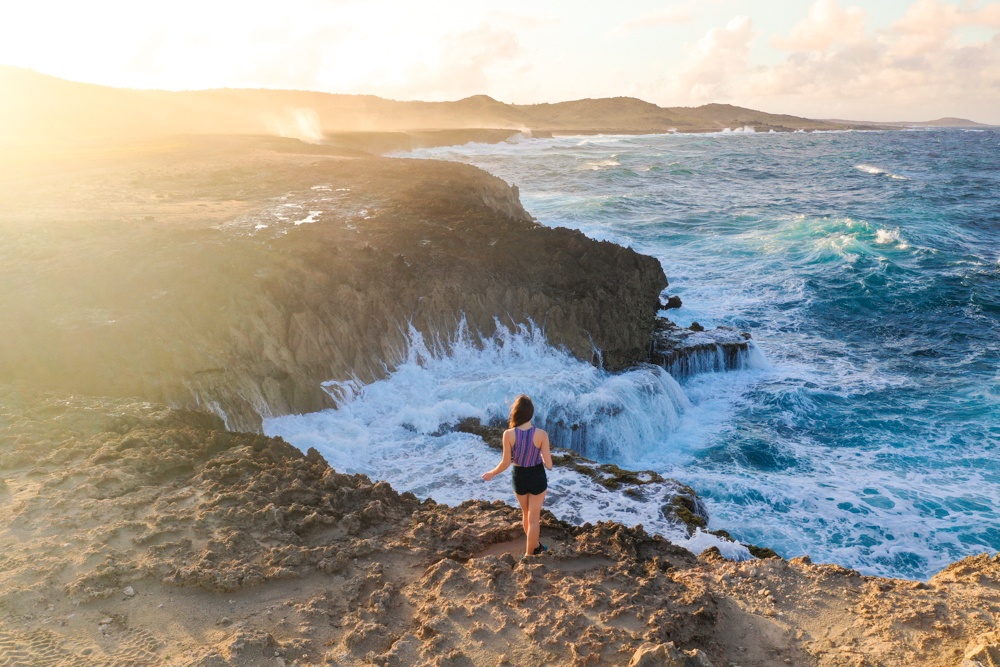 Day Two: Arikok National Park – Caves and the Natural Pool
You can't go to Aruba without visiting the Arikok National Park! This is where you can find the famous caves, the natural pool, and a much more rugged stretch of coast.
You absolutely do need a 4×4 for this trip, which you can self drive, although most people join either a Jeep tour or an ATV tour that takes you to the following spots:
Guadirikiri Caves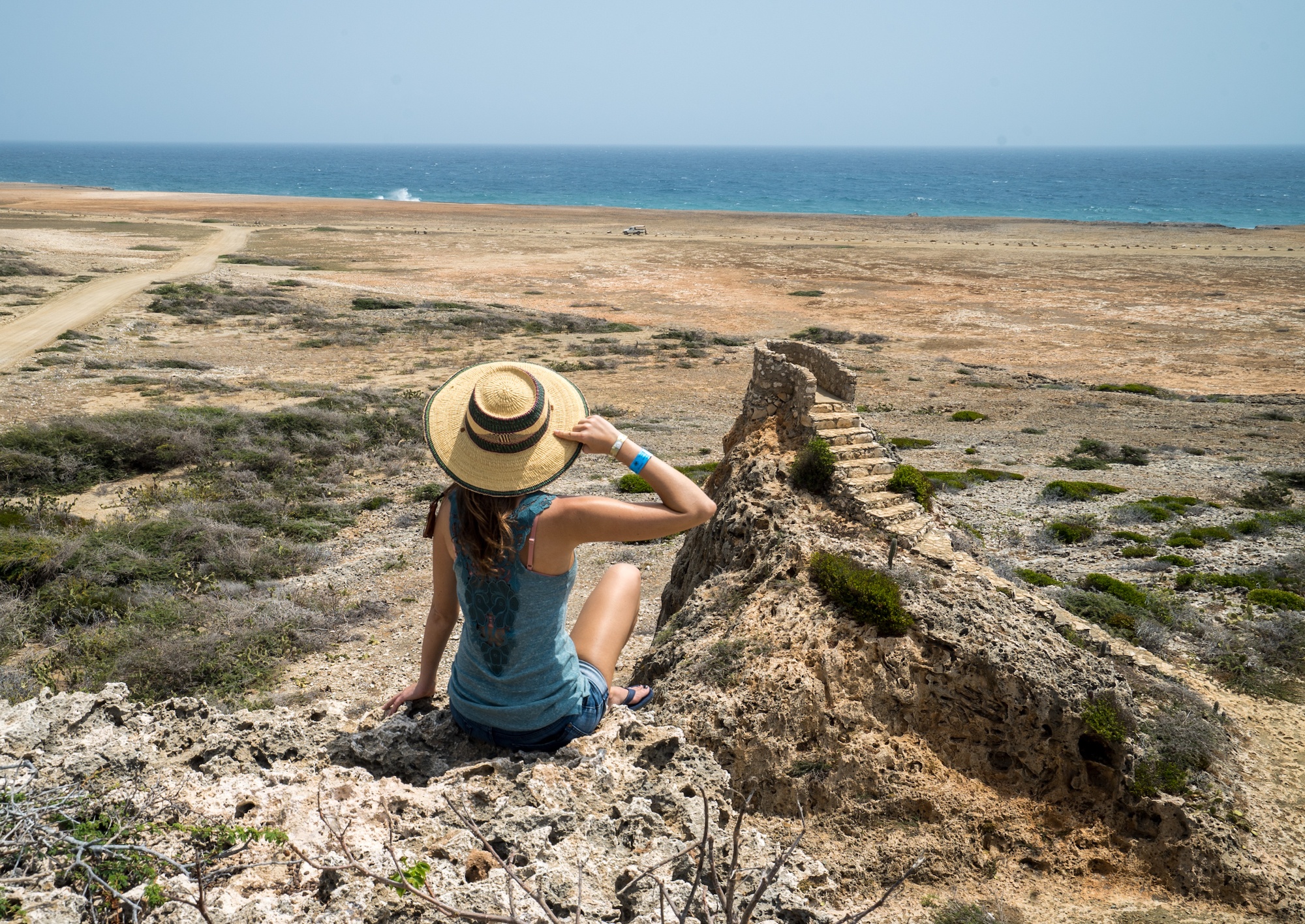 The caves and the stairway outside of them were my first introduction to the rugged side of Aruba when I visited a year and a half ago and I was absolutely delighted! The ride there is an adventure in itself, along bumpy terrain and through cacti forests. I had so much fun getting there that the cave was the cherry on top.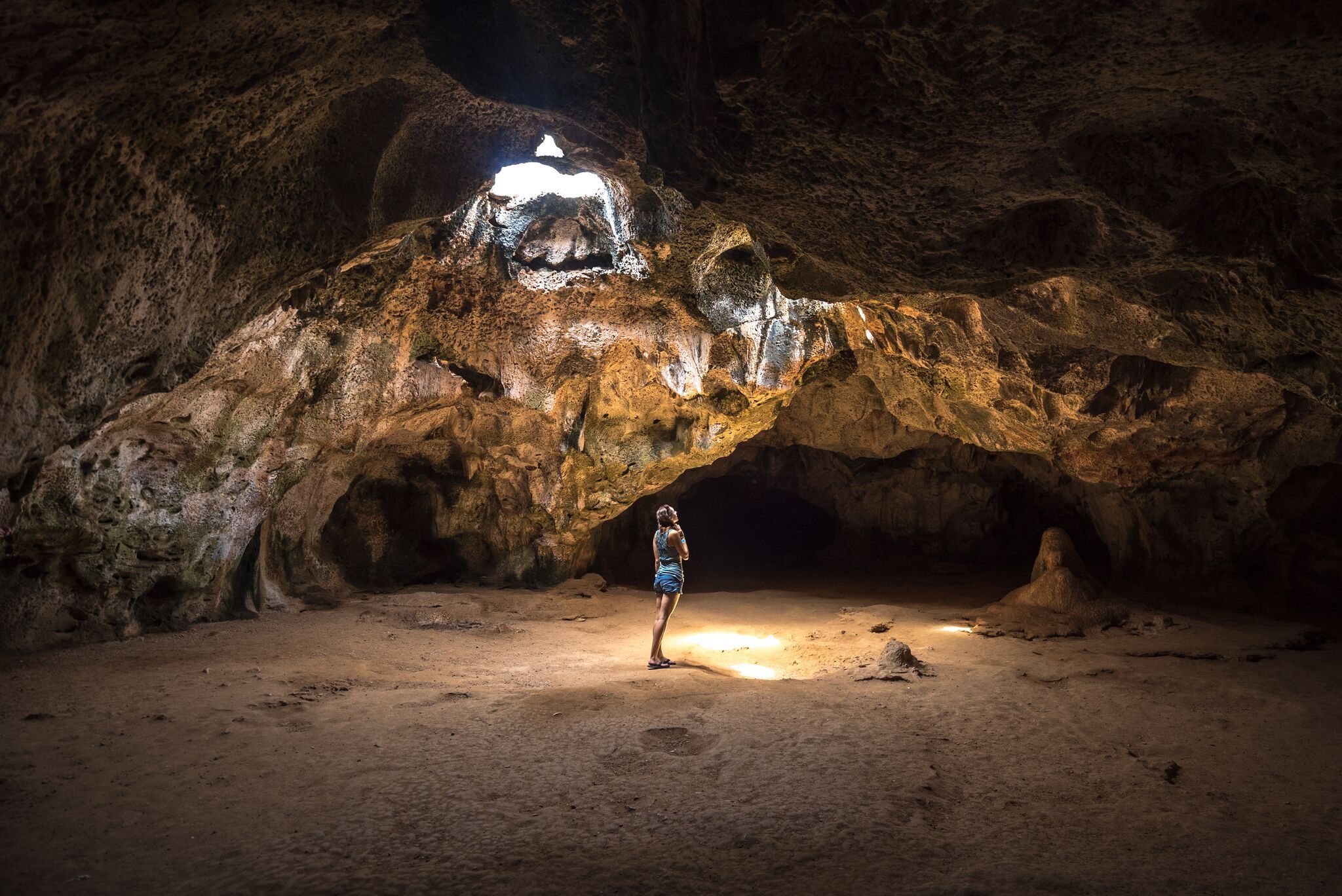 Depending on time of day, you can get some lovely light beams coming through the opening in the cave's ceiling.
The Natural Pool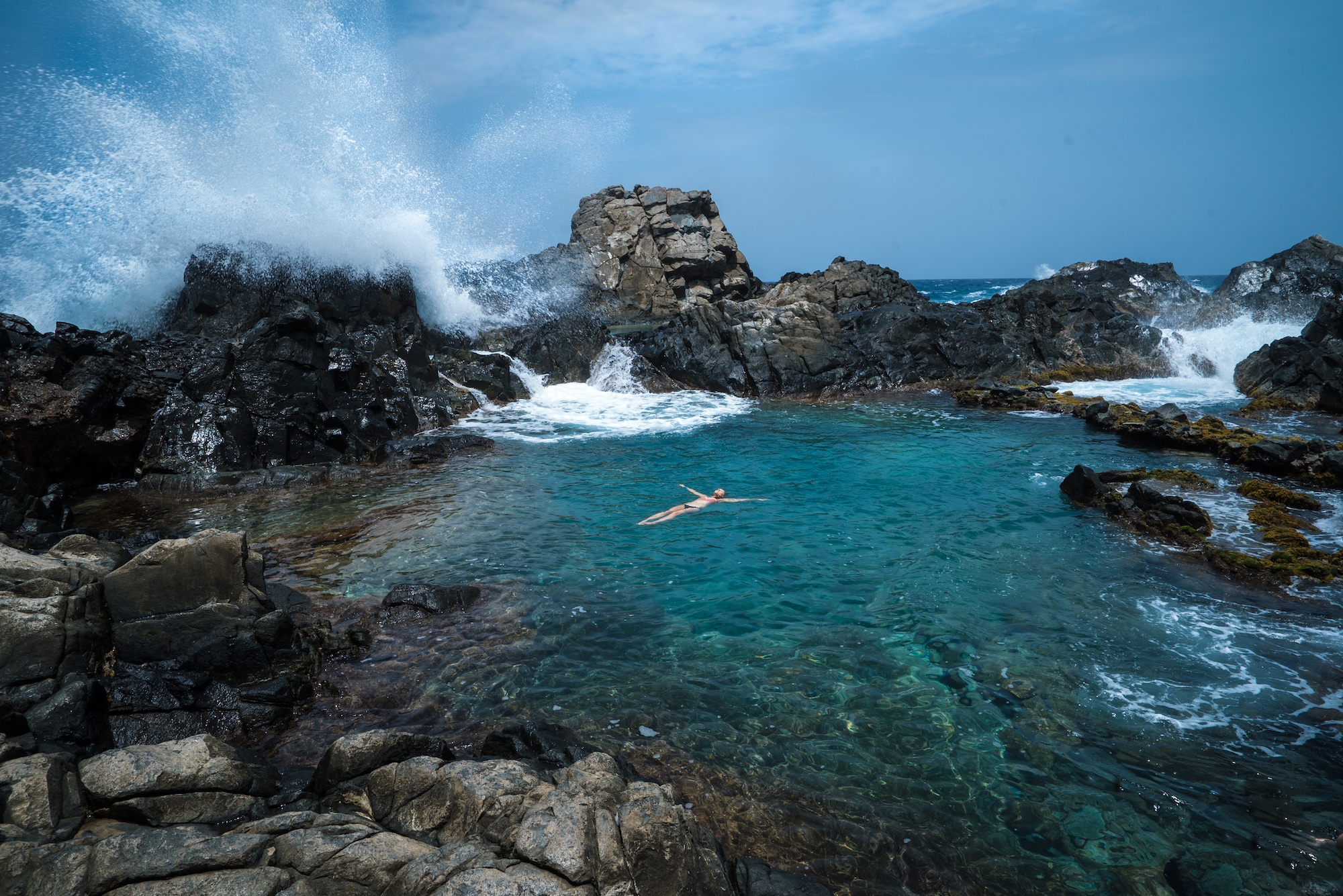 The highlight to Arikok National Park is undoubtedly this beautiful rocky pool that forms an almost perfect circle. The waves crash over the sides and there's even a 'natural jacuzzi' slightly above, which you can see to my right in this photo.
This was my favorite thing in Aruba – it was so magical it didn't seem real.
Dos Playa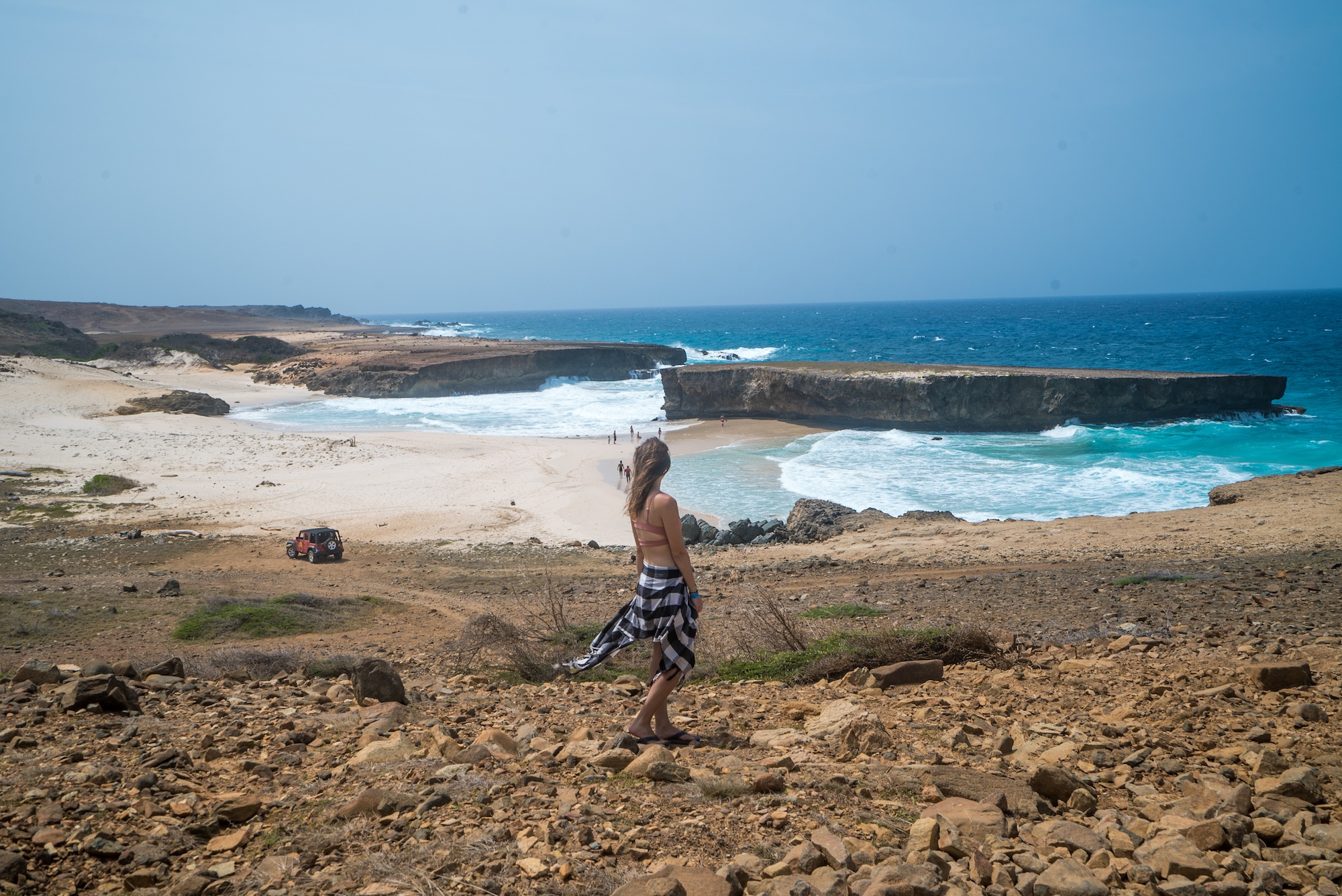 Dos Playa is a rare beach on the east coast that can be tame enough to swim in. It's one of the larger ones in the area and is popular for sunset horseback rides, too.
I went with ABC tours to book this adventure. They have both big truck and ATV options. Some are full-day and some just take you to the natural pool. Choose your own adventure here.
Day Three: Flamingo Island
After a few days exploring Aruba's more rugged and natural side, I feel we have to talk about Renaissance Island. This man-made flamingo island is undoubtedly beautiful. It's also where you can take pictures with the famous flamingos on the beach and lounge in hammocks in the sun.
There are several beach huts that you can rent to hang out in for the day, and you can eat and drink on the island as well.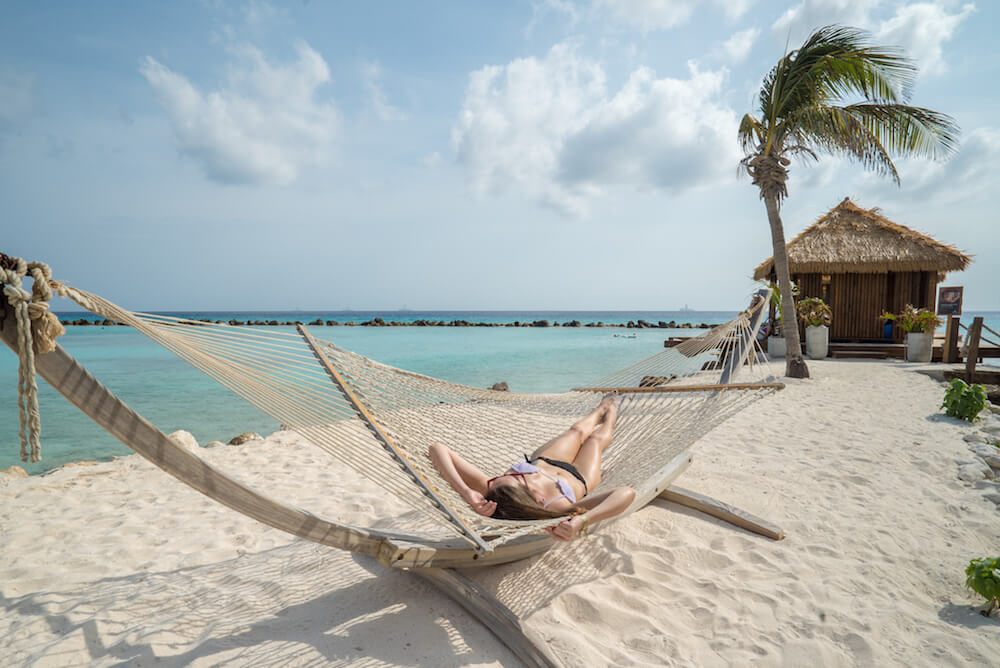 There are a few things to know about the island, such as the entrance fee, the best way to get in, and figuring out how to get shade while you're there. I have an entire post dedicated to Flamingo Island with all of the info here.
Day Four: Pick an Aquatic Activity, Sunset Cruise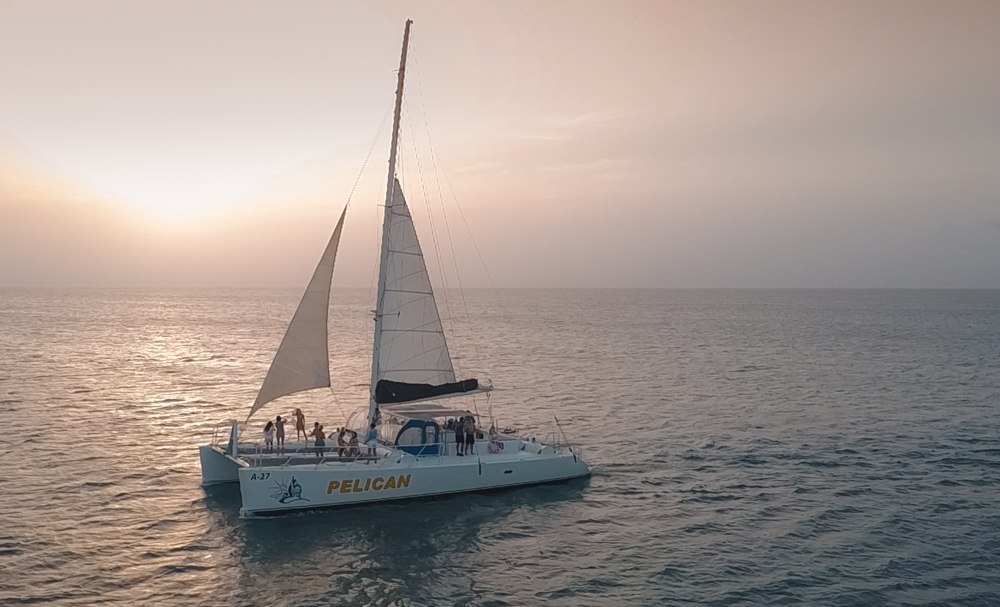 On day four I recommend picking one or two of the adventurous activities available on the island and then a nice relaxing sunset on the water or on a beach nearby.
The following are some great options:
Scuba dive
The water is clear and there are plenty of fish in Aruba. There is also a shallow wreck, which is a rare find in the diving world. All of these are great reasons to jump in and see what's up unda da sea.
I did a morning dive last time I was on Aruba and was impressed by the corals and fish. If you are used to Southeast Asia, don't expect the same that you would find in Sipadan or Raja Ampat, but still, for those who love diving this is a great spot to get under the water.
SUP
You can rent stand up paddle boards all along Palm Beach where the water is calm enough to head out for an hour or two of activity. The nice thing about Aruba is it's almost always breezy so standup paddleboarding is quite pleasant in Aruba. Be sure to check out the partially submerged wreck around Malmok Beach for a unique experience!
Snorkel a Wreck
If you're not into diving, you can still snorkel around a wreck near the California Lighthouse. Multiple boat trips depart at different times per day to take you out there. I did a cruise in the morning and an evening sunset cruise last time I was here, both of which went to the wreck. I would give the edge to the sunset cruise as there were fewer people in the water then, but being able to get on a boat and get out on the water is a must no matter what time you choose to do it in Aruba. You can book it here.
Day Five: Sunrise at Trinity Bridge, Sunset at Mangel Halto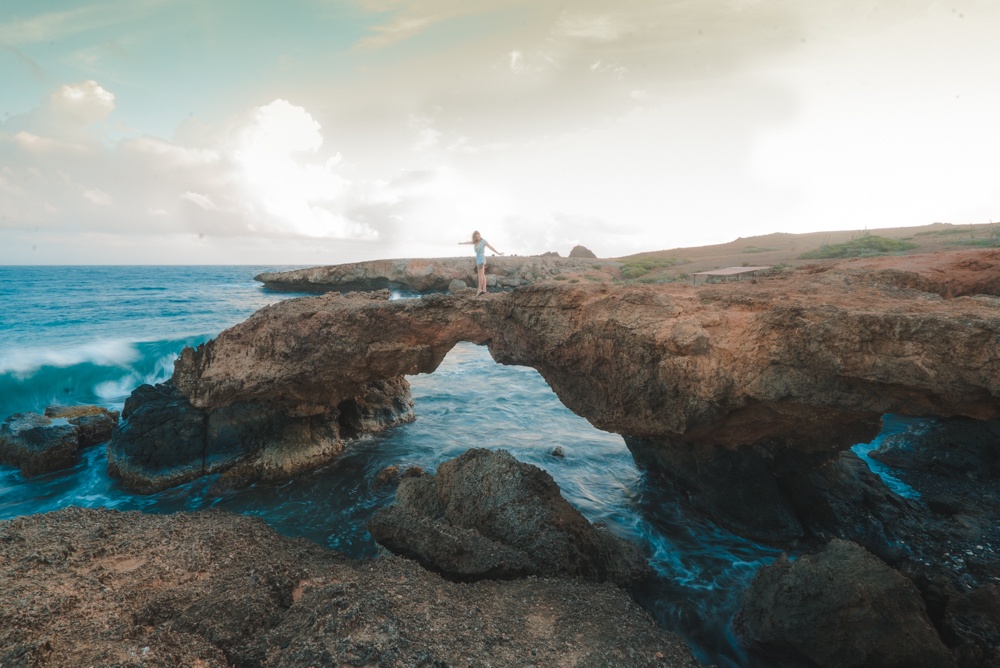 Let me just start by saying I'm not sure what the proper name of this place is – I've heard 'tripod bridge' and I see it as the 'trinity bridge' on maps.me, but either way this bridge is neato. It's a set of three sea bridges that look gorgeous in the early morning hours when the sun comes up and illuminates the rocks. You'll need a 4×4 to get here but if you have one handy from the other activities, be sure to get there in the early morning, before the tour groups arrive.
You can explore the cacti, Ayo Rock Formation, and rugged coastline along this part of the island in the AM, or just chill out – I know this has been a pretty packed itinerary.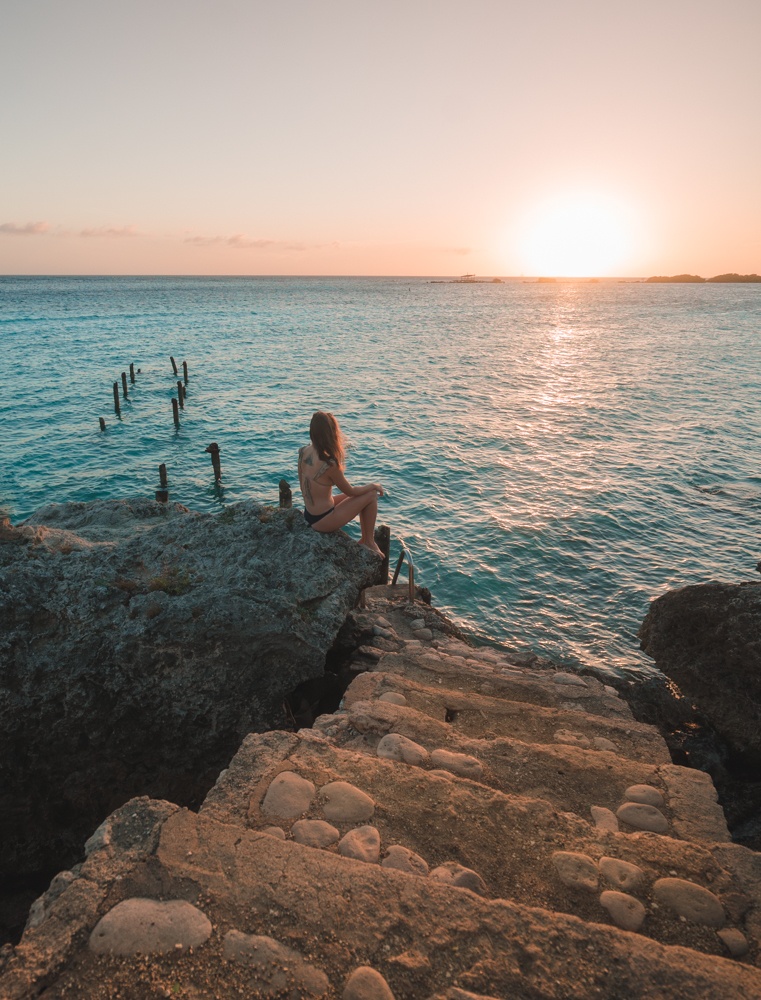 For the afternoon/evening, I highly recommend heading to Mangel Halto for a secluded beach, lovely mangroves, and perfect positioning for the sunset. From there you're close to Zeerover, a famous seafood restaurant.
Stay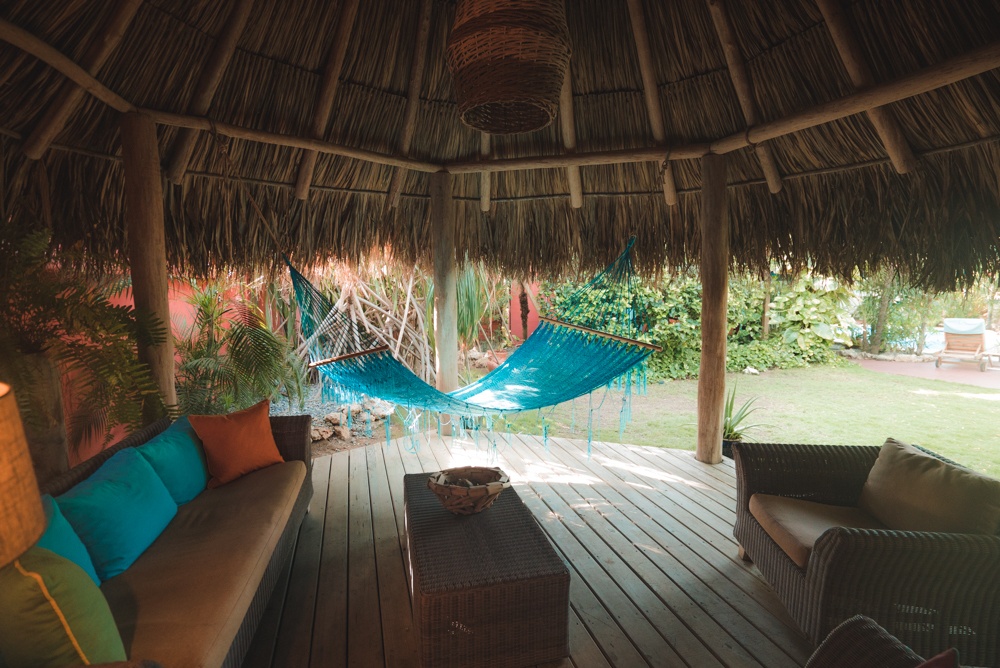 Aruba has many high-rise hotels and all inclusive resorts, but also many smaller boutique hotels that can be a much more peaceful experience.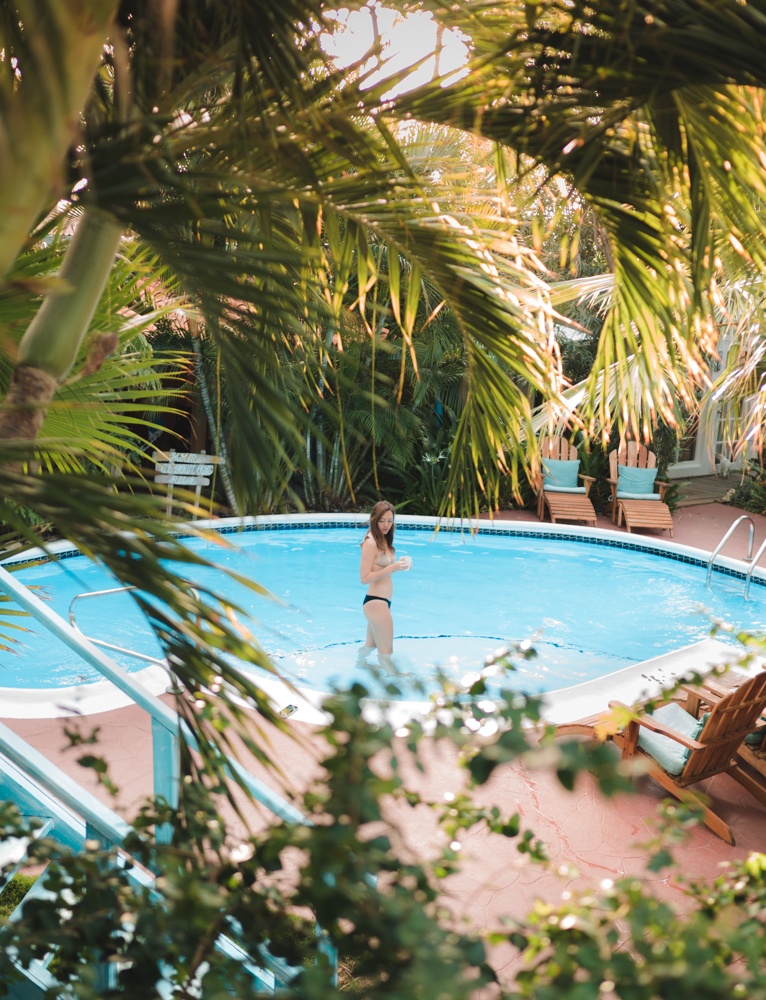 I stayed in the Boardwalk Small Hotel and loved the intimate feel of it. It's located just behind the Ritz Carlton on Palm Beach and has an area on the sand to chill on and a lovely pool, but without the huge and impersonal feel of a giant resort. I had a huge room too, with a separate living area, full kitchen, and a huge closet. I could easily have just moved right in!
I also love that it's owned by two sisters. Girl power! You can see casita options and book here.
Getting Around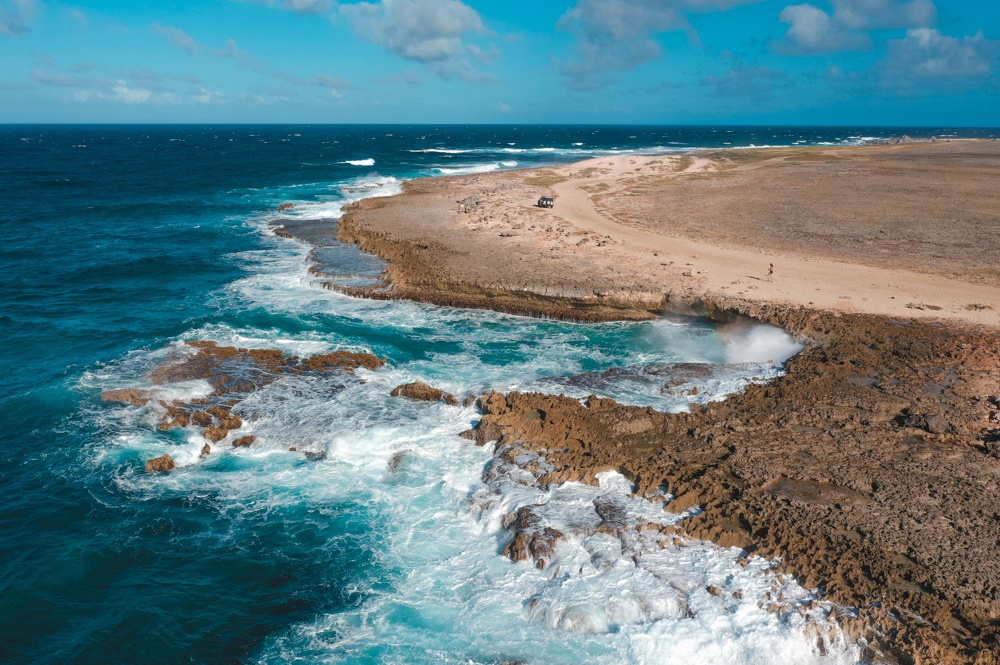 Although many of the options I mentioned above are made easier or are only possible with a 4×4 rental (all the major car rental companies are available at the airport – but do book ahead of time), you can also join a tour to see almost everything listed above. If you have specific things from this itinerary you want to see, ask the guys at ABC which tour would be the best one.
I found driving in Aruba to be pretty easy and straightforward. There are lots of roundabouts, and sometimes people will turn out of roads right in front of you, so just drive defensively and don't go too fast. Overall it was fine and fairly stress-free. I also highly recommend downloading the Aruba map on maps.me offline maps. It's free, it worked great, and I never got lost with it.
Happy travels in Aruba! I hope this itinerary helps you to see a more adventurous side of the island and to fall in love with it as much as I did. It's the perfect place to unwind – just small enough to see a ton of it in just a few days, but just big enough to keep you wanting to come back to see more.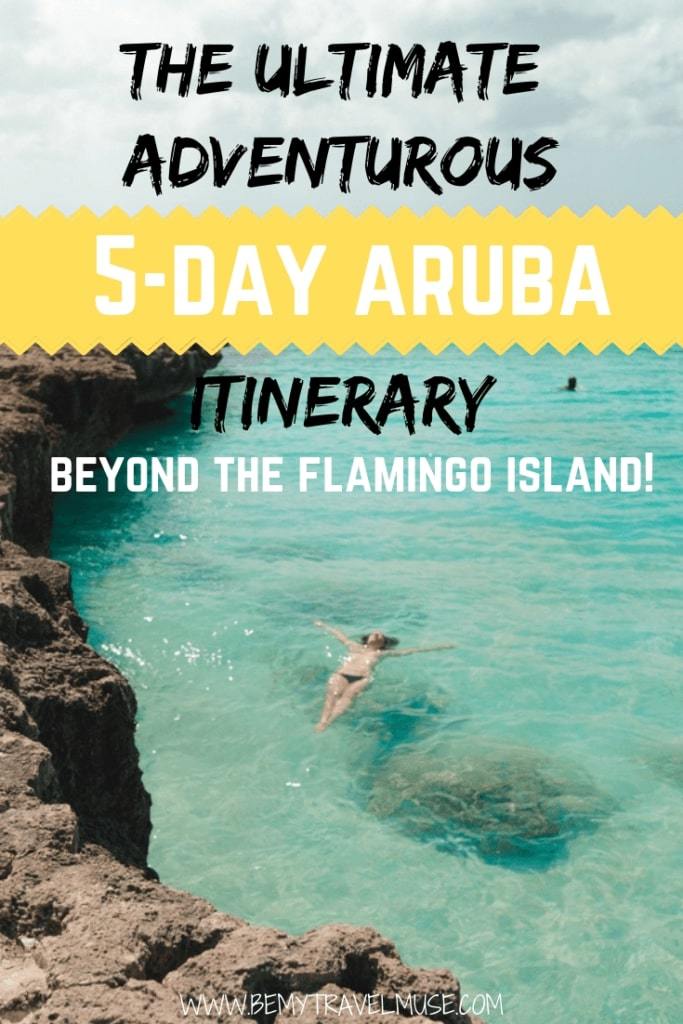 *This post was brought to you in collaboration with Aruba Tourism Authority, however this itinerary was entirely crafted and created by yours truly.