This guest post is by Haley, a Bali-based travel blogger.
If you're wondering about the best time to visit Bali, Indonesia, you've come to the right place.
This tropical paradise offers something for everyone, no matter the season. But knowing when to go can make all the difference between a sun-soaked holiday and a rain-drenched adventure.
As someone who lives in Bali year-round as a digital nomad, I've experienced every season this island has to offer. From the bustling beach clubs and ideal surfing conditions in the dry season to the serene rice terraces and rushing waterfalls in the rainy months, Bali never ceases to amaze.
So, whether you're a solo female traveler, planning a girls' trip, or looking for a romantic getaway, this guide is your ultimate resource. We'll dive into the best and worst months to visit Bali, the ideal times for various activities, and even break it down by destination.
Let's get started and find out the best time to go to Bali for you!
When is the Best Time to Visit Bali?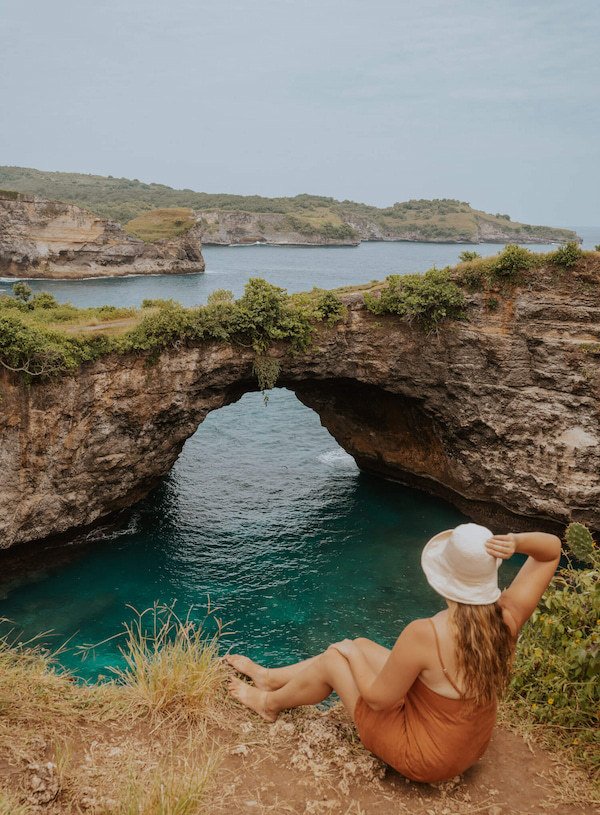 When is the best time to go to Bali? For the most consistently sunny weather and temperatures around 27-30°C (81-86°F), visit Bali between June and September. While the dry season technically runs from April to October, the shoulder months can bring a bit of variable weather, which may not be ideal for your first trip to the Island of Gods.
For the last two Septembers, I've experienced cloudy mornings with sunny afternoons beginning in the middle of the month with some rain starting towards the end of September. So keep this in mind when planning your Bali trip.
During these best months to visit Bali, I spend my time sipping coconuts watching the sun go down in Canggu's La Brisa, beach hopping in Uluwatu (my favourite is Bingin Beach!) and taking trips to the Gili and Nusa Islands since this is when the ferry crossing is the calmest.
If you are a surfer, like my husband, he loves the crystal clear waters and consistent waves that the dry season in Bali brings.
When is the Worst Time to Visit Bali?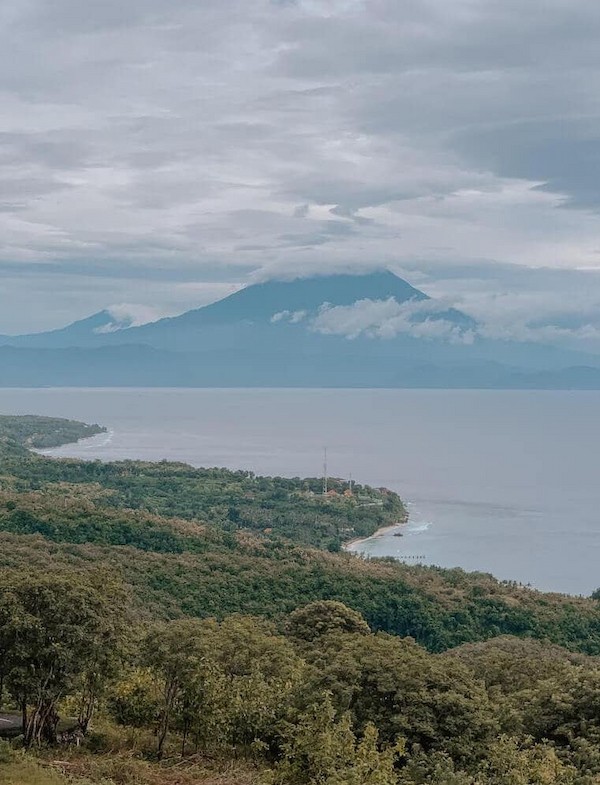 Now, I wouldn't say there's a "worst" time to visit Bali, but if you're not into rain and high humidity, you might want to steer clear of the rainy season, which runs from November to April. During these months, you can expect short but intense bursts of rain, usually in the late afternoon or evening.
I remember one December, I was caught in a downpour so intense it felt like the sky had opened up. I was in Ubud with the family and we had to stand in 6 inches of water under a makeshift roof to wait it out until we could hop on our scooters again.
But hey, the rain usually clears up quickly, and you'll find fewer tourists around, which can be a plus.
So, if you're planning your first trip and you want that idyllic Bali experience, maybe save it for the dry season. But if you're an off-the-beaten-path kind of traveler, the rainy season has its own unique charm. I thoroughly enjoyed my cozy Sidemen Valley hotel retreat in the wet season while watching the rain over the lush rice terraces. You win some, you lose some.
Dry Season in Bali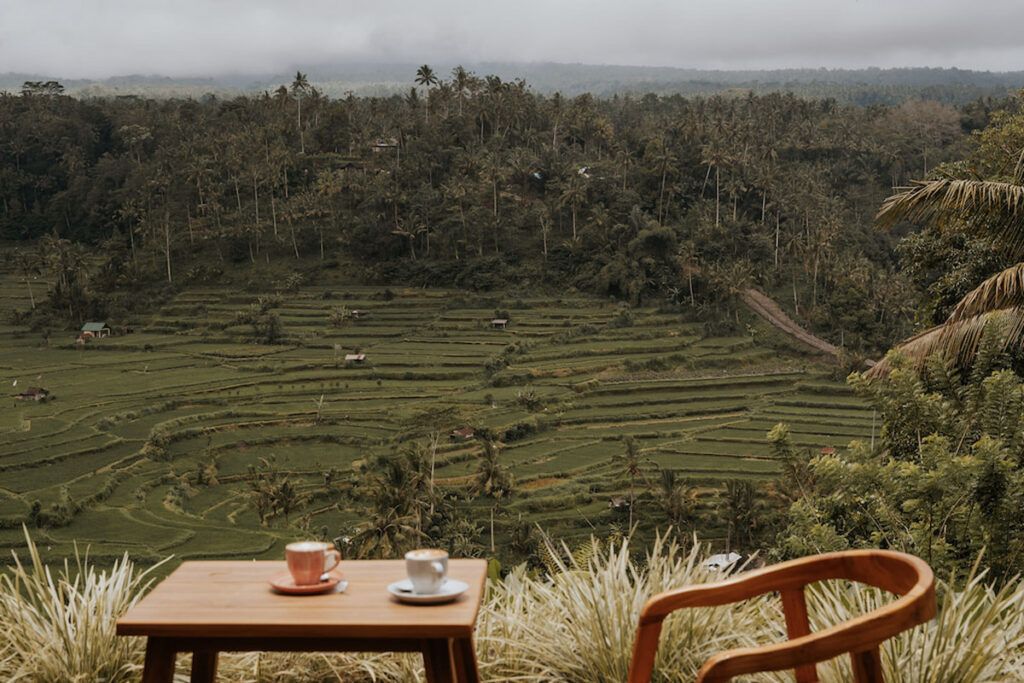 The dry season in Bali, running from May to October, is the island at its best—think clear skies, pleasant temperatures, and a whole lot of outdoor activities to enjoy, like surfing and scuba diving.
Whether you're into beach bumming along Bali's picturesque coastline, temple hopping in East Bali, or Canggu cafe crawling, this is the time to do it all.
This is also a great time to avoid soggy and muddy conditions in Ubud's rice terraces, but try to time your visit around when the terraces will be at its peak greenness (either March or October). Otherwise, it will be short stubby dried-out rice fields for you.
Bali Dry Season Months at a Glance
May: Average Temp 28°C. May kicks off the dry season with minimal rain and lots of sun. It's a great month to explore Bali's cultural sites like Tanah Lot without the crowds. This is also the best time to see Manta Rays off Nusa Penida.
June: Average Temp 27°C. Virtually no rain and sun all day make June ideal for beach activities, surfing and scuba diving. It's also the start of the high tourist season, so book accommodations in advance.
July: Average Temp 26°C. July is the sunniest month in Bali, perfect for outdoor adventures like hiking Mount Batur. However, it's also peak tourist season, so expect some crowds in major destinations like Seminyak, Canggu, Uluwatu and Ubud.
August: Average Temp 26°C. With minimal rain, August is great for surfing and other water sports. My husband loves the consistent easy to intermediate waves this month brings, especially in spots like Uluwatu.
September: Average Temp 27°C. September offers occasional rain but is still predominantly sunny. It's a good time to visit Bali for those looking to avoid the peak season crowds but still enjoy great weather. Try to visit in the first half of the month.
October: Average Temp 28°C. October sees some rain, but it's less crowded. If you're into diving, this is a good month for it, as the waters are still clear.
Best Things to Do in Bali During Dry Season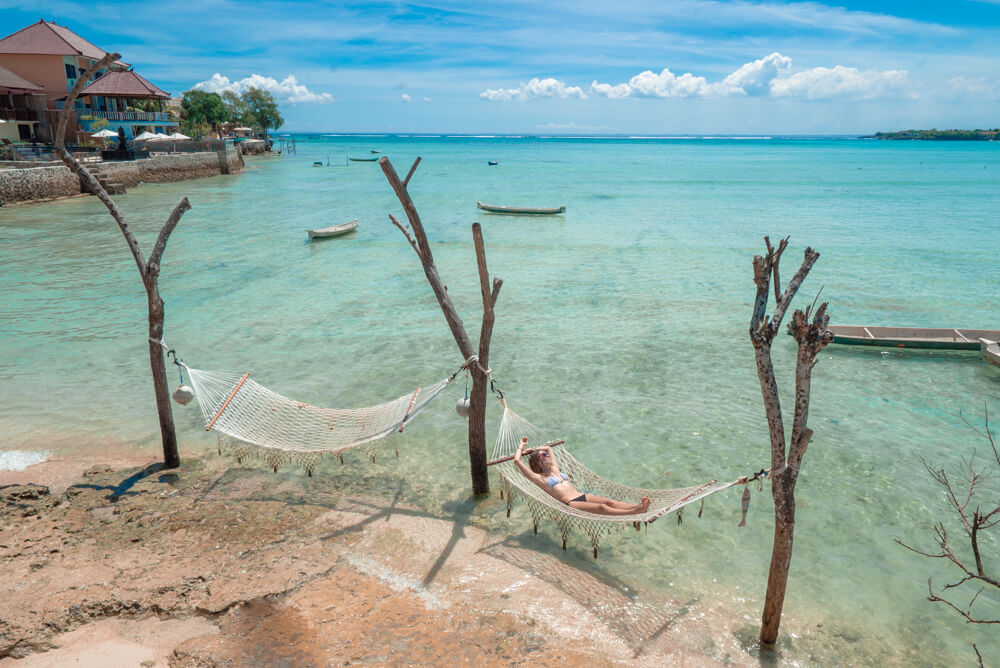 This is the time to live your best Bali life. Hit up the beach clubs in Seminyak, or take a day trip to the Nusa Islands.
I personally love spending my dry season days in Uluwatu, beach hopping and catching those epic sunsets.
Try one of these fun organized day tours during Bali's dry season:
My Experience during Dry Season in Bali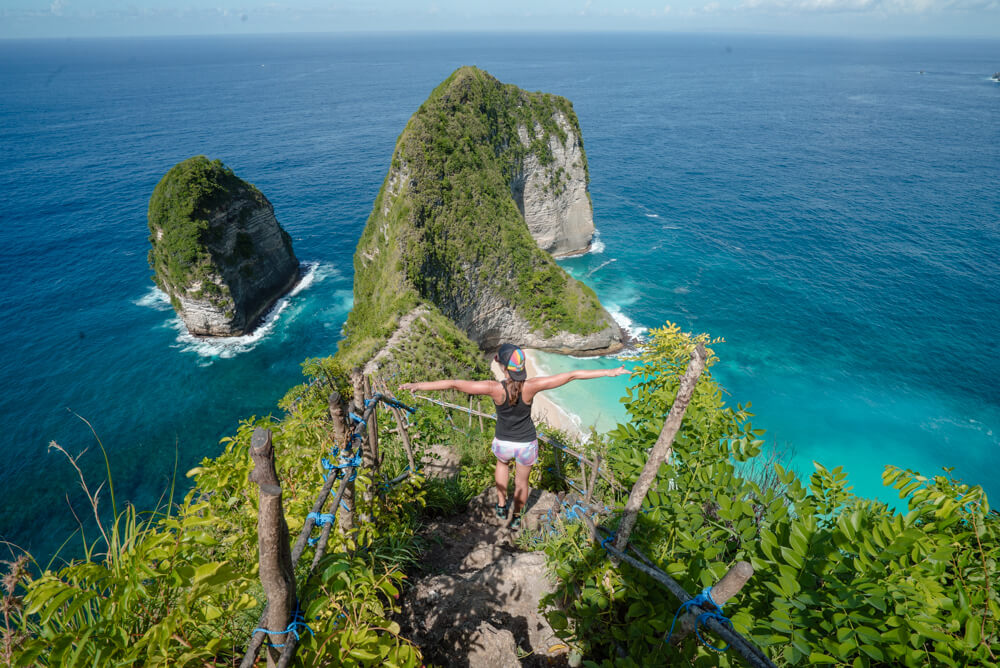 I've spent several dry seasons in Bali, and they all provide a consistently sunny experience. Of course, nothing is ever perfect and we have experienced a freak 5 days of solid rain in the middle of August one year, but this is pretty rare in the dry season.
Water conditions during the dry season are always more clear and pleasant, too.
I base myself in Canggu, so spending dry season cafe hopping and enjoying sunset walks along Canggu Beach are my everyday activities. But, for something special, I will head to Nusa Lembongan for a weekend relaxation on Jungutbatu Beach.
Or for something more adventurous, I'll rent a scooter and visit all the top attractions on Nusa Penida like Diamond Beach, Angel's Billabong and Kelingking (Dinosaur) Beach.
If you are particularly interested in spotting manta rays off the island, the best months to visit Bali are between April and May.
Pros & Cons of Visiting Bali in Dry Season
Pros:
1. Consistent Sunny Weather
2. Great for Outdoor Activities
3. Less Humidity
4. Vibrant Nightlife
5. Easier Travel Between Islands
Cons:
1. More Expensive
2. Crowded Tourist Spots
3. Limited Availability for Accommodations
4. Higher UV Index
5. Some Beaches May Be Overcrowded
Rainy Season in Bali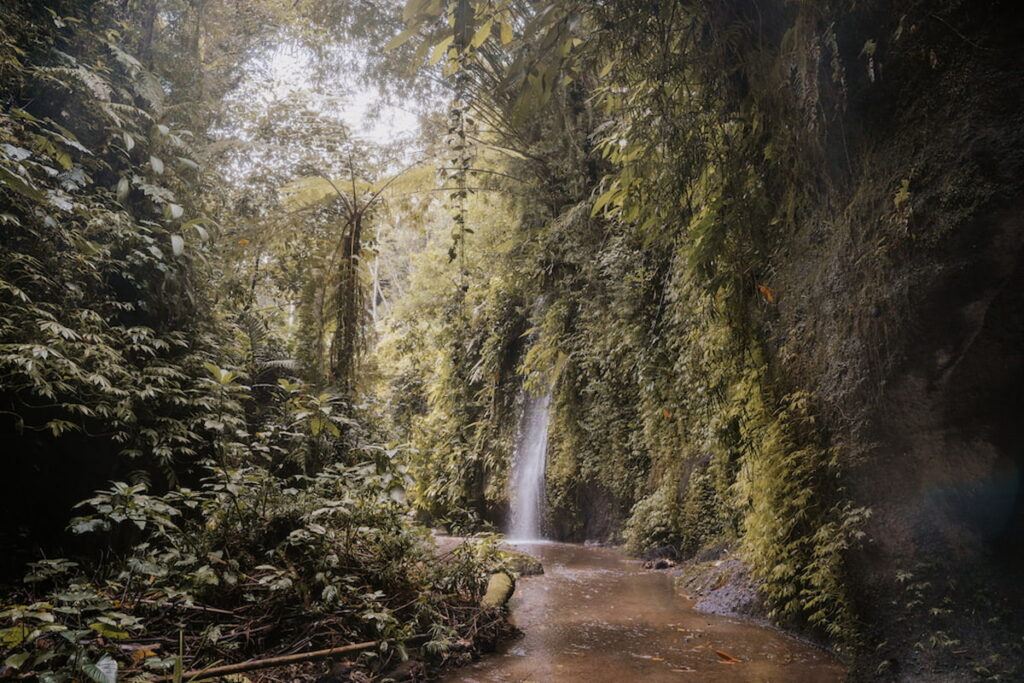 Rainy season in Bali spans from November to April. While you might encounter more rain and humidity, don't write off these months just yet. The island takes on a lush, almost mystical vibe, and you'll find fewer crowds at popular tourist spots.
This is when to visit Bali if you want a quintessential "Eat, Pray, Love" experience.
Bali Rainy Season Months at a Glance
November: Average Temp 32°C. November is the start of the rainy season, but the rain usually comes in short bursts, often at night with a clouds in the morning. It's a good month for indoor activities like spa visits and cooking classes.
November is also the hottest month in Bali with high humidity.
December: Average Temp 31°C. December sees more consistent rain, usually in the late afternoon or evening. I've found that mornings are often clear, making it a good time for early excursions like visiting the waterfalls around Ubud (watch out for muddy conditions).
December is also the high season due to Christmas holidays, so expect a peak in hotel prices around this time.
January: Average Temp 31°C. January is one of the wettest months with the heaviest rain, but don't let that deter you. The island is lush and green, and the rice terraces in Ubud are at their peak.
February: Average Temp 31°C. Similar to January, expect frequent rain. However, it's a great month for river rafting, as the water levels are high.
March: Average Temp 28°C. March sees a decrease in rain but still has its wet days. It's a transitional month, so you'll get a mix of both dry and wet days. Combined with February, March is one of the cheapest times to visit Bali.
April: Average Temp 28°C. April is the tail end of the rainy season, with fewer rainy days and more sun. It's a good month for water activities as the sea conditions start to improve. This is also a great month to go to Bali if you want to visit the waterfalls.
Best Things to Do in Bali During Rainy Season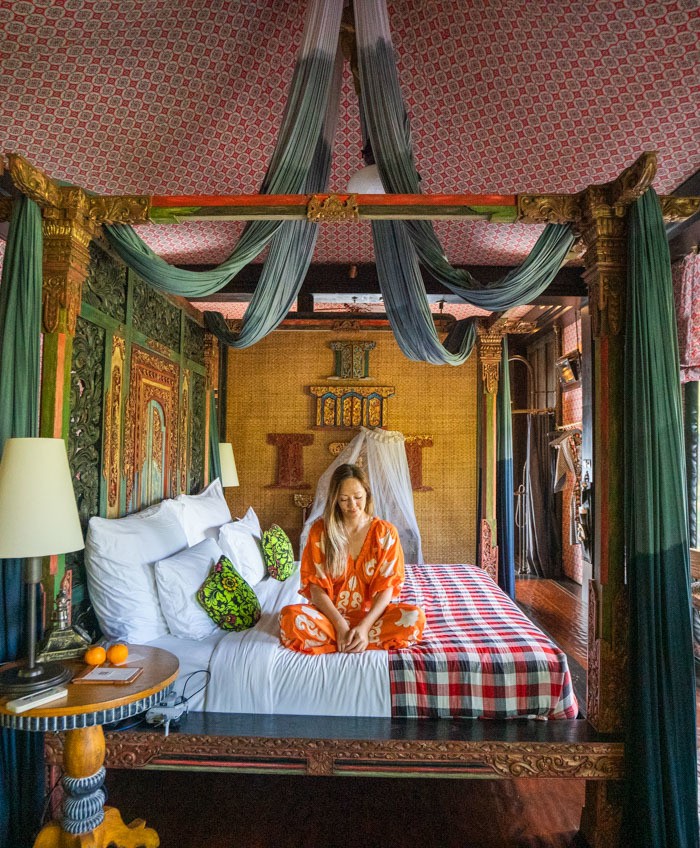 Rainy season is the perfect time for indoor activities and exploring Bali's lush landscapes. Think yoga retreats in Ubud, museum visits in Denpasar, or even taking a Balinese cooking class.
I love hitting up the local markets during this time since fewer crowds mean a more authentic experience.
Ideal Bali Wet Season Activities:
My Experience during Rainy Season in Bali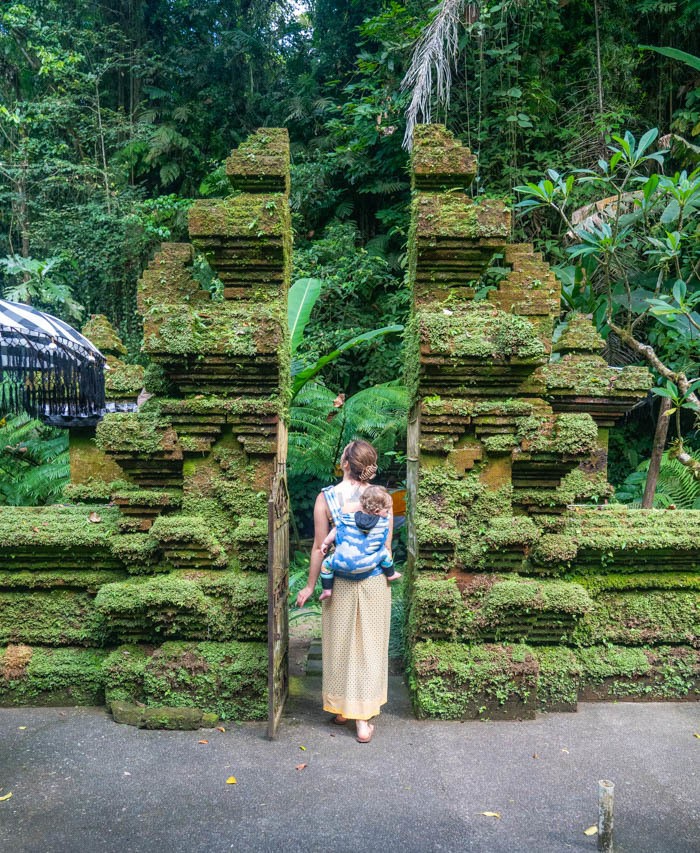 I've spent a few rainy seasons in Bali, and it's a different kind of magic. Because of fewer crowds (except around Christmas), the island breathes out a sigh and becomes a more relaxed, lush oasis.
Yes, you will undoubtedly need a rain poncho and weather proof clothing and footwear during this time since rain can be expected every day. From experience, you can expect rain for a couple hours every afternoon with a mix of sun and cloud for the remainder of the day.
Keep in mind that weather moves very quickly here, so it can be sunny one minute and absolutely downpouring the next. Always keep your rain poncho on you.
My favorite destination during the wet season in Bali is Sidemen Valley and the entire East Bali region. Perfect for spa days and sipping on a tea overlooking the lush rice terraces.
On the down side, this is when you will start to see garbage in the water and on the beaches, especially in south Bali, which can take away from that island paradise feel.
Pros & Cons of Visiting Bali in Rainy Season
Pros:
1. Fewer Crowds
2. Lower Prices
3. Lush Scenery
4. Great for Indoor Activities
5. Authentic Local Experience
Cons:
1. Unpredictable Weather
2. Limited Outdoor Activities
3. High Humidity
4. Muddy Conditions in Some Areas
5. Sea Conditions Not Ideal for Water Sports
Bali at Christmas
So, is Bali good at Christmas? That's a hard question for me to answer. Coming from a magical white snowy Christmas in my home country of Canada, Bali just provides something completely different at this time of year.
For those wanting to escape to a sunny destination, Bali is a great spot. Do expect higher tourist crowds and peak hotel prices during this time, though. Christmas activities are pretty minimal on the island during this time, with a few small christmas trees and decorations adorning cafes and some fireworks on New Years Eve.
How hot is Bali at Christmas? Well, you can expect high humidity, with average daily temperatures of 31°C.
Best Time to Visit Bali by Destination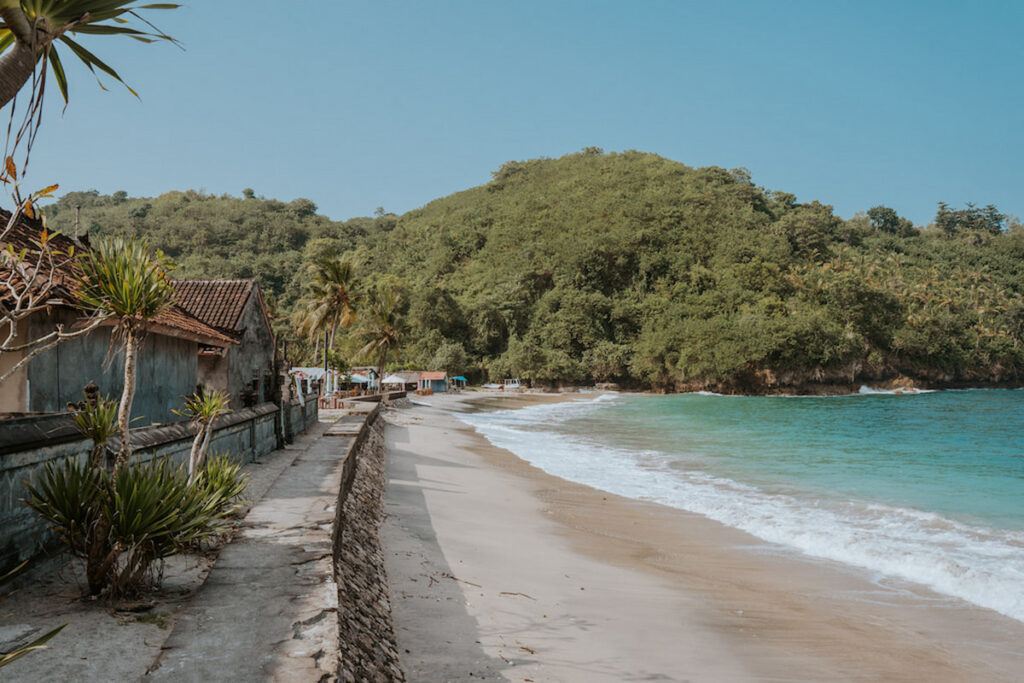 Bali is more than just a single experience; each destination on the island offers something unique. Here's a breakdown of the best times to visit some of the most popular spots.
Best Time to Visit Ubud
Ubud is the cultural heart of Bali, known for its lush rice terraces, yoga retreats and spiritual vibes. The best time to visit is during the dry season, especially if you're keen on outdoor activities like hiking to waterfalls and visiting temples.
For the greenest rice fields, visit Ubud between March and April at the tailend of Bali's rainy season.
Best Time to Visit Uluwatu
Uluwatu is all about the beaches and the cliffside temples.
Dry season is prime time here, especially if you're into surfing, with Uluwatu Beach and Padang Padang Beach being the epicenter of activity.
But even if you're not a surfer, the weather from June to September is ideal for beach visits for crystal clear conditions.
Best Time to Visit Canggu & Seminyak
Canggu and Seminyak are the go-to spots for beach clubs, trendy cafes, and vibrant nightlife. Dry season, particularly from June to September, is when these areas are at their liveliest. You can even dance on the beach into the wee hours of the morning at Sand Bar in Canggu.
I love spending the sunset hours sipping a coconut at La Brisa in Canggu during these months or enjoying a beach walk.
Best Time to Visit the Nusa Penida & Nusa Lembongan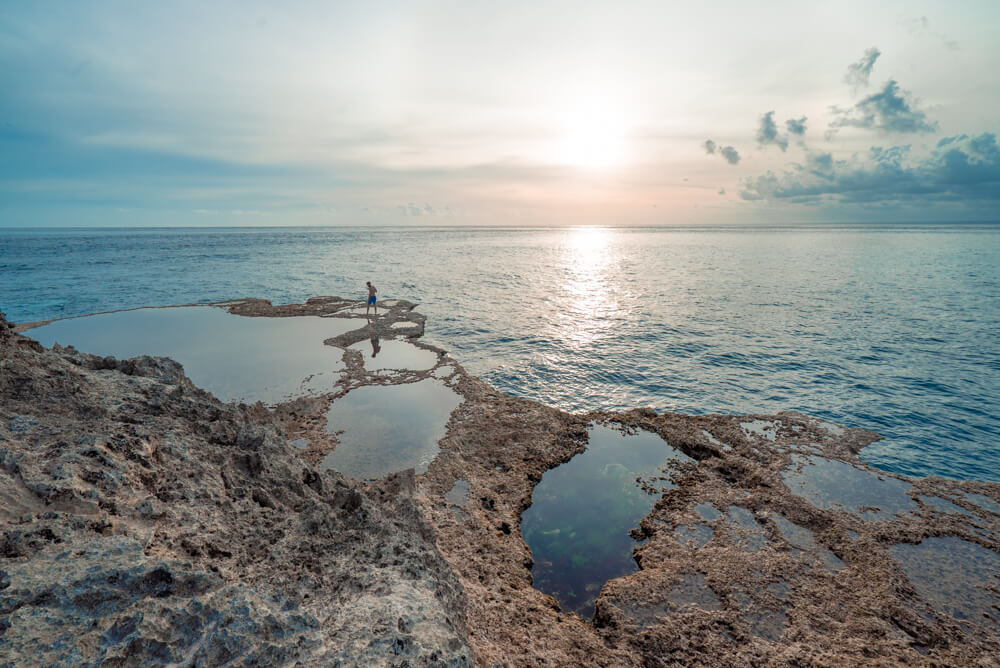 These smaller islands off the coast of Bali are best visited during the dry season. The sea conditions are calmer, making it a more pleasant crossing from Bali's mainland to Nusa Penida and to hop between islands.
I particularly love dry season (May-October) on the Nusa Islands for snorkelling in clear conditions and swimming with the manta rays.
Final Thoughts on the Best Time to Go to Bali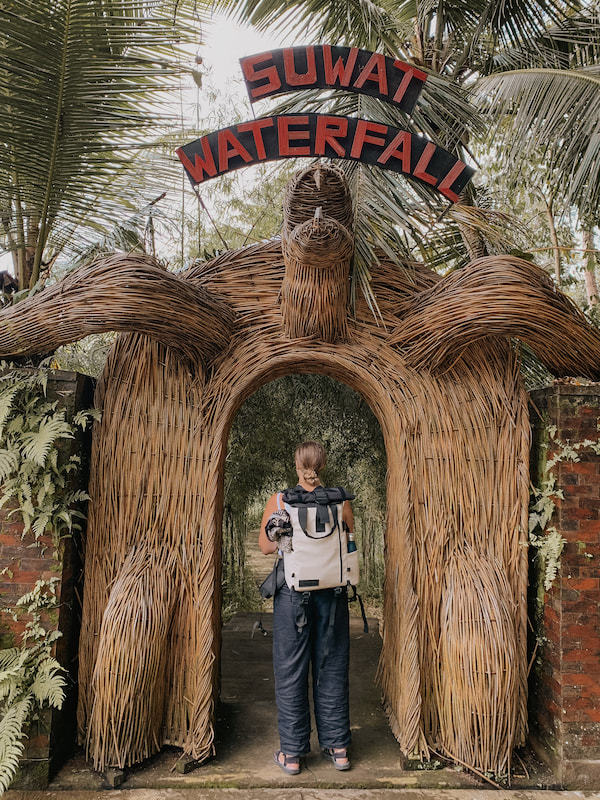 So, when is the best time to visit Bali, Indonesia? The answer really depends on what you're looking for. If it's sunny beaches, vibrant nightlife, and outdoor adventures, then the dry season from May to October is your best bet.
But if you're into lush landscapes, fewer crowds, and a more laid-back vibe, the rainy season has its own unique charm.
In my years of living here, I've found that each season offers something special. Whether it's beach hopping in Uluwatu during the dry months or enjoying the serene rice terraces in Ubud during the rainy season, Bali never disappoints.
Pack your bags and come find out for yourself. No matter when you decide to visit, Bali is always a good idea.
About the author: Haley is the founder of the global travel blog, Haley Blackall Travel. While based in Bali, she has travelled to 40+ countries across 5 continents. She loves to share in-depth travel guides and recommendations to help travellers get the most out of their vacation time, including her favourite boutique hotels, things to do and travel itineraries.