When I googled Kyrgysztan I couldn't believe the photos I saw.
That looks like Patagonia, I thought to myself. I had to go and check it out for myself.
After some discussion with a guide and fellow trekking enthusiast, I chose a trail that starts off remote, then leads to one of the region's most famous (and beautiful) lakes, and back out through a national park. It's the 8-day trek that was titled Tyrgen-Ak-Suu-Arashan-Alakyl-Karakol-Telety-Jeti-Oguz on the itinerary (that's a mouth full).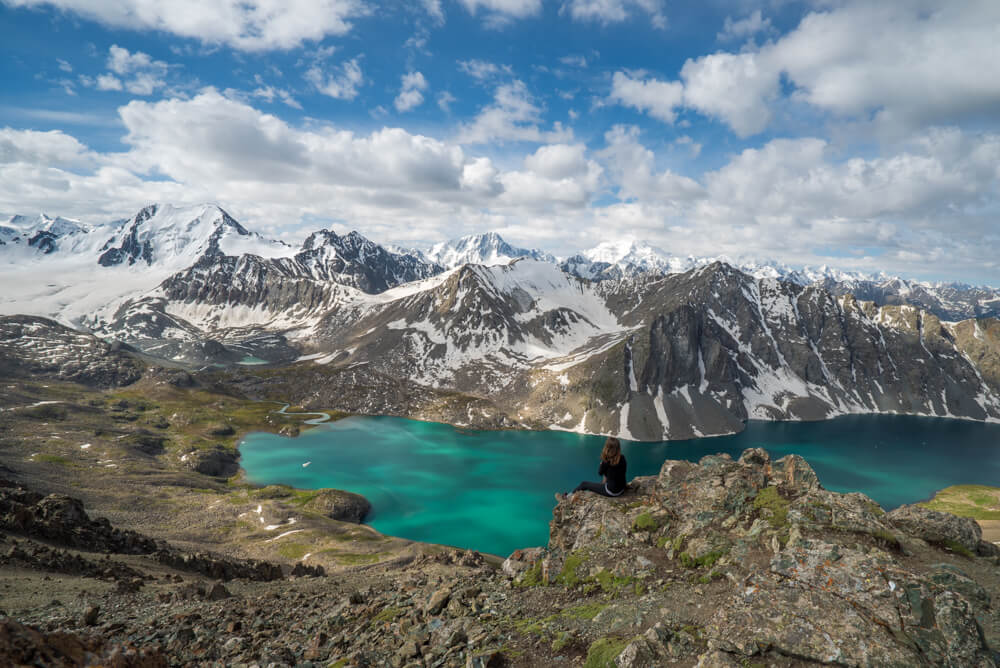 This particular trek begins and ends in Karakol, which is about 5 hours away from the capitol of Bishkek by car.
We hiked 130 km (81 miles) through the Tian Shan Mountain range, over six passes totaling an elevation gain of about 7,500 meters (about 25,000 feet) up and down, with a few relentlessly steep slopes. Some days are a physical challenge and others are shorter and flatter, but all are stunning.
It's a varied trek, passing through green valley after green valley, with rivers, lakes, sometimes snow, and an ever-present blanket of wild flowers. I would absolutely recommend it.
Here's the itinerary:
Day one: Turgen-Aksu valley and Bozuchuk pass – 12 km (Sleeping elevation: 2950m)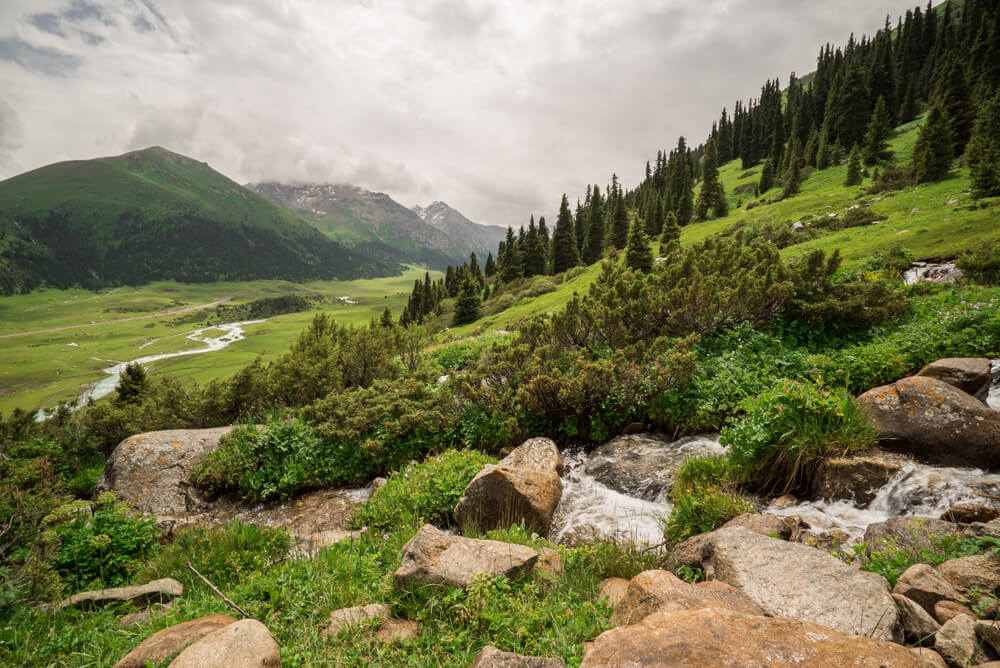 It was a small group of my guide, Bahram, a porter, Roma, and I on this trek. Things got off to an interesting start when our first bridge was totally covered in water. The river was too powerful to ford so we did what any Oregon Trail enthusiast would do: hire a local to help us across.
You can watch that plus some awesome drone footage here:
First he took the bags and then us, one by one. The water lapping at my knees, I kissed my dry feet goodbye and embraced the adventure ahead.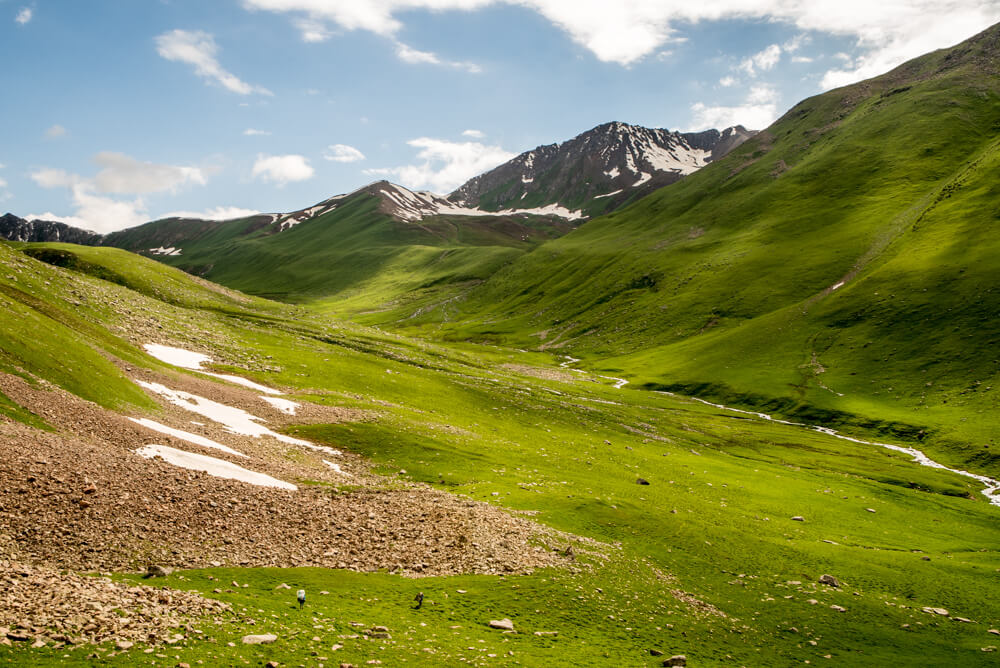 The first day was pretty easy, hiking from one valley over a mountain to the next where we camped for the night.
I didn't get much sleep that night. I blame this dazzling night sky.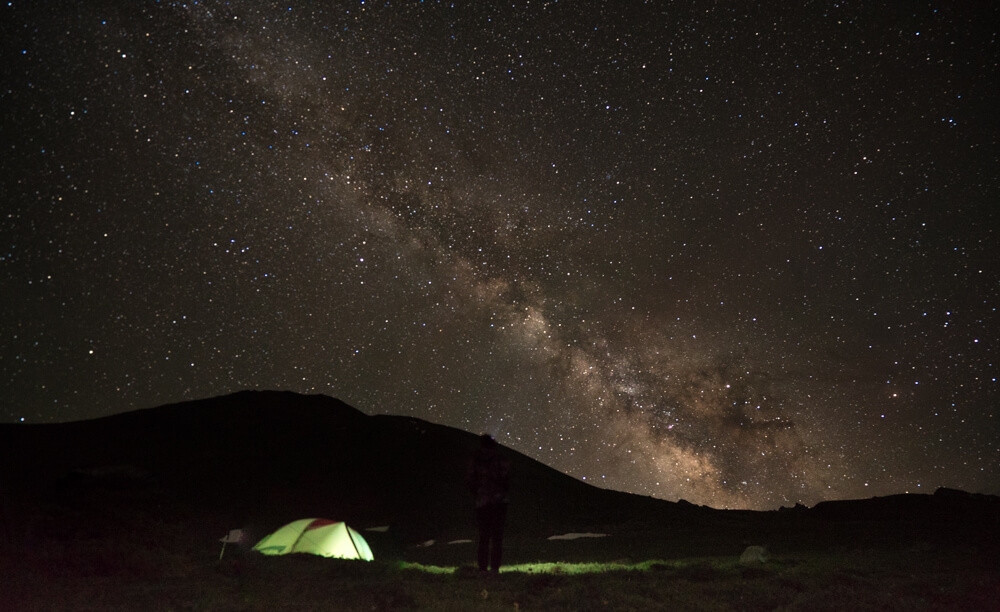 Day two: Summit two passes, finishing with Ailanysh pass descending into Almalu Valley – 16 km (Sleeping elevation 2650m)
Day two was, admittedly, a tough one. It began with a 1300 meter climb over the first summit, which was unfortunately so clouded in that there was no reward, no view, for the work. I could tell through the sporadic breaks in the fog that it would be amazing if we could see, though.
Next it was a steep descent into the valley where we had to cross the river in one point up to my shins. I had to think happy thoughts to stay positive and warm, but then just before the next summit this showed up you guys: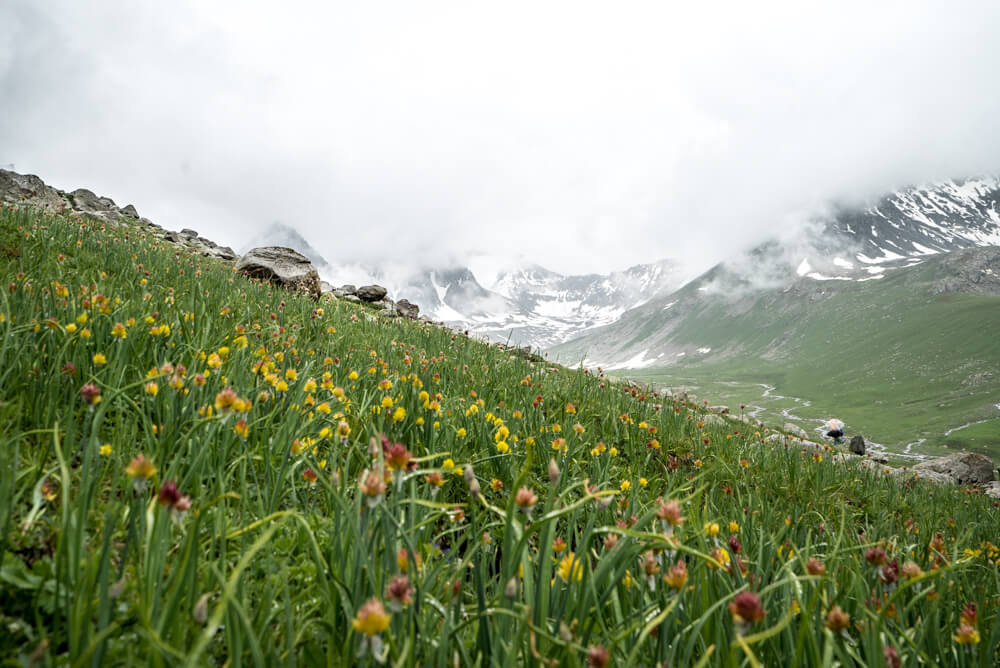 And then this: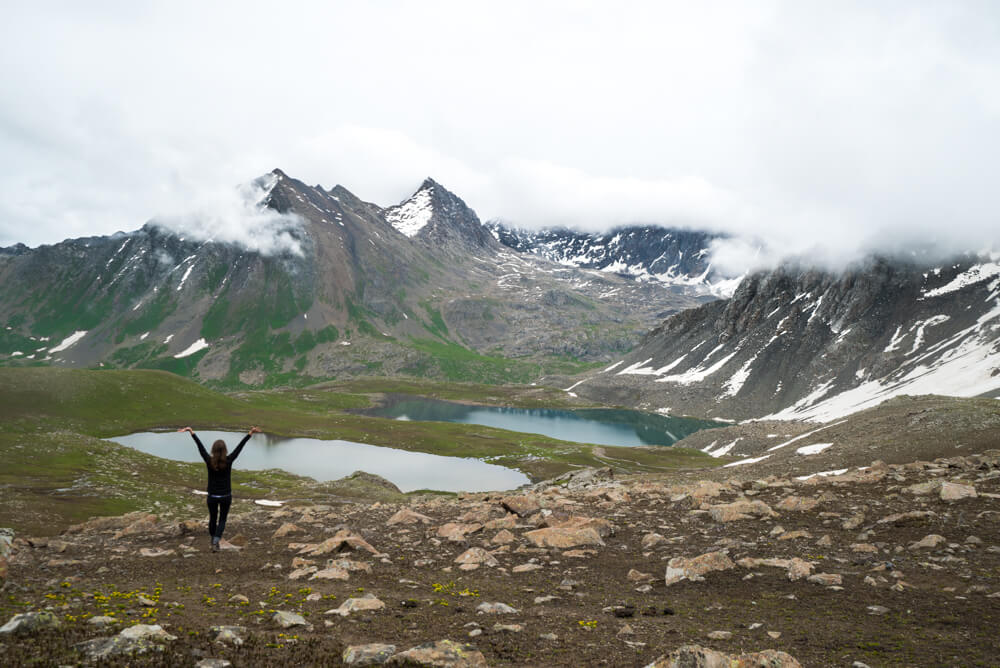 Perfection in every direction!
Additionally, we didn't see another person all day. Not even a local on horseback. Nada.
I love it when that happens.
Day three: Summit Almalu pass (3650m) and descend to Altyn-Arashan hot springs -14km (Sleeping elevation: 2500m)
After a rainy night I woke up to see that the mountaintops had been dusted with snow. On June 29.
Still, what a beautiful sight!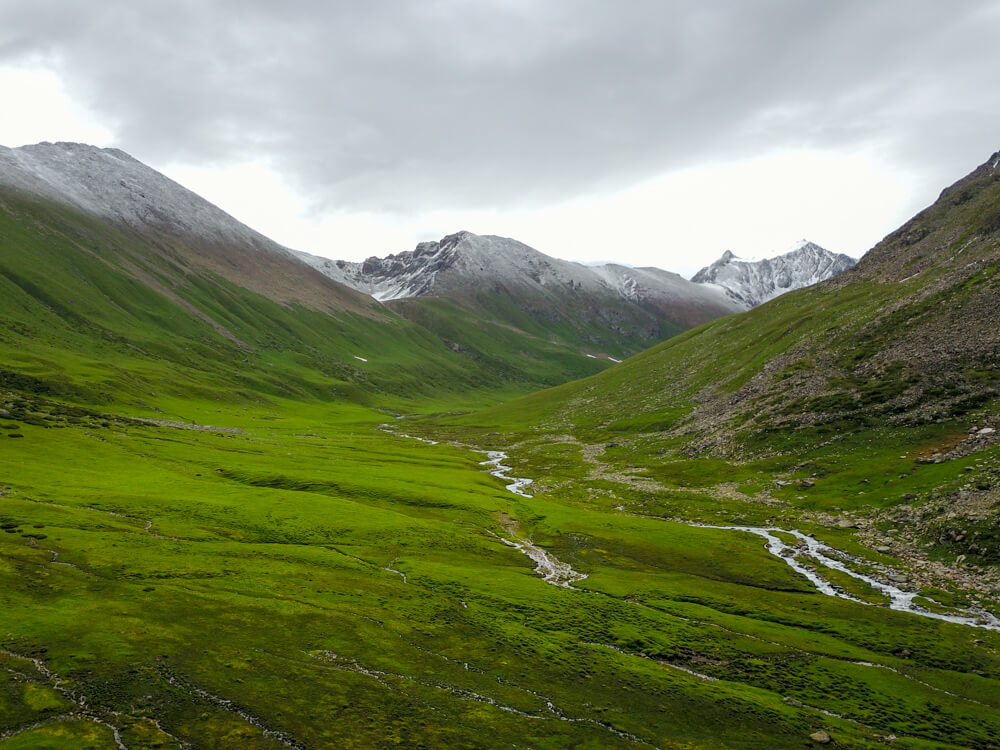 This was a tough ascent. First we made our way down about 500 meters to an idyllic valley with horses grazing and little waterfalls from the snowmelt in the distance. I saw Bahram cross a bridge and start up a mountain slope.
Please let's not be climbing THIS mountain, I thought to myself.
But we were. Oh god, we were.
It was steep the entire way. My foot bent at a 45 degree angle to match the slope, we climbed for hours. I false peaked over and over until we finally reached the top, about 1700 meters later.
'This is medium difficulty, Kristin' Bahram chided with 50 kilos strapped to his back.
"What's high difficulty then?" I wondered.
"Climbing, sleeping on, and doing 11 days on a glacier" he replied. Fair enough.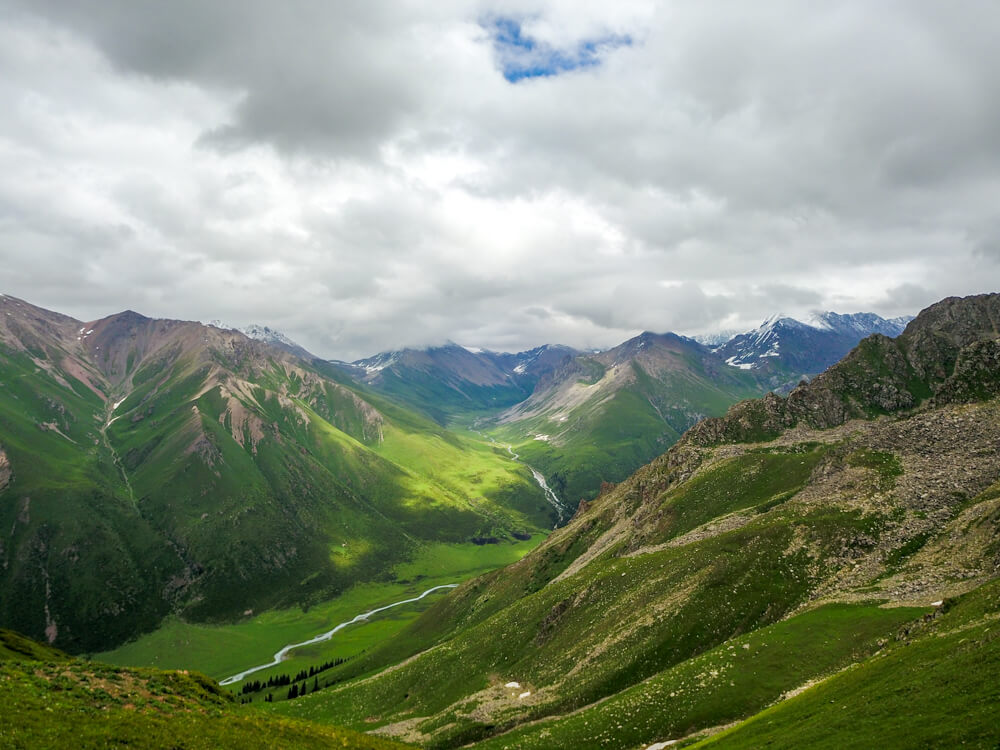 Once we did finally reach the top, climbing the last bit through snow, again I was in awe of the panorama surrounding me.
It's that sense of accommodation and the endorphin rush we hikers love, isn't it? Well that, and the chiseled calf muscles.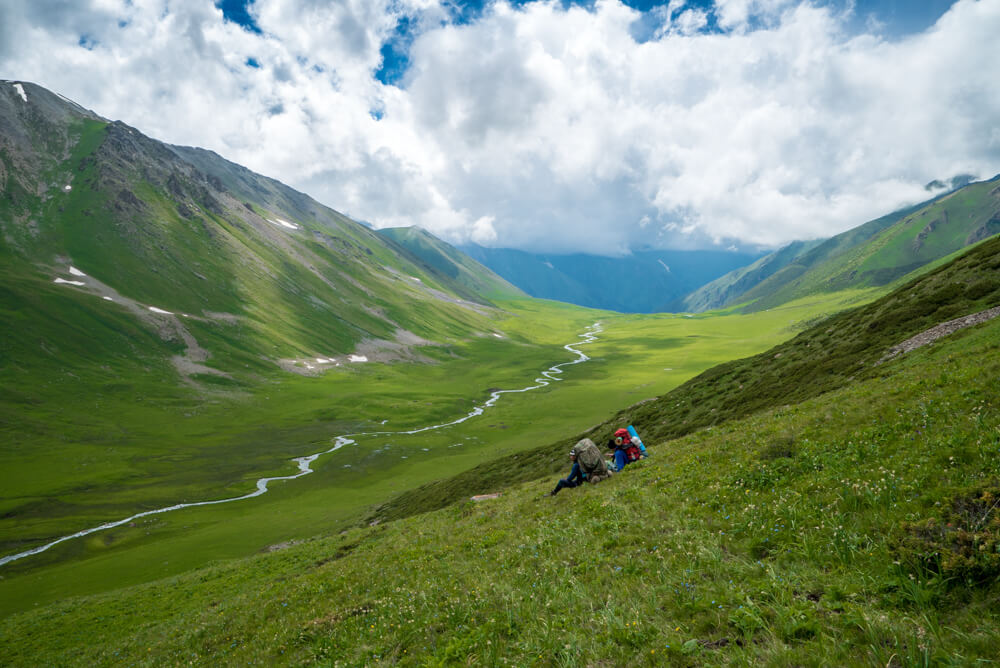 The day finished at a hot spring, in a more developed little camp with a few other tourists around. It would be the first time we'd camp near anyone else. It would also be a warm and toasty night thanks to the hot springs, my one and only bath all week.
Day 4: Hike to the baseline of Ala-Kul pass (3860m) – 14km (Sleeping elevation: 3300m)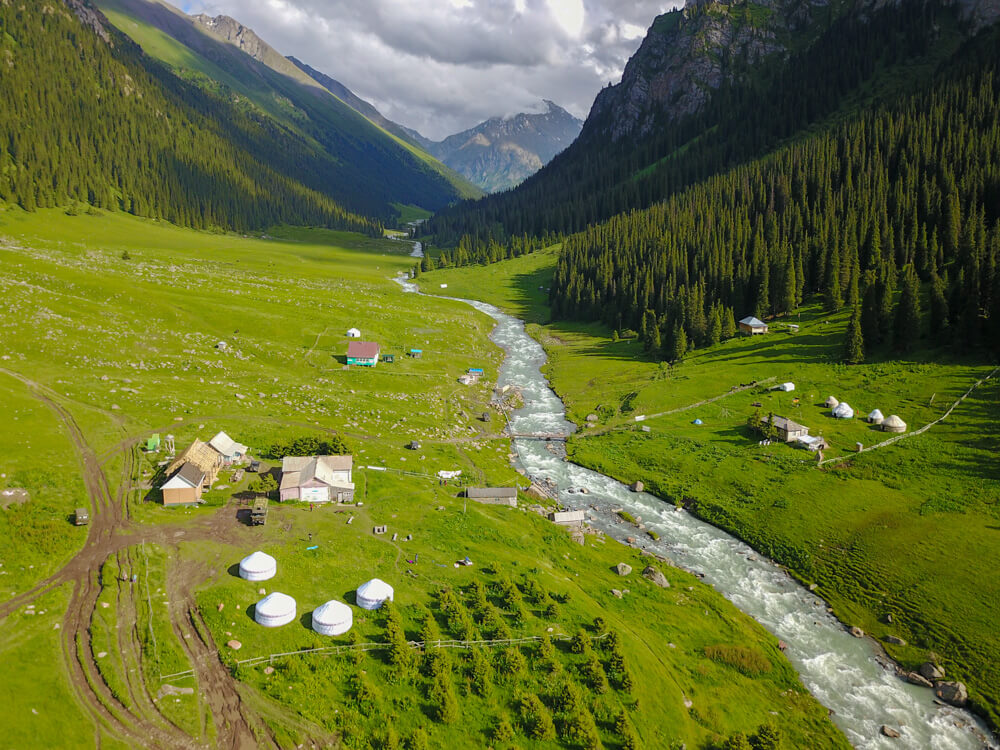 Day four brought a bit of welcome relief with a more gradual climb up from the camp. For the first day we did just 4 hours of hiking, with no passes, and no downhills.
It was also the first time I saw a real trail, and other hikers on it. It made me miss the tranquility and backcountry feel of the first few days, though on the other hand, I had plenty of conversations on the way which I always love.
We camped at the base of the pass leading to Alakol Lake, the fixture that makes this trek popular. We were the only ones to camp at the base of the summit rather than going down to the lake, but we'd had such an intense few days we took it a little easier. The glacier views from camp didn't hurt, either.
Day 5: Summit Ala-Kul pass (3860m) and descend to Sirota campsite -15km (Sleeping elevation: 2700m)
This was the day I'd see a view that almost brought me to my knees crying in awe.
We had to earn it, though.
The hour-long climb to the pass was steeper than anything I've hiked before, requiring scrambling hand and foot in the rock and snow, sometimes sliding backwards.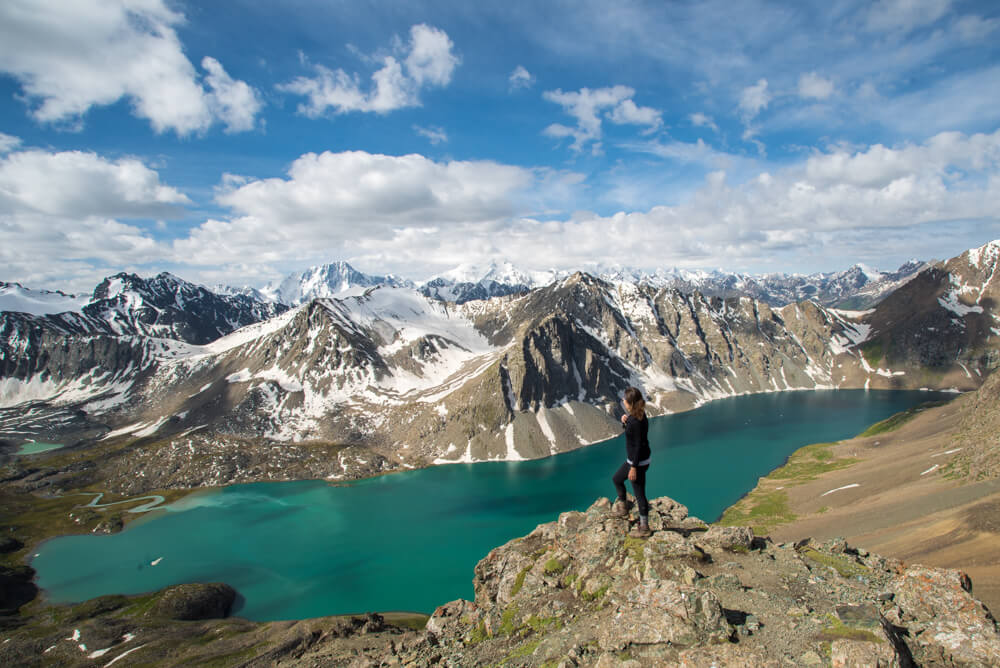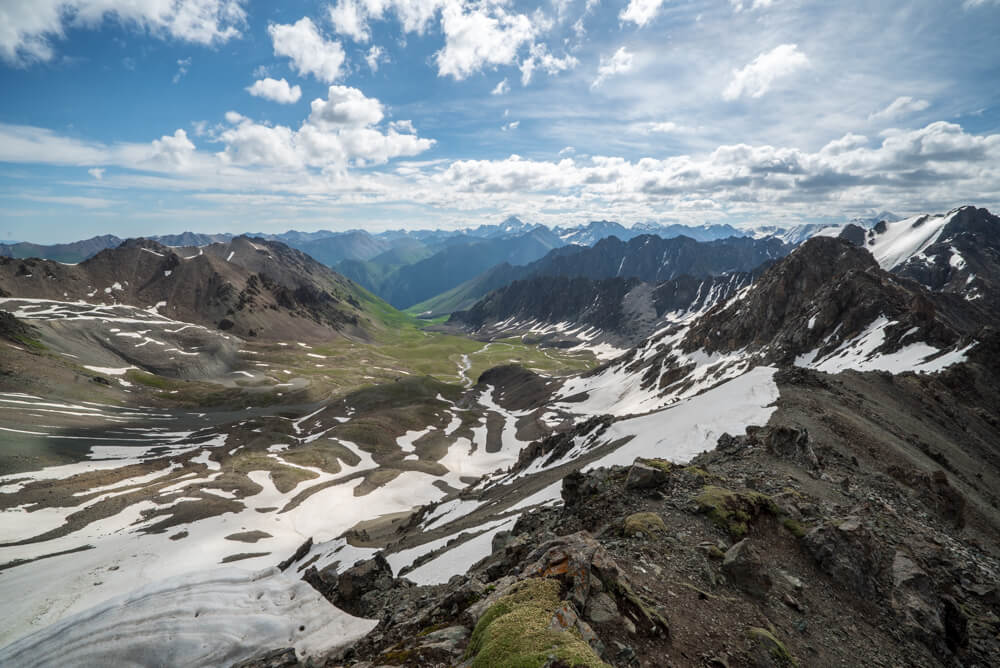 It made what we reached the top even sweeter. It was a triple threat of glaciers, layers of mountains the color of dark chocolate, and a glowing blue lake.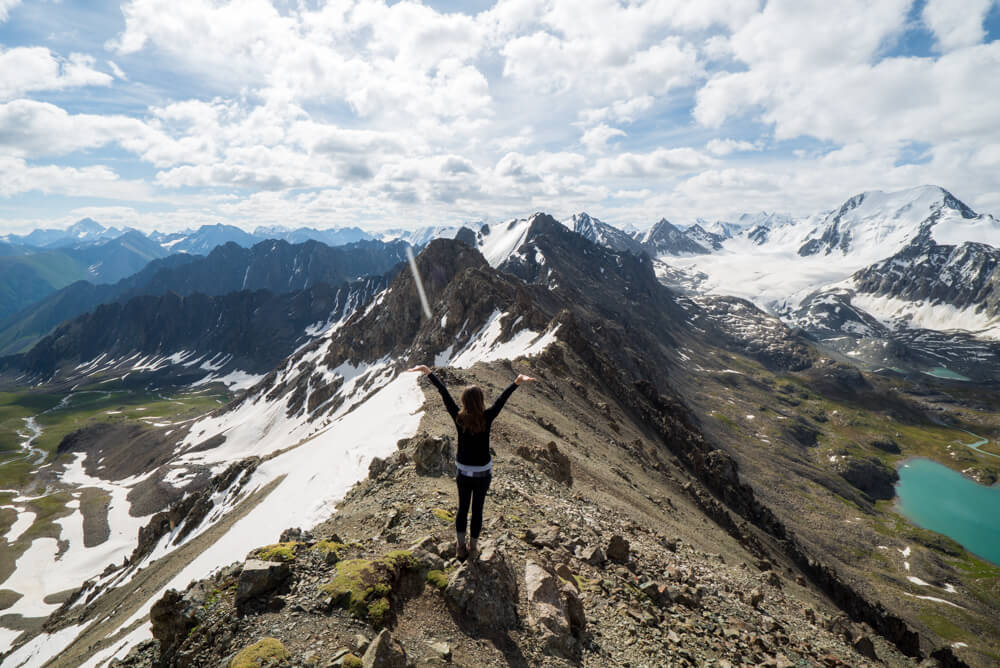 The climb down was a rocky and steep one, with a waterfall partway down.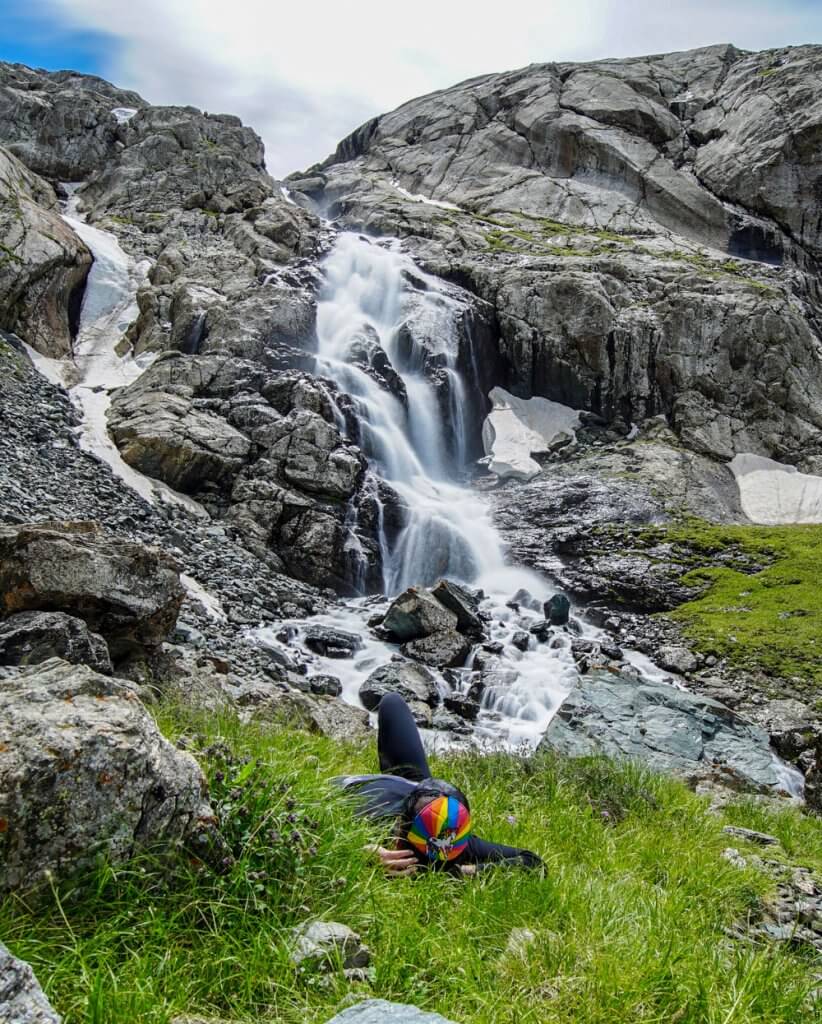 Your day can end in the forest camp, and while at first I wondered why we ended the day so early, once I sat at the (month-old at the time of this writing) bar and chatted with the guys working there I realized it would be a social evening. I highly suggest camping there or at least ordering a beer and hanging out before moving on. The vibe is on point.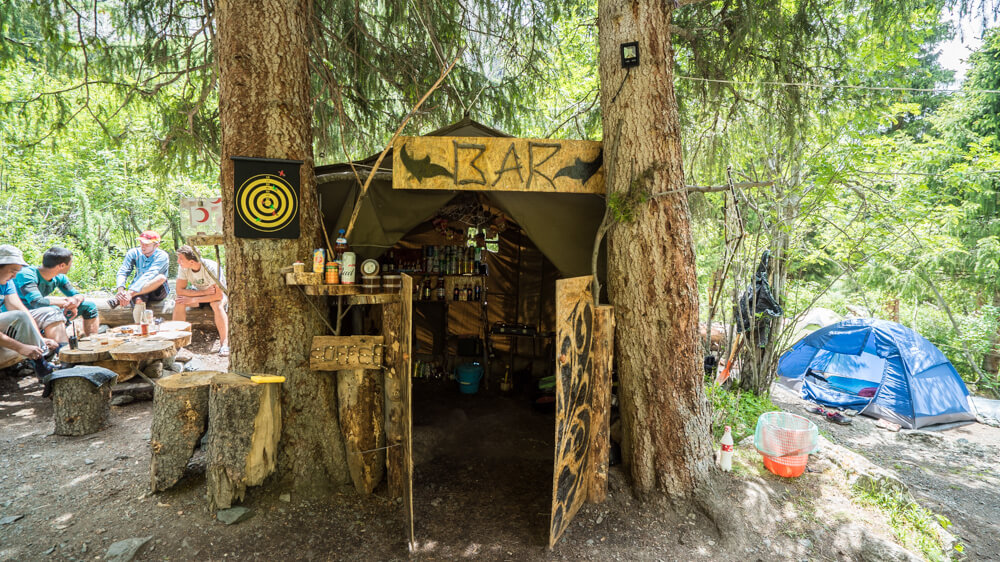 Day six: Hike through Karakol valley to Telity – 6km (Sleeping elevation: 2450m).
This was mostly an easy day, beginning with a walk through the forest blanketed with wildflowers in every color imaginable. Then it flattened out for a few kilometers before turning steep again for about an hour and a half after leaving Karakol national park.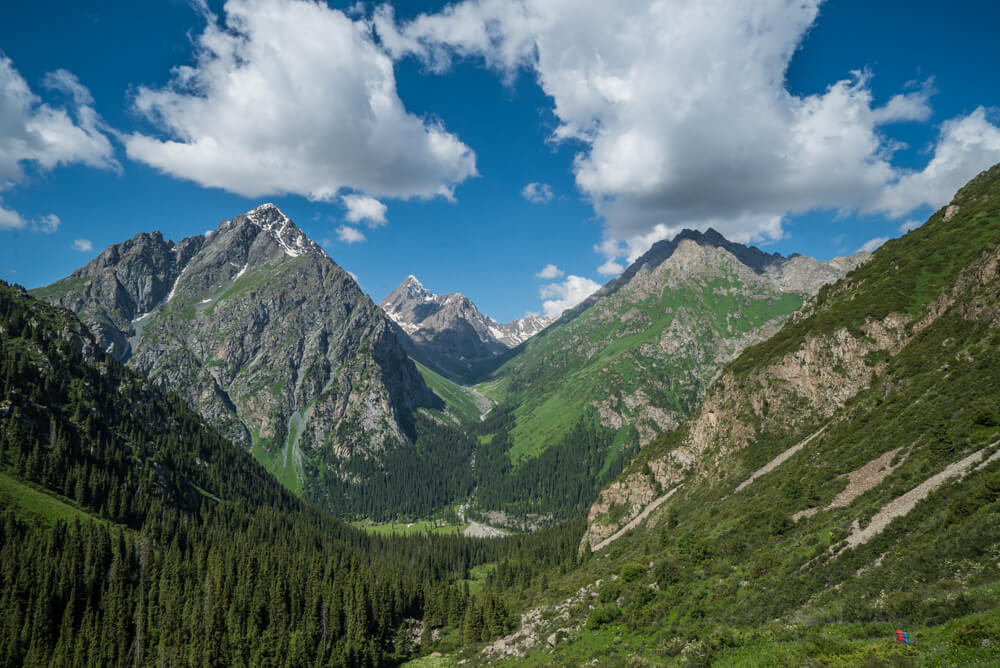 This was the first hot day of the trek, so it was nice to take it easy, especially after the particularly steep up and down the day before.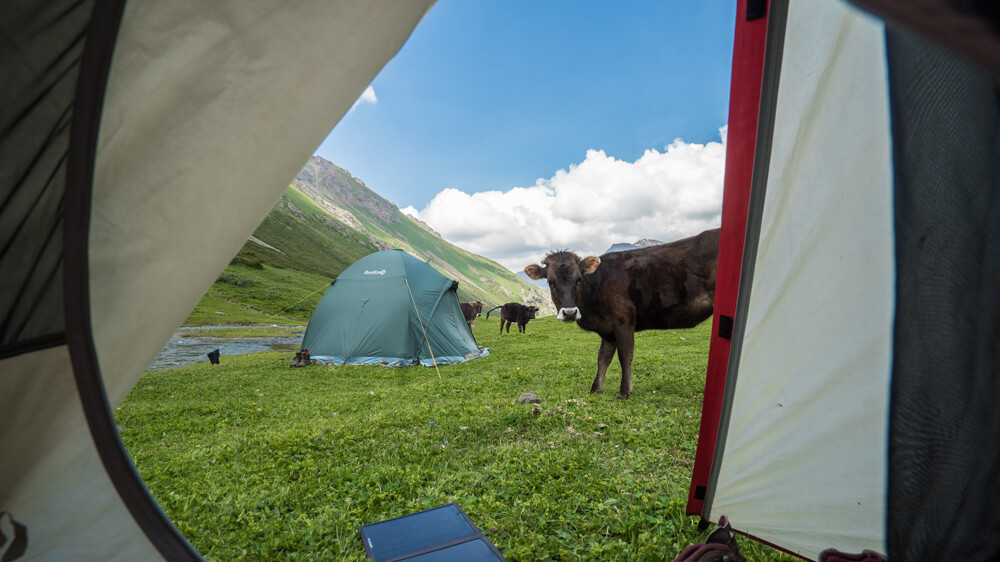 I have to laugh as I write this to you, laying in the tent while a cow breathes heavily and sniffs around my tent. They keep licking the outside of the tent and tripping over the stakes.
This could be your life too while trekking in Kyrgyzstan. I'll never see cows the same way again.
Day Seven: Summit Telity pass (3820m) and descend to Telity valley – 16km (Sleeping elevation: 2900m)
Day seven was a snowy one, beginning with a barefoot walk through a frigid river. I bid the cows goodbye and made my way for the top. Partway up, Bahram started putting covers on the bottom of his pants for snow. Foreshadowing.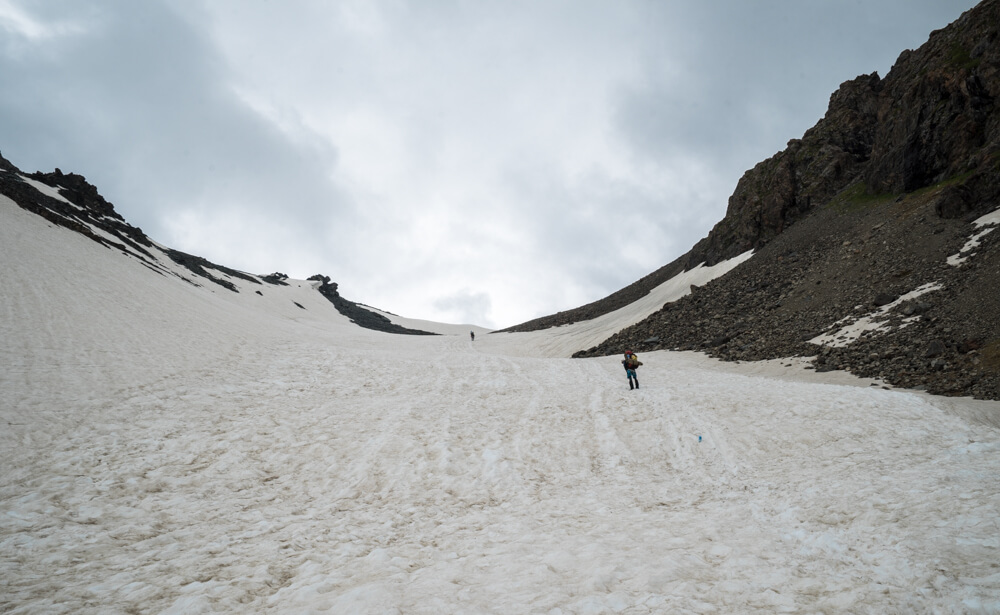 There had been snow on the trail previously, but not as much as there was on this, the final pass.
It was cold, but I also found it to be fun. I love snow.
The descent down viscerally reminded me of Switzerland. It was somewhat steep but doable, and gorgeous.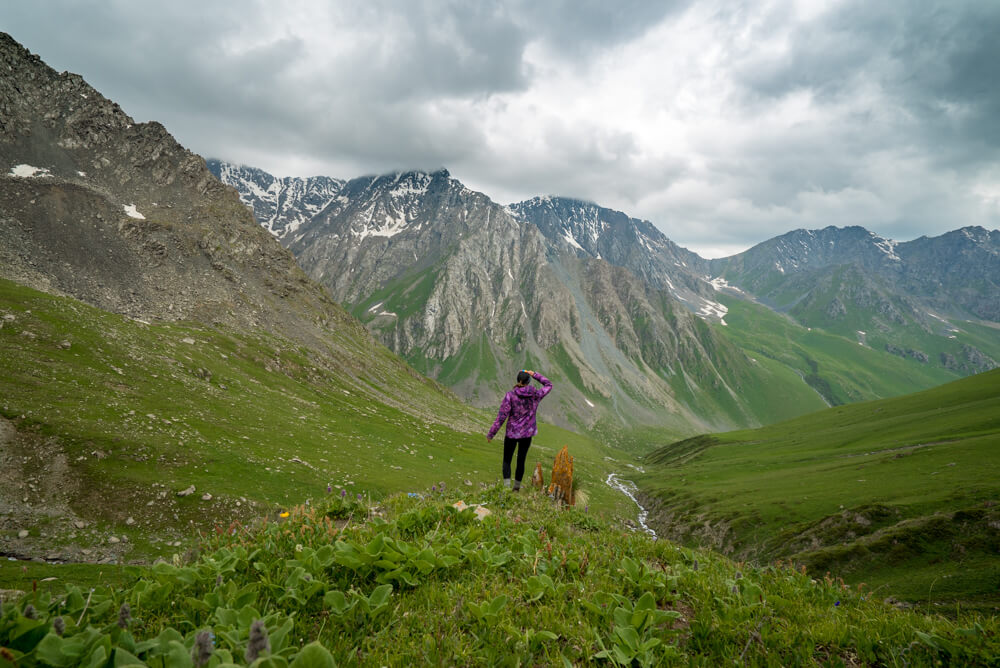 That night would be the last, in a lovely valley with a view of a glacier and beautiful flowers.
Day Eight: Hike to Jeti-Oguz valley and out to the road – 15km
The final day of the trek was almost completely flat, which was so very nice after the previous steep days.
It felt long but it was through a lovely valley.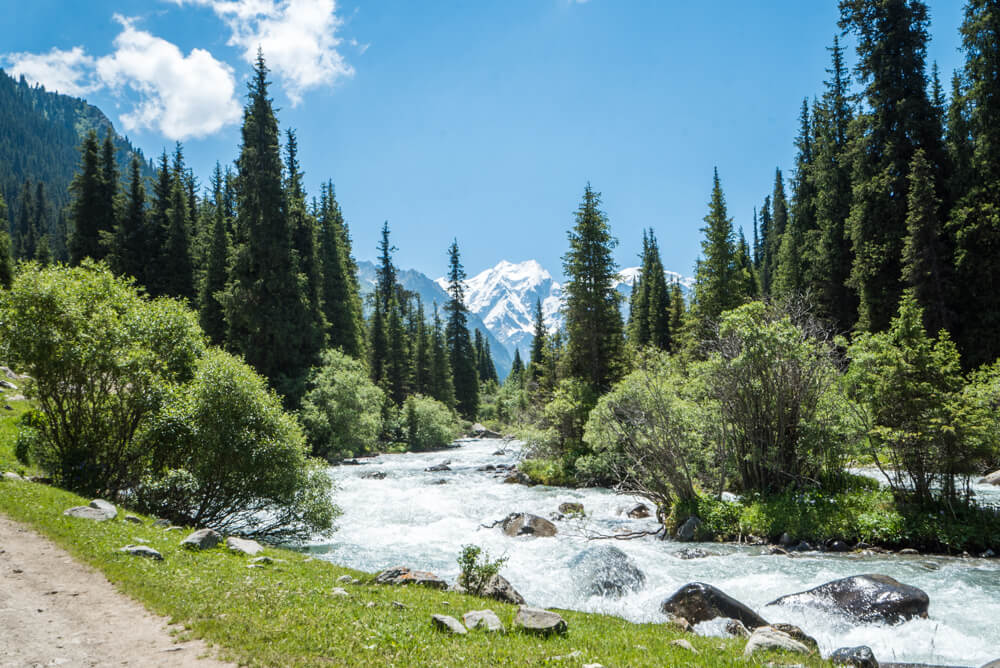 Towards the end you'll notice a lot more roads and the occasional car. The very end is actually a pretty touristy spot, but it's also where you can arrange to get picked up.
Overall, this was one of the tougher treks I've done but also one of the most rewarding. The landscape was phenomenal but the ups were often incredibly steep as were the downs. Half of the days were strenuous and the other were closer to medium or even easy.
Keep in mind that the overall gain and loss in altitude is over 7k meters, as there are six passes in total. For perspective, Everest is 8.9k meters.
I'd still recommend this to anyone who wants to get a real flavor for the beauty in this area, has the time and the interest, and who loves being in nature. Even the 'busy' parts of this trail weren't very busy, and some had nobody on them at all.
I'm glad to have found this place. It opened up a new mountain range of possibilities to me.
(For my trekking guides, contact Jyrgalan Destination).
*This trip was made possible by Visit Kyrgyzstan and the support of the American people through the United States Agency for International Development (USAID). The contents are my sole responsibility and do not necessarily reflect the views of USAID or the United States Government.