Lombok is, in a word, enchanting.
This island next to Bali receives far fewer visitors and yet it's equally, if not even more, beautiful than its famous neighbor.
During my time there I visited six different waterfalls, more beaches than I can count, most of which I had all to myself, and climbed the amazing Rinjani volcano, finishing with a trip to the Gili islands.
In full disclosure these travel experiences were split up over several visits to this island (because I can't get enough) though my itinerary can easily be replicated in one weeklong trip. Though if you can stay for longer, do yourself a favor and give it more time! I could spend months on this island alone, finding hidden coves around every Jurassic Park-like curve and bend.
This guide begins in Kuta, Lombok where most people head first. It's quick and easy to reach from the airport and has plenty of accommodation options and gorgeous beaches. From there we'll move north to the waterfalls, rice fields, and Rinjani, finishing with the Gilis. If you're coming from the other direction, you can easily reverse it to suit your needs:
Kuta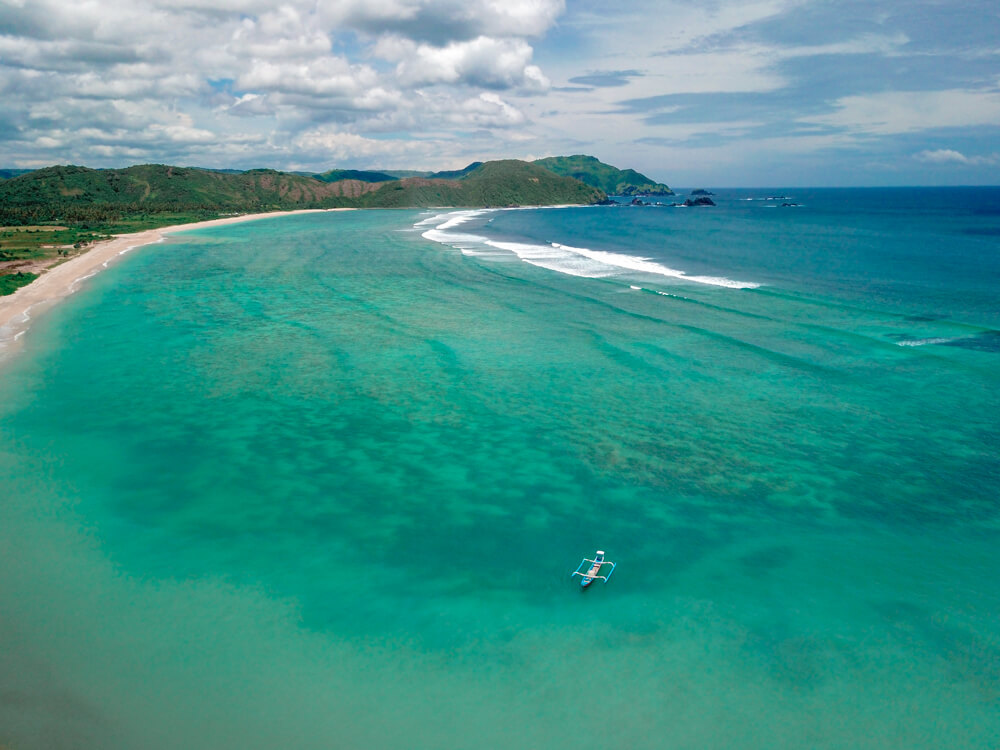 This laid back surfer town is the perfect introduction to Lombok. It's a nice mix of yoga, Western and Indonesian food, and plenty of other travelers to meet. It's also the jumping off point for exploration of the southern beaches on Lombok, which are some of the best in Indonesia for waves, by the way.
I also loved that most of them didn't have anyone else around. I could have a private beach all to myself, without a resort in front of it, without having to pay a huge fee, without having to worry about much of anything, at all.
These were the best ones, most of which are easy to reach by motorbike. One could spend a day at each beach, but if you're pressed for time, you could split the following up into two days:
Pantai Mawun: A beach famous for its beauty, with beach chairs and umbrellas and fresh seafood and coconuts served on the beach.
Pantai Tampah: This was one of my favorites. There wasn't anyone else around and the beach is cleaned regularly, and it doesn't allow anyone to sell you anything while you're there (which is untrue for the Kuta and Mawun where you'll be asked to buy bracelets on the regular).
Pantai Lancing: Right next to Tampah, Lancing is equally clean and peaceful and even has a swing on the sand! If you're visiting Tampah, might as well walk to your right (if facing the ocean) and visit Lancing too.
Pantai Semeti and Telawas: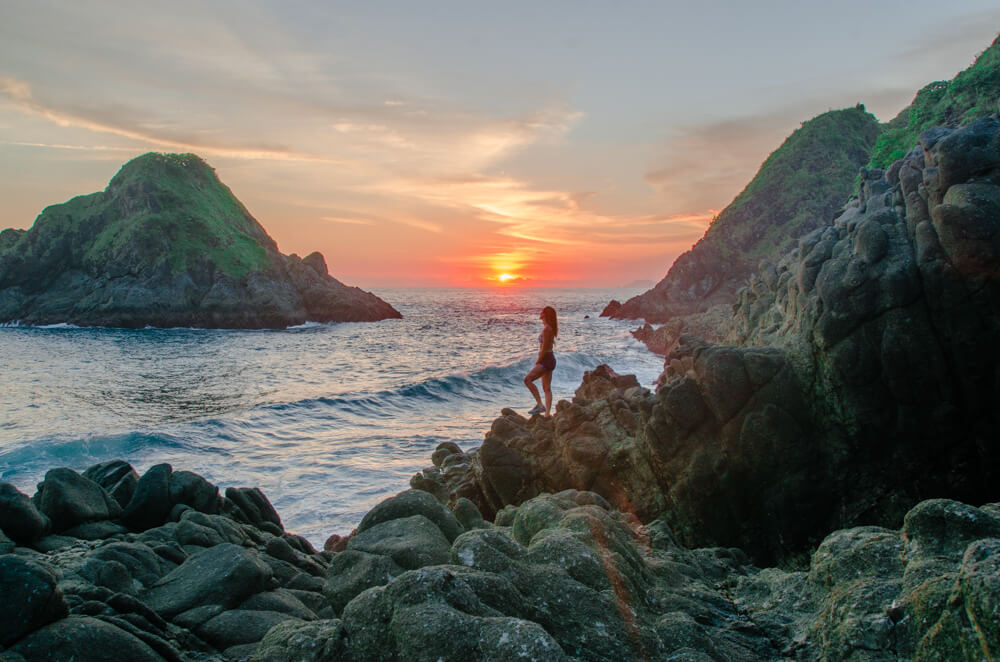 Most of the southern beaches won't have a sunset view, but Semeti does! It's also one of the most unique beaches I found, with lava rock formations that are unlike anything else on Lombok. I had so much fun climbing all over them and exploring while waiting for the sun to set. The road is terrible, but if you're confident on a motorbike, don't miss this one!
Batu Puyung: This 'umbrella' shaped rock is close to Bukit Merese, the famous sunset point near Kuta. You can reach it by taking a boat ride over from the shore near Bukit Merese, or you can walk (I chose the latter). The walk takes about an hour but it goes along tide pools and over rocks, plus almost nobody chooses that route so it's nice and quiet, too.
Bukit Merese: This hill is the spot for sunsets near Kuta, but I'd suggest going at any time of day. It's absolutely stunning in every direction and there are strands of sand running under the bluffs that almost nobody bothers to visit, though they should!
Pantai Nambung: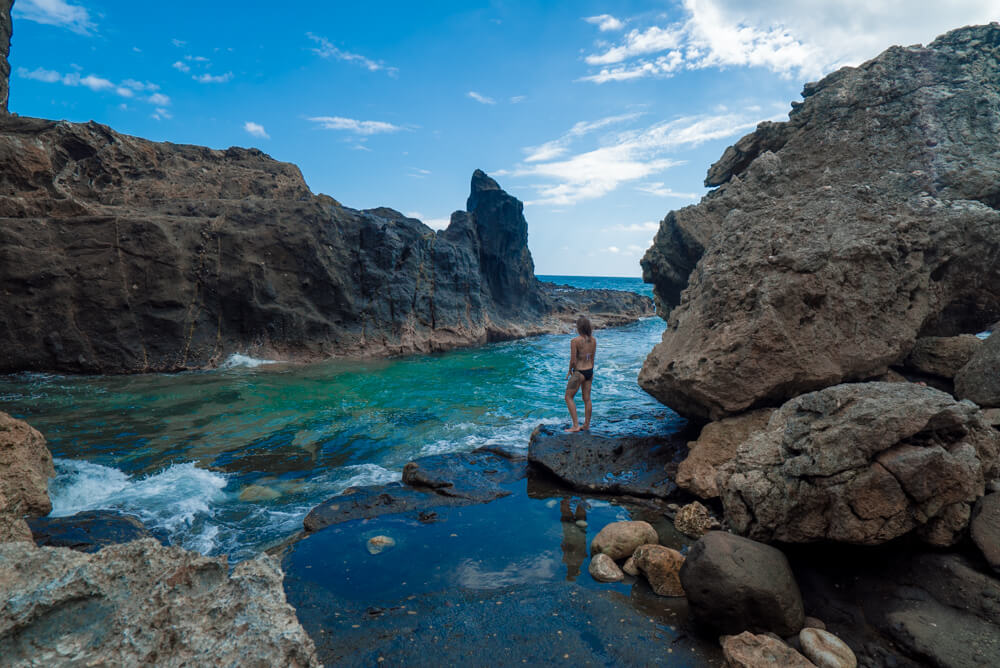 I'm hesitant to include this, mostly because tourists are regularly robbed there and it's tough to find. However it's also very cool to see on a day with big waves, when the tide is in, because the waves rush over the rock to create a glorious, gushing waterfall. I tried over and over to get the shot with the wave, and I swear each time I put the camera down that's when the wave would come. It felt like Mother Nature was telling me to just go play, so I did. If you visit this area, it's best to take a guide, which I don't often advocate but in this case I would. (a local pulled a machete on my friend and I though we were able to talk him down. It wouldn't happen with a local guide.)
For more info on each of the beaches and photos of each, plus where to eat and do yoga, read my Kuta, Lombok guide.
Benang Stokel and Benang Kelambu Waterfalls
Heading north, next we'll enter the lands of rice fields and waterfalls.
On the way up from Kuta, I recommend taking any little side road that strikes your fancy once you reach the rice fields (just make sure you know how to retrace your steps). This part of the island is full of cascading rice paddies where the farmers still use traditional methods to farm the rice, with water buffalo and their own two hands.
Watch the video for more:

From there, head north to the Benang Stokel and Benang Kelambu Falls. There are actually five waterfalls in the area, though the two mentioned are the most impressive ones. If you're on a time crunch, you'll probably just want to do those two.
Both are fairly easy to access and don't require a lot of climbing. The path is either paved, stairs, or dirt. Upon arriving, you'll be ushered into an office at the start of the trails to book a guide and pay the fees. My understanding is this is required. I paid 125,000 IDR to visit the waterfalls mentioned.
First you'll come to a bridge where you can jump off of the top of the first small waterfall into the river below. From there you can see Benang Stokel through the trees – a twin set of waterfalls: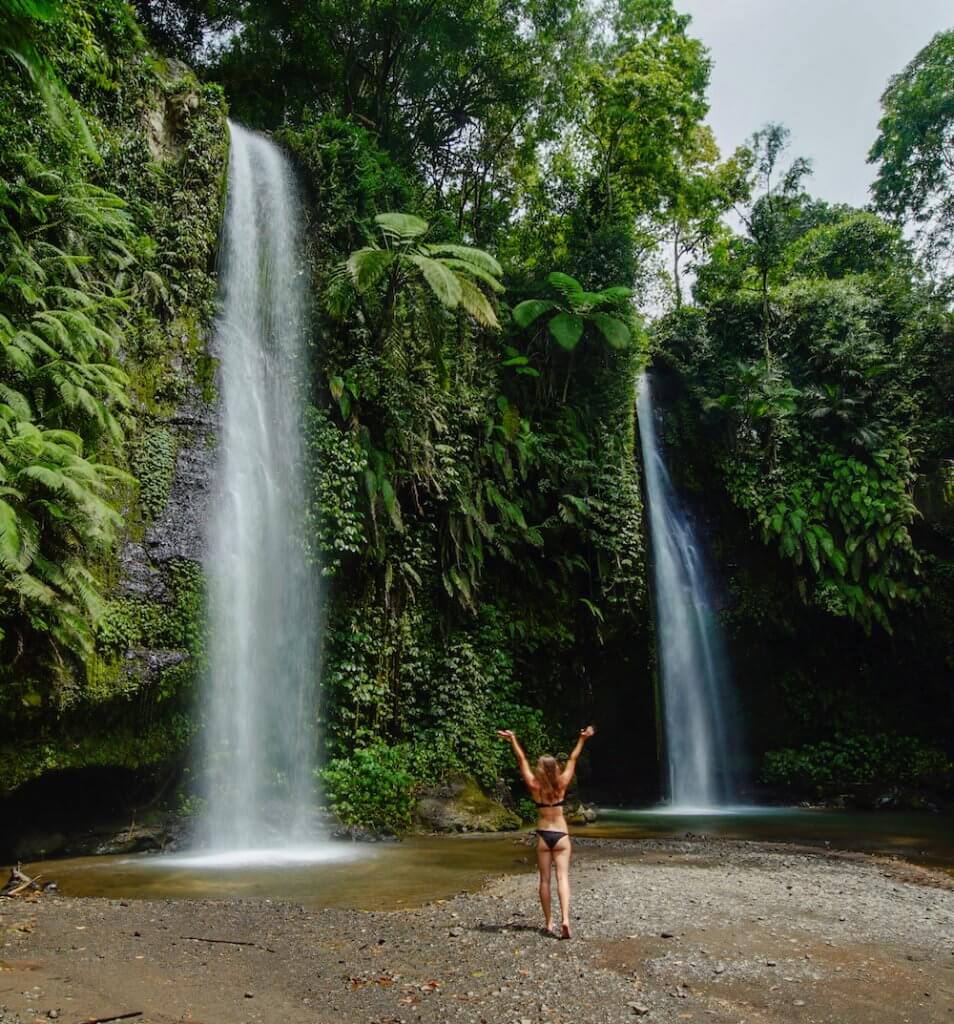 Next you'll walk for another 15 minutes or so to the most famous waterfall in the area, Benang Kelambu. I noticed plenty of stalls next to the path, most of which were closed when I went (February – during rainy season). My understanding is on the weekends, especially on Sundays, and after Ramadan, the place is absolutely packed with locals. Avoid those times if possible.
I got lucky and got them almost all to myself.
The road to the waterfalls is well-marked. Consult this map for the coordinates (plus all the other places mentioned in this post).
Tiu Kelep Waterfall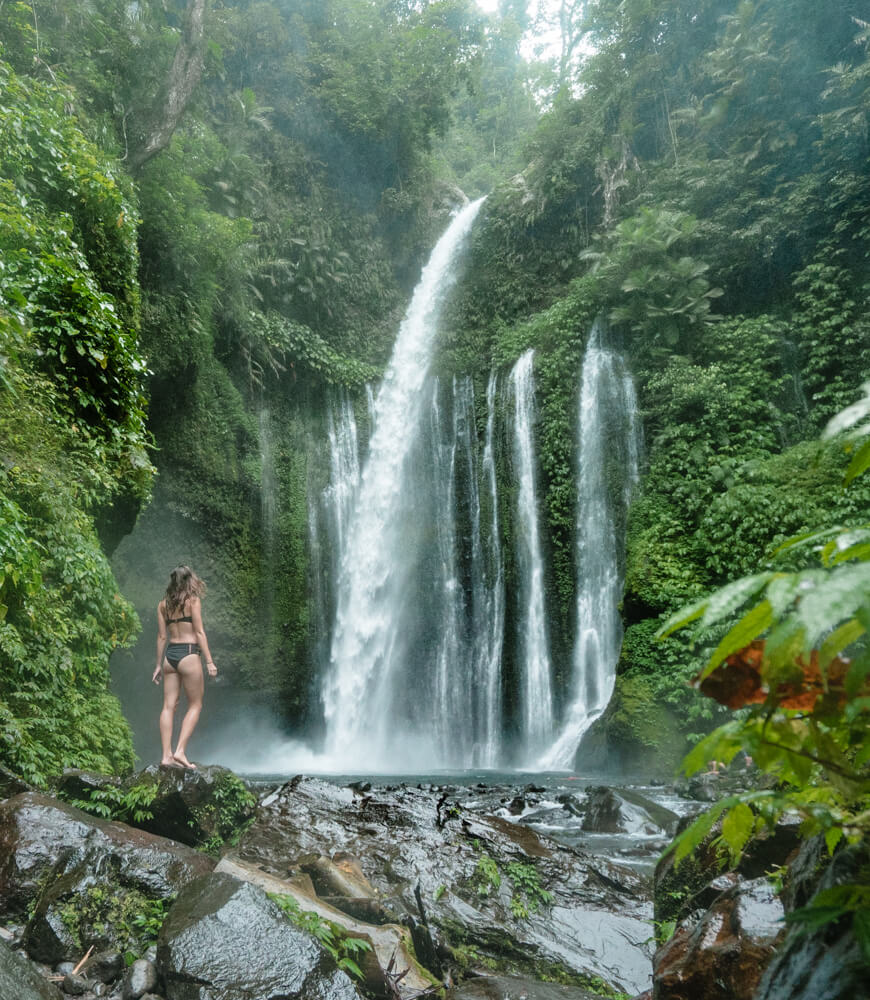 Next is the waterfall that made me want to come back to Lombok: Tiu Kelep.
When I first visited 5 years ago, nobody was talking about this waterfall. Nowadays it's usually included in most Rinjani trekking packages.
However if you'd like to get it to yourself, it's easy to navigate to from Senaru, the base of Rinjani, and best visited in the early morning before the crowds arrive. There were other people there when I visited later in the afternoon, however I was able to get some shots without others in them with clever camera angles.
On the way you'll also pass a fork in the trail that takes a short detour to a double-tiered waterfall, Sendang Gile, that is less popular but also a must-see: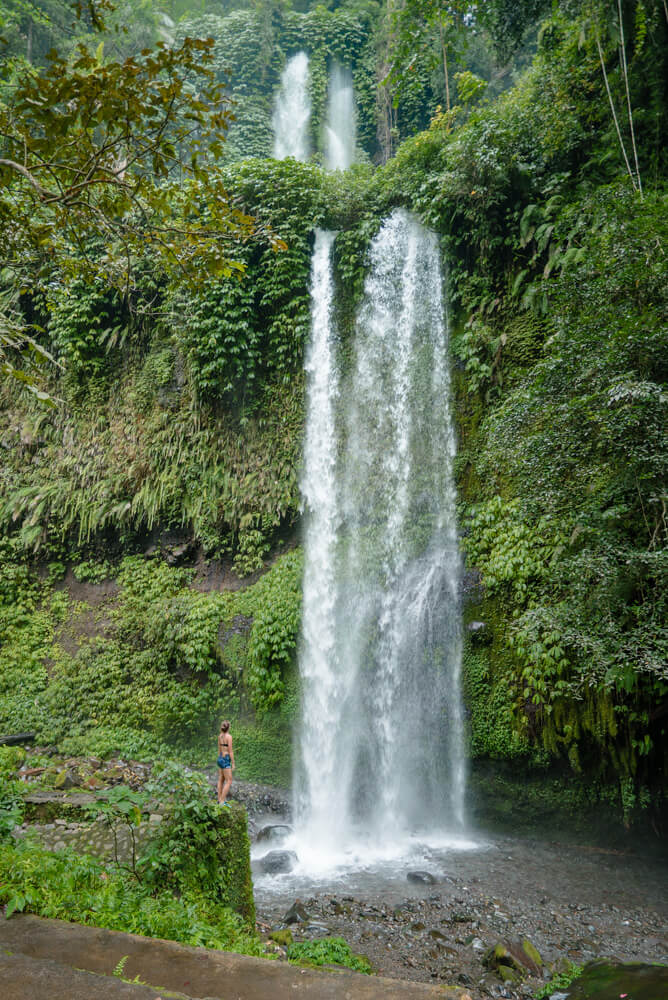 This hike is a bit more challenging with a couple of areas where you'll need to walk through streams. There are local boys playing nearby who usually offer a hand. It's also a pretty clear path so I'm of the opinion that a guide isn't necessary, though it does give someone a job.
Tiu Teja is another waterfall in the area that I wanted to see but didn't have time for during the long drive up from Kuta to Senaru. If you have the time to stop by, it looks amazing in photos. It's also one of the items on my map.
If you'd rather not drive yourself from Kuta up to Senaru, you can hire a driver to take you up and to stop by the waterfalls on the way. The cost is usually around 750,000 IDR. Ary with Fury Lombok was recommended by a friend. He has a nice roomy SUV. You can contact him here.
Rinjani Volcano Trek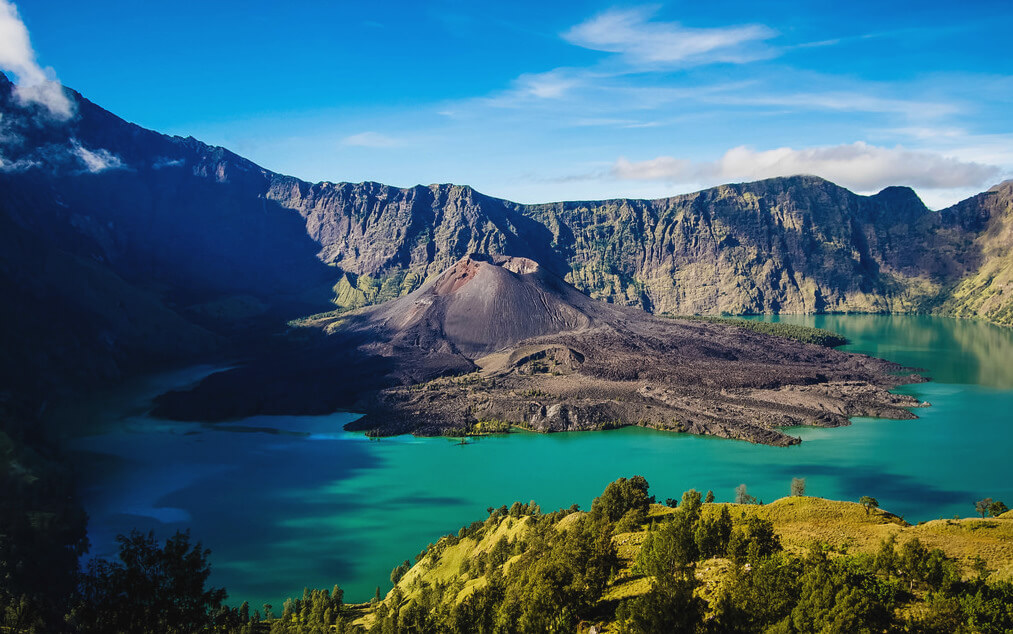 I highly recommend prioritizing trekking Rinjani during your time on Lombok. It's one of my favorite things I've done in Indonesia. The whole trek is picturesque, with impressive views of Bali, the Gilis, and beyond on a clear day.
Most treks last for 3 days/2 nights and depart from either Senaru or Sembalun. I recommend starting in Senaru and finishing in Sembalun so that you summit Rinjani for sunrise on the final day rather than on the second day. It's a nice way to finish it off. The trek also takes you past the caldera lake pictured above, to hot springs, and along gorgeous scenery.
I also feel it's a pretty cheap activity all things considered. Most packages include a night of accommodation in Senaru, porters, guides, all the gear you need, and food on the trail. Always book in person once on Lombok instead of ahead of time online. The price is always negotiable! You can ask anyone from the people working at restaurants and guest houses in Senaru to the guys with the stands in Kuta. Shop around for a price you find agreeable. I understand the pricing these days is usually around 200,000 IDR. It will vary depending on how good the gear is, how nice the food is, the group size and whether or not you want camp chairs and a toilet tent.
I recommend Rozak as a guide. I went with him for my Bukit Pergasingan hike (mentioned next) and adored his thoughtfulness and fun-loving personality. You can contact him at [email protected] (feel free to mention me, and that I said to give you a good price 😉 ).
Note that this trek does not take place during the rainiest months in mid November-April.
Bukit Pergasingan and Bukit Selong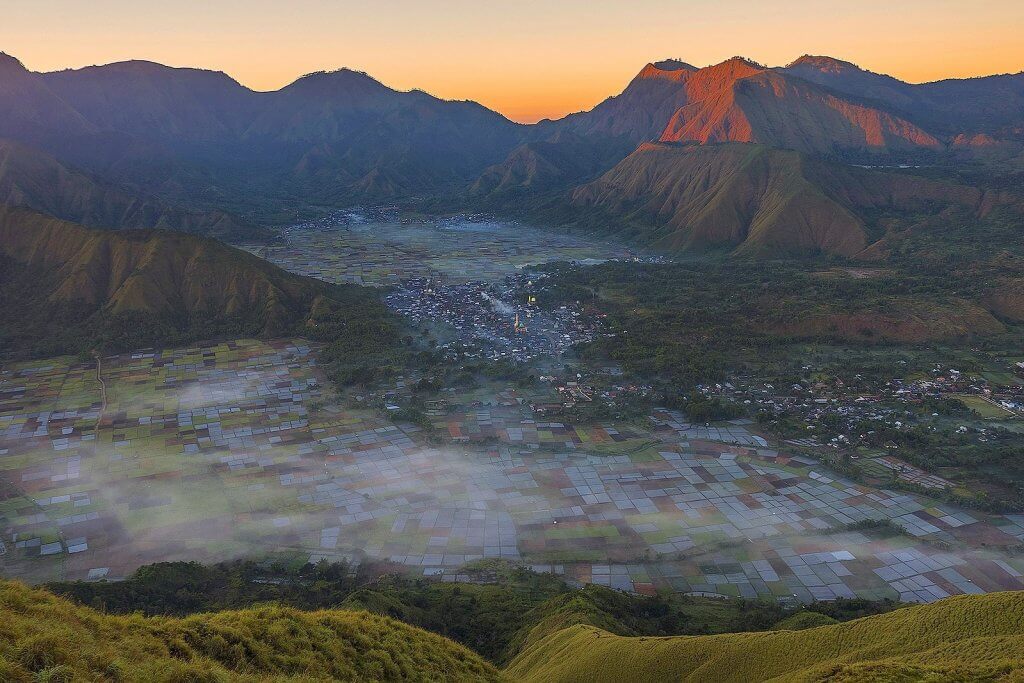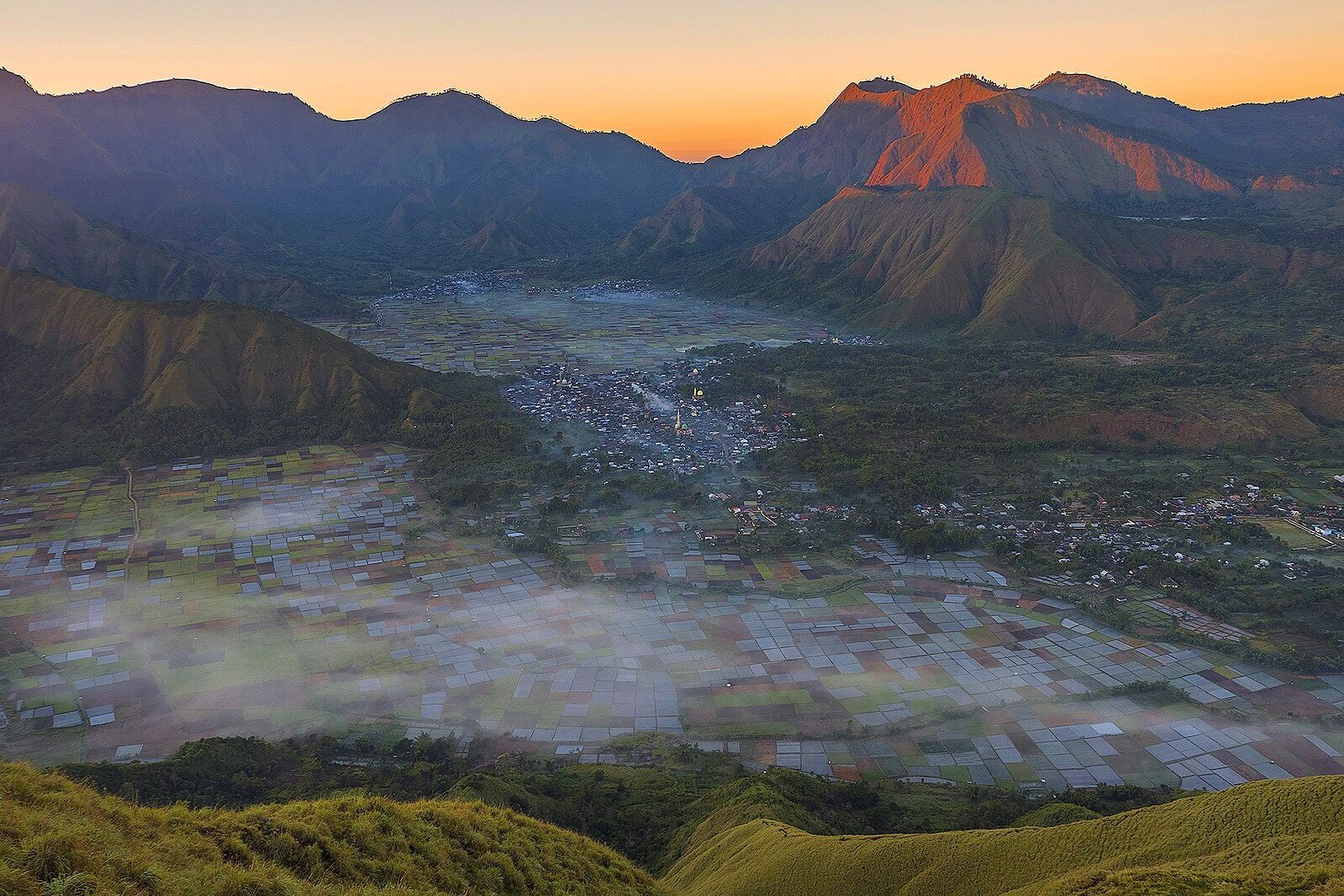 If you're in Lombok during the rainy season but still want to hike, take a look at Bukit Pergasingan. It's a 2-3 hour hike up a steep hill over the rice paddies out of Sembalun, the town that you'd normally either start or end your Rijnani trek in.
However during rainy season, the town is sleepy and mostly empty. It's a lovely place to stay, and I loved the friendliness of the locals, always giving me a thumbs up and saying hello and asking how I was doing. Plus during the off season, you can get this viewpoint all to yourself.
I did the hike, beginning at 3am hoping to see the sunrise at the top, but unfortunately, the viewpoint was completely fogged in and we couldn't see anything. We also had to take an alternate route through the rice paddies since the main road was washed out due to rain. Normally I'd say this would be doable without a guide but in my case it wouldn't have been. (I did this two weeks ago so I'm not sure the route is cleared yet).
To make sure you have a better chance of a view, going during dry season would make more sense, but it will be more crowded. If you don't like the idea of hiking up in the dark, it's also common to do an overnight trek.
Alternatively, head to Bukit Selong's wooden star for another view: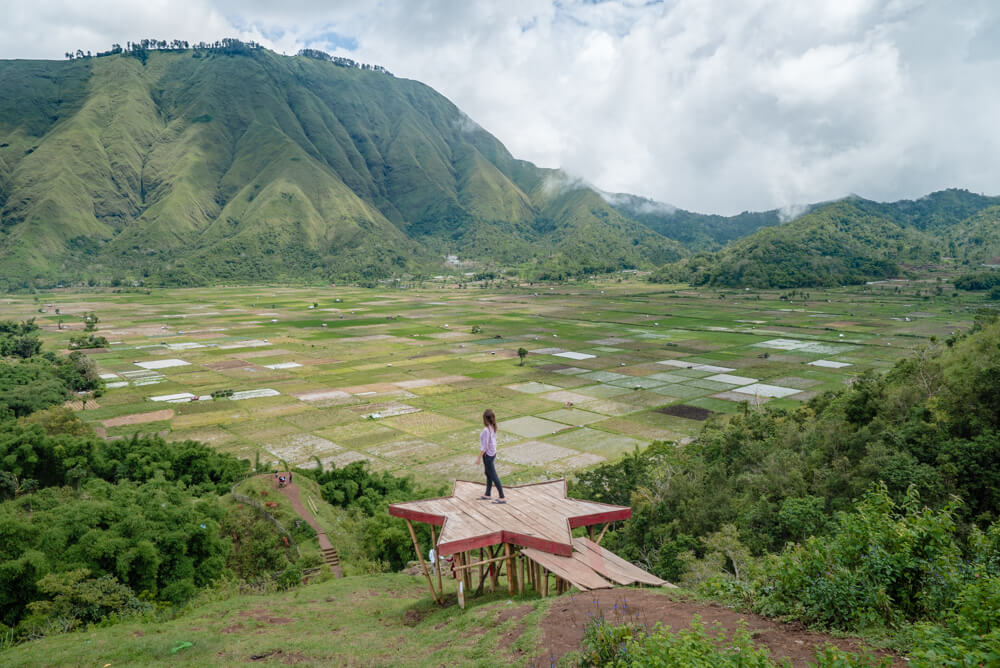 This 'hike' took about 5 minutes and though it was still a cool view, it has nothing on the mountain across from it (pictured above, across from me).
Contact Rozak, mentioned in the Rinjani section, for this one as well. He's great!
The Gilis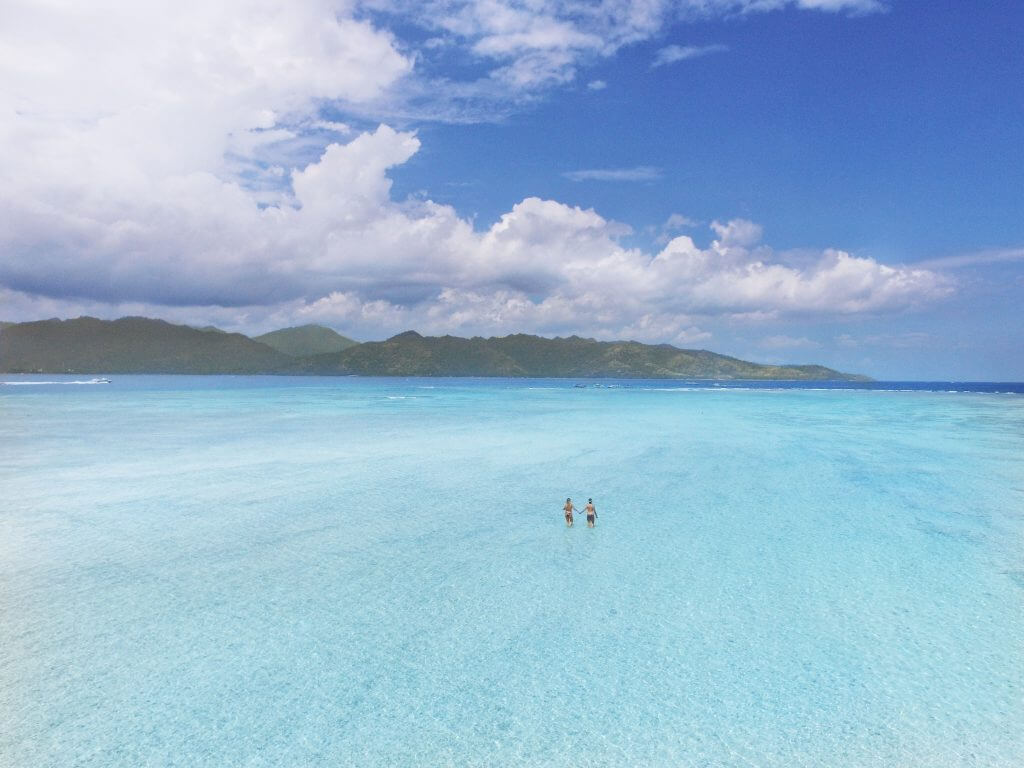 Finally, no visit to Lombok, Indonesia, would be complete without stopping by the Gilis – a set of three small islands just off the coast of Lombok.
It's easy to reach by public ferry from Bangsal and only costs a couple of dollars. The ferries depart frequently and leave when full. Buy directly from the ticket counter inside rather than the touts on the street.
Each island has its own charm. Gili Meno is the quietest of the three with few people around and scattered places to stay. Gili Trawangan (Gili T) is the undisputed party island, with mushroom shakes on offer and the famous swing over the water. Gili Air is something in between, with a laid-back atmosphere but it still knows how to party.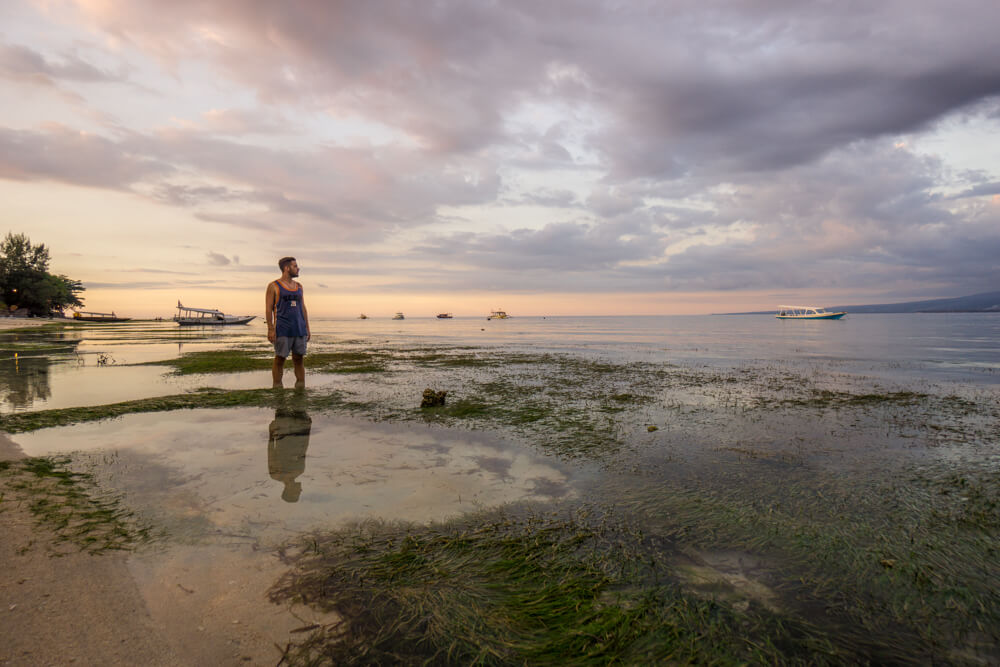 I've visited all three, though Gili T only had one hostel when I went five years ago. I loved it and stayed for a week, and two years later, returned and stayed on Gili Air for a week, popping by Gili Meno for an afternoon. I would probably not be interested in the party scene of Gili T these days, though what you pick depends on your desires and how much time you have. I wrote a more in-depth comparison here. From the Gilis, you can take a fast boat over to Bali to continue your Indonesia adventure.
Those are some of the best spots on Lombok, Indonesia. Though there are far more things to see than listed and one could spend months or even years on this island alone, this sampling will give you some of the best that the island has to offer. I'd give this itinerary at least 10 days if you include the Gilis and/or Rinjani.

My list is never-ending since I can't seem to stay away from this island. Stay tuned, I'll be adding more!