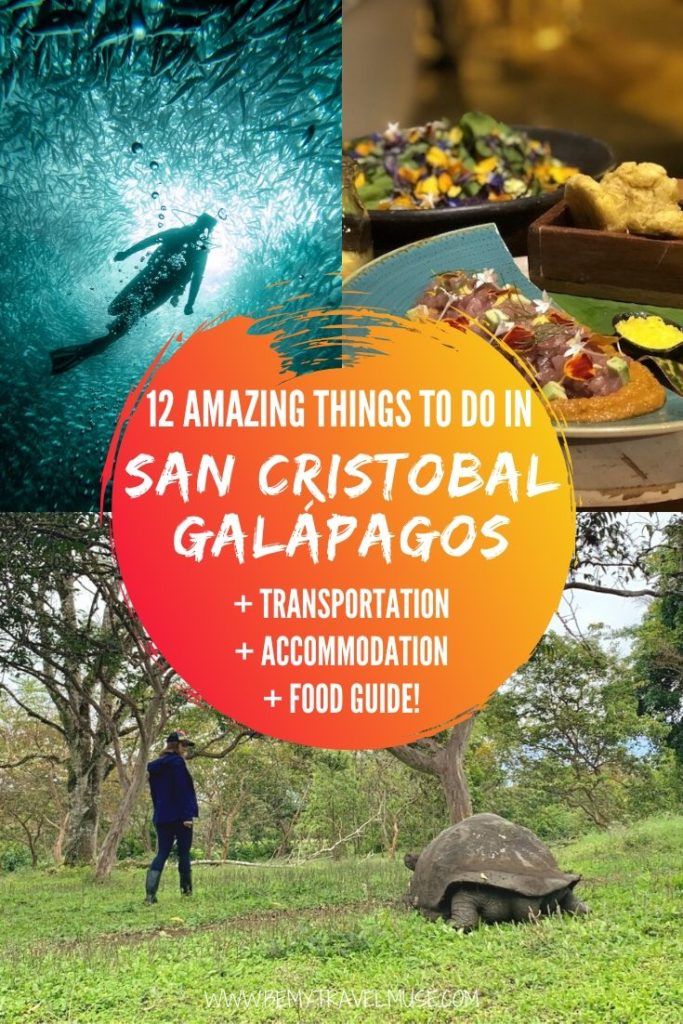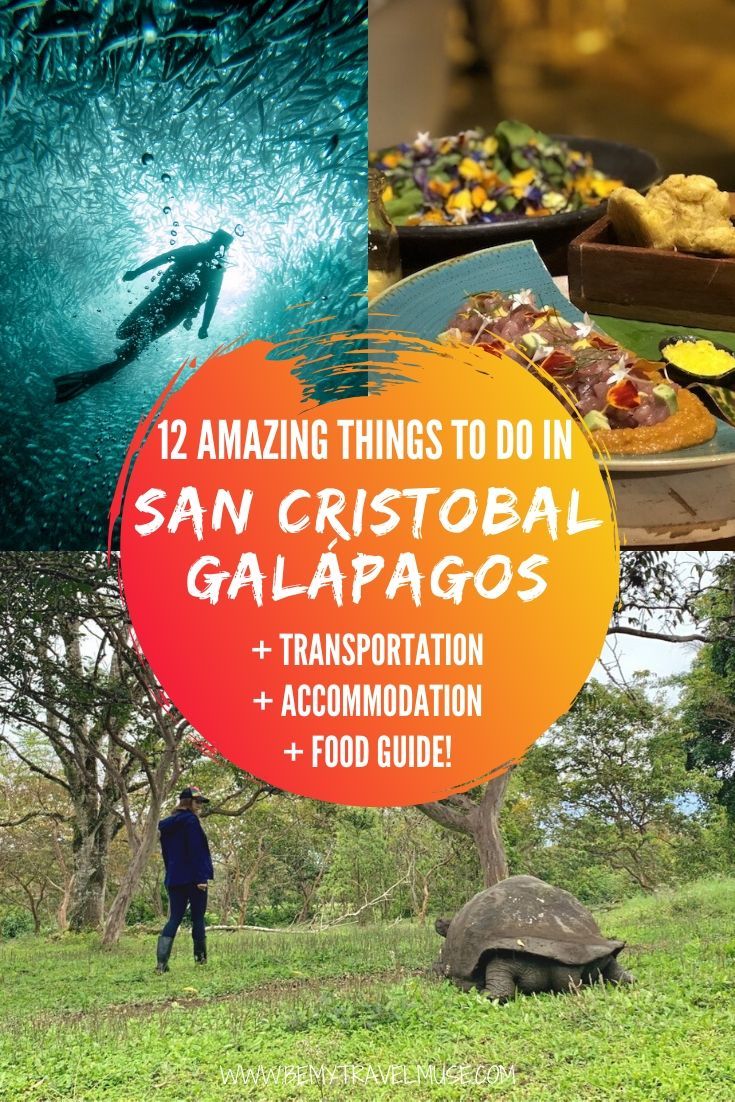 San Cristóbal in the Galápagos was one of my favorite stops of my three weeks in the islands. If you love sea lions, you're going to adore San Cristóbal.
This is also a prime spot to see blue footed boobies, sharks at Kicker Rock, and sea turtles at one of the many fantastic snorkeling spots.
The following are the best things to do on San Cristóbal, and the best part is, some are totally free:
1. León Dormido/Kicker Rock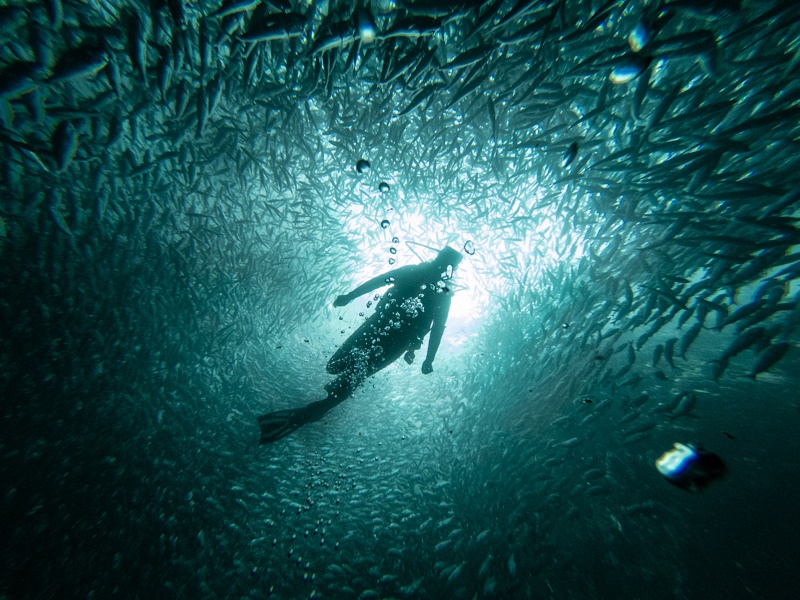 While Gordon Rocks on Santa Cruz Island might be the most famous diving spot, at least that you can do without taking a liveaboard dive boat to Darwin and Wolf Islands, I actually found Kicker Rock to be better. The currents were always changing, which kept it interesting, and there were hammerheads, Galápagos sharks, and lots of baby black tipped reef sharks. As if that weren't cool enough, we found a huge ball of fish in between the rocks.
Unlike Gordon Rocks, this dive site is appropriate for beginners, which meant my friend who is just starting out was able to dive with me. Snorkelers can come on the same boat as well.
In the Galápagos, there are great dive operators and some truly terrible ones. I went with Planet Ocean and loved the boat as well as Alex's professionalism. Expect diving in the Galápagos to be pretty expensive, at $130-$180 for two tanks. Snorkeling is $130.
2. Punta Pitt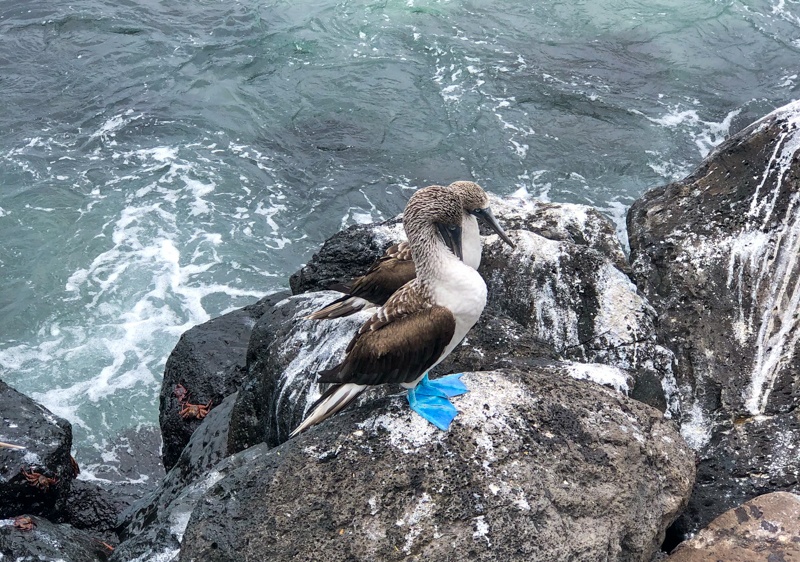 Though you can see blue footed boobies right in the town of Puerto Baquerizo Moreno, you have the best chance of seeing Nazca boobies, and apparently red footed boobies have been spotted there as well The trip is about 2 hours from town by boat and includes a hike and a snorkeling stop if you're up for it.
It takes the better part of a full day and costs about $180-$200. You can book it in town or ask at your guesthouse for their recommendation for a tour operator.
3. La Loberia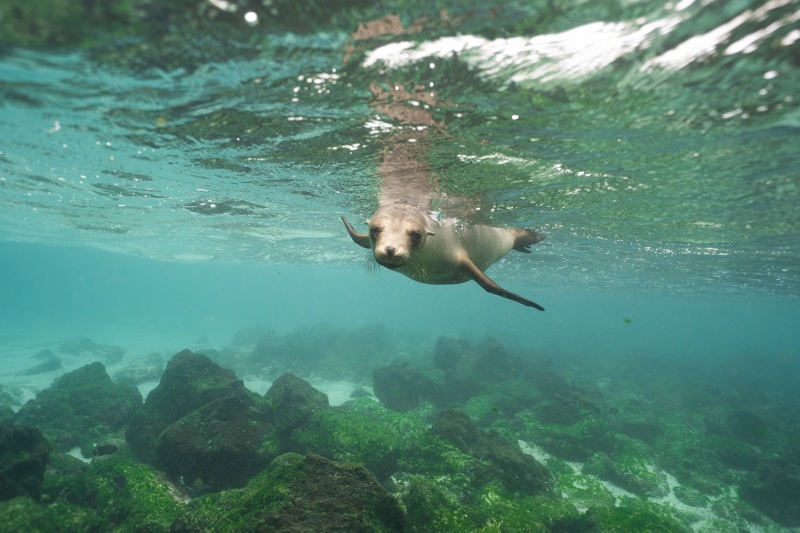 This was a favorite snorkeling spot of mine on San Cristóbal because I'm obsessed with sea lions. Though you're not to approach sea lions any closer than 2 meters – about six feet – sometimes they will swim right up to you in the water!
I had a juvenile swimming around and playing with me for a good 5 minutes while snorkeling at La Loberia, and the best part is, it's totally free. Bring your own snorkeling mask and if it's the dry/cold season, a wetsuit as well. There's a small stand near the beach that's sometimes open to rent snorkeling gear, but it's better if you bring your own to the Galápagos for ultimate freedom, and gear that works!
To get there, either walk from town, past the airport, or take a taxi for $2. Be sure to take down the driver's number for a return pickup.
4. Playa Mann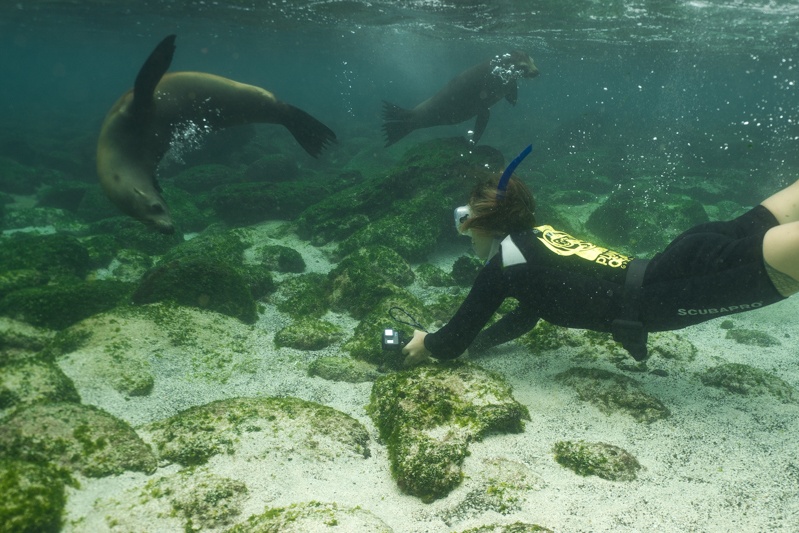 Another favorite spot for sea lions, this beach is quick to walk to and easily accessible from town. It's also west-facing, making it a perfect sunset spot. You can also snorkel with sea lions here!
5. Muelle Tijeretas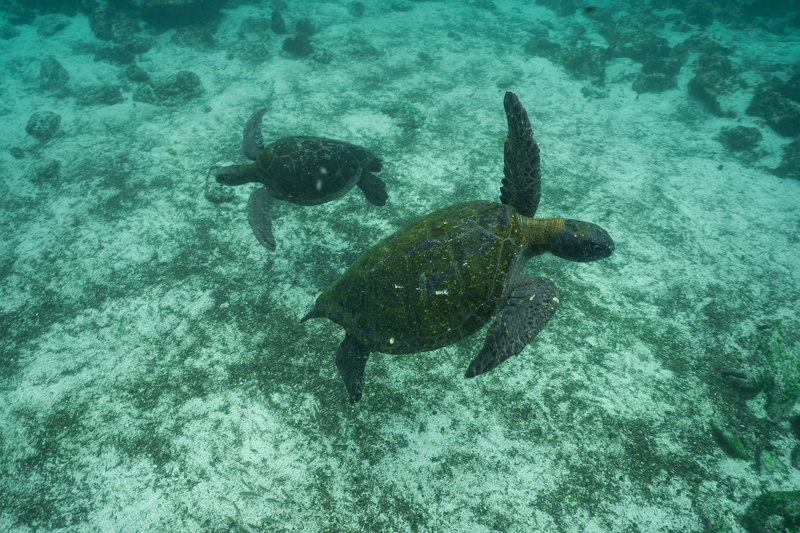 Another favorite snorkeling spot, you can easily walk here from town via the Interpretation Center, which is also free. Though I saw a spotted eagle ray and a few turtles, my visibility wasn't great here. However my friend said it was one of the best spots of his whole trip when he went, so I don't know what to tell you.
It's all luck of the draw!
6. Mirador Cerro Tijeretas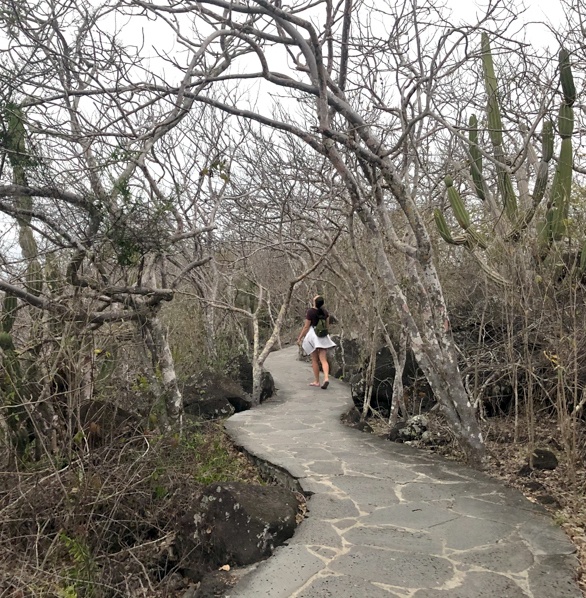 For a nice little hike and overview of Muelle Tijeretas, bear right on the path instead of heading to the snorkeling spot, and hike upwards to this overlook.
The path winds through cacti and Palo Santo trees and it takes about 15 minutes. It's also mostly wheelchair accessible! It's a great sunset spot as well, and you can do it in flip flops.
7. Playa Baquerizo
Care for an even more secluded snorkeling spot? Instead of heading back down after reaching Mirador Cerro Tijeretas, you'll continue down the dirt path for another 30 minutes or so. Bring decent shoes for this one, and plenty of water and sunscreen. You'll need your own snorkeling gear, which you can rent in town.
8. 360-degree Tour
This all day tour packs in the highlights of San Cristóbal, and is a good way to see a lot if you're short on time, though you will be moving around a lot and stopping only briefly at each place. The tour will take you to Rosa Blanca, Punta Pitt, Sardine Bay, Punta Pucana, Cerro Brujo, and Kicker Rock!
I would probably only pick this if I had just one or two days on the island, as I like to take my days a bit slower and spend more time in each spot. You'll see it advertised all over town for roughly the same as other all day tours – $150 and up.
9. El Junco Lagoon
One of few freshwater lakes in the Galápagos, El Junco Lagoon can be done as part of a day tour, or independently. Simply wave a taxi down in town and the ride should be about $15. You can also take the public bus from town to the parking lot. There's a possibility of seeing frigate birds, as well as a lot of fog, so check the forecast before you go!
10. Española Day Trip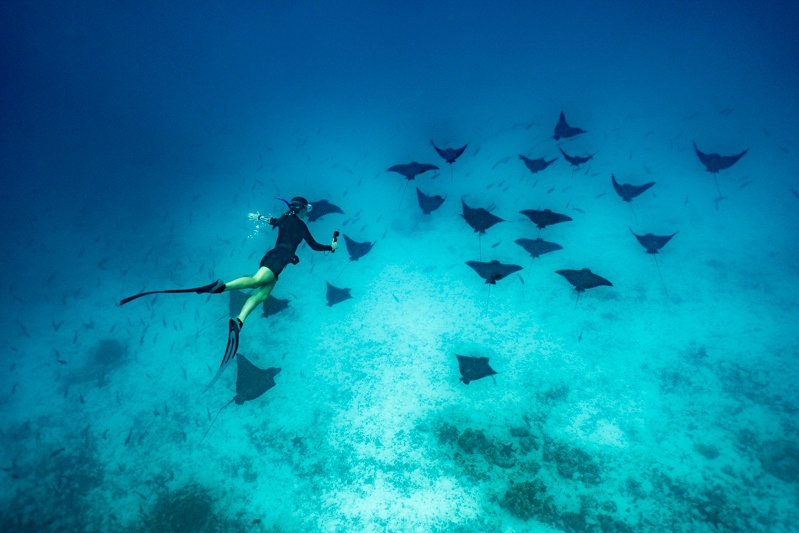 Though not San Cristóbal, Española is accessible by day trip from the island. It's the only island where you can see the waved albatross breed from May to December, as well as loads of iguanas and sea lions.
This is also a popular diving spot, and I can vouch, it's amazing. Not every dive shop goes, and it's usually offered only once or so per week, but if you get good conditions you can see schools of rays, hammerhead sharks, and Galápagos sharks. I actually went here as part of my week of sailing around the islands, and it was a highlight!
11. Hang with Tortoises at Galapaguera de Cerro Colorado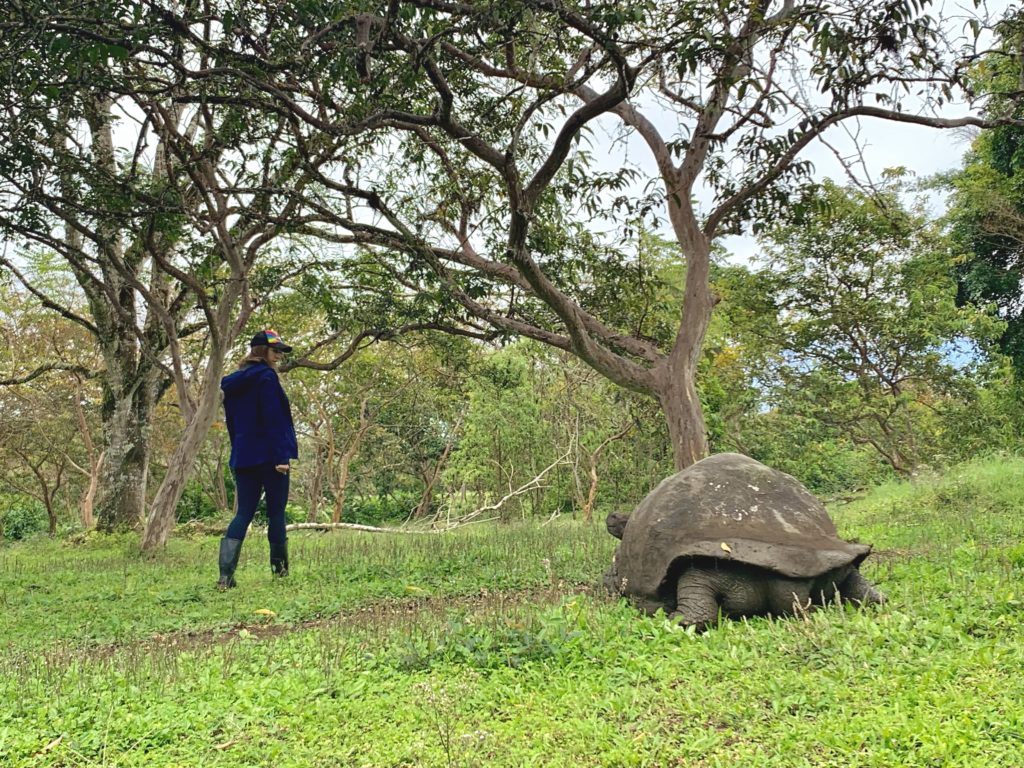 Did you really go to the Galápagos if you didn't hang with giant tortoises? Even if you don't fancy yourself a Testudinidae-lover, they are so enormous, it's hard not to be impressed.
Tortoises prefer the vegetation of the highlands, so you'll need to take a taxi, bike, or tour up to Cerro Colorado to see them. However the breeding center is free to visit!
If you want to see wild tortoises, you'll want to check out Santa Cruz, which, admittedly, is where the photo above was taken. Still, if you only have this chance, do stop by to see them!
12. Playa Puerto Chino
Love white sand beaches? Haven't gotten enough yet while on San Cristóbal? For something less crowded than Playa Mann, take a taxi or tour out to Puerto Chino Beach where you'll see the usual suspects – turtles, boobies, and sea lions.
The journey is about 30km from town, plus a walk from the dropoff point on a path and then over some lava rocks. You get a nice view of Kicker Rock from the beach, as well as lovely bright blue water. This is a nice one to visit after Cerro Colorado, as it's at the end of the same, and really only, main road.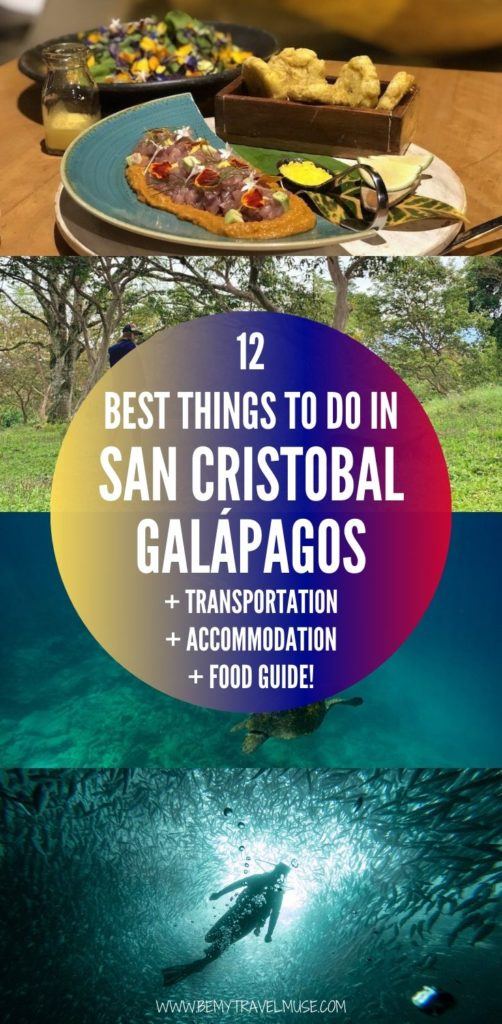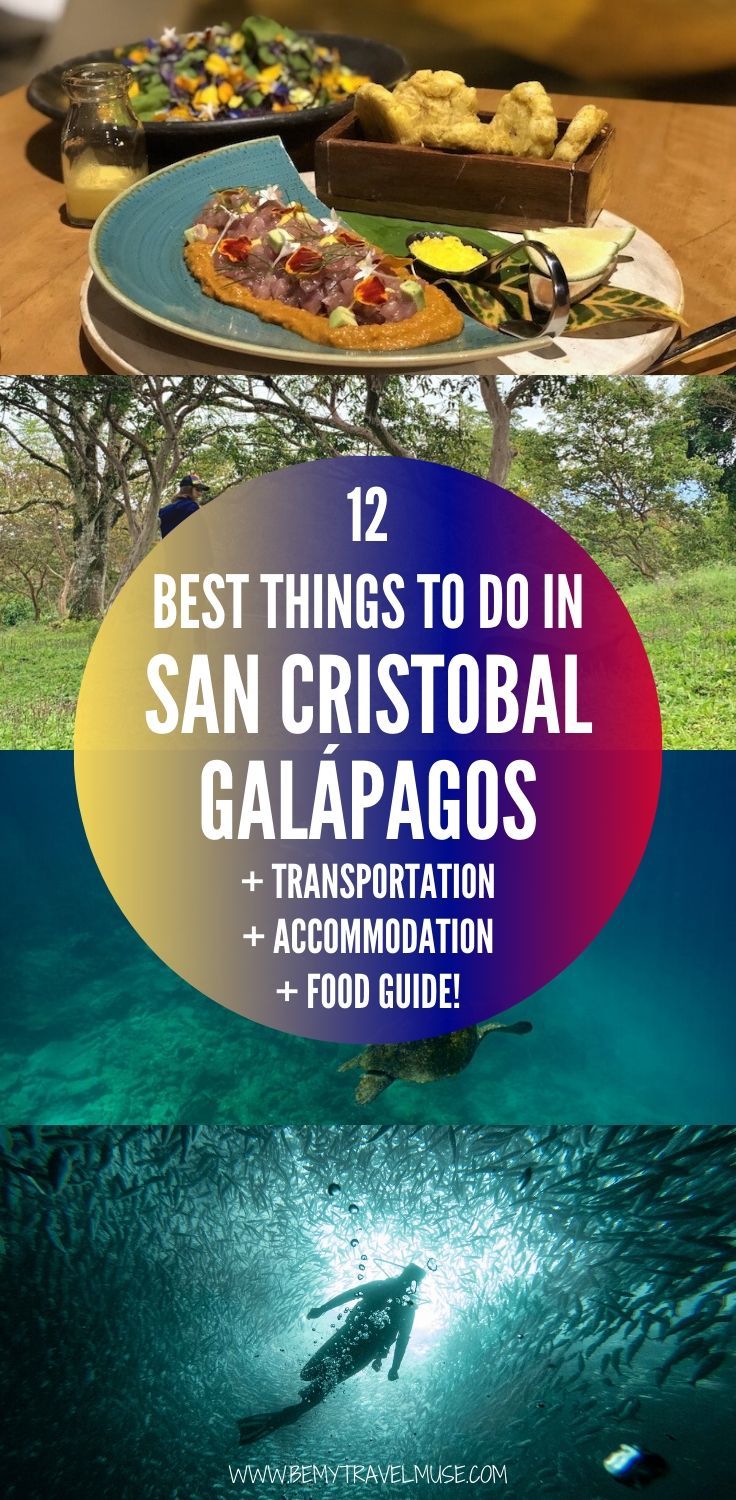 Getting There
You have two ways of getting to San Cristóbal. Either you can fly into the airport (SCY) or ferry over from Santa Cruz. Most ferries leave Santa Cruz in the morning between 6:30 and 7am or in the afternoon between 2 and 3pm. The price is typically $30 though you may be able to score last minute tickets for $25.
I'll be honest, the ferry is my least favorite thing in the Galápagos. The water can be rough and there's almost always someone puking and someone getting wet from the sea spray. Still, it's preferable to flying all the way to Baltra and taking a 45-minute taxi all the way down to Puerto Ayora. It's a lot less environmentally damaging, too.
Hey, it's all part of the experience!
Stay
I stayed at the Dolphin House while on San Cristóbal and loved the beach view from my room, and the hammocks on the top floor. It's centrally located and affordable.
Eat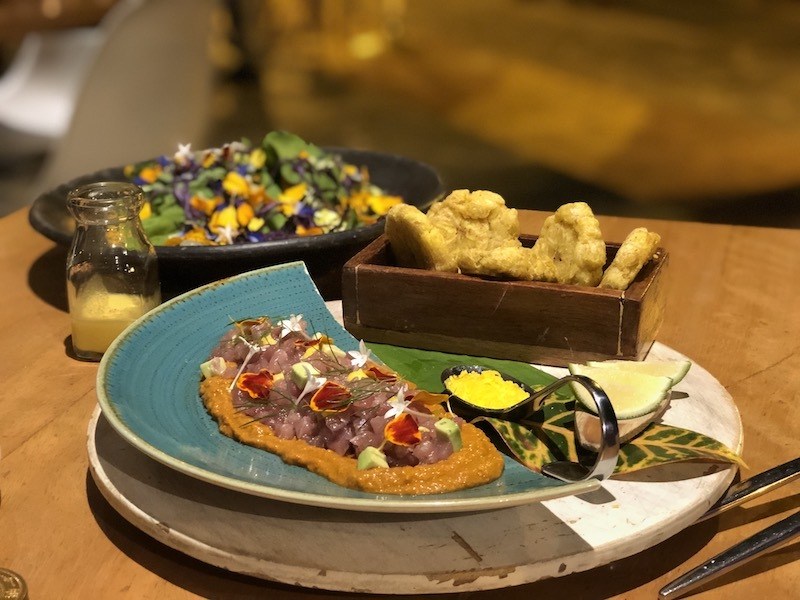 For breakfast, my guesthouse host recommended Cafe Fresco, who unfortunately were out of town on holidays. However that led me to Muyu next door, which has amazing ceviche. It's not a particularly cheap place to eat, but it is organic and farm to table, which I prefer. The best coffee in town is at the Sabor Cuencano En Galápagos, near the Dolphin House.
My time on San Cristóbal was honestly awesome. It had more sea lions than any other local island, and had a more laid back feel than Santa Cruz. In terms of snorkeling spots, it really delivers, and so much of the best things to do there are free.