The jungle was dense and lush. At some points, it was a steep decline down a narrow path, the vines providing a Tarzan-like feel and reminding me that, yes, I was deep in the home of another creature entirely.
After about an hour, the guide behind me, dressed in a pressed collared shirt as though he were on his way to a party, pointed one out to me in the tree up ahead.
His back to me as he sorted through the leaves, partially hidden by the foliage, he would be my first wild gorilla that I'd ever lay eyes on.
Just a bit farther, they told us. There was a family up ahead.
I rounded another few trees and sure enough, laying on the ground without a care in the world and so much as a head nod in our direction, there was a silverback and his harem including a few babies as well.
Their eyes were glassy and orange. Their feet looked remarkably like mine with ten humanlike toes, and an opposable thumb on their hands which they used for combing through each other's fur or casually scratching their chins.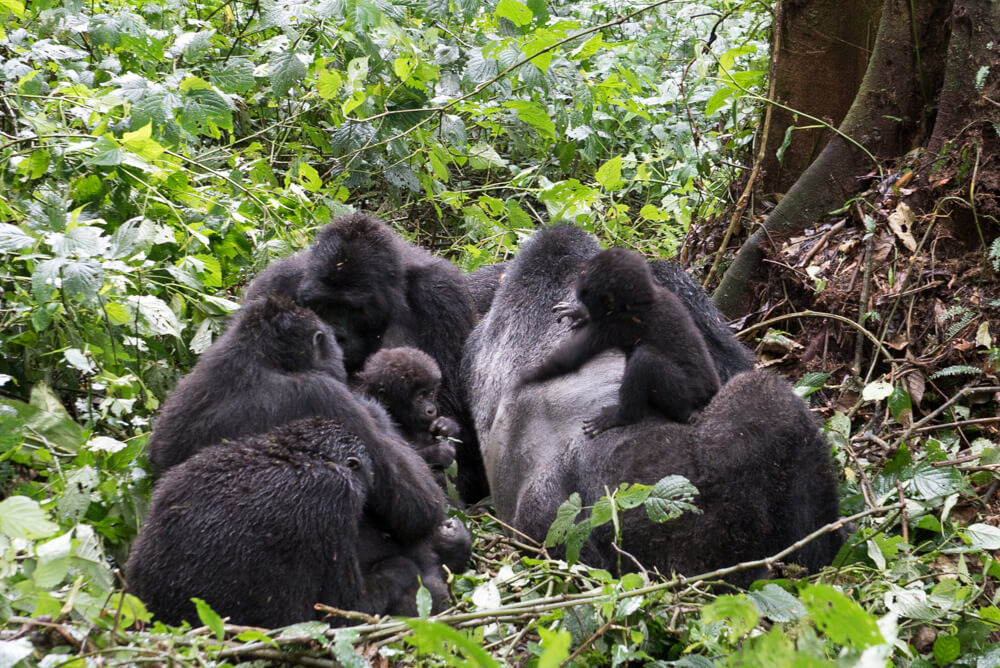 This is what I was there to see, and though I thought it would be a magical experience, it tops every other wildlife encounter I've had to date. They seemed so gentle and beautiful, larger than I'd imagined, and more regal than I could have expected.
It's an experience that will remain vivid in my mind for ages to come, that much I'm sure of. There is nothing quite like seeing these incredible creatures so close up, and to feel even for a moment like there is a connection, a bond.
I had a lot of questions before I went that I'm sure come up for just about everyone. If you're dying to experience this too, here are my answers for how to go gorilla trekking in Uganda:
What can I expect when gorilla trekking in Uganda?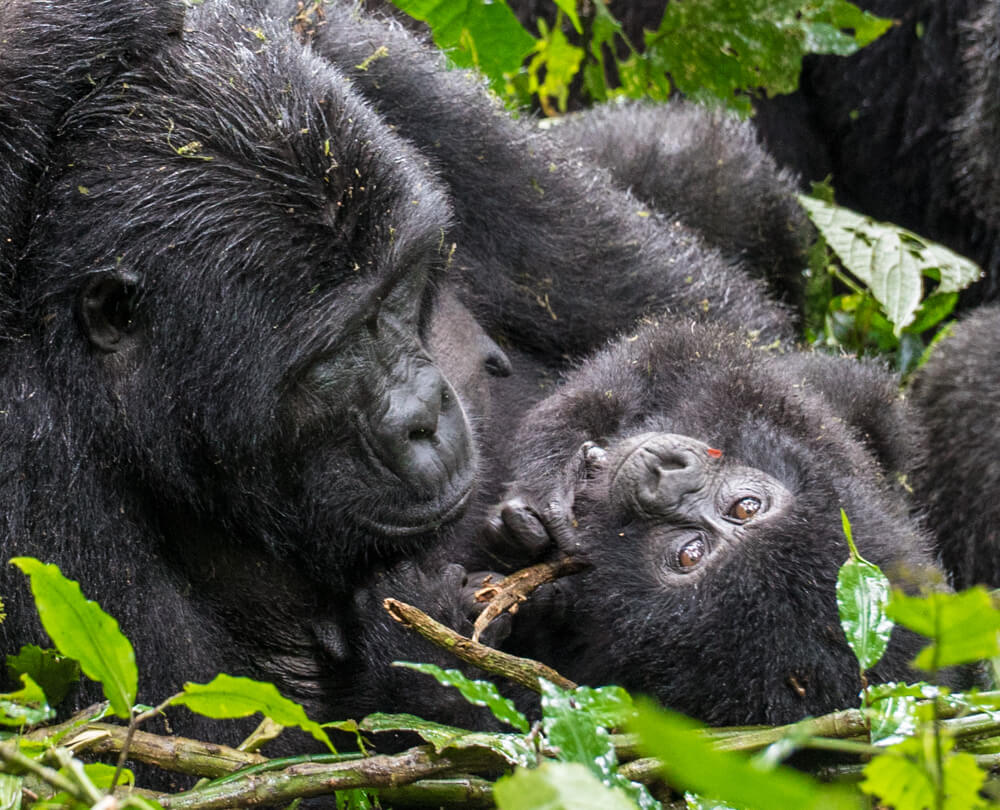 Gorilla trekking takes place in Bwindi Impenetrable National Park in the south of Uganda, just north of the border with the Democratic Republic of Congo (hereafter abbreviated DRC) and Rwanda. The park has a northern and southern entrance and accommodation options at both ends. Personally I stayed in the north though I don't believe there's an advantage to picking one over the other.
It's a beautiful park with other attractions like guided hikes and cultural experiences as well, or if you're like me, just a place to chill in your hammock and read while listening to the sounds of the jungle.
There are several gorilla families within the park that tourists visit with 3-4 trackers and a ranger. The difficulty of the hike and the amount of time it takes depends on which group you are put into. Some of the treks take place right from the north part of the park on foot and take a couple of hours, and the rest require a drive to reach and some can take up most of the day.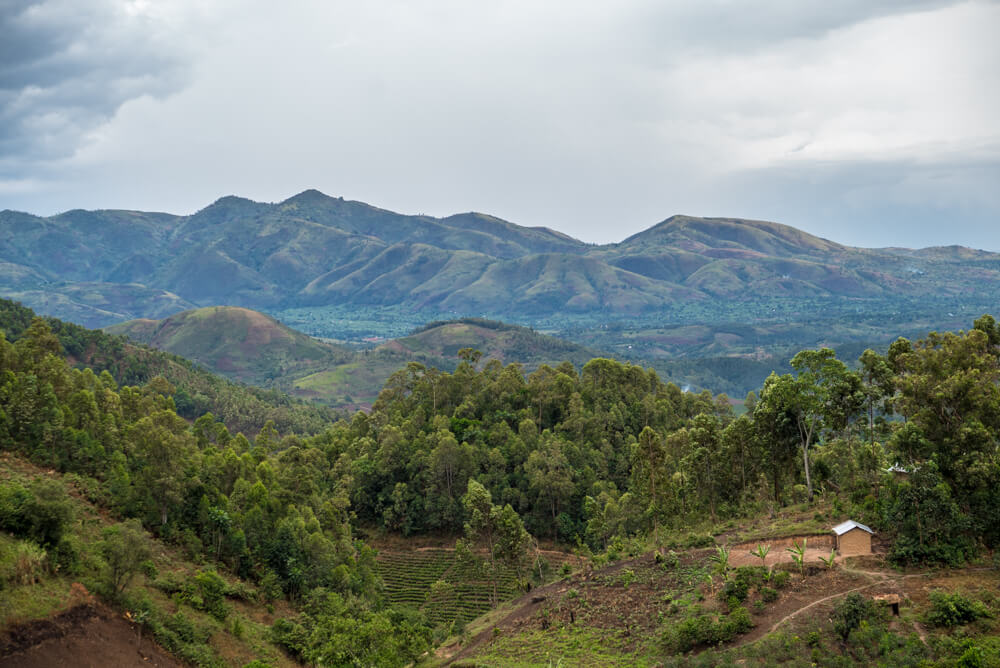 You'll show up at the park entrance at 7am and the rangers will split you up into groups depending on your perceived fitness level and whether or not you have a driver, though they will keep you with whoever you signed up with, so don't worry about that! Though I didn't have a driver and vehicle, I was with a group that had extra room in their car, so I did a steeper hike that was farther from the entrance. That was no problem for me, as I really enjoyed the challenge and getting to spend so much time in the jungle!
In general you should be physically fit enough to hike for at least an hour or two, should be wearing hiking boots due to the steep and muddy terrain, and also the cutter ants that tend to like climbing up pant legs, and should make sure that you bring along water and a packed lunch for the day. If you're staying in a lodge, they will prepare the water and lunch for you.
Is it safe?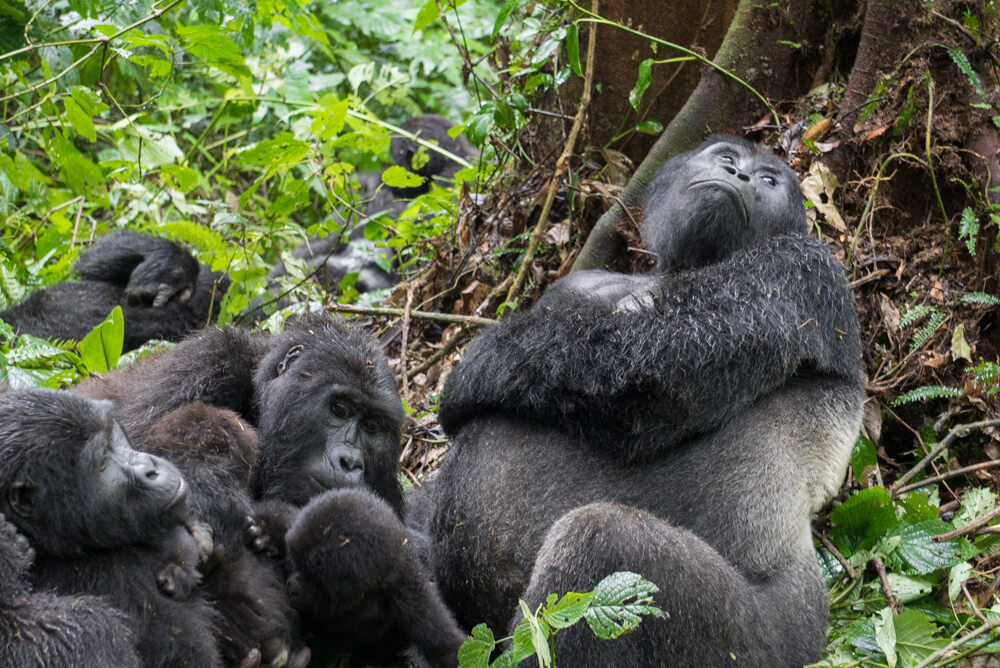 For a lot of people, the idea of getting up close to a gorilla is pretty terrifying. They're big and powerful animals, after all!
The gorillas that you'll see are used to humans, especially the babies who have been seeing humans regularly for their whole lives.
The rangers also carry guns just in case. This isn't to kill the gorillas, but rather to make noise if need be by shooting away from other animals in the park, like elephants.
They also make sure that you leave any food or water slightly behind on the trail when you do find the gorillas so that you don't alter their natural behaviors, and at any given time, there will be a ranger or tracker right behind you to make sure that all is well.
Though we did get pretty close, I was in too much awe to be scared during my trek. The gorillas seemed indifferent to my presence.
Is it worth it?
The short answer is yes! This is one of my top ten travel experiences to date, no question.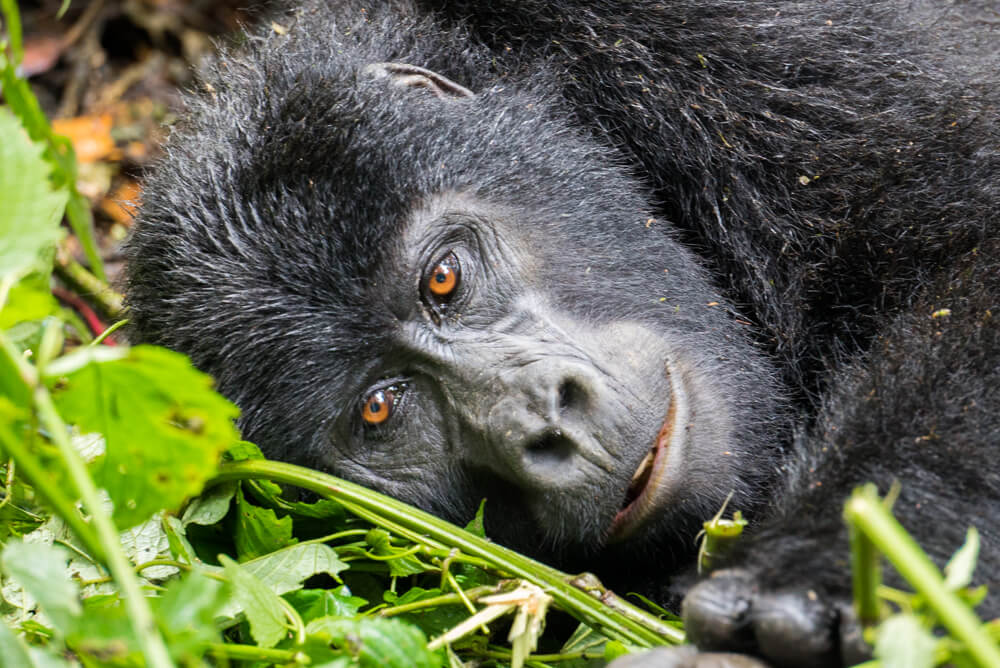 Trekking to see the Mountain Gorillas comes with a $700 price tag just for the permit in Uganda. You'll also need a method of getting there and a place to sleep and food to eat, of course.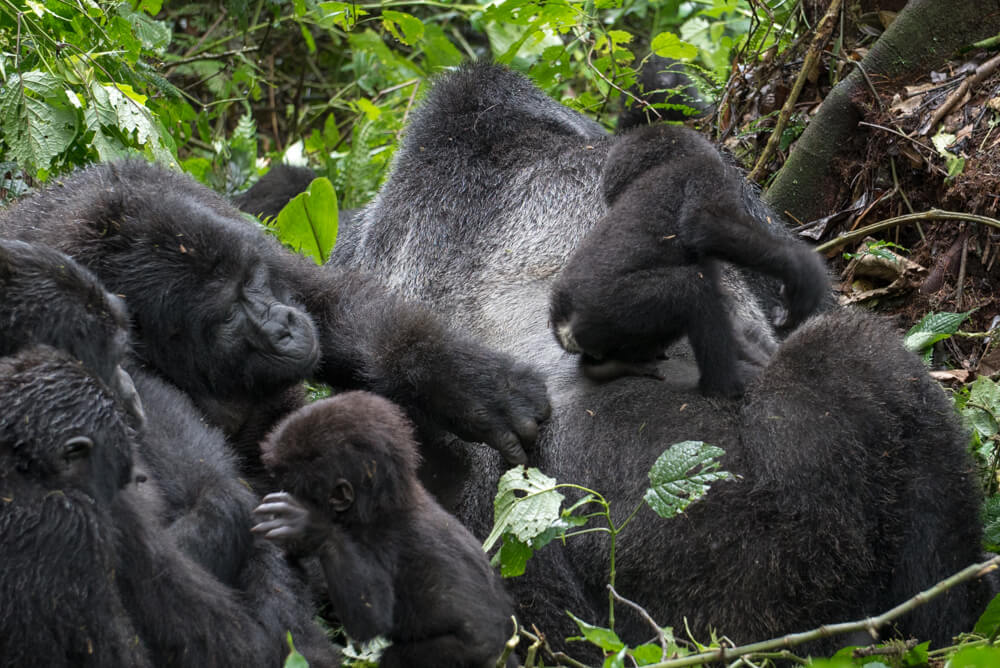 You can only see Mountain Gorillas in equatorial Africa, including Rwanda, the DRC, and Uganda.
The cost in Rwanda is $1,500 and in the DRC, it's $300, however it's also less stable politically than the other two countries, and this tends to keep visitors away.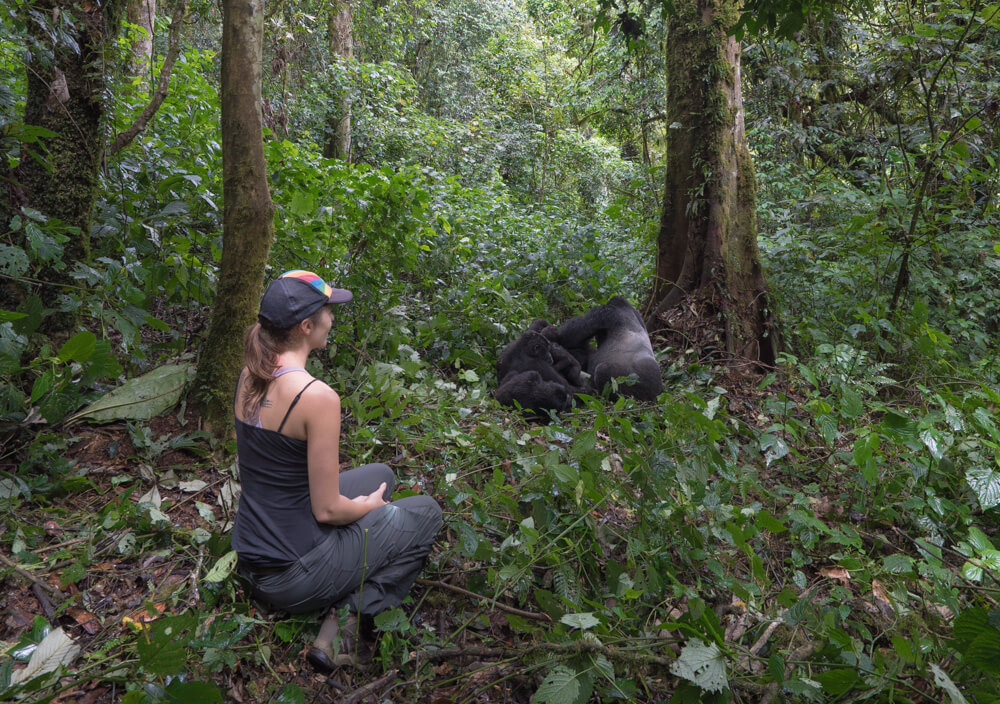 There are an estimated 1,000 mountain gorillas left in the wild, many of whom are habituated, which means they are used to humans though they are still technically wild.
As a visitor, that means you can get pretty close to them without them running away. They see humans almost every day, and they know that we don't hurt them when we come to say hello, so like other nonthreatening animals, they tolerate us being around.
We stayed with the group we found for about an hour. It was one of the most magical hours of my life, watching the babies drumming on their chests like the big Silverback, and getting to watch the family engage with each other and climb in the trees. It was different to Chimpanzee trekking, for example, where we could really only see them from afar and had to do a lot of chasing.
How do I book it? Do I have to take a tour?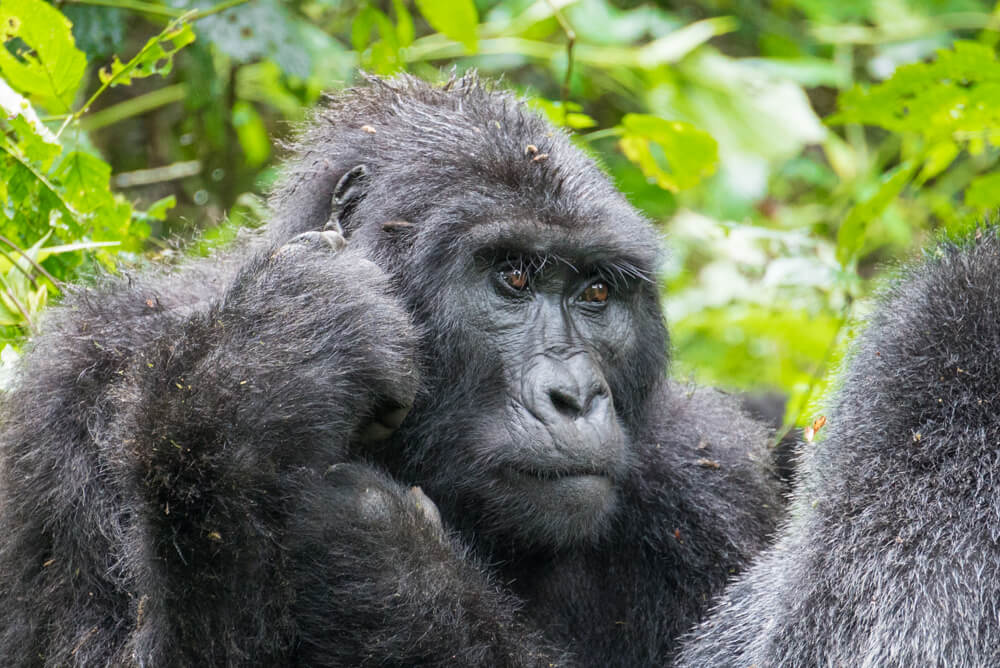 I couldn't find much information on doing this independently before I went, and it seemed like everyone else was on a tour (if you want to go that route, they have some options on the TourismUganda site). Though I didn't take a tour and I was still able to participate. Here's how:
Book your permit as soon as you know that you want to do this as it's a popular activity and permits get booked out weeks or even months in advance. You can contact the Uganda Wildlife Authority to obtain your permit.
You must be healthy on the day of the hike without a cold or anything similar, as you can actually make the gorillas sick given how genetically similar we are.
The toughest part is getting there and getting out again, but you have a few options:

Fly into Kihihi from Entebbe with AeroLink, which costs a standard $236 each way. I drove in and flew out, and surprisingly, I was the only person on my flight!

From there, you'll need a ride to the park, which I paid 80,000 shilling for (about $22). I hired a local in Bwindi, Alex ([email protected]). If you use this method please let me know so that I can keep this updated!

Rent a car in Entebbe and drive yourself, which is a distance of over 400km
Get a car and driver to take you into the park
Cheapest: Take the Post Bus, the safest bus company in Uganda, to either Kihihi or Kabale, depending on a north or south entry, and take a car (see Alex above), local minibus (called a 'taxi'), or boda boda (motorbike taxi), from there. They should all cost less than 100k shilling.

Bring cash to pay, as ATMs are far away and many of the more affordable lodges only accept cash.
Accommodation: There is everything from campsites to fancy resorts, though everything in the area is a bit overpriced and provides less value for your money than elsewhere in Uganda.
Let the rangers know when you show up that you don't have a car but you'd love to join a group with space, or alternatively do the walk to the family that can be reached only on foot.
As far as activities and wildlife encounters in Africa go, this is definitely one of the best. I'd go as far as to say it's a must-do that shouldn't be missed. Seeing these amazing animals in their natural habitat, without bars or glass walls like in a zoo, adds another element of magic.
If you find yourself in Uganda, head to Bwindi and see this for yourself. You'll be so glad that you did.
*This post was brought to you in collaboration with the Uganda Tourism board. All thoughts on the amazing experience are my own.