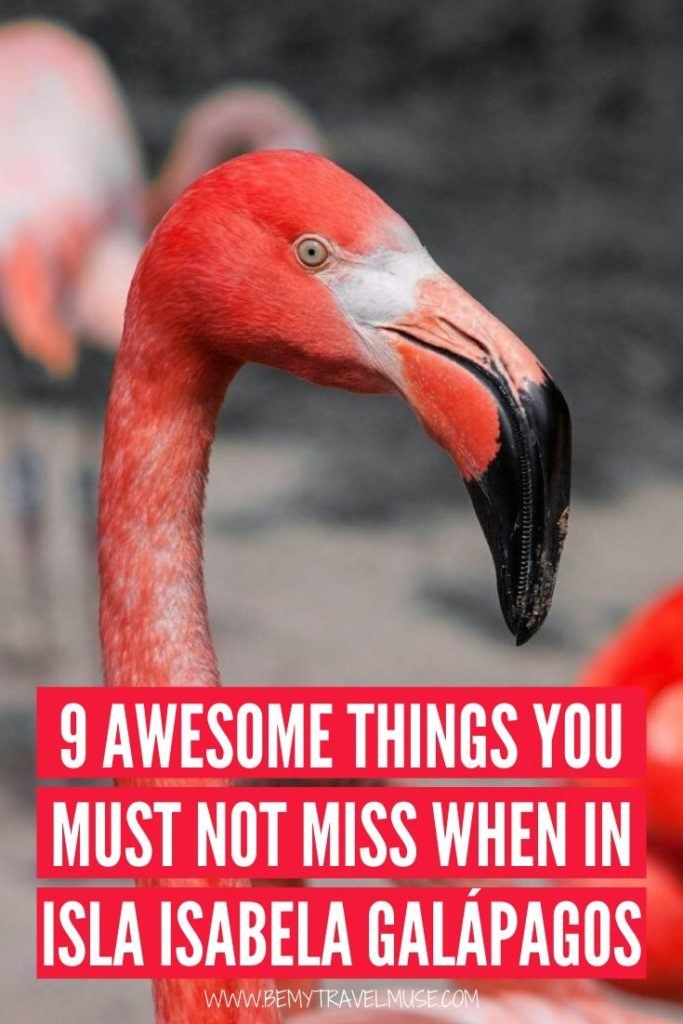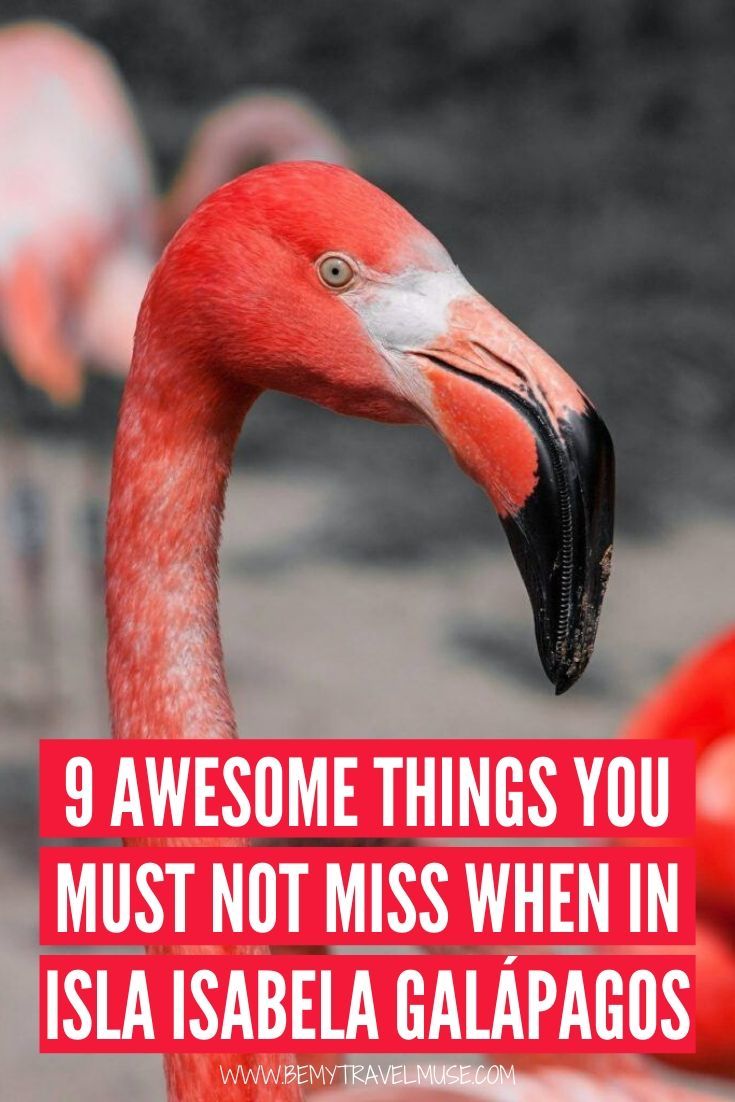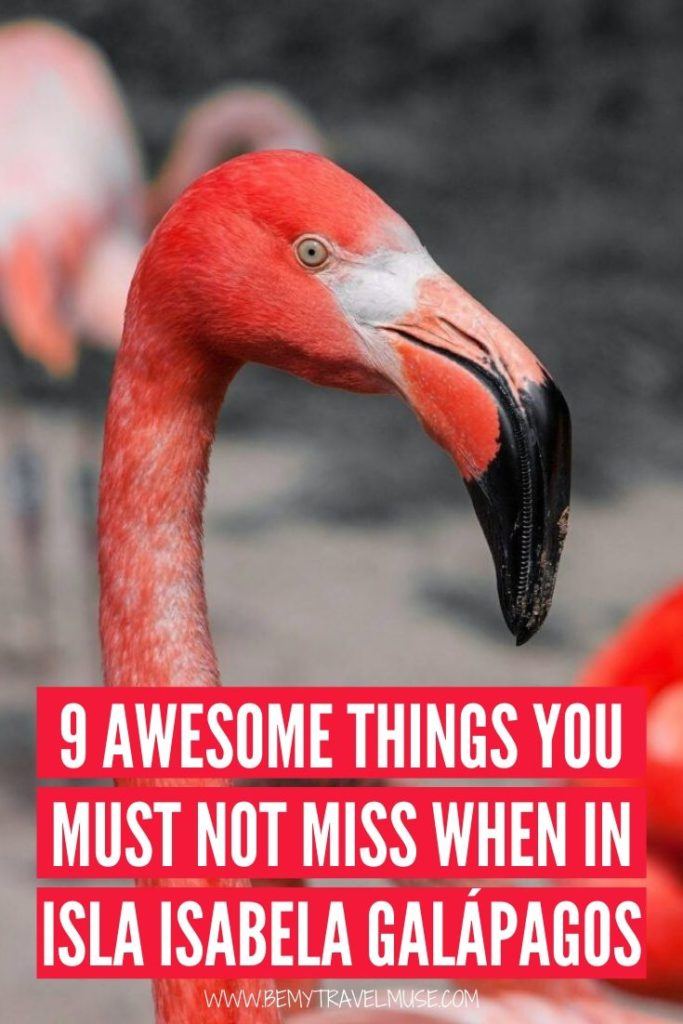 Isla Isabela in the Galápagos is the biggest island in the group, as well as the only one that is shaped exactly like a seahorse. IIt's like it was written in the stars that it would have amazing sea life, because it just so happens that there are seahorses on Isabela, as well as sea lions, turtles, manta rays, and sharks galore.
Of all of the islands in the Galápagos, Isabela just might have the best snorkeling. In few other places have I seen so many animals in the water at once. The Galápagos is simply amazing, and Isabela is the perfect combination of the best that the islands have to offer.
If you're visiting Isabela independently, you'll have different options than the cruise ships do as they move around the island. Since you're probably here to get info on traveling there independently, allow me to share some of the best things to do on Isla Isabela:
Los Túneles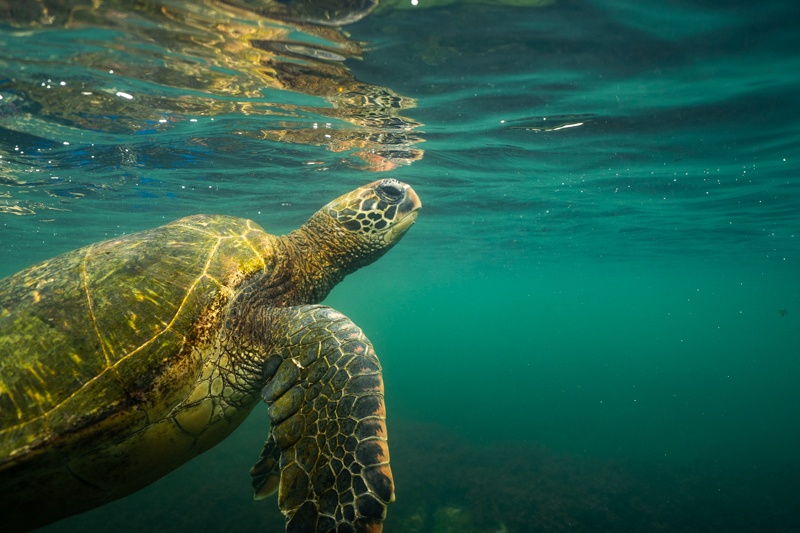 I'm just going to start right at the top. If you visit Isabela, you MUST take a day trip to Los Túneles. Book this as soon as you know you'll be heading there, as permits are very limited and thus, so are spaces on the tours.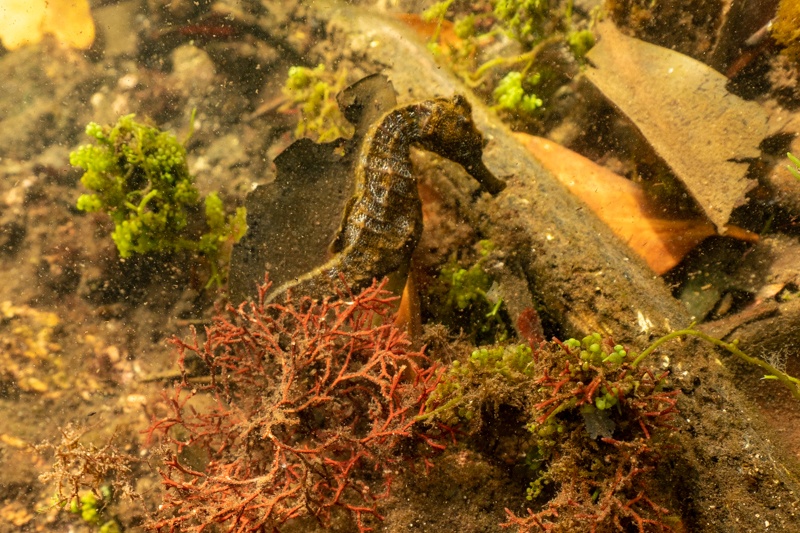 It's worth moving things around in your itinerary to accommodate this trip. We saw manta rays gliding through the ocean on our way, swam with tons of sea turtles, multiple white-tipped reef sharks, and of course, saw a couple of seahorses.
Concha Perla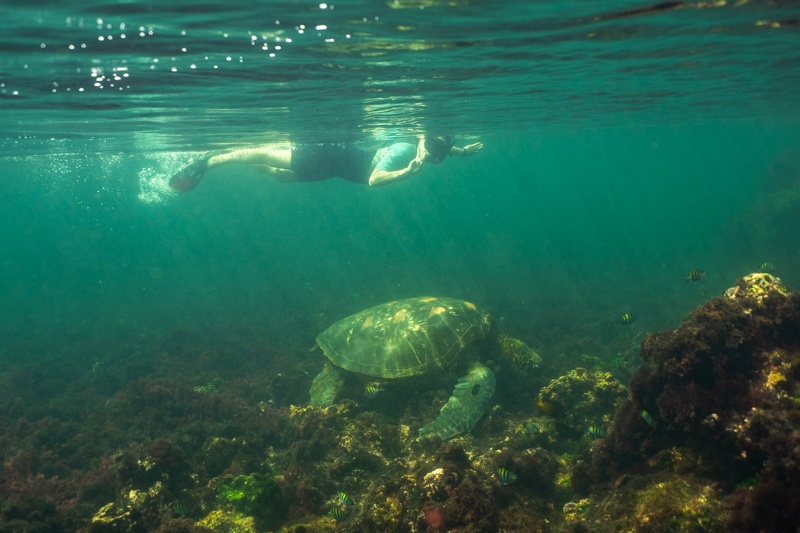 Let's be honest, this is not the best snorkeling you will experience on the island, but it's easily accessible in town and the boardwalk to get there is nice. You're almost guaranteed to see marine iguanas as well as sea lions, and I did spot a couple of sea turtles near the mangroves.
Surfing Lessons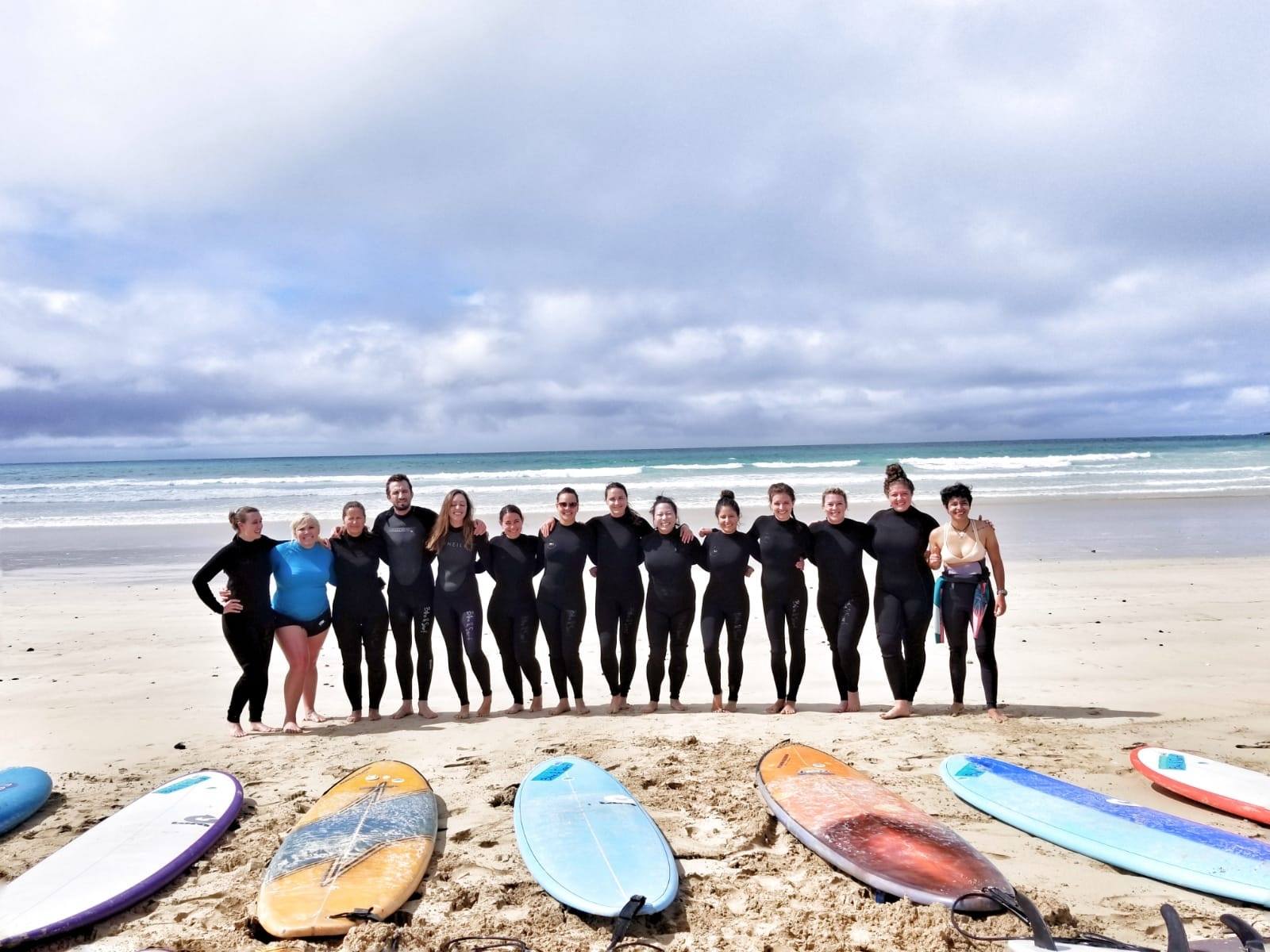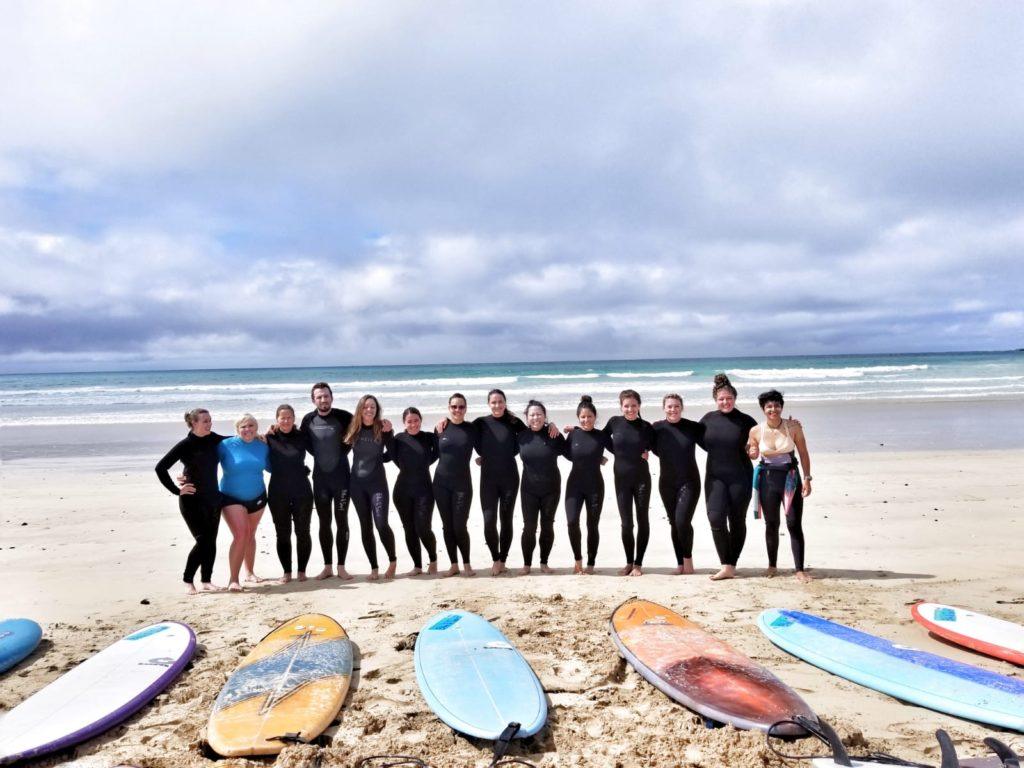 I took my BMTM Adventures group surfing on our last day on Isabela and it was tons of fun. Some of the women in the group were able to stand up multiple times!
I stood up for a few milliseconds three times and I also got nailed in the eye by my board and got a mini bruise, so I'm going to go ahead and call it even.
Bike the Wall of Tears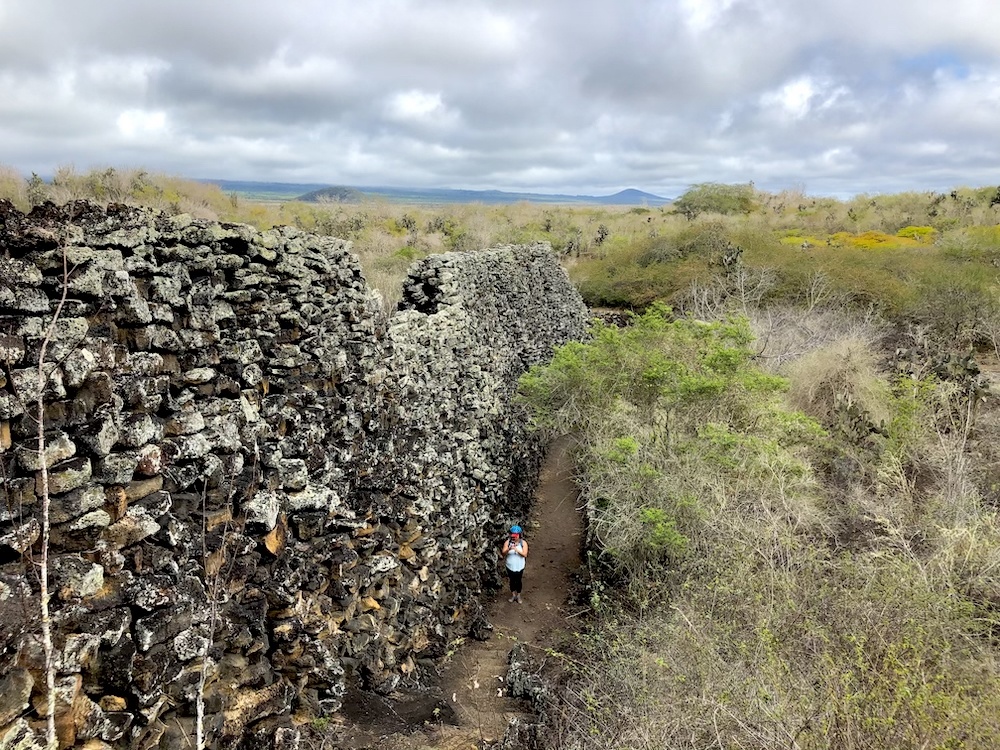 Biking the Wall of Tears gives you a peek into the past of Isabela, a former penal colony.
The wall itself is a somber ending point, as many people lost their lives building and re-building a wall for no apparent reason other than punishment. However the bike ride there will take you past several lovely beaches including Playa del Amor, and you'll probably see several tortoises on the way as well. Once you reach the wall, it's worth doing the hike up to the viewpoint to see a beautiful view over Puerto Villamil and beyond. 
Though I reached it in the late morning, I could see this being an amazing spot for sunrise if you're willing to bike in the dark. Obviously, take a headlamp.
The biking trail can get pretty hot, and it's not entirely flat so I recommend starting in the morning.
Sierra Negra Volcano Hike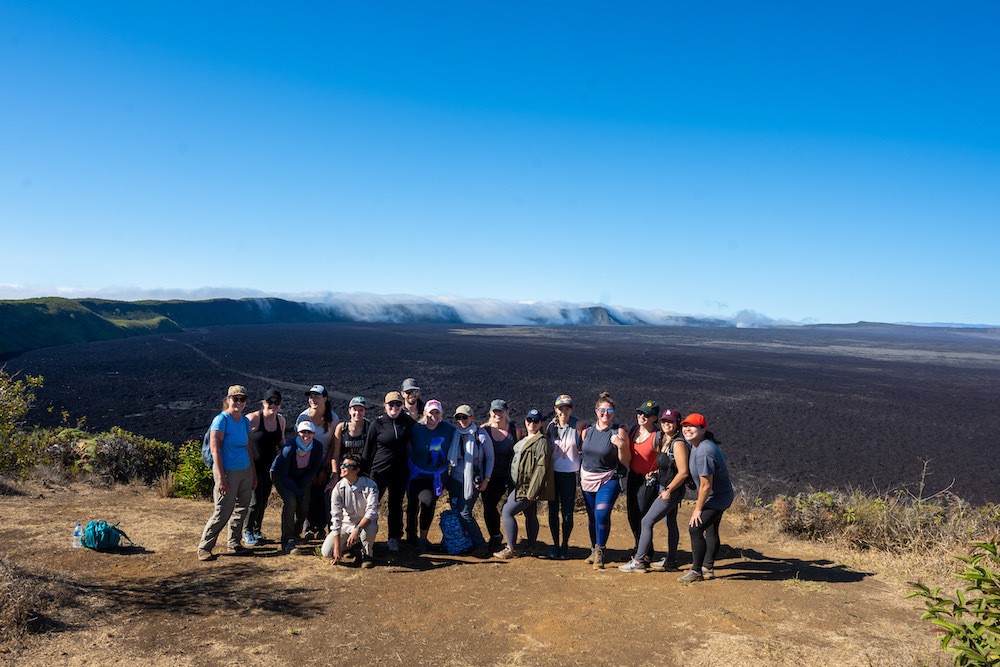 Sierra Negra is one of many active volcanoes on the island and a fantastic trip to take in the morning. The hike is pretty easy and gradual, and not too long.
That said, consider the weather, as you will have no shade and you are hiking along volcanic lava rock, which gets blistering hot in the sun. I'm not sure this is always possible, but my group started an hour before all of the other tour groups usually begin, at 7 AM. This allowed us to have the volcano all to ourselves.
Since the Galápagos is tightly regulated, you will have to do this as part of a tour. You can find them all over town for around $30. We used Pahoehoe for my BMTM Adventures trip and they were amazing. 
Tintoreras Snorkeling
Although nothing can rival Los Túneles, I highly recommend spending as much time as you can on Isabela under the sea.
Las Tintoreras Islet has plenty of marine iguanas and the snorkeling will provide opportunities to swim with sea lions, sea turtles, rays, and my favorite, a little alleyway created by lava rock that was full of white-tipped reef sharks! I've never seen that many all at once!
This also must be done as a tour but it's much closer to town than Los Túneles and can be done as an afternoon excursion, potentially after Sierra Negra. If you're lucky, you might see penguins on the way as well – we did!
Villamil Lagoon and Tortoise Breeding Center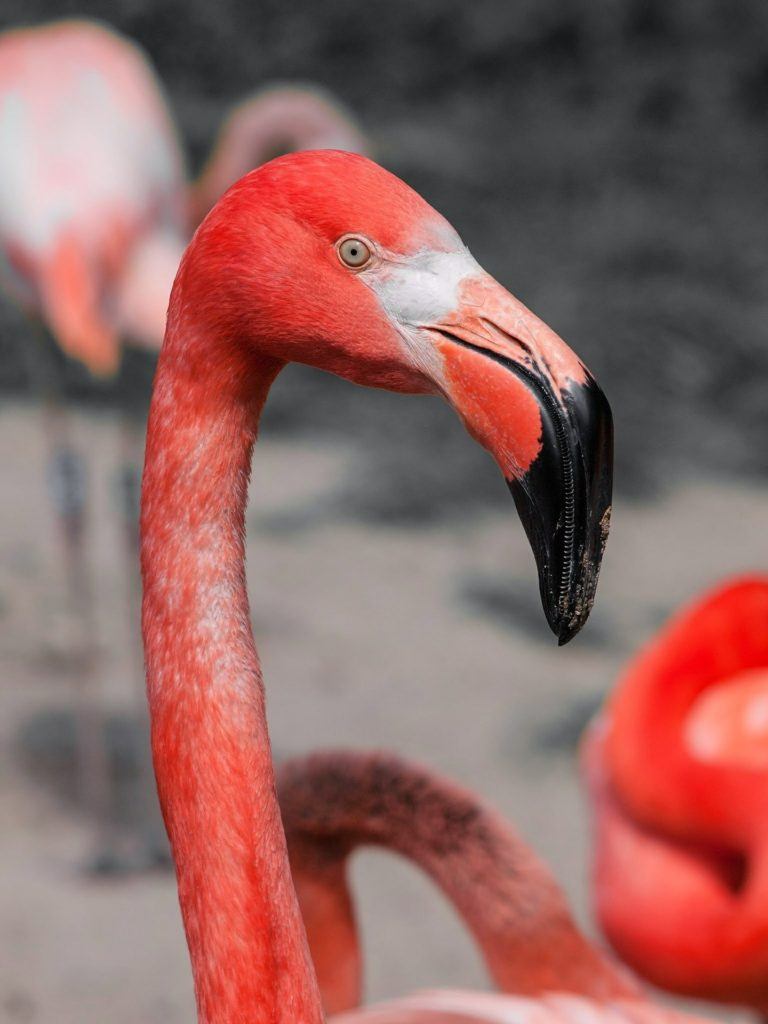 To see the famous Galápagos flamingos, along with more iguanas, head to the boardwalk that will take you to the Villamil Lagoon. It's easily accessible from town and just on the other side of where you would begin the Wall of Tears bike ride.
At the end of the boardwalk, you will come to a tortoise breeding center. All of this is free and you can self guide. It was fun to see the tiny little baby tortoises!
Tortuga Island Snorkeling or Diving
Tortuga Island is a popular snorkeling and diving spot, though, to be honest, a few women from my group checked it out and reported such rough seas that they all got seasick. They didn't see anything snorkeling, but the divers did see some sharks. Obviously, conditions can be different on a day by day basis so don't write this one off if you're dying to go scuba diving on Isabela. 
Elizabeth Bay
Another day trip, Elizabeth Bay can be a good bet if you're hoping to see  Galápagos penguins. You also have the potential to see them on your way to Las Tintoreras. 
Keep in mind that your best time of year to see the penguins is when the water is colder, which is during the dry season. You can check out this post for an idea of weather and animal sightings by month.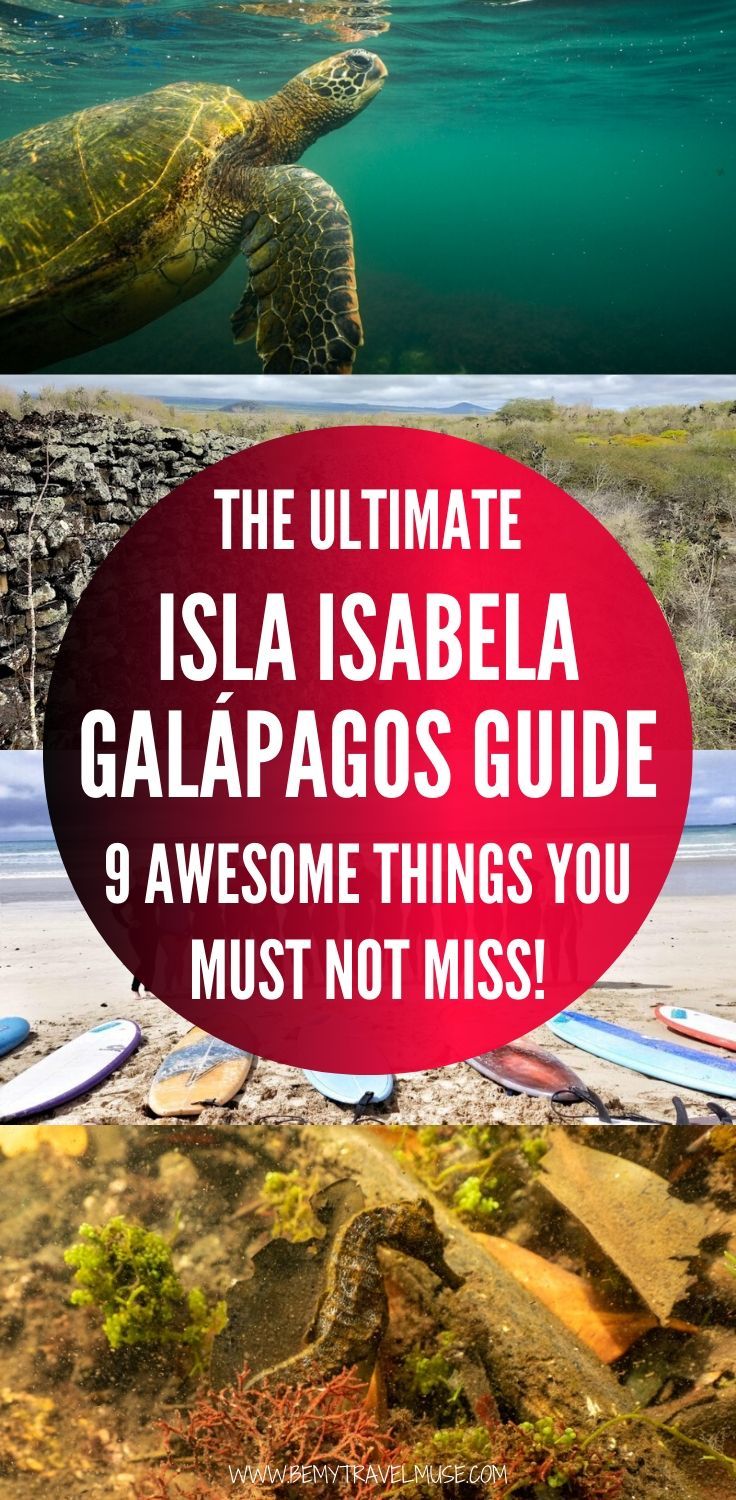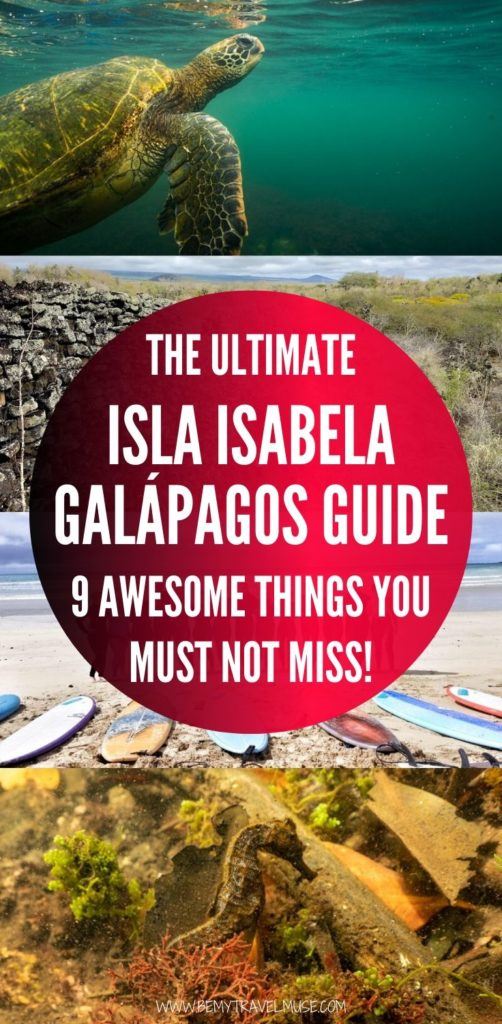 Stay:
My group stayed at La Casa de Marita Boutique Hotel and it was wonderful. It is one of the higher end hotels on the island but with rooms with a nice view of the ocean and a delicious breakfast, plus food that is sourced from their organic farm, I can't recommend it enough.
Eat:
Honestly, most of the restaurants on the island are pretty similar and none really stood out as great or terrible. That said, Coco Surf had pretty good food, though it was pricey and a long wait.
Getting There:
Ferries depart daily from Santa Cruz Island to Isabela, typically at 7 AM and 2 to 3 PM. Ferries depart back to Santa Cruz around the same time from Isabela. The passage takes about two hours on a speed boat and it can be quite choppy, so take Dramamine if you're the type to get seasick!
My group and I absolutely adored our time on the island, which had some of the best snorkeling of my entire Galápagos experience. I spent three weeks on the island, exploring by cruise, budget backpacking, and doing it more luxury style with my group. If you're looking for a complete guide to the Galápagos , I've got you totally covered! To read more, click the images below.