Trekking in the mountains of Kyrgyzstan is an under-the-radar delight. The mountains are dramatic and vast, and while out there you're spending some days without another soul in sight and others with just a few around. It's unbelievable how unspoilt it still is, given the incredible scenery.
It's hard to find places like this left in the world. Given that, it's also quite wild and trekking in Kyrgyzstan comes with its own considerations. The following is what I learned during my 8-day trek out of Karakol:
1) Bring waterproof hiking boots (seriously)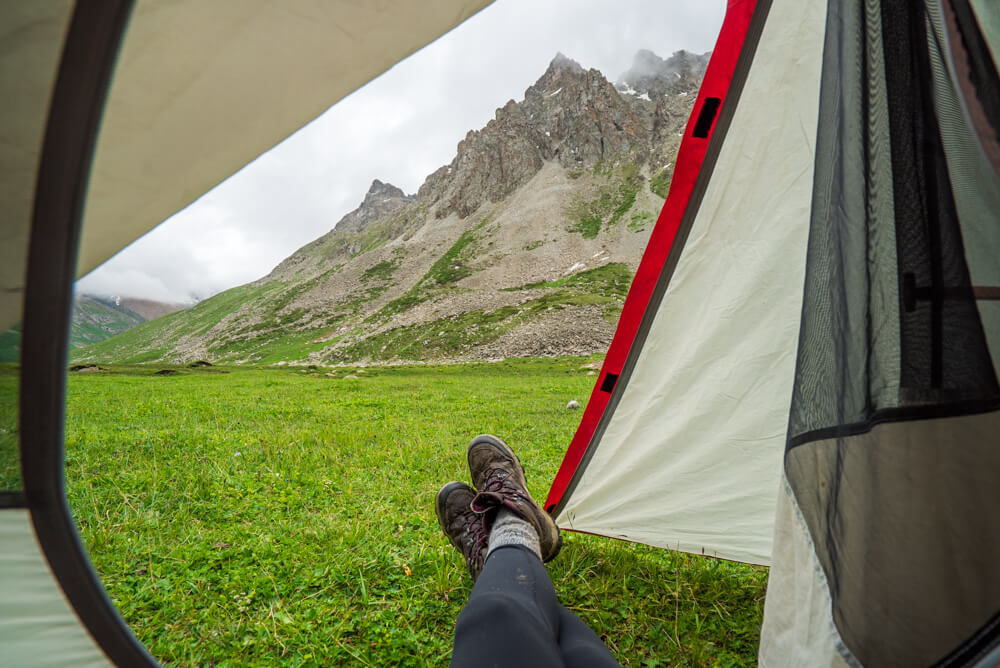 I had soaking wet feet for the first three days of my trek. 'Wear waterproof boots,' they said. 'Oh I will!' I replied.
My fatal error is my boots, after much love in Patagonia and the American Southwest, had two gaping holes on them. I didn't realize until it was too late and Oh, I suffered for it.
Most boots don't stay water tight for more than a year or two of heavy use and mine were no exception. Check yours first or buy new! These are the ones I use (and will be buying again).
2) Bring sandals with tread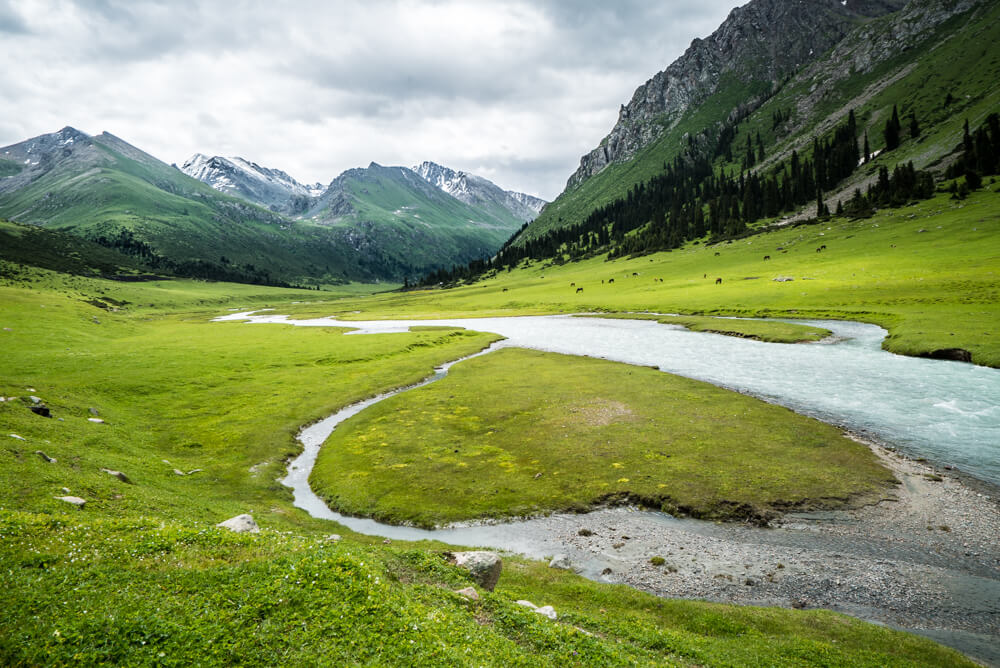 You'll almost certainly be crossing frigid rivers without bridges, and when the water is higher than your boots can go, it doesn't matter how waterproof they are, you'll get them wet. It's better to remove them to cross, and either do so barefoot or even better, with sandals that have tread.
Tevas or something similar are great for crossing rivers and for getting out of your boots at night. Double whammy value.
3. Prepare for all kinds of weather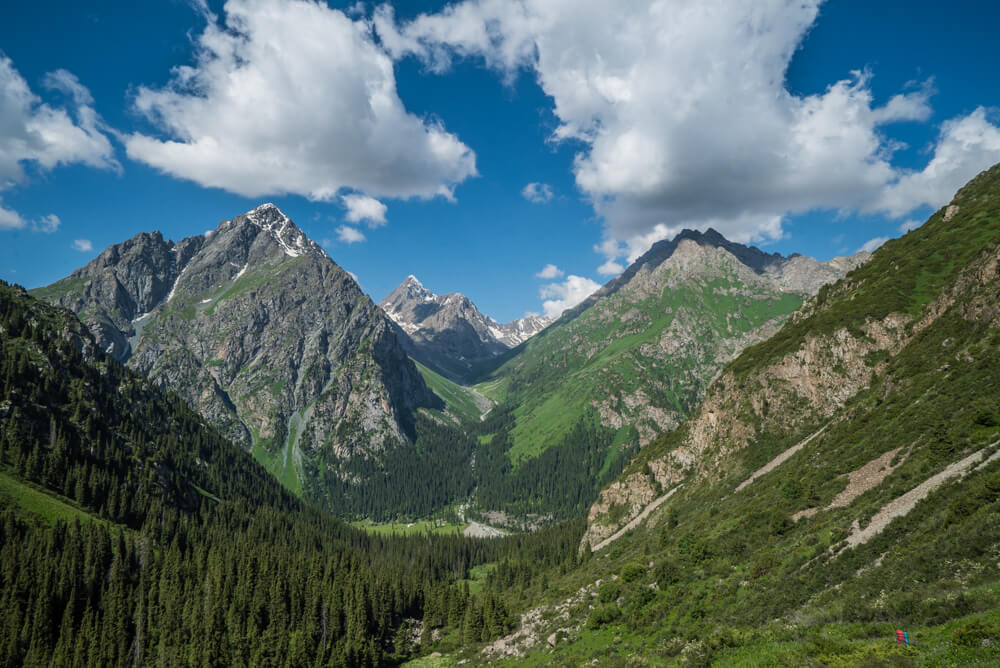 My trek that spanned 8 days from the end of June into July required a tank top, sunscreen, a ski jacket, and gloves. Sometimes it's boiling hot and sometimes it's freezing cold. One night we even got snow!
Even if it feels hot in Karakol, Jyargalan, or wherever you start, plan on cold weather at altitude.
4) Know that there may be no trail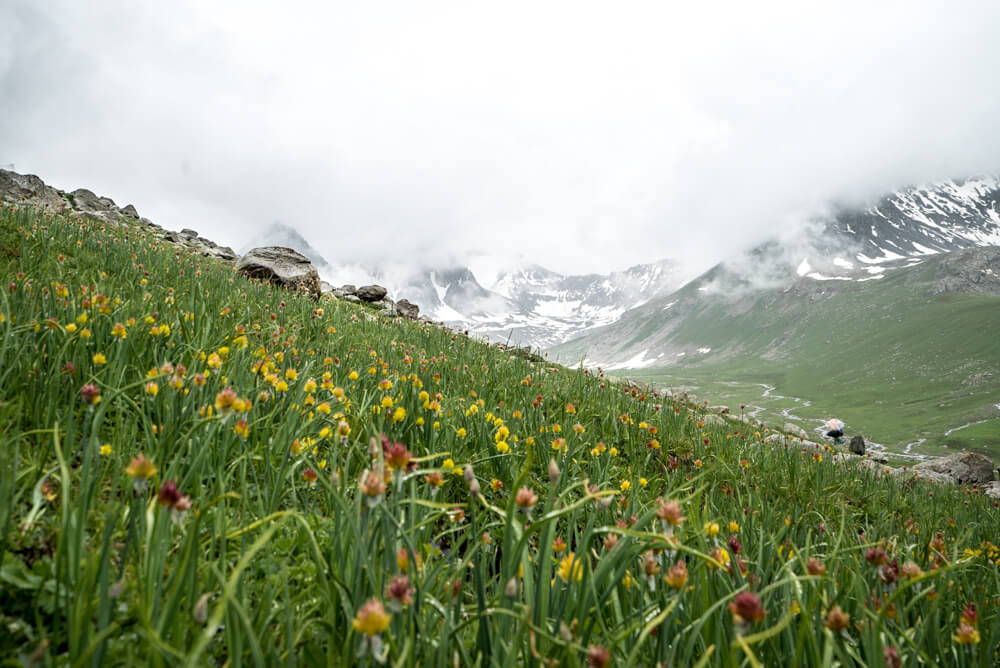 For the more popular routes you'll find a trodden trail, but most of the treks don't have a trail, markers or even rock cairns.
You'll be doing a lot of GPS plotting and map checking if you don't have a guide, which brings me to;
5) Consider hiring a guide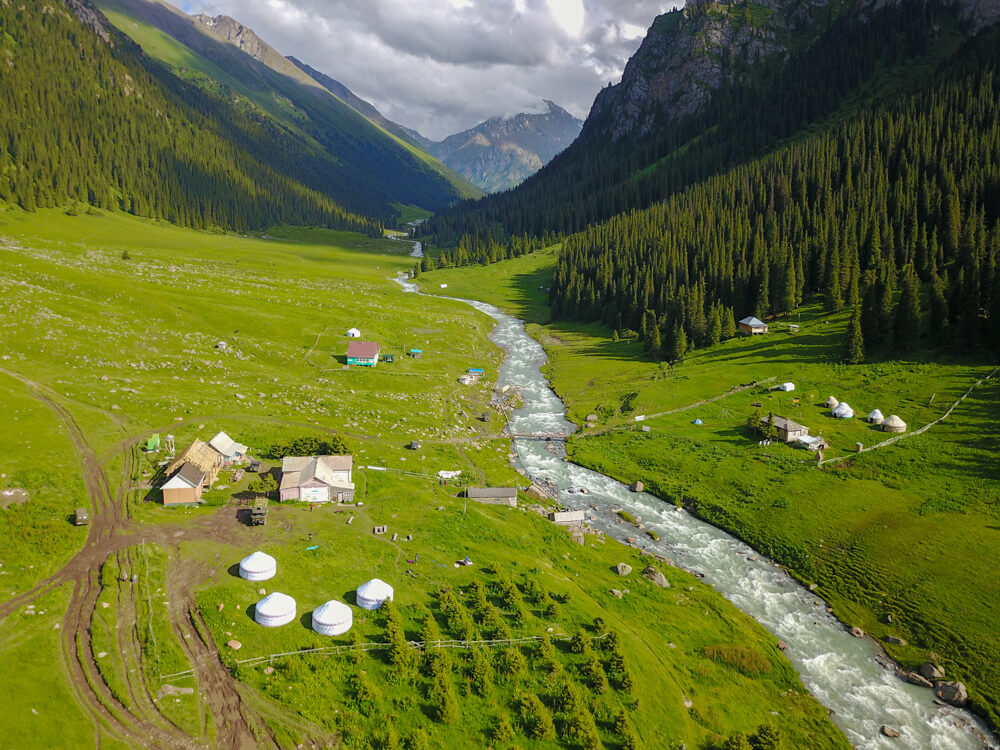 I almost never take a guide when I trek. I didn't in Patagonia or Nepal, but in Kyrgyzstan, at least for the more remote trails (and honestly they are the best ones) please don't go it alone. On day two of my trek to the Almalu valley, we didn't see anyone else. Seriously not a soul.
6) You will probably hike through snow at some point
Even in the middle of summer, the passes can have snow on them. We crossed six passes on my trek, and half of them had snow, which could make for really cold feet. Make sure your shoes can handle it.
7) Here's a packing list
Clothing-wise. Bring two changes of clothes, 8 pairs of undies, a waterproof jacket, and four pairs of socks. That's it.
I know that it sounds pretty gross if you're a first-time trekker that you'd only bring two sets of clothing – one for sleeping in and one for trekking in – but trust me, more clothes would just equal a pointless amount of extra weight. Within 5 minutes of trekking in your new, clean clothes, they will be sweaty too, so what's the point?
Trust me on this one:
Waterproof, warm jacket. I almost always trek in my ski jacket.
Two tank tops
Two long sleeved ski underwear tops (I love this one because it's so light and warm, and even though it's wool it doesn't make me itchy)
Two pairs of thick quick-dry leggings
Enough tissues for the entire trip (bathroom needs and runny nose needs)
Hat, and something to keep it on
Beanie
Sandals (as mentioned above)
Gloves
At least four pairs of socks
Water container of some sort. I prefer camelbacks
Sunglasses
The following will most likely be provided by your guide if you hire one:
Sleeping bag suited to at least comfort level 0 degrees
Enough food for each day plus an emergency stash
Optional but helpful: 14, 16, 5, 6.2, plus a little flask of local vodka or cognac because sometimes a little swig to warm you up is kind of nice.
A way to clean the water if you're worried (though I didn't have anything with me)
Tunes to listen to in case you need some motivation (this is my playlist)
8) Embrace the chance to return to your natural state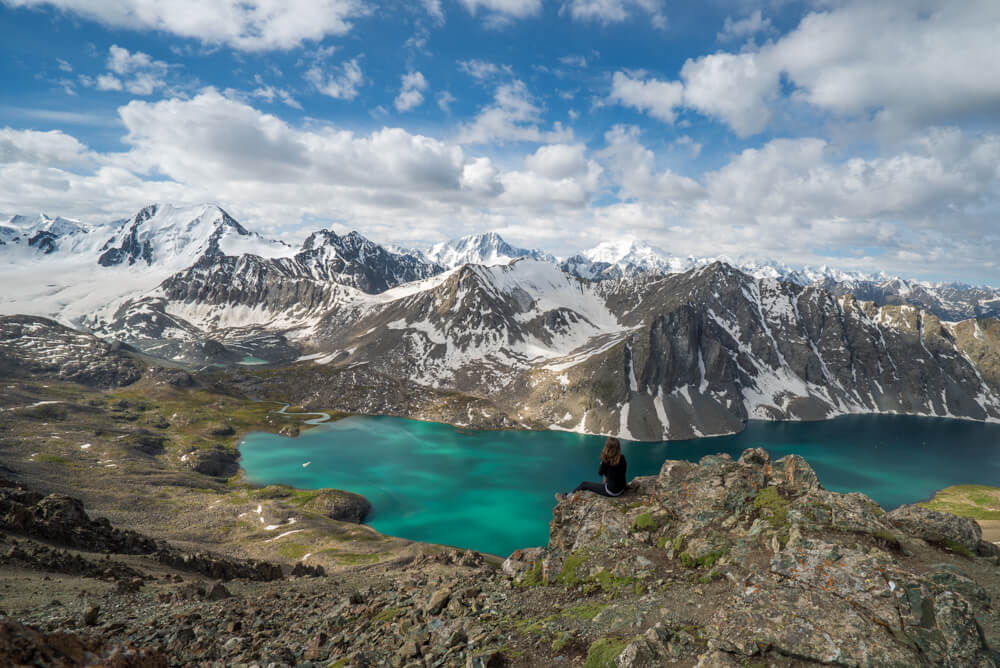 If you were bothered by point #7 you'll probably also be bothered to know that you most likely won't be showering during your trek. NBD, honestly, because everyone is in the same boat.
By day 2 I tend to feel kind of gross, by day 3 I care a bit less, and by day 4 I'm ready to renounce showering forever. I stop caring if I have dirt on me. I start laying right in the grass and just enjoying my chance to be off the grid, surrounded by nature, and back to the caveman state we came from (okay with a ski jacket and tent so I guess I can't claim full authenticity).
Give it a try, you're more adaptable than you think.
trekking in Kyrgyzstan delivered so much more than I thought – more challenges, more glaciers and peaks than I'd seen in one place, more fun local interactions, and more laughter. It's one of those quiet that probably won't remain that way for long.
So go and explore these mountains. In many cases, you'll be the only one there, like a modern-day cartographer.
*This trip was made possible by Visit Kyrgyzstan and the support of the American people through the United States Agency for International Development (USAID). The contents are the sole responsibility of the author and do not necessarily reflect the views of USAID or the United States Government.