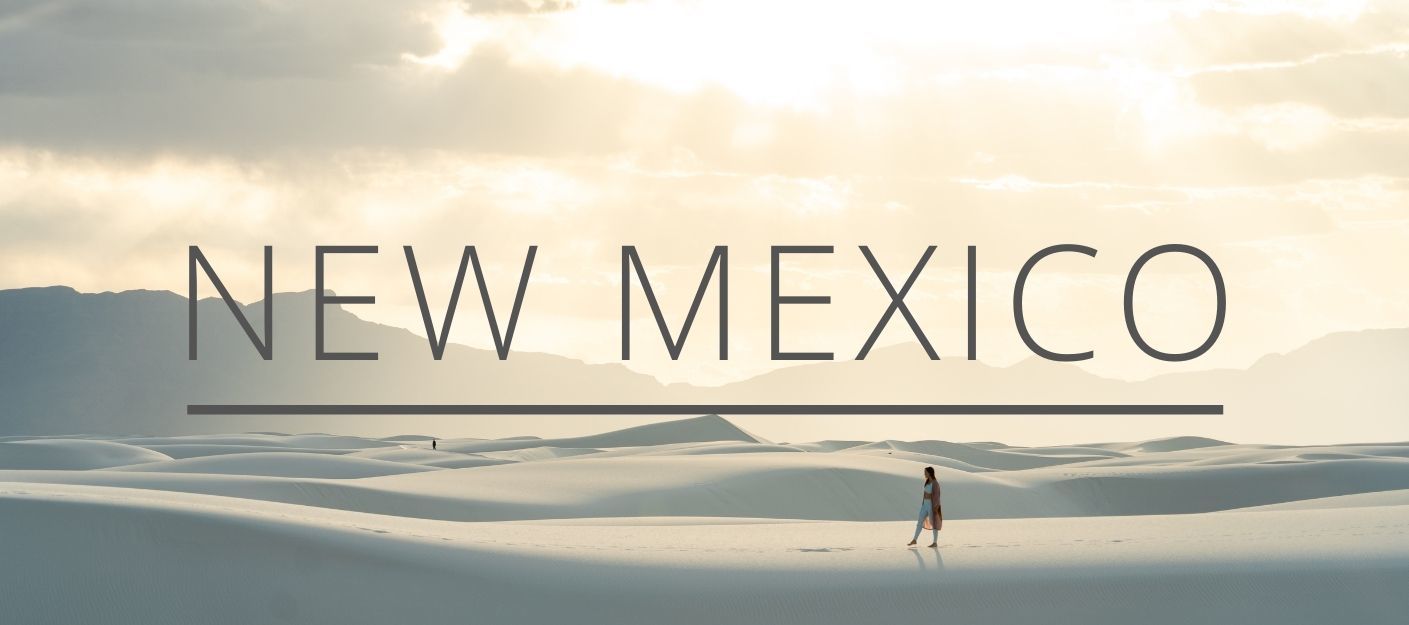 New Mexico, the 47th state of the USA, has an interesting history that's reflected in the cultures, flavors, and architecture all over the state.
Home to the oldest state capitol in the US, Santa Fe, New Mexico is a sleeper hit that gets way less PR than Arizona or Utah despite having so much to offer.
From White Sands National Park to the snow of Taos, the breaking bad fandom of Albuquerque to the caves and cliff dwellings, my three weeks in New Mexico was a dream. Read on for the best things to do in the state!
Where in New Mexico?

New Mexico
Watch my videos from New Mexico
Accommodation
Budget Solo Travelers ($10 – $49): Campsites are available in all major state parks at $10-$14 per night, or $70-$87 per week. While hostels are a rare sight in New Mexico, you will find budget motels and inns for about $25-49 per night. 
Mid Budget Solo Travelers ($40 and up): In major cities such as Santa Fe, Albuquerque, Ruidoso and Red River, you will find decent hotels in good location at about $60-$120, though I find Airbnbs to be a much better option. For instance, I stayed in a historic building from the 30s with a gorgeous outdoor area for just $81 per night, and on the pricier side, I stayed in a riverside hot spring private retreat for $225, which I think still provided much better value than a hotel at the same price point. For a unique accommodation experience, I highly recommend checking out the Taos Earthship, which is completely off the grid and sustainable, not to mention stylish! It's a hippie dream come true.
Transportation
Getting There: The main international airport is Albuquerque International Sunport, which receives direct flights from most major cities across the country. Driving into New Mexico from its neighboring states is generally fuss-free, though if you only want to have one long drive on your trip, I'd recommend flying into El Paso and doing a one-way car rental. It is also possible to get into New Mexico via Amtrak.
Getting Around: Renting a car is the most convenient way of getting around New Mexico. I loved that I was able to spend as much time as I wanted in certain spots, and that I was able to visit local places and stay in secluded Airbnbs. Make sure that your vehicle is in good condition –  it's not fun getting stranded in the wilderness! Public transportation options such as trains and buses are widely available in the cities.
Food
Local Eats ($10 – $15): While you will find lots of similarities between New Mexican and Mexican food, they are not at all the same. Chile is obviously the most present ingredient in New Mexican cuisine, and my personal favorite is the stacked red chile enchiladas. Not only is it delicious, Chile also contains various health benefits. So, you know, eat away! If your accommodation comes with kitchen facilities, you can get groceries from the local supermarket and make your own meal to save money.
Restaurants & Bars ($30 and up):I had so many great experiences eating out in New Mexico that I can't wait for you to try out. For the yummiest brunch, head to Palacio Cafe in Santa Fe, or The Shed in Las Cruces (get the banana pancake drops – so good!); for a nice dinner, I recommend Tony's Mexican Restaurant in Truth or Consequences, or Zacatlan in Santa Fe. Meals in restaurants typically cost about $30 per person.
Things to Do
Get on an epic road trip: I had a blast road tripping through New Mexico, and especially enjoyed that each stop was a big change of scene. You've got the utopian White Sands National Park, the intriguing Carlsbad Caverns National Park, the bougie Santa Fe, and the Mars-like Bisti Badlands. For a complete itinerary, check this post out.
White Sands National Park: As a sand dunes enthusiast, it's no surprise that I've had White Sands National Park on my bucket list for years, and boy, was it not just as magical as I imagined it to be! it's in the middle of nowhere, and you will most certainly be making a big detour to see it, but it is absolutely worth it! See more photos here, if you need convincing.
Breaking Bad in Albuquerque: Albuquerque for me was all about exploring the filming locations and geeking out over the show. This isn't your typical movie tour, but rather an exploration of the underbelly of the city and its surroundings. You won't believe how similar many of these places still look, and how different some look as well! I went on a fun adventure and documented it in this vlog. If you too, are a fan, I do recommend doing the same!
Meow Wolf in Santa Fe: Words cannot begin to describe this trippy wonderland. If you are into Burning Man, all things futuristic, weird and amazing, make sure to include Meow Wolf in your itinerary. I spent hours in there and felt like I hadn't seen it all, so do allocate some time for it.
Taos Earthship: This place is a hippie dream come true. Taos Earthship is a community of 70 homes that are completely off the grid and sustainable. I mean, listen to this: the roof is designed to collect the water, which is then filtered for drinking water, and used for the shower and sink. From there, it is filtered through the planter and put into the toilet water system, which can then be filtered to the outdoor landscaping. Why aren't all homes like this yet?! Click here for a full review and book your stay.
Hot Air Balloon in Albuquerque: Albuquerque is where the biggest hot air ballooning event in the world is held, which tells you how perfect the conditions are for a hot air balloon ride. Take your holiday in Albuquerque to new heights with a hot air balloon ride. Click here to book a trip!