Welcome to Mendocino, a place that's long enchanted poets, movie stars, and human beings in general.
I've heard this part of California described as being in a perpetual spring. It's always been true for me – the moody coastline bringing in occasional fog and soft sunlight while whales and dolphins play in the distance. Somehow, it almost always magically clears for the sunset which, if you position yourself right, could be one of the best you ever see on those abundant cliffs over the moody Pacific.
As a California native, allow me to share the most magical, wonderful things to do in Mendocino that will keep you enchanted, too:
Where to Stay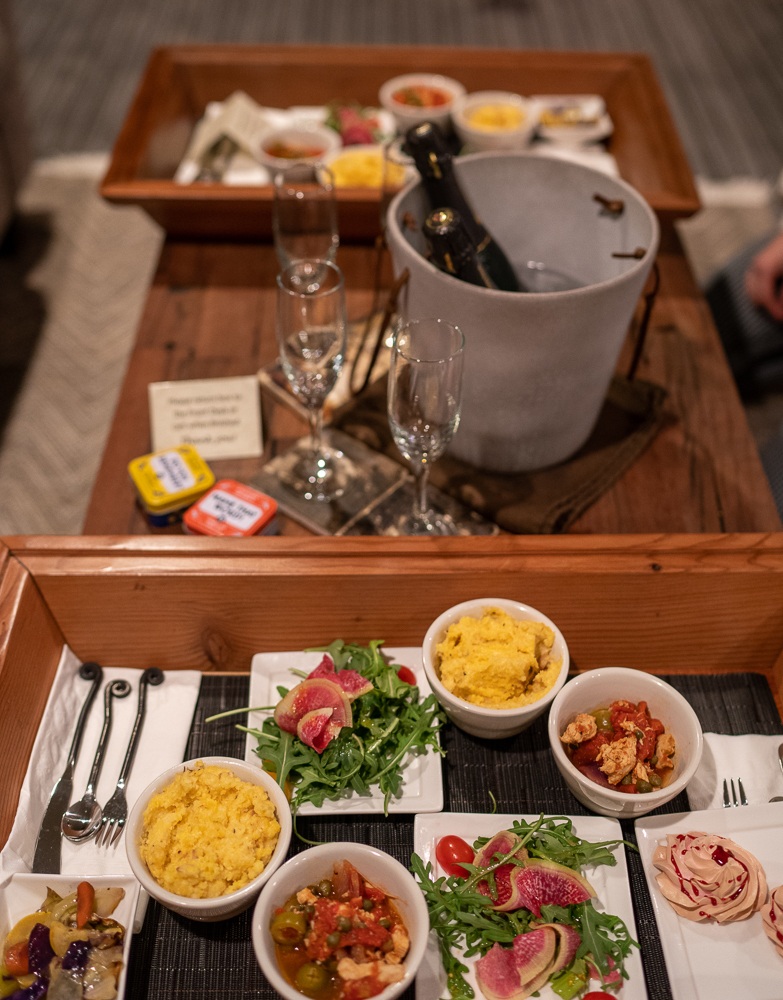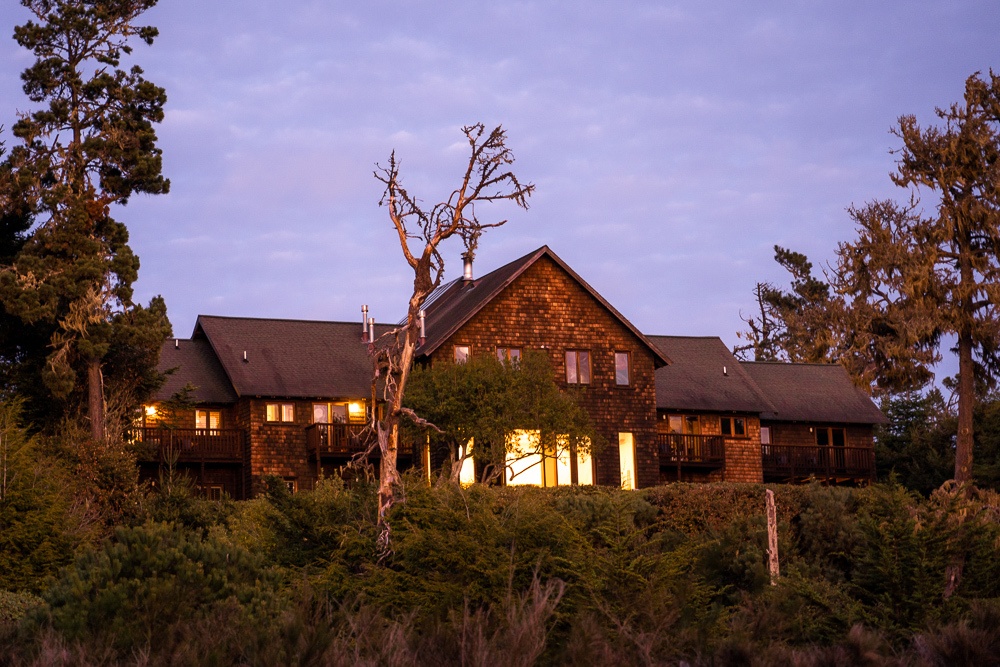 First of all, where you stay will impact how wonderful your experience is. Mendocino is full of boutique inns, and half the experience is where you choose to stay. Having a view, a lovely place where you can unwind and enjoy food onsite, and being centrally located are all things to consider.
I LOVED my experience at the Brewery Gulch Inn just south of the town of Mendocino. The customer service and extras took it all above and beyond, plus the view was wonderful!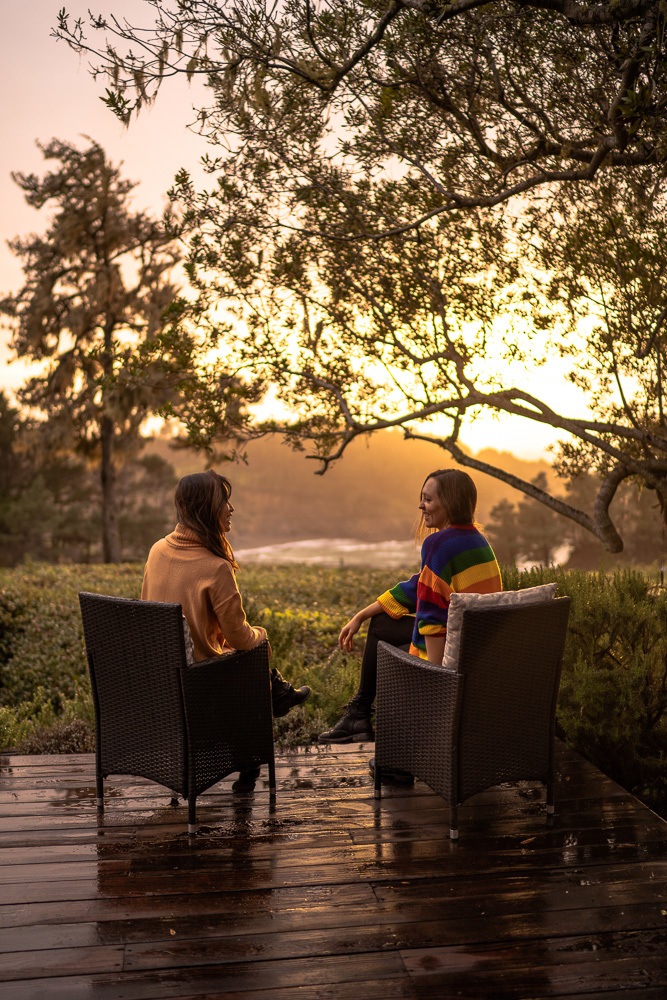 Each morning, the delicious and inventive locally-sourced breakfast was wonderful to enjoy while looking out at the view and the variety of birds who call the grounds home. Every evening, there's an included happy hour with wine and appetizers that were more than enough to serve as our nightly dinner. I appreciated the convenience of this so much, especially during these times of only takeout and distancing!
Mendocino Headlands State Park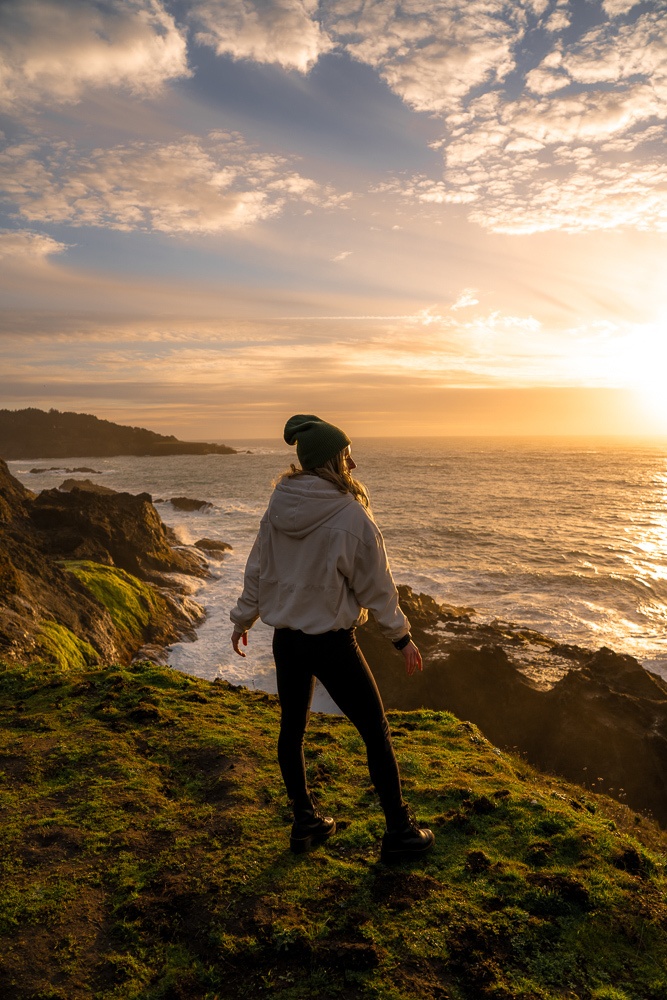 For your first evening, I recommend catching sunset at any one of the many amazing overlooks at Mendocino Headlands State Park.
You may start to notice that you are spoiled for choice when it comes to sunset spots in Mendocino County. The boulders in the ocean plus the perfect western position means nearly limitless options, and you can't go wrong!
Russian Gulch State Park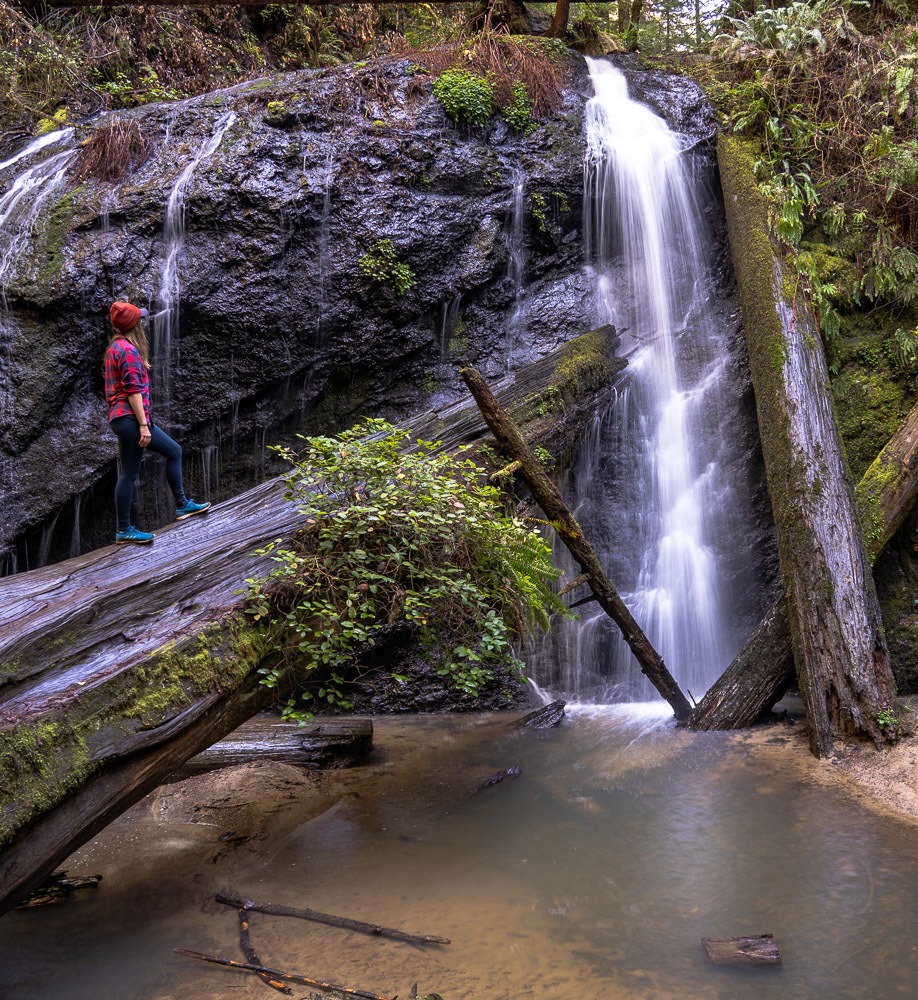 There's an abundance of state parks in Mendocino county, including the famous Russian Gulch State Park with its famous bridge and waterfall.
Park entrance is $8 per car, which gives you access to a beach with the bridge, a short hike to the bridge overlook, and the 6-mile hike to the waterfall pictured above, called the fern canyon trail.
Though you can't quite expect waterfalls as grand as in Yosemite, the hike itself is pretty easy, runs along a magical river with ferns and flowers, and takes you through Redwood trees towards the end as well!
Highway 128 Redwoods and Vineyards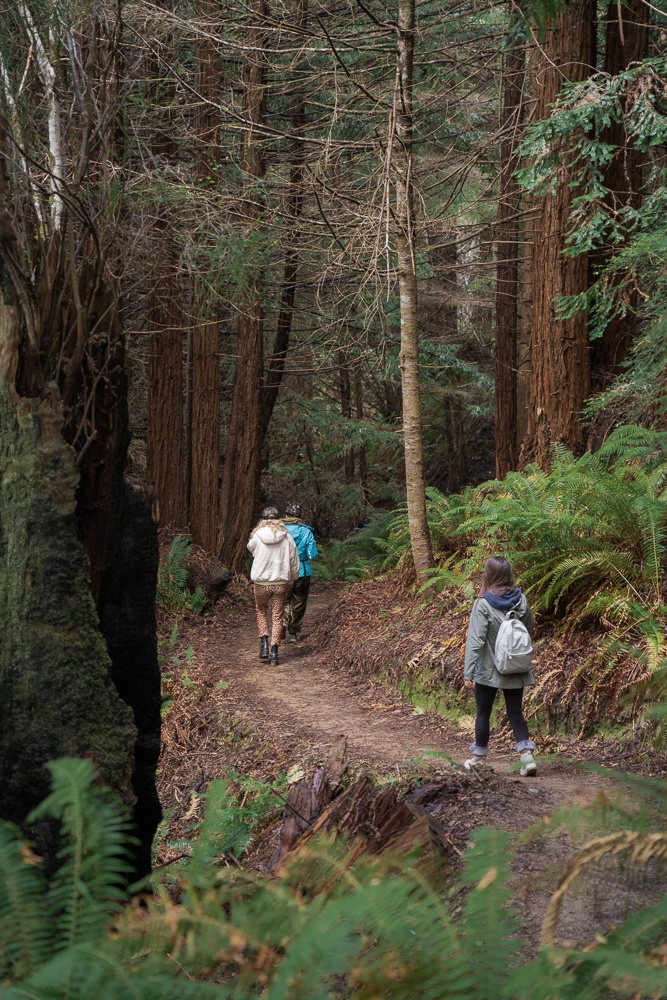 If coming from the Bay Area, chances are good you'll drive part of the way on highway 128, California's winery route, to get to Mendocino. This drive is amazing, passing through several wineries and eventually Redwoods.
I haven't drank in 3.5 years, so I can't tell you which winery is the best, but we sure loved the Redwoods. Here's a directory to each of the wineries in Mendocino County in case you decide to visit. Please drink responsibly and have a designated driver. There are also services that will drive for you that your hotel can help you set up!
Van Damme State Park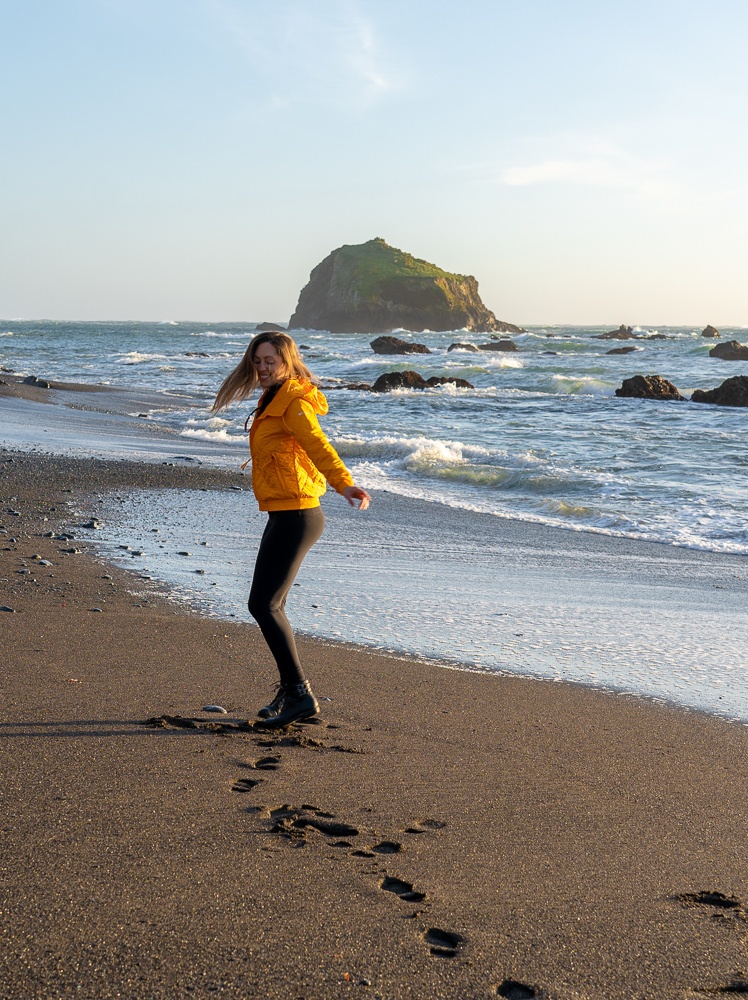 Having witnessed two epic sunsets at Van Damme State Park's beach, I guess I can say I'm a fan now. The sun was perfectly positioned over some rocks in the distance and it was just stellar from any vantage point.
The park goes quite a bit inland, too, with trails to Redwoods and another fern canyon and pygmy forest.
Jug Handle State Natural Reserve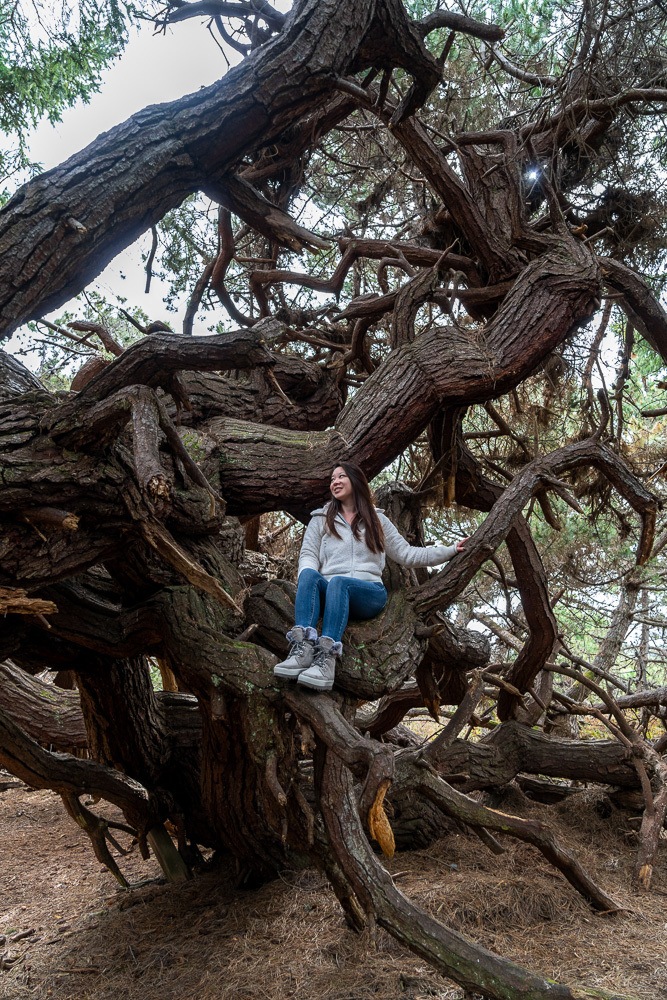 Not only does Jug Handle have a lovely beach and bridge, which I'm sure you're sensing is a theme in Mendocino now, but it has a super creepy, cool pygmy forest.
Just look at it!
What is a pygmy forest? It's a bunch of pines and Cypress trees twisted in strange and wonderful ways to create the best tree-climbing adventure I've ever seen. Even if you're just marveling from the ground, I think you'll agree, it's neat.
Skunk Train Railbikes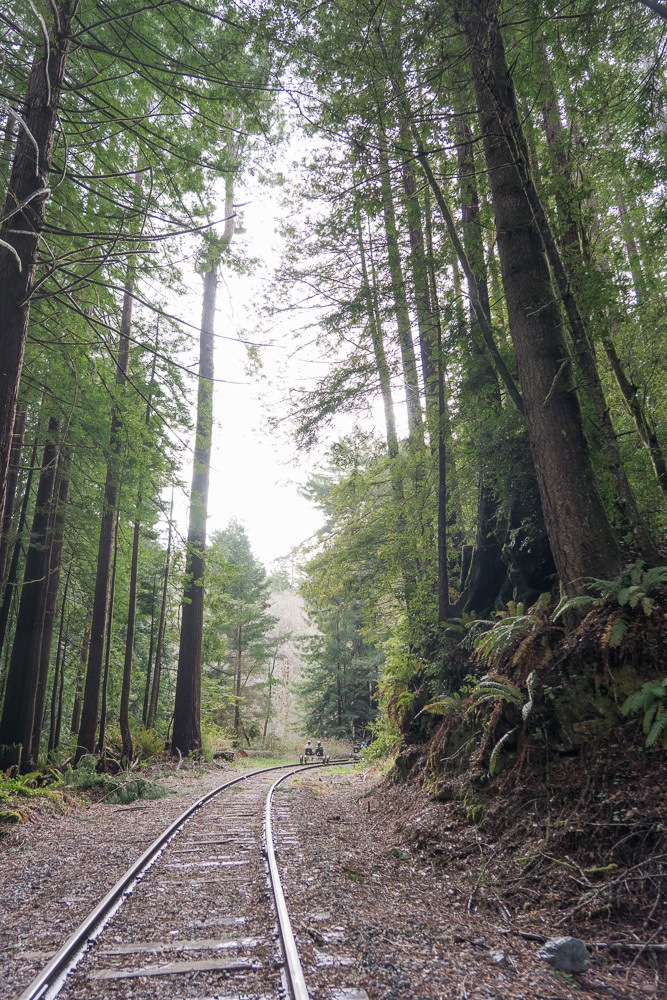 If you think 'skunk train' is an odd name, I'm here to agree with you, but the experience of biking along an old train track to the Redwoods sure was cool!
The train was so-named for the way the fuel used to smell, but these days it's a sight-seeing experience in Fort Bragg. Choose from taking the (presently not-smelly) train, or peddle to and then hike through the Redwoods – the tallest trees on Earth. To say it's a humbling experience is an understatement.
Plus, if you've ever played MarioKart, I think you'll enjoy feeling like you're in the game on the rail bikes! It gave me major Nintendo vibes! It takes about 2 hours to do the tour, and don't worry if you're not super fit. It's an electric bike that can give you as much help as you need. You can book it here or book their train ride to the Redwoods here.
Glass Beach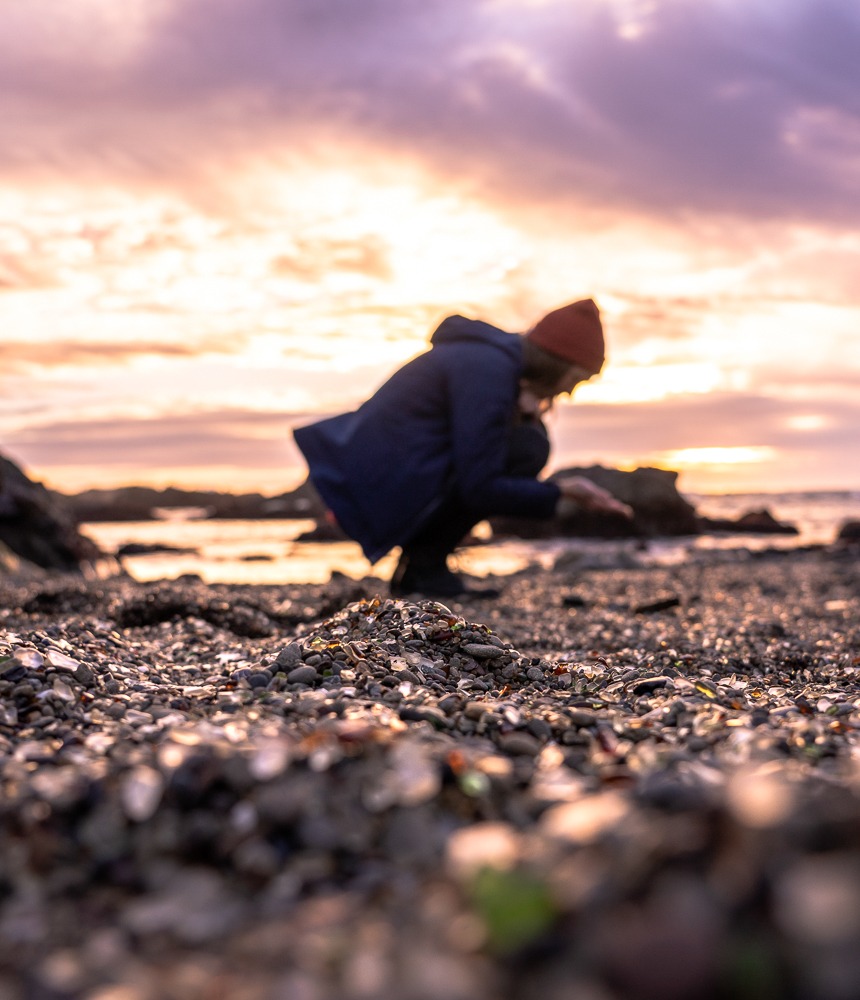 Glass Beach in Fort Bragg, about 10-15 minutes north of the town of Mendocino, is worth a stop.
This former dump turned into a beach covered in sea glass carved by the ocean over time, and when the light catches it just right, it can be magical.
It's funny, in 2019 when I went, was super disappointed because almost all of the sea glass had been collected by visitors. But when I went back in 2021, there WAS glass. It may have been the tide, or fewer visitors in 2020 meant more glass washed up, but I'm happy to say it's not time to write off Glass beach just yet.
Parking is free and golden hour/sunset are the best time to go. Plus, you may see seals on the rocks in the winter!
Noyo Headlands Park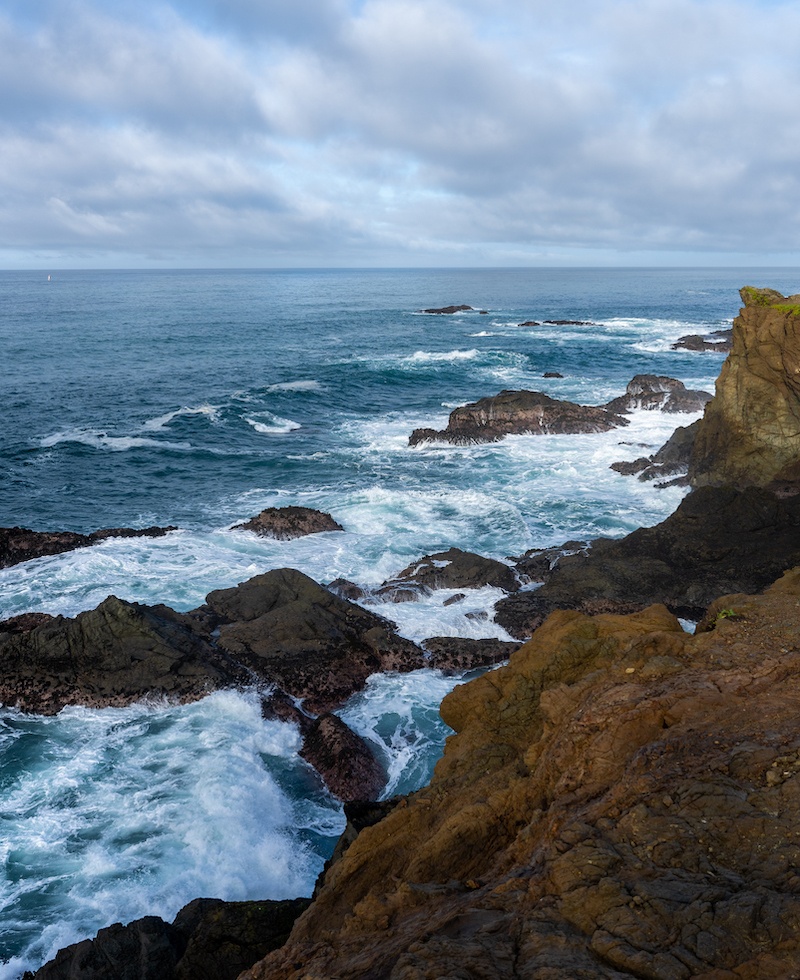 Noyo Headlands Park, just south of the main town of Fort Bragg, is another great sunset spot as well as morning walking spot. Take a bicycle and explore the coastline, or opt to explore on foot.
There are historical interpretive signs that tell the grim history of the headlands, a former reservation, and the mistreatment of those who lived there. With so few nods to the Native Americans in California, it's nice to see that story told!
MacKerricher State Park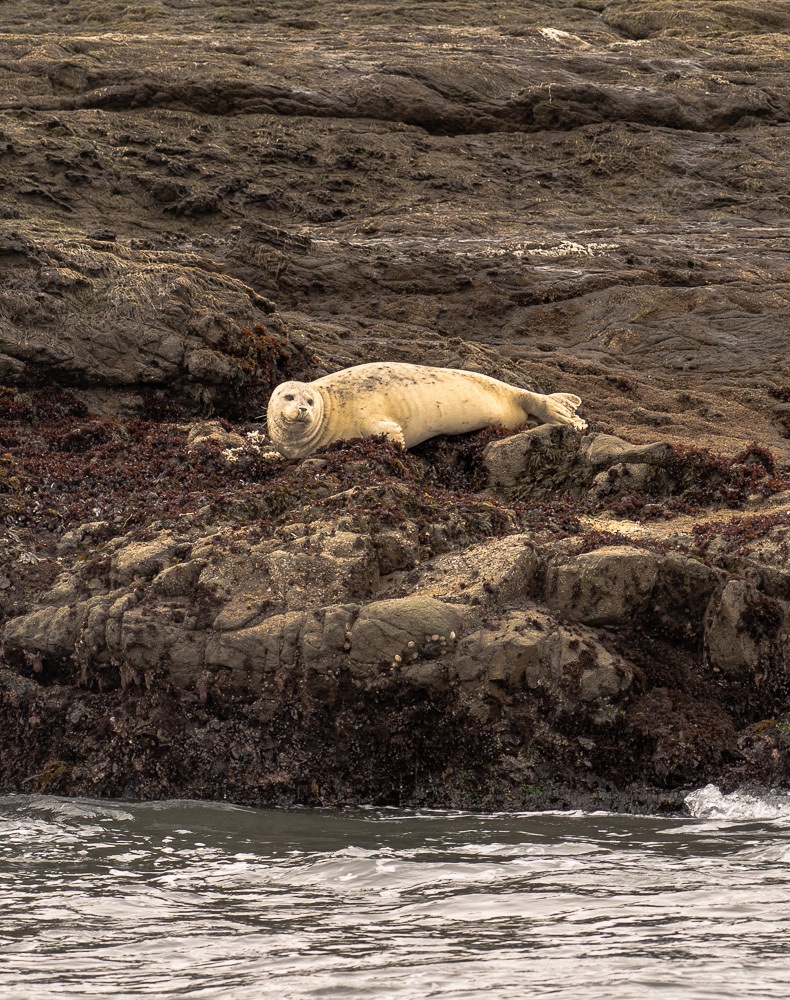 This lovely state park is free to check out for day visitors, and you might get a chance to see the seals!
The park has biking trails, a lovely stretch of coastline, and lots of camping as well.
Ten Mile Dunes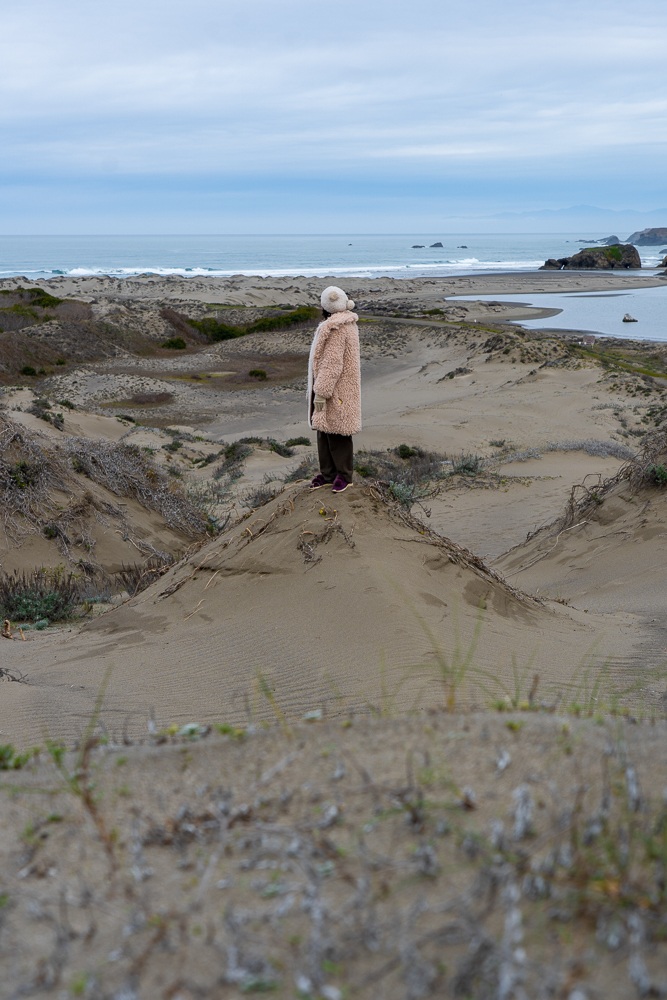 For something a little different, check out the dunes at Ten Mile beach in Fort Bragg, just north of the glass beach and MacKerricher State Park.
They might not be the most impressive dunes you ever see, but it's lovely to see as the forest meets the sea in this area and to explore the sheer vastness of the dunes.
When to Go + Weather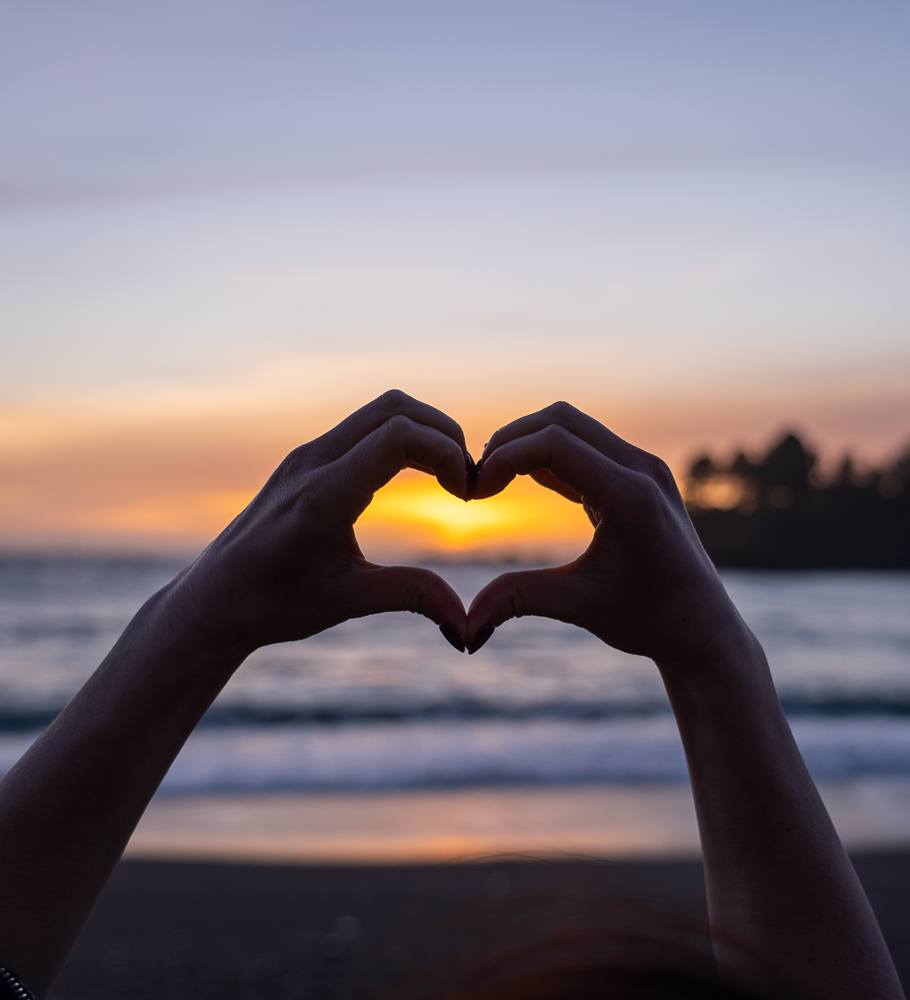 I know some people only think of California as a summertime destination, but I love Mendocino in the winter, too. Yes, it's our rainy season in California, and you will want layers, a beanie, and gloves, but you'll also experience much smaller crowds. Plus towards the end of February, you get gorgeous wildflowers, too!
Pin me for later: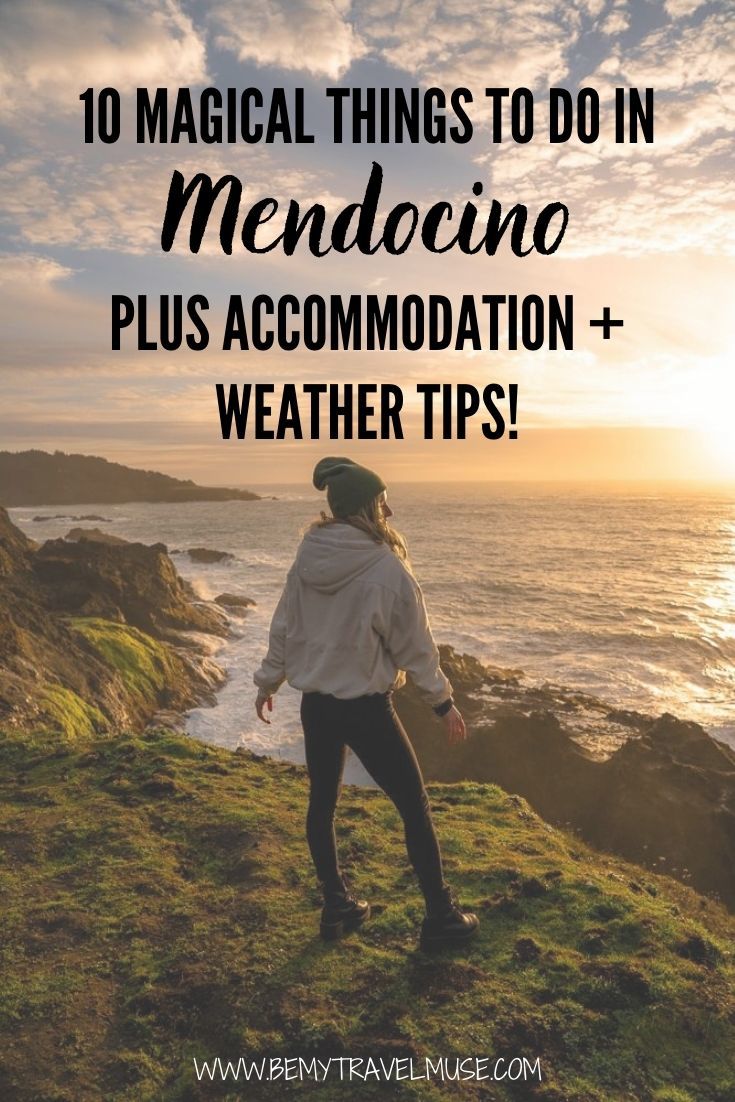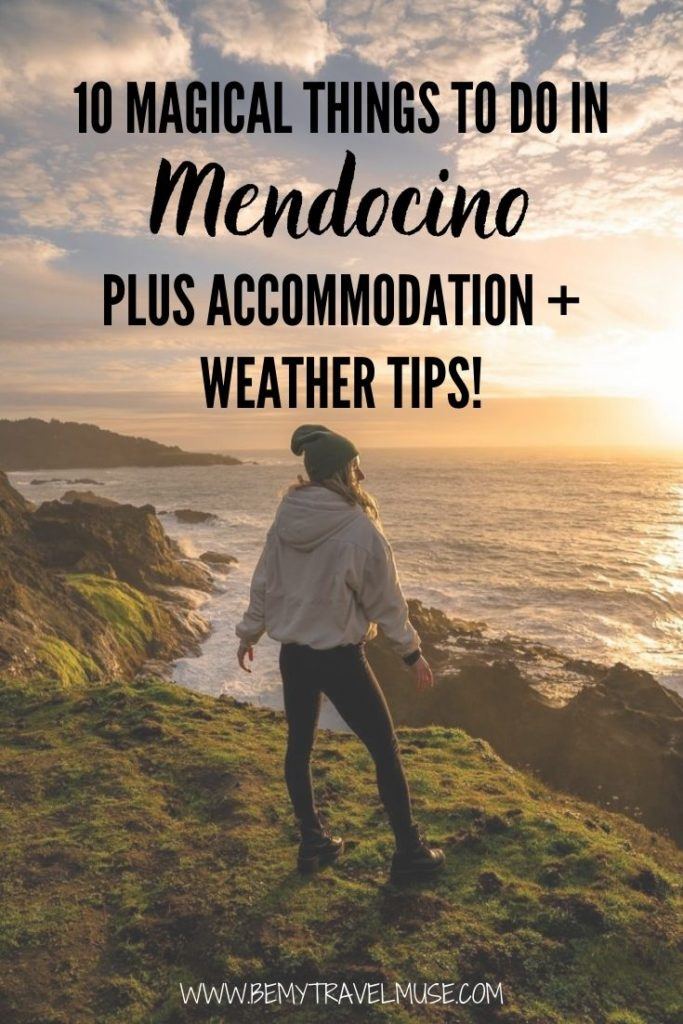 I visited Mendocino on a girls' trip, and as much as it's a romantic getaway destination, it's an adventure and outdoorsy destination, too. I think I'd love it whether solo, with a group, or with my love, G.
And I'm sure that you will, too.
*Some links in this post are affiliate links, which support this site at no extra cost to you! The stay with Brewery Gulch Inn was also hosted, however all thoughts on their delicious food and awesome bathtub are my own!