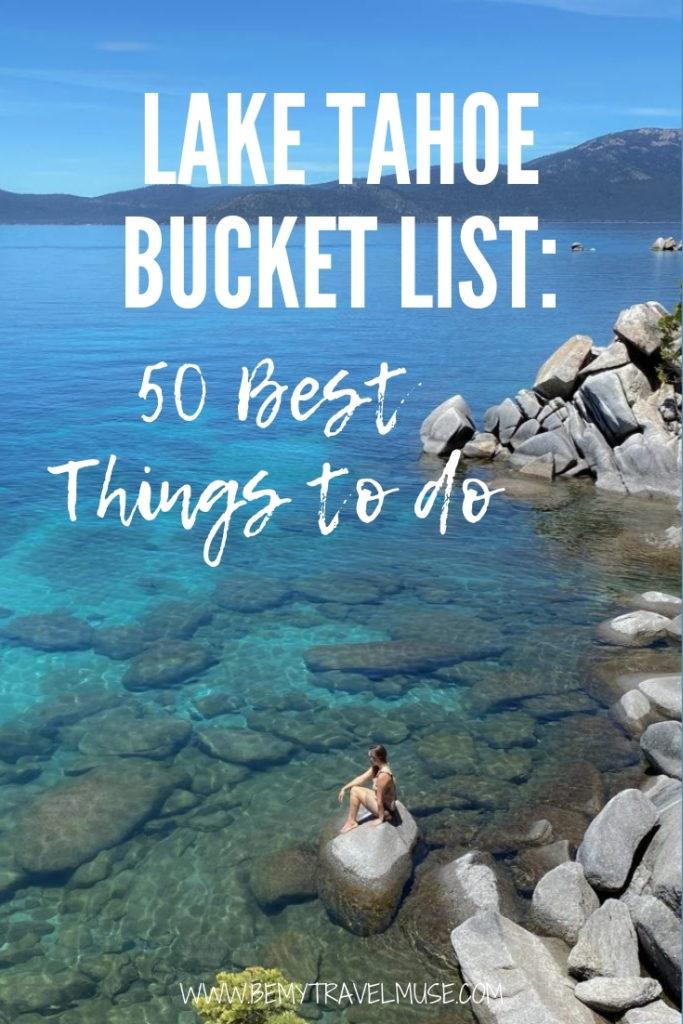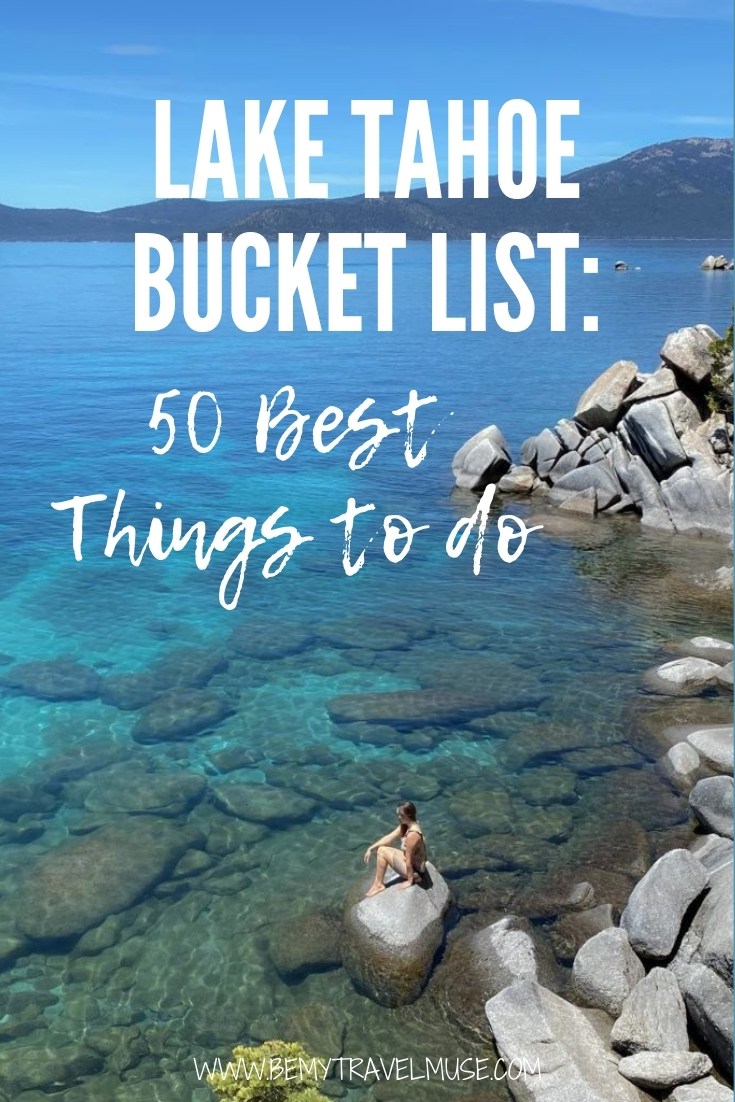 Lake Tahoe, which sits on the California-Nevada state line, is one of the most popular destinations in the western United States, and with good reason. The massive lake is stunningly beautiful and crystal-clear, the surrounding mountains are a winter sports heaven, and the alpine forests between the two make for a hiker's paradise.
In my humble opinion, it's the most beautiful lake in the world. As someone who grew up loving the ocean, it almost satisfies my intense urge for the seaside given the sheer size. There's something mesmerizing about the clarity, the depth, and the gorgeous surroundings that simply doesn't exist elsewhere.
There is no shortage of things to do and see in Lake Tahoe, so to help you narrow it down, here's a list of 50 of the best from a local. Get yourself a rental car and be ready for an adventure:
1. Tahoe Rim Trail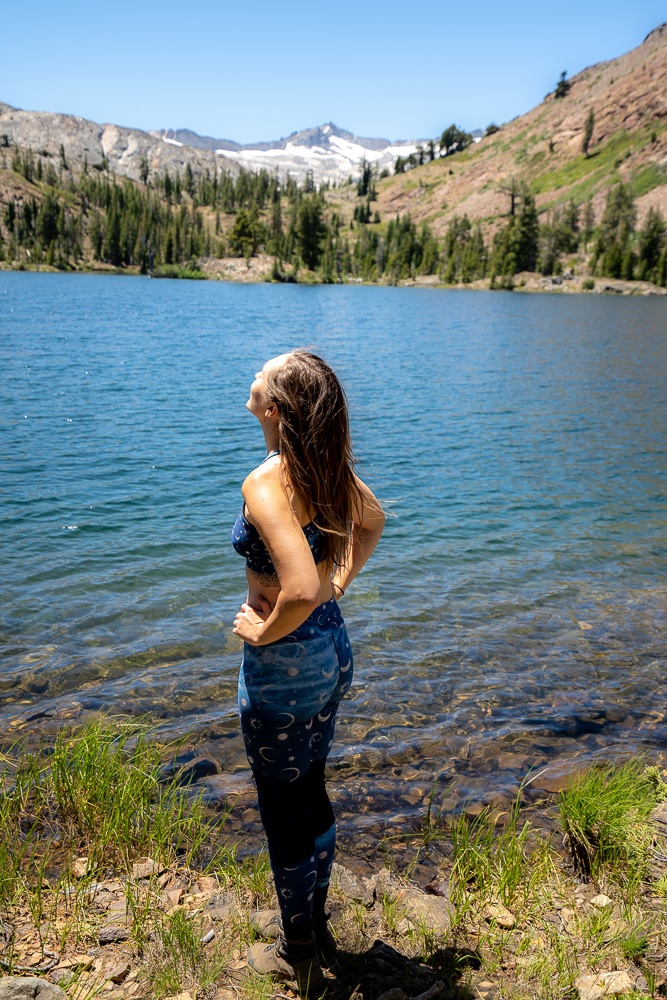 The Tahoe Rim Trail, a 165-mile loop, can be enjoyed on foot, mountain bike, or horseback. The trail circles Lake Tahoe and passes through nearby Carson Range and Desolation Valley, as well. The scenery on this trail includes lakes, peaks, meadows, vistas, and more. Eight trailheads break the loop into smaller day-hike segments between 12 and 33 miles in length (all of which are one-way hikes), or hikers can choose to backpack the entire loop in one trip.
2. Emerald Bay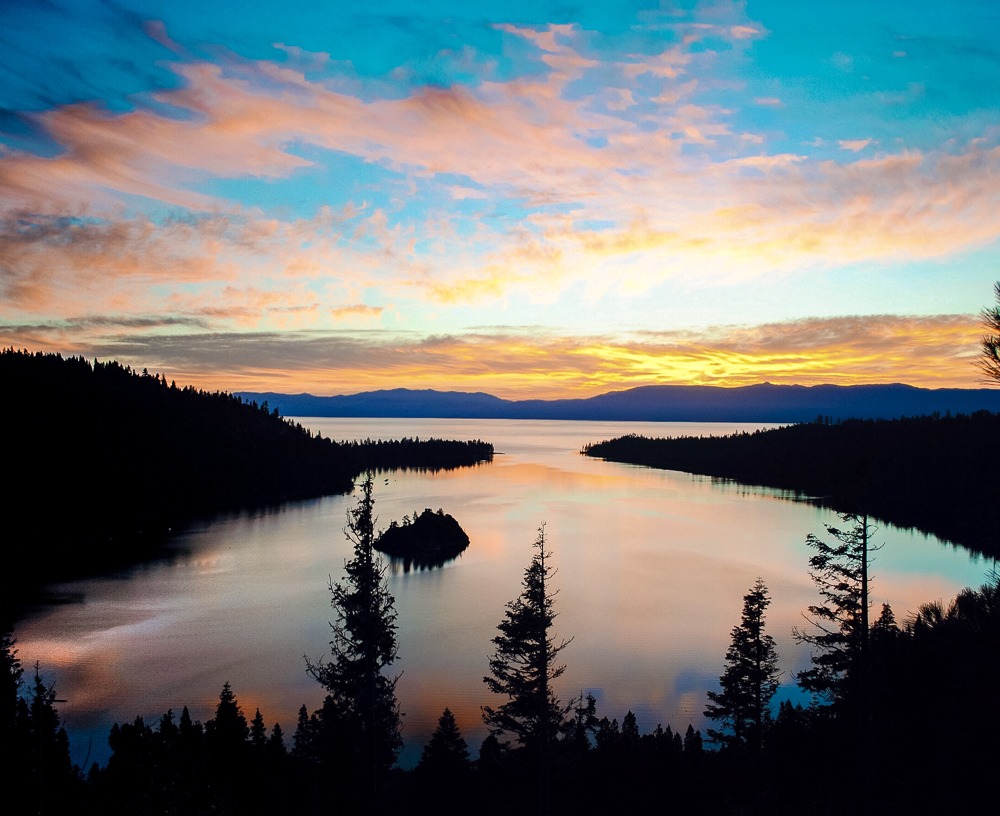 Clear blue waters and colorful sunrises make for stunning scenery at Emerald Bay, making it one of the most photographed spots both in Lake Tahoe and in all of California. The bay is located on the southwest shore of Lake Tahoe; in the bay sits the tiny Fannette Island, which visitors can take a boat or a kayak out to explore. Also in close proximity to Emerald Bay is the Vikingsholm Estate, an old 38-room mansion which is now on the National Register of Historic Places and is open for touring. For a relaxing experience, book a cruise tour to take the views of Emerald Bay.
3. Mt. Tallac Hike
The Mt. Tallac hike is one of the most famous hikes in Lake Tahoe. It can be a day-hike or a several-day trip into Desolation Wilderness, as this steep and challenging journey poses a collective 7,000-foot elevation change over a 10.4-mile roundtrip. For those who do not consider themselves the speediest of hikers, consider camping overnight on Mt. Tallac with a Desolation Wilderness backcountry permit.
4. Sand Harbor
The home of the annual summer Shakespeare Festival, Sand Harbor is a great location for swimming in Lake Tahoe's clear waters, as well as boating, kayaking, and a variety of other aquatic activities. You may also rent an e-bike to cruise along the east shore. Sand Harbor is also the perfect picnic spot thanks to barbecues, picnic tables, and shady trees. If visiting in the summer, go super early as the lot fills up first thing in the morning!
5. Sand Harbor Overlook Hike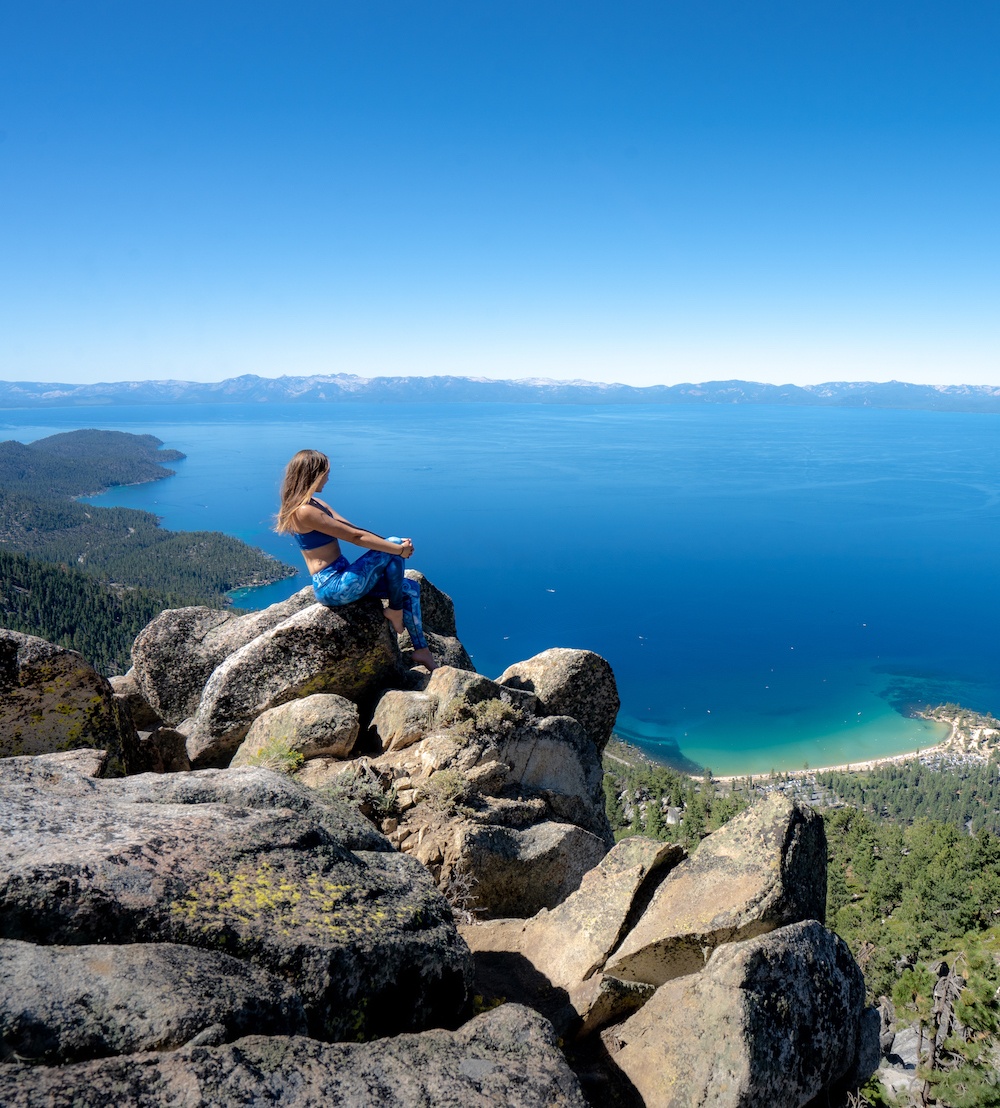 The Sand Harbor Overlook is a popular segment of the Tahoe Rim Trail which offers stunning views of the whole lake and the mountains behind it. Sand Harbor is particularly amazing from above with the tropical-looking water hues over the sandy bottom. The hike is a four-mile loop of moderate difficulty. One option here is to take a guided hike with a local park ranger.
6. Mountain Biking
Lake Tahoe is a mountain biker's paradise thanks to countless bike paths, dirt roads, single tracks, and bike parks. Perhaps the most notable ride in the area is the world-renowned Flume Trail, a 14-mile trail which follows mountain ridges high above the lake. Another cool facet of Tahoe's mountain biking scene is that some ski resorts offer lift tickets to the summit, from which bikers can coast trails all the way down the mountainsides. Pay special attention to trails that only allow bikers on odd or even days!
7. Skiing & Snowboarding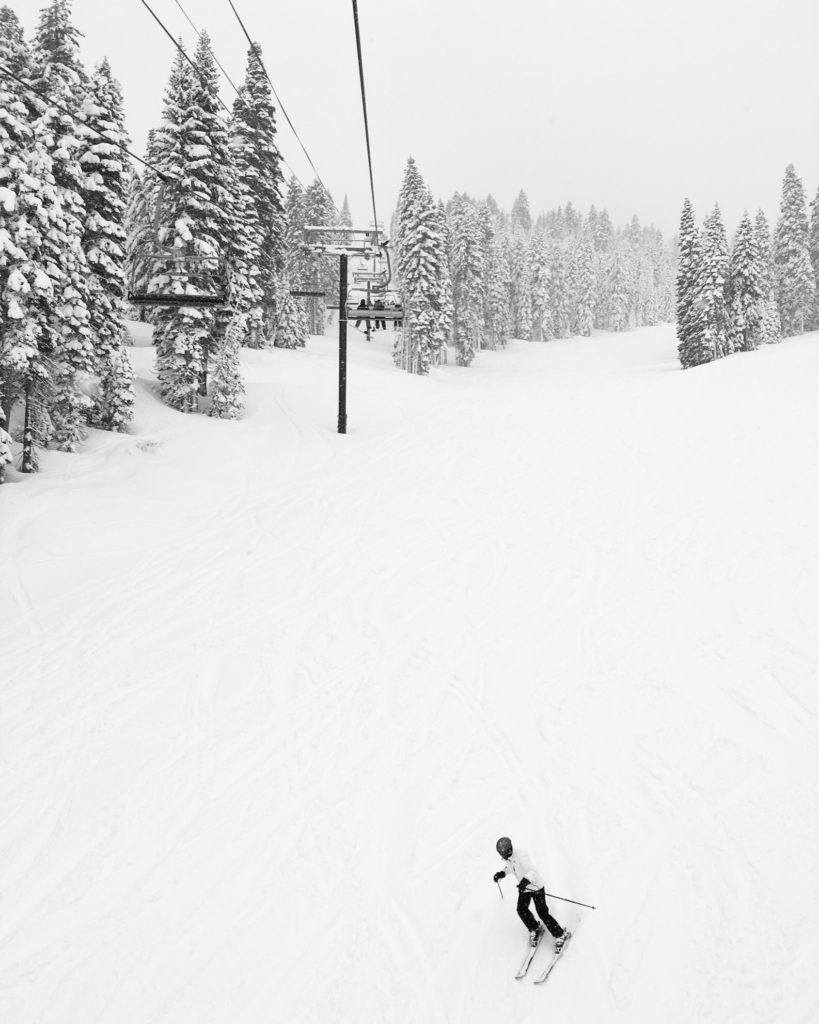 Winter sports are undoubtedly one of Lake Tahoe's greatest claims to fame, so there are six main resorts around the lake: Kirkwood, Heavenly, Mount Rose, Northstar, Sierra at Tahoe, and Squaw Valley. All but Mount Rose are on the California side of the lake, with Heavenly situated on the state line in South Lake. Whether brand new or an experienced skier, anyone is sure to have a great time hitting the slopes in Tahoe.
8. State Line
While gambling is not allowed in most of California, it is permitted in Nevada, which means that crossing the state line in South Lake is all it takes to enjoy the casino scene. From Harrah's to Harveys to the Hard Rock, the strip of hotel-casinos there is bursting with activity. Not much of a gambler? Me neither, but for luxury hotels, famous restaurants, and big events, State Line tends to offer it all!
9. Jet Skiing
With jet ski rentals scattered all along the lake, this makes for an exciting aquatic adventure in the summertime. Cruise around on one to explore the lake solo, or grab a friend and take on Lake Tahoe together. Just remember that these things go fast — up to 70 miles per hour — so be careful while operating one and stay away from swimming areas with lots of people in the water!
10. Kings Beach
On the North Shore, Kings Beach (named for card shark Joe King) offers a large stretch of sand with late morning to midday sun, perfect for sunbathing. The little town of the same name is home to a variety of shops, restaurants, and street vendors in close proximity to the beach, making it an easy way to spend a day. Plus, there's a mini golf course nearby!
11. Camping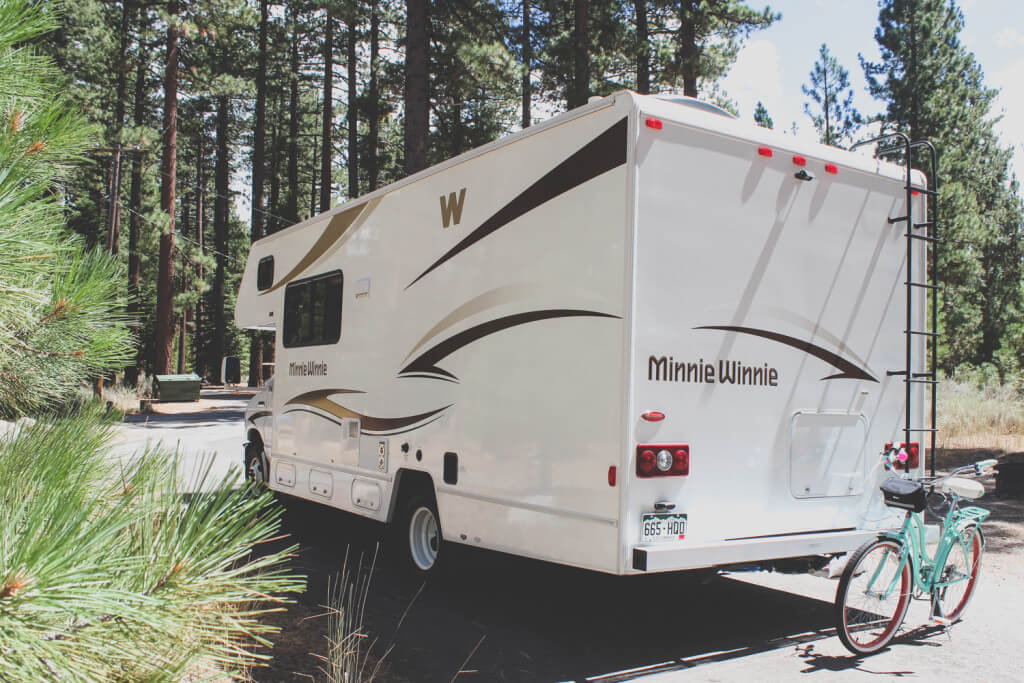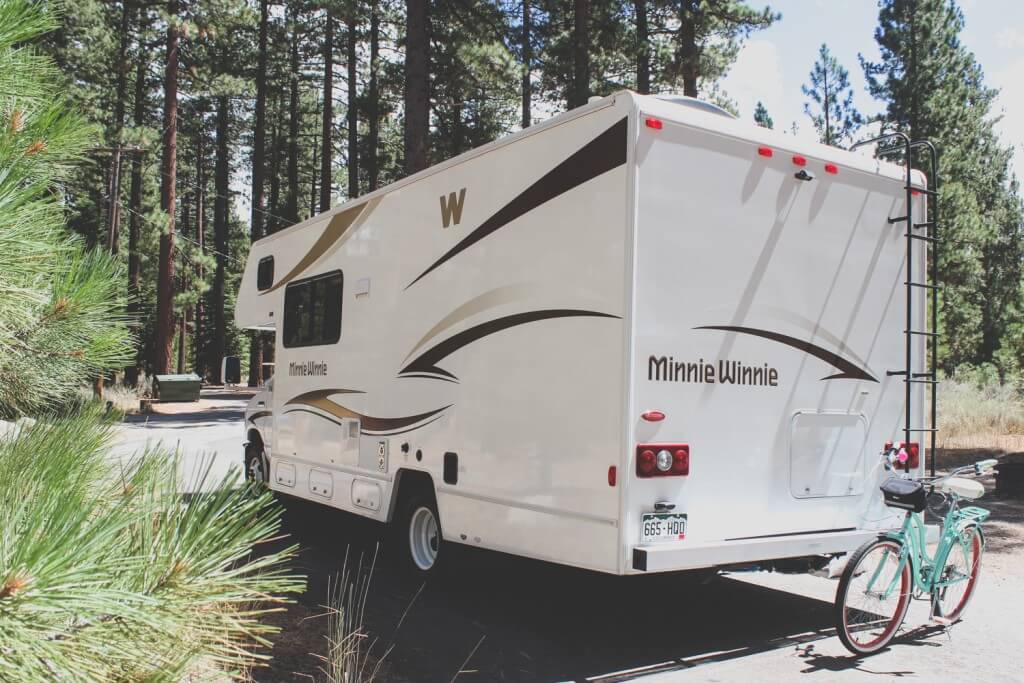 Countless campgrounds are scattered all throughout Lake Tahoe, from the most basic tent sites to fully equipped RV hookups. Camping here is special because Lake Tahoe has that forest feel that so many campers love, but all within close proximity to hiking galore and the best lake imaginable!
12. Gondola Ride up to Heavenly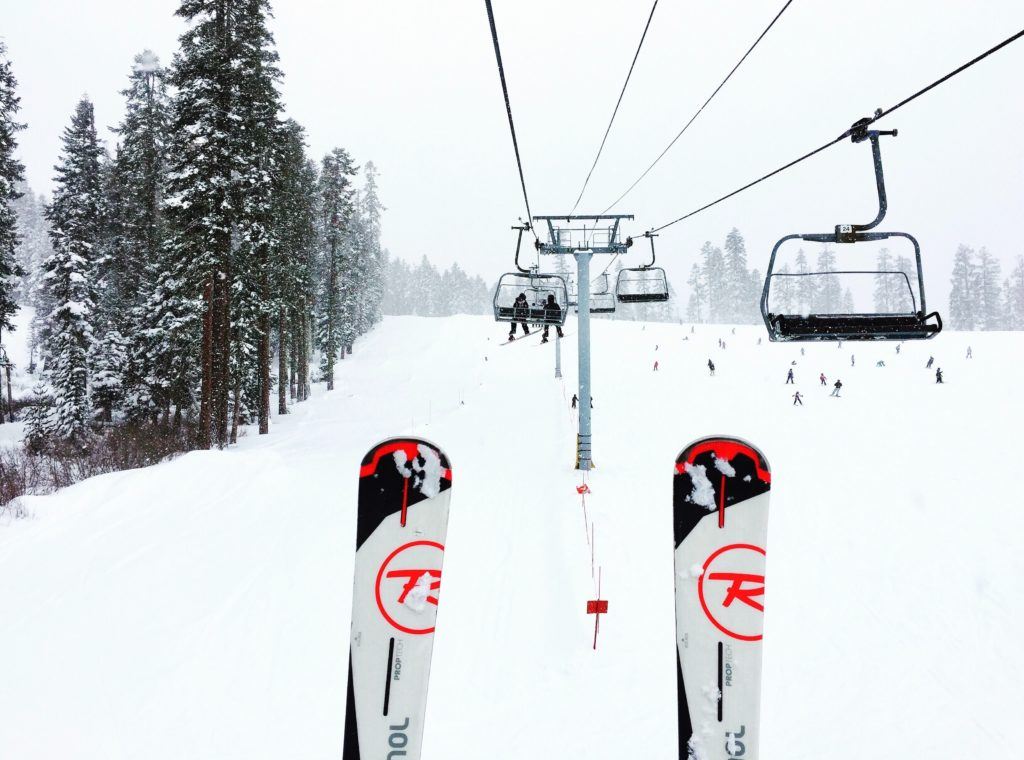 In South Lake, take the Heavenly Gondola up the mountain from its base at Heavenly Village. The 2.4 mile ride up in the glass-walled tram car has amazing views, as does the Observation Deck at the end of the ride. Upon getting off the gondola, take the Tamarack Express chairlift up the mountain further to get even better views and to access a number of hiking trails at the top of the mountain.
13. Heavenly Alpine Slide & Blue Streak Zip Line
Also at the Heavenly Resort atop the mountain, visitors will find a handful of exciting attractions. One, the Ridge Rider Mountain Coaster is a gravity-powered two-seater roller coaster which speeds through forest and rock formations. The other, the Blue Streak Zip Line, runs for 3,300 feet along the mountainside at up to 50 miles per hour! Try one or both for an action-packed afternoon.
14. Scuba Diving
Scuba diving in Lake Tahoe?! This activity does not make its way into conversation as much as the surface-level aquatic activities, but Lake Tahoe actually has great scuba diving opportunities. The lake is shockingly deep — the second deepest in the country, actually. One notable scuba adventure in Tahoe is the Emerald Bay Maritime Heritage Trail, which brings divers to sunken boats and barges beneath the lake!
15. Steamboat or Ferry Ride Across the Lake
Spend a few hours cruising to the far side of the lake and back aboard a daytime cruise. For first-time visitors, this is a great way to take in the scenery, get acquainted with the area, and see as much as possible in a time-savvy way! One tried and true option is the charming M.S. Dixie II.
16. Stand-Up Paddle Boarding
Whether renting a board or packing a personal one to the lake, stand-up paddle boarding is a fun, active way to enjoy the beautiful setting of Lake Tahoe. Rental facilities can be found practically anywhere along the lake, so get out on the water to explore the shoreline and its tucked-away coves, all while getting a great full-body workout. First-timers? This tour is perfect for you.
17. Kayaking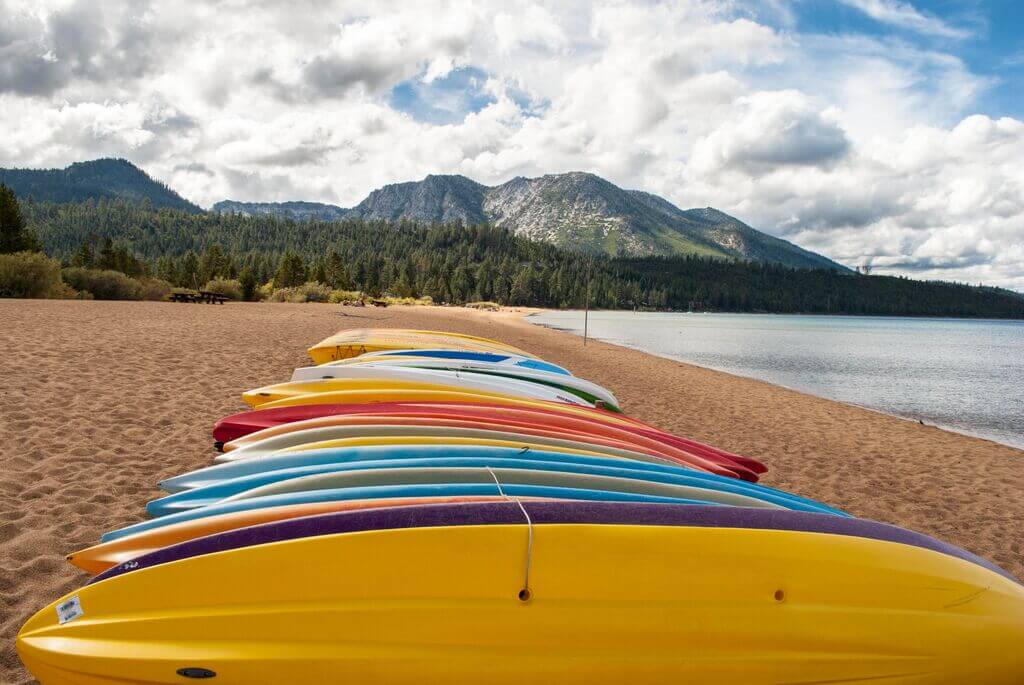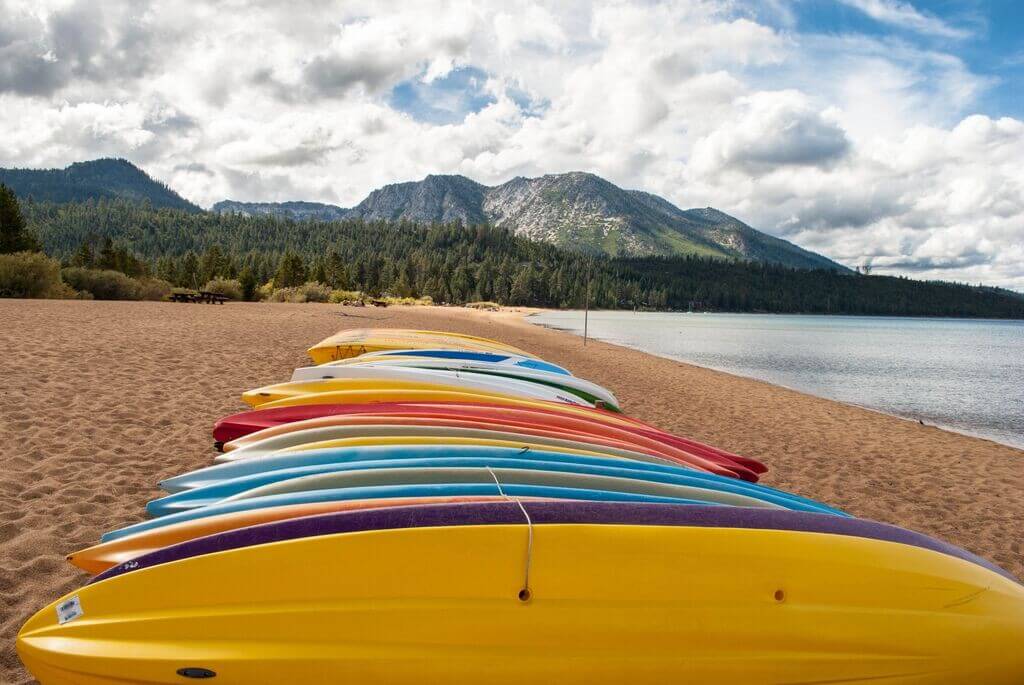 In the same way, kayaking is a fun way to get out on the water, too. One perk of kayaking over SUP boarding is that you can bring a friend along in a two-seater! Kayaking is also less of a full-body workout, so this is the more leisurely of the two options. It requires less balance, too, so for those who are a little unsteady on their feet, choosing to kayak instead of SUP will (probably) eliminate the possibility of any unexpected falls into the cold lake!
18. Parasailing
For those who love floating over the lake from way above, parasailing is a relaxing way to enjoy the natural beauty of Lake Tahoe. Glide high over the water and enjoy the panoramic views paired with the thrill of flying through the air. A variety of parasailing providers can be found all over Tahoe.
19. Speedboat Beach
Speedboat Beach is a quaint little beach which is especially good for kayaking, as huge rocks make for an interesting shoreline to explore from the maneuverability of a kayak. The beach is located in the middle of North Shore, just on the California side of the state line.
20. Hidden Beach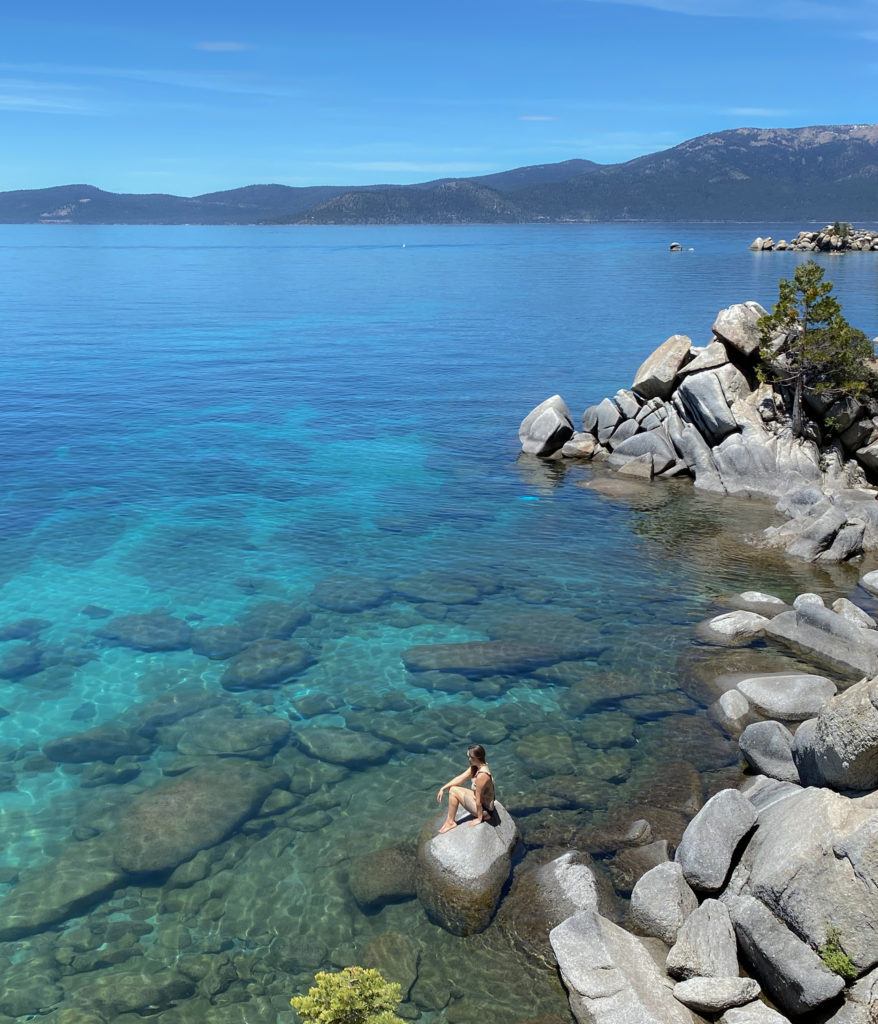 Near Sand Harbor, this beach is known to be "hidden in plain sight," thanks to huge rocks and Highway 28 running by overhead. Nevertheless, it is a perfect destination to soak up some sun and swim in the lake. In the summer, get there early to beat the crowds and secure a parking spot along the highway.
21. Bonsai Rock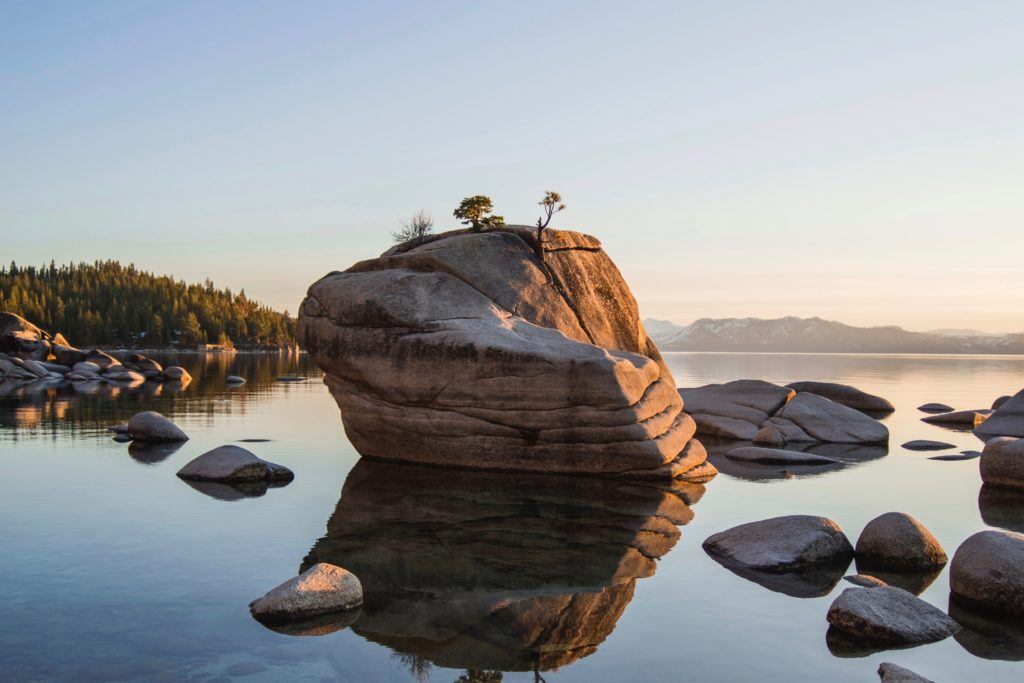 On the Nevada side of the lake (my preferred area thanks to the water hues), a large boulder rises up out of the water to display four graceful bonsai trees growing out of its surface. Bonsai Rock, as it's been named, sits halfway between Hidden Beach and Sand Harbor and makes for a cool photo op, especially at sunrise or sunset.
22. D.L. Bliss State Park
Off Highway 89, D.L. Bliss State Park is one of the most talked-about spots in Tahoe thanks to its proximity to other attractions and its adjacent campground. The park consists of nearly 750 acres on the lake's western shore. From Bliss, visitors can access the Lighthouse Trail, a 2.3-mile loop to a 1916 lighthouse, while other things to see here include Rubicon Point (at the park's north end) and Balancing Rock.
23. Rubicon Trail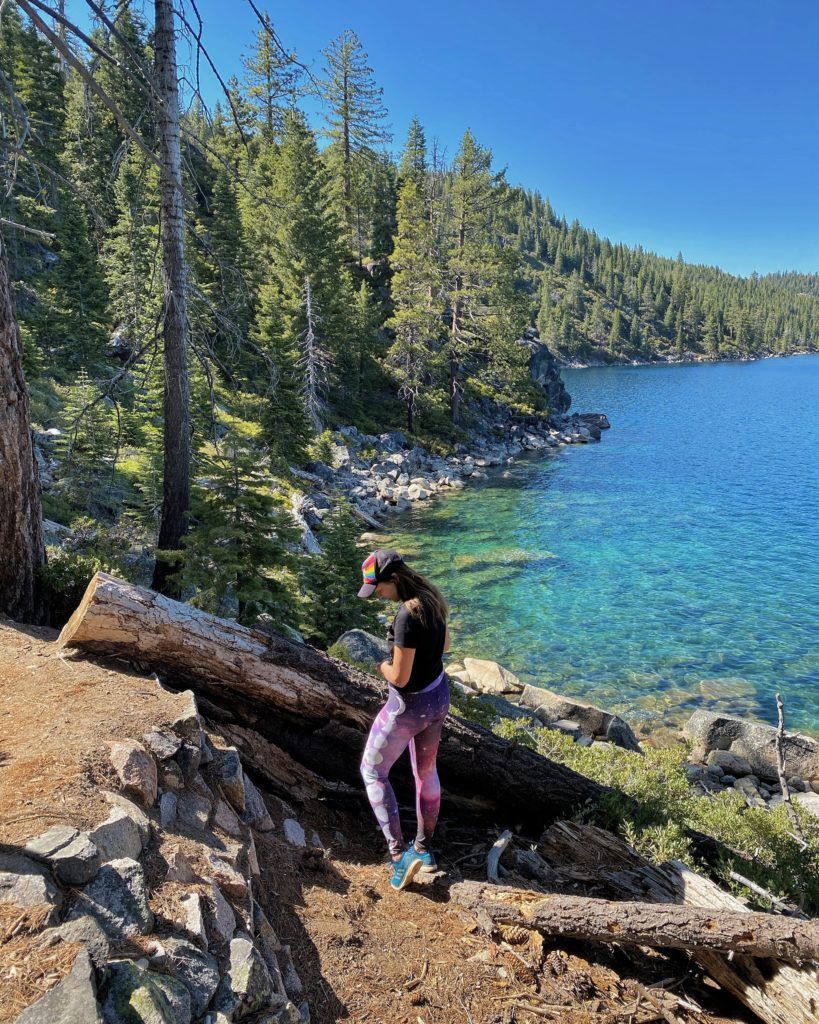 This popular trail is an out-and-back hike with main trailheads at both D.L. Bliss State Park and Emerald Bay State Park. A 4.5-mile stretch connects Vikingsholm Castle and D.L. Bliss, and hikers can do the trail in either direction. (Note that there is also an optional 2-mile extension past Vikingsholm.)
24. Cave Rock
Also known as "The Lady of the Lake," Cave Rock on Lake Tahoe's southeastern shore is visible from practically any other location on the lake. (The former name came about because, from a distance, the profile of a woman's face can be made out of the rock structure.) The rock, which is sacred to the Washoe Indian Tribe, is a part of the Sierra Nevada Mountains and is reachable by only a 15-minute hike.
25. Olympic Valley
Check out the site of the 1960 Winter Olympics at Squaw Valley, on the northwestern side of Lake Tahoe. The 4,000-acre piece of property is home to 34 ski lifts and 6 peaks, as well as the Olympic Museum. Another thing to do here is take the Squaw Valley Aerial Tram, a 10-minute ride which runs 2,000 vertical feet up the mountain and is similar to the Heavenly Gondola.
26. Watching a Sunrise or Sunset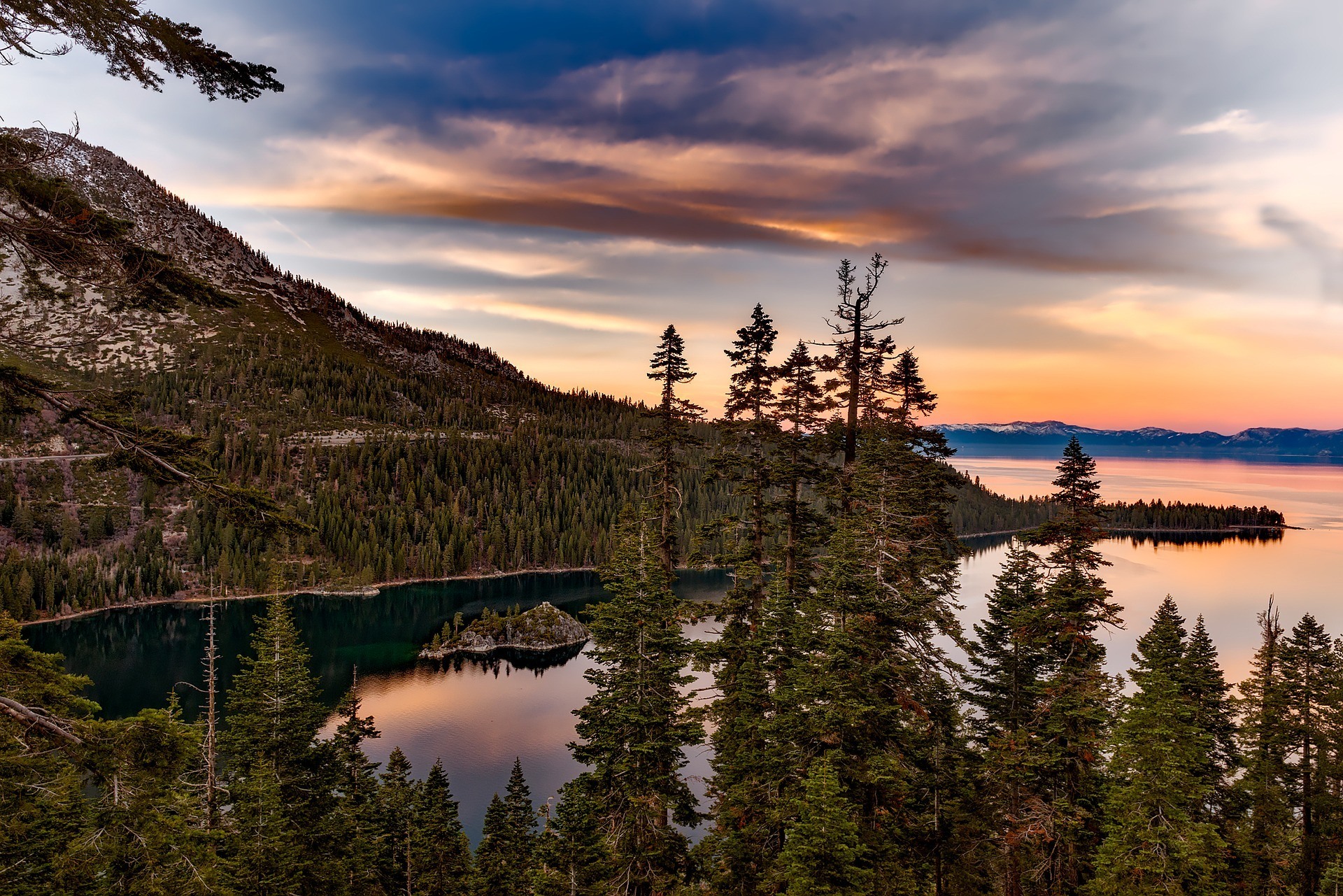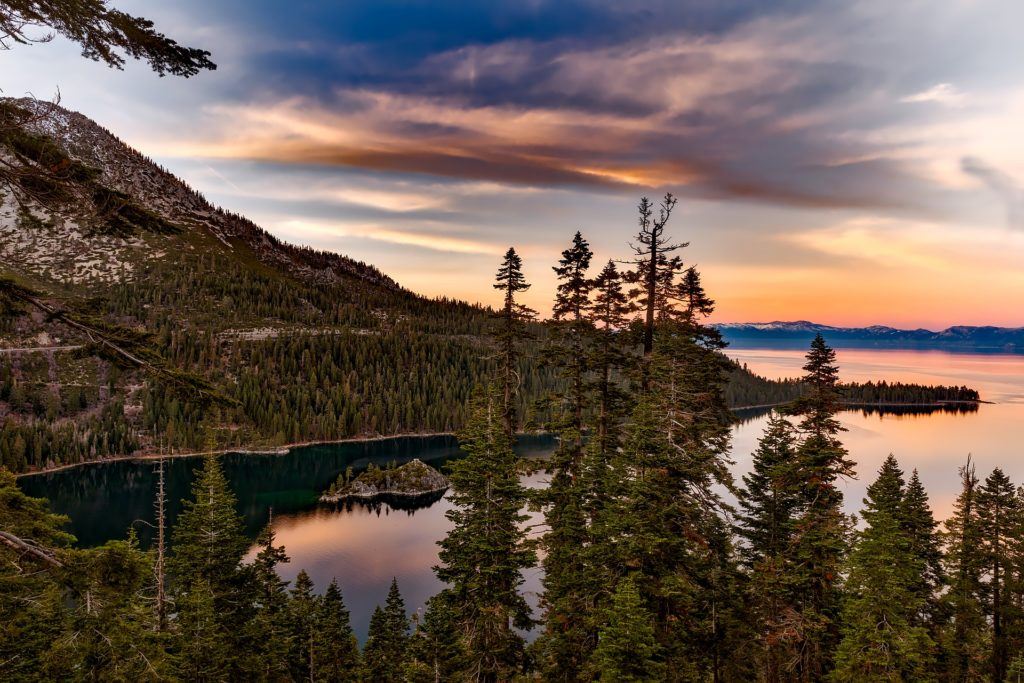 As if Lake Tahoe's aquamarine waters aren't already beautiful enough during the day, check out the sight at sunrise or sunset when the water is as smooth as glass and reflects a colorful sky. If looking for solitude, catch a sunrise before crowds of tourists hit the shoreline for the day; for those who wouldn't consider themselves early risers, sunsets are typically more crowded at popular vantage points but are just as beautiful.
27. Train Tracks into the Water
One unique (and even a little spooky) thing to see in Tahoe is the train tracks going straight into the water and disappearing. Curiously, Lake Tahoe is approximately 2 million years old, so there is no possibility that there was ever a railroad crossing the lake bed. So why did someone build train tracks just for them to go disappear into the water? It turns out that they were actually used to launch boats into the water years ago, and these days they still make for a cool photo! You'll find them at Sugar Pine Point State Park.
28. Carnelian Bay
On the western side of North Lake, Carnelian Bay is named for the red and yellow stones dotting its shore. The town is home to several beaches, which are frequented by kayakers, SUP boarders, trout fishing enthusiasts, and, most importantly, cute dogs!
29. Bayview Trail
The Bayview Trail is a difficult one, but the reward is a great view of Emerald Bay and the rest of the lake. This steep, uphill hike takes about two to three hours on the way up to Maggie's Peaks. Note that a permit is required to access the trailhead.
30. Cascade Falls
Hike to the 200-foot tall Cascade Falls, situated at the end of a moderate hour-long hike in the southwestern region of Lake Tahoe, near Emerald Bay. The hike to the falls provides great views of Cascade Lake, as well.
31. Eagle Lake Trail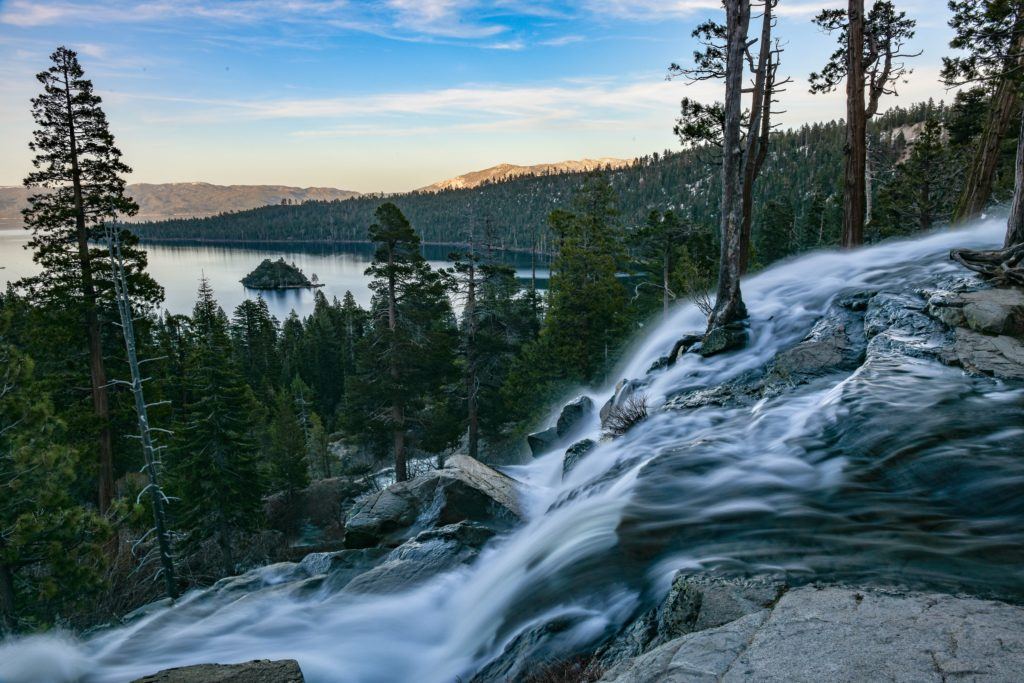 Off Highway 89, the Eagle Lake Trail is a moderate two-mile hike roundtrip. The scenery here includes the crystal-clear Eagle Lake and equally gorgeous Eagle Falls, so be sure to bring a camera! A number of other hiking trails also branch off from this location (near Emerald Bay) for those looking for something more challenging.
32. Ski Run Marina Village
The Ski Run Marina in South Lake was established in 1939 and has been a favorite destination of tourists and locals alike for decades. Hit the adjacent beach to enjoy the lakefront, then head over to the Village to enjoy its restaurants (including the Riva Grill, one of Tahoe's most popular lakefront spots) and some live entertainment.
33. Heavenly's Lakeview Lodge
The Heavenly Resort's Lakeview Lodge is aptly named: the views from 2,000 feet above the lake are incredible. The lodge can only be reached by a short tram ride up the mountain, but the journey is worth it thanks to great dining (both inside the lodge and on its outdoor decks) and a huge bar with a whopping 97 beers on tap.
PS: Click here for a list of the best boutique hotels in Lake Tahoe!
34. Tahoe Tastings Boat Wine Tasting
Cruise around the lake on a vintage 1953 Venetian Water Taxi while sipping wine with South Lake's Tahoe Tastings. This is a great way to spend a relaxing afternoon, especially for something like a girls' weekend getaway! Guests will be sure to get a taste of Northern California's best wines thanks to Tahoe Tastings' partnerships with popular NorCal wineries, too.
35. Drive Ring Road
For those who love a road trip, spend a day driving the perimeter of the lake and hitting the major spots along the way, including Kings Beach, Carnelian Bay, South Lake, Sand Harbor, and Emerald Bay. The 72-mile drive takes about three hours with no stops, but would make for a fun full day of activities if done at a leisurely pace.
36. Snowshoeing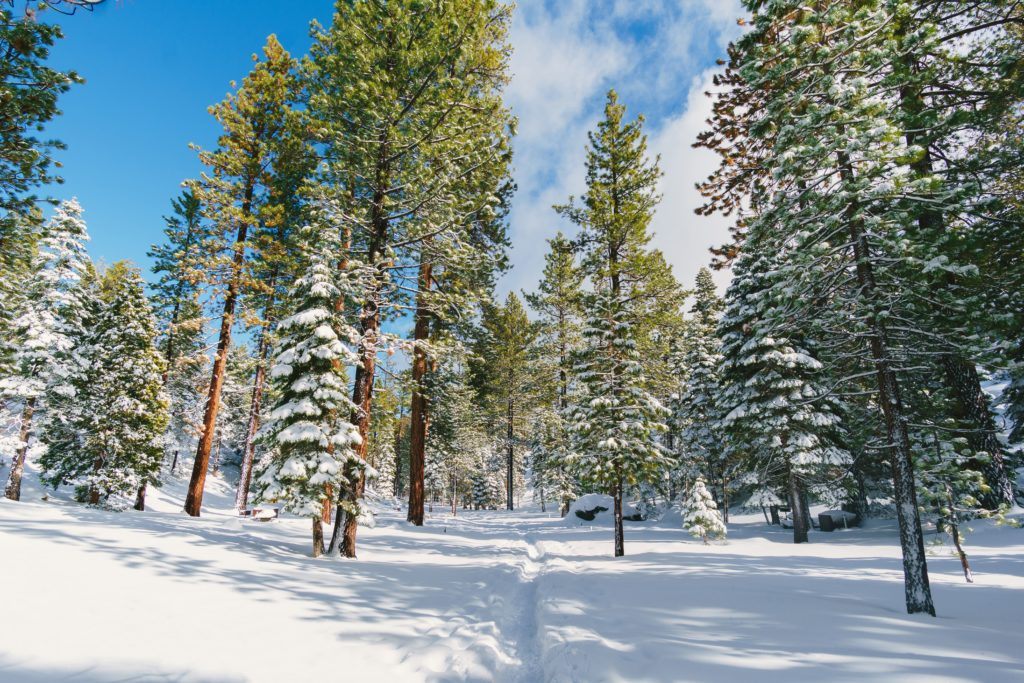 For those who want to try something a little more horizontal than skiing or snowboarding in the winter, snowshoeing is an equally great workout and way to enjoy the snow. While snowshoes are often available for rent at ski resorts, any terrain in Tahoe could be a great place to test them out beyond the constraints of ski lifts. Strap some on, get out into the snow, and take in the beautiful wintry landscape!
37. Snowmobiling
Come winter, take on the Sierra highcountry via snowmobile! Take a guided scenic tour or wilderness tour on the miles of trails surrounding Lake Tahoe, or try out backcountry powder riding. This will surely be especially appealing to jet ski enthusiasts!
38. Inspiration Point
From 600 feet above the lake, Inspiration Point looks out over Emerald Bay, Fannette Island, Vikingsholm Estate, and beyond. Since the lookout spot is situated near a handful of popular Emerald Bay hiking trails, including Cascade Falls and Bayview, this is a great photo op to add onto an existing itinerary in the Emerald Bay area.
39. Glen Alpine Falls
Glen Alpine Falls is a 65-foot tiered waterfall right along the roadside, on the southern side of Lake Tahoe. Spectators can get so close that they'll feel the mist. The falls are at their most stunning in the spring when rainfall and snowmelt increase the water levels; other times of year, the waterfall might shrink to a small trickle.
40. Tahoe Treetop Adventure Park
Spend an afternoon at one of the three Tahoe Treetop Adventure Parks in the Lake Tahoe region. At each park, participants will find 10 treetop adventure courses of all different levels of difficulty, made up of 97 tree platforms, 27 zip lines ranging in length between 30 and 200 feet, and 60 other obstacles. This one is sure to be a thrill!
41. Shirley Canyon Trail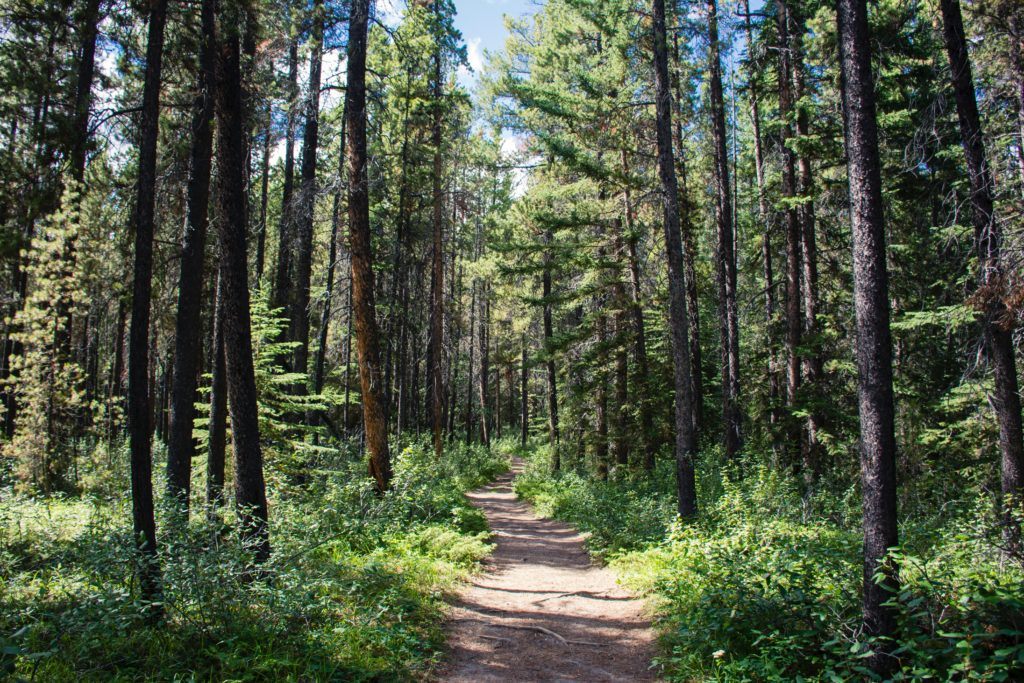 The trail to Shirley Lake is a half-day hike which also passes waterfalls and granite rock formations. The hike is fairly difficult and takes about three hours round-trip, as it's three miles to Shirley Lake and another two from there to the highest point of the trail. That's a 2,000-foot elevation gain on the way up! It's sure to be beautiful, though.
42. Downtown Truckee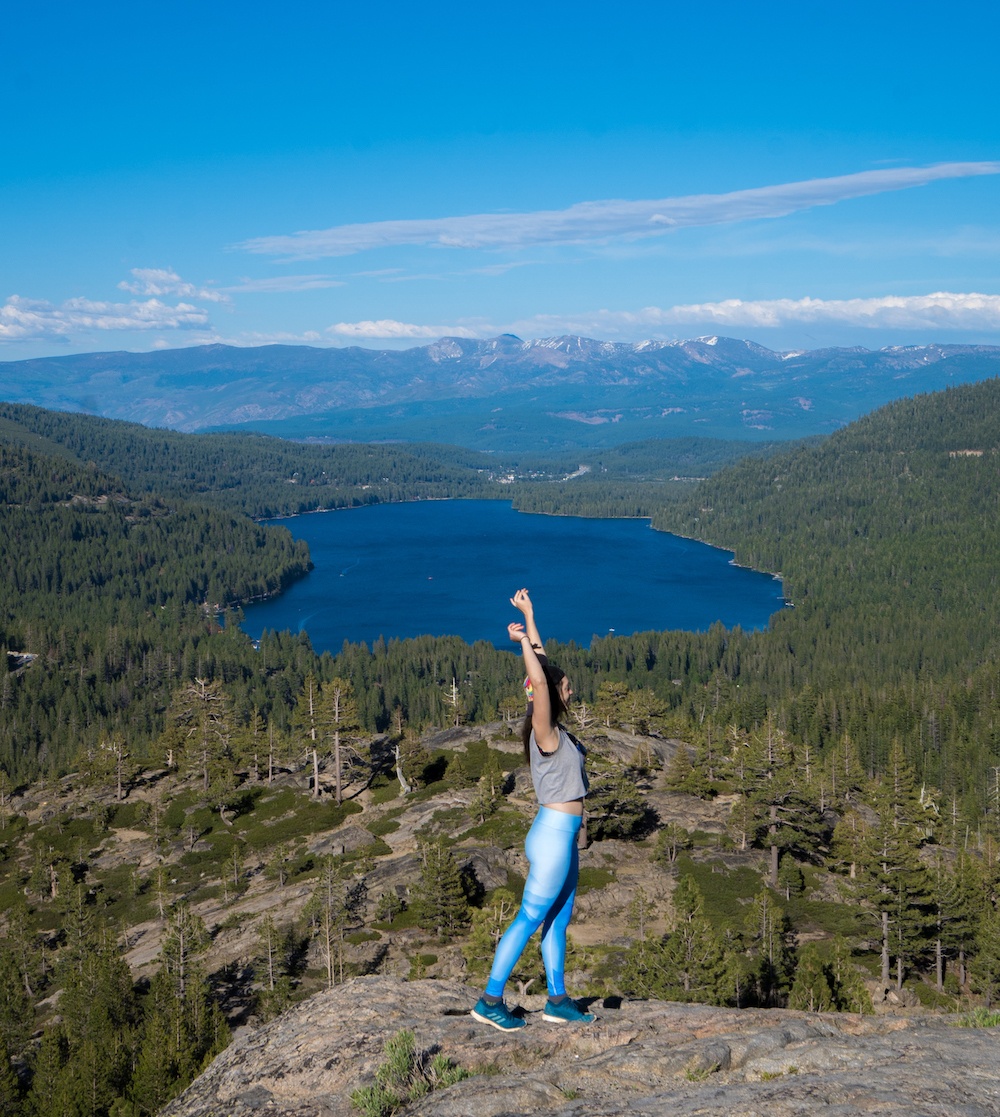 About a half-hour northwest of North Shore, Truckee is a charming mountain town with tons to do. Great places to eat, boutique shopping, art galleries, and of course Donner Lake make this spot a local favorite. (Insider tip: there's also great ice cream at the Little Truckee Ice Creamery!)
43. Meeks Bay
Meeks Bay sits on the western side of the lake, at the mouth of Meeks Creek. The area is home to a resort, a campground, bike paths, and both public and private resort beaches. The bay is most popular for its nice stretches of sand and shallow waters which are good for swimming, as well as family-friendly camping.
44. Zephyr Cove
On the southeastern part of the lake, on the Nevada side, Zephyr Cove is a popular spot for visitors to Lake Tahoe thanks to its camping, beaches, marina, and variety of eateries. Zephyr makes a great home base for enjoying all there is to do either on the lake in the summer or in the mountains in the winter.
45. Pope Beach
Take Highway 89 three miles west of South Lake to get to Pope Beach, a three-quarter-mile-long sandy beach located on National Forest land. Pope is popular for its shady trees to picnic under, clear, shallow waters perfect for swimming, and beautiful scenery.
46. Hot Air Balloon Ride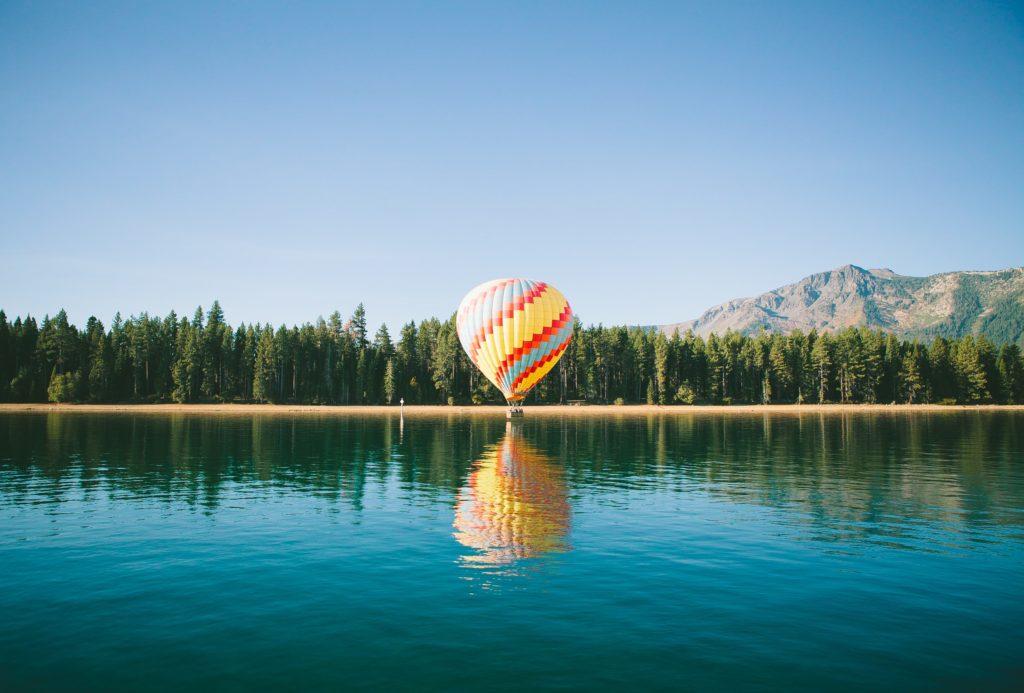 If a hot air balloon ride is on your bucket list, Lake Tahoe is one of the most beautiful places imaginable to do it! The balloons soar high above the lake — reaching elevations of up to 10,000 feet above sea level — and also just a few feet above its surface — balloons can be seen actually touching down on the water! Check out the sunrise balloon rides, which would be absolutely beautiful.
47. Moraine Trail
The Moraine Trail runs to the dam at Fallen Leaf Lake and shows off views of Cathedral Peak and Mount Tallac along the way. This is an easy trail, as it's only about two miles roundtrip and should take no more than an hour and a half. It's most enjoyable in the summer when the water at Fallen Leaf is warmest for swimming and fishing.
48. Pacific Crest Trail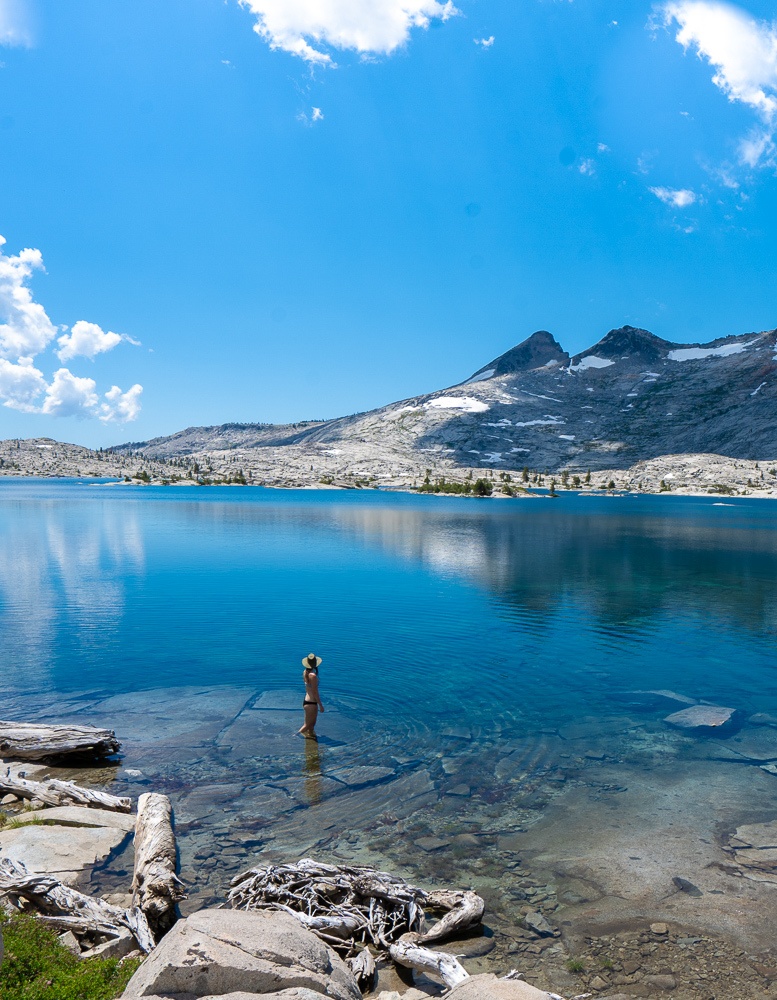 Although it runs all the way through the western United States, the 3,000-mile-long Pacific Crest Trail passes through the west side of Lake Tahoe, through the Desolation Wilderness region. Interestingly, the section of the trail between Tahoe and Mt. Whitney is considered to be the "crown jewel of the PCT" thanks to its varied topography of forests, granite peaks, lakes, and valleys. Hikers commonly access this section of the PCT via Wrights Lake, Echo Lake, Eagle Falls, Lake Aloha, or Fallen Leaf Lake.
49. Wakeboarding & Waterskiing
For the outdoor adventure junkie, here's a couple more water sports to add to the Lake Tahoe list: wakeboarding and waterskiing. This activity is most enjoyable when renting a boat (or taking out one's own) with friends and switching off between hitting the water and cheering each other on. For first-timers, lessons and equipment rentals are not hard to come by in Tahoe.
50. South Lake Food & Drink Scene
Last but not least, an awesome thing to do in Lake Tahoe is to enjoy its food and drink scene, especially among the hustle and bustle of South Lake! Since this is such an exciting and frequently visited region of Tahoe, anyone would be hard-pressed not to find some delicious eats or cool breweries. For those unsure of where to begin, check out the South Tahoe Restaurant Association's Elevate Your Palate Map!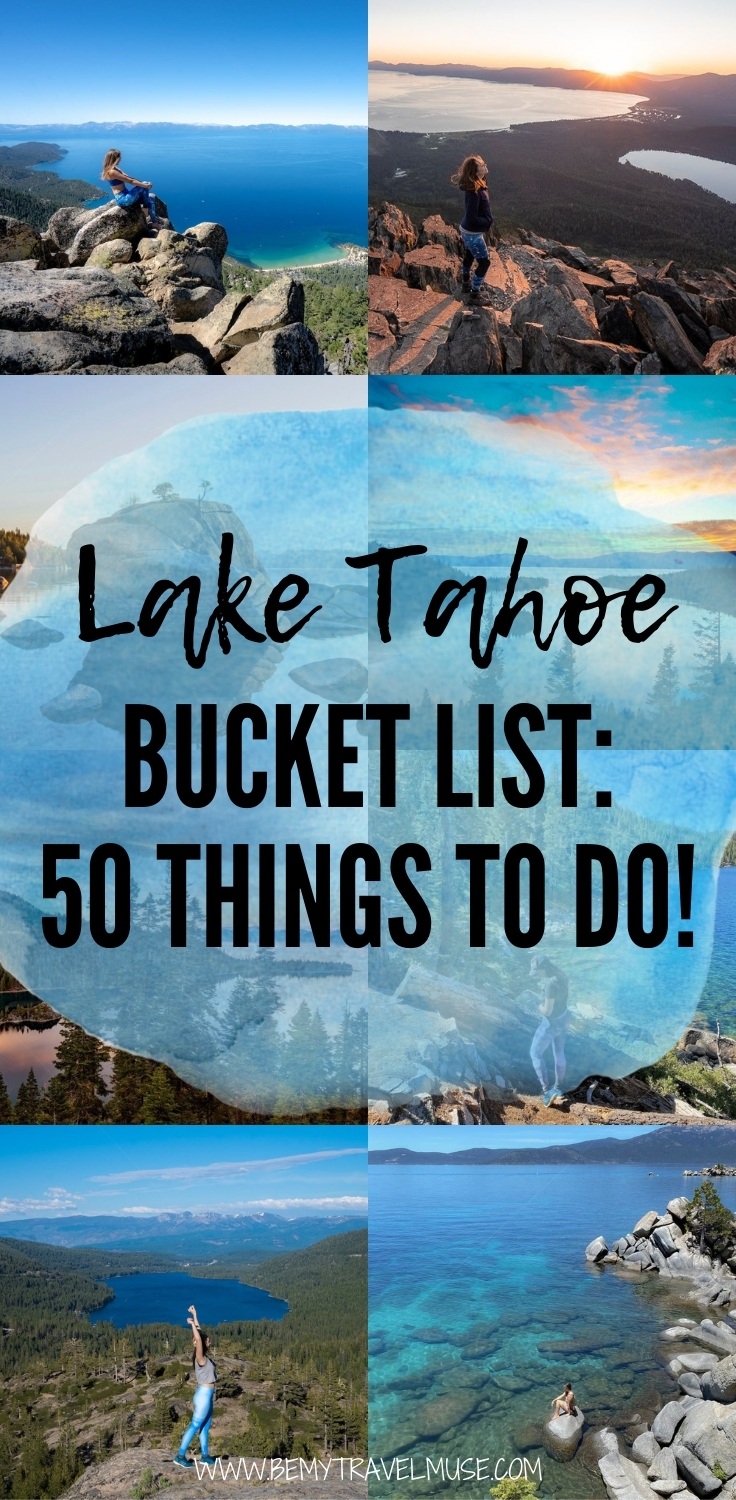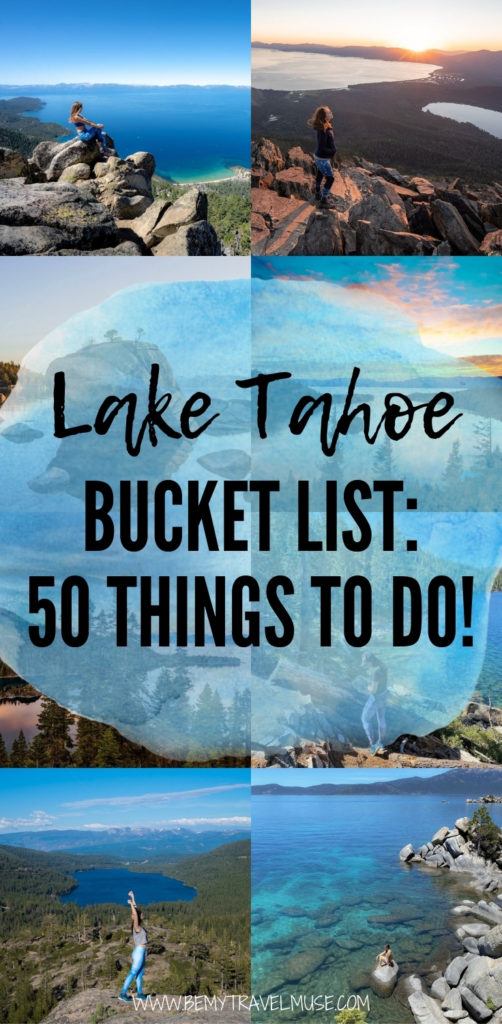 That's 50! And the list doesn't even have to stop here. If you're searching for your next weekend getaway, holiday vacation, or dream trip, these are 50 great reasons to consider Lake Tahoe!