Lake Tahoe is famous for its crystal blue water, epic hiking, and gorgeous mountains. Visitors come to the lake and at all times of the year, as there are tons to do in the summer and winter!
Even if you're not an avid skier, no worries. Lake Tahoe has something fun for every cold weather enthusiast.
Here are 12 of the best things to do during the winter at Lake Tahoe:
1. Ski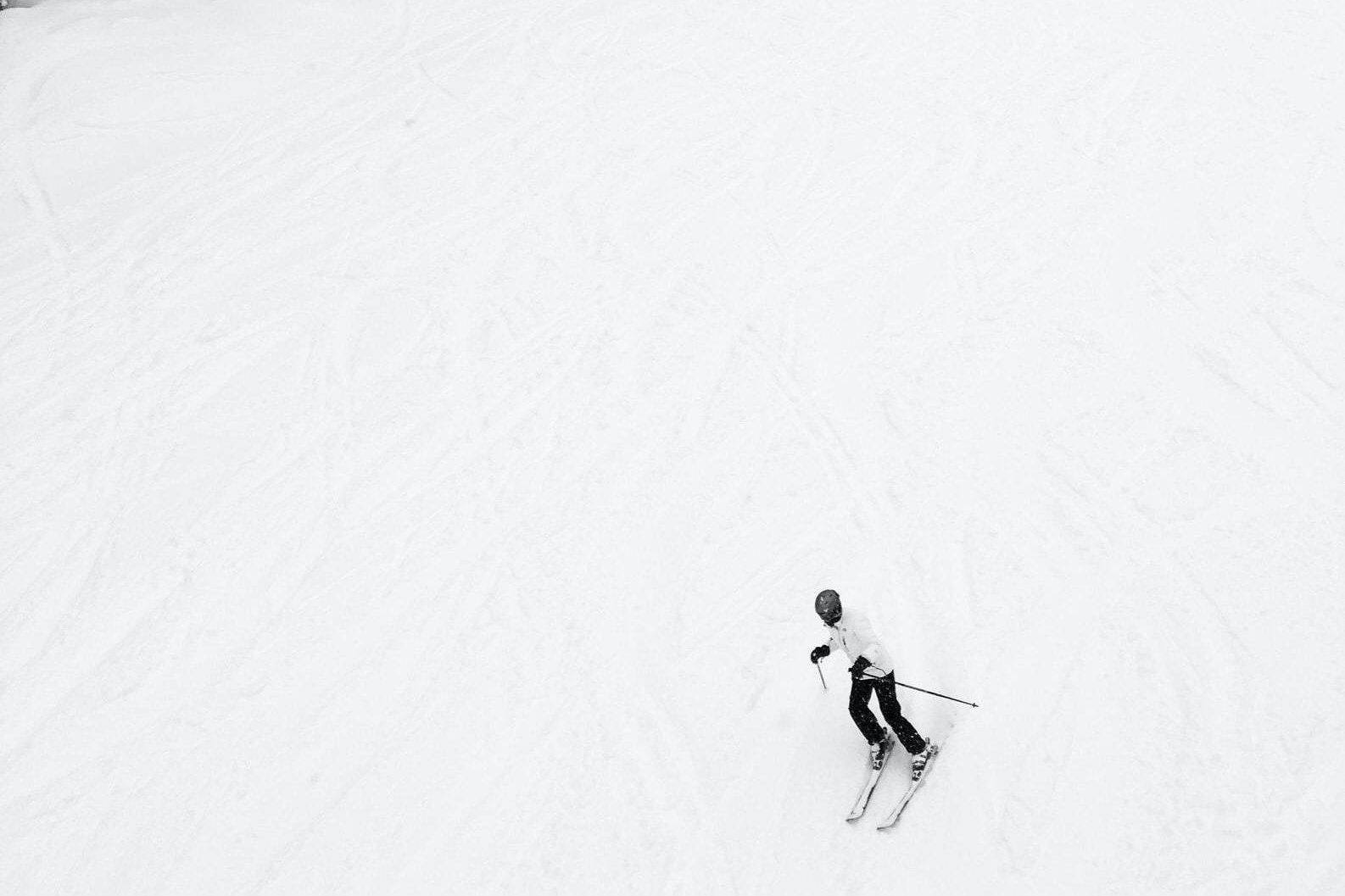 Lake Tahoe is home to some of the most famous ski resorts in the world. With beautiful views, exciting slopes, and an average daily maximum winter temperature of 45 degrees Fahrenheit (7.2 degrees Celsius), it makes the perfect destination for winter sports. These are some of the most famous ski resorts:
Heavenly Mountain Ski Resort
Heavenly Mountain Ski Resort is the highest-rated resort in the area. While it consists mostly of intermediate and advanced runs, there are plenty of surrounding hills for beginners to find their footing. All the necessary equipment for skiing can be found here.
Squaw Valley Ski Resort
Squaw Valley is also a highly-rated ski resort in Lake Tahoe, and the largest! With 6,000 acres of skiable terrain, it offers runs for a variety of skill levels. For those who prefer to stay off the slopes, there are options for cross-country skiing or dog sledding.
Mt. Rose Ski Resort
Contrary to what you might think from its name, the Mt. Rose Ski Resort is actually on the slopes of Slide Mountain! This resort is about a half hour's drive away from Nevada's capital, and offers slopes for highly experienced and beginner skiers.
Northstar Ski Resort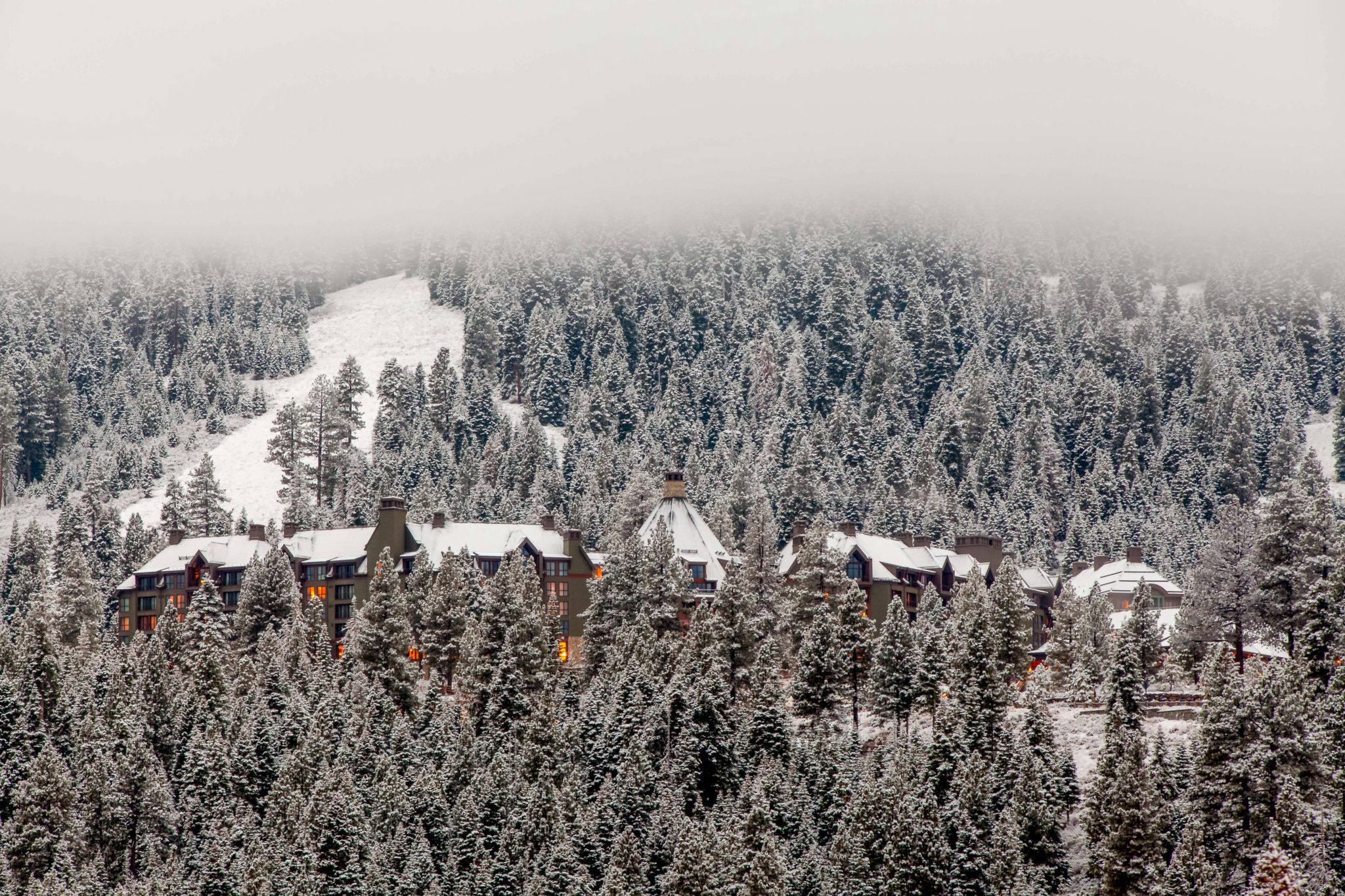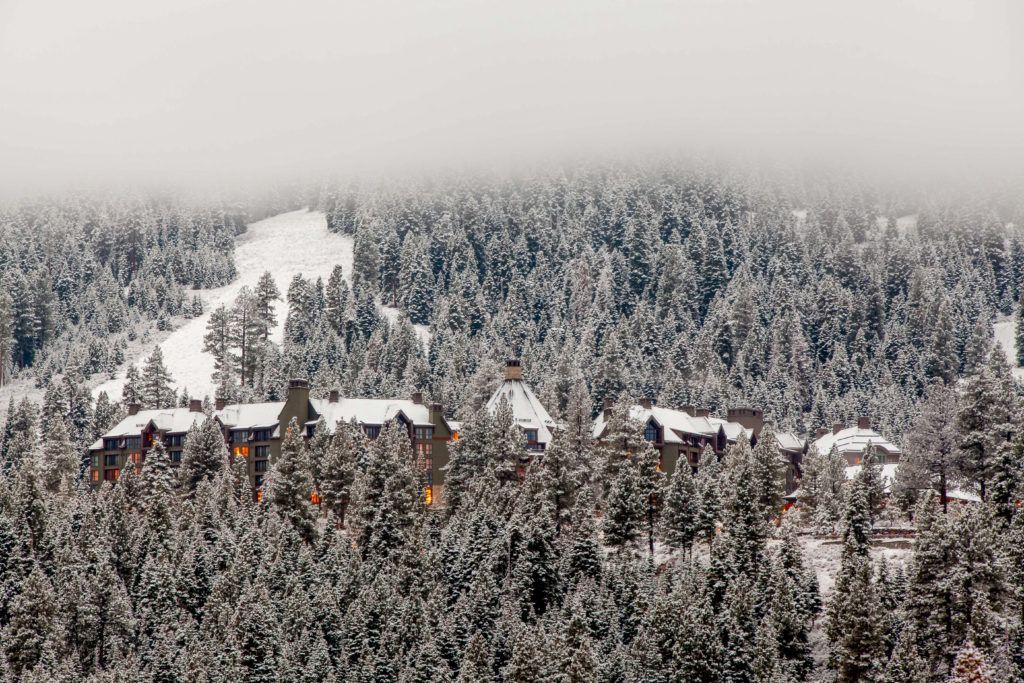 The Northstar Ski Resort sits at the north side of Lake Tahoe, on an extinct volcano! With more than 3,000 acres of terrain, many are attracted to the slopes here because they are well-maintained. There are quite a few beginner and intermediate-level runs here for ski newbies.
Sierra at Tahoe
Sierra-at-Tahoe is a ski resort near Lake Tahoe's southern shore. This is one of Lake Tahoe's largest resort areas, with trails mostly catering to beginner and intermediate skiing. However, experts can try their hand at Huckleberry Canyon for challenging backcountry terrain.
Depending on the resort, you can find a variety of other experiences, including a Mountain Coaster, scenic gondola rides, and opportunities for tubing. There's also the option to be a part of the exciting nightlife in the nearby pubs and casinos of South Lake Tahoe, if that's more your speed.
2. Snowshoeing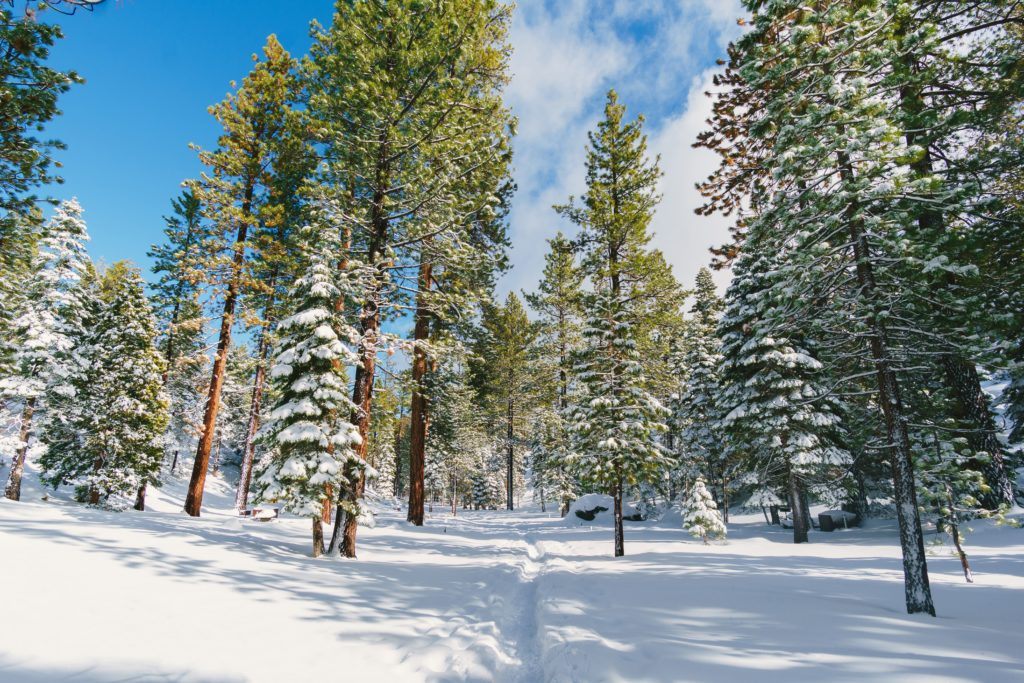 For getting down low in the snow, snowshoeing is the way to go. Snowshoeing gets your heart pumping while you take in the majestic views, making it one of the most popular activities in Lake Tahoe.
Best Snowshoe Trails in Lake Tahoe
Tahoe Meadows trail (3 miles roundtrip): One great place to start is the moderate Tahoe Meadows trail. When you first arrive it might seem heavily populated, but snowshoeing allows you to follow the direction of your heart. Tromping off through the powder to make a trail of your own will take you away from the noise and into your own personal winter wonderland.
Spooner Lake (2.1 miles): This easy trail takes you on a 2-mile loop around Spooner Lake, and can be completed in around an hour. The trail is great for a casual walk through the snow.
Carson Pass: If you're in the mood for some more fantastic views and a bit of a workout, Carson Pass offers a variety of trails for snowshoers. For access to these trails, you'll have to purchase a pass from Carson Pass Sno-Parks, at $5.00 for the whole day. However, the views make up for the cost! For those feeling extra adventurous, the option to visit Woods Lake, Winnemucca Lake, and Frog Lake in one trip may sound appealing. Just be warned that at over 8,000 feet in elevation, the Pass receives a ridiculous amount of snow, so you should be prepared for the icy temperatures and extra effort it will take to do the six-mile hike.
Tahoe National Forest: The Tahoe National Forest is located just minutes from the Tahoe Palisades and Alpine Meadows. This place can be explored along a forest path through the forest to one of our best vantage points. A guided tour in this sparsely populated area will give you the opportunity to enjoy the incredible landscapes of the Alpine meadows, the Olympic Valley and the Sierra Ridge.
3. Snowmobiling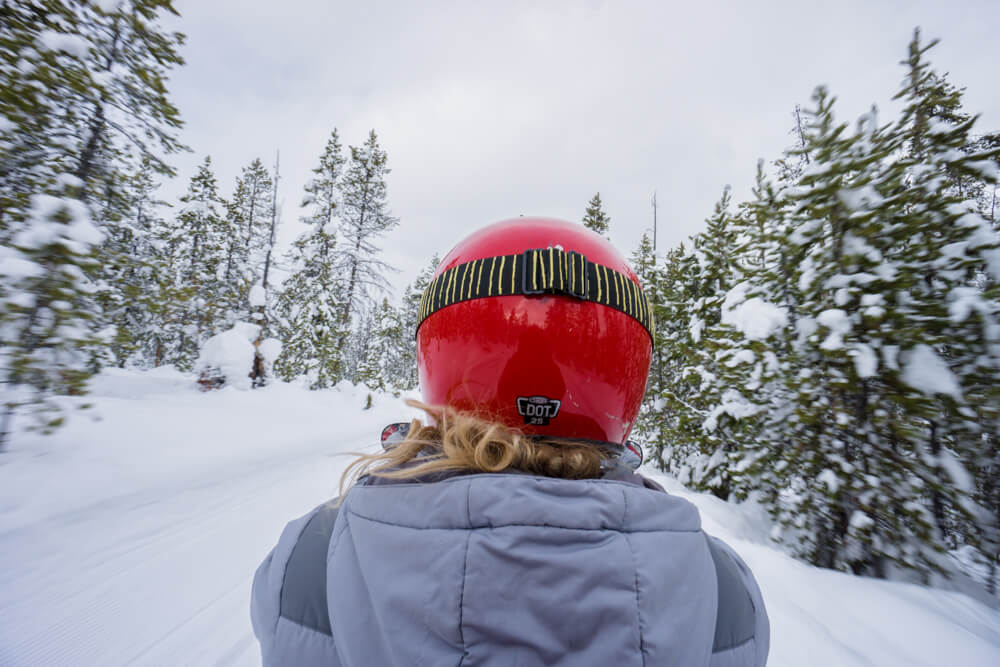 This fast-paced activity is perfect for adventuring through the backcountry of Lake Tahoe. There are plenty of snowmobiling opportunities in Lake Tahoe's North and South, so you can satisfy your need for speed anywhere around the lake!
4. Skydiving
Though the area has its share of lookout points, you may not think to explore the views of Lake Tahoe thousands of feet in the air. During the winter, check out places like Skydive Lake Tahoe, which are open year round. But bundle up if you want to jump––the winter season and high altitude make for some chilly conditions!
5. Sleigh riding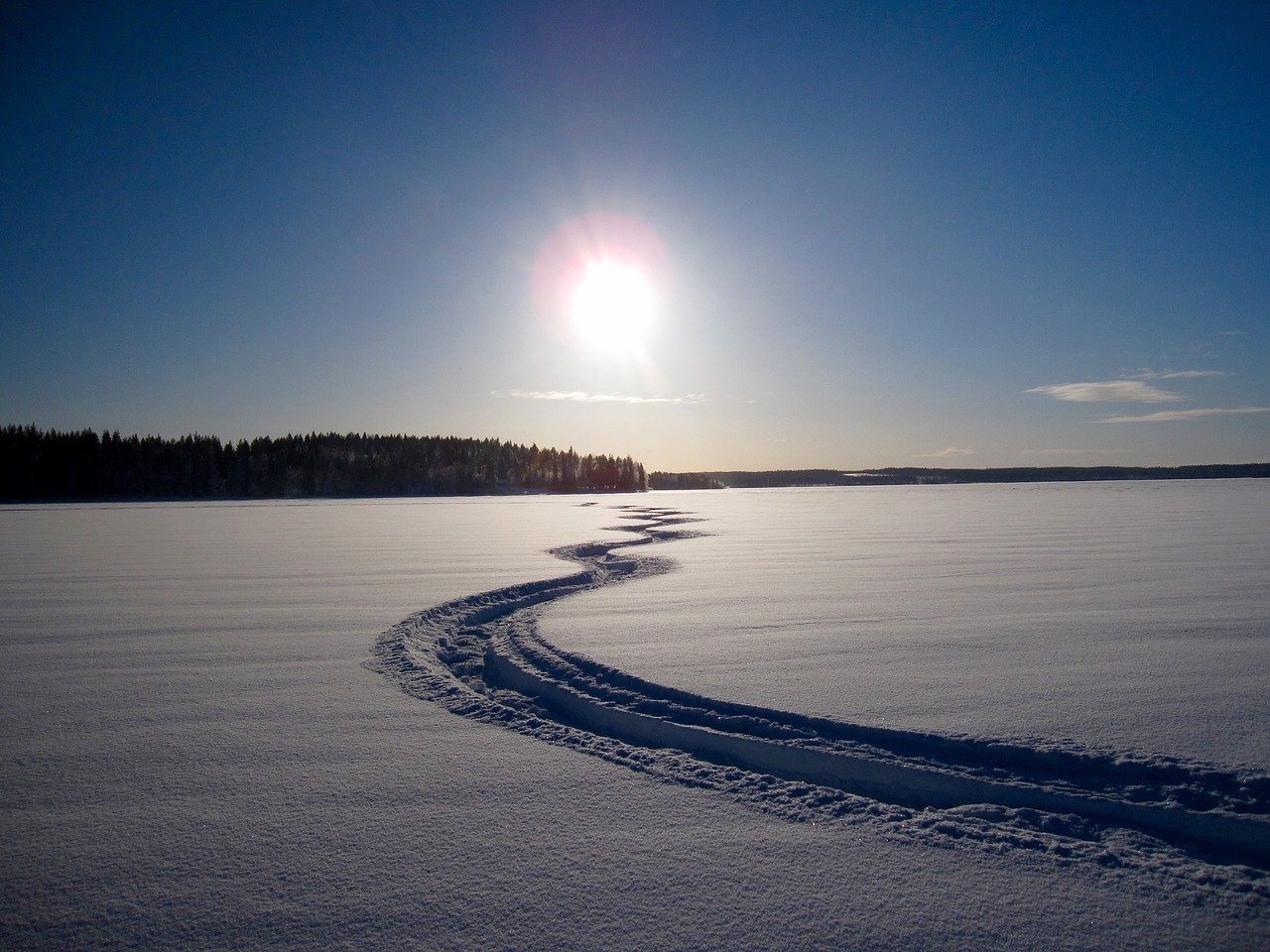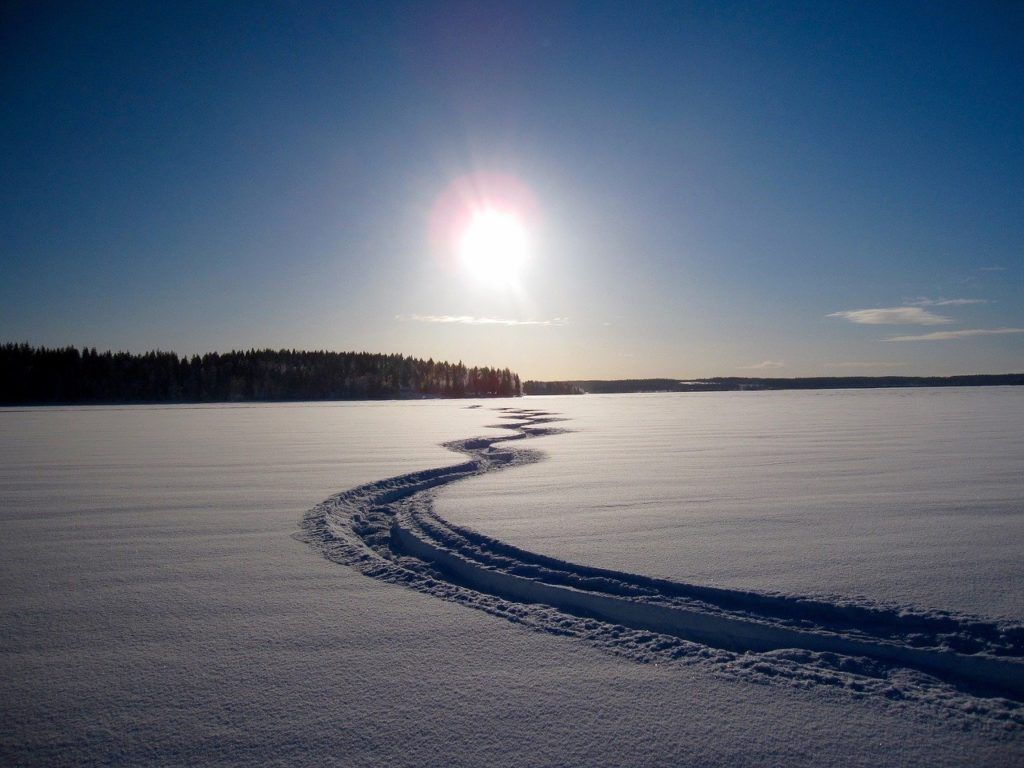 Some of the activities on this list will get your heart racing, like snowmobiling and winter skydives.
But for an activity that's a bit less of a risk and still a lot of fun, consider taking a horse-drawn sleigh ride through the wilderness! There are several places that offer sleigh rides in Reno Tahoe, including Borges Sleigh Rides, Camp Richardson Corral, and Sierra Adventures.
6.Gondola Rides
You don't have to ski down Lake Tahoe's mountains to enjoy the ride up. Gondola rides are a great way to experience the panoramic views with the comfort of friends and family. The Heavenly Gondola is one of the area's most picturesque, with a 2.4-mile-long ride that stops at an observation deck. Prices vary depending on the time of winter, so be sure to check out their rates before you go.
7. Dog Sledding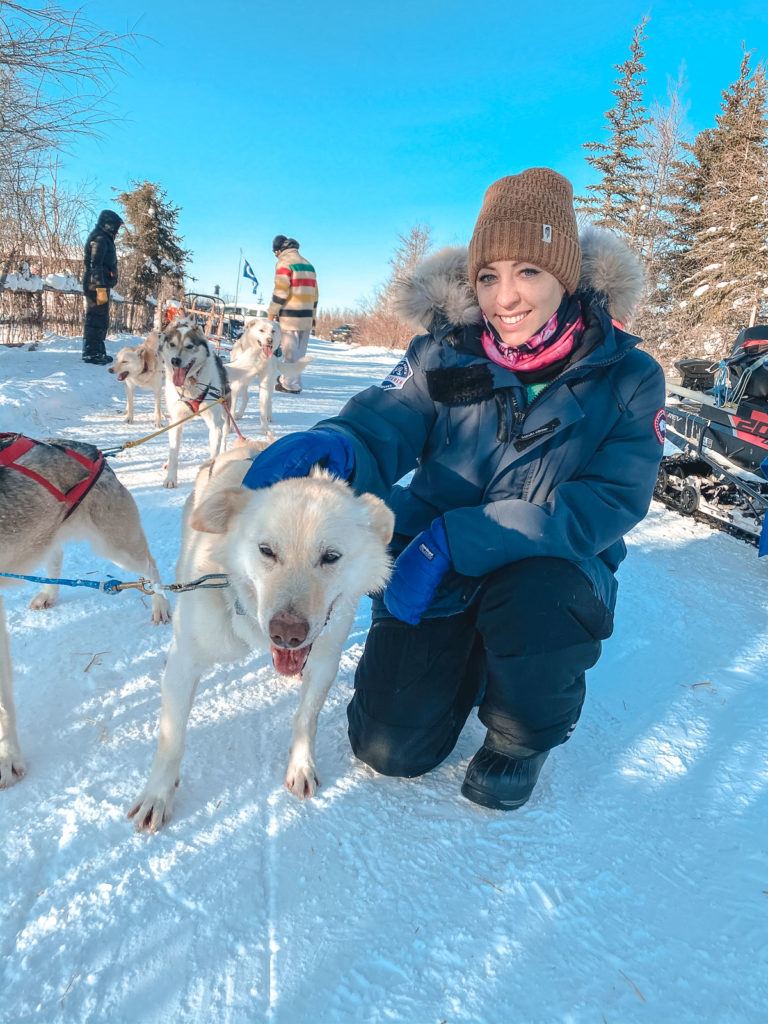 No mushing experience needed for this item on the list! If you'd want to experience Lake Tahoe's winter landscape with some furry friends, dog sledding is the perfect choice. Companies like Running Creek Dog Sled Rides and Sierra Adventures offer tours of the area under the experience of a well-seasoned musher.
8. Ice Skating
Though Lake Tahoe itself doesn't freeze, there are several places in the area that give you the chance to take a break from the slopes:
Squaw Valley: Besides skiing, this is one of the most popular areas for ice skating, with views of Sierra Nevada and the nearby Lake Tahoe. Here you can ice skate in places like the Olympic Ice Pavilion or the resort at Squaw Creek.
Heavenly Village: Heavenly Village Ice Skating is an open-air skating rink in South Lake Tahoe, complete with winter decorations to make the experience that much livelier. The ice rink operates from November first through Easter; check out the rink's prices and hours here.
Natural frozen lakes/rivers: The Truckee Tahoe Ice Skating Facebook group offers insiders' tips into different frozen bodies in the area for skating. However, make sure you take proper precautions when skating in these areas, and never skate alone.
9. Birdwatching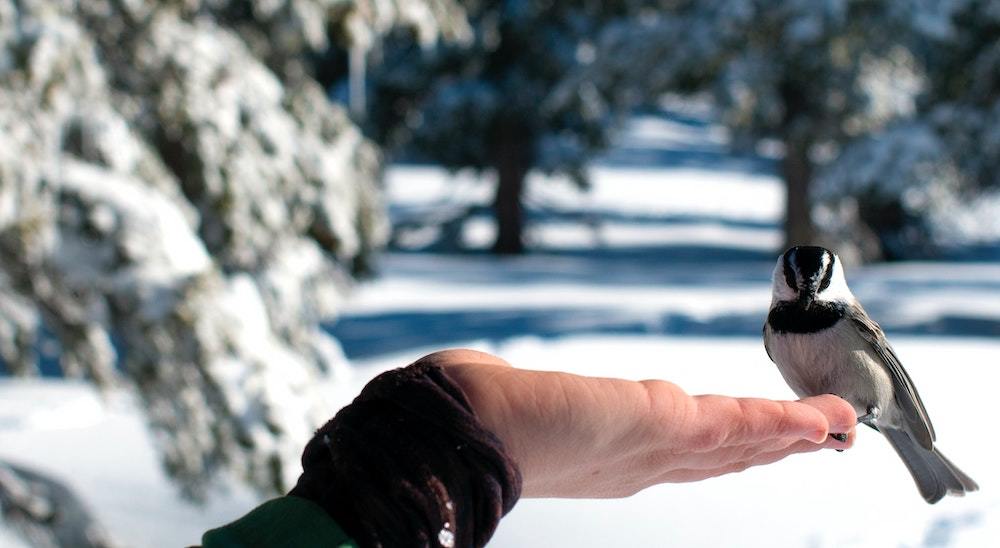 Most people think of winter as a barren time of year, but if you have time (and patience) you can catch glimpses of some birds that come for season. Birds like the bald eagle and golden eagle rest here during this time—check out the USDA's website for a list of other birds you can find in the area.
Chickadee Ridge is a popular snowshoe area for visitors who want to get up close and personal with the namesake birds!
10. Tubing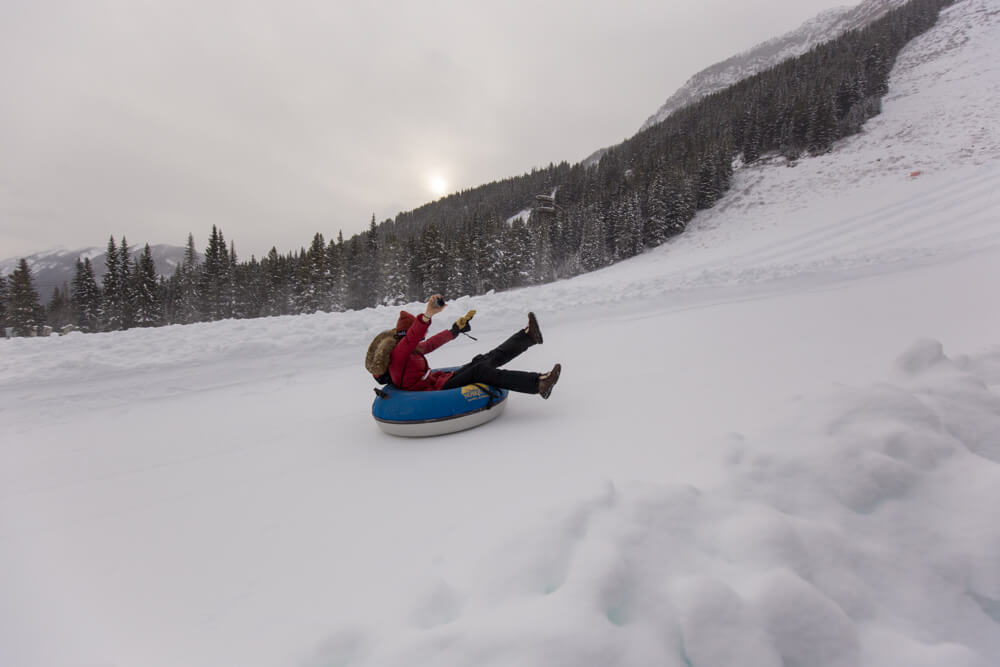 When the snow becomes a playground, few activities sound more fun than sliding down a plastic tube! Tubing is the perfect way to enjoy the snow to your inner kid-at-heart. Squaw Valley and Heavenly Lake Tahoe are some great tubing locations, but there are a fair amount of others in the area:
Soda Springs Mountain Resort has its very own "Tube Town", complete with a lift to make time in-between sliding more efficient. Note that personal tubes and sleds are not allowed here.
Tahoe Donner Snowplay has multiple monitored tubing lanes, as well as tubes and sleds to use. You can check their rates here.
The Mt. Rose Snow Play Area is a public area for tubing and sledding, found off Mount Rose Highway. There are a lot of hills to explore in this large area, but be sure to have your own equipment ready if you come!
11. Picture taking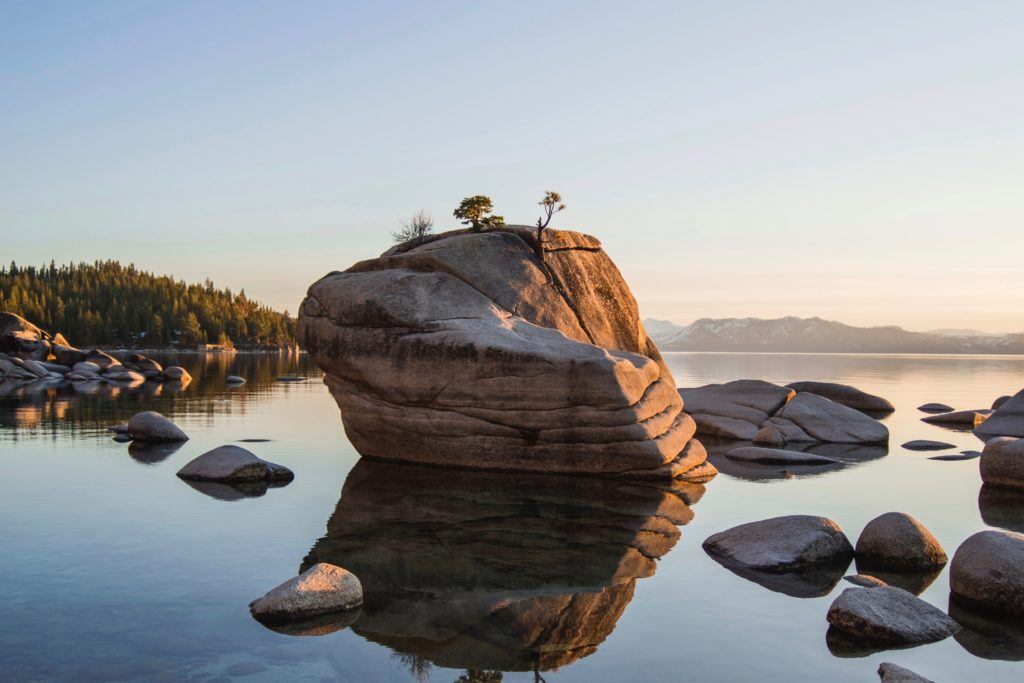 You don't have to be an expert photographer to get excellent shots of Lake Tahoe and the surrounding area. Here are some notable landmarks to give you some ideas for your next shot:
Bonsai Rock: You may have a better chance of solitude at this popular photography spot in the winter. This rock is famous for the trees that grow on it (against all odds), and the winter snow adds another layer to the beauty of the formation.
Emerald Bay: South Lake Tahoe's Emerald Bay is where you'll find Lake Tahoe's only island. It's also one of the lake's prettiest places for a sunrise, so get up early to get a good photo-op!
Need tips for getting the next great photo? There are tons of posts on BMTM dedicated to photography, which include How To Take Good Instagram Photos, 10 Easy Tips for Taking Way Better Travel Photos, and How To Take Beautiful Travel Photos of Yourself. That being said, there is also an alternative option to go on a guided trip accompanied by a photographer and get professional photos taken.
12. Spas
After a day of snow-filled fun, it's imperative that you end your day with perfection. Spas are scattered throughout Lake Tahoe, offering a variety of services for you to choose from.
Some are retreats and resorts built around natural hot springs that provide the solitude and silence you need to unwind. Others focus on caring for your body AND spirit. Whatever your spa needs are, Lake Tahoe has just the experience you're looking for after a full day of winter activity!
Pin me for later: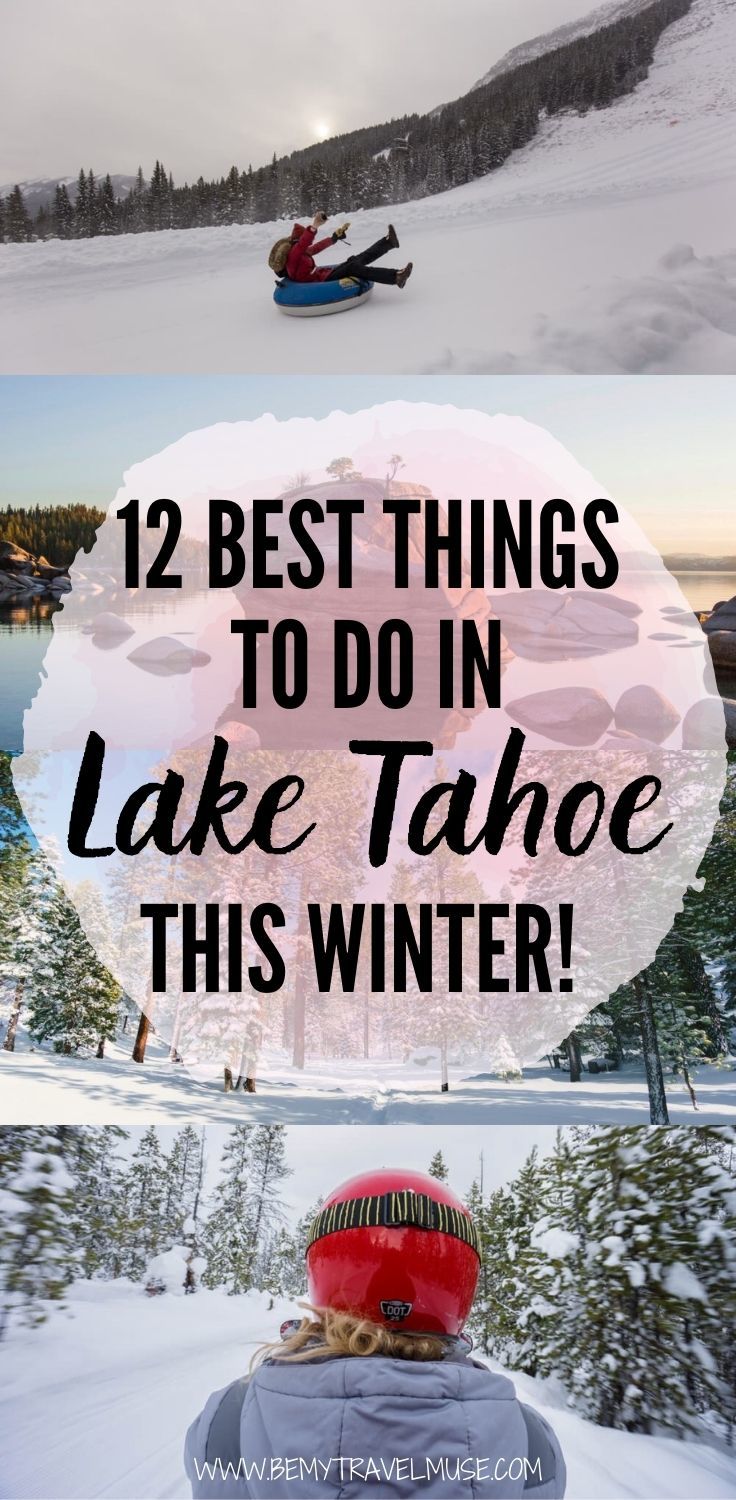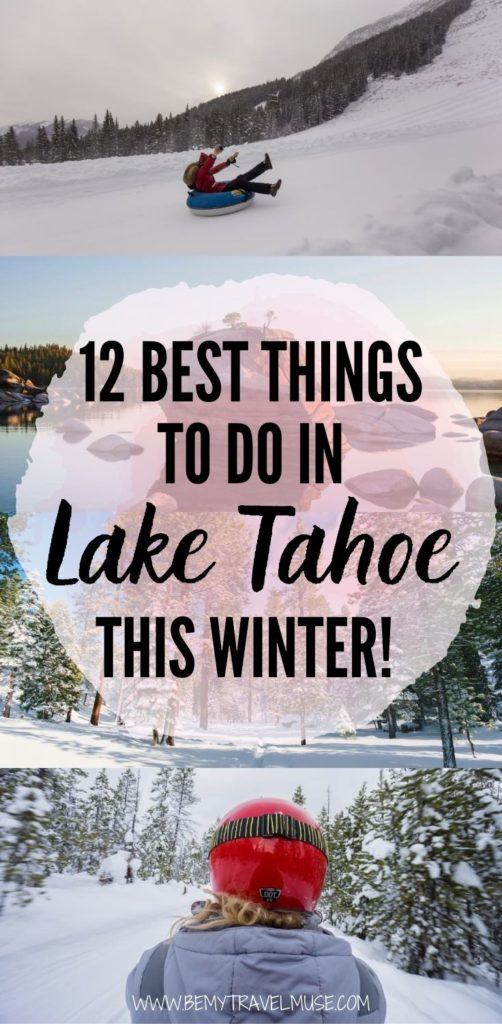 As you can see, Lake Tahoe doesn't even come close to running out of things to do in the winter. Whether you decide to take your snowshoes, skis, or camera, you'll definitely find something to enjoy!
Is there something you'd like to do in Lake Tahoe during the winter? Let me know!