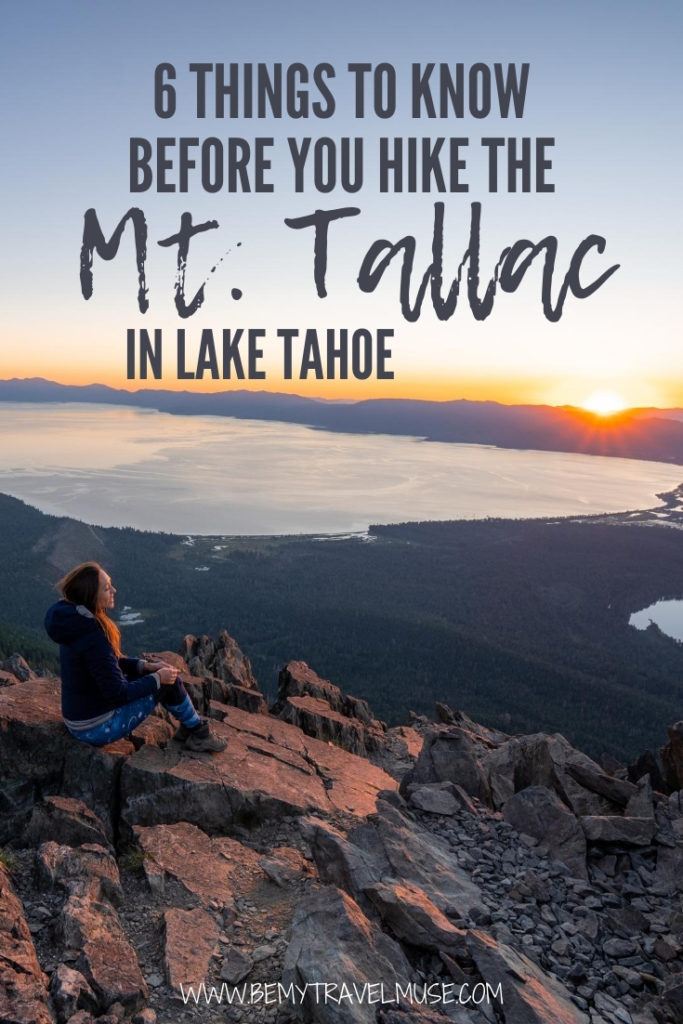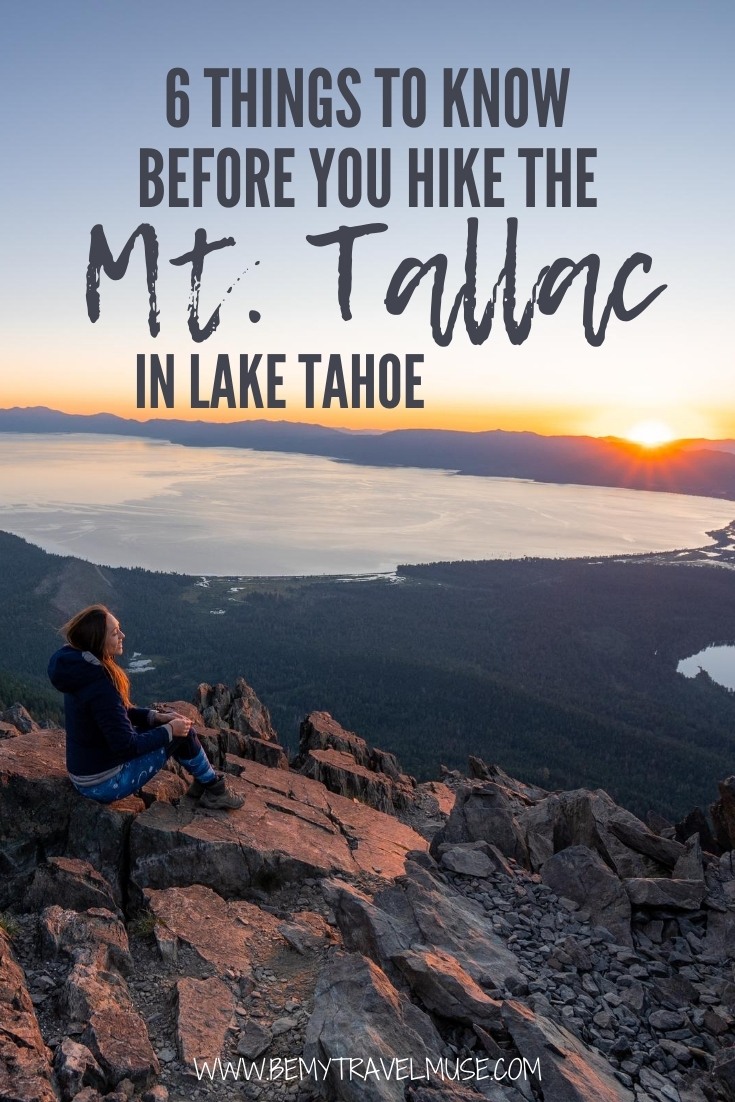 Lake Tahoe is famous for a reason – it is the most beautiful lake in the world (I admit I'm biased because it's in my backyard), and there's an abundance of amazing hiking nearby.
One of the most famous hikes in the area, and easily the best sunrise view, is from Mount Tallac in South Lake Tahoe.
Whether you're doing it as a day hike or turning it into a multi day adventure in Desolation Wilderness, this post will help you plan and prep for an amazing hike up Tallac! Here are six essential things to know before you go:
1. The views are incredible, but you'll have to earn them!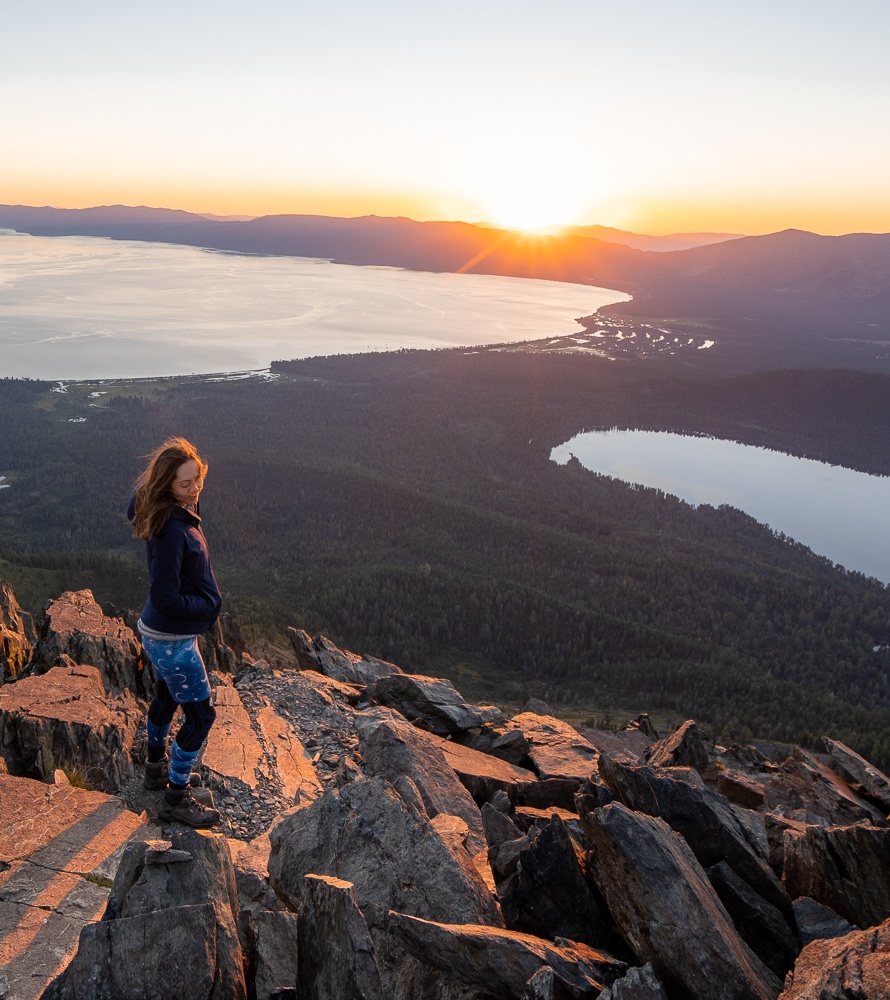 This hike is a doozy. You're essentially starting at the same altitude as the lake and climbing 3500 feet (≈ 1066 m) to the top over the course of only 5.2 miles (≈ 8.3 km) each way. It also takes place at altitude, ending at just over 9700 feet (≈ 2968 m) above sea level.
Translation: It's steep with very few flat parts.
It also fakes you out constantly. I 'false summited' at least three times!
But if you're into hiking and are dying for that view, don't let that scare you. It's an awesome challenge and one of the best ways to get such an awesome view as only a day hike.
Beginner hiker? I have some tips for you here!
2. It's exposed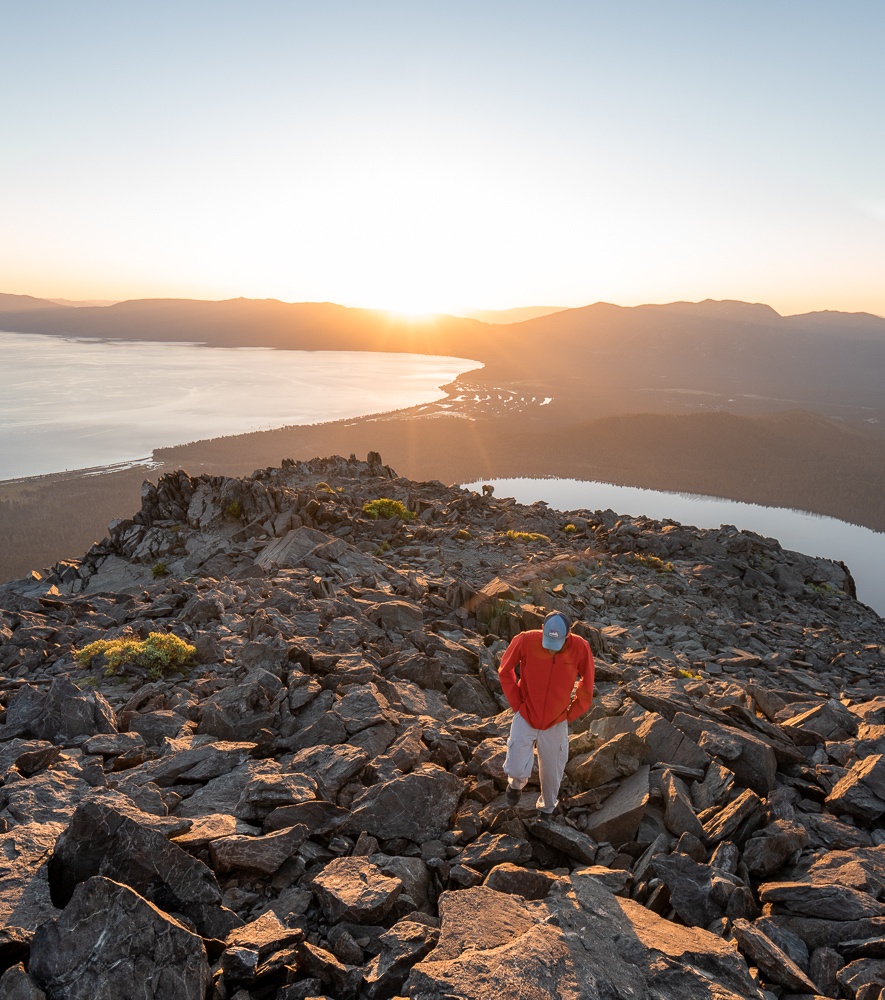 Initially, you'll have some tree cover but that fades away quickly into exposed granite rock. If you're not familiar with hiking on granite, it tends to suck in the heat and just radiate it right back at you.
I happened to end up on the most exposed, hottest part of the trail with 50 pounds on my back around 12 noon in July, so I know this all too well!
If you can possibly do this hike earlier in the morning or later in the evening you'll probably be a happier camper.
Though I'm a big fan of nighttime hikes to sunrise views, I don't recommend doing that with this one, as it would be incredibly easy to lose the trail in the dark. I accessed it from Gilmore Lake, which is much easier to follow. Read on for more about that.
3. You'll need a permit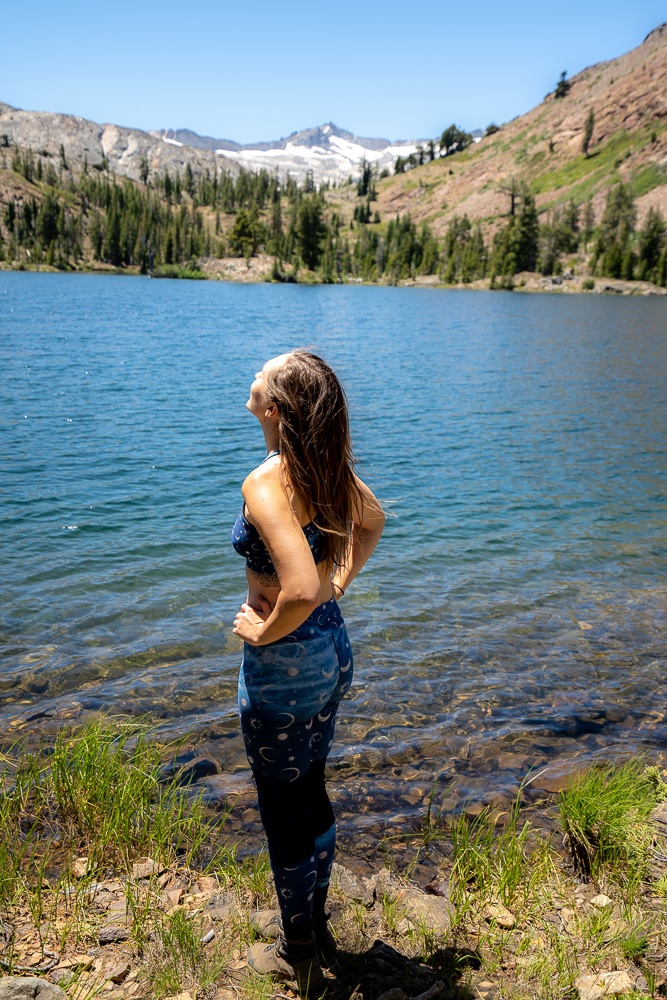 But not to worry, because they're free and available right at the trailhead.
If you're turning this into a multi-day trek like I did, you'll need to get a Desolation Wilderness permit. Please respect the permit system as it keeps the wilderness wild! You can grab it here.
In the summer months be sure to get it as soon as you know you're going as they will book out in advance, particularly if you're also hitting up Lake Aloha.
4. Preparation (water, gear, etc.)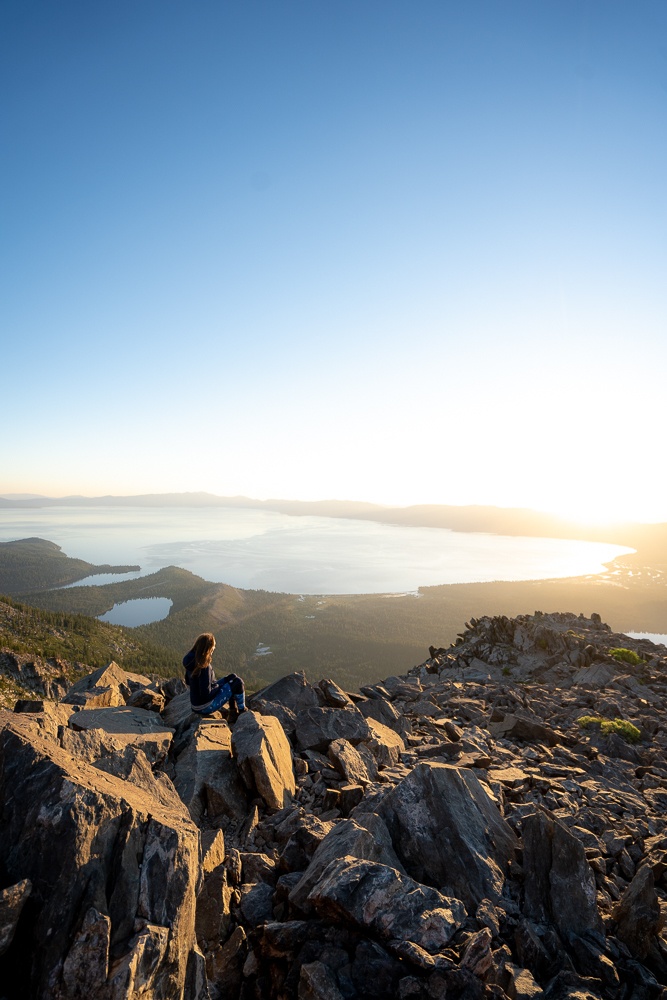 The nice thing about doing this as a day hike is you really only need a small pack, shoes with good tread, and enough water to last you to the top and back. The last place to fill up is at Cathedral Lake pretty early on in the hike, where you will definitely want to filter or clean the water somehow (check out my favorite gear here).
Otherwise, it's hot and exposed all the way up and all the way back down.
Of course, this will depend on the year's snowfall and when in the year you do it. Tallac is one of the last areas to have all of its snow melt in the summer, so if you're hiking in May or June you'll likely need snow shoes as well!
Possibly because it's such a popular hike, I was surprised to see some hikers wearing shoes with no tread and not carrying any water. I didn't see anyone this ill-prepared make it to the top, so my guess is they only intended to go to the lower lakes.
But if you do plan on making it all the way to the top, absolutely plan on bringing snacks and water!
5. Can you camp overnight on Mt. Tallac?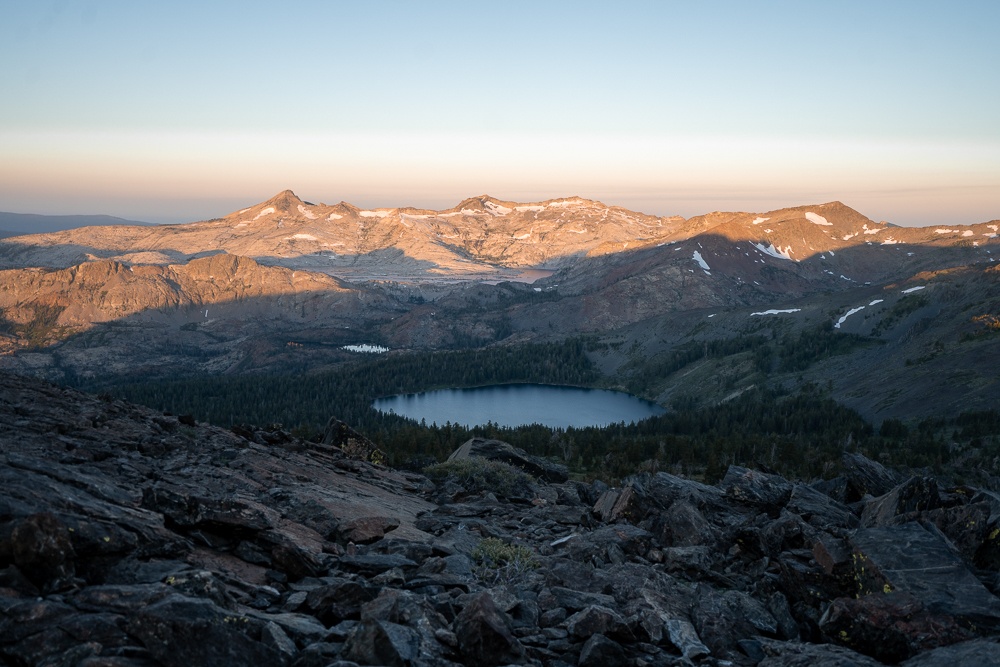 Can you camp overnight and catch the sunrise? Absolutely!
You will need a Desolation Wilderness backcountry permit referenced earlier in this post in order to do that. Since Desolation Wilderness is one of the most popular wilderness areas in the US, be sure to nab it well ahead of time.
I turned this into a four-day backpacking loop beginning at Tallac, camping at Gilmore Lake and hiking to the peak of Mt. Tallac again for sunrise (I seem to be a glutton for punishment like that), and then spending two glorious days camped on Lake Aloha.
I've got tons of information on how to backpack successfully, including a packing list, or even my free Outdoors 101 course!
If you do plan camping on the peak itself, be sure to bring plenty of water up with you as there is no source. Also prepare for some serious wind! You will also need bear cans whenever you are backpacking in the Sierras. Most years you can get them at the ranger stations, pending COVID-19 closures.
6. Get there early for parking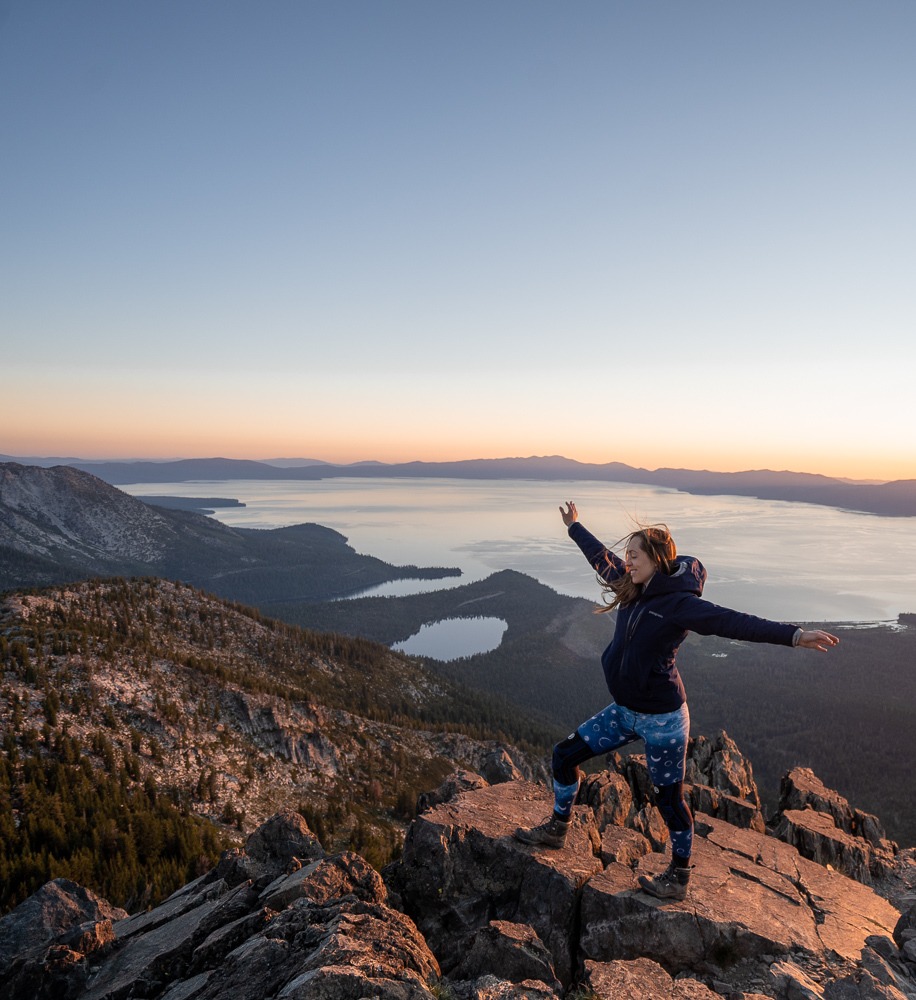 Mount Tallac has its own parking lot but it does tend to fill up quickly, particularly on the weekends.
If you plan on doing Lake Aloha as well, Echo Lake can be another good alternative entry point (though parking is even worse there).
However if you are only doing Tallac, try to get there by 10 AM in order to be able to park close by. Take note of which side of the street parking is and is not allowed on, and make sure you are not hanging off into the street.
On a Wednesday in July, I arrived at about 11 AM and didn't have to park too far from the trailhead, but weekends are much more impacted.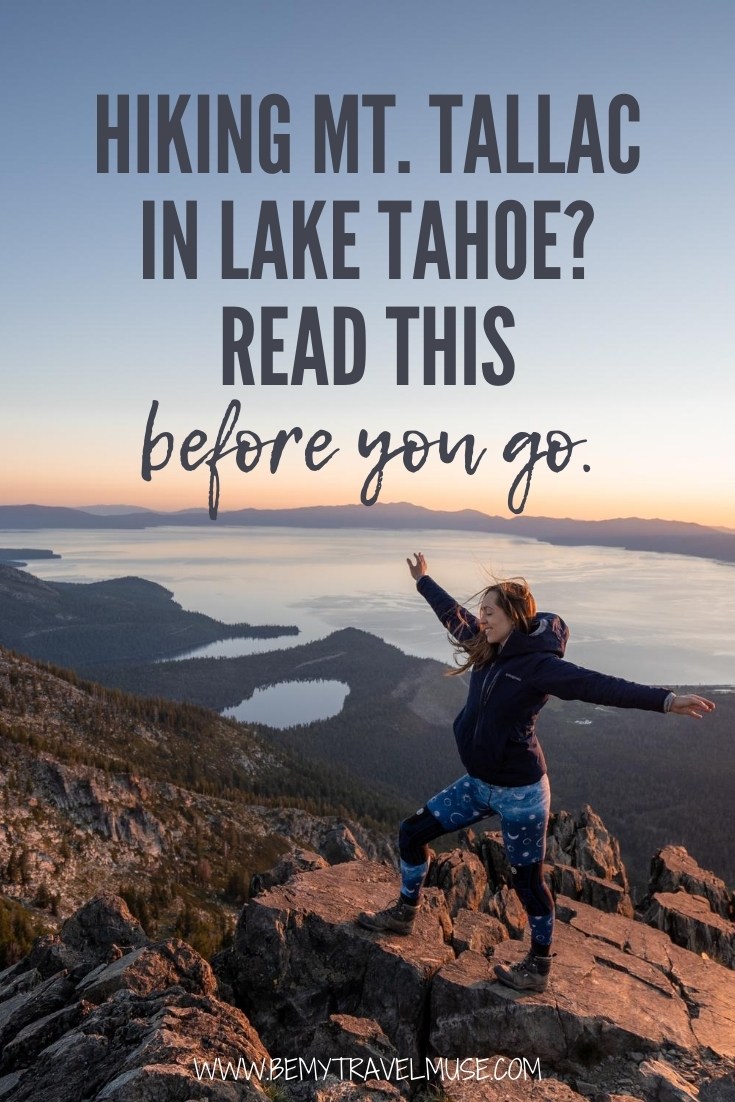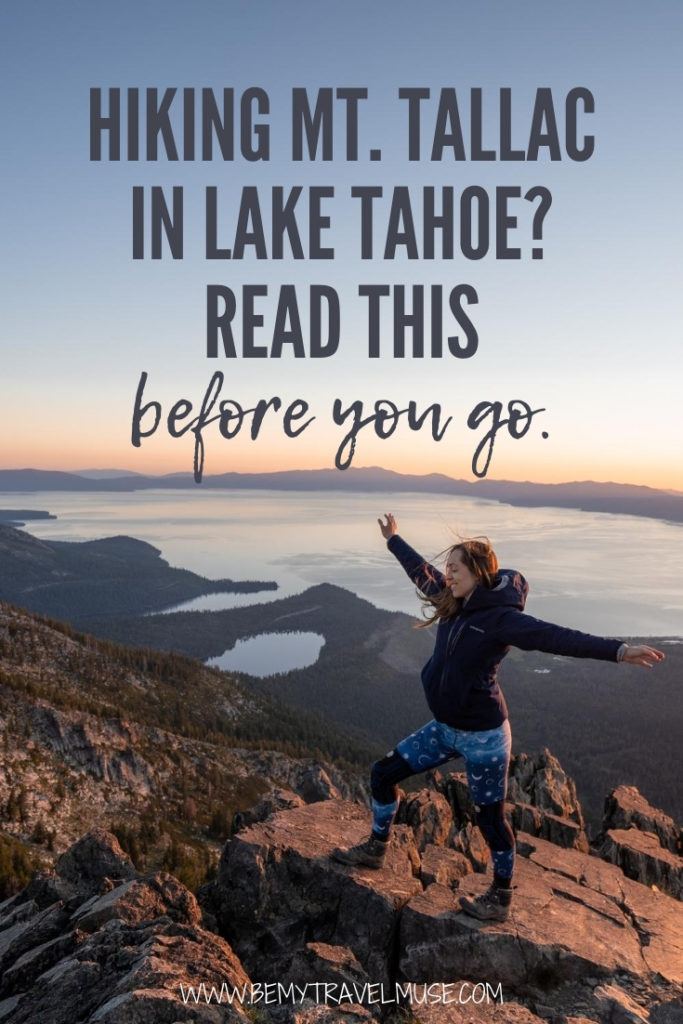 There are no trash cans near the trailhead so pack out everything and don't leave any food or trash in your car, unless you feel like inviting bears to the party! If you're not familiar with Californian bears, they like to rip right into car doors at the slightest hint of food smells.
I hope this post helped you to plan an epic Mount Tallac hike. It's one of the best challenging day hikes in South Lake Tahoe that gives you epic views of not only Tahoe, but also Fallen Leaf and other lakes as well. Enjoy the adventure and be sure to Leave No Trace!
Read Next: