New York City attracts visitors from all over the world who come to bask in all of its glory. As the United States' biggest city, it has a little bit of everything for every type of traveler.
Although "the city that never sleeps" is known for its extravagance and luxury, that doesn't mean you can't go there on a budget. In fact, some of NYC's biggest attractions are completely free to enjoy! Here are 20 free things to do there, arranged by borough:
Citywide
20. Open Culture Program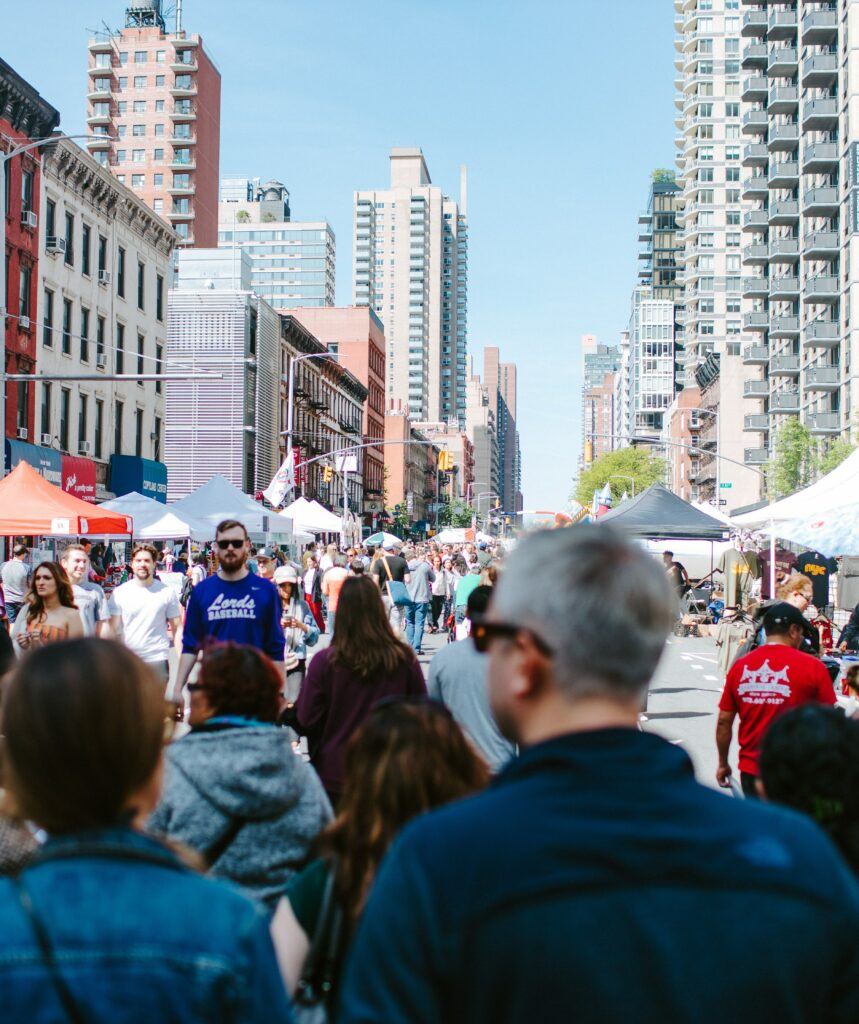 This new citywide program, an extension of the Open Streets program, began during the pandemic with the goal of creating accessible art and culture outdoors. It involves shutting down streets around all five boroughs at designated times and providing free live performances, workshops, and classes outdoors. Here's a full list of Open Culture Program locations throughout NYC.
19. Free Tours By Foot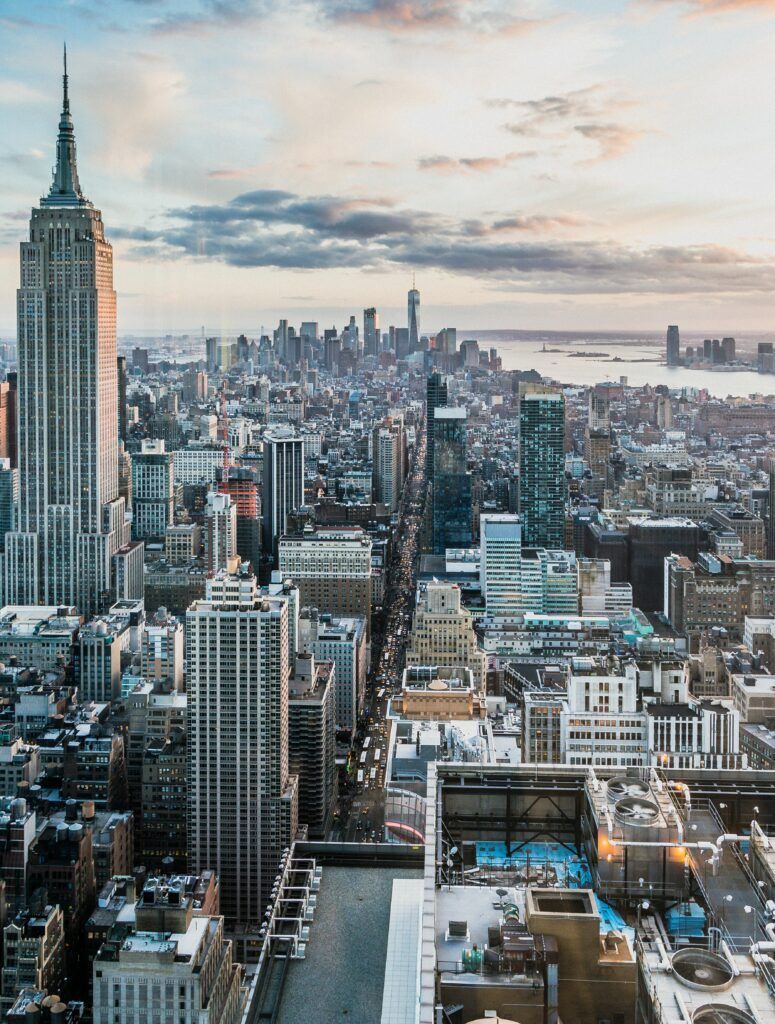 If you're happy to walk for miles in NYC, learning about its history and culture, consider a free walking tour by Free Tours By Foot, a legendary company that is even adored by locals who want to learn more about different areas of their city.
Each neighborhood tour has its own theme. Book one here. There's no cost to book, and the free tours are "pay what you can," in case you want to give a donation afterward.
Manhattan
18. Central Park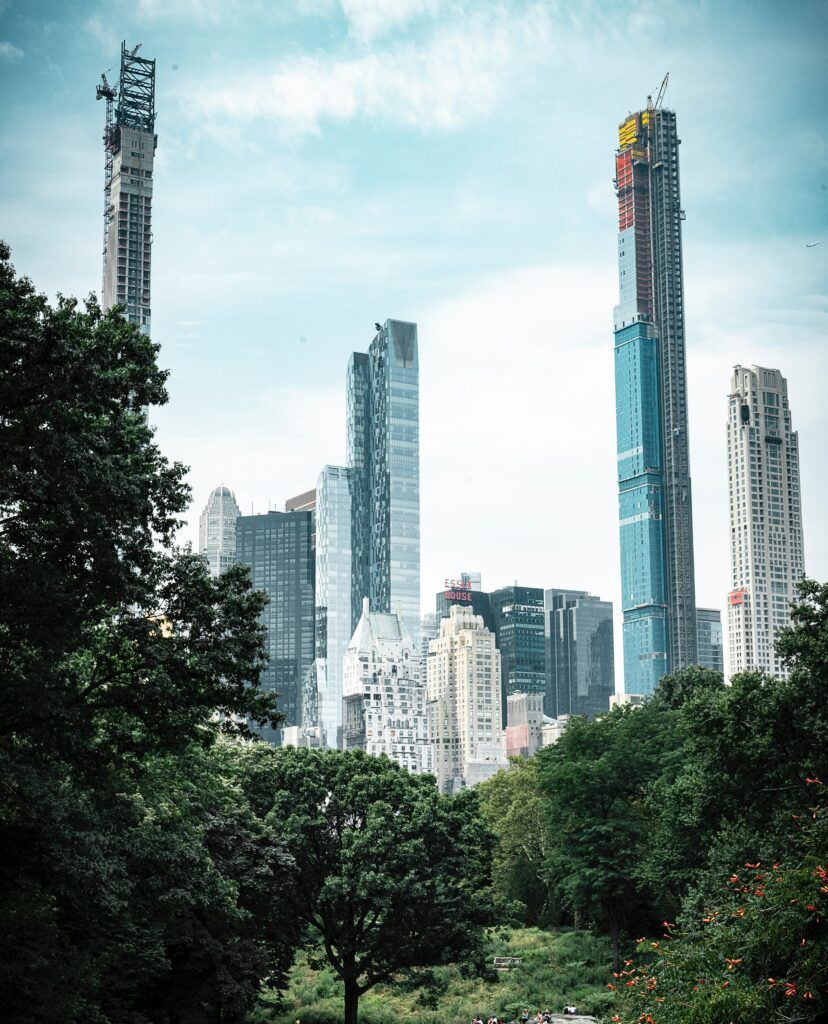 Sure, as the most famous city park in all 50 states, this might be the most obvious free thing to do, but it deserves a spot on the list all the same. Central Park is iconic, gigantic, and, of course, free to visit. You can expect to see plenty of other people there on any given day, any time of year. Even in the wintertime, you'll find people milling about.
Since Central Park is so large, check out this interactive map to help you get oriented.
17. Lincoln Center concerts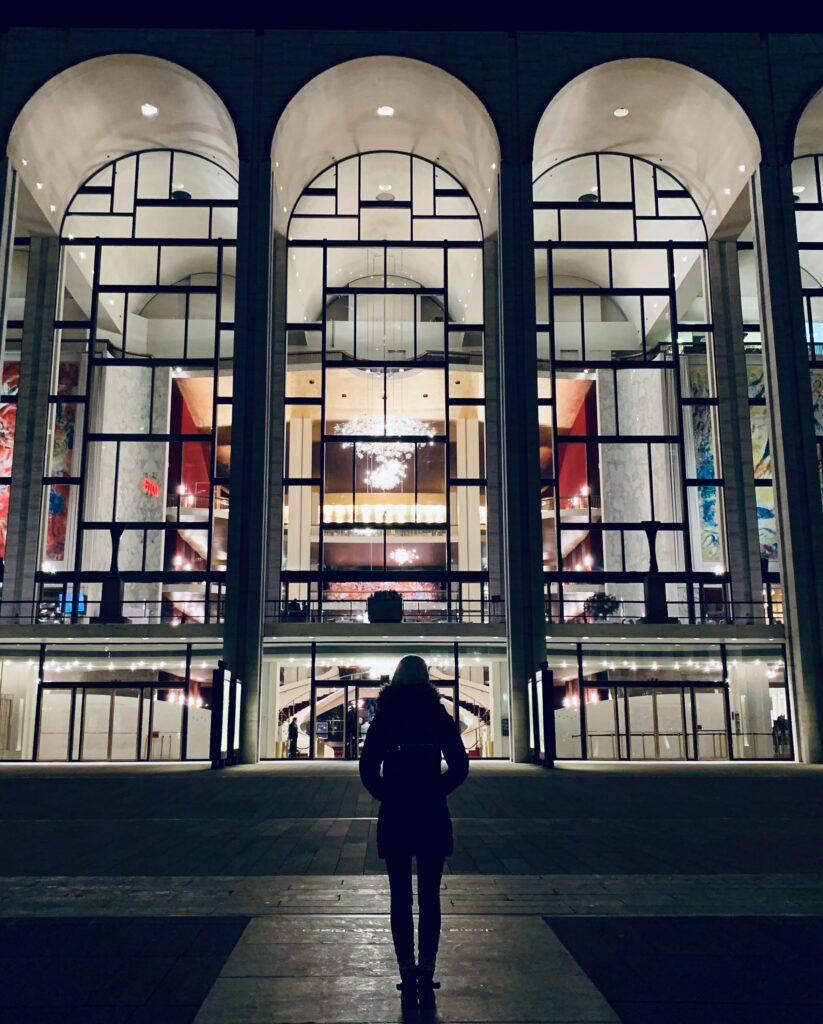 Lincoln Center hosts a variety of performances year-round but ramps up in the summertime, when the Restart Stages open up. These were created as a part of the Center's goal to reimagine and reactivate public spaces for a new era. This intention put into motion Lincoln Center's free outdoor concerts. This is an awesome way to spend a day in New York City — and you won't have to pay a dime!
16. St Patrick's Cathedral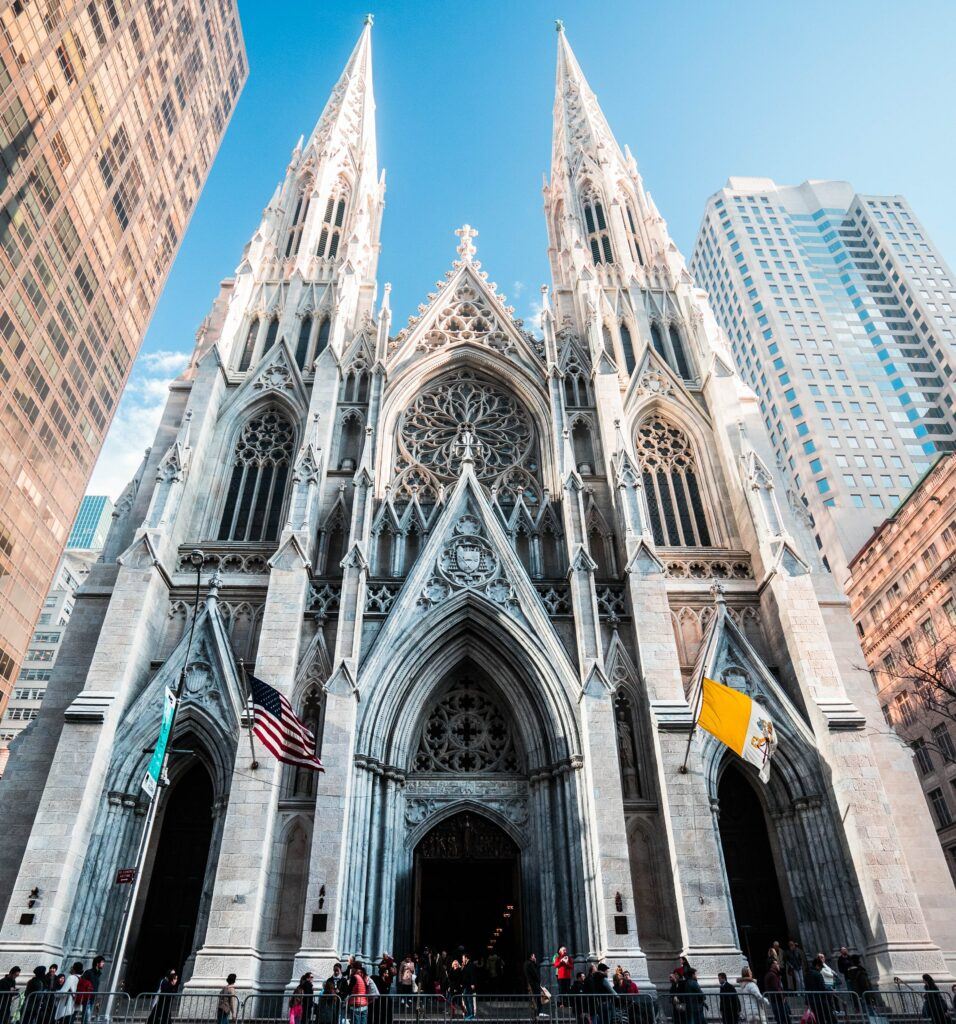 No trip to NYC is complete without stepping into St Patrick's Cathedral at least once. This mammoth church is one of the city's oldest landmarks and stands as one of the most recognized symbols of Roman Catholicism in the United States. The cathedral is large enough to hold 2,400 occupants and houses a 7,855-pipe organ.
While free tours are no longer available, you can visit the cathedral and look around on your own between 6:30am and 8pm. These hours vary depending on Mass times and holidays, so make sure to check the St. Patrick's Cathedral website before visiting.
15. The Morgan Library & Museum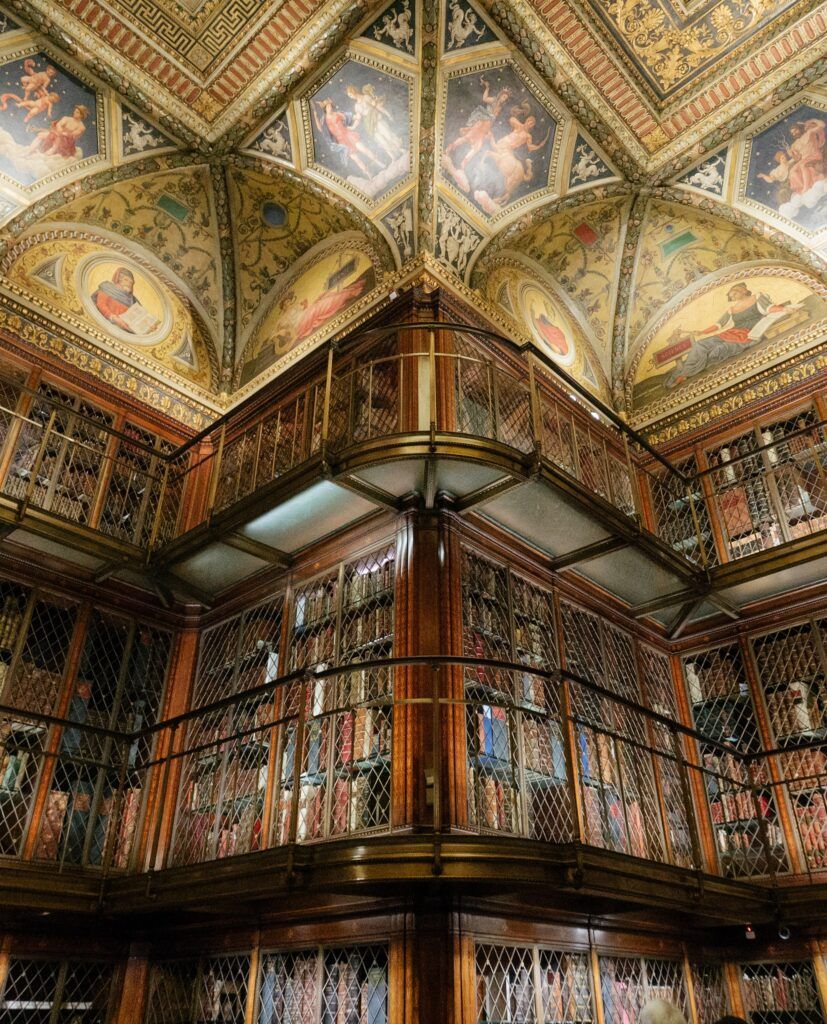 This impressive library was once the private library of J. Pierpont Morgan and has since expanded. The collection of works includes drawings by famous artists such as Picasso, Rembrandt, and Michelangelo, as well as original handwritten sheet music from Beethoven and Mozart. The space is immaculately decorated, and one could spend hours looking at everything.
You can explore the Morgan Library & Museum for free on Fridays from 2pm to 5pm.
14. Leslie-Lohman Museum of Art
While there are plenty of free museums around town, this is one of the best. It is truly one-of-a-kind, as the only accredited LGBTQ+ art museum in the entire world. With around eight or so special exhibitions a year, the museum is always changing and diversifying its collection. NYC has a rich history of LGBTQ+ rebellion, revolution, and contributions, which is told beautifully through the art installations at the museum.
The museum is now open at full capacity but still encourages visitors to reserve their free tickets online beforehand. Opening hours are Friday through Sunday, 12-6pm.
13. Chelsea Market art exhibitions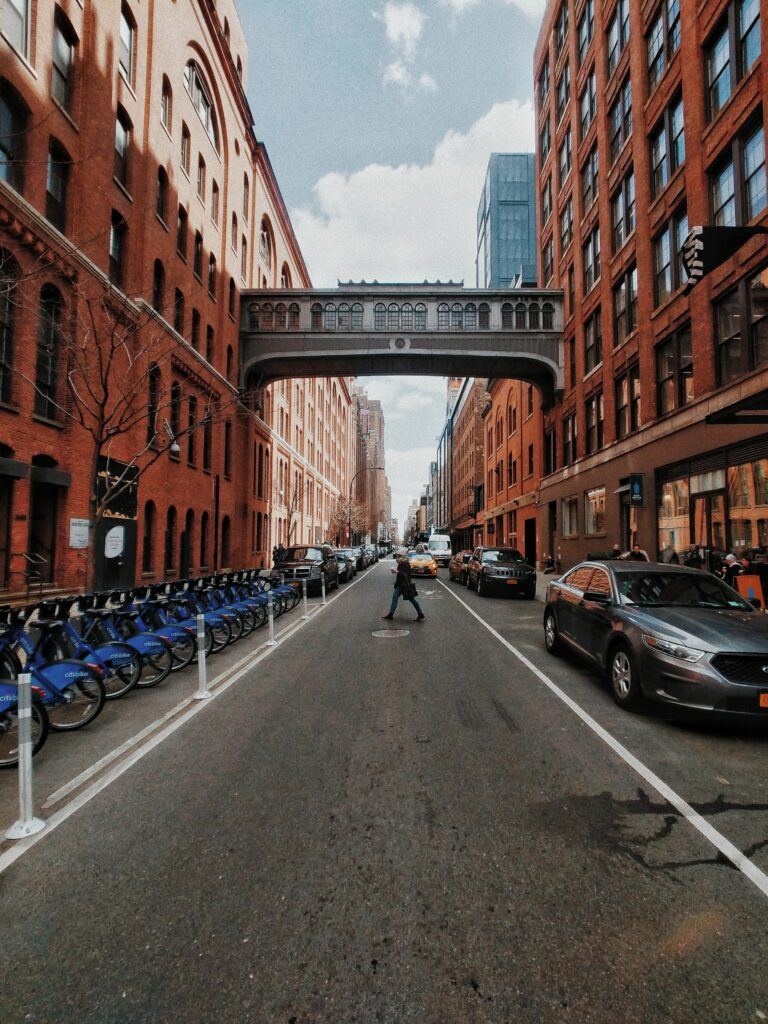 Chelsea Market is certainly worth a visit all on its own, but even more so because of its awesome rotation of free art exhibitions. Previously, such displays celebrated Black History Month and Women's History Month; one featured a gigantic painting of Ruth Bader Ginsburg. The current exhibition is by Stall & Dean and takes visitors on a journey through American sports history.
To stay up-to-date with which exhibition is currently on display, check out Chelsea Market's events page.
12. The Shed's Fighting Dark free audio walking tour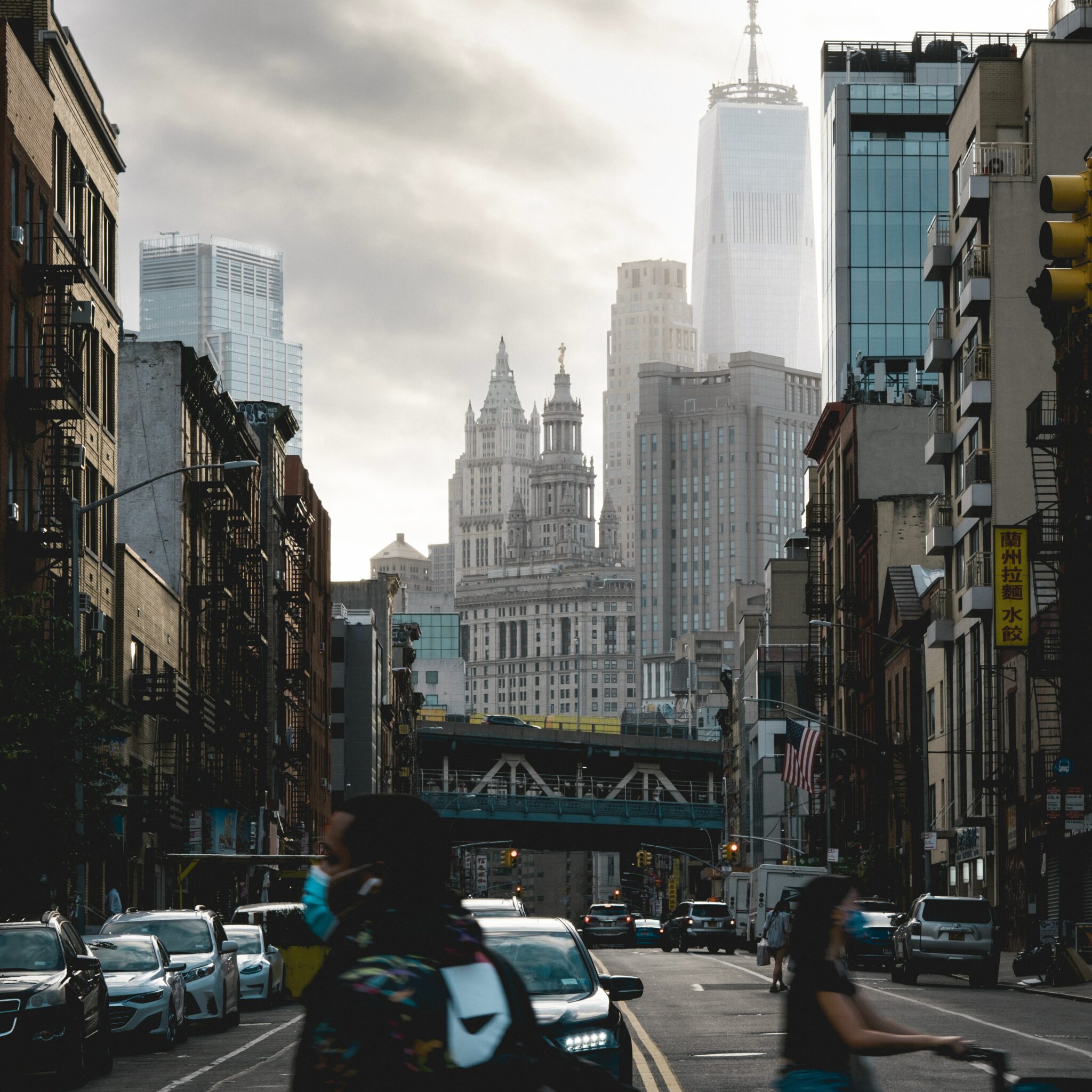 This is one of the most unique walking tours you'll find in New York — and it's free! Join Kamau Ware on this self-led audio walking tour through Manhattan. You'll learn about the July 1863 race riots, as well as the power of Black resilience in the city. This tour comes with a Google map and accompanying audio for each stop. If you are looking for an opportunity to learn more about Black history and resilience, this is the tour for you.
For more information as well as instructions on how to complete the tour, visit The Shed.
11. Bryant Park movie nights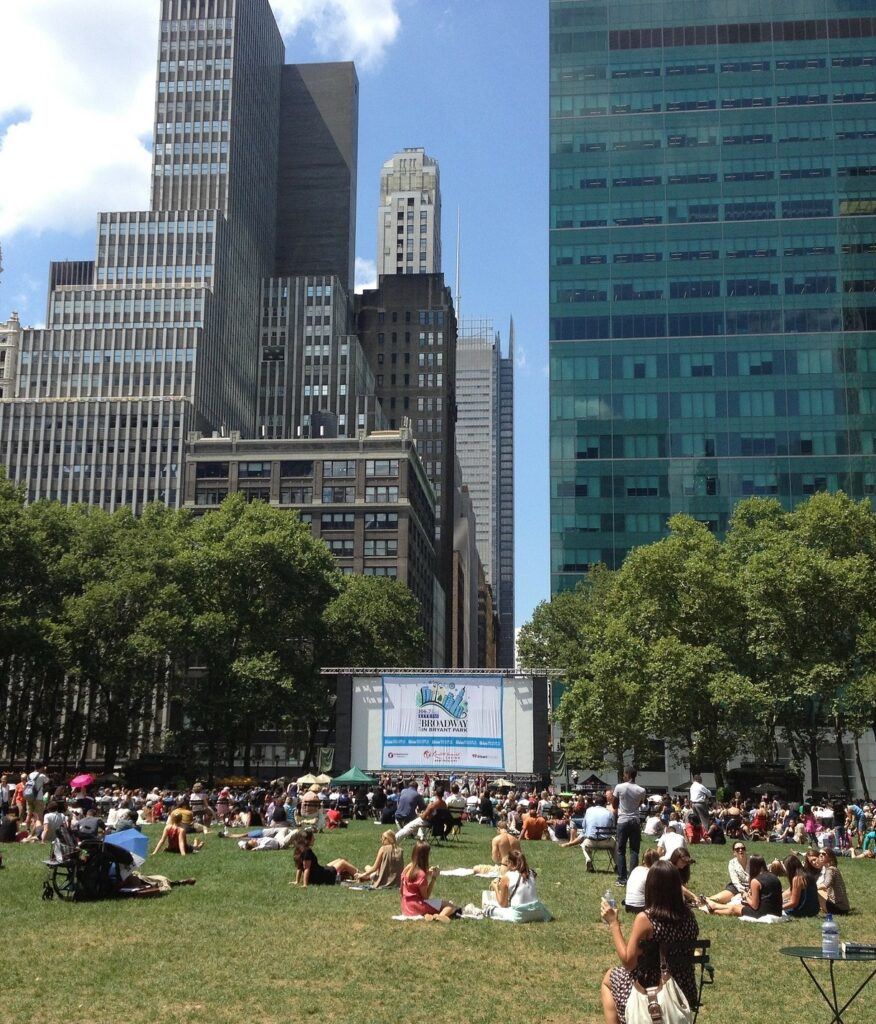 On Monday and Tuesday evenings throughout the summer, Bryant Park hosts movie nights for the public. HBO began showing films there in 1992, and this tradition has stuck ever since.
The lawn opens at 5pm, and there tend to be crowds, so make sure to get there right when it opens to reserve your spot. For a full list of movies, along with COVID protocols, check out Bryant Park's website.
10. The High Line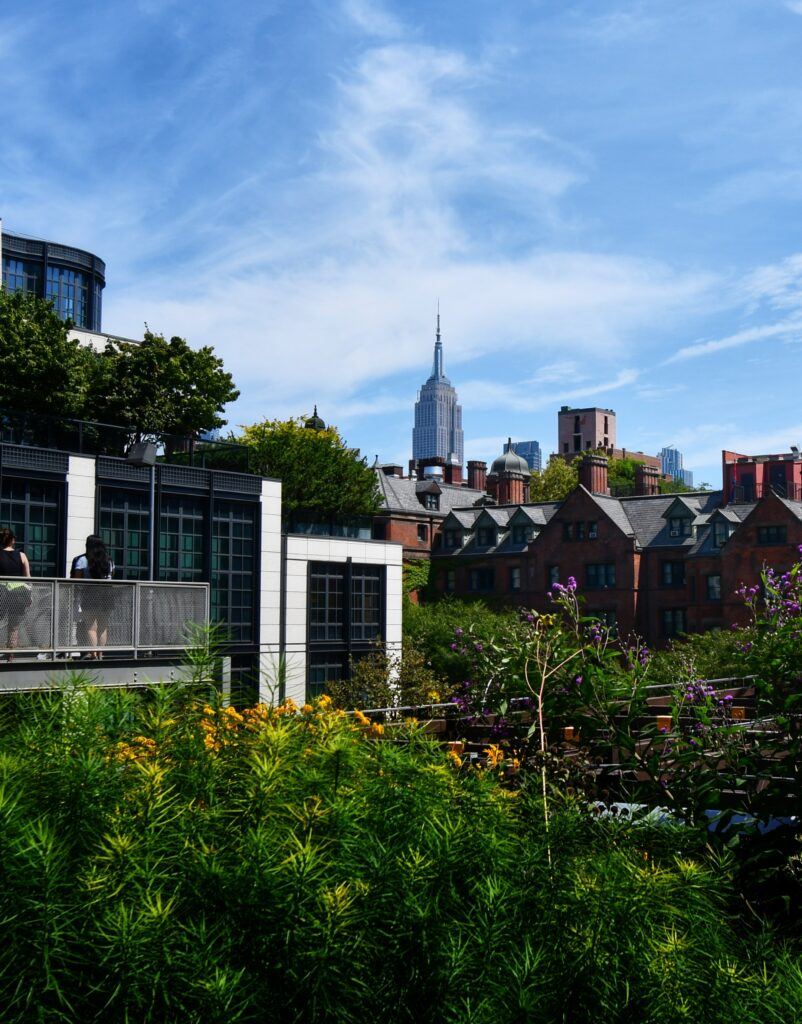 If you want to get an incredible view of the Hudson River and NYC skyline, this 1.45-mile-long park is the place to go. The High Line was constructed on an elevated train track and is now an unexpected green space in the middle of an otherwise industrial section of the west side of Manhattan.
The High Line is free to visit and has a variety of events, including art workshops, star-gazing, and Latin dance nights. If you're thinking of visiting on the weekend, you have to make a reservation ahead of time.
Brooklyn
9. Domino Park
Along the East River in Williamsburg, Brooklyn, this new park is more than just a fresh green space. It features a public art installation by Jen Lewin that spans 2,400 square feet and changes color while you walk on it. The art installation is basically an interactive light show! If you happen to pass through Williamsburg while you visit NYC, this park should definitely be on your list.
8. Green-Wood Cemetery
You might be thinking, "Why on earth would I go to a cemetery while visiting New York?" I get it. I wouldn't usually think to visit a cemetery either. However, this one is more than just graves. It is full of Gothic architecture, Victorian mausoleums, gargoyles, and the resting places of some very famous New Yorkers, among them Jean-Michel Basquiat and Louis Comfort Tiffany.
Green-Wood Cemetery is free to visit, and there are trolley tours available for purchase.
7. Brooklyn Brewery
If you're a craft beer enthusiast, you can't miss out on one of Brooklyn Brewery's free tours. This Williamsburg brewery has been around since 1990 and is a neighborhood favorite as well as a New York icon. Tours include a complete explanation of the facility, including brewing science, beer history, and Brooklyn Brewery's own story.
Free tours are offered every hour on Sundays, from 1pm to 6pm. Since this tour is so popular, you can expect to see a line out front. Plan ahead and try to arrive before the tours start at 1 to avoid waiting too long.
6. Prospect Park yoga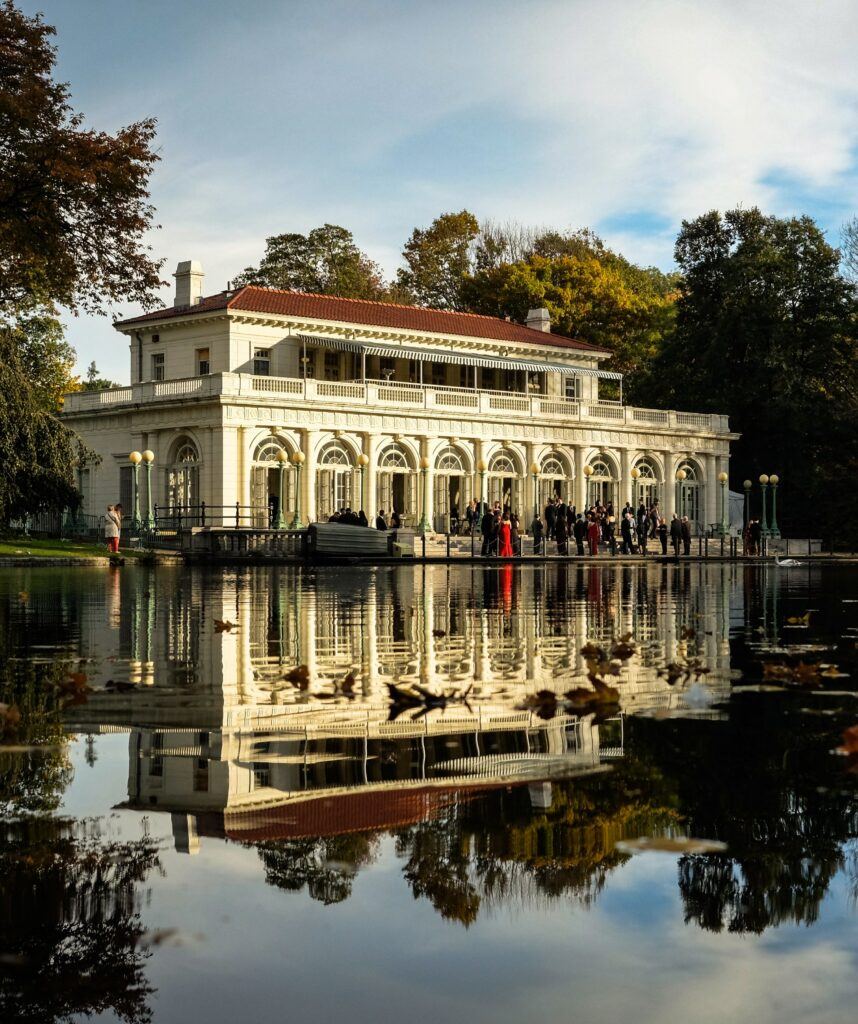 Prospect Park in Brooklyn is a beautiful oasis with quaint trails and lots of greenery. Every summer from mid-June to early September, the park hosts free yoga on Thursday evenings at 7pm. This is an awesome way to spend a relaxing evening in NYC.
Due to the pandemic, the park is currently only hosting free yoga via Zoom. There is hope that next summer, free in-person classes will resume. Stay tuned on Prospect Park's website.
Bronx
5. Bronx Museum of the Arts
This stellar art museum is always free to visit and features 20th- and 21st-century artwork from mostly African, Latino, and Asian American artists. The museum intends to shine a spotlight especially on artists from the Bronx, which creates an art collection that truly reflects the neighborhood.
The Bronx Museum of the Arts currently requires visitors to reserve their free ticket ahead of time, which you can do here.
Queens
4. Socrates Sculpture Park
What was once a landfill in Queens is now a 4.5-acre public space with large-scale sculptures and installations. Socrates Sculpture Park hosts a variety of sculptures and currently has on display a mind-bending installation called Planeta Abuelx by Guadalupe Maravilla. There are also a variety of free art, ecology, and mindfulness workshops.
You can visit the Socrates Sculpture Park for free every day from 9am to sundown.
3. Rockaway Beach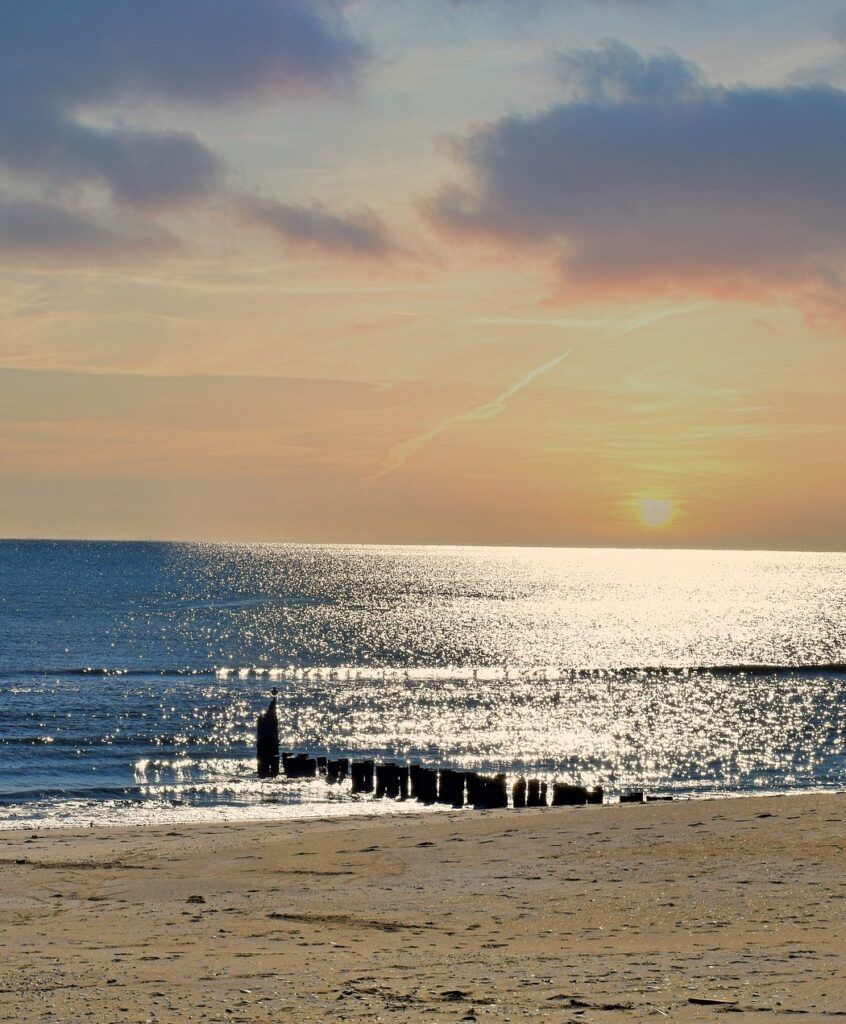 This 170 acre sandy oasis is the largest urban beach in the United States. Although it may seem a world away from Manhattan, it is easily accessible via public transportation. It's a summertime hot spot, so try to go in the morning on a weekday if you want to avoid the crowds.
Rockaway Beach is famous for its eclectic food truck scene, so make sure to arrive hungry and ready to try everything. Make this one part of your quest to find the best beach on the East Coast!
2. Queens County Farm Museum
If you're mostly based in Manhattan during your visit to NYC, Queens might seem like a world away. If you do make the trek out there, don't pass up a visit to Queens County Farm Museum for some respite from the hustle and bustle. This unexpected treasure is NYC's largest continually farmed site, encompassing 47 acres. You'll find a petting zoo with sheep, goats, and ponies, as well as seasonal produce and a corn maze in the fall. (A corn maze in NYC? Yep, that's right!) The museum is free on most days, with the exception of special holidays and ticketed events, so make sure to check the schedule before you visit.
Staten Island
1. Staten Island Ferry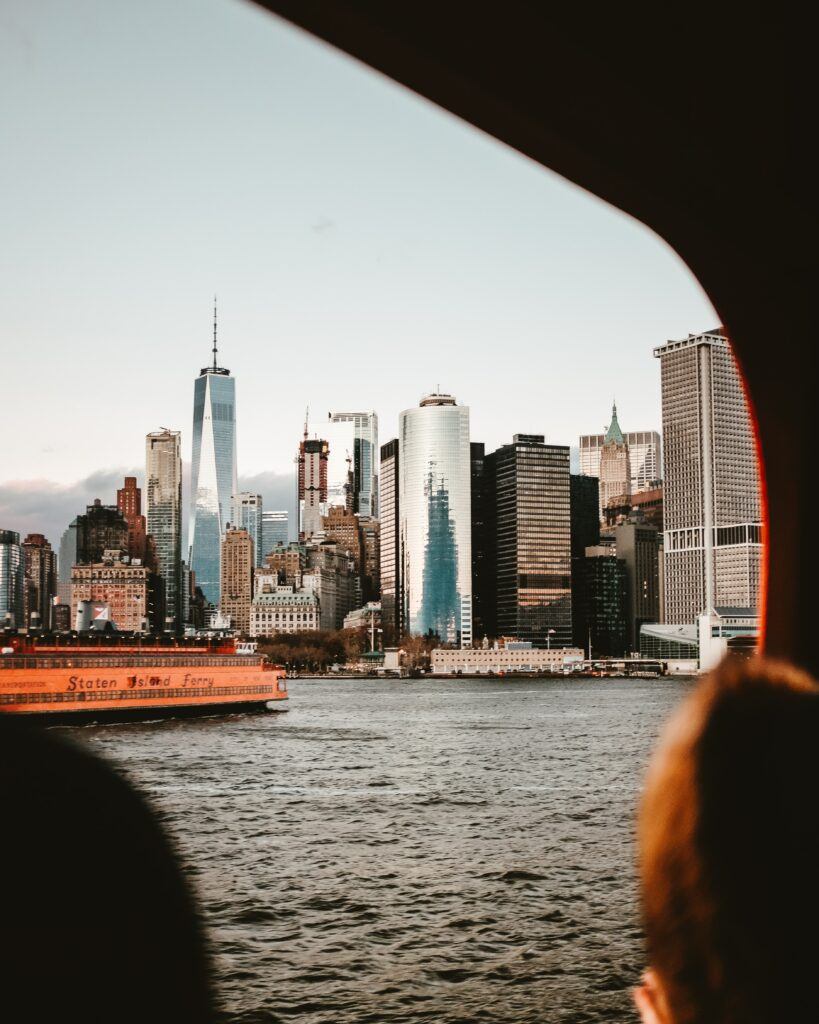 While native New Yorkers mostly use the Staten Island Ferry to commute, this free ride is fun for visitors. Along the ferry's route, you'll get some stellar skyline views, along with a close-up of the Statue of Liberty. The ferry goes between St. George Terminal on Staten Island and the Whitehall Ferry Terminal in Manhattan. Since it runs so frequently, it's easy to do an out-and-back to or from Staten Island.
Pin me for later:
Now you have enough free things to do for an epic NYC adventure! Get out there and explore this vibrant city, taking time to soak everything in. Let us know if you have any more awesome free things to do in NYC!
(One of my favorite things about New York is the incredible food scene, so with the money you'll save by choosing mostly free activities, go out there and treat yourself to a nice meal if you can.)
If NYC is part of your road trip, don't miss out on all of our East Coast Road Trip Ideas.