This post was written by Nicole Edwards, a solo-sailing freelance writer for BMTM.
So many of my travels involve seeing the part of the world that's above the ground, but what about the sights beneath the ocean's surface?
If there's one place on the entire Earth to tour the underwater universe, it could very well be in Key Largo, Florida, the self-proclaimed Dive Capital of the World. This stretch of barrier island is home to nationally protected reefs, wrecks, and statues, not to mention thriving wildlife and relatively clear, warm waters.
Let's take a plunge beneath the surface and discover what all there is to see above the ocean floor.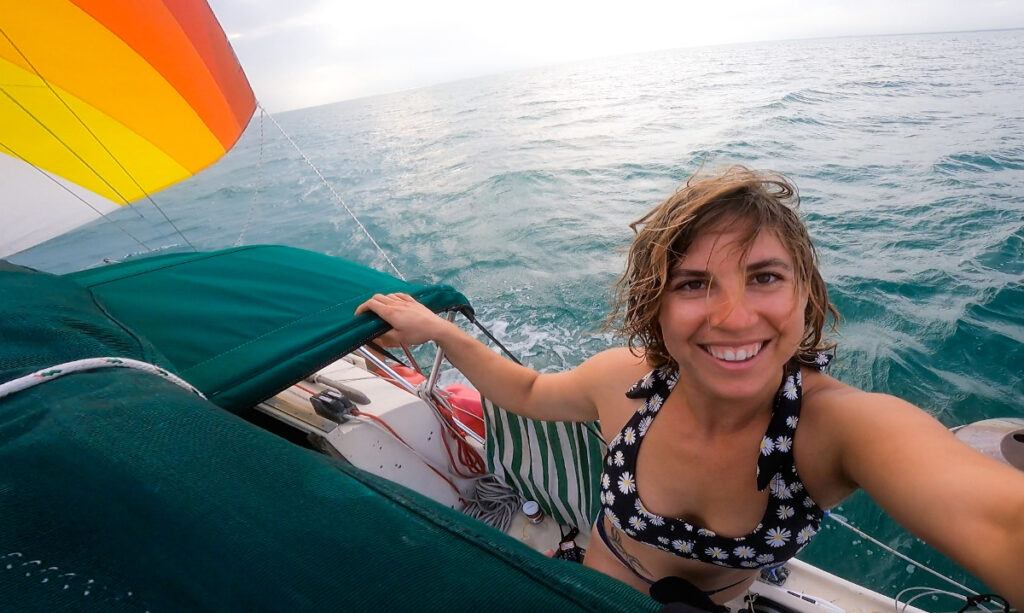 I've arranged the following dive sites from least to most challenging for an average snorkeler. However, if you go with a tour boat, many companies will take you to the best reef according to the weather and visibility.
It's important to note that a snorkel buddy can save your life. So if you are traveling solo, like myself, go on a tour or connect with other boaters who are at the same reef as you.
Without further ado, here are six of the very best snorkeling spots in Key Largo:
1. John Pennekamp Coral Reef State Park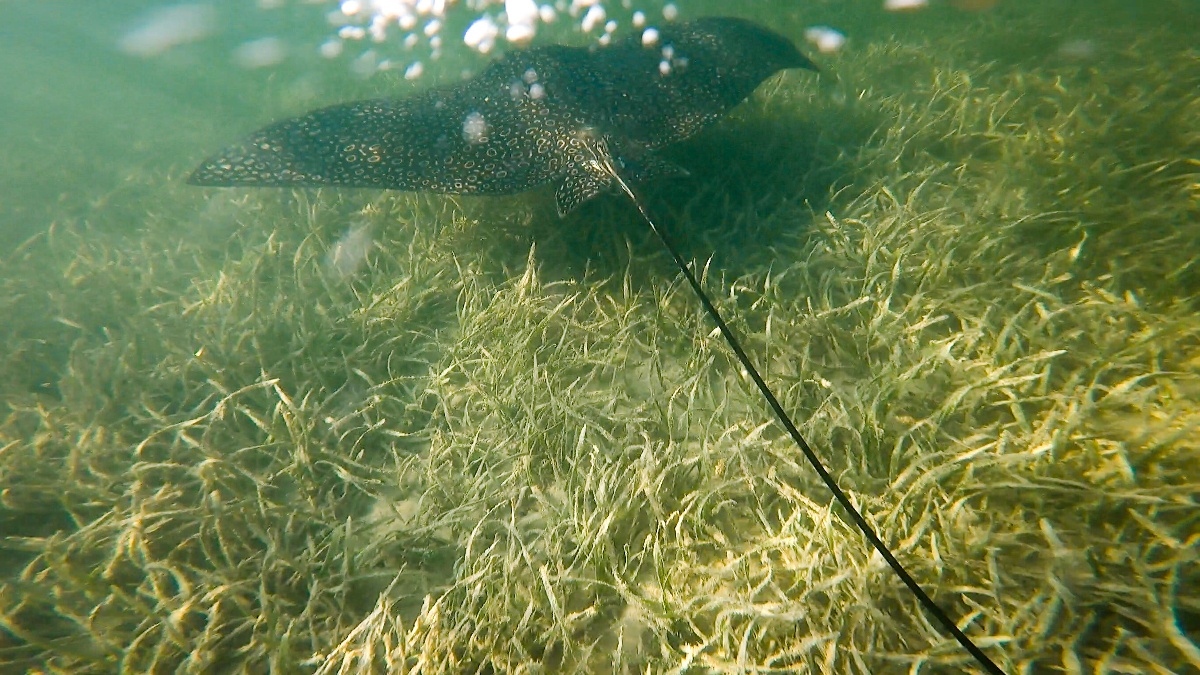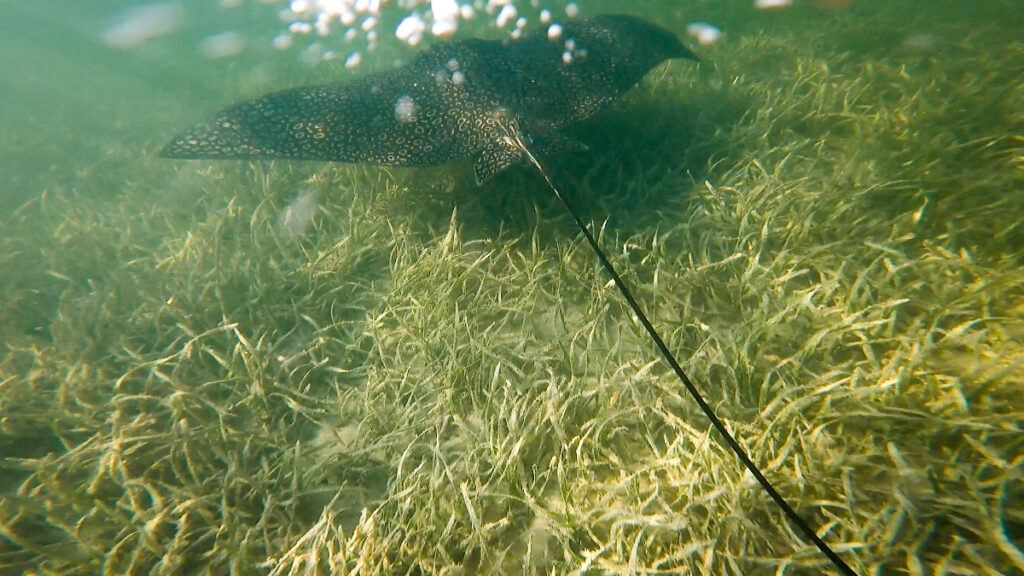 The John Pennekamp Coral Reef State Park is the first named underwater park in the United States. It spans about 25 miles along the Florida coast and reaches three miles into the Atlantic Ocean. Established in 1963, it protects the only living barrier reef in the continental United States.
The park includes shallower parts closer to shore. Most of these have grassy bottoms rather than fan coral and sponges, but they're great spots to explore if you're not used to snorkeling. (I managed to see and follow a spotted eagle ray for a few minutes in such an area.) If you are just starting out in your snorkeling adventures, I recommend you practice here! The water only gets to a maximum of 15 feet deep, with most depths being less than 10.
Also, because a new ocean snorkeler might not be used to the pulling of the swells, the lack of rocky structures here makes the site a little more forgiving for those who are still getting used to the fins, which can be very destructive to coral heads.
Getting to John Pennekamp
You can access the shallower snorkeling waters from the designated swim areas at Far Beach and Cannon Beach, both of which are located in the John Pennekamp State Park. If you want to know more about Key Largo beaches, check out my favorites here.
2. Grecian Rocks
This reef primarily consists of soft corals, much like the rest of the other dive spots listed here. At low tide, however, some of the rocks jut out of the water, making it a haven for juvenile sea creatures that you won't find at other Key Largo snorkeling sites. Because some rocks break the surface, you'll want to swim with care, so you don't accidentally float onto a ledge from the ocean swell, which rhythmically pushes you to and fro.
This is a more leisurely dive and one of the best reefs to visit if the wind and waves are a bit stronger, causing reduced visibility across the park. Its crescent-shaped layout creates a protected and shallower area, which helps enhance visibility.
Grecian Rocks ranges in depth from 3 to 35 feet, making it suitable for both beginners and intermediates. However, a beginner needs to be well coordinated and have a strong command over their kicks to avoid being pushed into the rocks that break the surface.
Tour to Grecian Rocks
3. Molasses Reef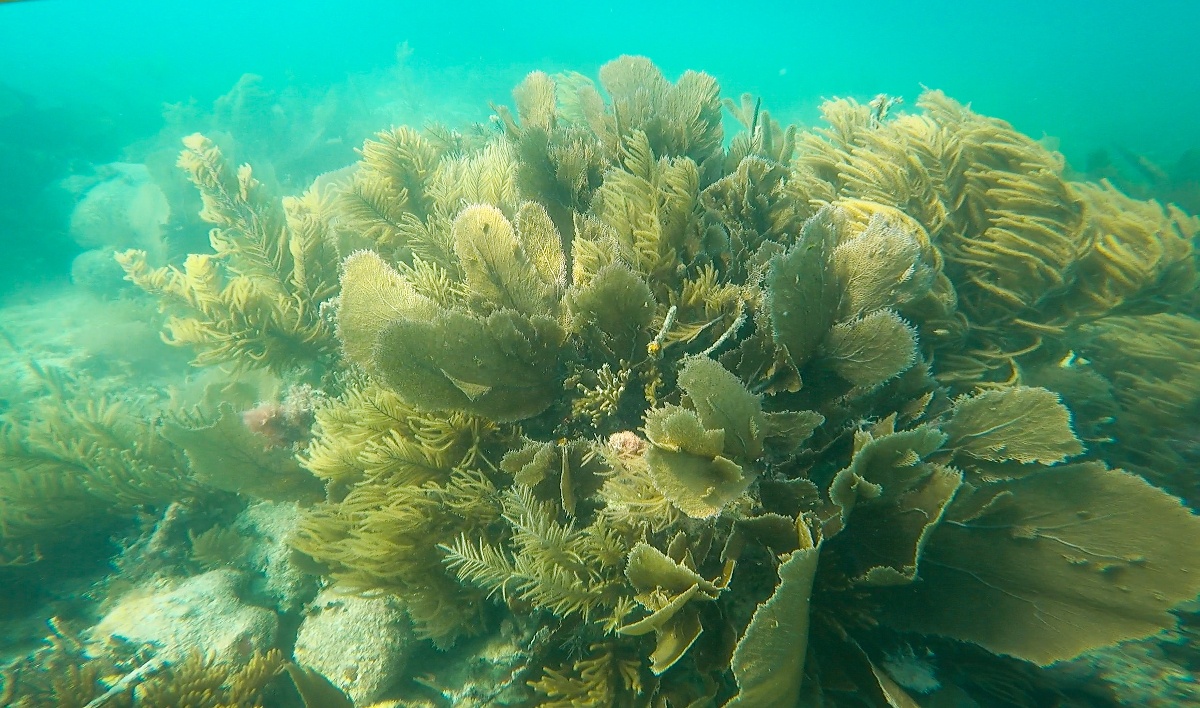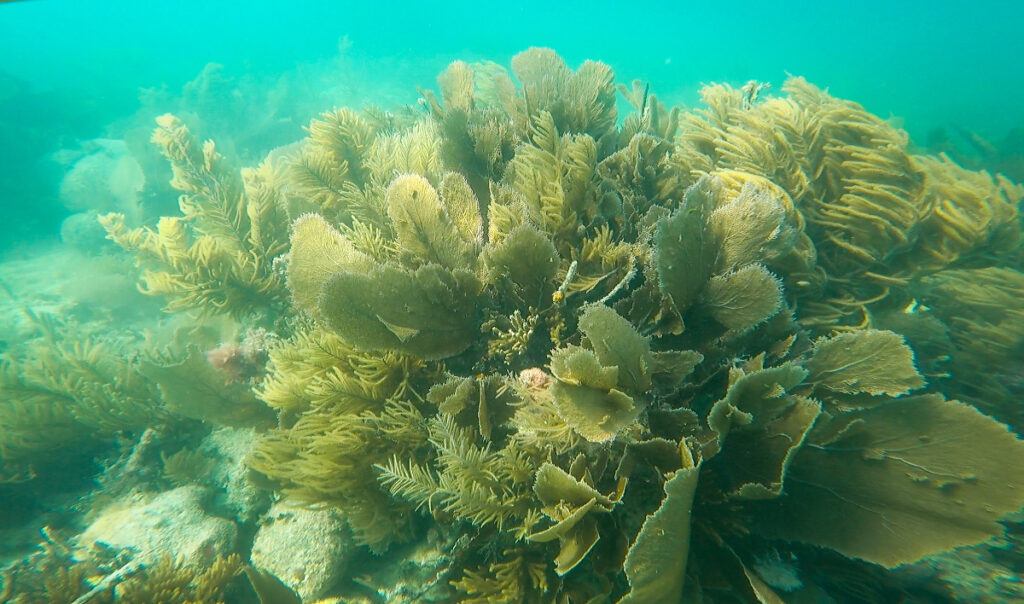 Many reefs are named after the ships that wreck on them, but this one is different. The ship was believed to be the Slobodna, a wooden boat from Austria transporting molasses — hence the reef's name. While you might still see some debris from the 1984 wreck, this site is primarily popular because of its good visibility, beautiful coral (leading to its nickname, "the aquarium"), and the close scattering of reefs that constitute it (thus giving snorkelers a lot of options to explore).
The reef is marked by buoys, numbered 1-33, according to depth and sights to see. The depths range from 6 to 90 feet (though most people will not venture over 40 feet with a mask and snorkel, unless you're trained at holding your breath and diving). Most areas are shallow, but buoys 21 and 23 marks some that are as deep as 60 feet before the dropoff. At these depths, you'll find colorful sponges, plus ledges and caves that sea creatures call home.
Molasses Reef is still a good option for beginners, but more experienced snorkelers will get a bit more out of this site. Because the reefs are lower in the water, there is less risk of kicking them with fins, making this a good spot for a beginner to see some beautiful reefs without risk of damaging them.
Tour to Molasses Reef
4. Christ of the Abyss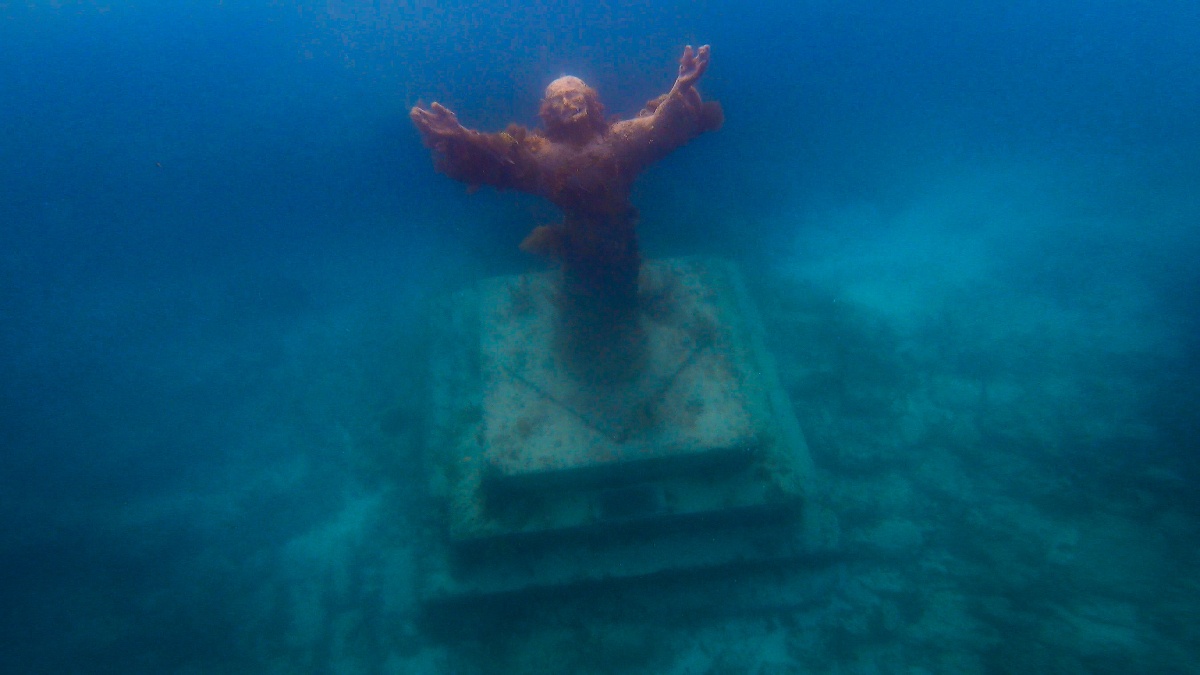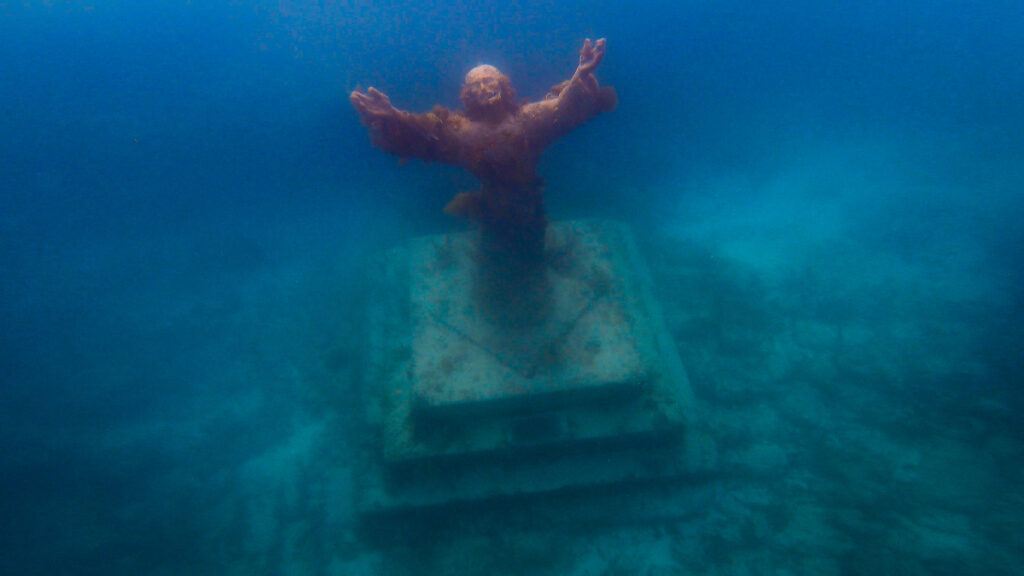 Key Largo is home to one of three Christ of the Abyss statues ever built, which honors those who lost their lives at sea. It's one of the most famous scuba sights in the world, and divers from all over come to visit Key Largo just to experience it. (The other two statues are located in Grenada and San Fruttuoso, Italy.) When I saw it for myself, I became disturbingly aware that the statue could one day be honoring me. But let's not talk about that!
The statue is located at Dry Rocks and can be somewhat difficult to find, even if you are on a tour, especially if the visibility is poor. It took me about 20 minutes of exploring before it loomed out of the depths. The reef is within a circle of mooring balls that boats tie to (rather than anchor and destroy the coral heads), and the statue is located right near the ball that is furthest east.
The water was about 30 feet deep, and I was able to hold my breath and dive down for about 20 seconds to catch a glimpse of the statue. The rest of the reef is easily visible from the surface with a mask and snorkel.
I'd recommend you visit here, especially if you have some snorkeling experience under your belt. The water is about 25-40 feet deep, and all of the coral heads are at least 10 feet under the water. This means you have to regularly dive down to get a closer look. Also, the Christ of the Abyss statue sits on the ocean floor, so get ready to hold your breath for about 30 seconds to see it up close.
Tour to Christ of the Abyss
5. Elbow Reef
Elbow Reef is a good spot if you want to see a combination of reefs and wrecks, like the City of Washington (see the next listing) and the Tonawanda. Because the tower that marks its location is lighted, you can also visit after sunset and explore at night.
In terms of reef structure, there's brain coral and barrel sponges, plus ledges where marine creatures like rays and sea turtles hang out.
The water depth is anywhere from 6 to 45 feet deep, making it a good option for both beginner and intermediate snorkelers. It's also diverse enough to keep a more advanced snorkeler busy looking at wreck debris and observing the wildlife in the clearer water. If you are an avid photographer, this would be a good place to bring your camera, because of the better visibility.
Tour to Elbow Reef
6. City of Washington Wreck
City of Washington was once a schooner, then a steamship. It was first built in 1877 and reached its final resting point off the coast of Key Largo in 1917, when it was being towed and hit Elbow Reef, where it sank almost immediately. While a good bit of the ship has eroded, there are still remnants of the hull and the keel.
City of Washington is considered part of Elbow Reef so the depths will also be around 6-45 feet. Like many of the others, this site is suitable for beginners; however, a more experienced snorkeler will feel more comfortable. It's now a popular site because of its proximity to the Gulf Stream, making the visibility much better than the reefs closer to shore.
Tour to the City of Washington wreck
Snorkeling Etiquette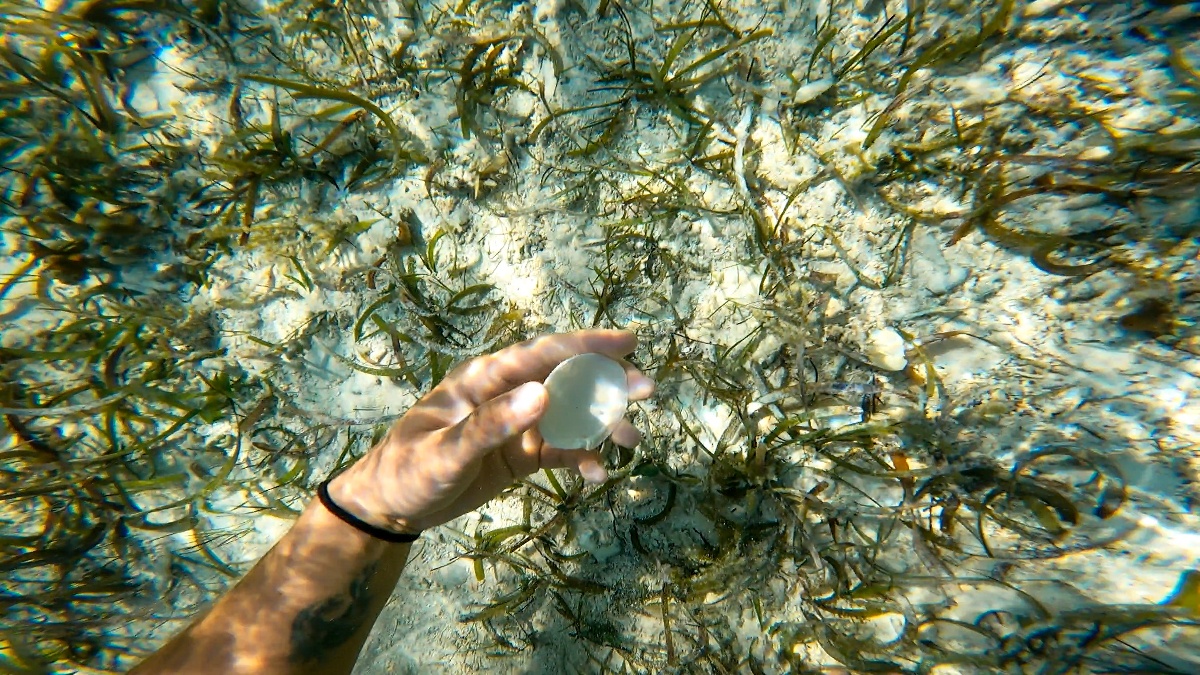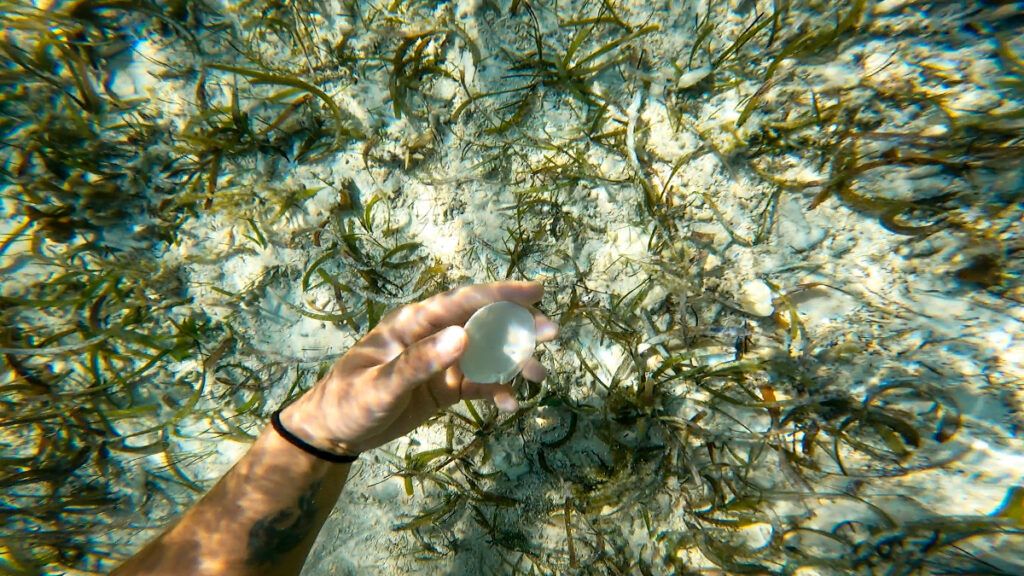 Because these are all nationally protected sites, it's very important that you do your part to help preserve the reefs and wrecks! Here are four things I do:
1. Only use reef-friendly sunscreen.
If your tour group does not already provide reef-friendly sunscreen, be sure to pack your own. We love Sun Bum sunscreen! The chemicals in mainstream sunscreens can permanently damage the reefs.
2. Do not touch the reefs.
The oils from our skin permanently damage the reefs, much like they damage a butterfly wing. Keep a safe distance so that you don't touch them when the swell pushes you.
3. Kick with your ankles, not your legs.
Get ready for a calf workout because your legs should remain straight and you should only be kicking with your ankles. This is difficult, but it gives you a lot more control over your fins. When you kick with your legs, you also stir up a lot of your surroundings, which makes it more difficult to see.
Also, when you are resurfacing after a dive, allow yourself to float up a little bit before kicking, so that your fins do not brush the ocean floor.
4. Secure any plastic or trash.
Plastic and other trash can easily catch a breeze or roll off a rocking boat. It's best to avoid plastic anyway with reusable water bottles and containers rather than baggies, but if you do bring a lunch or snack, please don't leave your trash on your chair or tucked under your bag. It will eventually get dislodged.
***
Snorkeling is one of my favorite things to do in the Florida Keys, and I thoroughly enjoyed seeing Key Largo's underwater world. I hope this list gives you an idea of what Key Largo has to offer!
Which places do you think you'd want to explore? Let us know in the comments.
About the author: Nicole Edwards is a solo sailor who is currently cruising around the world on her 1968 Columbia 26, the S/V Arta. She has visited Costa Rica, Russia, Ukraine, Germany, Poland, and about half of the United States, including Alaska. Her favorite part about traveling is making connections with locals who share inside knowledge, being introduced to another part of her home on planet Earth, and adding it all to her heart.