If you're heading to Glacier National Park in Montana, you might be overwhelmed by the many trails available for hikers of all levels. There are over 700 miles of them, so how do you know which are the absolute best hikes in Glacier National Park?
Covering specs like difficulty, distance, and elevation gain, this list will give you an idea of which trail is right for you. Plus, you'll find out what the highlights are of each one.
Lake McDonald Trails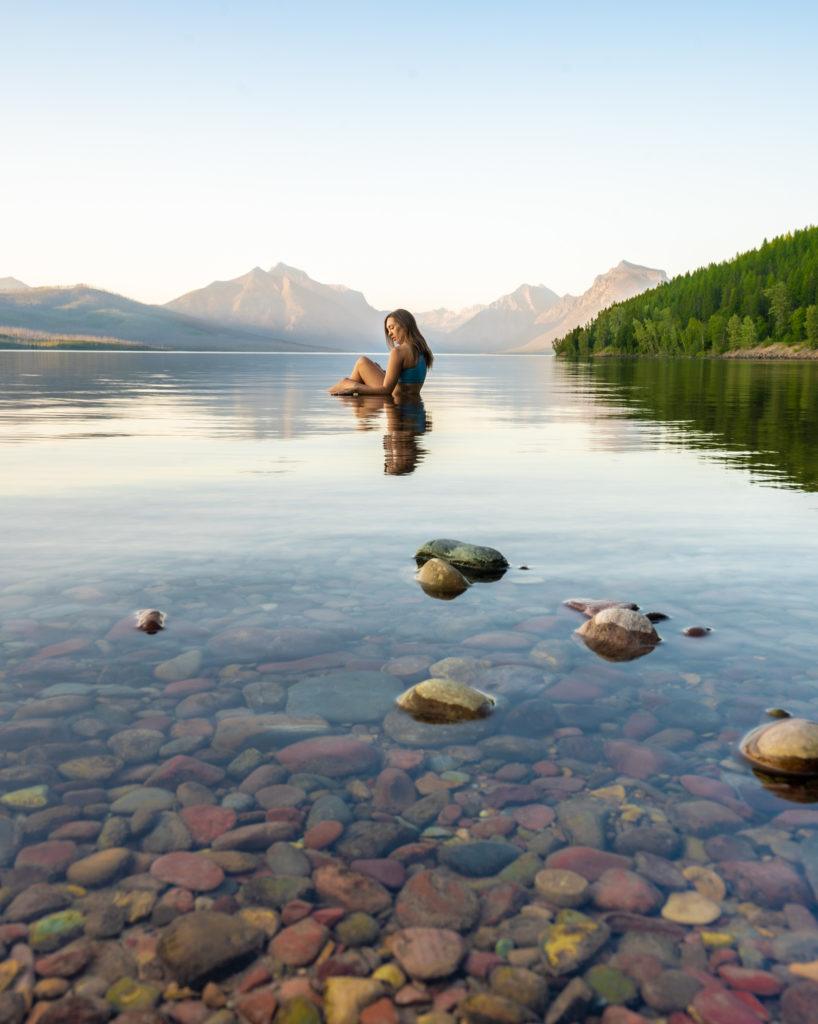 This is Glacier National Park's most famous lake, so it's no surprise that any hike leading to it will be epic. Lake McDonald is massive — almost 10 miles long — so there are quite a few options for hiking to it or along it.
Keep in mind that you don't have to hike to the lake, as there is a road that leads up to it. However, why take away all the fun of arriving at Lake McDonald by simply driving there? If you're up for an adventure, these are a few great hikes to and along Lake McDonald:
1. Apgar Lookout Trail: 3.6 miles out and back
From the Apgar Lookout, you'll get an incredible view of Lake McDonald and the surrounding mountains. As the lookout faces east, this would be a great early-morning hike to catch the sunrise over the mountains, with the light reflecting off the lake.
This 3.6-mile out-and-back hike begins in the southwest vicinity of the lake. To get to the trailhead from the West Entrance of Glacier National Park, you'll drive a half mile north and turn left. Drive 1.5 miles past the Quarter Circle Bridge, where you can begin your hike. There's an elevation gain of 1,850 feet, which is a doozy for beginner hikers but no big deal for those with more experience.
Since the Apgar Lookout Trail is one of the first to thaw after winter, it's great for early spring, as there likely won't be many other visitors in the park and you can enjoy the views in solitude.
2. Trail of the Cedars: 0.9-mile loop
This is perfect for a quick hike to get acquainted with the area near Lake McDonald, as it's one of the easiest trails, only a 0.9-mile-long loop. The trailhead is at the Avalanche picnic area. It only takes about 20 minutes to do the whole trail, but considering it's a popular birding area, you might want to take your time and see what kinds of birds and other wildlife you can spot.
Trail of the Cedars is ideal for beginner hikers, families, and people with strollers, as it's one of the easiest in Glacier National Park (the whole hike is mostly flat), but still offers some beautiful views and a variety of wildlife.
3. Lake McDonald West Shore Trail: 7.4 miles out and back
If you want to hike along the lake, the best option is the Lake McDonald West Shore Trail. This mostly flat trail is an out and back, 7.4 miles each way. It's a long trail, so hiking the whole thing is a bit more challenging, although you can choose to just do a portion of it.
This whole trail runs right along the shore of Lake McDonald, with amazing views the whole way. Plus, you'll be able to break up your hike with a swim in the lake if you fancy. What better way to stay cool during a summertime hike?
There are two trailheads: one just 0.2 miles north of Fish Creek Campground and the other 2.8 miles west of North Lake McDonald Road; the former is easier to access.
4. Avalanche Lake Trail: 3-4 miles out and back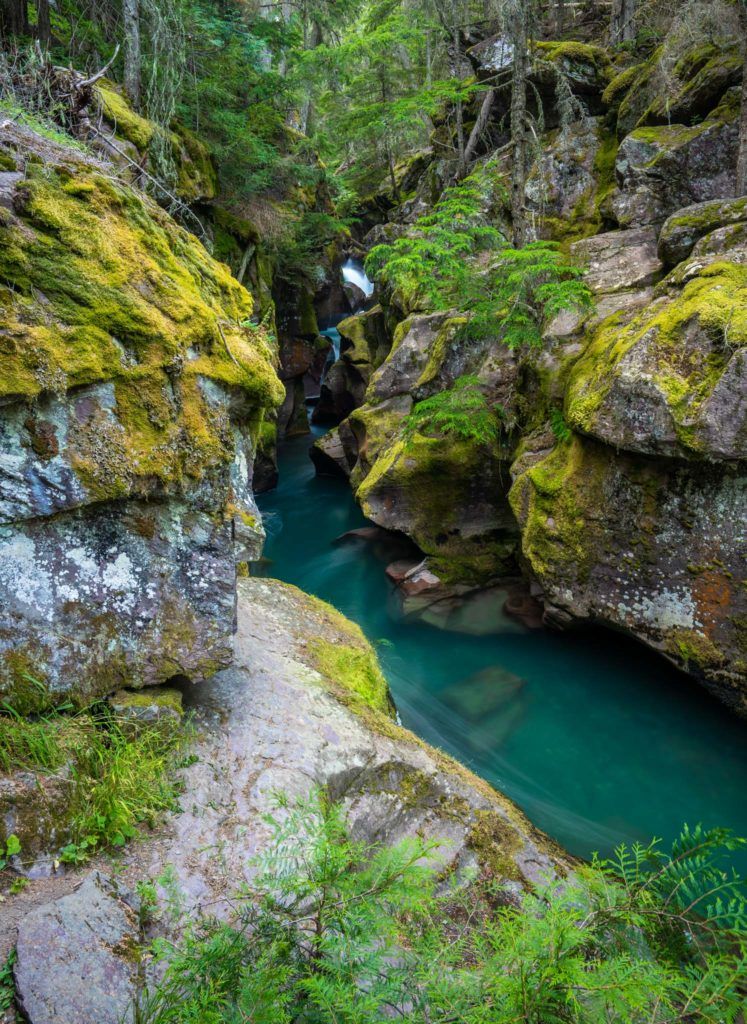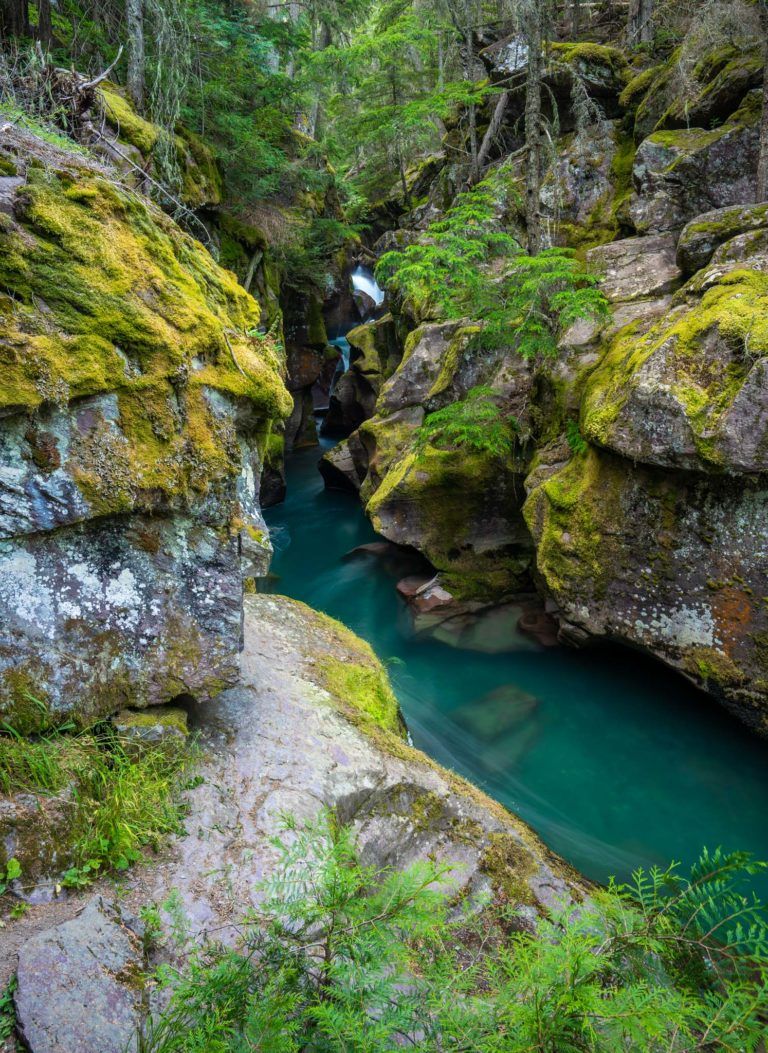 You can hike to Avalanche Gorge on the abovementioned Trail of the Cedars, but if you want to take your hike one step further, you can keep going for another mile to reach Avalanche Creek. From there, it's about 3 miles more to reach the beautiful Avalanche Lake.
The Avalanche Lake Trail has a 500-foot elevation gain and is uphill most of the way, but there's a huge payoff when you arrive. Avalanche Lake sits at the base of Bearhat Mountain, and the vantage point from shore is stunning, especially because the crystal-clear waters reflect the mountains perfectly. This is also a fantastic place to swim, as the water is quite shallow close to shore.
5. Hidden Lake Nature Trail: 1.35-5.3 miles out and back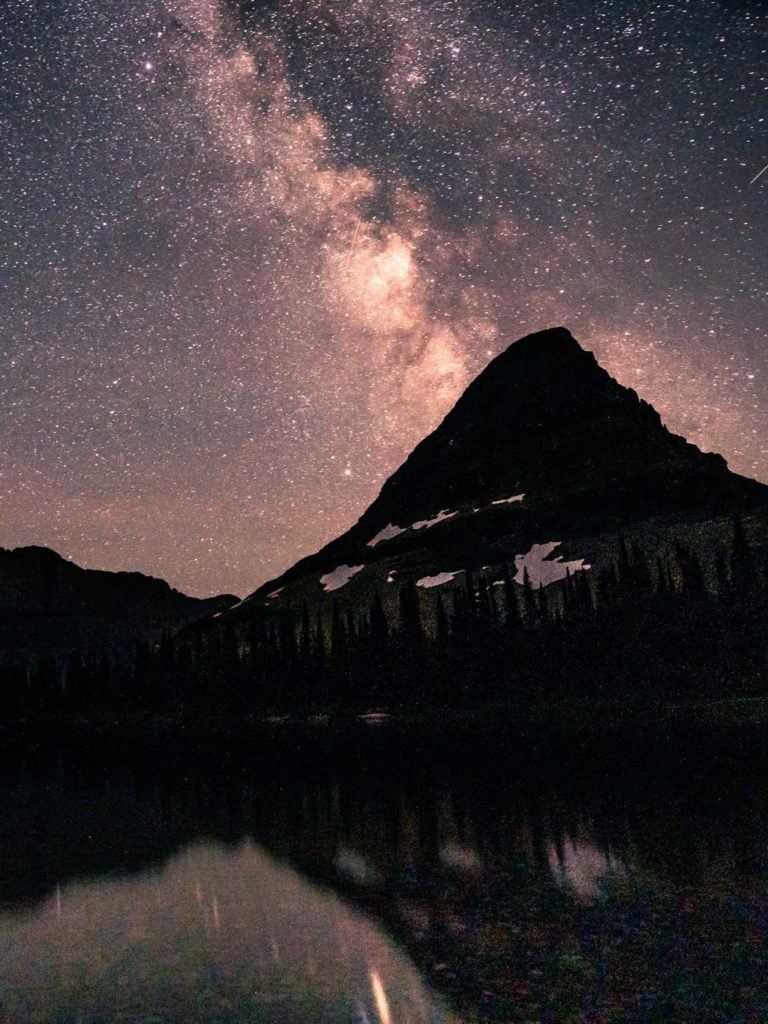 To see Bearhat Mountain from a different point of view, consider a hike to Hidden Lake for one seriously unforgettable experience. There are two options: just hike to the overlook above the lake, or go all the way to the shore. Either one grants you some gorgeous views, whether you go during the day or at night. Since Glacier National Park is a dark-sky park, meaning there's minimal light pollution, the stargazing is fantastic here, especially at Hidden Lake.
This hike can be challenging, especially at night. The area is known for having grizzly bears, so make sure to bring bear spray, particularly if going it alone.
The trail begins at Hidden Lake Nature Trail Trailhead at Logan Pass and is 5.3 miles out and back, if you go all the way to the lake. The overlook is only 1.35 miles into the hike, so if you're just in it for the views and don't want to go as far, you can stop here.
The total elevation gain is about 1,300 feet, but there's a very steep descent as you reach the lake, which can be challenging for beginner hikers, especially on the way back. The hike itself takes roughly 3 hours to complete, but can take longer if you do it at night.
6. Highline Trail: 13-15 miles out and back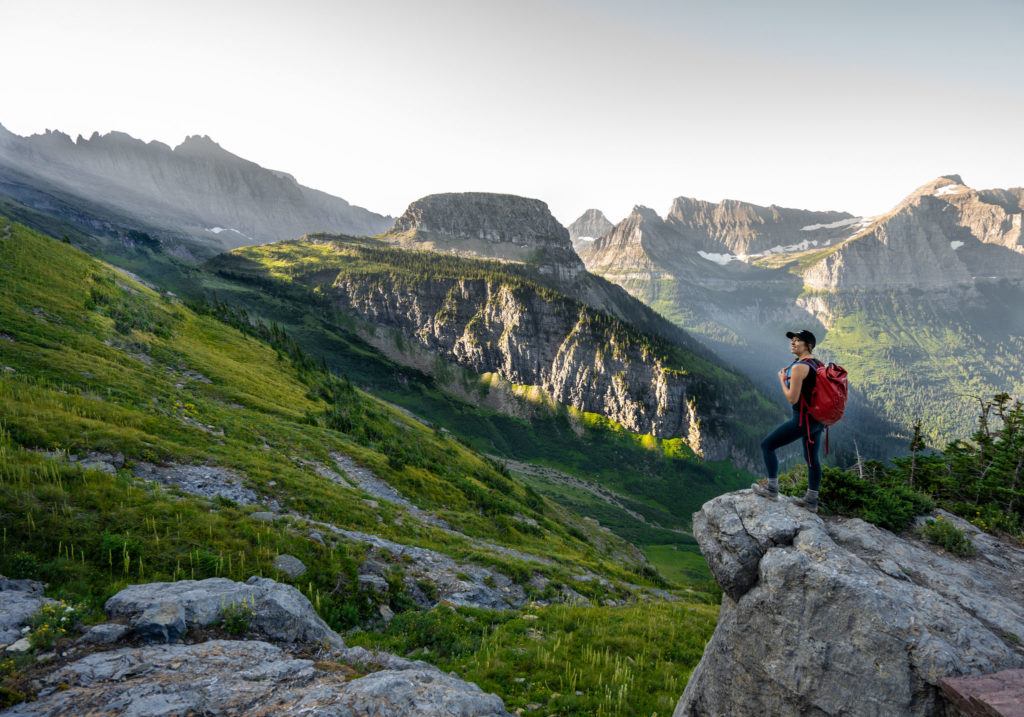 The Highline Trail is one of the most popular and best hikes in Glacier National Park by far. Taking you through deep valleys to breathtaking overlooks, it offers stunning scenes around every corner. It's no wonder why so many people take on such a long hike — the payoff is huge!
There are a few ways you can experience the Highline Trail. The shorter option is to hike the whole trail, which is an out and back with a loop at the end. This is about 13 miles and takes around 7 hours to complete. It's challenging, but not as much as the second option, which is to add on a steep hike up to the Grinnell Glacier overlook. This would make the overall hike about 15 miles.
This extra two miles are definitely worth it, though, if you're an experienced hiker with plenty of stamina to make the trip back (unless you decide to take a bus back to Logan Pass from the loop). The elevation gain is about 2,500 feet, with an extra 300 feet or so if you do the Grinnell Glacier overlook portion.
Many Glacier Valley Trails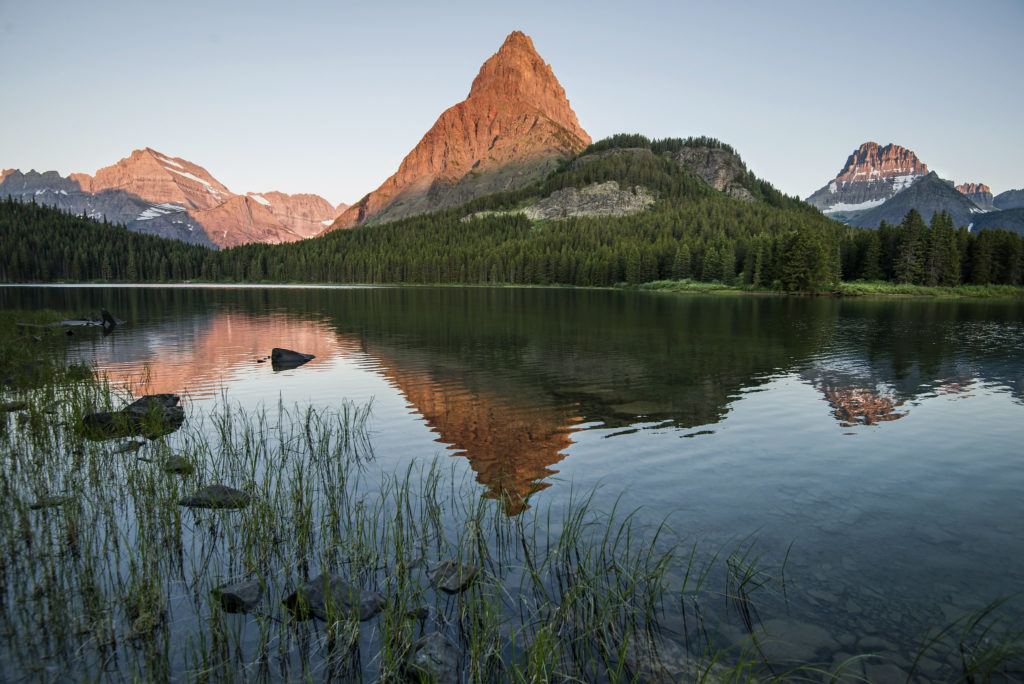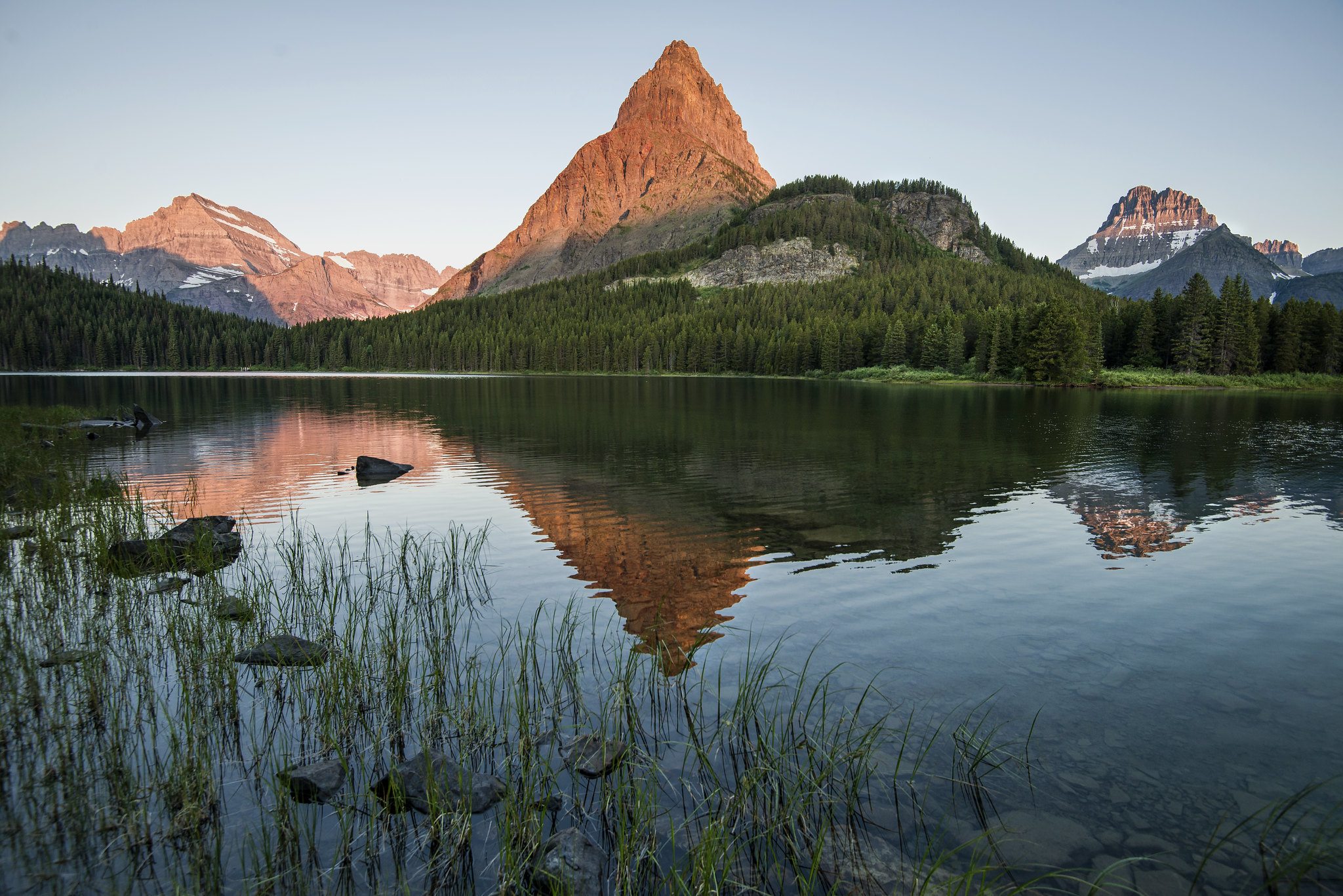 Many Glacier is one of the better-known areas of the park and offers 12 main trails for day hikes. With an abundance of lakes, creeks, waterfalls, mountain peaks, meadows, and forests, this section has enough to keep you busy without venturing elsewhere. In case you're not sure where to start exploring Many Glacier, these are a few of the best trails to check out:
7. Swiftcurrent Pass Trail: 14.2 miles out and back
The Swiftcurrent Pass Trail is one of the most difficult of all, but it's a crowd favorite among avid hikers. Featuring stops at beautiful Fishercap Lake, Bullhead Lake, Redrock Falls, and Redrock Lake, it is spilling over with adventure. The crown jewel of the hike, however, is the view of Swiftcurrent Valley. This virtually unobstructed view is one of the best in the whole park and one of the reasons why the difficulty is ultimately worth it.
The total elevation gain for this hike is 2,400 feet, which is certainly a doozy. But with views of six different lakes, you'll forget how tired your muscles are at the end. The trip should take about 8 hours, even for the most experienced hikers. Since this is a popular trail, expect to see plenty of other visitors, or start the journey at sunrise to avoid the crowds.
8. Grinnell Glacier Trail: 7.6 miles out and back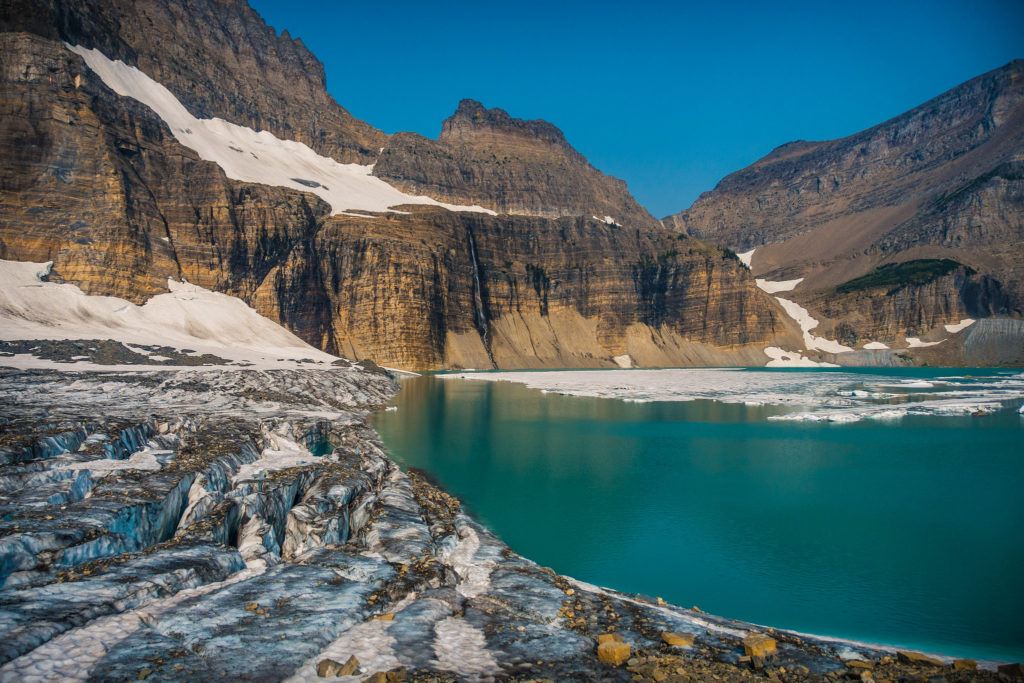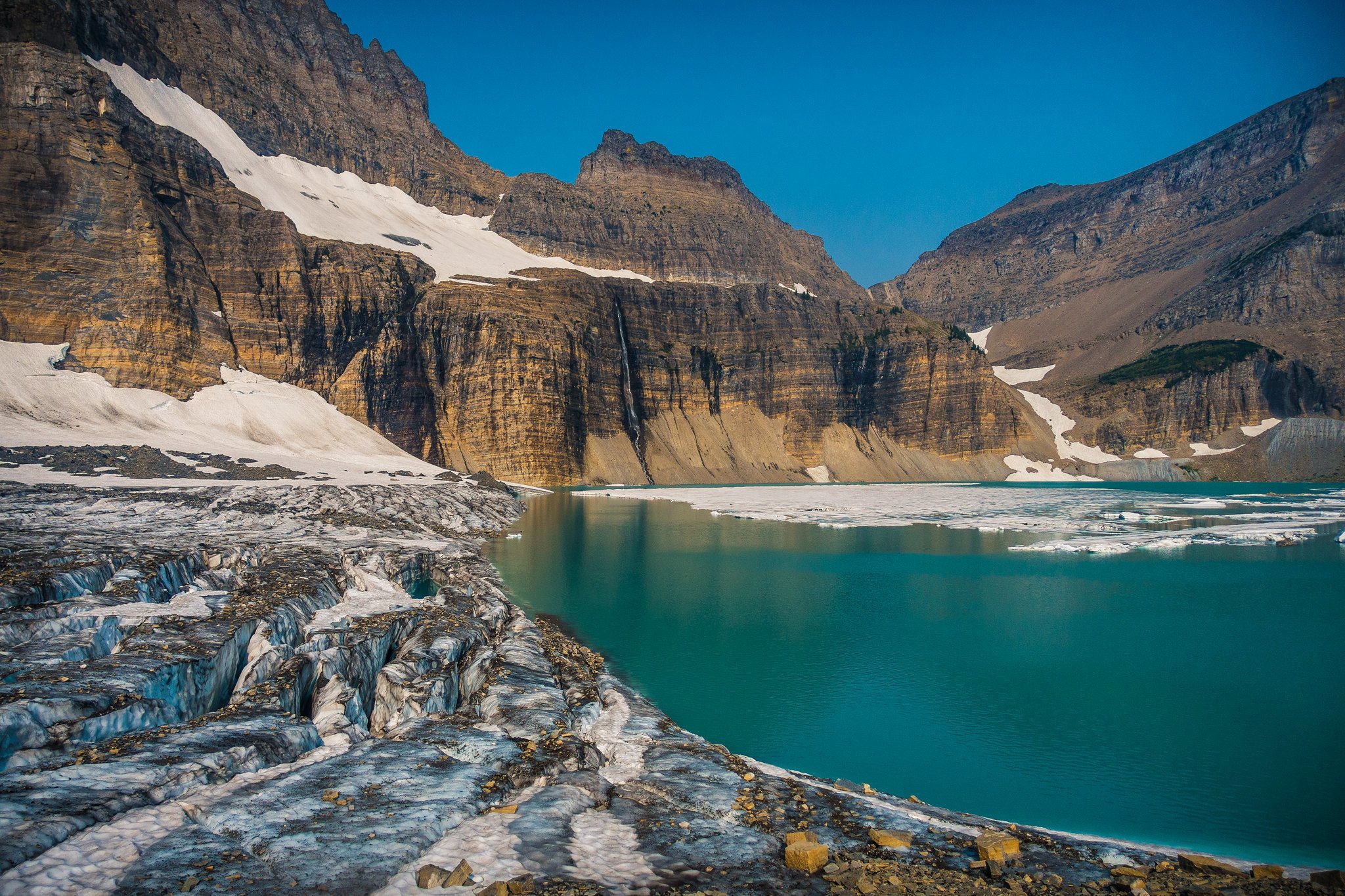 Considering this trail's endpoint is a gorgeous aquamarine lake, it's no surprise that it's also one of the best in Glacier National Park. If you already saw the lake from above at the Grinnell Glacier overlook, you'll probably be dying to do this hike and see the water up close.
The Grinnell Glacier trail is a 7.6 mile out-and-back hike that has an elevation gain of about 1,840 feet. It takes about 5.5 hours to complete and is considered to be a challenging route. There are many parts of the trail that are very steep, but there are other portions that take you through flat meadows. You'll see waterfalls and have some stellar views of the 150-acre Grinnell Glacier as well.
9. Piegan Pass Trail: 9-16.8 miles point-to-point or out and back
One of the reasons this is one of the best hikes in Glacier National Park is that it's far less crowded than others, even during high season at the park.
This fantastic trail has several options: a short, 9-mile out and back or a longer, 16.8-mile point-to-point hike. Both allow you to see deep canyons and offer stellar views of Jackson Glacier. The shorter hike is also less challenging and only has a 1,750-foot elevation gain, where the longer hike has a 2,650-foot gain.
For the 9-mile option through Piegan Pass, you will start at the Piegan Pass Trailhead. The longer hike begins at the south end of the Many Glacier Hotel parking lot.
10. Iceberg Lake Trail: 9.3 miles out and back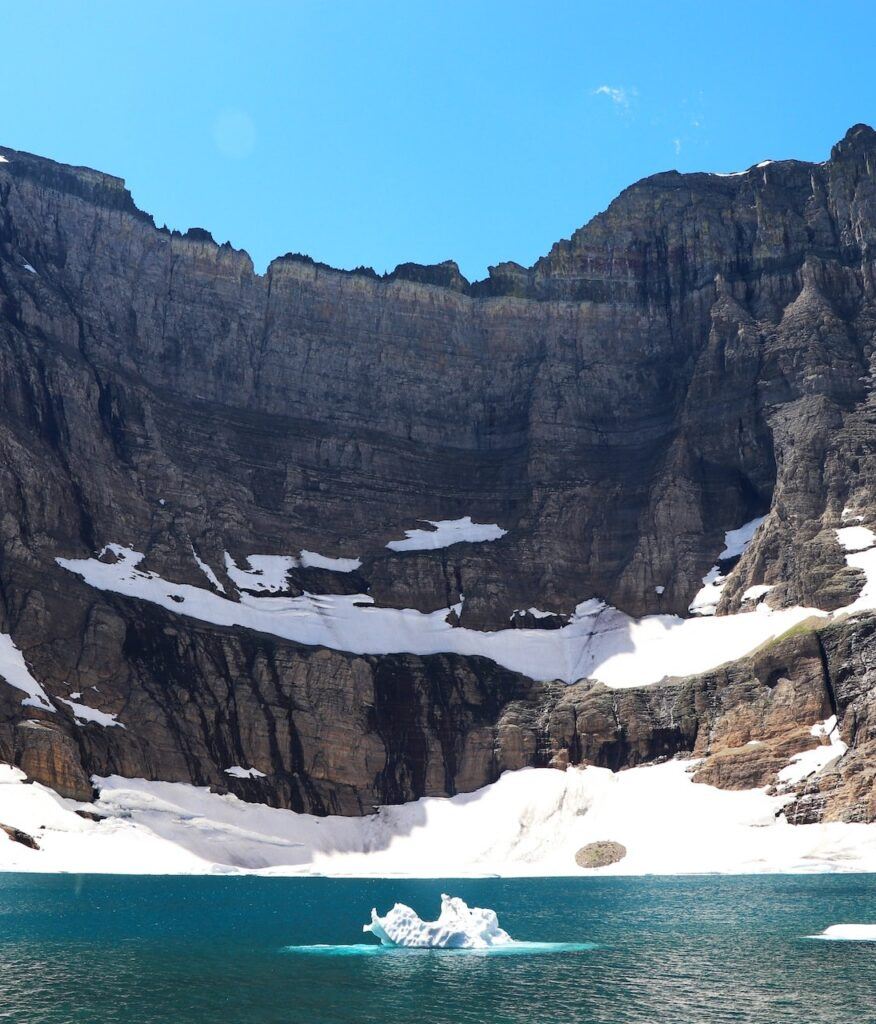 Another one of the best hikes in Glacier National Par is the Iceberg Lake Trail. This out-and-back adventure brings you to pristine Iceberg Lake, which gets its name from the icebergs that float in the frigid water. Don't plan on jumping in, as the temperatures are way too cold for a swim.
Most of the 9.3-mile hike is through open terrain, meaning there isn't much shade. Bring along plenty of sun protection and water. However, just 2.8 miles into the hike, you'll find Ptarmigan Falls, a great spot to stop and rest. Most of the journey is moderately challenging, so this is an excellent option for both beginners and advanced hikers. The elevation gain is 1,450 feet, and the hike takes a little over 4 hours to complete.
To get to the Iceberg Lake Trail, find Swiftcurrent Motor Inn. The Iceberg Lake Ptarmigan Tunnel Trailhead, where you'll start the hike, is behind the inn.
Pin me for later: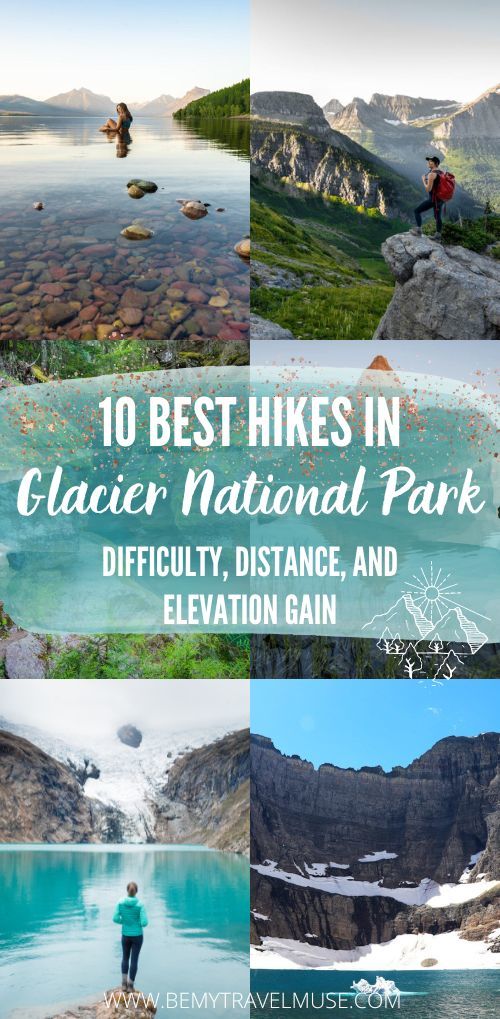 Now that you're ready with your list of the top 10 best hikes in Glacier National Park, you're ready to set your sights on the adventure of your choice.
Which hike is #1 on your bucket list?