Welcome to my home state of California. I was born and raised in the Los Angeles area, have lived all over the southern coast, am now based near Lake Tahoe up north, and have made it my mission to explore almost every corner of the Golden state – it's my favorite for a reason.
I've taken more solo trips than I can count in California, and over the past 30+ years, some really stand out. From Southern to Northern California, here's where to go and how to stay safe on your California adventure:
1) San Diego – Surf and Nightlife
It's easy to love San Diego. California's third largest metropolitan area has a charming old town, lively nightlife scene, and many seaside communities that range from social (like Pacific Beach) to perfect for relaxation and reflection (like Encinitas, La Jolla, and Ocean Beach).
Pick a beach town if you want the opportunity to go out and meet people and surf, stay downtown for the historic areas, Little Italy, the Zoo, and to be close to the airport, or head to Ocean Beach or Encinitas for more of a laid back vibe.
If you're looking to drive the Pacific Coast Highway, which is easily the best road trip out West, this is the perfect jumping off point!
Stay: Hotel del Coronado is a famous luxury hotel in the area located on Coronado island with a gorgeous beach. Tower 23 is a great choice in Pacific Beach if you want something more affordable and with a social vibe.
2) Anza Borrego – Desert Solitude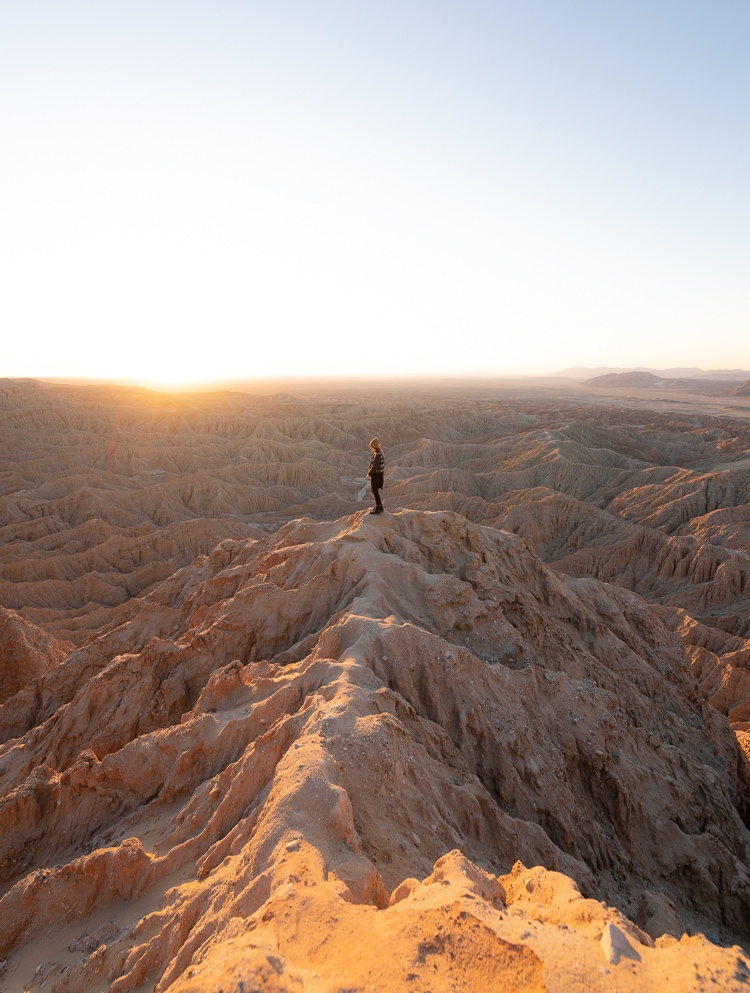 For me, solo travel sometimes means embracing being on my own. Many overlook the California desert, but it's one of my favorite parts of the state! I have been to all of the deserts on this list by myself multiple times and am always wowed by the quiet, the stargazing, and the colorful sunrises and sunsets.
One of my favorites is Anza Borrego. It's accessed via the small town of Borrego Springs, which has plenty of motels, campsites, and boutique hotels and restaurants. You can also free camp in some of the public land surrounding Borrego Springs.
Pictured above is Font's point, easily the best sunrise in all of California. You can also find the wind tunnels, seasonal wildflowers, and a few other intriguing land formations within Anza Borrego Desert State Park. There are a few hikes, but the real magic can only be accessed with a four-wheel-drive vehicle, so rent accordingly! Read more about my favorite things to do in Anza Borrego here.
Stay: The Borrego Valley Inn is an adults-only boutique hotel with a pool that comes out on top for me, but I've also stayed at the western-themed Palm Canyon and Borrego Springs Resort and Spa and both were good. I could hear a little too much noise from my neighbors at Palm Canyon though the room was nice and the location was great. Borrego Springs Resort and Spa is a bit out of town but was nice and quiet with a big pool.
3) Joshua Tree – Funky Airbnbs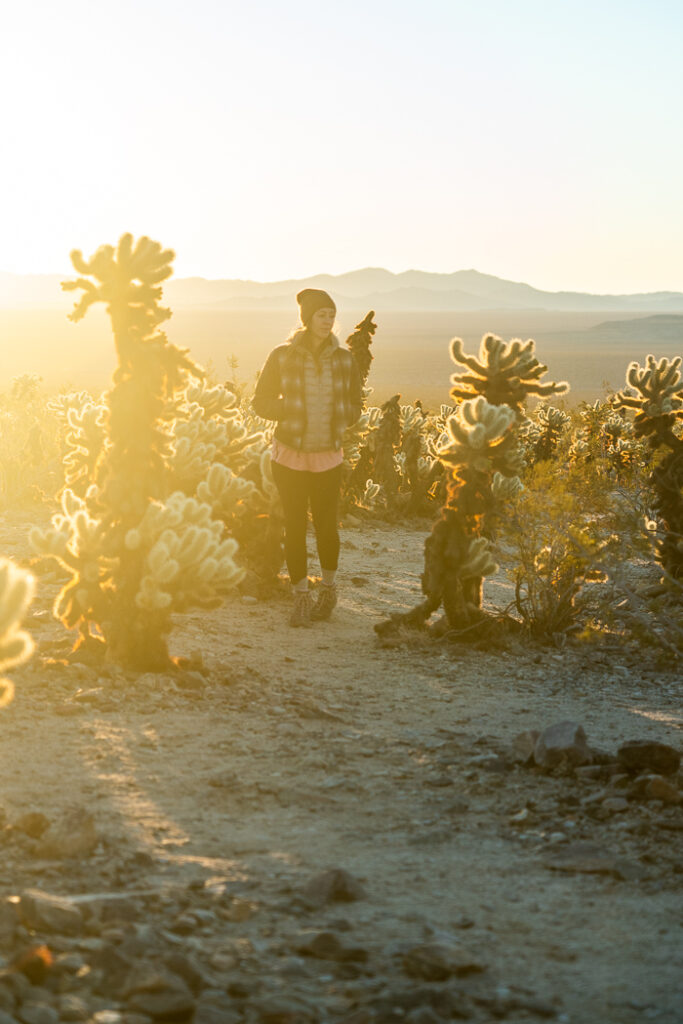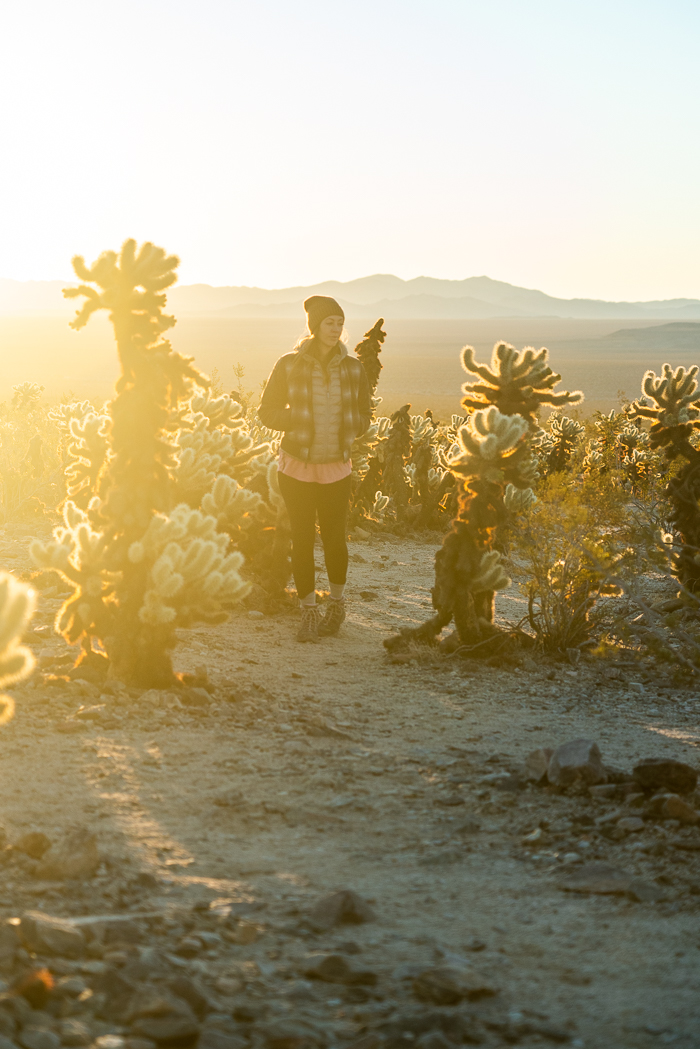 Joshua tree is another desert stop that I love visiting alone. The nearest town is Twentynine Palms and for some reason it's become a haven for unique places to stay, including the Airbnb with the rock tub hot spring pictured in the video below.
Joshua Tree National Park is wonderful for stargazing, the Cholla cactus garden for sunrise, and I love just driving around and marveling at the Joshua trees, which only grow in a couple places the world over. You can see my solo trip there and Borrego in the video below. One could easily visit both on the same trip:
Stay: Read more about all the wonderful things to do in Joshua Tree and where to stay here.
4) Orange County – Sun and Disney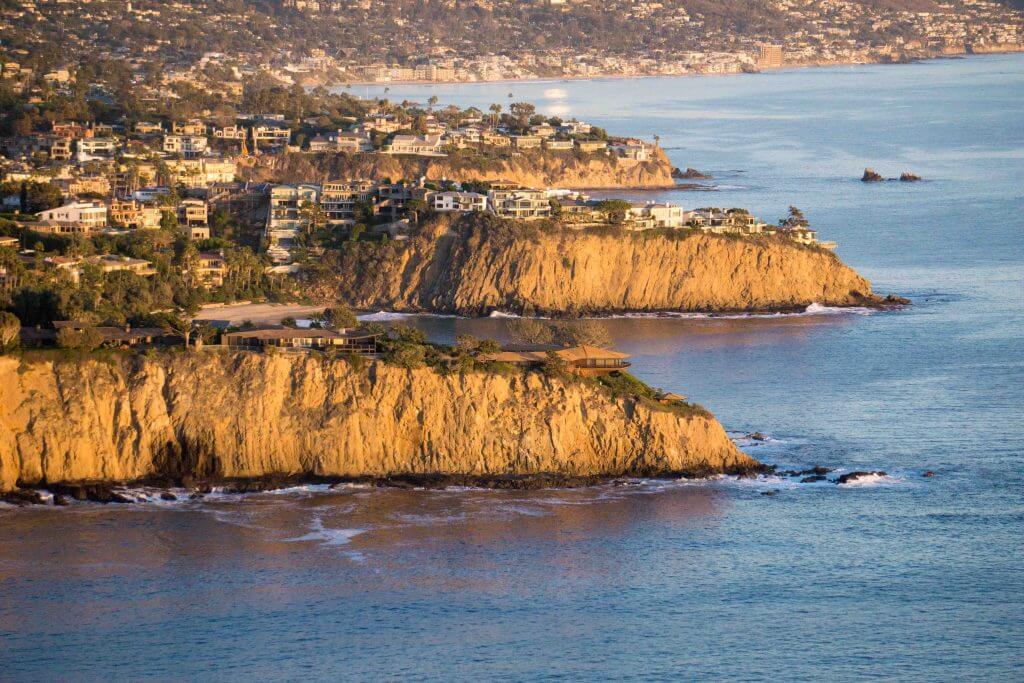 Before leaving California with a one-way ticket to Bangkok 10 years ago, I lived in Newport Beach for four years. I also grew up 15 minutes away from Disney and can confirm, it's tons of fun as an adult and even by yourself.
Orange County is certainly a bit more approachable than Los Angeles if you still want that greater Los Angeles vibe and the best beaches, which are some of the most beautiful in the state. I love Laguna Beach for the artsiness and the truly beautiful coastline, Newport Beach has some of the best surf and wide-open sandy beaches, and Huntington Beach's downtown has a lively bar scene and is a bit more laid-back.
Stay: The Montage in Laguna Beach is one of the loveliest hotels I've ever stayed at and is the most famous luxury hotel in the area. The views are out of this world. The Lido House is one of few hotels on the Newport Beach Peninsula. It's a quaint boutique hotel walking distance from the water, which is a huge perk since parking can be a nightmare near the beach.
5) Santa Monica – City Vibes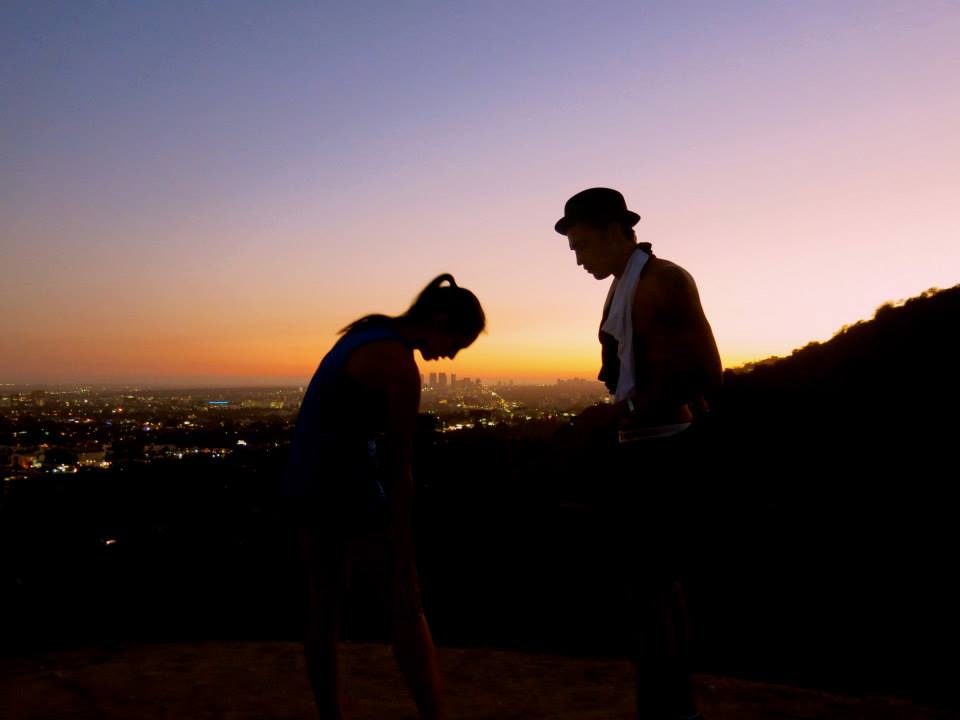 I was born and raised in the greater Los Angeles area and although such a huge, sprawling Metropolitan can be intimidating, I think it all comes down to picking the right place to enjoy it from.
Most first-time tourists to Los Angeles make the mistake of going to Hollywood. I would avoid it and spend your time in Santa Monica or Venice Beach instead. I also love the hipster Silver Lake area if you still want to be close to Hollywood without the seediness. Take a hike in Runyon canyon or up to the Hollywood sign, enjoy the beaches and funky atmosphere of Venice, and the many restaurants and nightlife of Santa Monica.
Stay: If you want something walkable, a rarity in LA, stay at one of these beachfront hotels in Venice Beach or Santa Monica.
6) Santa Barbara – Charm and Shopping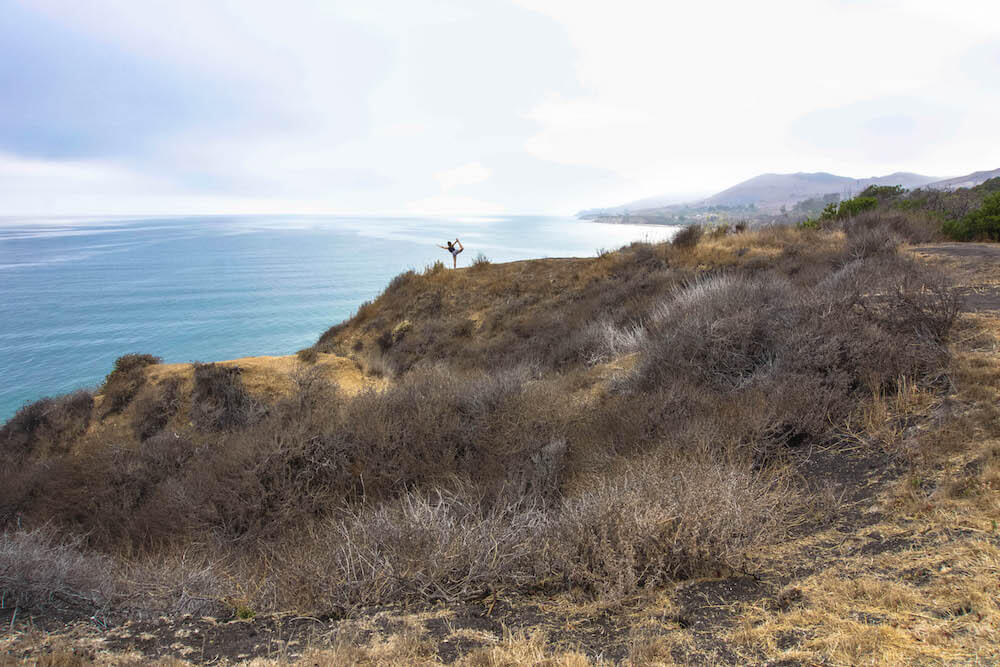 Santa Barbara is one of my favorite places in California. I admit to being biased since I went to undergrad at UCSB, but nobody doesn't love Santa Barbara.
What makes Santa Barbara so charming is the Spanish architecture, the shopping of State Street, and apart from Orange County, some of the most beautiful beaches in the state including Butterfly beach. It's an upscale area, but still has a nature-loving, hippie vibe with organic cafes and yoga classes. In nearby Montecito of Duke and Duchess and Oprah fame, there are also lovely hiking trails.
It's a perfect stop on your Pacific coast highway road trip.
Stay: When I was a student in the area, the Bacara, now owned by the Ritz Carlton, was known as being on one of the best and least crowded beaches and for being a celebrity escape. For something more affordable, family would often stay here when they visited. Also consider the Palihouse boutique hotel downtown, one of the best areas to visit as a tourist.
7) Death Valley – Unique Landscapes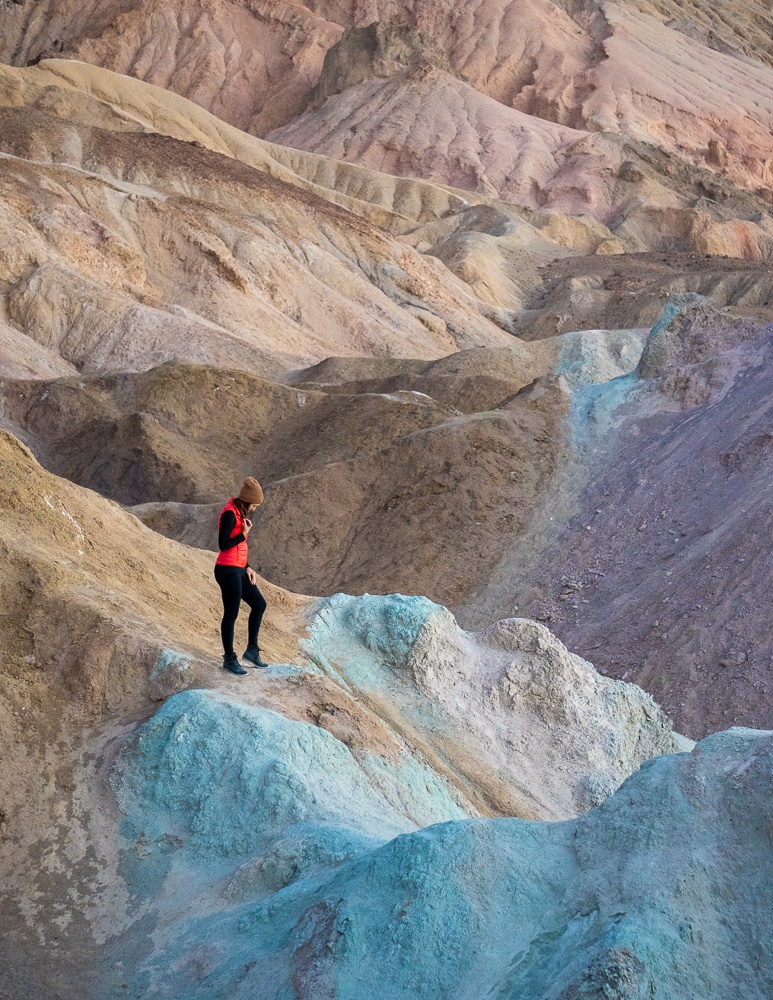 On the far eastern side of the state, as long as it's not summertime as Death Valley is the hottest place on Earth, I highly recommend visiting this National Park. Although the Pacific Coast Highway is one of my favorite drives on the West Coast, Highway 395 is breathtaking as well and takes you through the Sierra Mountain Range – one of my favorites in the world — as well as right by the Alabama Hills and Death Valley. If you are the hiking type, you might opt to skip the coast and hang out in this part of the state instead!
Death Valley is known for its diverse land formations, including the salty Badwater Basin, the lowest point in the US, the Artist's Palette pictured above, the sunrise at Zabriskie point, the Golden Canyon hike, and Mesquite Dunes, among many other beautiful areas. See more here:
I love Death Valley because it's one of the only national parks where you can free camp in certain areas, can be totally by yourself if you wish, but can also be around other people if you visit some of the more popular attractions. But again, for your own safety, make this a place you only visit in the cooler months!
Stay: If you have a tent, check out my camping recommendations or for a great hotel option, stay in the park at the 1920s-themed Ranch at Death Valley – I truly enjoyed my stay there, plus the proximity to Zabriskie point was perfect for sunrise.
9) Mammoth Lakes – Hot Springs and Mountains
Mammoth lakes is perfect for those who love to ski, but even if you don't, it's wonderful for snowshoeing, hiking in the warmer months, and hot springs! When I visited last winter, I went with the express purpose of enjoying the sun rises on the mountains, the Hot Creek Geological site, and the many hot springs, including the heart-shaped one pictured above.
I've also visited in the summer and truly love the hikes in the area, including Two-Duck lake, Rainbow falls, and the Devil's Postpile. Minaret Vista is also wonderful for stargazing.
Stay: If you're keen to hot spring hop, staying in the Convict Lake area is perfect. If you want to be close to the slopes and hiking, stay in Mammoth Lakes, either camping in the warmer months or in the Mammoth Village, which has a hot tub and lots of restaurants onsite.
8) Big Sur – Indescribable Beauty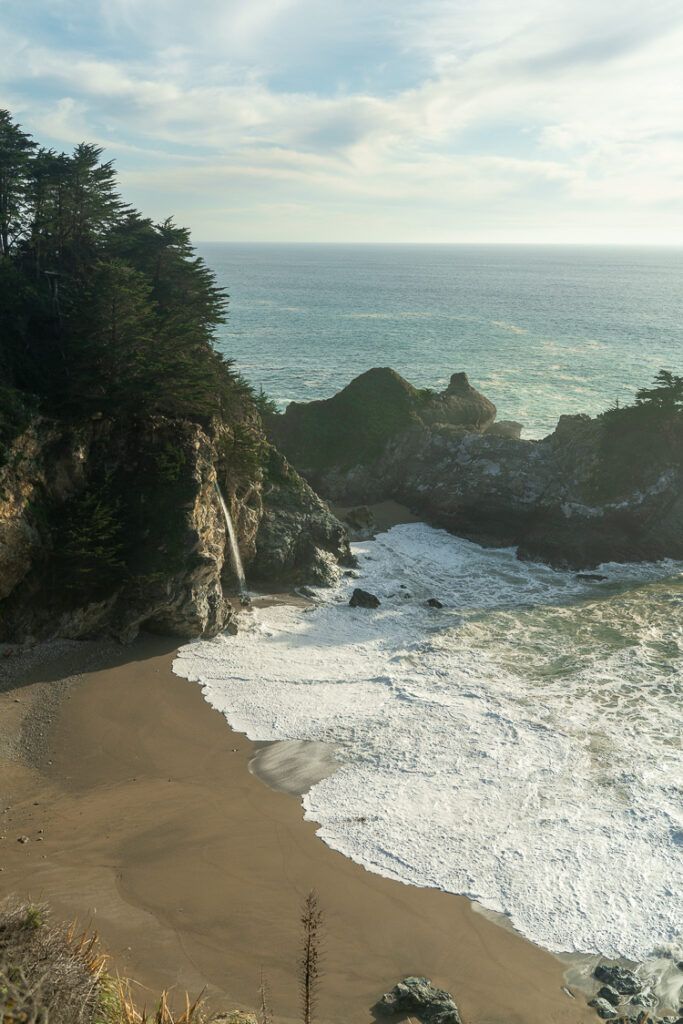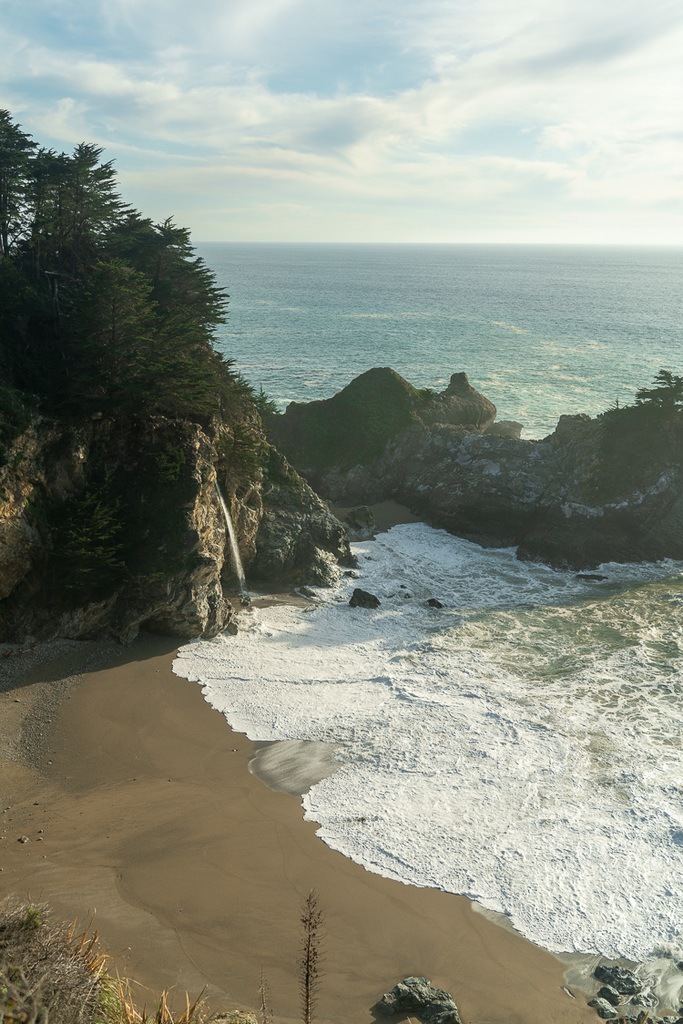 The central coast of California really has my heart. Places like Big Sur and the entire drive north from here to San Francisco are the reason why. You'll see jagged, rocky coastline, chances of whale spouts in the distance, and beautiful hiking trails along coastal buffs and in Redwood forests. A few of my favorites around here are McWay Falls in Julia Pfeiffer Burns State Park as well as Pfeiffer Beach with its purple sand.
Stay: Big Sur is great for camping, especially among the redwoods. Ventana is a great option as well as the state parks. There aren't a lot of places to stay in Big Sur in general, however the lodge is fine and if you have the budget, the adults-only Alila is divine.
10) Monterey – Seaside Escape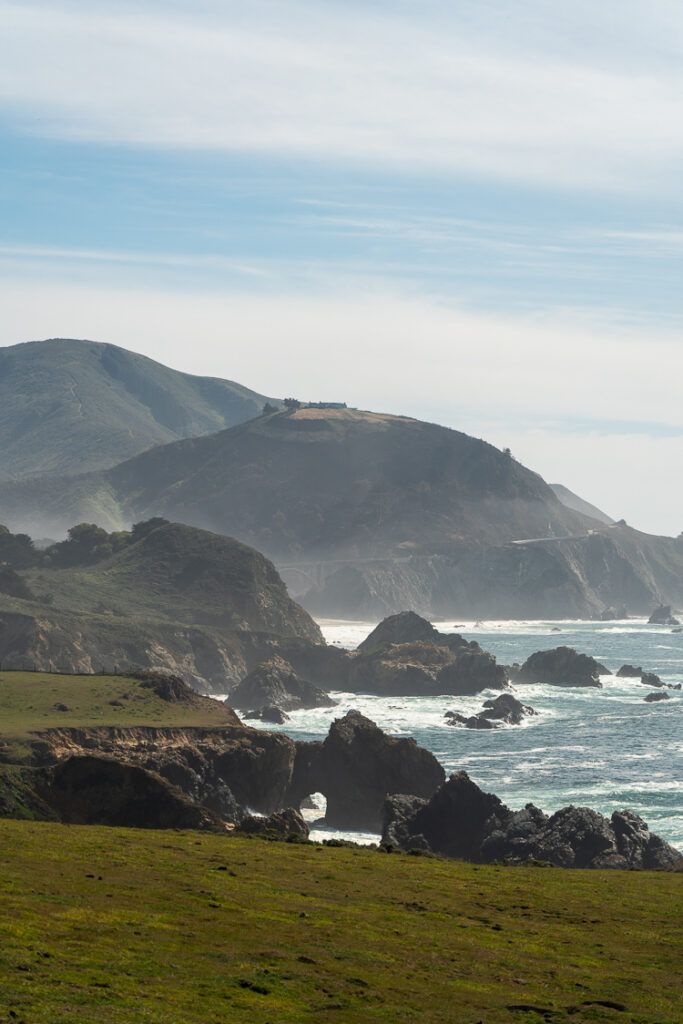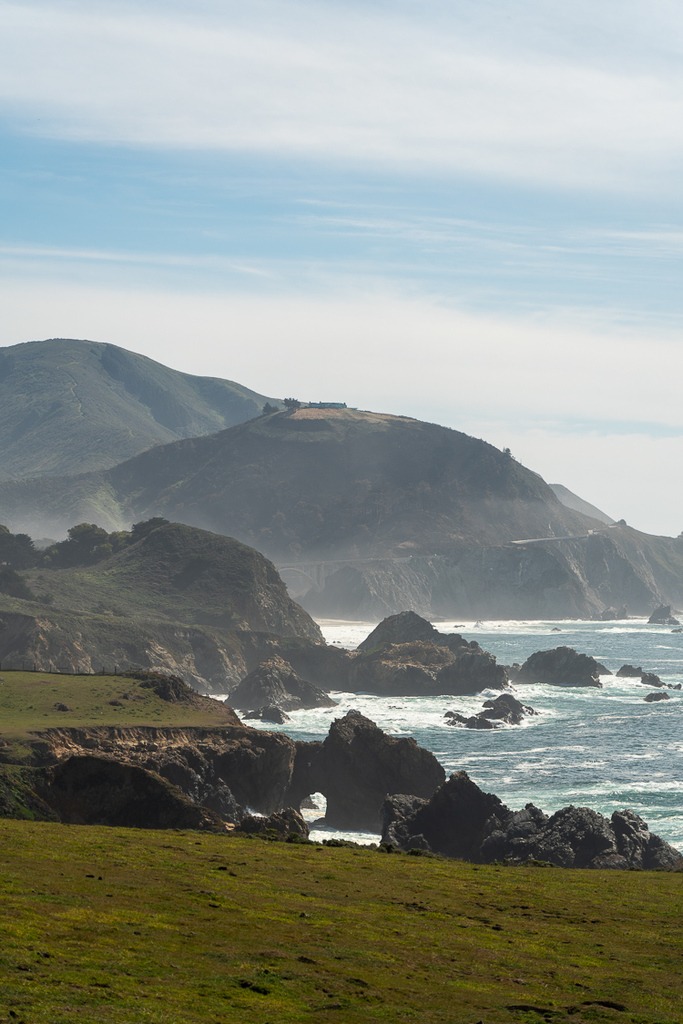 Just up the coast from Big Sur, Monterey is another dreamy seaside town along the Pacific Coast Highway. It's known for its huge aquarium, great diving if you're willing to stuff into an 8mm wetsuit, and sweeping views. This can be a great jumping off point for Big Sur if you've struggled to find accommodation in town.
Stay: I loved the night I spent at the Hyatt Carmel Highlands. We had a gorgeous view and saw whale spouts as we watched the sunset.
11) Yosemite – Dramatic Glacial-Carved Valley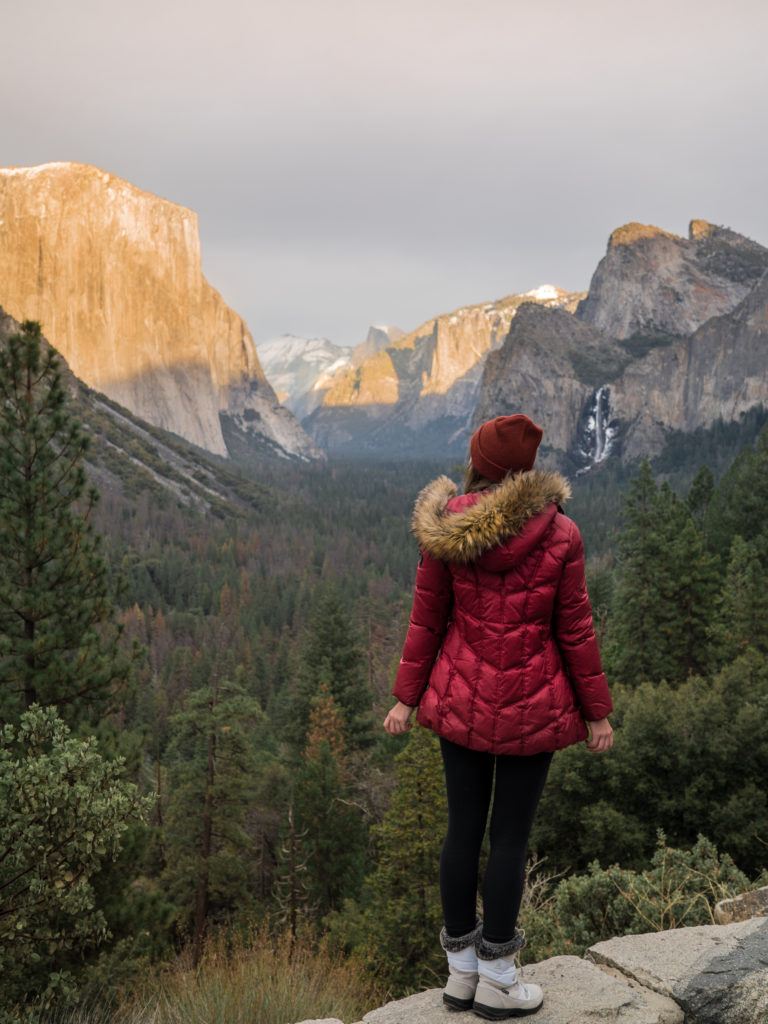 Back toward the east side of the state, Yosemite may be one of the most popular national parks in the system, but it's for a good reason. I grew up coming here with my family, and some of my favorites are all of the waterfalls, including the tallest waterfall in the US – Yosemite falls. The hike to Half Dome is legendary, though you will need a permit, and I love the hike up to Nevada and Vernal falls, specifically from Glacier Point rather than the valley. It's less strenuous and much less crowded.
In the winter, it's a magical scene with occasional snowfall, the 2-day per year fire fall, and frozen lakes. Read more about what to do in the winter in Yosemite here.
I also highly recommend heading south to Sequoia and Kings Canyon National Parks while you're in the area.
Stay: Your best bet in the budget range is the Yosemite Valley Lodge, though there are tented camps that are heated in the winter, or the more luxurious Tenaya Lodge, which I love as well.
12) Lake Tahoe – Blue Beyond Words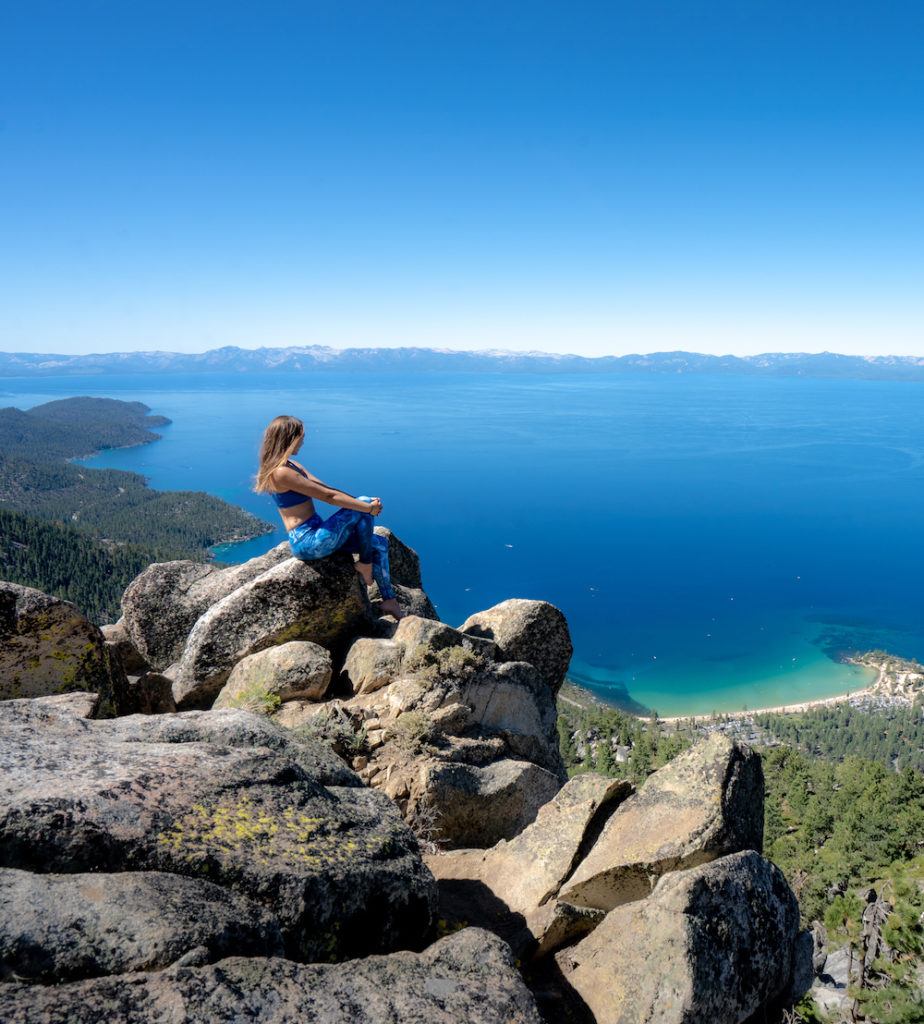 Lake Tahoe is where I now call home, and for a girl who grew up loving the ocean, this stunning lake is enough to make up for being farther from the coast. As North America's largest alpine lake, It's a huge area with nearly half of the lake in Nevada and the other half in California. In the winter, this is a skiing Mecca with ski resorts all around the lake.
But even if you don't ski, there are plenty of things to do in Lake Tahoe in the winter, and if you are a summertime visitor, there's even more to enjoy. Here are some of my favorite photography places in the area as well as my favorite hike, Mt Tallac.
Stay: These are some of my favorite boutique hotels in South Lake Tahoe and Lake Tahoe in general.
13) Mendocino – Redwoods and Sunsets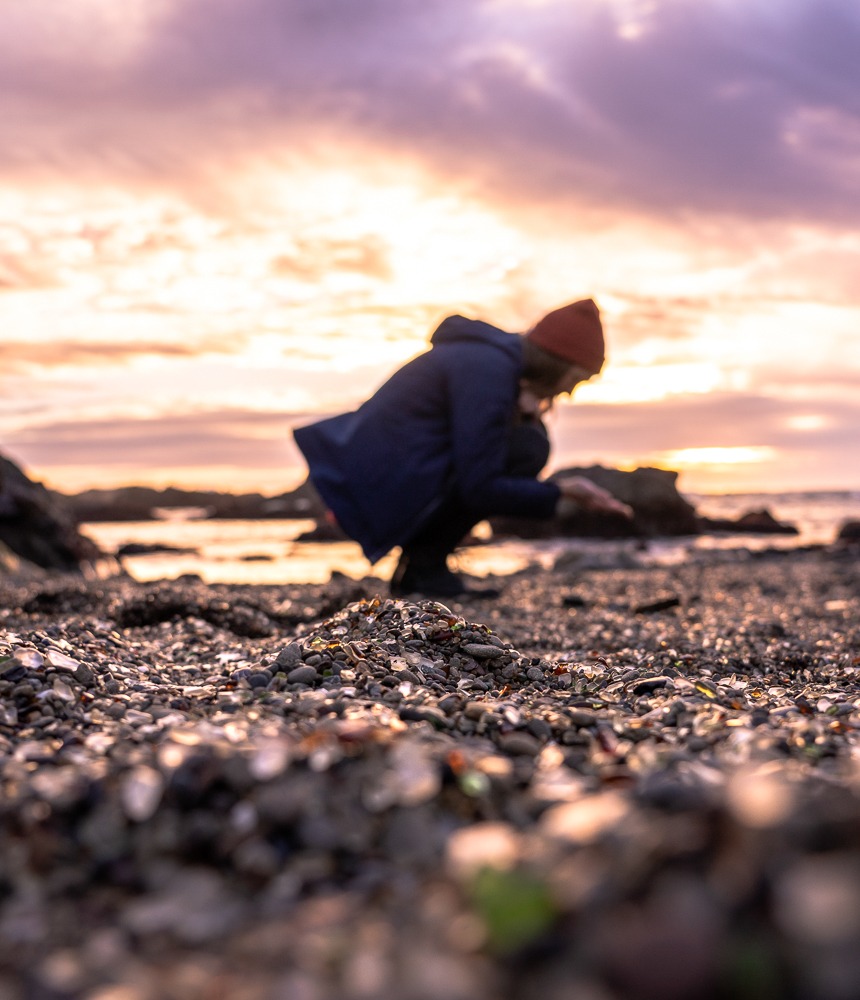 Although I could not possibly pick a favorite place in California, Mendocino would certainly make my top five. I've been out here five times and each time I love it a little bit more. This isn't the type of place where you are going to lay out on the sand and catch a tan, but for those who love Redwoods, moody and dramatic coastline, and wild nature, it's a peaceful escape I suspect you'll find intoxicating.
It's also an area full of state parks with hikes, waterfalls, and lovely beaches. You can read more about the bed things to do in Mendocino here. I'm also partial to the more working class Fort Bragg where Glass Beach, pictured above, features glittering sea glass at low tide at sunset.
Stay: These are some of my favorite boutique hotels in Mendocino and the surrounding area, a region known for its high-end BnBs, as well as the stunning Inn at Newport Ranch that I can't recommend enough if you want to really get away from it all.
14) Humboldt – BIGGER Redwoods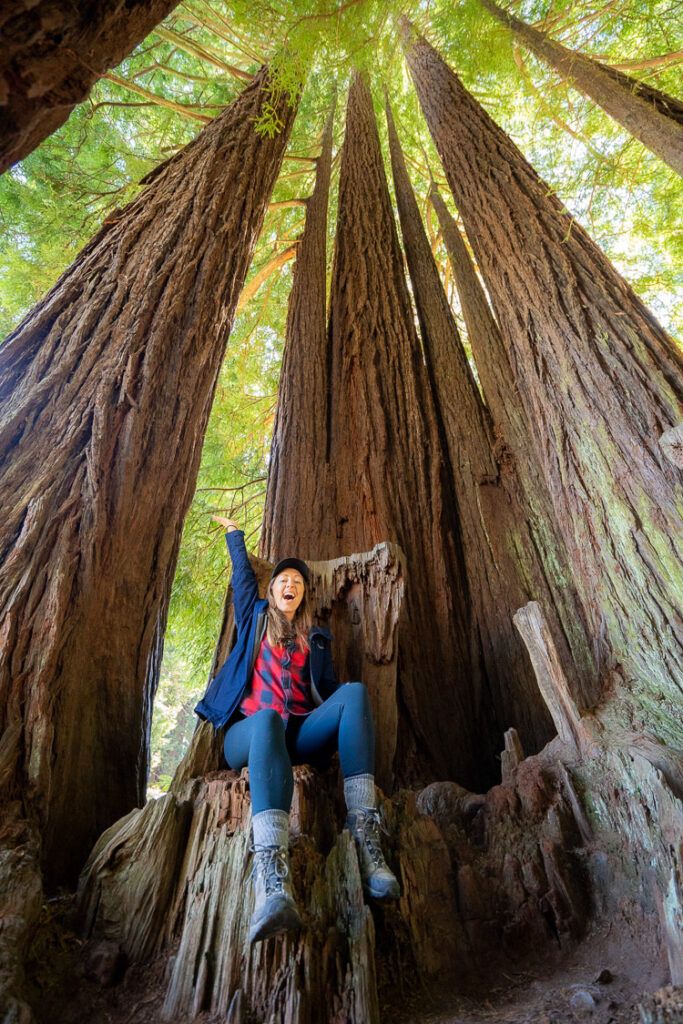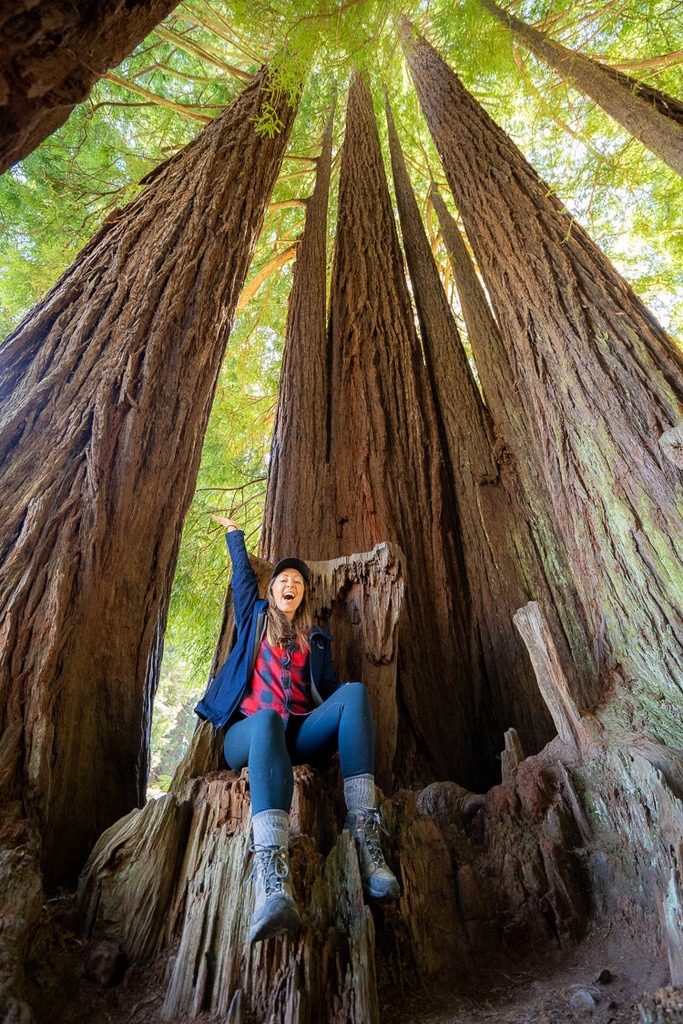 Located in the far north of the state, the Humboldt area, famous for Redwoods, is another spot I've returned to at least eight times. It can be cloudy, moody, and it's a far cry from the warm and crowded beaches of Southern California, but to me that is what makes it so magical. It's a more remote, rural area where you'll find some of the biggest Redwood trees – the tallest trees in the world!
Head to Redwood National Park and walk to Big Tree, camp or hike in Jedediah Smith Redwoods State Park, and enjoy the many beautiful beaches including Moonstone, Trinidad, Mad River, and up to Crescent City.
Stay: I highly recommend camping in the Jedediah Smith Redwoods if you have the gear, or the View Crest Lodge in Trinidad, one of my favorite areas.
15) Lassen National Park – Solitude and Hiking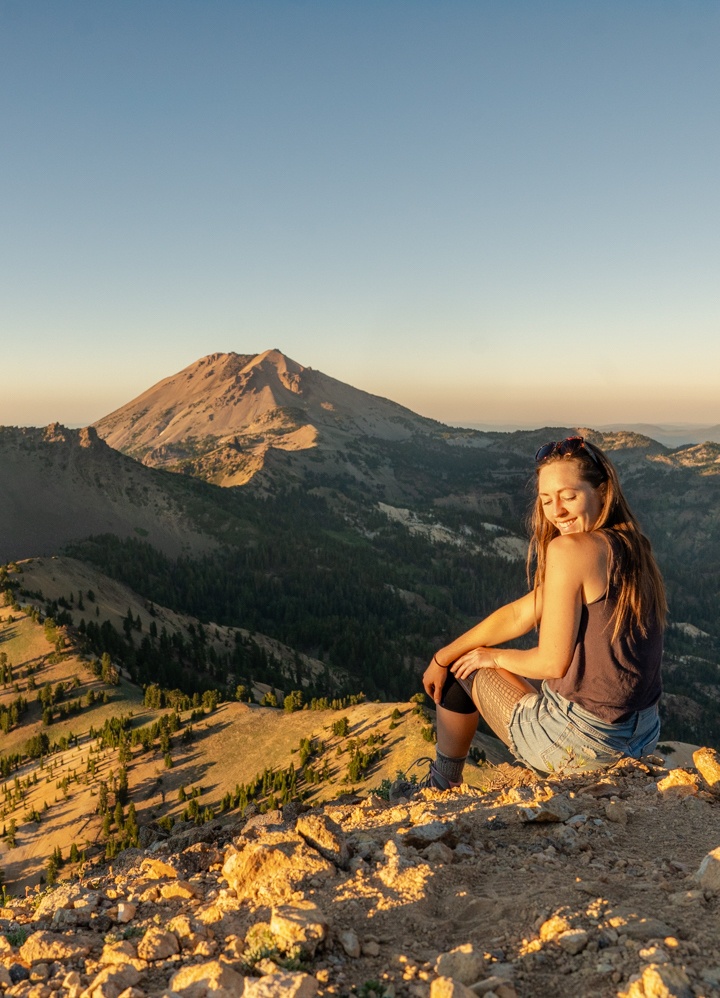 In contrast to Yosemite and Joshua tree, two of the most popular national parks in the system, Lassen Volcanic is one of the least-visited. It may be due to the remote location, or perhaps it just hasn't become Instagram famous, but I loved the solitude of hiking and truck camping in the area. You'll find bubbling, baby blue landscape on the Bumpass Hell trail (its real name, yes), and gorgeous views from Brokeoff and Lassen Peak trails.
The lakes in the area are crystal clear and though frigid, a nice way to cool off after a day of hiking in the summer.
Stay: in the video, you'll see that I free camped in the National Forest nearby. A high-clearance vehicle is a good idea for most of these campsites, and they do not have any services. However the National Park has several campgrounds with paved lots and bathrooms.
Staying Safe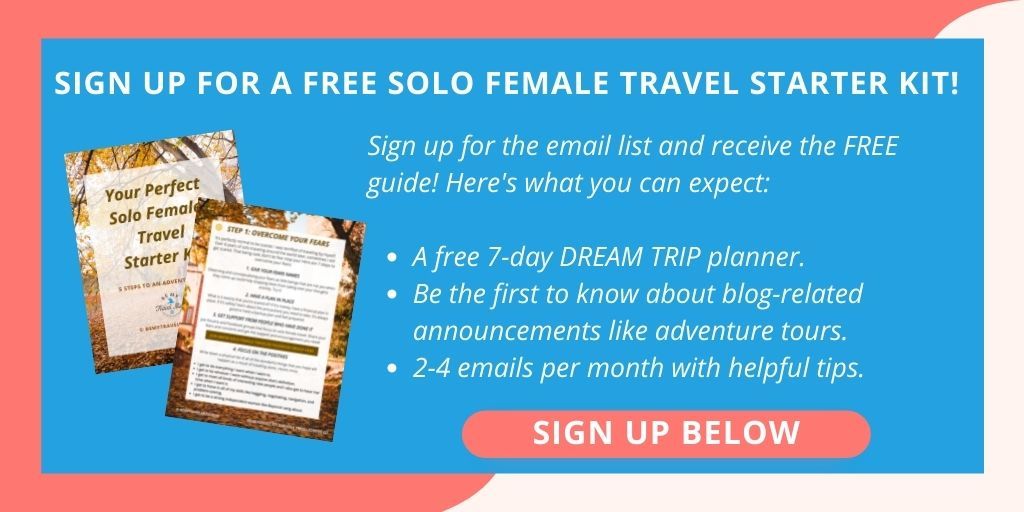 Although California is among my favorite places to travel alone, there are also some important things to know about staying safe. In the big cities, particularly Los Angeles and especially San Francisco (and the entire Bay Area), car break-ins can be common and it's important never to leave anything of value in your vehicle. I've even had a break-in at a somewhat remote beach near Santa Cruz.
It's also important to note that the big cities are not generally walkable and their public transportation isn't great either. Although San Francisco has the BART, it's seedy at night. Since you will most likely have to rent a car for your California adventure, as California is tough to travel through without one, I would rely on your vehicle or Uber/Lyft to get around after dark.
Additionally, be careful about walking around the big cities alone at night. I would give you the same advice for just about anywhere in the world. Camping-wise, I tend to feel fine solo camping in the middle of nowhere, but if you're worried about it, you can stay in established campgrounds instead.
Otherwise my typical advice of staying aware and not getting too intoxicated all apply. You can read more about my top safety tips for solo female travelers here.
The Golden State has so much diversity from the beautiful beaches to the incredible trees, deserts with so much life and color, and cities with personalities each their own. I hope you love it as much as I do!
READ MORE