Idaho is definitely an underrated state full of natural beauty and open roads perfect for road-tripping — and its many hot springs are the cherry on top.
I've been to quite a few of them. Kirkham Hot Springs has to be one of the most popular — and for good reason.
This is your complete guide to visiting gorgeous Kirkham Hot Springs, with both summer and winter recommendations:
Things to Do: Wintertime
Soak in the springs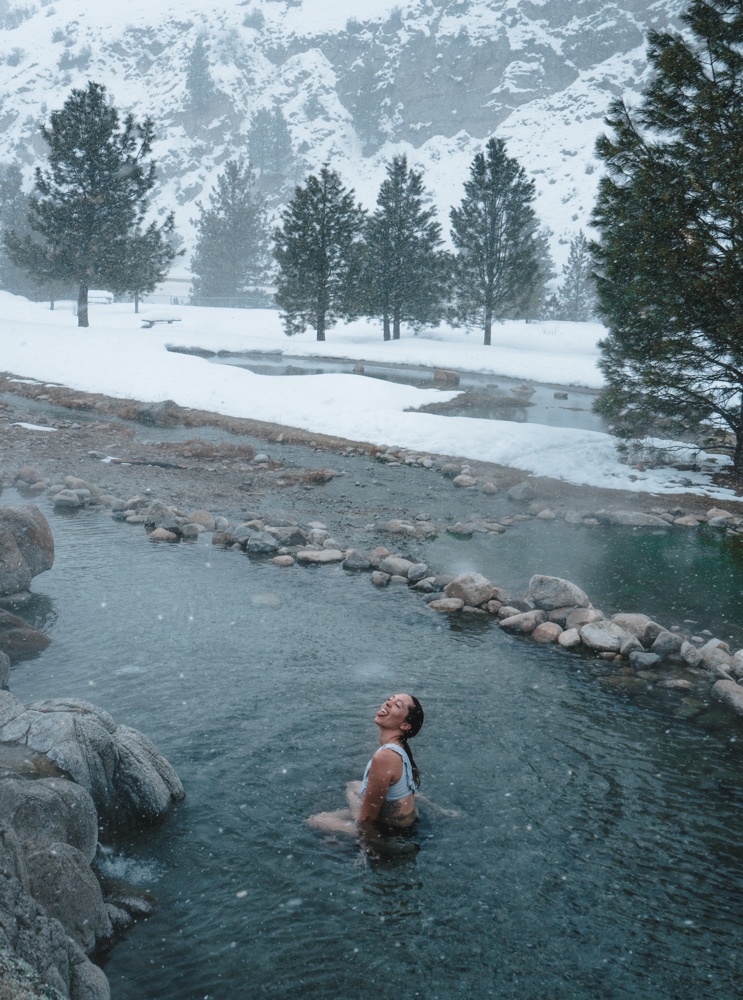 Sure, winter might seem like a strange time to seek out an outdoor pool of water. However, hot springs are warm all year round, thanks to the geothermal streams and falls that heat up these pools. It's the same logic that we use when we decide to soak in a hot tub while it's snowing: there's something magical about being able to take in wintry landscapes while enjoying the warmth of a hot soak.
Idaho is quite snowy, so you can expect to see white mountain peaks and frozen bodies of water. Kirkham Hot Springs sits on the edge of the Payette River, which adds to the incredible view you'll have from the steaming pools.
Have an outdoor shower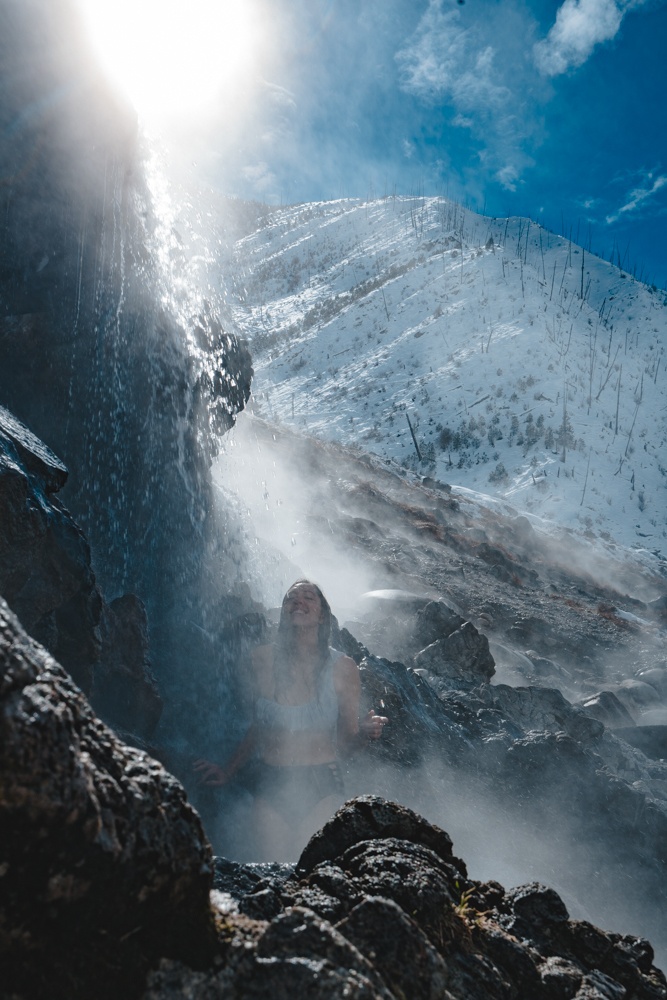 One of Kirkham's best features is the collection of steaming waterfalls that tumble into the pools below. Once you reach the bottom of the wooden staircase that leads to the springs, you'll see the steam rising. The hot waterfalls resemble a natural outdoor shower, which is what makes this spot so dreamy.
Drive the Ponderosa Pine Scenic Byway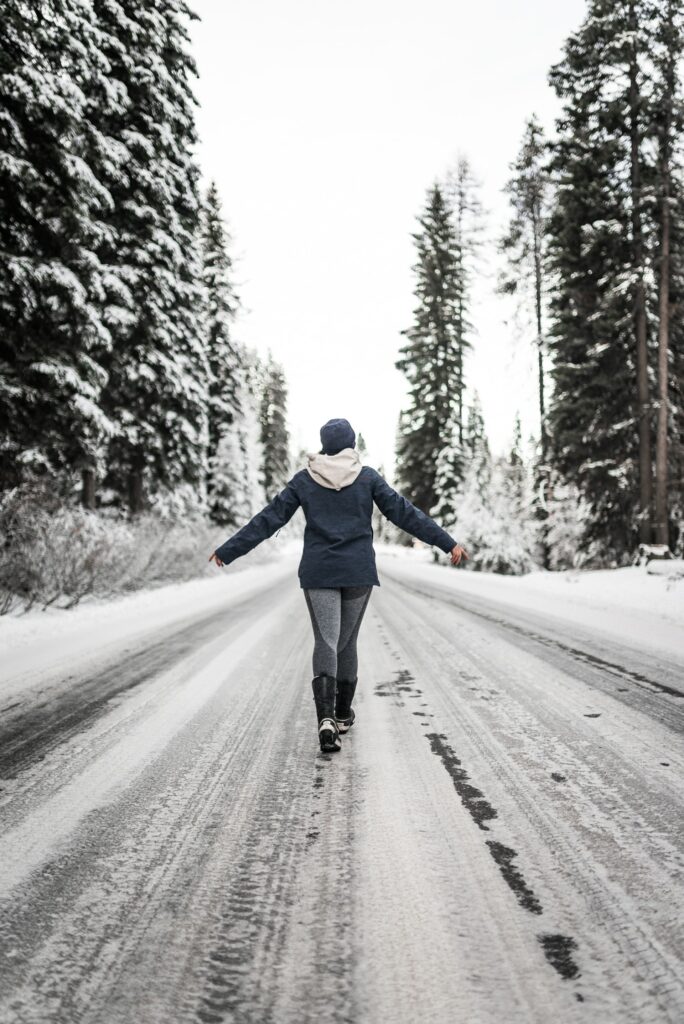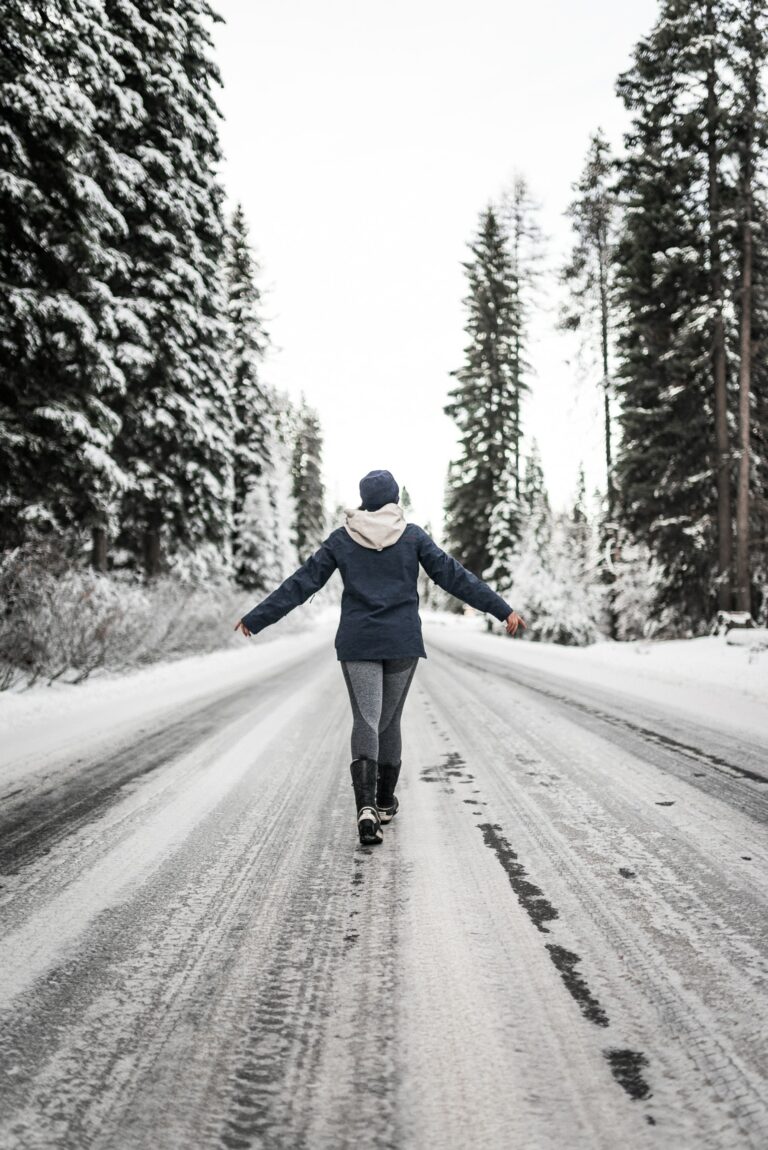 You'll have to drive along this route winding through the Boise National Forest at some point on your way to Kirkham Hot Springs. Make a day of it, taking in the wintry views of the Boise River, Lucky Peak Lake, and other attractions along the way.
Keep in mind that heavy snows can potentially close the route, so be careful not to venture out if a blizzard is in the forecast. The route is about three hours long from start to finish and reaches some remote parts of the Boise National Forest, so make sure to fill up your tank whenever you can and pack lots of snacks for the ride.
Cross-country ski or snowshoe at Whoop-Um-Up Park N' Ski Area
If you're feeling like having a more action-packed trip to this mountainous area, check out Whoop-Um-Up Park N' Ski Area. (The name makes me chuckle a bit, but it's legit!) You'll find this awesome winter park about an hour's drive from Kirkham Hot Springs. Get more info on cross-country skiing and snowshoeing at Whoop-Um-Up here.
Hike to Pilot Peak
Also in the Boise National Forest, just about an hour away from Kirkham Hot Springs, is Pilot Peak, a popular spot among outdoor enthusiasts. During the winter, it's bustling with snowshoers, snowmobilers, and skiers. The pathways to the top of the mountain are well maintained during the winter months due to the heavy snowmobile traffic, making it possible to hike.
If you're not into the idea of a winter hike, you can also rent a snowmobile or pair of skis to get up Pilot Peak.
Where to Stay near Kirkham Hot Springs: Wintertime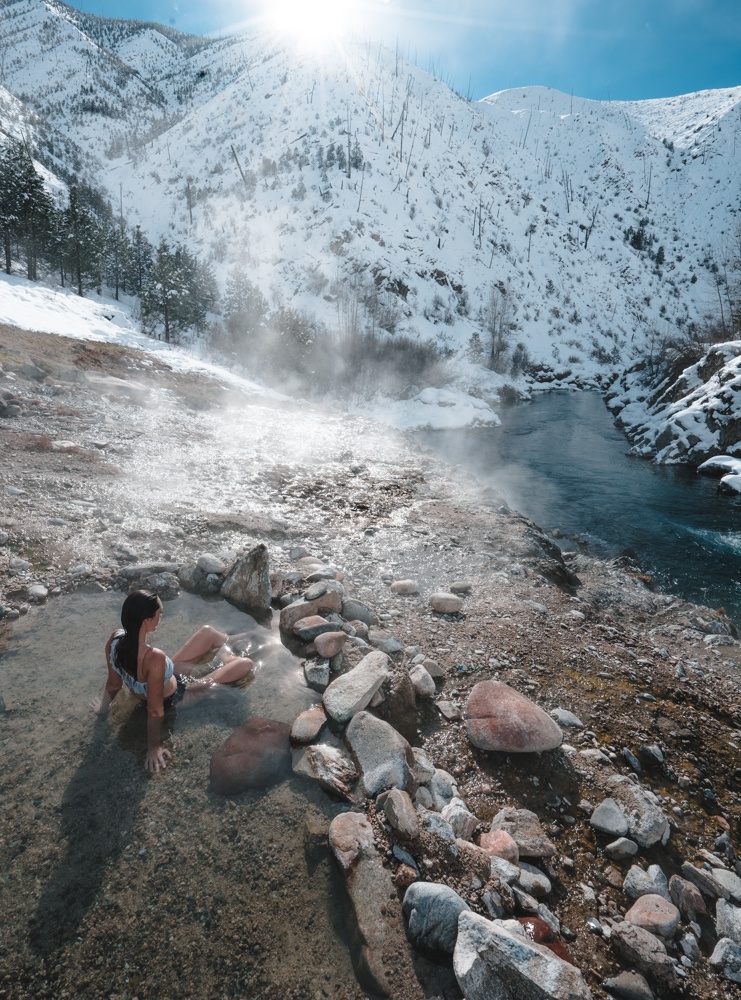 Idaho is a winter wonderland, complete with gorgeous snowy mountains dotted with cozy cabins. The area around Kirkham Hot Springs is no exception. These are a couple lovely places to stay while you explore the area's beauty:
Luxury: If you want to go all-out, this huge newly renovated cabin runs about $270-325/night, depending on the season. It has three bedrooms and a hot tub, making it perfect for a group of friends or a family. Book the cabin here.
Yurt stay: Ever dreamed of staying in a yurt? This is your chance! There's one for rent through Airbnb that is just around the corner from the hot springs and is surrounded by nature, all for around $80/night. Book here.
Things to Do near Kirkham Hot Springs: Summertime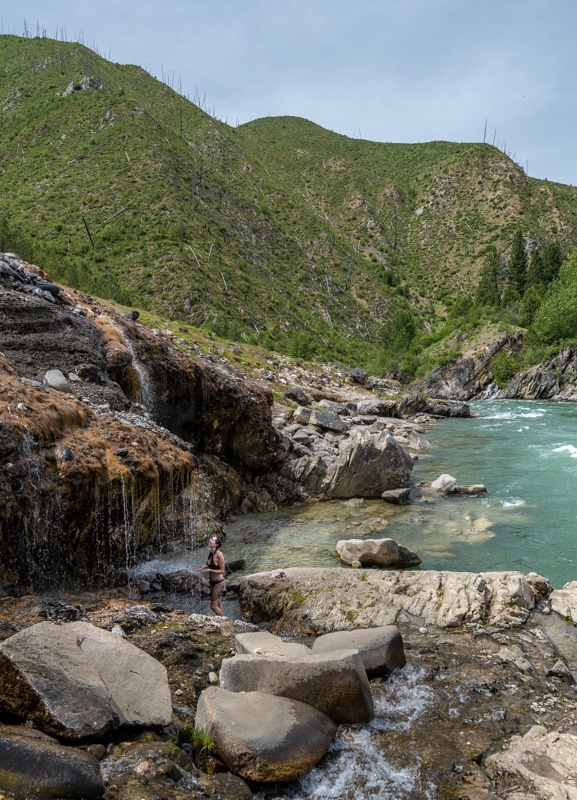 The warmer months yield a totally different scene around the hot springs. Once the snow melts and the plants return to life, the landscape turns into a hilly green paradise, with the springs adding to its beauty.
Kirkham Hot Springs is most popular in the summer months, so be aware that you'll likely be sharing this peaceful spot with other visitors. Even so, it's definitely worth a visit!
Enjoy the hot springs
The benefit of visiting Kirkham Hot Springs in the summer is the ease of going in and out of the springs themselves. Since the outside temperature will be closer to the temperature of the pools, it won't be as much of a shock when you get out. Plus, you'll be able to explore the area around the springs by hiking along the shore of the Payette River and the hills beyond.
Explore Blue Lake Trail
Since this trail in Boise National Forest is subject to seasonal closures during the winter months, summer is the best time to visit. The trailhead a two-hour drive from Kirkham Hot Springs on the route to McCall, so it might be a good idea to do this hike if you're planning on heading to McCall at any point during your trip.
The hike to the lake is a quick and easy one (just 2.6 miles round-trip), with a big payoff once you get there. You'll have panoramic views of the valley, and if you do the hike from June to August, you'll see lots of wildflowers. The trail opens on June 1, but you might encounter still-melting snow up until mid-June. Find more information about Blue Lake here.
Whitewater raft down the Payette River
Idaho is an excellent destination for rafting enthusiasts because of its abundance of heavy-flowing rivers. Whitewater rafting on a sunny summer's day is an action-packed way to enjoy the gorgeous scenery of the Kirkham Hot Springs area.
The Payette River Company offers a whitewater rafting trip on the hot springs' stretch of the river, which even makes a midday stop at Kirkham before heading further down the river. Book here!
Trek up Archie Mountain
From Kirkham Hot Springs, you will be able to spot Archie Mountain in the distance. Consider trekking up to the top of the mountain and rewarding yourself afterward with a dip in the hot springs. There are two routes to the top; you can find more information on how to trek up here.
The most popular route is just a mile long, making it perfect for a short out-and-back hike. From the top of Archie Mountain, you'll have some spectacular views of surrounding mountains and valleys, which are lush and green this time of year.
Where to Stay near Kirkham Hot Springs: Summertime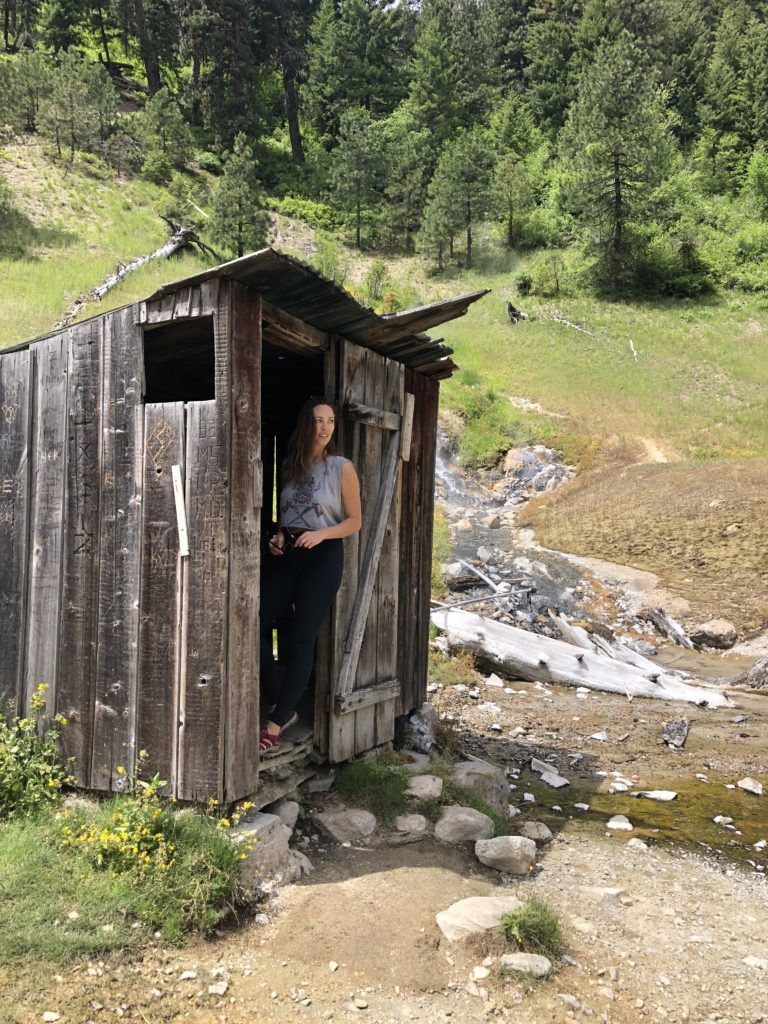 One of the best things about visiting Kirkham Hot Springs during the summer months is the availability of camping and hiking nearby. This perk also means that you can hop from one hot spring to another just by hiking or rafting down the Payette River.
Yurts are another popular choice for accommodation in this area, which are arguably more enjoyable in the summer when you won't have to be so concerned about keeping the place heated.
Here are some great options for summer stays near Kirkham Hot Springs:
Helende Campground: Just a 10-minute drive from the hot springs, this campground is a favorite among summertime visitors. You'll have access to the Payette rRiver just a few hundred yards away and plenty of nature to explore. It's open from Memorial Day to Labor Day; you can book your campsite here. Since the Kirkham Campground is no longer operational, this is the best option close to the springs.
Cabin with a teepee: This massive property is great if you're traveling in a group or with your family. It sleeps seven people and has a neat teepee on-site as well. It runs about $215-330/night during the summer months, depending on the exact date. Book here.
Backcountry yurts: There are yurts available to rent through Idaho's Department of Parks & Recreation. They tend to book up during the summer, so make sure you reserve yours at least three months in advance. Find more info here.
How to get to Kirkham Hot Springs
From Boise
Take Highway 21 north toward Idaho City and through Lowman. Kirkham Hot Springs is five miles past Lowman; you'll be able to see the steam rising up as you get closer to Kirkham Campground, especially in the cooler months. If you have any doubts, the hot springs' location on Google Maps is accurate, so you can always follow that. The drive should take about 1 hour and 45 minutes.
From McCall
If you'll be traveling from McCall, take Highway 55 south until you reach County Highway 17, where you'll take a right. From there, you'll pass through Lowman and find the hot springs. The drive will take around 2 hours and 15 minutes.
From Stanley
If you're on a hunt for the best hot springs in Idaho, you might be coming from the springs in Stanley. If that's the case, you'll only be about an hour away from Kirkham. It's a straight shot on Highway 21.
Bonus: Explore Other Idaho Hot Springs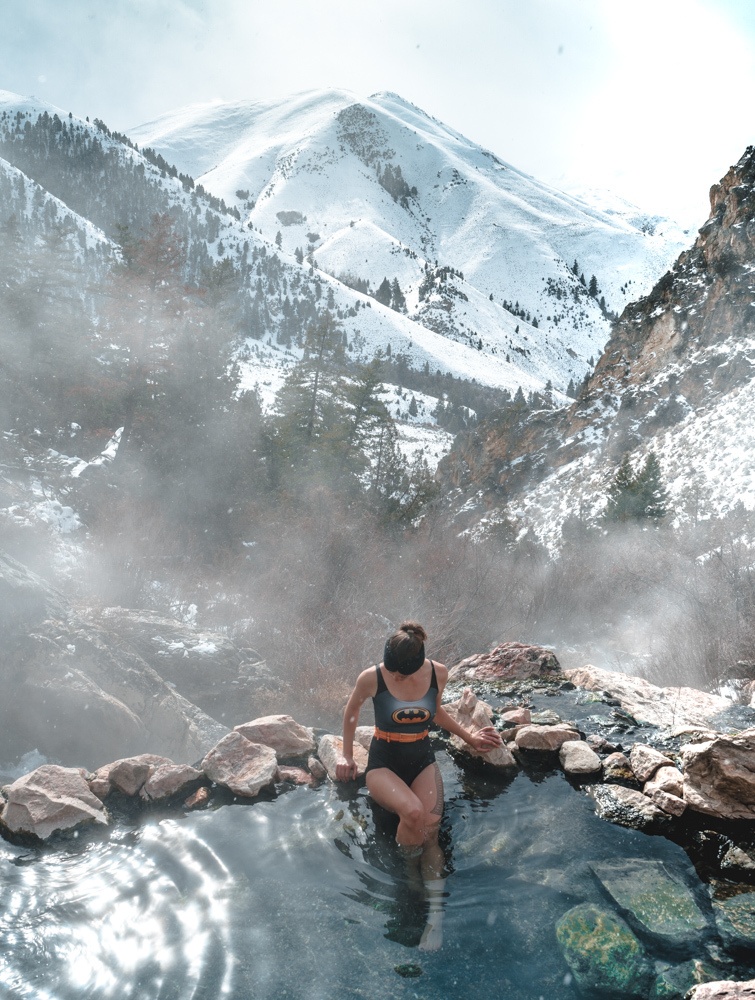 Chances are that if you make the trip to Idaho, you'll want to see more than just one hot spring. There are hundreds of them throughout the state, and many are surprisingly close to one another, making it an essential to any Idaho road trip, whether you're setting off in the winter or summer.
Before you head out to Idaho to soak in Kirkham Hot Springs, make sure to check out all the other incredible hot springs the state has to offer:
Pin me for later:
Imagine stepping into one of Kirkham Hot Springs' steamy pools while you take in the mountainous scenery of southwestern Idaho, listening to the rushing river next to you. This place is truly a dream regardless of the season, so start planning your trip to this enchanting place — and let us know how much you love it!