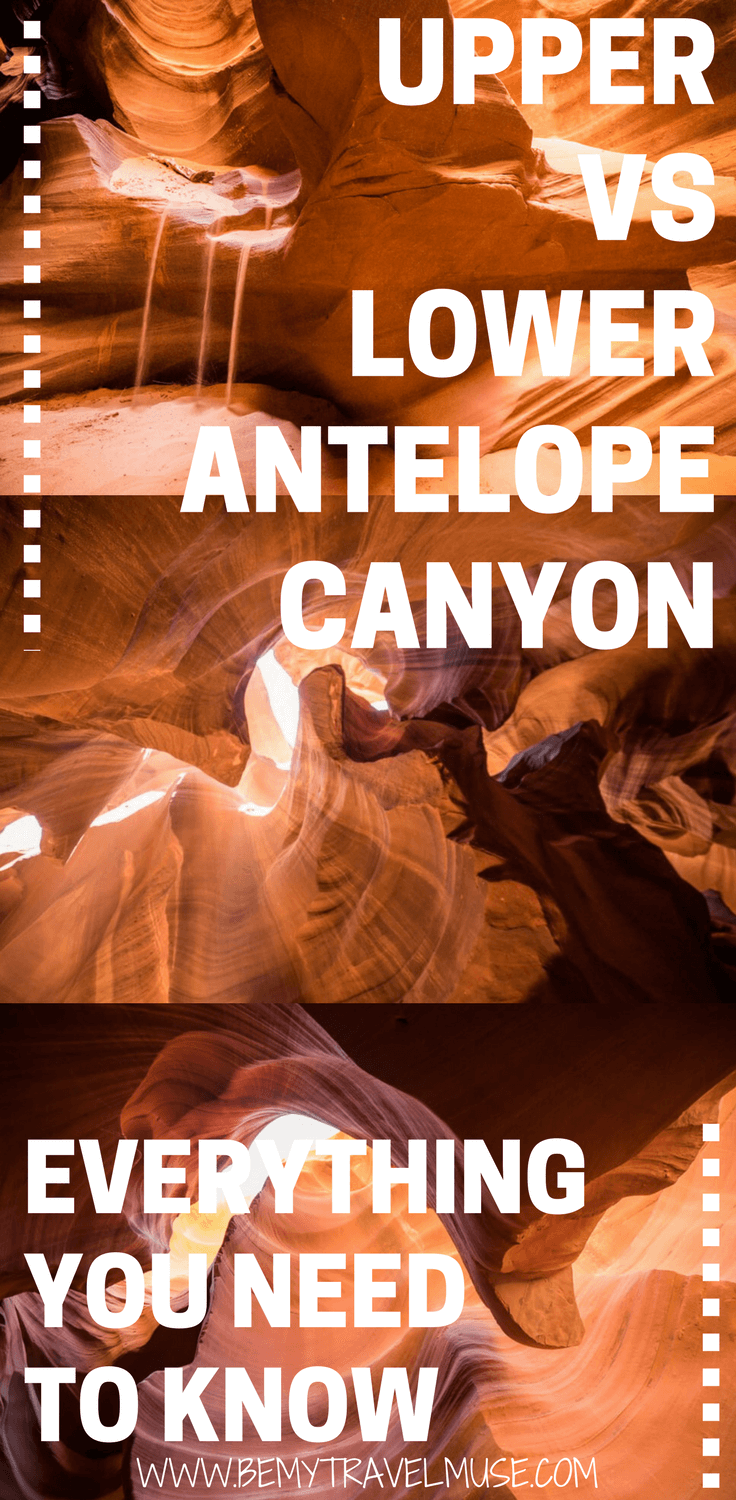 When I first started doing my research for visiting Antelope Canyon during my American Southwest road trip, a striped and bright orange Navajo Sandstone canyon in Arizona carved by flash flooding and erosion, I realized that there are two – upper and lower. They are accessed via different locations and have quite a few things that set them apart from each other as well. Then came the question of which to choose or if it made sense to visit both.
The photographer in me couldn't resist photographing both and the writer in me couldn't resist covering both here on the blog, so I visited each at their respective best times of day for lighting. This probably also means I visited at the most popular time of day, and in one of the most popular months (May).
It was a crowded and claustrophobic but also a must-have experience because of the way that those canyons swirl and curve into some kind of trippy corridor that feels like it's leading you to the bowels of Earth. You have to see it to believe it, and even then you still might not.
Both canyons are located on Navajo land and the only way to see them is by taking a guided tour. I only saw Navajo guides, which made it feel more authentic and connected.
If you're trying to choose between the two, here is an honest firsthand account of both Upper and Lower Antelope Canyon:
Lower Antelope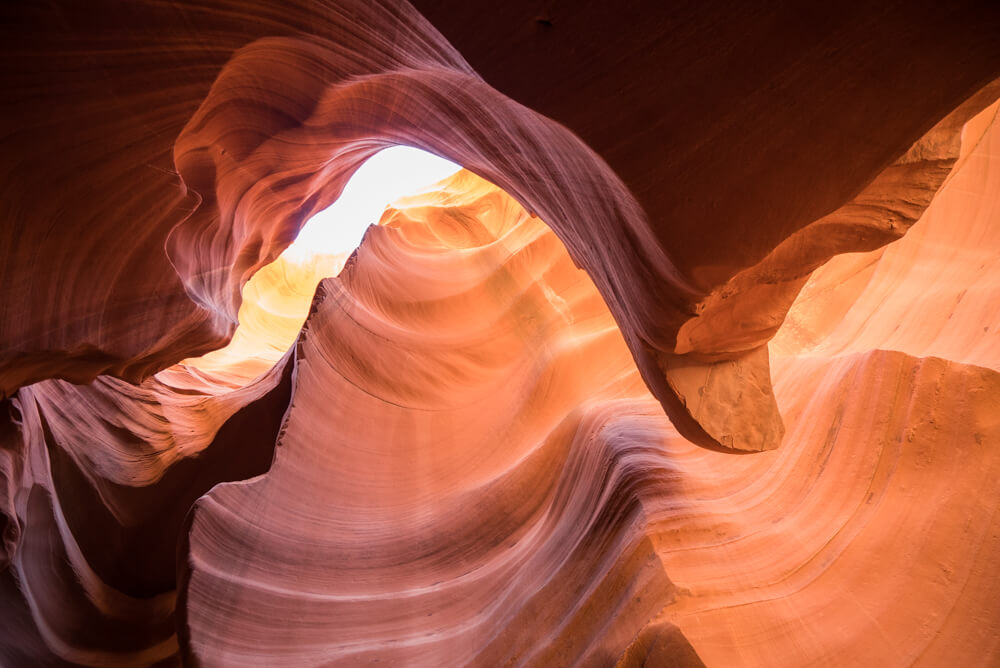 I visited the Lower Antelope Canyon first since at the time that I visited in May, 10:10 AM was the optimal time for light.
I booked my tour ahead of time as I figured that at a prime time like that, it would be all booked up. But a friend I met the day before was able to join me, so don't fret if you didn't book ahead of time. There may still be availability!
NOTE: As of 2018, tour operators can no longer offer both general tours and photography tours because Lower Antelope Canyon has gotten so popular in recent years. As a result, Lower Antelope photography tours do not seem to be available anywhere. Here are the tours available:
With Dixie Ellis's Canyon Hiking Tour:
1 hour long
tours run every 30 minutes from late morning until late afternoon (10+ tours per day depending on the time of year; some days offer a few early morning tours, too.)
$51.51/person ($40 ticket + $8 Navajo Nation fee + 2.2% processing fee)
With Ken's Tours's General Tour:
1 hour long
tours run every 30 minutes from early morning to early evening (14 to 22 tours per day depending on the time of year)
$52.80/person ($40 ticket + $8 Navajo Nation fee + 6% Navajo sales tax + 6% surcharge)
Other tours available:
So what was great and not-so-great about Lower Antelope? Let's start with the good stuff:
Perks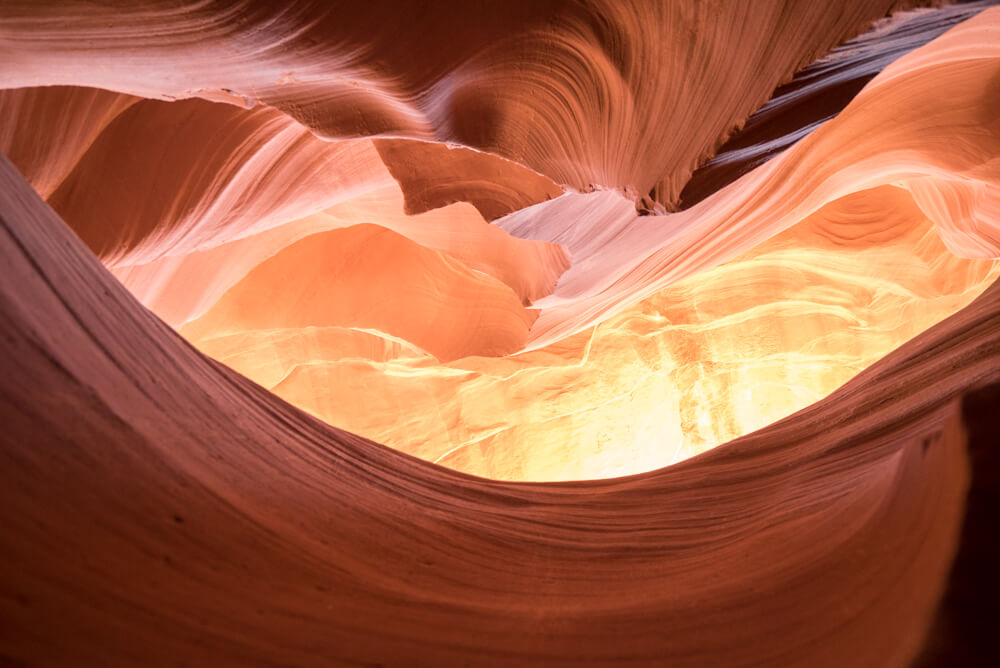 Longer
The standard tour in Lower Antelope lasts for one hour and the photography tour lasts for over two hours. The tour through lower antelope Canyon last for much longer because the canyon itself is a lot longer. This was both a blessing and a curse for me because as much as I loved to be in there and see it, I found it to be a slightly dizzying experience as well. If you are not bothered by small and enclosed spaces this won't be a big concern.
Slightly less crowded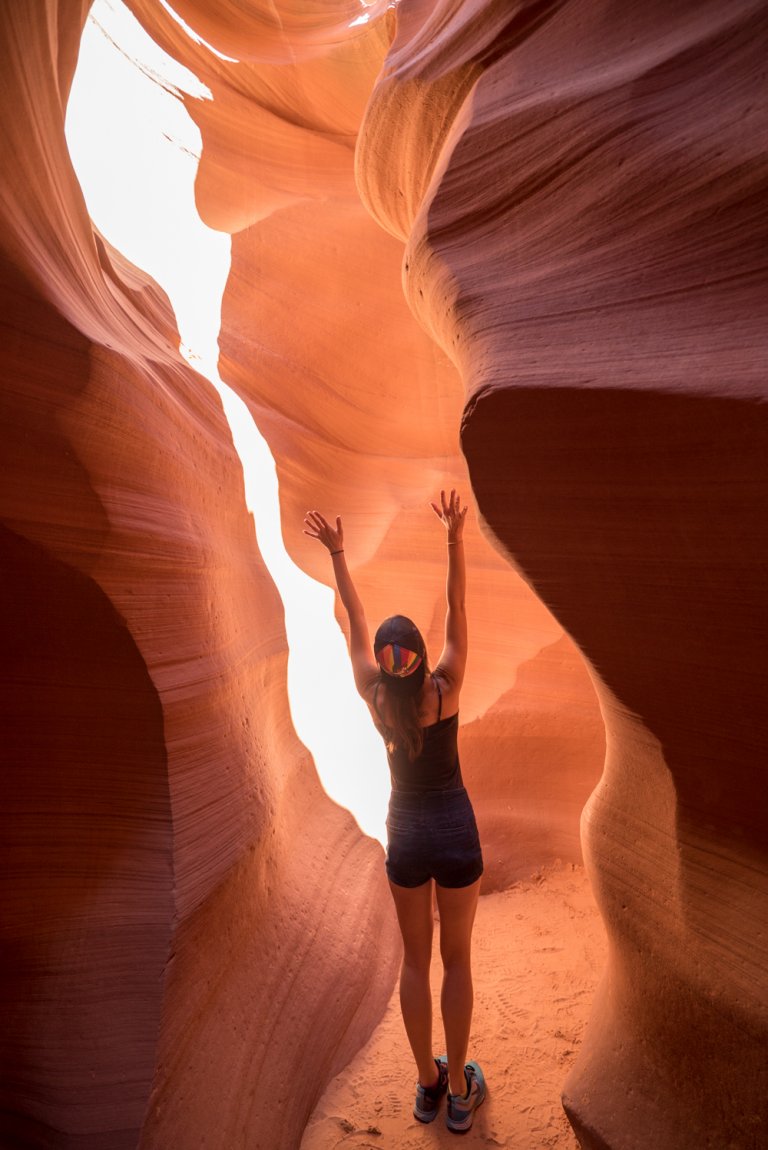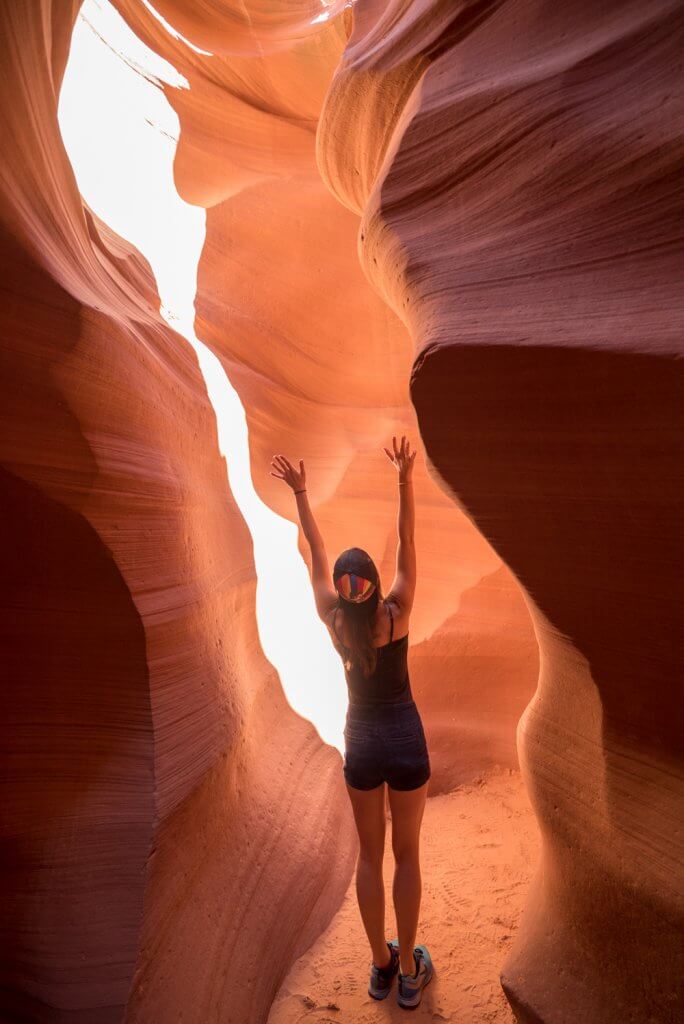 Being real, both canyons are incredibly popular and quite crowded. However, Lower Antelope Canyon is a bit less so. Even without being on a photography tour, I was able to get photos without other people in them from time to time.
Drawbacks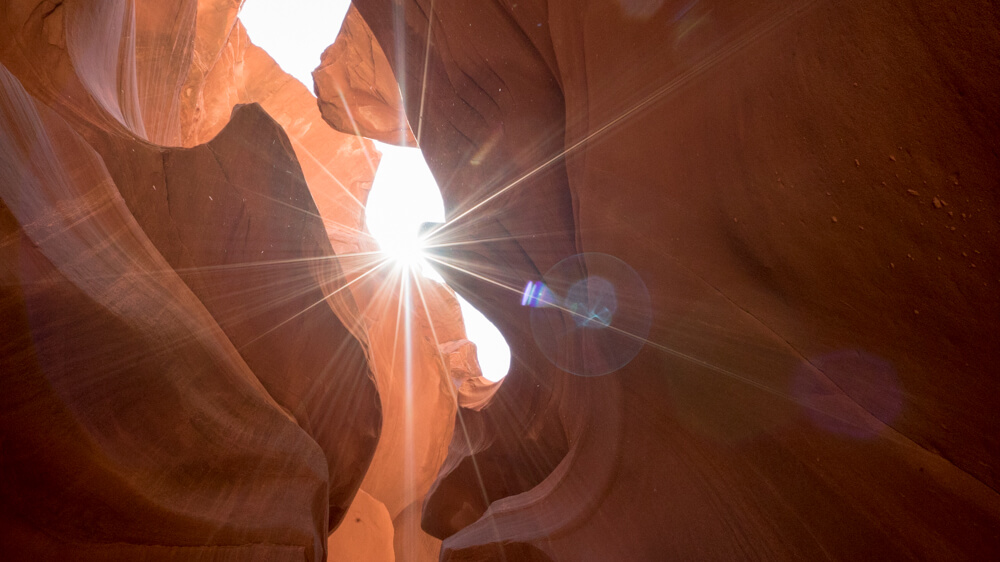 Stairs
One big reason why people shy away from Lower Antelope Canyon is the stairs. They're honestly not a big deal, though. If you are mobile and don't have problems with stairs in everyday life, these won't trip you up. Don't worry about them being treacherous. This would really only be an issue for the elderly or those who have mobility limitations.
No light beams
It is rare to see the light beams in Lower Antelope Canyon that have made Upper Antelope so famous. The light still does get through and make the walls glow, but you won't get those iconic beams shining through to the ground.
Most of the photos you have seen of sand falling to the ground were probably also taken in upper rather than lower antelope Canyon. In upper they regularly threw up sand so that we could see it reflected by the light, but in lower they said that they did not want to create dust. I suspect that on the photography tour in lower that they do throw some dust on the walls to photograph. I don't know that for sure, though.
Upper Antelope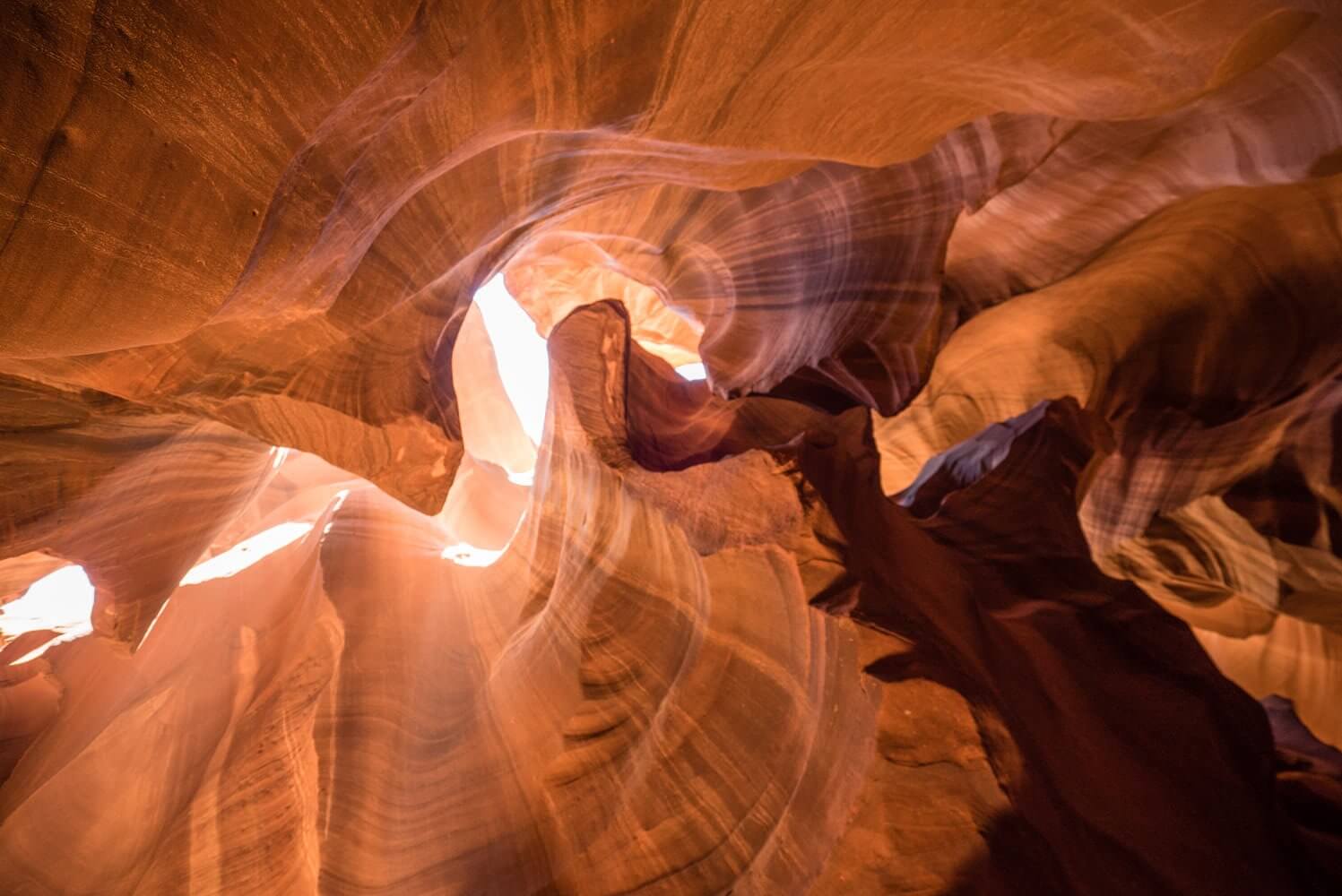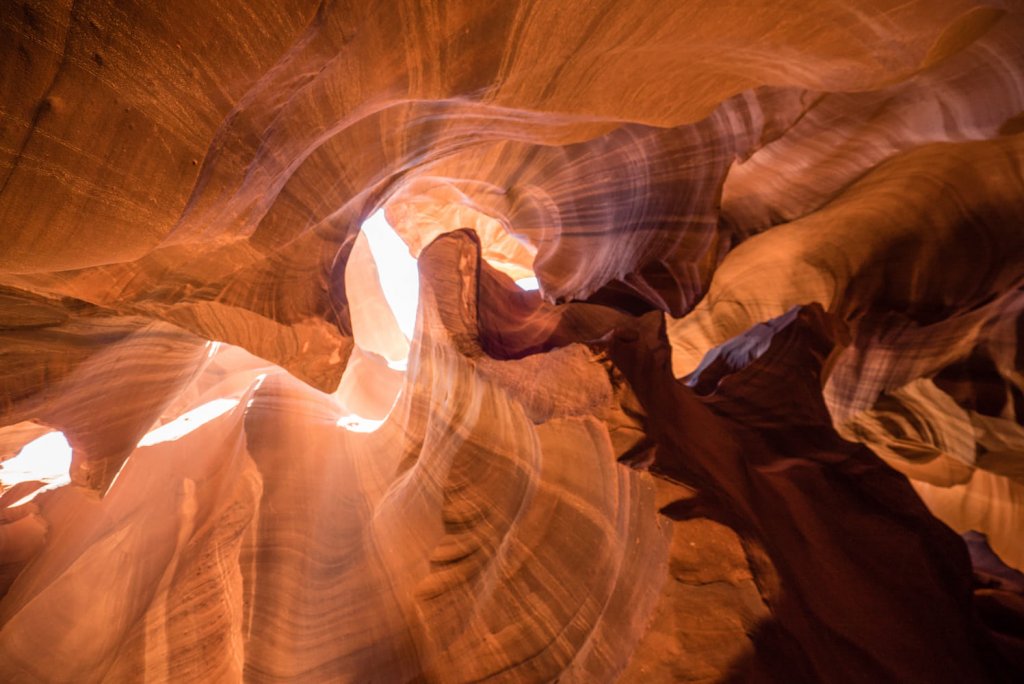 Upper Antelope Canyon is located a few miles away on the opposite side of the road. For this one, you'll climb into a 4 x 4 truck and be caravanned over to the entrance. I highly suggest paying the $10 more for 'prime time,' which is when the light beams shine through. I was able to hit both canyons during their prime times by booking Lower Antelope for 10:10 and Upper Antelope for 12:30.
This is the canyon where the guides will throw up dust into the light beams and some will even take your photo for you, which is nice for a solo traveler! I chose Adventurous Antelope Canyon Tours and paid $60. Since I had already paid the $8 Navajo Nation fee, I was able to show the receipt and not have to pay twice. Here are some of the other tours available:
With Adventurous Antelope Canyon Tours:
Tour 1 (Photography Tour):
2 hours long
tours run once a day (10:15am)
$158/person (price includes Navajo Nation Fee but does not include tax)
Tour 5 (Nighttime General/Photography Tour):
tour runs for 2 hours after sunset
$263/person for photographers; $79/person for non-photographers (price includes Navajo Nation Fee but does not include tax)
Tour 8 (General Tour):
1.5 hours long
tours run 4 times per day (8:30am, 2:30pm, 4:00pm, 5:30pm)
$66/person (price includes Navajo Nation Fee but does not include tax)
Prime Time Tour 9 (General Tour):
1.5 hours long
tours run twice a day (10:15am, 12:30pm)
$77/person (price includes Navajo Nation Fee but does not include tax)
With Antelope Canyon Navajo Tours:
Guided Sightseer's Tour:
1.5 hours long
tours run 6 or 7 times per day, with the first tour starting at 8:45am and last tour finishing around 4:00pm
$60/person (price includes tax and the Navajo Nation fee)
Guided Photography Tour:
2.5 hours long
tours run once a day (11:00am)
$160/person (price includes tax and the Navajo Nation fee)
Perks
Light Beams
The light beams are the biggest perk of visiting Upper Antelope Canyon. Most of the famous photos that you've seen of these canyons, including the most expensive photo in the world by Peter Lik which sold for $6.5 million, were taken in this canyon.
However, this is highly dependent on time of day so keep that in mind when planning your trip. Ideally the sun will be directly overhead, which in May was at 1 PM. If you're a photographer, this is probably the better canyon for you to visit if you're dying to get those iconic light beam shots.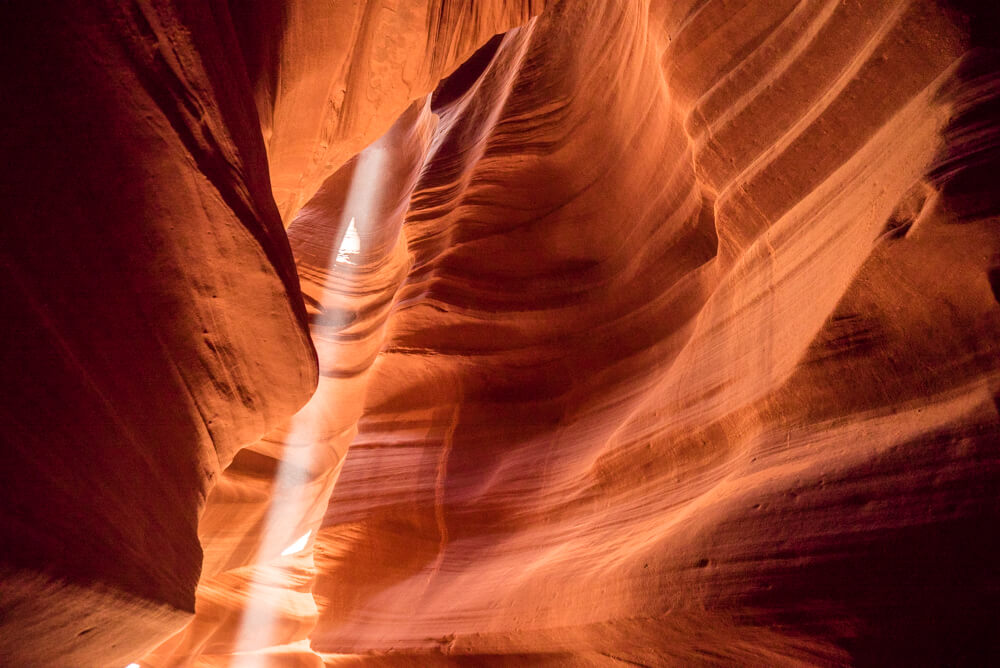 No Stairs
If the idea of climbing stairs in a narrow canyon makes you dizzy just thinking about it, take solace in the fact that this is just an easy, flat, and shorter walk through the canyon. That said, I think this also leads to one of the biggest drawbacks which is that you have two-way traffic going through the canyon. It's already quite narrow, so this makes it feel even more claustrophobic.
Drawbacks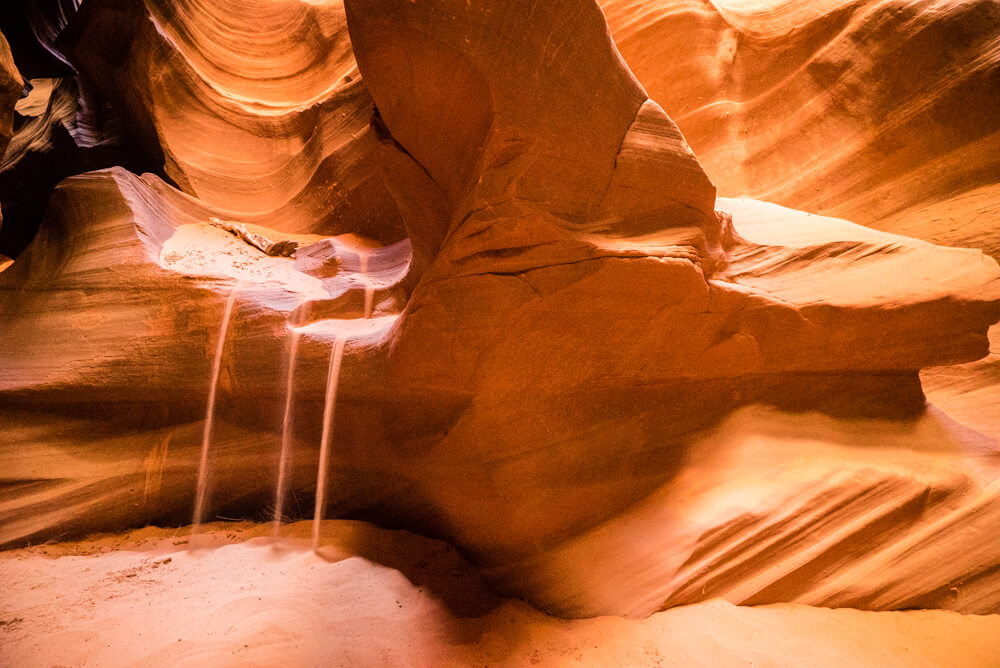 More Crowded
As mentioned in the previous section, this is the narrower canyon of the two and it's more popular. We were not even allowed to bring backpacks inside since it gets so crowded in there!
After you walk through the canyon, the guides will ask you to turn around and walk back through going the other direction. That makes it even more crowded and packed in Upper Antelope. In Lower Antelope, traffic is mostly just one way, though those on photo tours will occasionally pass you going the other direction.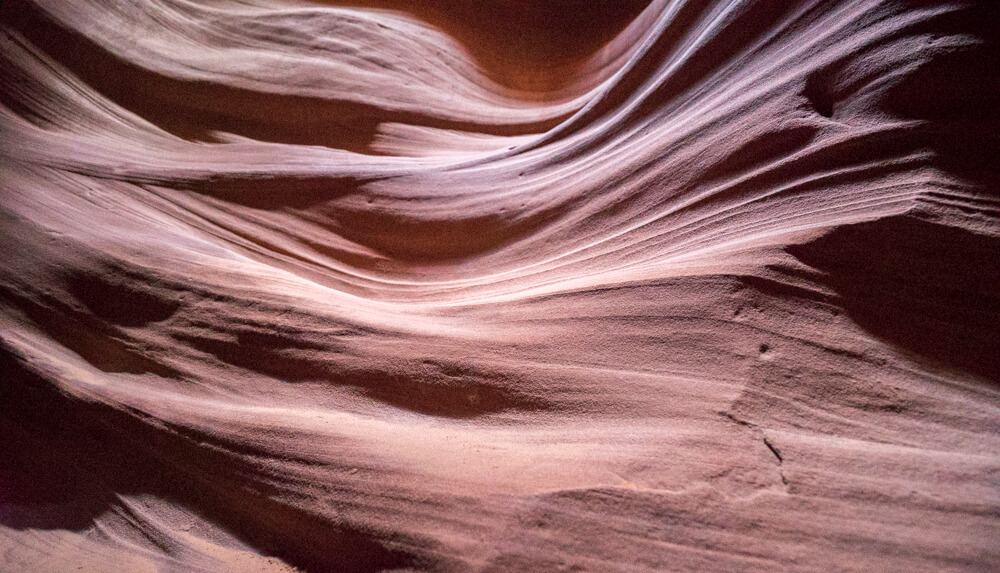 More Expensive
Upper Antelope Canyon is more expensive than Lower. In fact, it was more than double. However the guides prioritized us getting photos, and they even took some for us, which was a nice perk that Lower did not offer.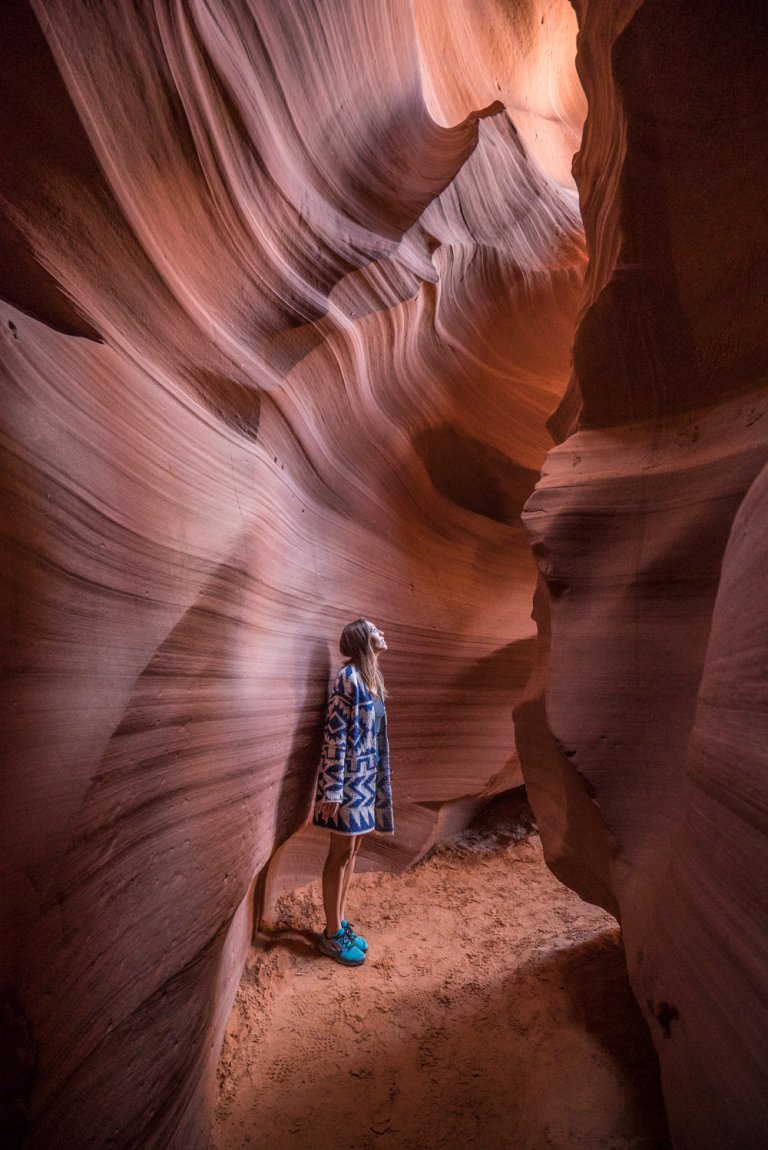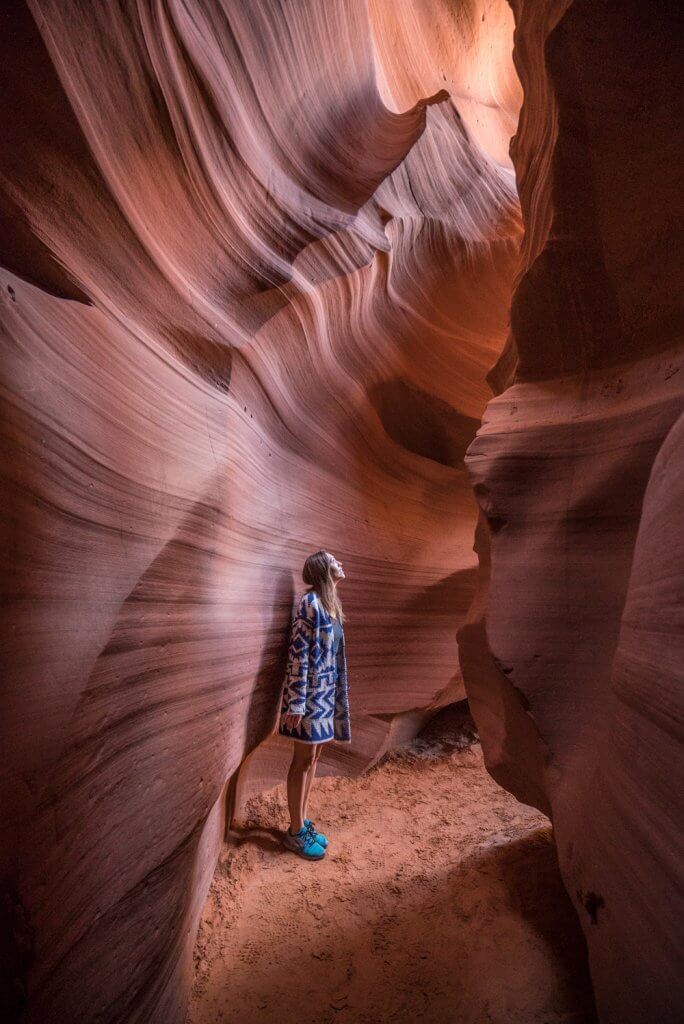 Would I recommend that you choose one over the other, or try to do both? It's hard to say, because both have their perks. It really comes down to your intentions. For photographers, it probably makes sense to go to Upper Antelope Canyon. As you can see by comparing the photos, I got better ones out of Upper.
If the light beams don't matter that much to you and you want a slightly more relaxed and cheaper experience, however, head to Lower Antelope Canyon.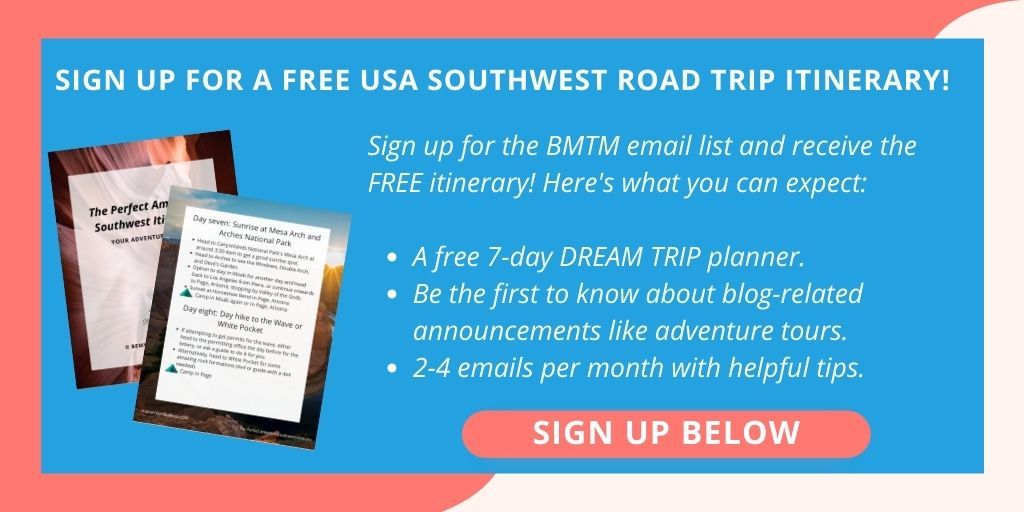 Should you do both? Well, to be brutally honest, neither experience was all that enjoyable. In both cases I felt like we were being herded through the canyon and sharing the experience with tons of other people. That's just how it is with something as beautiful and popular as these canyons. Both were absolutely beautiful, but both are very narrow and enclosed as well.
In the end I'm glad that I got to have the experience and the photo opportunity. These canyons are a bucket list item for good reason, but it's probably not something that I would repeat.
Tips for Page: The nice thing about this part of Arizona is you also have horseshoe bend nearby, which is perfect at sunset, as well as Lake Powell and White Pocket, the Wave, and Vermillion Cliffs National Monument.
The town itself is not particularly amazing, but I was able to find a free BLM campsite that was walking distance to Lake Powell and camped there overnight twice in my camper van, which was beautiful and peaceful.
For more, click on the link below for the entire 9-day Southwestern itinerary.