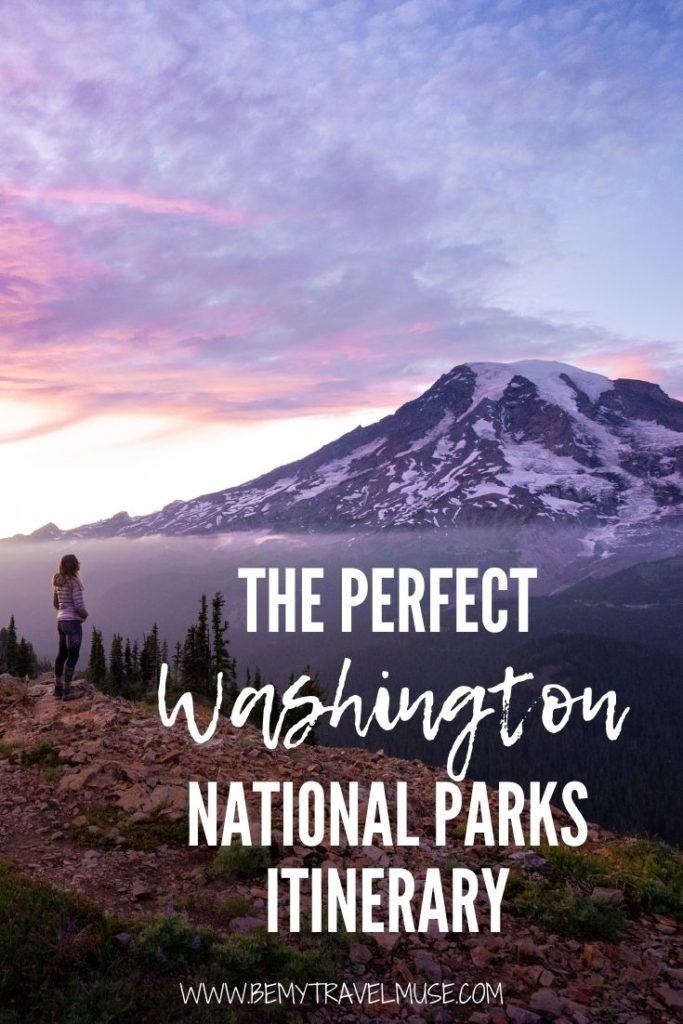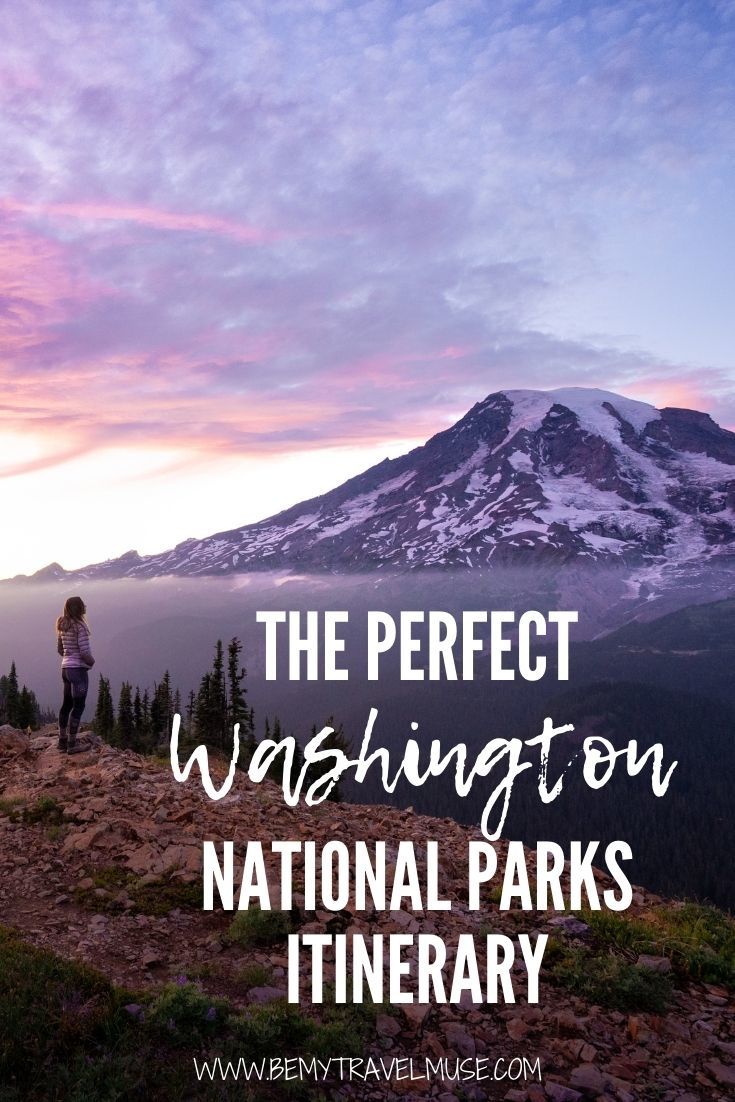 Welcome to Washington state, the kind of place where we're so spoiled for choice that any visit will result in multiple heartbreaking decisions.
OK yes, I'm being dramatic, but there are so many mountain trails to choose from, it would take months just to scratch the surface.
But most of us don't have months, we only have days!
I visited Washington at the end of August with one goal in mind: see as many of the national parks – Mount Rainier, Olympic, and North Cascades – as I could with only eight days.
Under a similar time crunch? Just want to see the best the state has to offer? I got you! This is one epic Washington national parks road trip itinerary:
➵ Rent a car in Mount Rainier National Park here
Mount Rainier National Park
Before we begin, it's worth noting that there is no real right or wrong order to do this national parks itinerary in. I played with moving around the order of each park and no matter what, it takes about the same amount of driving time (assuming you're flying into and out of Seattle). If you're squeezing this all into eight days like I did, it's a lot of time in the car, but the drives are gorgeous and we didn't mind them too much!
So with that said, feel free to move this around in any way that suits you.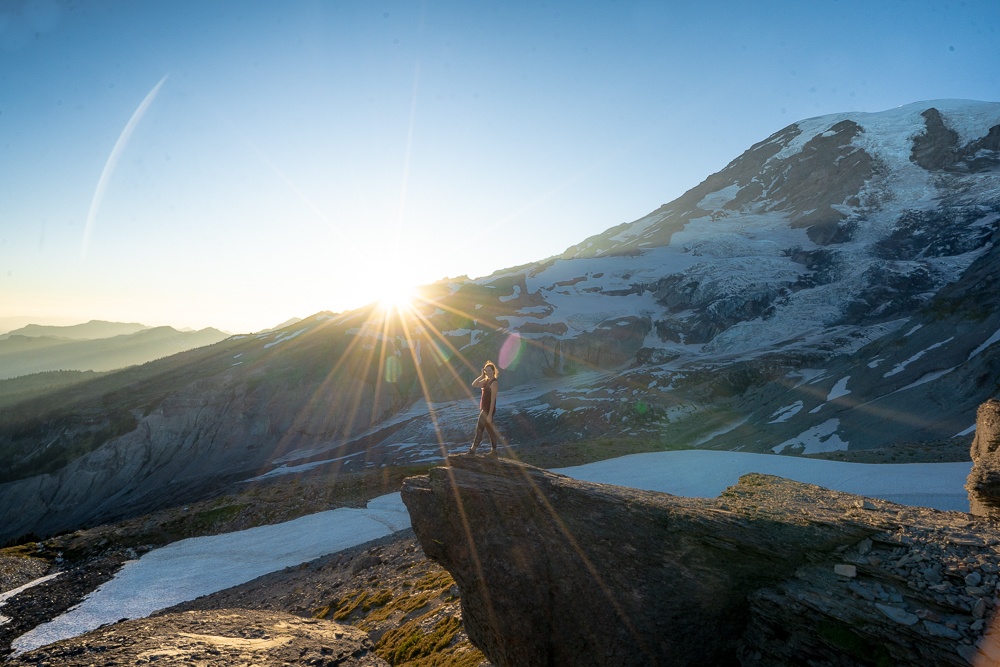 Proceeding in the order that I did it, this itinerary begins with Mount Rainier National Park's most famous hike, the Skyline Trail.
Mount Rainier can be visible from much of the state. It's a behemoth active volcano rising up at over 14,400 feet above sea level and dominating the skyline. I was enchanted by it.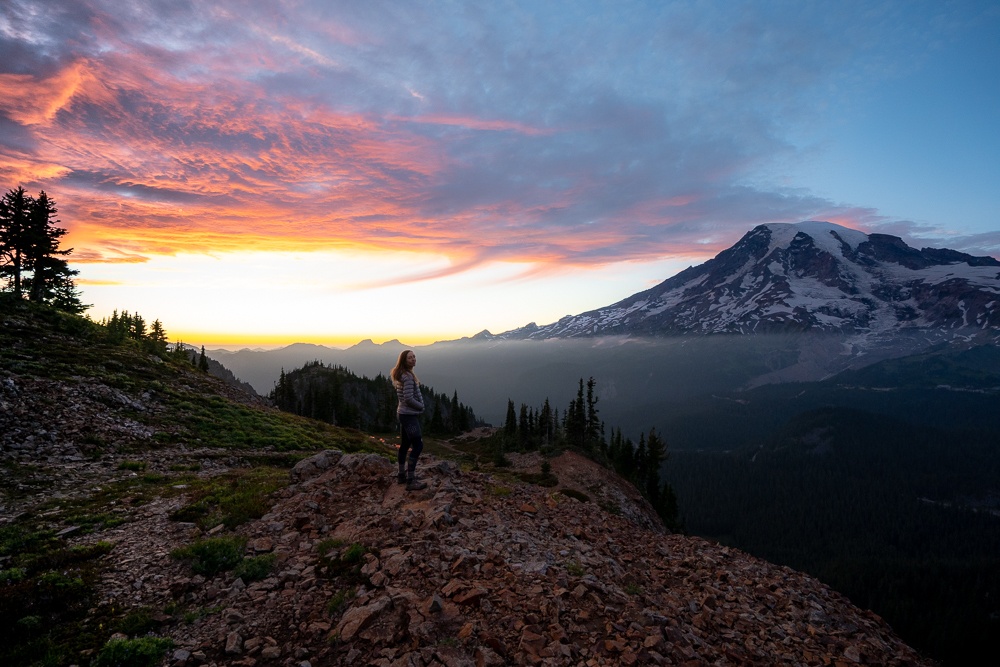 Skyline Trail, or any trail from the Paradise lot
Prepare for this to be pretty packed with people, as there are many different trails all embarking from the Paradise parking lot where the Skyline Trail is. My favorite thing to do in national parks is to go when other people don't go – right around sunrise and sunset. I did this hike at sunset and by then most people had already left, plus, that's when the lighting and the colors are at their most spectacular!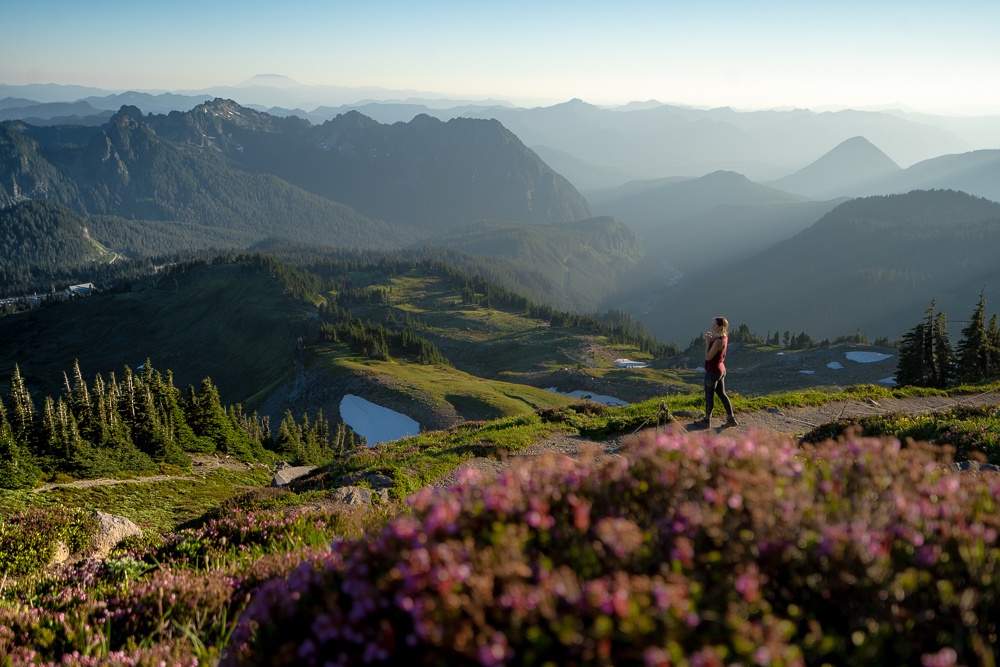 If you're not comfortable with hiking back down in the dark with a headlamp, just go a bit before sunset, it's still bound to be better than going midday.
Waterfalls + Lakes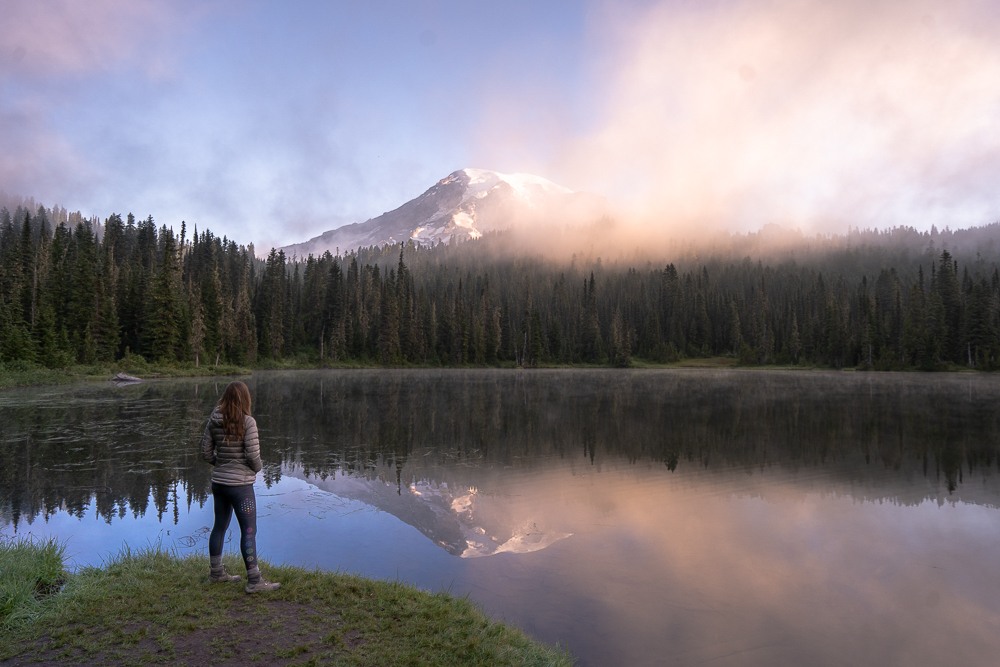 For some variety, be sure to check out Christine and Comet Falls as well as Reflection Lakes for an amazing reflection of Mount Rainier.
For my second evening in the park, I chose Pinnacle Peak, the 1.3 mile hike right across from Reflection Lakes. It's not as popular, and that's probably what made it so wonderful! The sunset was magical and there was only one other person up there to share it with. That was quite the contrast to the Skyline Trail, and a welcome one at that!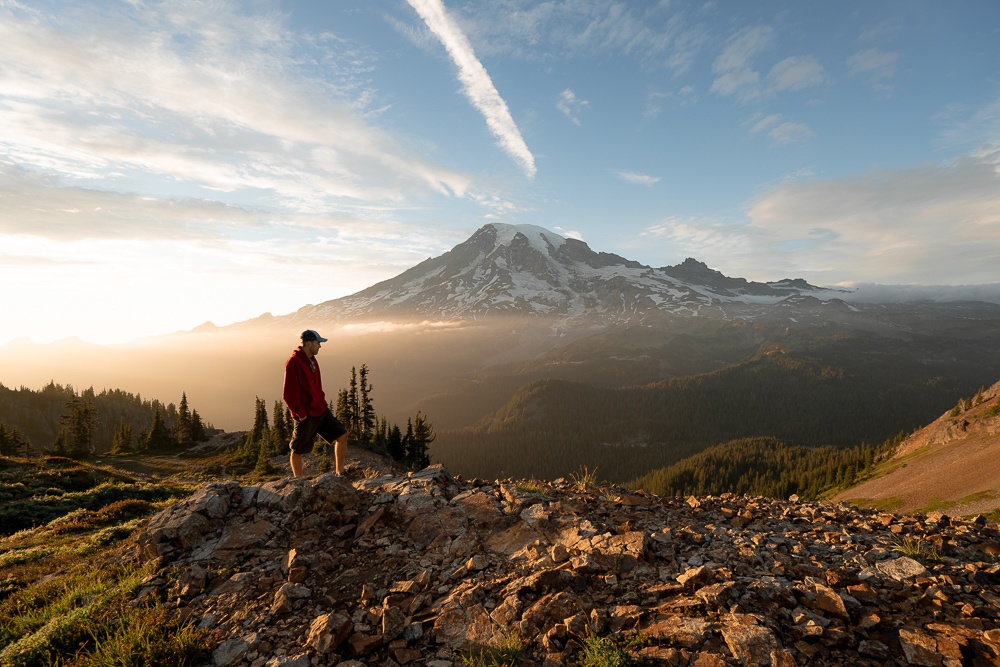 This is just one side of the park, with many options on the sunrise side as well. I go into detail on each of these hikes in my 48 hours in Mount Rainier National Park post. You can check it out here!
Stay: I stayed at the Alexander's Lodge (affiliate link) just outside of the southwestern park entrance. It's a 1910 historic home and while not the best place I've ever stayed, it was perfectly located for our adventures and suited us just fine. Plus the price was right!
Olympic National Park
Making your way to the coast, the Olympic National Park and National Forest region covers quite a lot of ground. In order to see most of the things on this list, it's best to make your way to Port Angeles or Sequim.
Beaches
From there, it's still about a 2-hour drive to what I would recommend for at least one sunset while in Olympic – Rialto, Ruby, or Second Beach. You'll pass by the gorgeous Lake Crescent on your way!
At the time that I went, Second Beach was closed so that made it an easy choice for Rialto Beach and Hole-In-The-Wall!
Tides matter here, and if you go at high tide like we did, that'll mean playing jungle gym on the downed trees on the shoreline to avoid the waves. I actually had a great time with that and recommend still going even if it's high tide.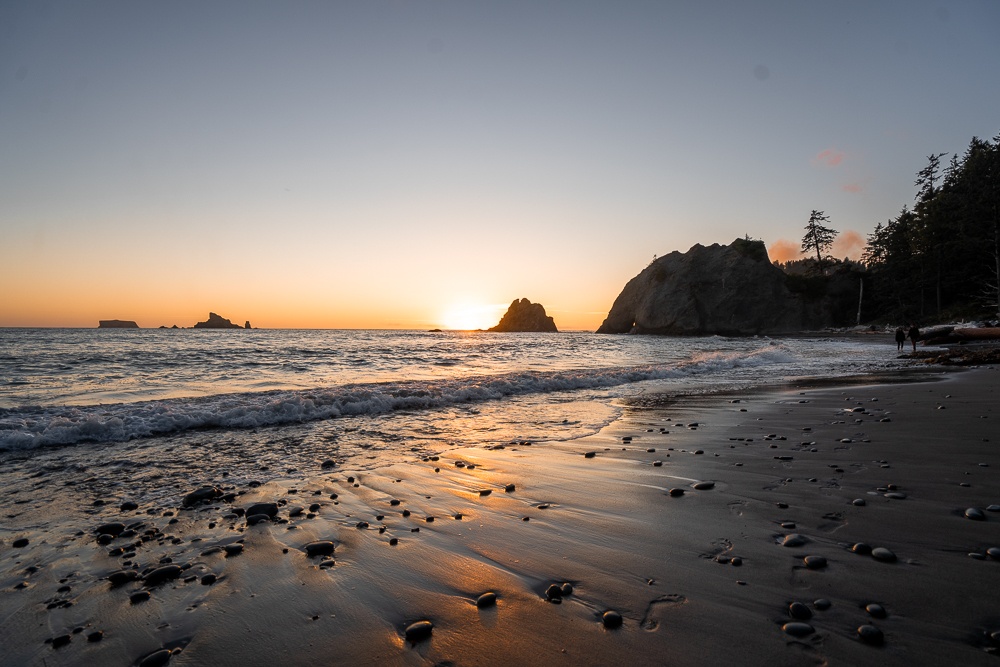 That did mean that we couldn't really see or walk through the Hole-In-The-Wall for sunset, but you can't be everywhere at the perfect time! You can check the tides here.
It's also possible to camp on the beach. You can reserve a permit here.
Hoh Rain Forest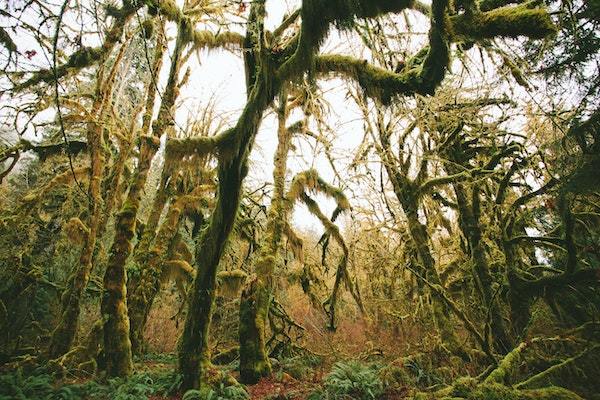 The Hoh Rain Forest is another famous spot in Olympic National Park, and one that I did not have time for unfortunately. However, many locals recommended it to me, so I'm sticking it here so that you can check it out if it strikes your fancy. There's also a campsite that you can reserve!
Hurricane Ridge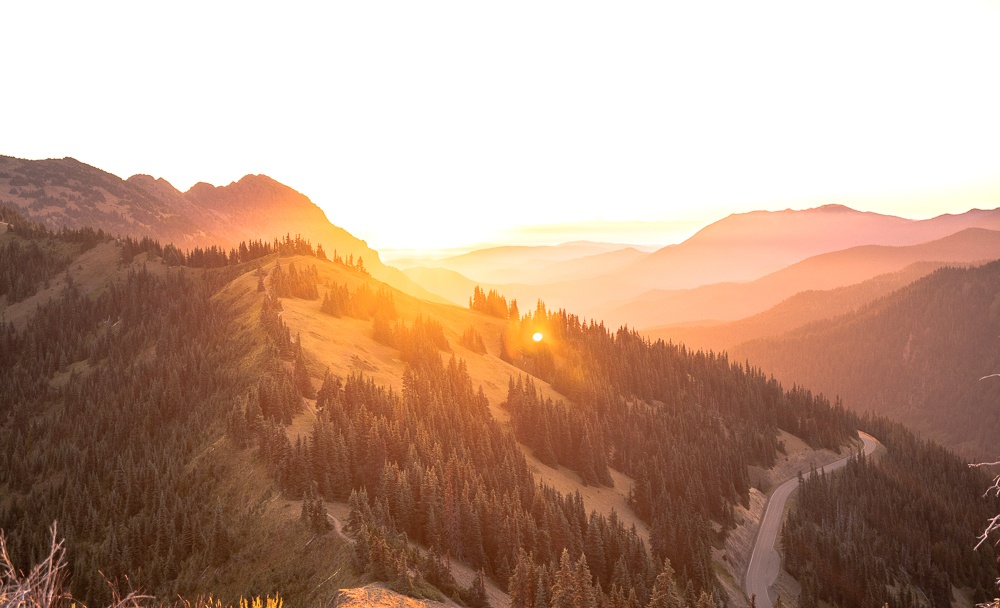 I decided to check out the sunrise ridge up in the mountains of the national park for sunrise. It's a pretty easy, quick walk to a gorgeous sunrise view. I recommend following it up with the 3 mile Hurricane Ridge – also paved and a pretty easy trail to some beautiful mountain views.
If you have a bit more time and want to take on a challenge, the Lake Angeles Trail brings you to a gorgeous blue lake that on a clear day, looks absolutely stunning. I had every intention of checking it out but with all of the sunrise and sunset wake ups and long days, decided to give it a skip in favor of some tougher hikes later on in the trip.
These are just a few out of many, many hiking options in the area, and just like the Rainier suggestions, could only give you a taste of the best the park has to offer. But since most of us are on limited time, these are the choices that I made and I was happy with.
From there it's about a 4-hour drive over to the North Cascades region, either taking a ferry (book ahead of time!) or driving back around Tacoma and up through Seattle.
Stay: Like in Rainier, I stayed in a pretty basic motel, the Olympic View Inn, near the park entrance in Sequim. It wasn't amazing but what did I care since I was spending my time outside?
North Cascades National Park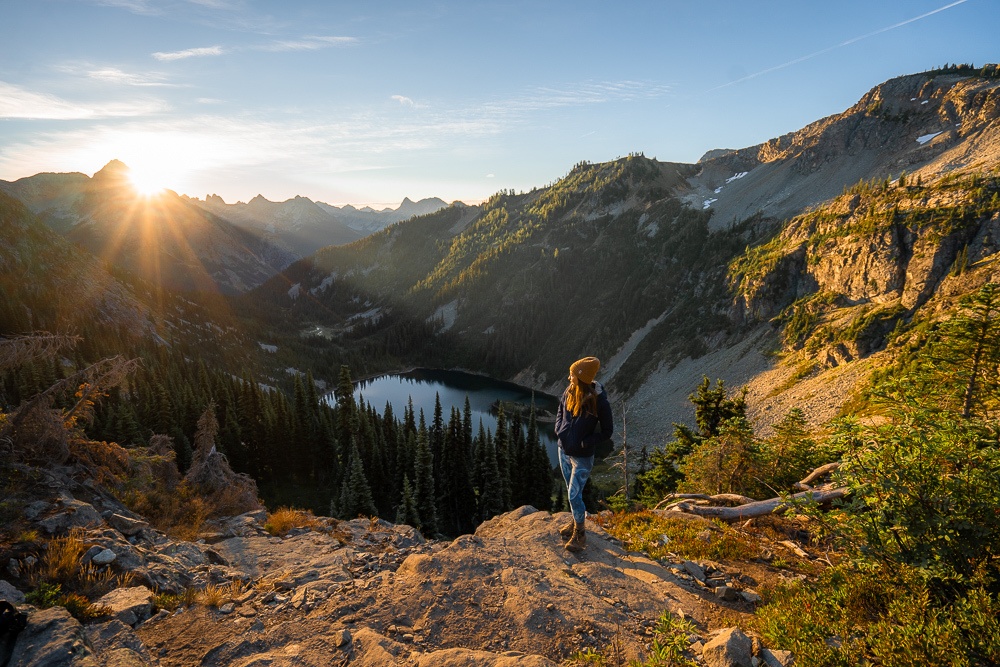 Unlike Mount Rainier and Olympic National Parks, North Cascades does not have as much development or major towns nearby. I learned that this one takes a bit more planning and if you can manage it, getting a spot at Newhalem Campground in the national park will put you a bit more centrally located.
If you can't swing that, you can do what we did and backcountry camp outside of the national park on the national forest lands, of course provided that you Leave No Trace. You can read more about my backpacking packing list and get my free The Outdoors 101 course here.
That said, I would do things a little differently now that I have more knowledge, and recommend the following:
The West Side: Picture Lake and Mount Shuksan Glacier
Start by stopping at Picture Lake for sunrise and/or doing the overnight hike to Lake Ann for Mount Shuksan Glacier views. This is not to be confused with Lake Ann down by Rainy Pass, which you can't camp on. (Which I did confuse for quite a while while doing my research, why oh why name two lakes the same thing?)
Diablo Lake + Pass Trails
From there, try to book a night in the Newhalem Campground and do the Cascade Pass Trail. This is probably the most popular trail in the national park, so keep that in mind with your timing.
The Sahale Arm is also a stunning part of the hike, and if you are able to get permits, backpacking and overnighting there is absolutely beautiful.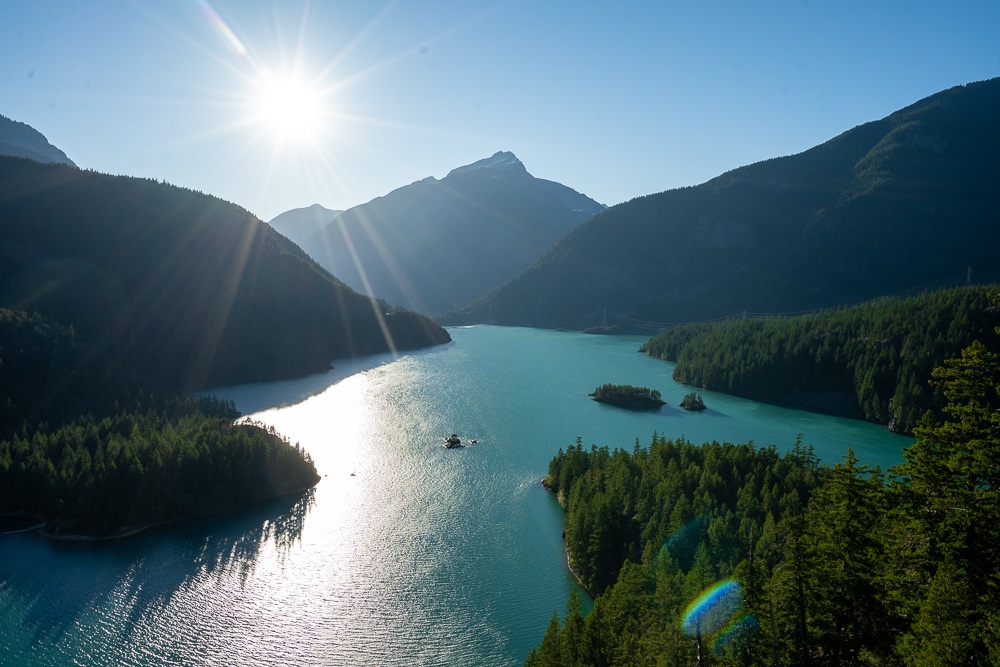 For a quicker, easier win you can also head to Diablo Lake for that minty green lake hue. There's a hike and also an overlook that you can just drive up to. Ross Lake is another popular area, though you'll need to boat in.
Instead of most of those options, I chose to hike the Maple Pass, which I can wholeheartedly recommend! It has its similarities to the Cascade Pass, but features a lovely lake view of Lake Ann — you know, the other Lake Ann — as well as incredible views of glacier capped mountains in the distance. The top of Maple Pass is especially impressive, with cascading, sweeping mountain views.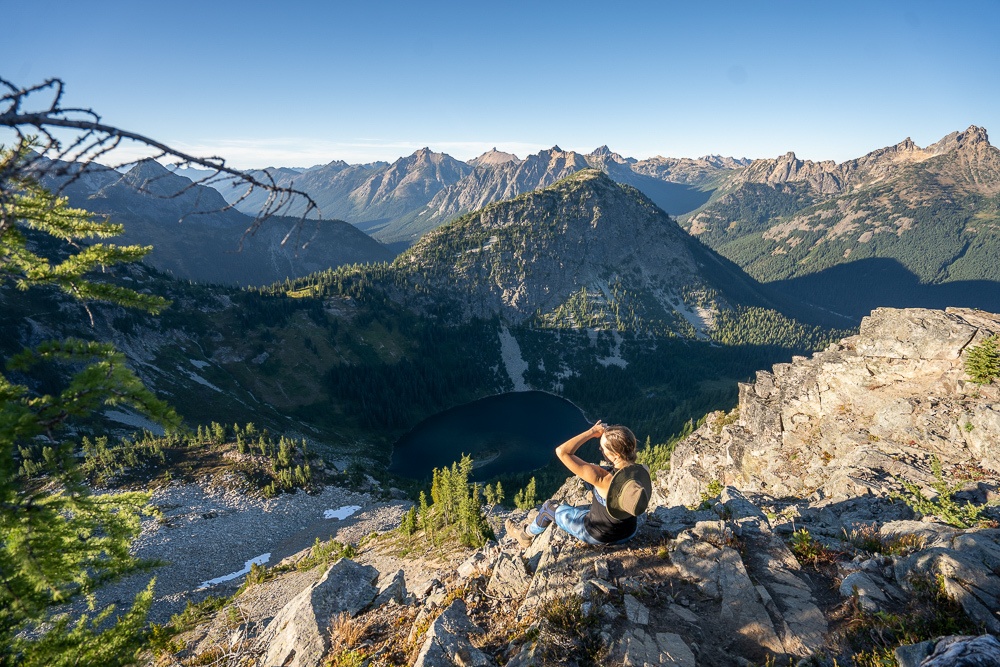 As with the other recommendations, there are many hikes you can choose from in North Cascades National Park. Many will require that you really work for it, gaining thousands of feet in elevation as you go. These are dramatic, quick-rising mountains. If you're used to national parks in other spots like California and Utah, you may be surprised at how much steeper the Washington hikes can be.
But they're always worth the effort!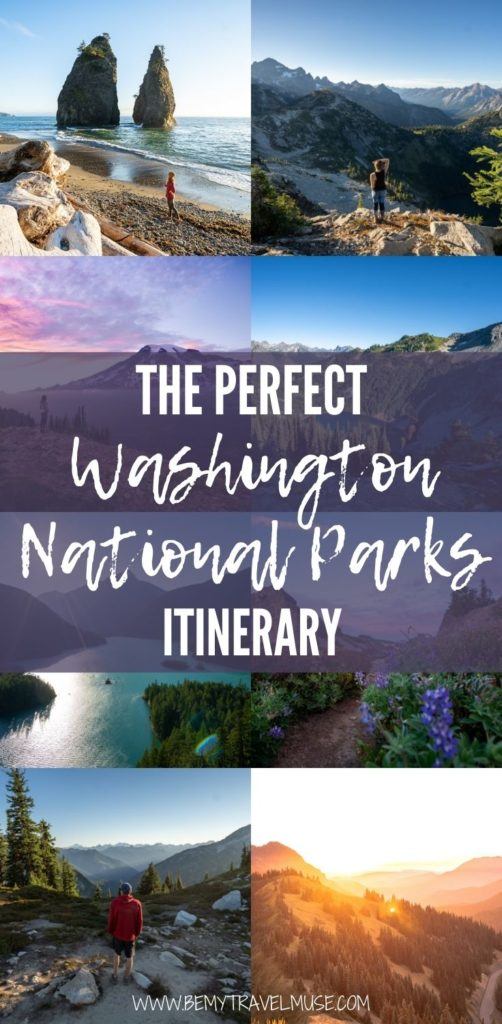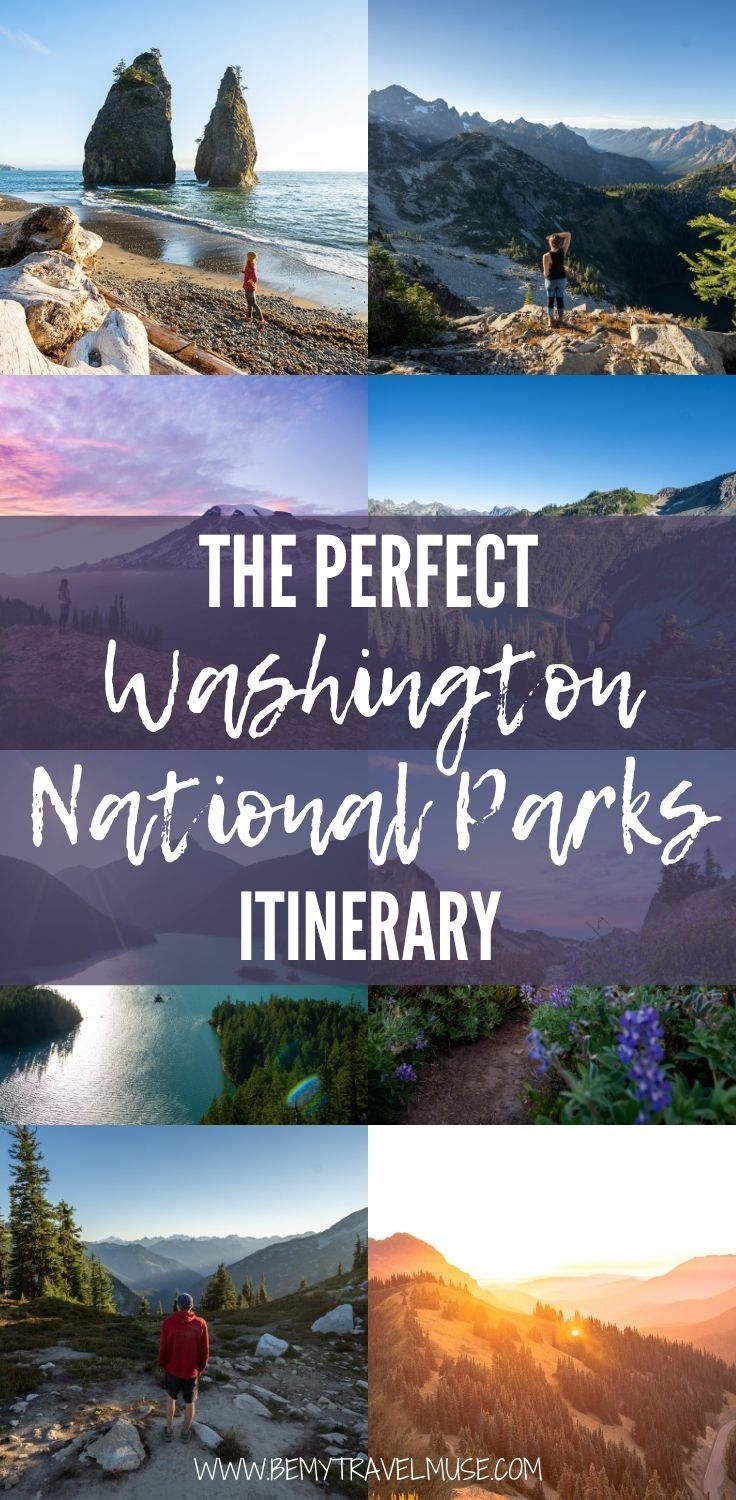 While these are some of the best spots to check out in the national parks, don't forget the national forests and abundance of mountains all over the eastern part of the state. Visiting only made me want to see more!
Washington is a truly beautiful state, and if you're anything like me, these national parks will only whet your PNW appetite.
Read Next: