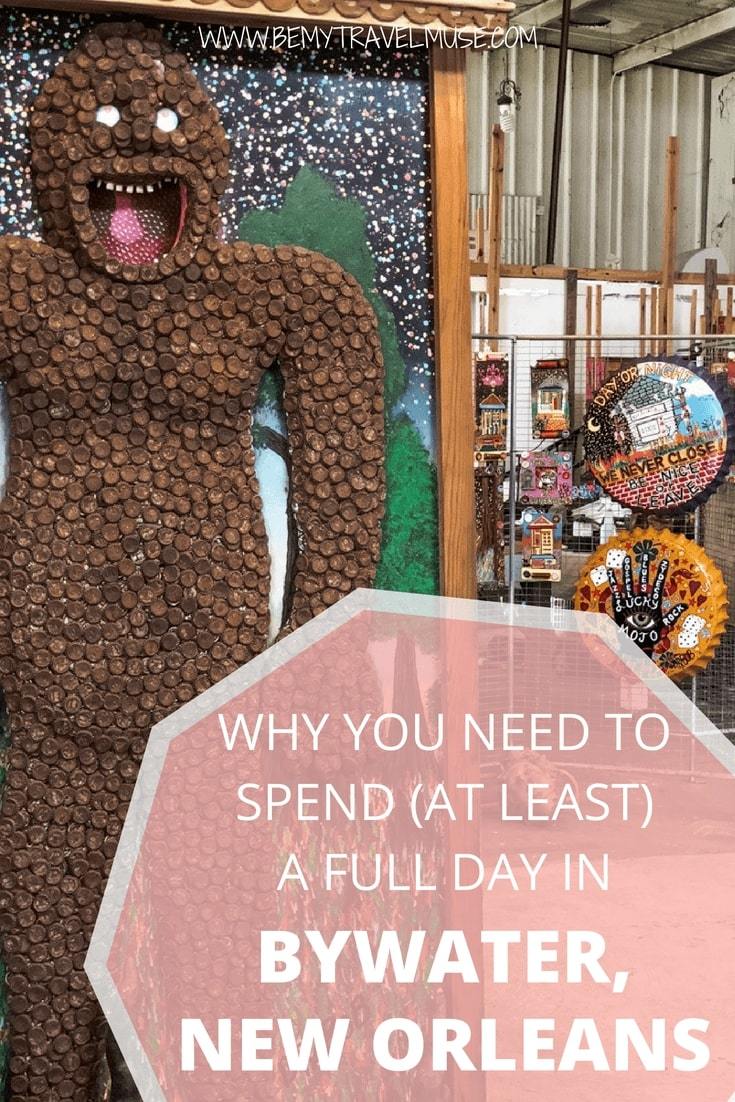 We need to talk about the Bywater neighborhood in New Orleans, you guys. The French quarter might be more famous but the Bywater is where it's at in terms of art, culture, and quirky things to discover.
It has the hipster elements that we all love from cities like Berlin or Oakland but with a Southern twist. So if you find yourself in New Orleans, you absolutely cannot miss the Bywater! Here are some of the best things to do:
Just Walk Around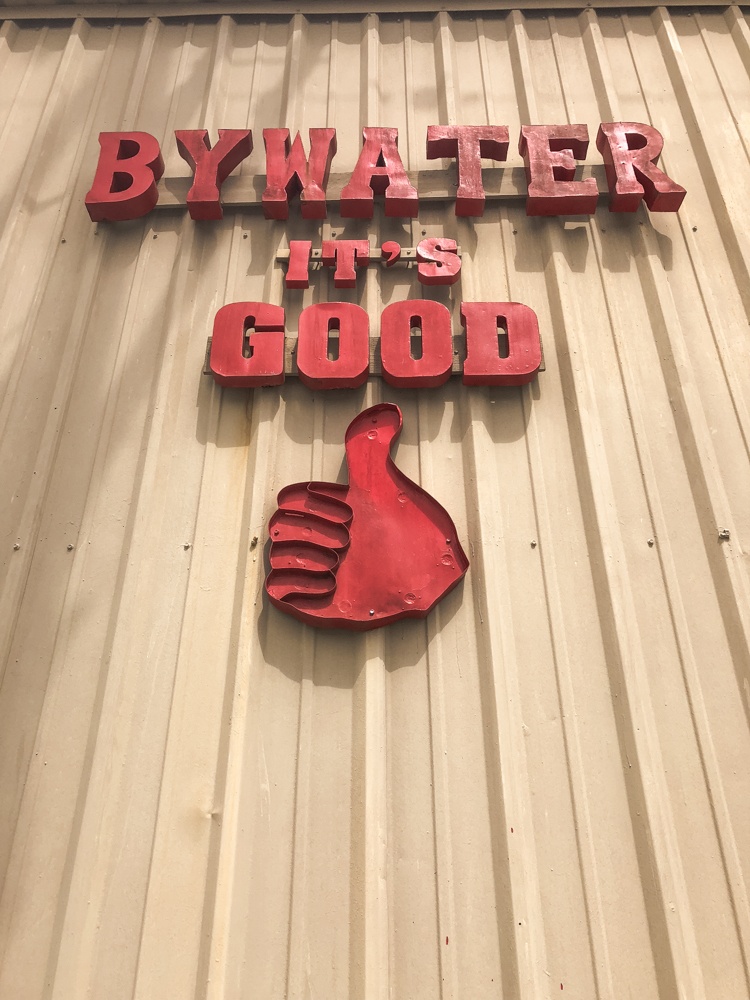 In contrast to the wrought iron patios and historic colors of the French quarter, I felt like I had walked into a little slice of Burning Man in the Bywater. The buildings are colorful, there's art everywhere in various forms, and a lot of political statements, too.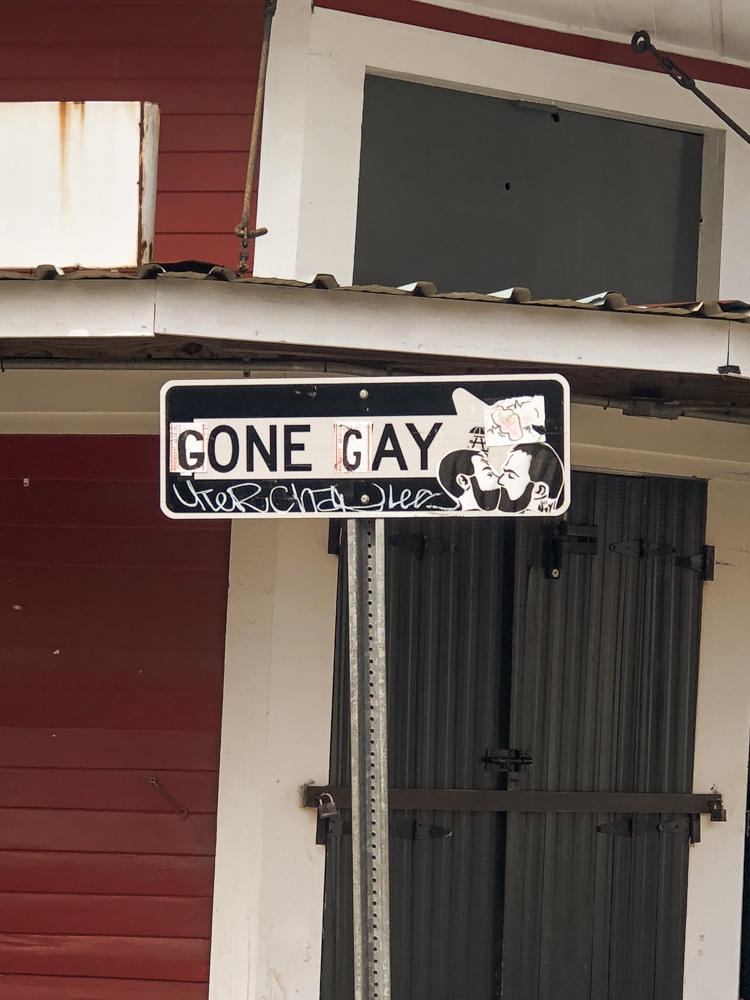 Now an artist's hub, the Bywater is a historic area once full of Creole cottages which morphed into an industrial neighborhood and according to one of my Lyft drivers, 'a rough' one at that. It was one of the hardest-hit districts during Hurricane Katrina, leaving behind an aftermath of flood-ravaged buildings that were mostly abandoned by residents who could not afford to rebuild. These buildings were then occupied by artists, and much like Berlin's former East, has become a topic of discussion on gentrification and displacement as this hipster neighborhood becomes too trendy for its own residents.
So leave time to just take a walk without any particular destination in mind to see what all the fuss is about, and slow down to notice the details.
Clouet Gardens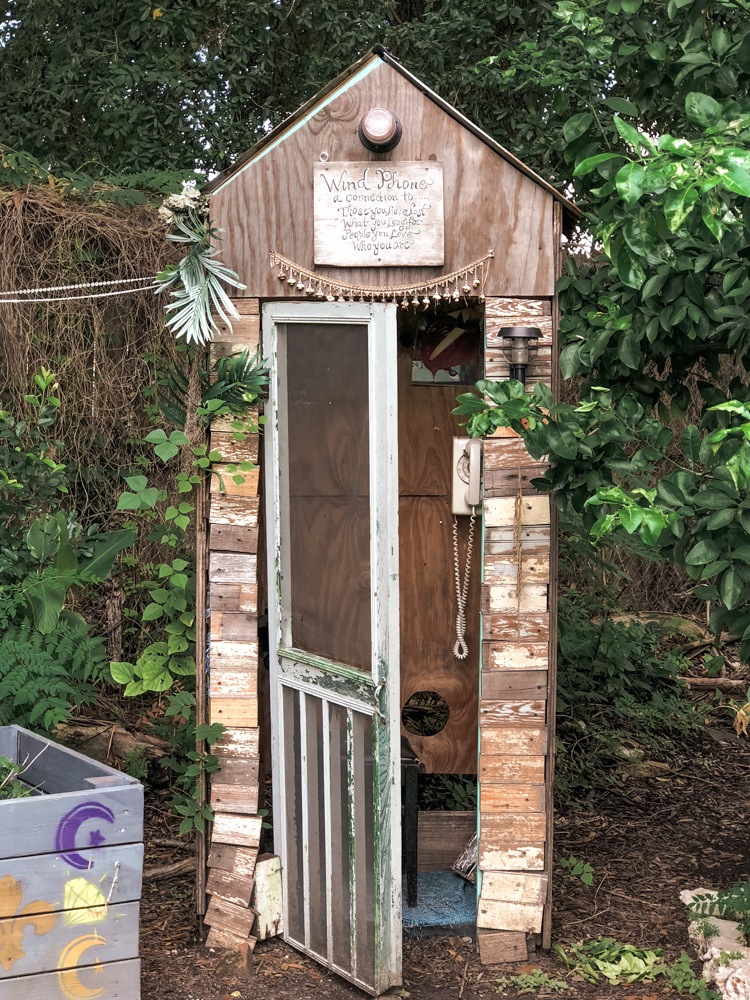 This place is so tiny you could blink and miss it, but it's a magical little park in the neighborhood that is so worth discovering. There's a phone booth that prompts you to talk to those whom you have lost, what you long for, and what you love, with beautiful words written inside. I don't want to ruin it for you so I'll just leave it at that. There's also a gorgeous mosaic with a tiny little centerpiece that says 'you are here'. I felt so calm and inspired.
There are also several chairs and benches, so if you BYO food, it would be the perfect spot for a picnic.
Dr. Bob Folk Art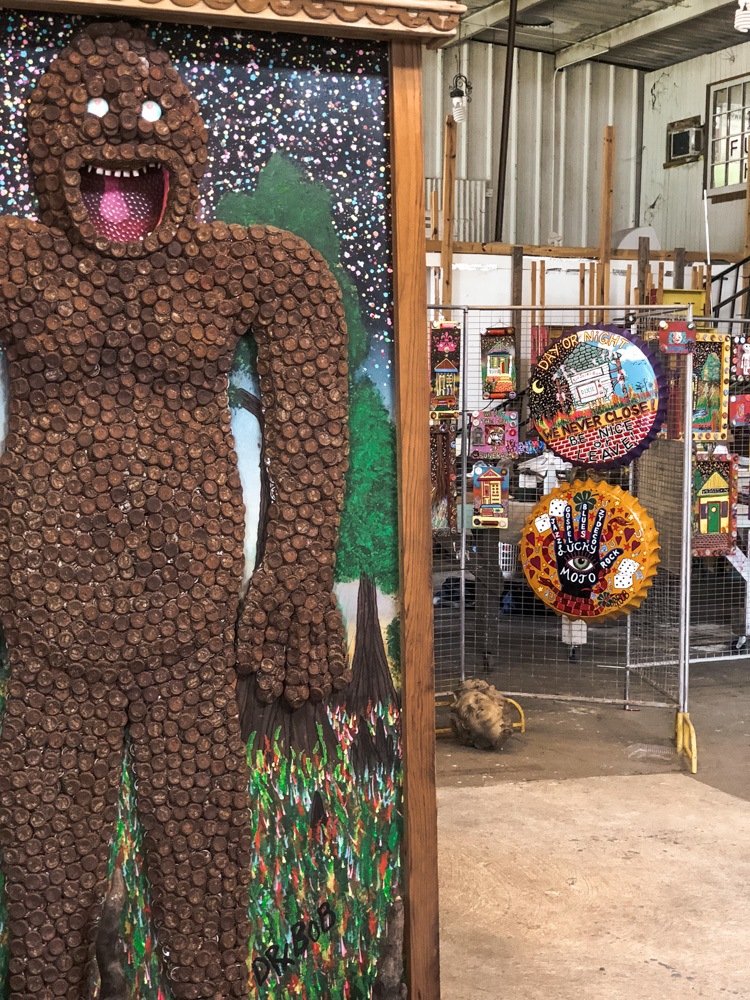 Talk about quirky! Dr. Bob's is all about the art. In some ways it reminded me of the gallery at East Jesus in Slab City with art pieces made out of scrap metal, wood, bottle caps, and even alligator teeth. The gentleman working there told me Bob has a 'whole bucket full,' which is, ya know, interesting?
What it appears Dr. Bob's is famous for is his 'be nice or leave' signs, which come in sizes small enough to buy and take home with you. Some of the larger art like the swamp dude pictured above is tempting, too. Talk about a conversation piece, no?
This is too delightfully strange to pass up. Do stop in while you're in the area, but don't forget to be nice!
Crescent Park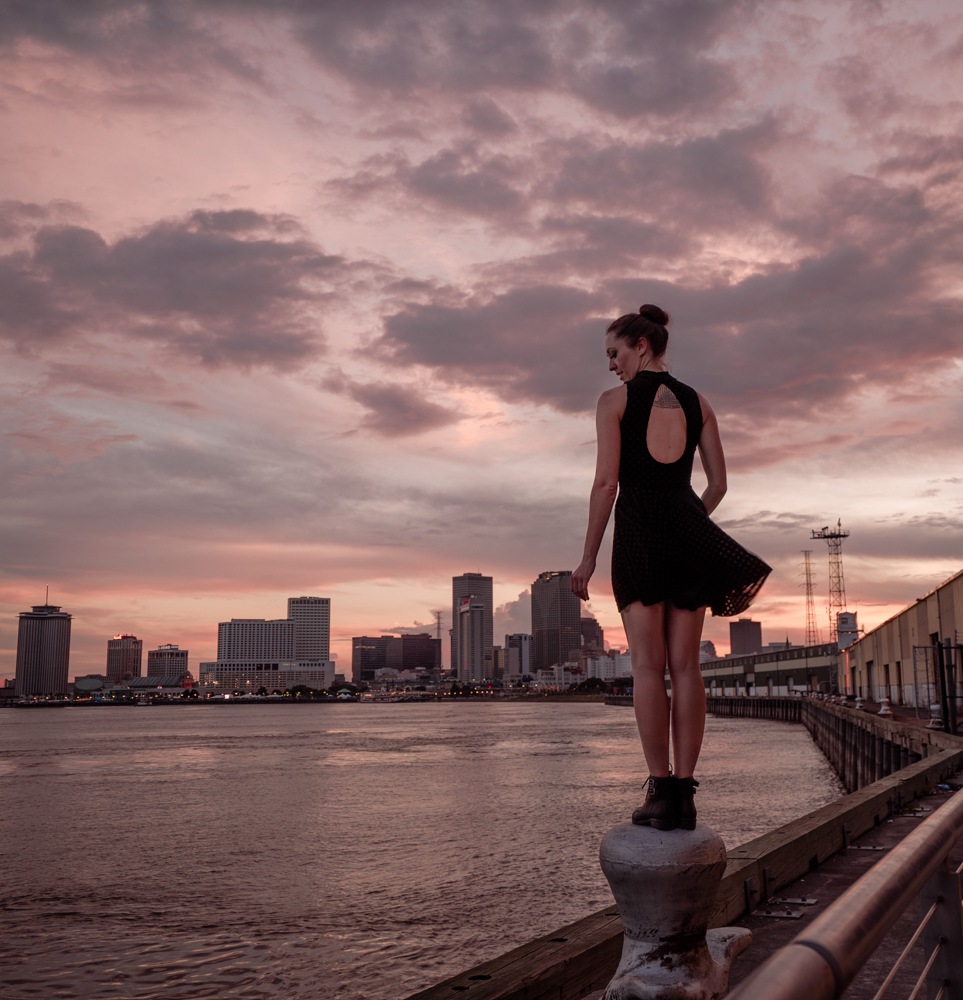 Cross the Rusty Rainbow, which is a set of stairs to take you to the park, for a nice view of the train tracks and the neighborhood from above. There are glass panels on either side for a funky photo op. Then descend down to one of the best sunset views of the city.
The New Orleans Healing Center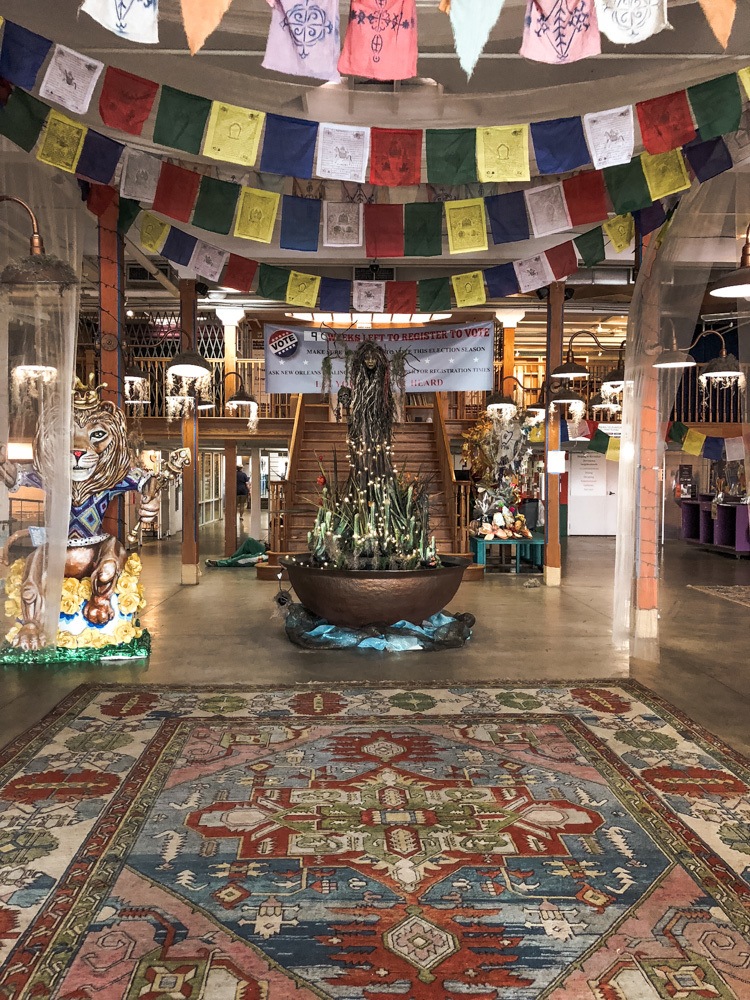 The best way to describe the healing center is as a community center with a physical therapist, gym, pet groomer, barber, and ornate art, religious, and cultural pieces.
While some of it is a nod to Voodoo culture, there are also Tibetan prayer flags strung up inside and other statement pieces all around. It's free to walk inside and conveniently located close to the next spot on this list.
Maypop Community Herb Shop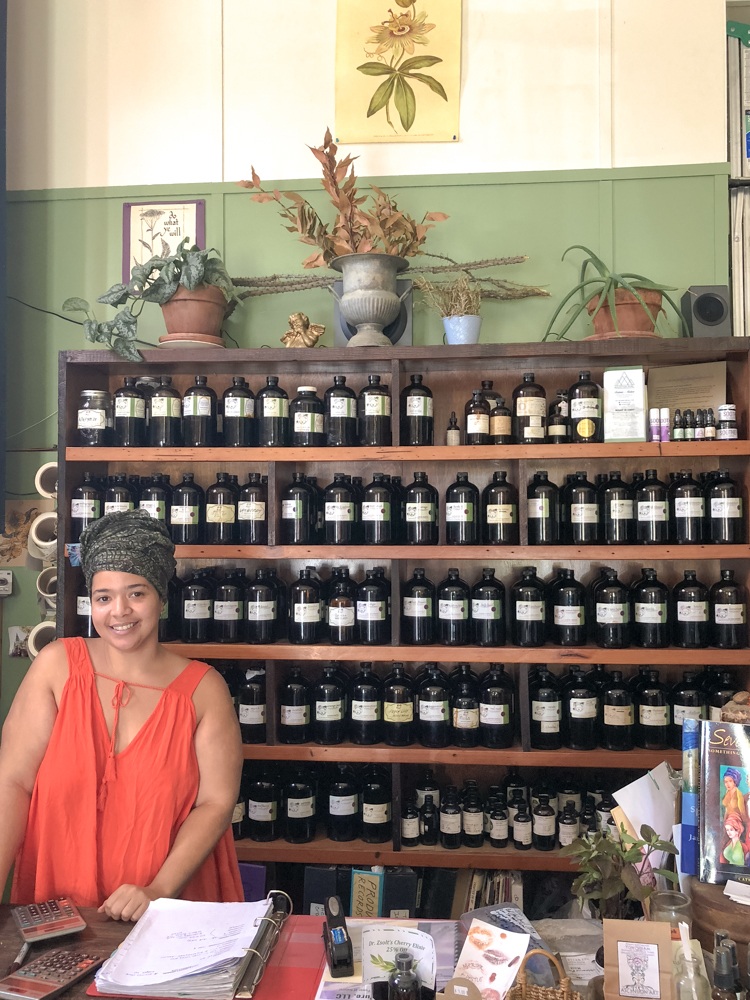 Upon walking into the Maypop Community Herb Shop you'll be hit with a delicious smell of herbs of all kinds mixing together in one calming aroma. The woman working there was warm, friendly, and helpful, especially considering that I basically walked in and said, 'I have no idea what I'm looking at can you help me?'
While the store does have essential oils and soaps, its main offering is herbs that one can create medicine with, as well as pre-made elixirs to treat a variety of ailments. Their mission is to provide attainable medicine to those who can't afford or would rather not use Western medicine. According to their website, they "believe that herbal medicine is and always has been the medicine of the people, and that people should have access to this knowledge."
The shop also offers classes and consultations for those, like me, who are complete newbs. Though I walked in without any real idea of what it would be, I now find the concept of herbal medicine quite intriguing.
The Music Box Village
The Music Box Village is a place to gather, explore, and play. You guys, I can't even tell you how bummed I was that it wasn't open to the public while I was there, as this live music venue is full of interactive musical art which visitors have described as 'magical'. In a nutshell, it's a contemporary art sculpture garden where each house is a musical instrument that you can interact with. Here's a listing of events so that you can make sure that if at all possible, you plan your trip to the Bywater around this place and the following being open.
Studio BE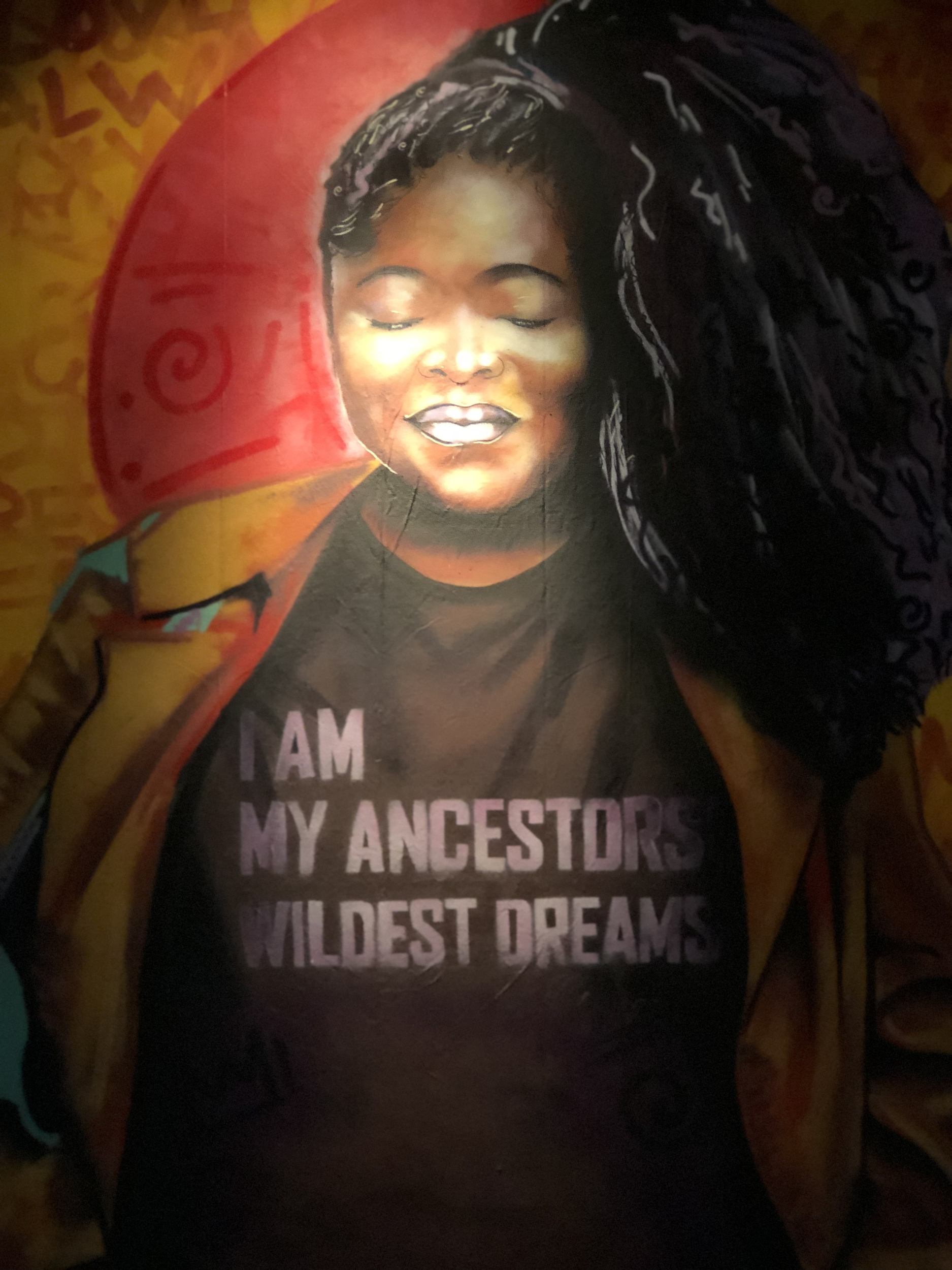 Studio BE is a 35,000 square-foot warehouse full of statement pieces created by local Brandan 'Bmike' Odums. To call this guy prolific would be an understatement.
The warehouse features large-scale art installations utilizing spray paint, a partial basketball court, and even pieces of furniture with paint on them, depicting the Black Lives Matter movement, historical moments in African-American history, and the Hurricane Katrina crisis. Walking through this studio, coupled with the history at the Whitney Plantation, caused me to take a much harder look at the treatment of people of color in the US. There are so many powerful statements made in Studio BE, and I believe it has the potential to make anyone who visits ask more questions and feel more passion for equality. You haven't seen the Bywater if you don't visit Studio BE. Admission is $10 with discounts for locals, educators, and students, and it's open Wednesdays to Saturdays from 2 PM 'til 8 PM.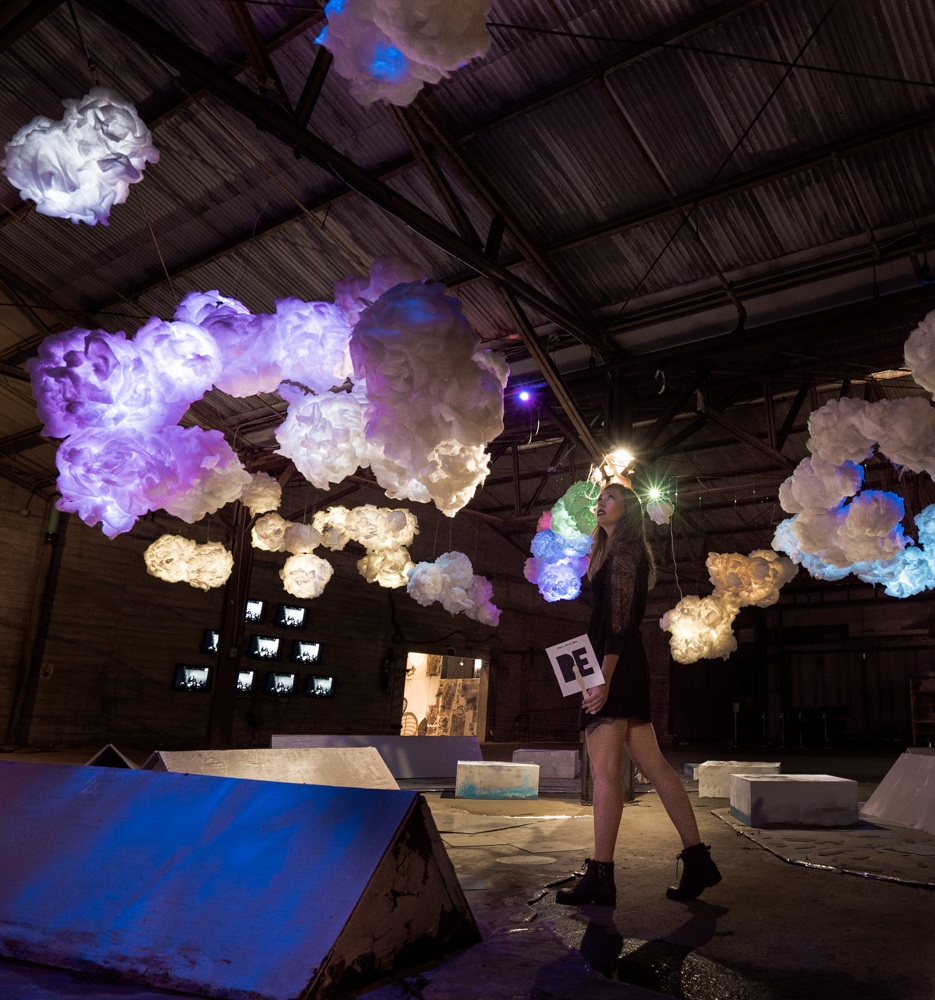 Frenchmen Street
For live jazz and blues music, Frenchmen Street is the place to be. In contrast to Bourbon Street, you'll find some locals out and about on Frenchmen, and there's live music every night of the week! Check this local website for the listings tonight.
Euclid Records
Though, I did not personally visit this one, for lovers of vinyl and music in general, Euclid Records is a quirky independent record shop with both new and used records, CDs, and every now and then, live music performances. It gets super high ratings on Yelp and TripAdvisor, so if you're into record stores, you're bound love this one.
Marigny Opera House
The opera house is a converted 1853 church that offers dance and musical performances. The building suffered greatly during and after Hurricane Katrina, and has been rebuilt keeping the original structure in mind. If an event falls during your visit, be sure to check it out!
Eat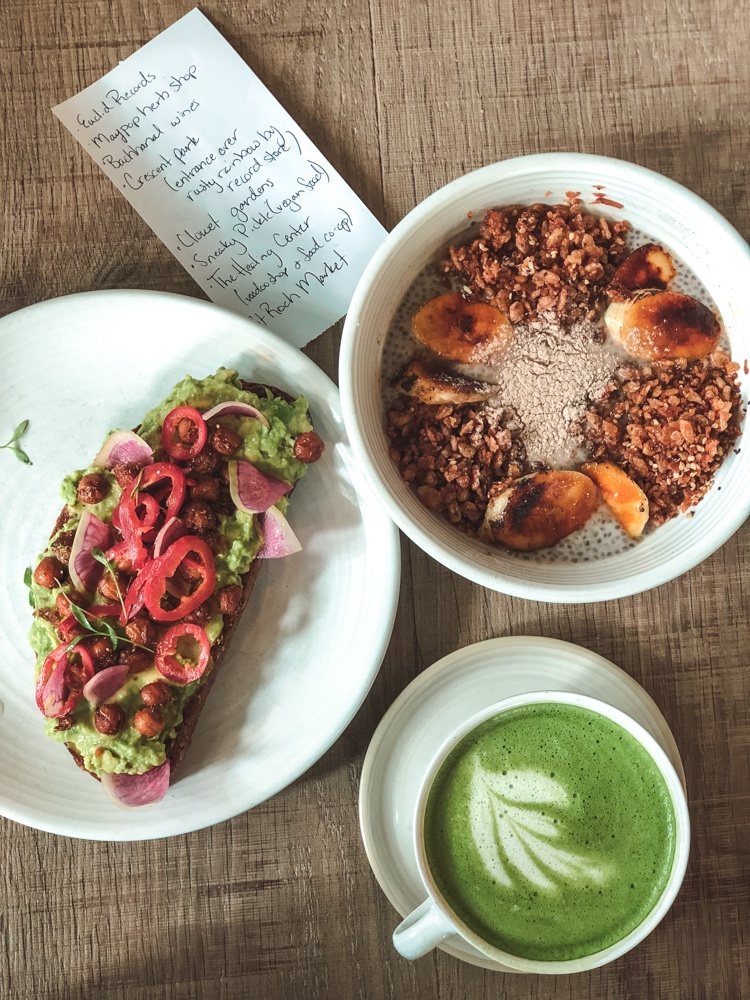 The Sneaky Pickle
This place sounds like a play on words for something, ahem, else, but their food is darn good. They have options for vegans and omnivores, so everyone's happy. The tempeh flat bread is a loosely interpreted tempeh of white bean, which confused me at first. However it quickly won me over with the lentils, quinoa, and magical creamy sauce. The vegan mac n cheese with peas and peppers was a nice main. I'd go back!
Paloma Café
Immediately upon walking in I liked the place with its laid back and friendly vibe. When I told the waiter I was visiting and exploring the Bywater that day he handed me the handwritten list of things to do pictured above. How cute is that? The avocado toast with crispy chickpeas is a nice mix of textures and flavors, and I loved the matcha latte with oat milk.
St. Roch Market
This long hallway of popup vendors had all kinds of comfort food, and a nice variety to boot. It's also located near the New Orleans Healing Center so if you get hungry during your exploration, it's a great option for a snack.
Bacchanal Wine
This is a self-described wine laboratory where food and music culture collude. The vibrant courtyard offers live jazz seven days a week, and everyone kept raving to me about their cheese plate and selection of hundreds of wines. This place was recommended to me multiple times but as a vegan who doesn't drink, it didn't seem like quite the right fit for me. However if you enjoy wine or cheese like most normal people, you'll probably love Bacchanal, so it seemed wrong to leave it out!
Getting around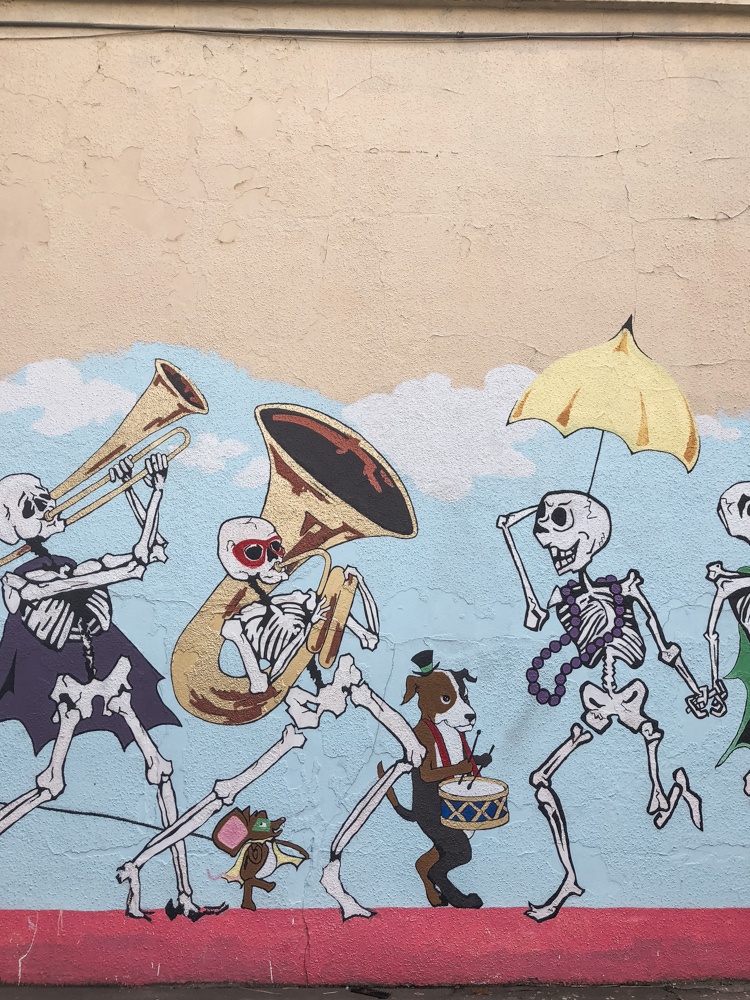 Getting around is cheap and easy in the Big Easy (couldn't resist the double easy, sorry). Once you get to the Bywater it's all walkable, and to get there you have several options:
Streetcar and bus: I took the bus when I visited the Bywater (the red line no. 5) and found it so easy I just used it all day – for only $3! It's pretty amazing that you can get all around the city all day long for so cheap, and get a chance to experience the iconic streetcar too. To buy a ticket, simply purchase onboard and let the driver know you want a day ticket. Exact change needed. You can also purchase online through the app.
Uber or Lyft: Both operate in New Orleans and were often my preferred mode of transport when walking or the bus didn't sound appealing.
For your reference, everything mentioned in this post is mapped out below. Happy exploring!
While those are some of my favorite things to experience in the Bywater District of New Orleans, I can only imagine how much this neighborhood changes from day to day with new murals, shops, galleries, and restaurants. I was so in love with what I found I can't wait to go back and see more as the neighborhood straddles the line between artsy and trendy.
So if you do visit New Orleans, give the Bywater at least a full day. It's too cool for school.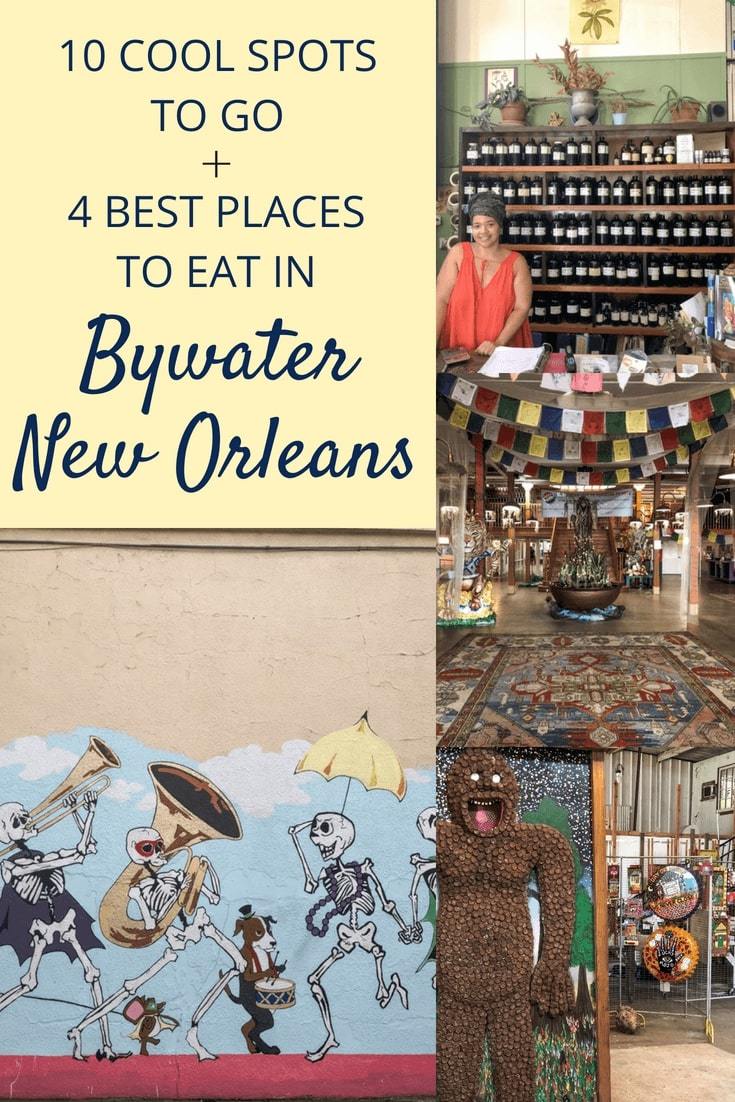 *This post was brought to you in collaboration with New Orleans & Company, however the Bywater itinerary was of my own choosing and reviews, as you could probably tell, are totally genuine as always.