Utah's landscape is as varied as it is colorful to describe. Shaped by waves and sediments, the rich colors and shapes are endlessly fascinating as they change from moment to moment.
The clouds turn red, reflecting the ground as they pass overhead. The rocks form into hat and mushroom shapes, and with a dusting of snow, it all turns even more magical.
Parts of Utah, such as Zion, Bryce Canyon, Arches, and the famed Mesa Arch in Canyonlands, are mega-popular, and it's almost impossible to get these amazing areas to yourself. However, the great thing about Utah is that the adventure potential is almost endless. There are equally impressive sights all over the state that are just begging to be explored — with almost nobody around.
My friend Kristen and I took her camper van out for a week in February and managed to go for days without seeing any other people in the natural wonders we visited. That's harder and harder to do these days and is one of the reasons why the American Southwest is so special: there are still plenty of wide-open spaces lacking a cell signal.
If you're looking for an off-the-beaten-path experience in Utah, here are some of the best:
1. Mystic Hot Springs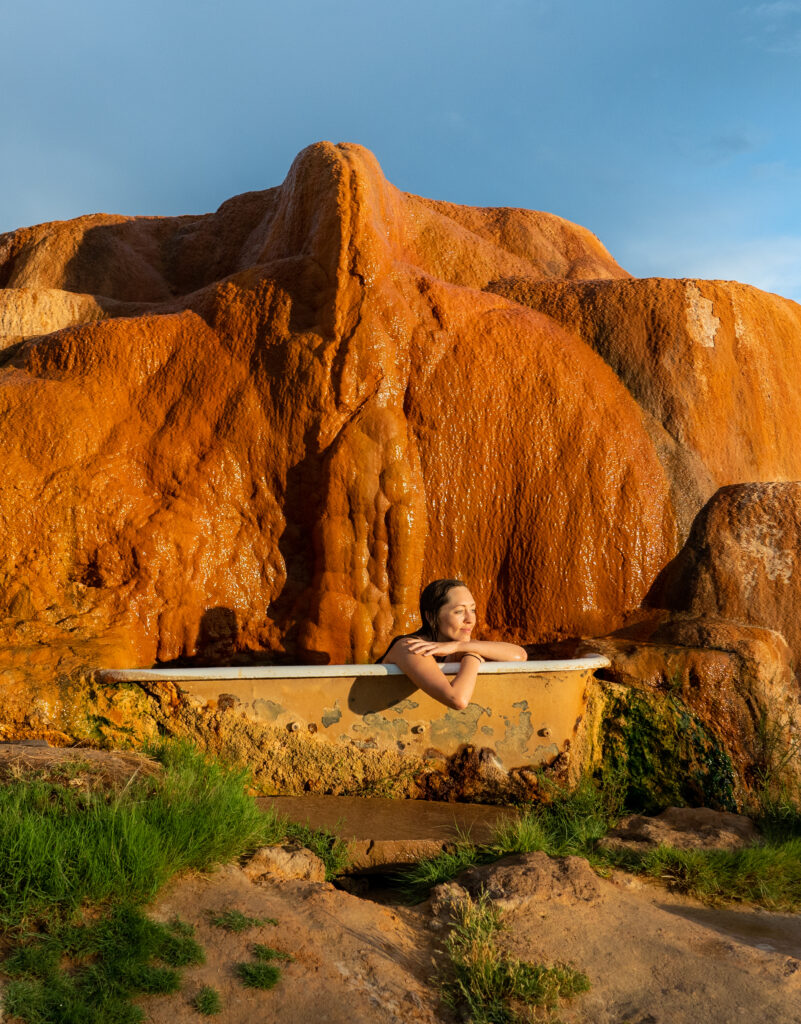 Spend a couple days soaking your sore muscles in the mineral-rich waters at Mystic Hot Springs. This unique spot is certainly off the beaten path, as there isn't much around it to see. This can be a huge plus if you want to find some peace and quiet.
Mystic Hot Springs is located in Monroe, in the middle of the desert. It has earned the nickname "the best hippie hot springs in the West" because of its counterculture vibe, which includes a thriving permaculture community, a holistic spa, and renovated buses that you can stay in.
Find everything you need to know to plan your stop at Mystic Hot Springs here.
2. Dead Horse Point State Park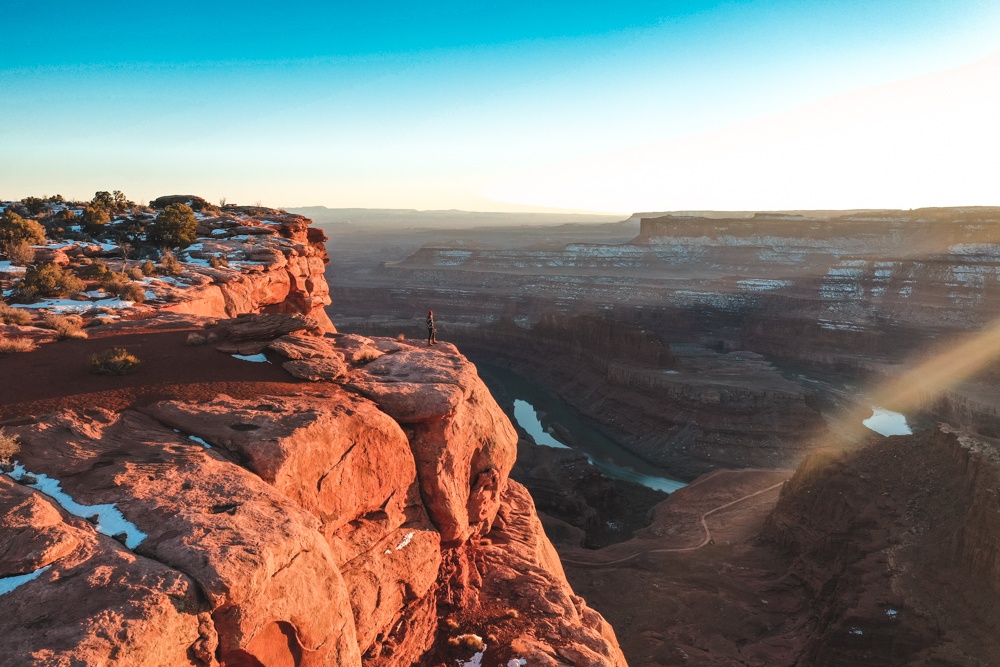 Sometimes the easiest way to avoid the crowds is to avoid the national parks. This can be done in Moab, Utah. The area is practically overflowing with rock arches, beautiful canyons, and impressive overlooks, and plenty of them are hidden and uncrowded. My personal favorite is Dead Horse Point at sunset. It's an easy, drive up to the view and is just as impressive as the Grand Canyon, if you ask me!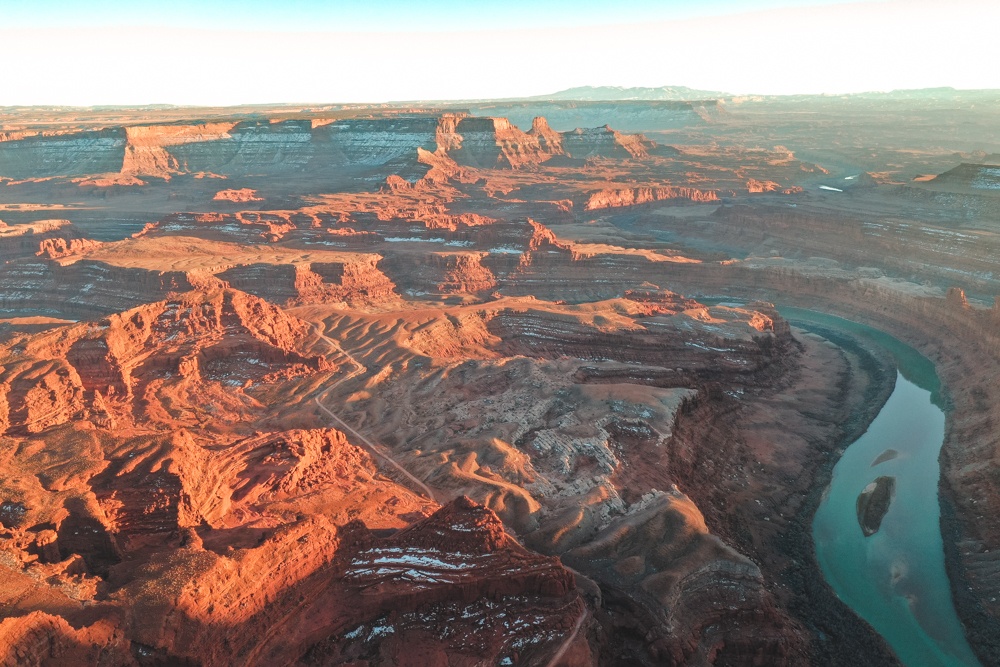 There are hiking trails in the park, which you can see in the photo above. It's also super close to Canyonlands National Park and practically across the street from Arches. The entrance fee is $15.
3. Corona Arch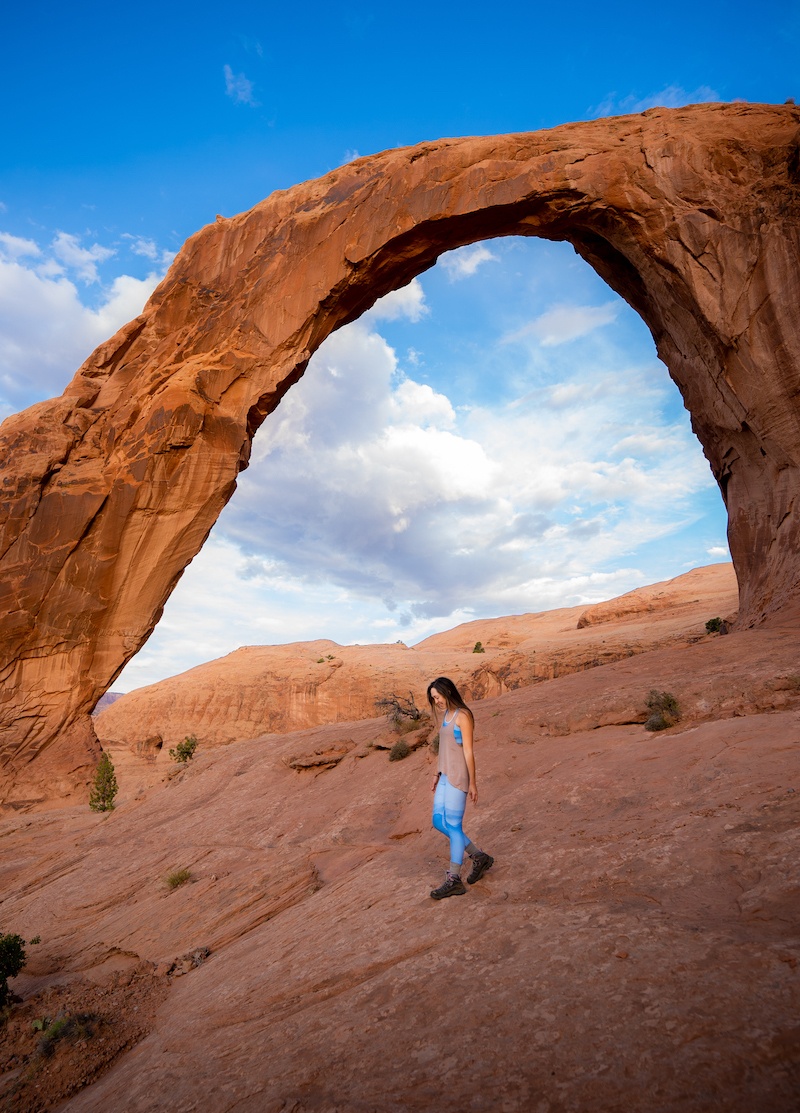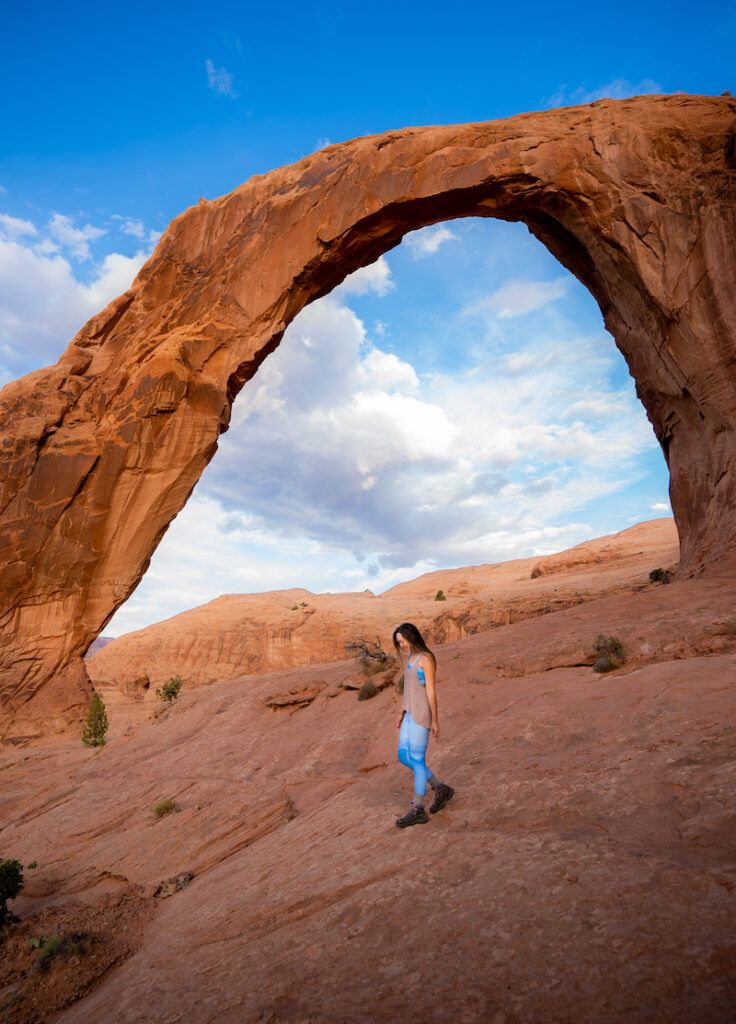 This arch is quite near Arches National Park but far less crowded. If you venture here for sunrise, you might even have the area to yourself. To get to Corona Arch, it's an easy three-mile round-trip hike, which will also take you past Bowtie Arch. The area has no shade, so go prepared for the direct sun.
4. Bonneville Salt Flats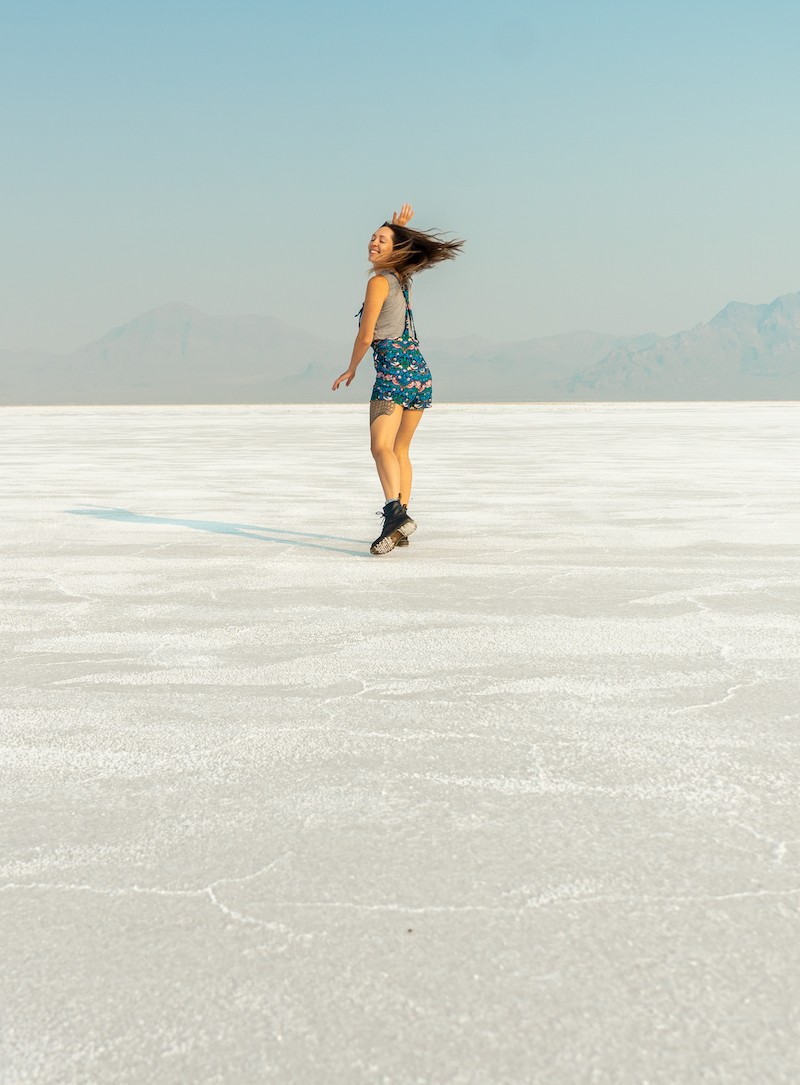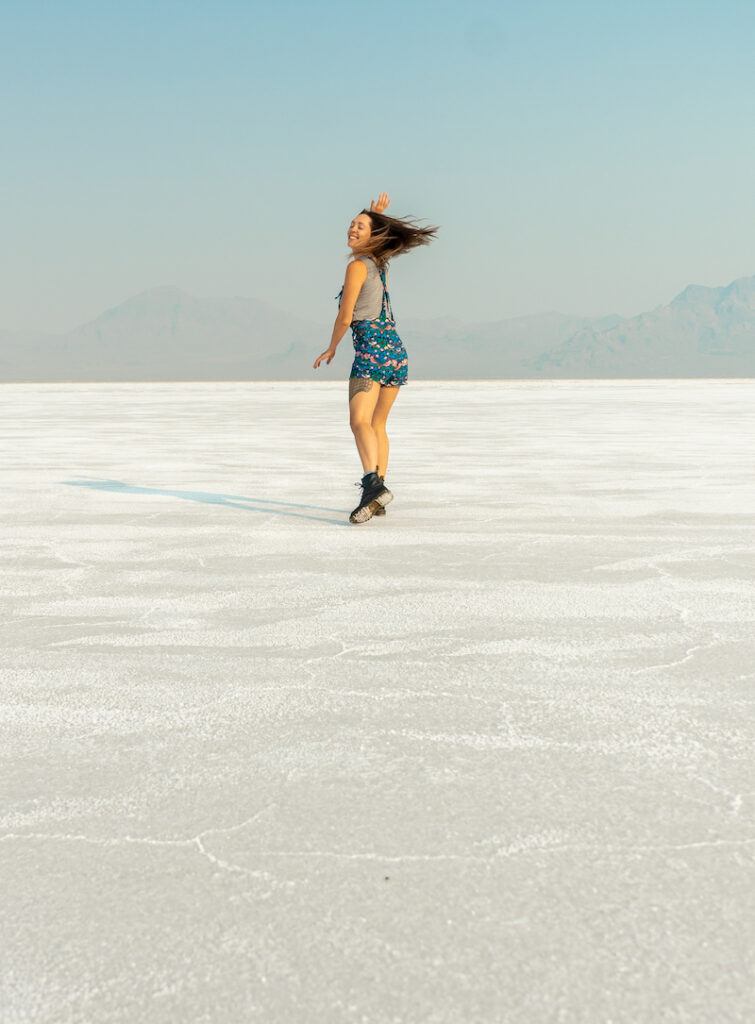 If your eyes are confused, wondering why there's snow on the ground, you're not alone! The Bonneville Salt Flats features a vast white landscape made of salt, which looks eerily similar to snow. The flats are not always dry enough to walk or drive on, so aim to visit during the summer months to get the full effect. You can camp nearby, but not on the salt flats themselves.
During the late summer, you might find cars racing on the Racetrack Playa. This is a good indication that the salt flats are dry enough to traverse. Otherwise, don't risk it.
5. Needles Overlook, Canyonlands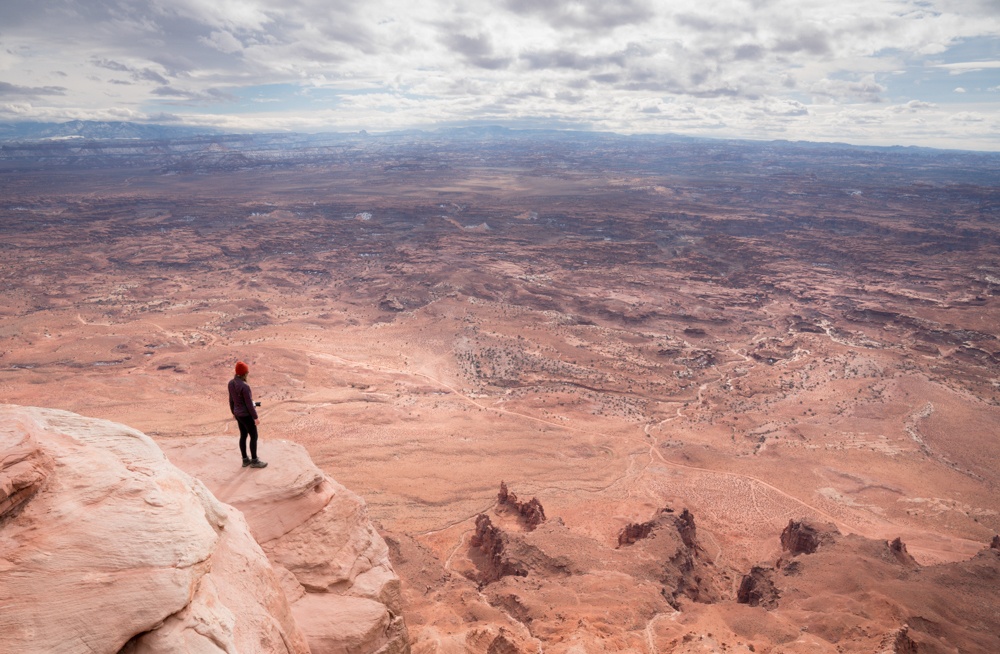 Canyonlands is a huge national park, and although it has some very crowded spots, like the Mesa Arch at sunrise, other parts are practically deserted. Heading south out of Moab, you'll pass by a road offshoot (linked in the map below) that takes you to the Needles Overlook (no hiking required). The drive itself is gorgeous, and the overlook at the end is a large area that allows you to see almost 360°. If you have the time, it's worth working in a stop here to see the incredible view.
The Needles area also offers several hiking trails of varying lengths and difficulty if you can invest the time, and weather permitting.
6. Bears Ears National Monument
This national monument started to appear in the headlines recently due to some conflict over whether it should remain protected land or not. This otherwise unheard-of part of Utah is worth stopping into if you love being able to view ancient cave drawings and ruins without having a barrier between you and history. We did not stop in here, however, but heard great things about some of the hikes. The visitor center is only open in the warmer months.
7. Valley of the Gods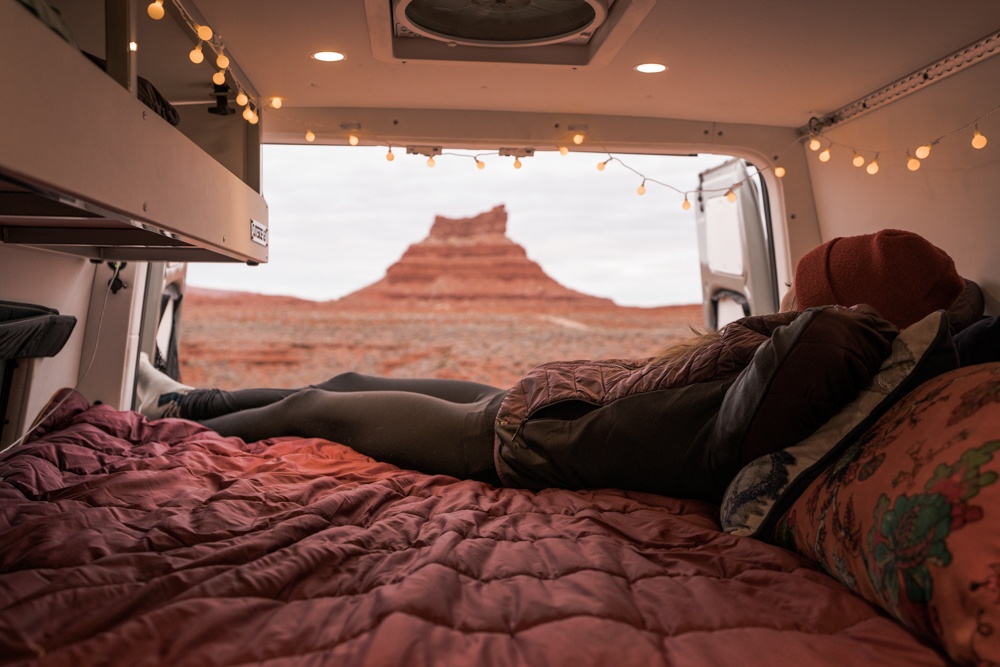 This blink-and-you'll-miss-it turnoff on the way south into Arizona is one of my favorite parts of Utah, because it's so beautiful and yet so uncrowded. The Valley of the Gods is Bureau of Land Management (BLM) land, meaning you can camp in any of the road pulloffs, provided you leave no trace.
The rocks in this area look like chimney stacks and sombreros. Though it's close to Monument Valley and has similar formations, this area is completely free and open to the public. Just be careful if there has been rain or heavy snow, as the road is dirt and can easily turn into mud.
8. Goosenecks State Park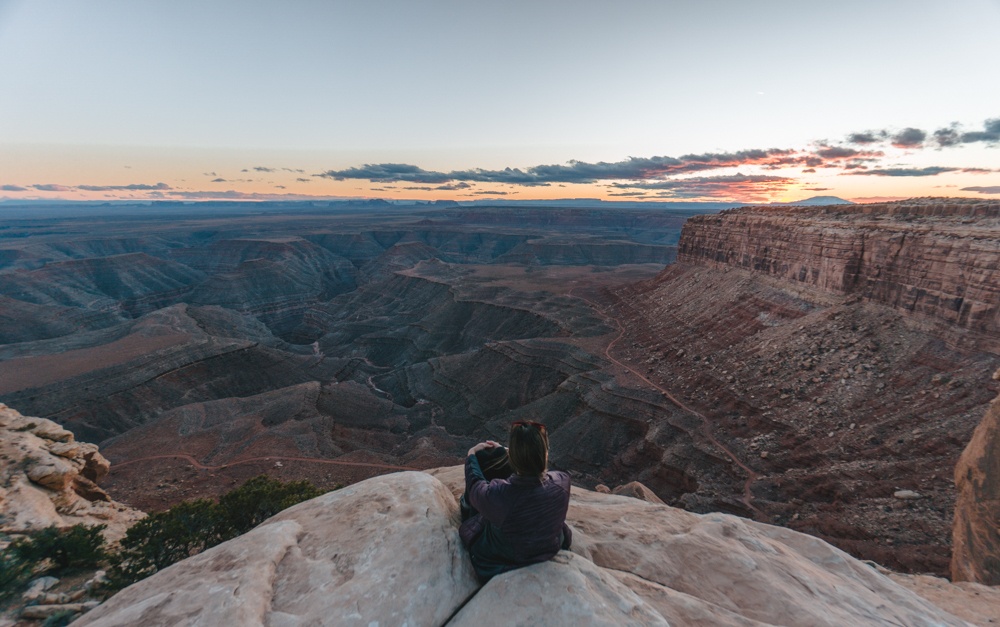 When you get to the end of the road in the Valley of the Gods, take a right toward Goosenecks State Park for an overlook onto the Colorado River weaving through the canyon as far as the eye can see.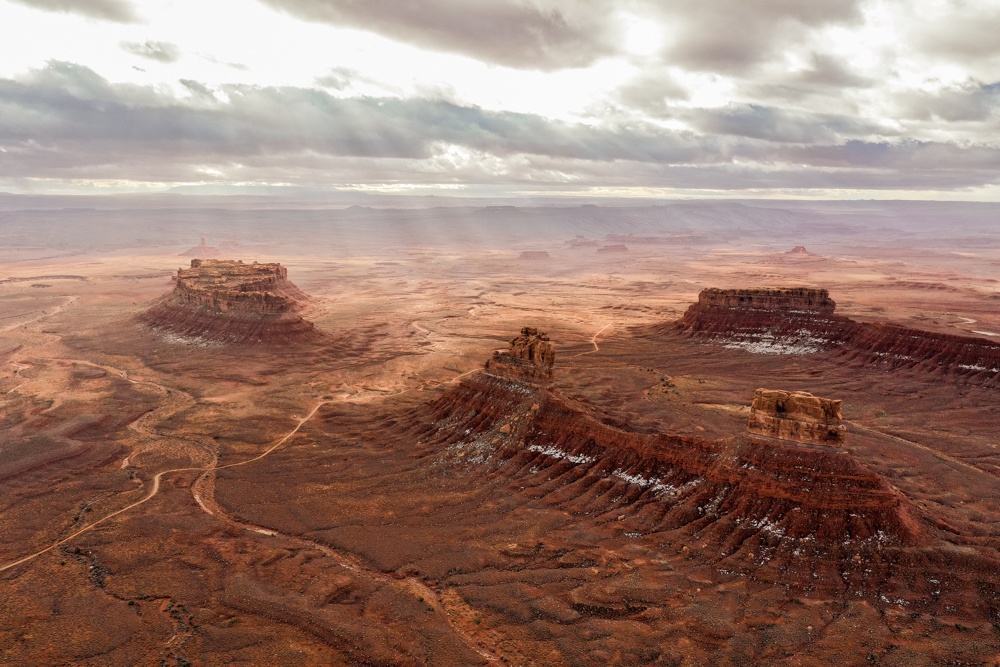 If you continue to head north from there, you'll wind your way up a steep, gravel canyon wall, which is an incredible drive for the views, though not ideal if in an RV or if it's dumping rain or snow. There's some awesome BLM camping at the top, too. I considered linking to where we camped here, but I feel that takes so much of the fun and discovery out of finding your own campsite, which was half the fun for Kristen and me.
9. Natural Bridges National Monument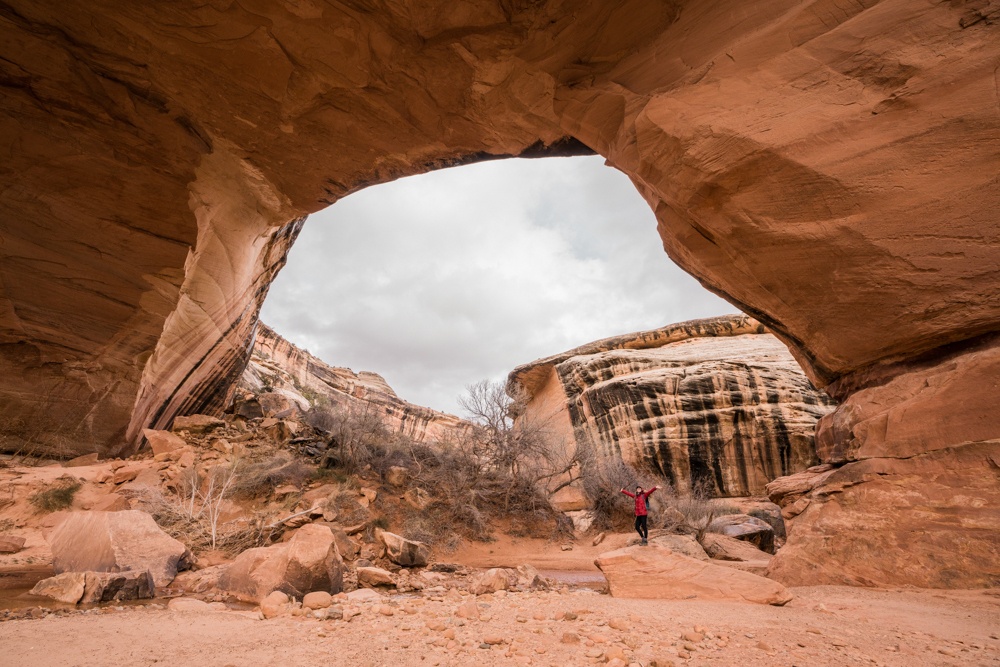 Another under-the-radar and relatively small area, this national monument has three major bridges that can each be done as an out-and-back hike or in a loop, to see all three. Each hike has steps down to its respective bridge — which would be totally fine in the summer, but when I went in the winter, parts of it were icy. Bring along spikes for your shoes if attempting this in the winter months. Be sure to stop by the visitor center to inquire about the conditions of the trails as well.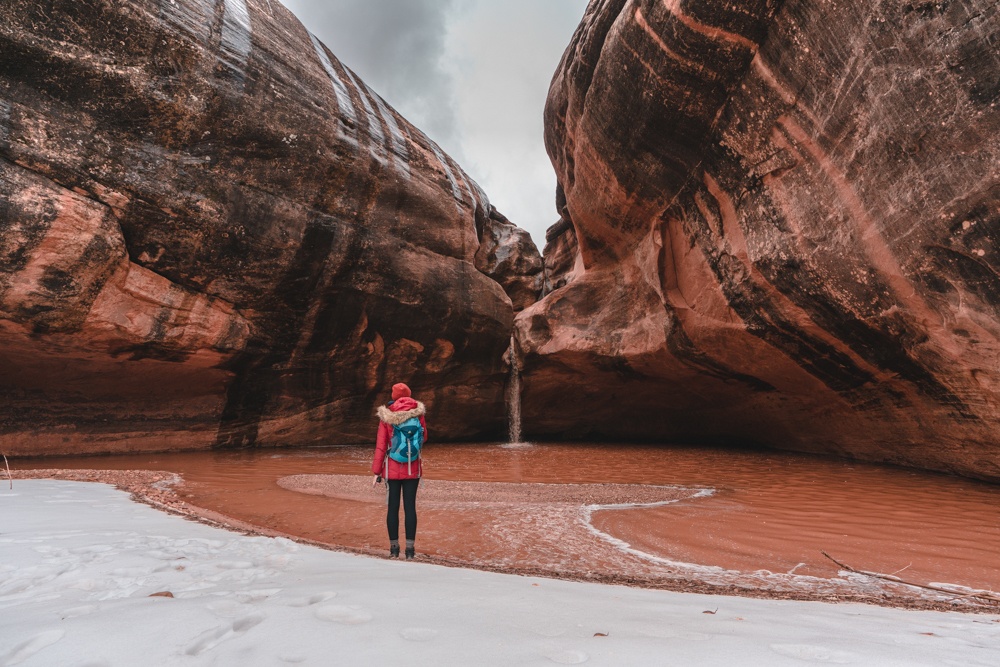 In the winter months, the trail to Sipapu Bridge can get icy, since it's is mostly in the shade. However, Kachina was more accessible and brought us to a waterfall as well. When the trail is less icy, the entire loop would be incredible.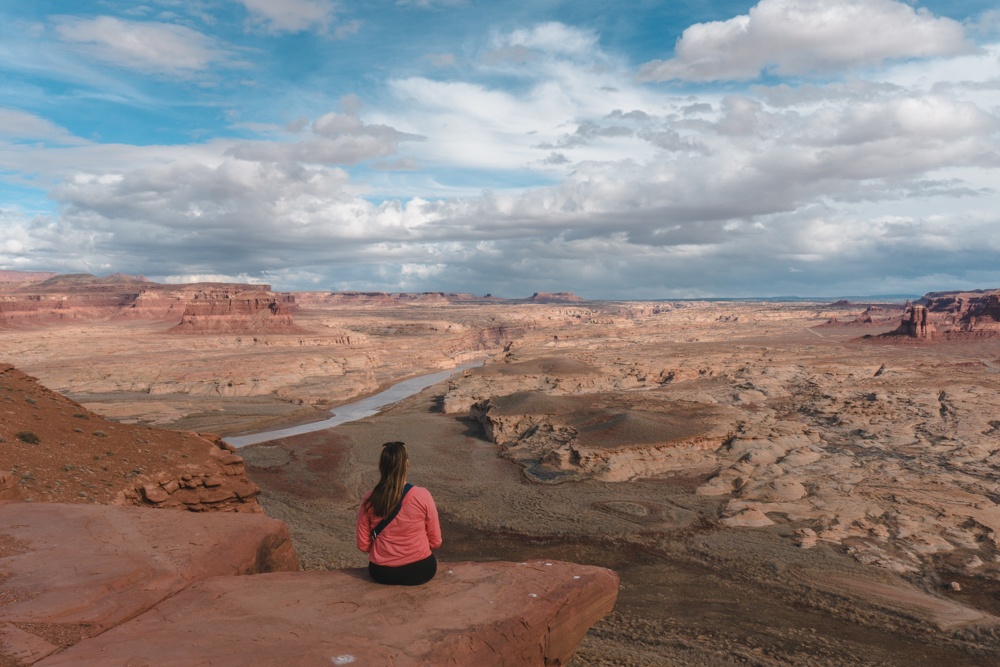 From there it's a gorgeous drive that you won't be sharing with many people at all through the northeast end of Glen Canyon through Hite.
10. Goblin Valley State Park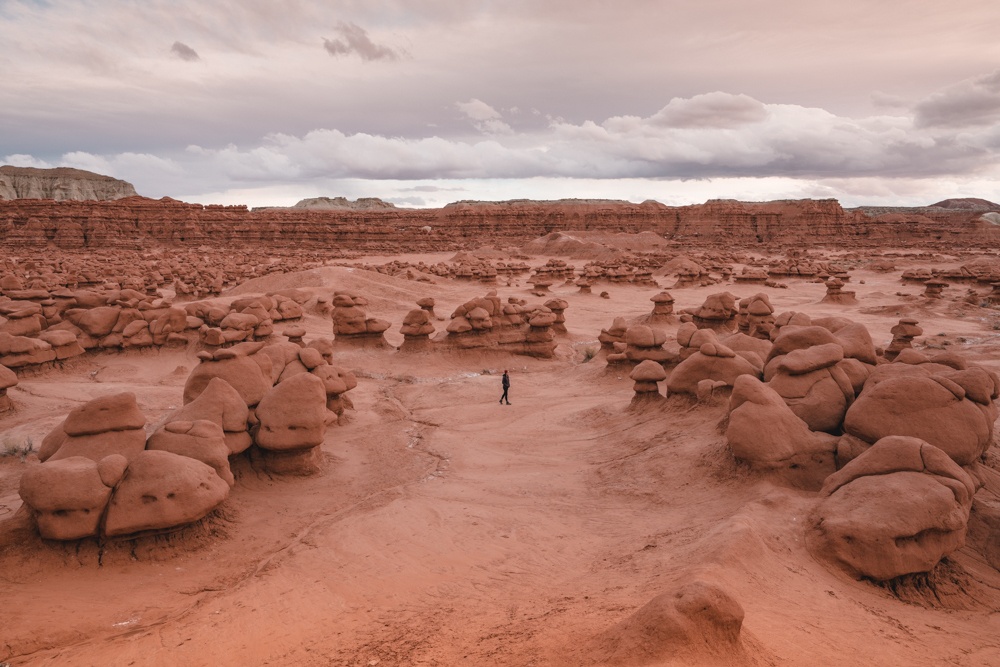 This is one of the trippiest parks we visited in terms of landscape. It looks like you're walking among giant mushrooms at first, and then it feels like you're passing through a watery underworld of clay that almost looks like coral formations as you progress. This is a pretty small park but absolutely worth taking a walk through to see these unique formations. I've never seen anything like it before!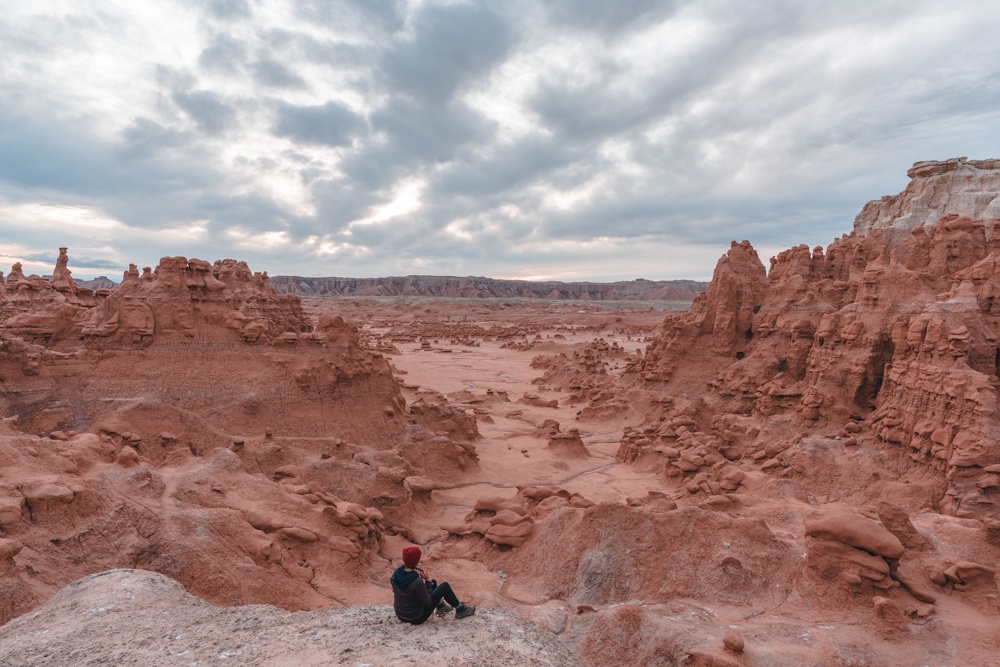 The entrance fee is $15, and there are nice bathrooms at the overlook; the campground costs an extra $10.
11. Little Wild Horse Canyon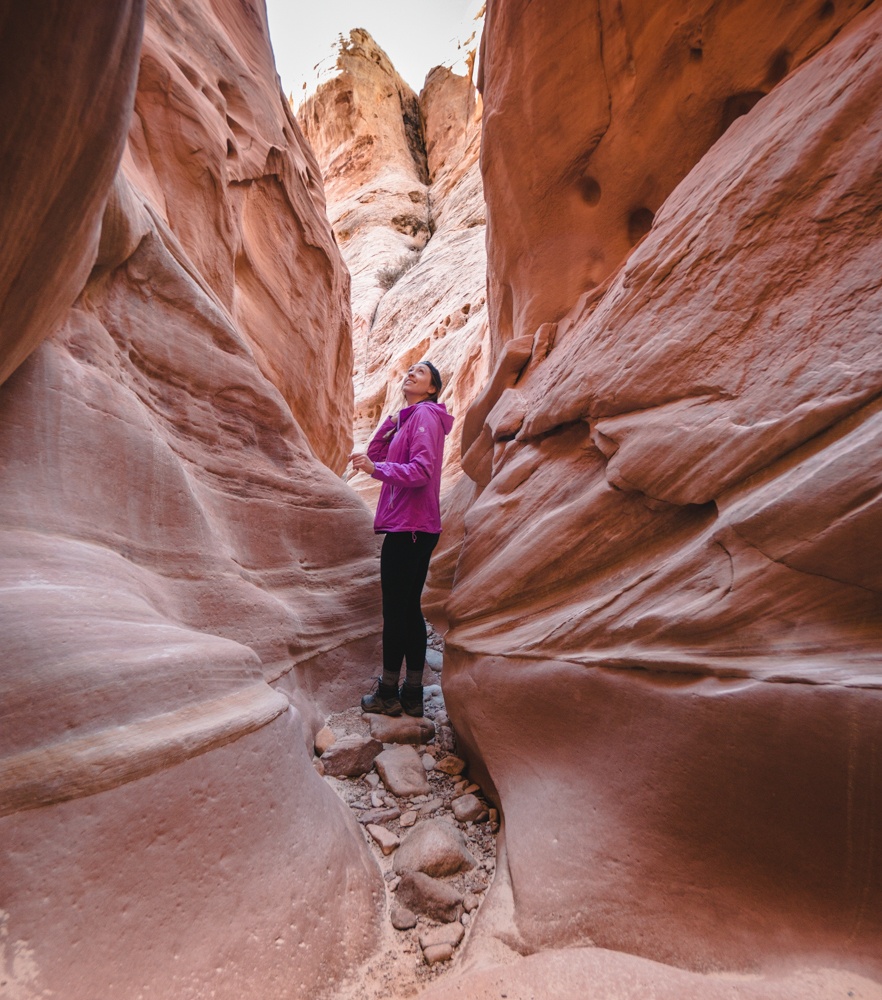 This hike is located on BLM land just outside of Goblin Valley. There are some free camping spots nearby that will put you in a perfect position to do the entire loop hike, through two slot canyons. If you've always wanted to see Antelope Canyon without the crowds, Little Wild Horse delivers a similar experience.
Unfortunately, it looked like rain was possible on the day that Kristen and I wanted to hike it. Please be aware that slot canyon hikes are incredibly dangerous if there is any rain — not just in the area but anywhere upstream. Rain can cause flash floods quickly, and it's not worth taking the risk. We just ventured into the first canyon partway, which was probably already a stupid move, and then exited and went on our way.
12. Forrest Gump Point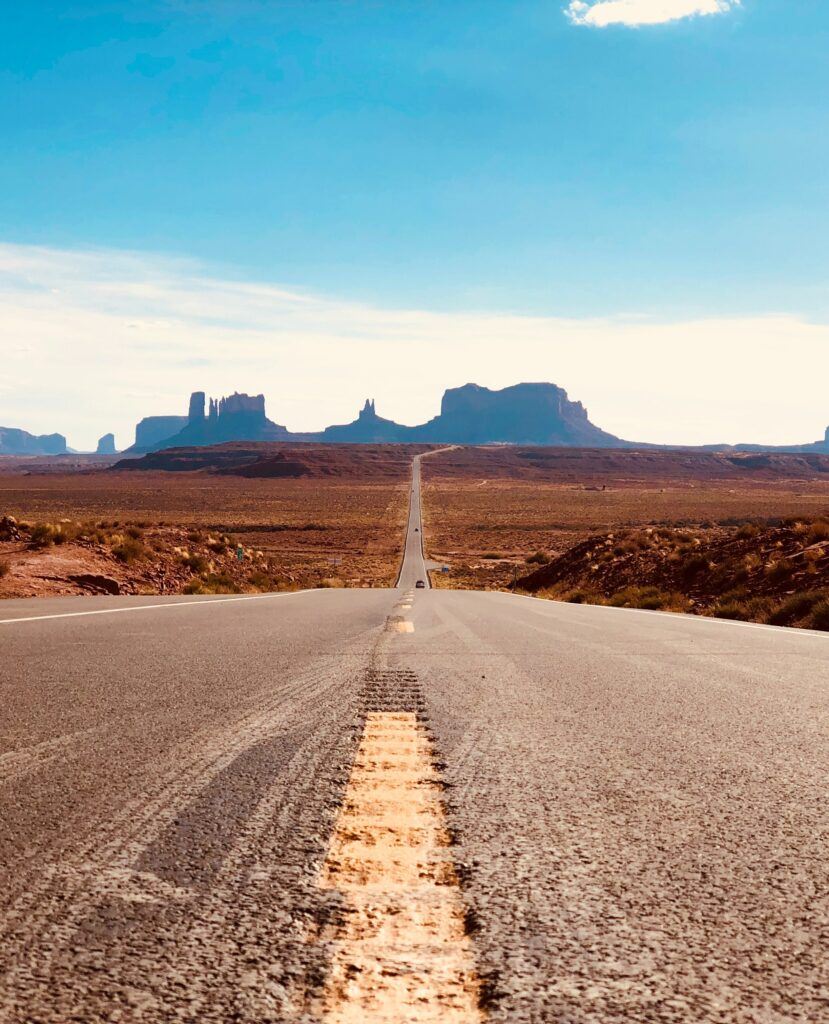 If the image looks familiar, you might recognize this place from the movie Forrest Gump. The long stretch of highway here is called Forrest Gump Road, and it makes for a great scenic drive or a quick photo. This is the spot from the movie when Forrest finishes his cross-country run. Even if you're not a huge fan of the film, it's still worth it to check out Forrest Gump Point, as it offers up some incredible views, all the way to Monument Valley in Arizona.
13. Dixie National Forest
Encompassing nearly two million acres of mountain peaks, red sandstone formations, and vast landscapes, Dixie National Forest is an outdoor adventurer's dream. It's the largest national forest in Utah and right next to three national parks and two national monuments, making it the perfect addition to your Utah road trip.
Check out this horseback-riding tour through Dixie National Forest, which goes all the way to Bryce Canyon!
14. Capitol Reef National Park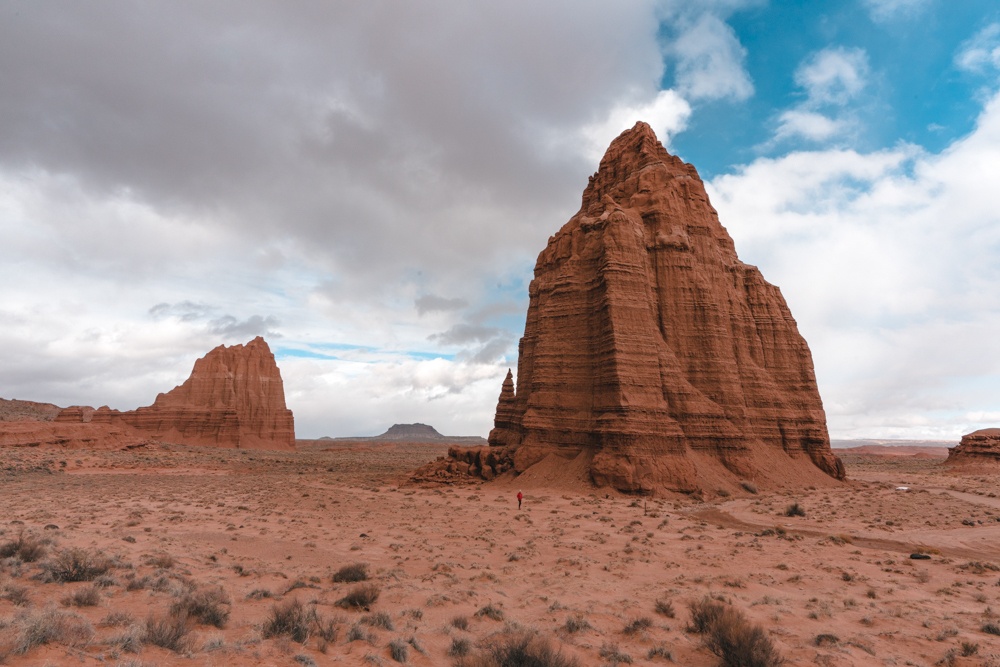 Kristen and I had both seen incredible photos of Capitol Reef and wondered where they were taken, since the more impressive things didn't appear to be on the popular Scenic Drive. After speaking to a helpful volunteer at the visitor center, we learned that they were up a dirt road that can turn into a peanut buttery consistency when it rains.
We were getting a little bit of snow but decided to go for it — and it ended up being an incredible drive, with nobody else around. The best parts were the Temples of the Sun and the Moon, two sail-like rocks that seem to appear out of nowhere.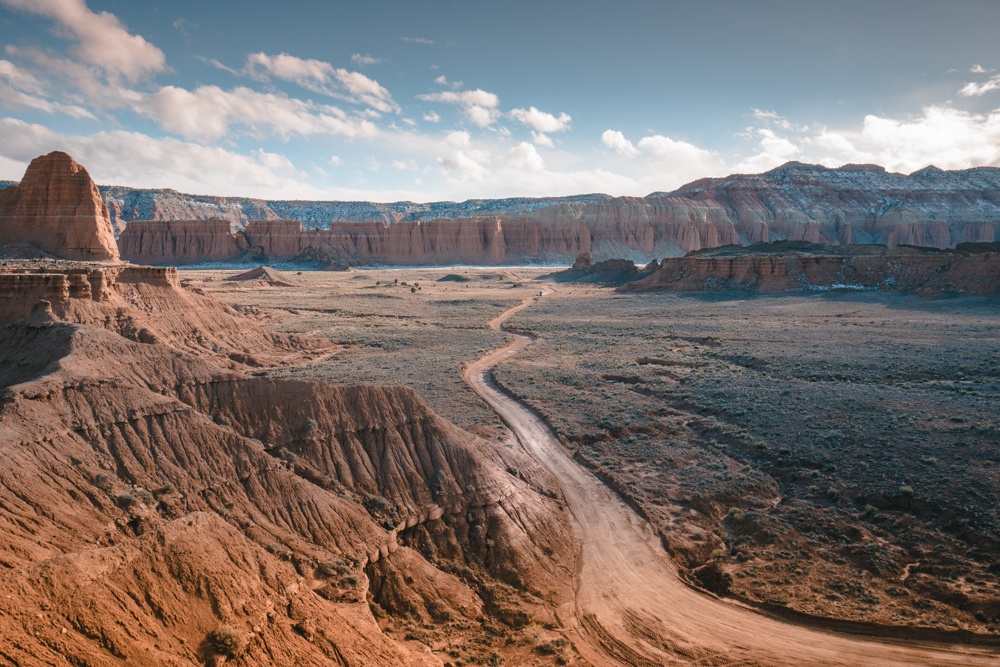 Even though this is a national park, this part of it doesn't receive many visitors, as evidenced by the dirt road. It could become impassible in particularly wet weather, but when it's dry, a Prius could drive over it. Check what the conditions might be at the visitor center.
15. Coyote Gulch in Grand Staircase-Escalante National Monument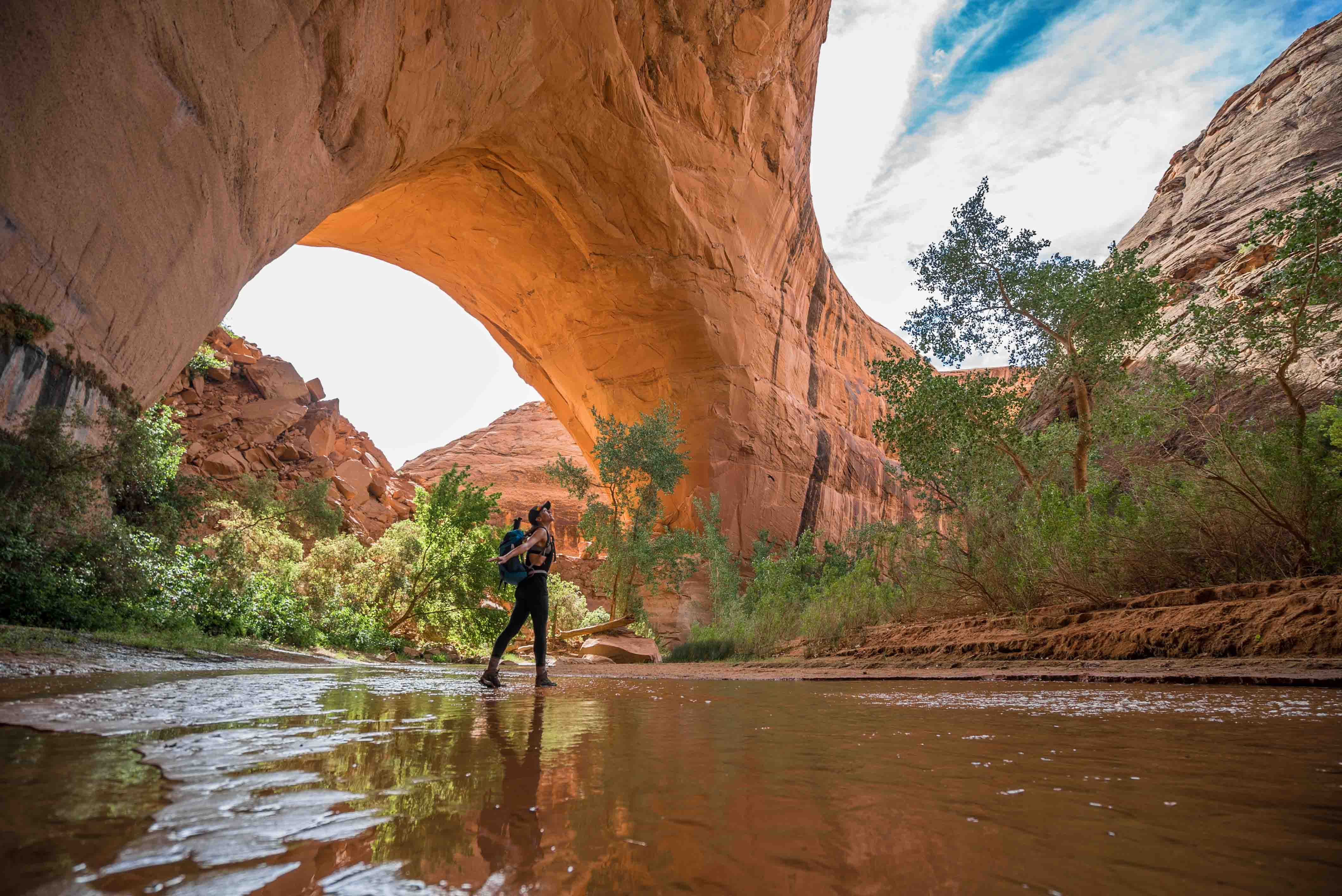 This will be a sizable deviation if you decide to do it, but it's so worth it! Grand Staircase-Escalante has some of the best adventures in southern Utah, and Coyote Gulch is the crown jewel.
This hike has several access points and can be done as an overnight or single-day trip if you take the sneaker route, which I did last time I passed through. The trail out is mostly washboard dirt and gravel, and could become treacherous if it's raining or muddy. If you decide to take the route I did, you will need a rope, just in case. You can read more about the hike here.
16. Uinta-Wasatch-Cache National Forest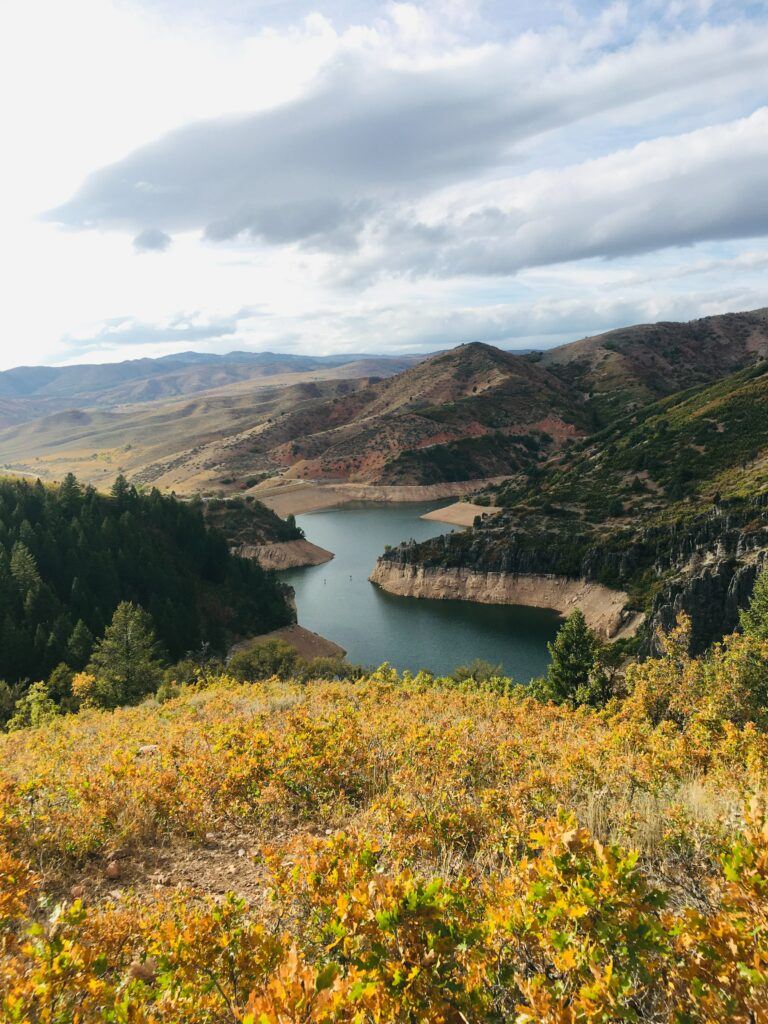 Known as one of the most rugged national forests in the US, the Uinta-Wasatch-Cache National Forest is the ideal place to unplug from modern society and connect with nature. Here you'll find over two million acres with fantastic hikes, scenic byways, recreation areas, and even cabins to stay in. How's that for off the beaten path?
17. Driving Conditions and Food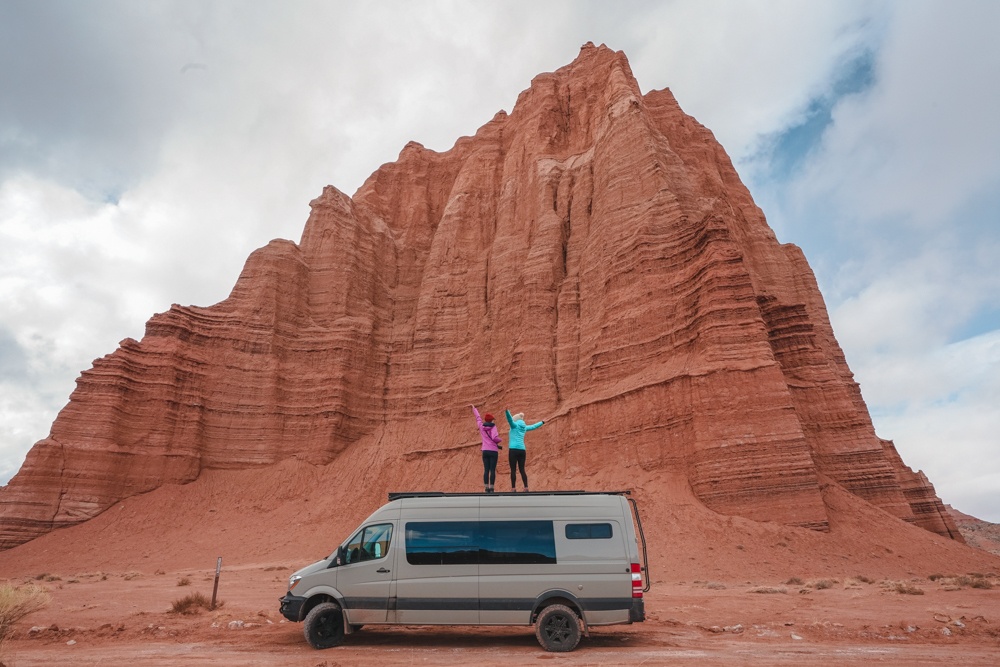 Kristen and I did the trip in her 4 x 4 Sprinter van. When I previously drove through the American Southwest, I had a minivan camper that did not have 4 x 4 capabilities, but I could have taken it on most of the roads that we went on. In both cases, I/we camped on BLM land (public land with no facilities) and packed out absolutely all of my/our trash (including toilet paper!) and was/were completely self-sufficient. It's important that when traveling in this part of Utah, you're prepared to do the same.
You will want to do your grocery shopping in Salt Lake City, or whatever major area you're departing from. Once you leave Moab, it will be nothing but tiny towns with gas stations for groceries and incredibly limited food selections. Even restaurants will be hard to find.
Your best bet is to either come prepared with a way to cook and store food, like a camper van, or to have an ice chest and stove. If you choose to stop by Page in Arizona, or head out toward Zion, you'll have a few more food options at that point.
Always be sure to keep your gas tank full as well, and bring an extra tire just in case. Cellphone signals can also be hard to come by out there, so I suggest downloading these stops onto an offline Google or Maps.me map, so that you have them at your disposal before you go:
Even though these off-the-beaten-path gems are fantastic to check out, that's not to say that other parts of Utah should be skipped just because they're more popular. Kristen has a fantastic post about Utah's best national parks worth taking a look at.
So pack your sense of adventure, download this map offline, and get ready for an incredible journey through some of the most beautiful landscapes in the world.
Pin me for later: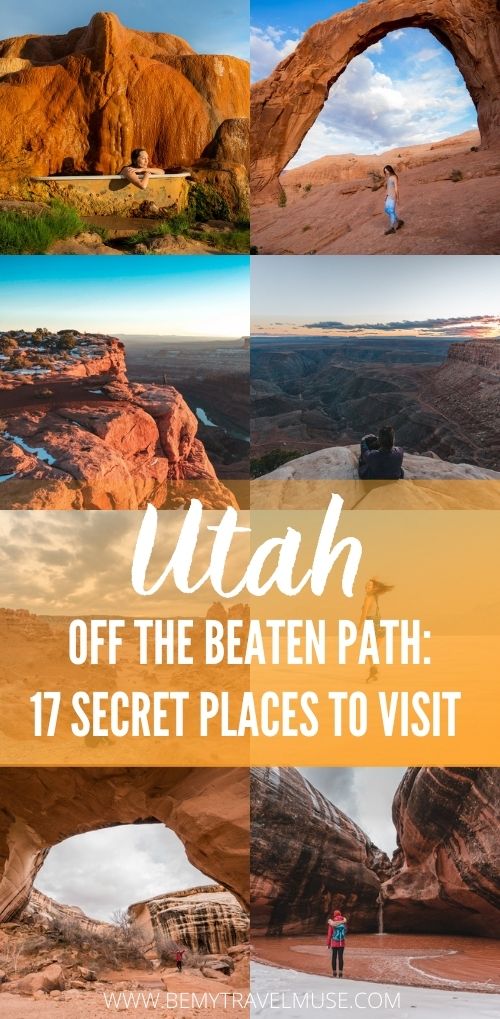 *Some links in this post are affiliate links for products and services we personally use and love. Any purchase you make through them supports us at no extra cost to you. Thanks so much!