It's no secret that the Big Island of Hawaii stole my heart. I've become such a fan, so I want to help you explore every nook and cranny. Since most people begin their Big Island adventure in Kona, I figured you might be wondering how to maximize your time there.
From activities to places to eat, these are the best things to do in Kona, Hawaii. Pick up a rental car and get ready for an adventure:
1. Manta Swims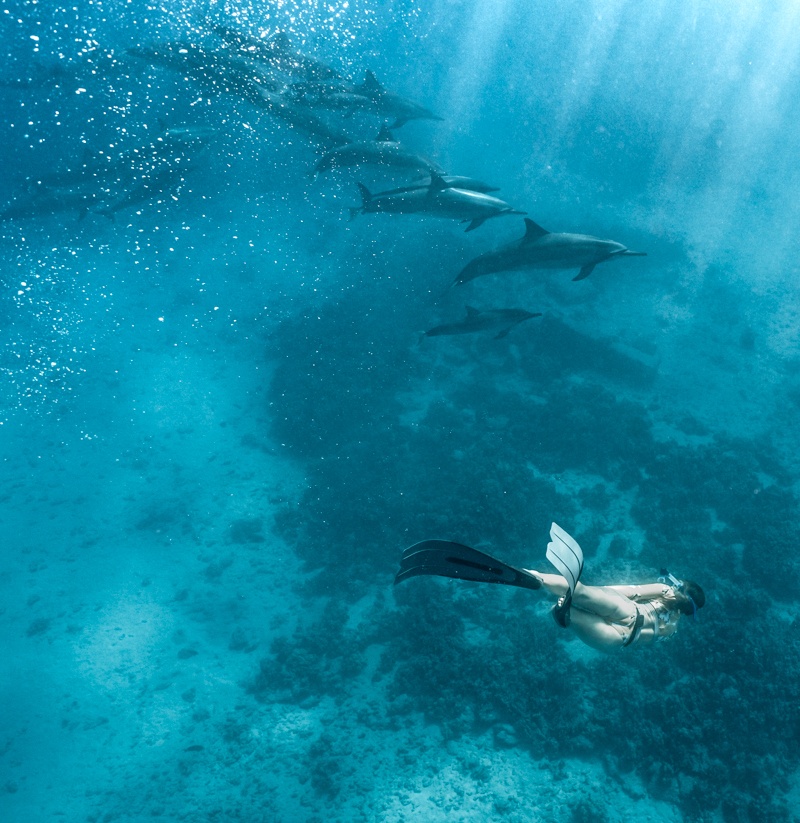 By far one of the best things to do in Kona — or anywhere in Hawaii for that matter — is to swim with some of the amazing sea creatures! I swam with wild dolphins and it was an incredible experience, although it's illegal to do so now. As a wonderful alternative, you can add in this nighttime manta ray adventure to your itinerary. You'll cruise the ocean at sunset and watch manta rays glide by on their quest for plankton. I can't think of a better way to spend an evening in Hawaii.
2. Hapuna Beach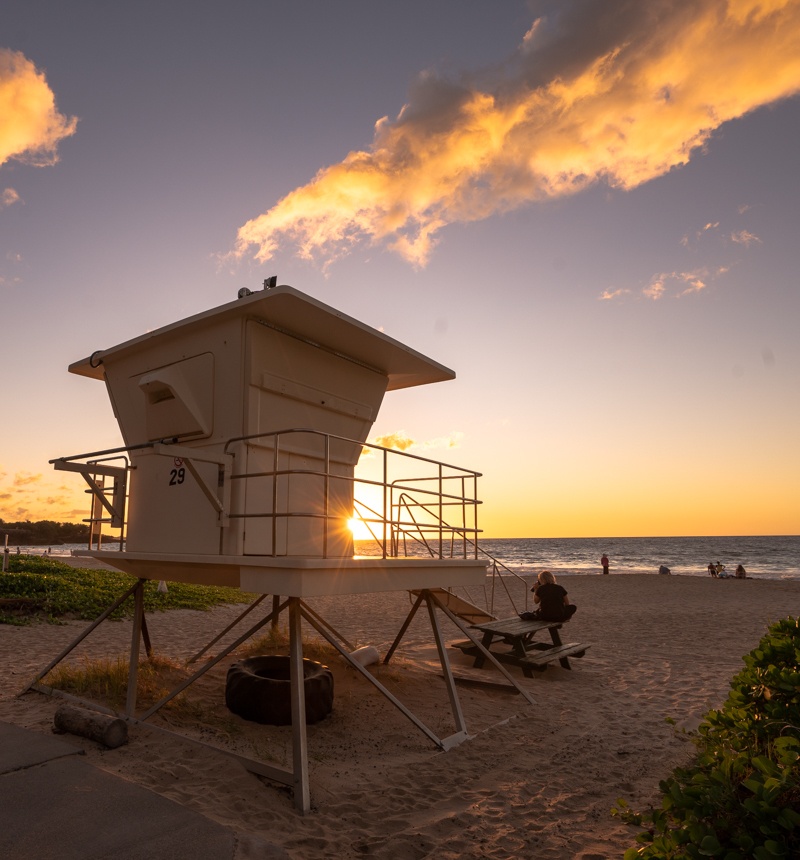 Hapuna Beach is the largest white sand beach on the big island, and luckily it's only about a 45-minute drive north of Kona. This half-mile stretch of soft sand was even named one of the top ten beaches in the U.S. in 2019. Parking is $5 and both bathrooms and outdoor showers are provided. This a great spot for swimming, snorkeling, and sunsets!
3. Two Step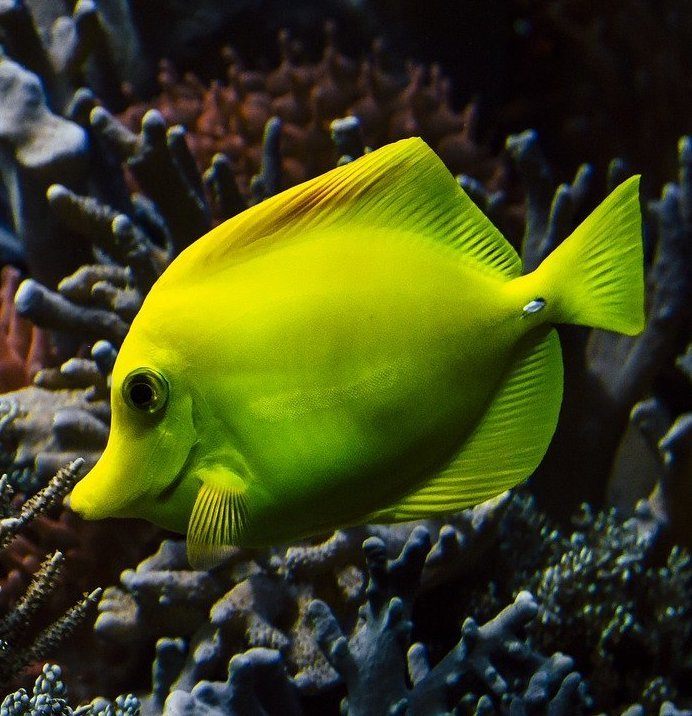 See colorful little fish like this guy as well as dolphins, turtles, and monk seals at Two Step! It's an awesome snorkeling spot on Honaunau Bay, 30 miles south of Kona. It's acclaimed as one of the most beautiful spots on the island, with clear blue waters, a vibrant reef, and dozens of marine species. Here's a few helpful tips: Park in the nearby $5 lot, watch out for dangerous currents, and be sure to use reef-safe sunscreen! The best thing about Two Step is it's easy to access. Be sure to bring your own gear.
4. Mountain Thunder Coffee Plantation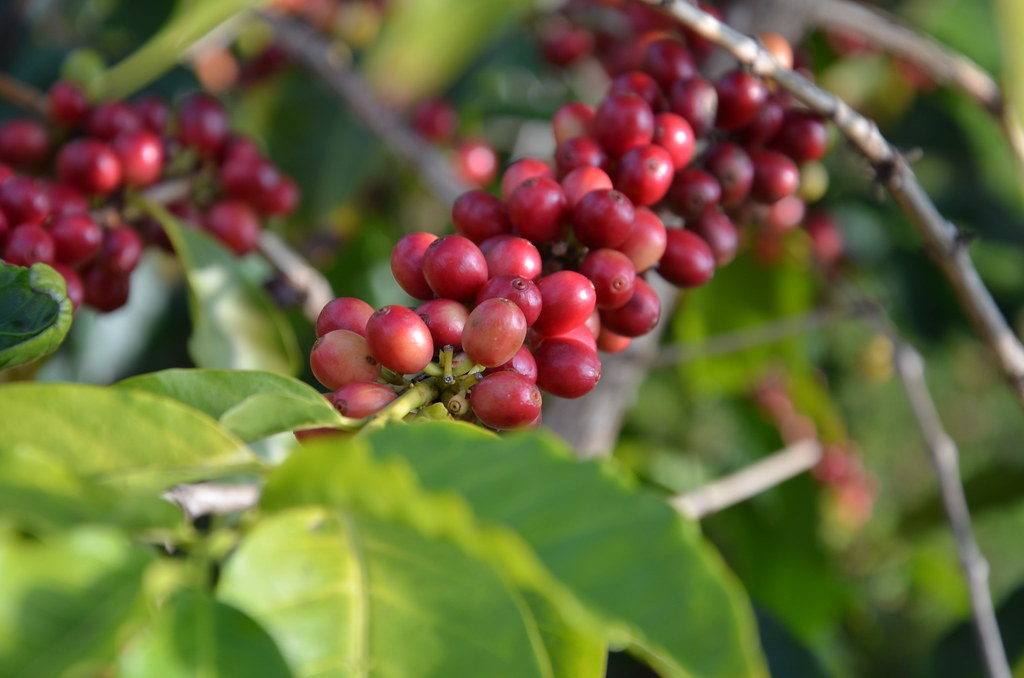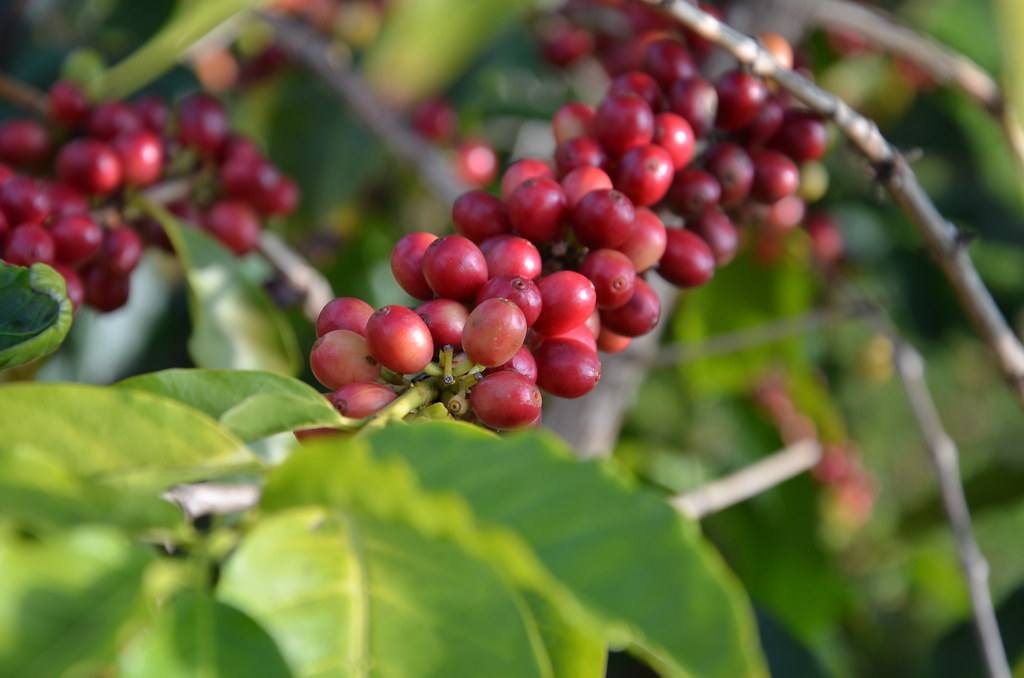 Volcanic soil and frequent cloud cover make for the perfect coffee-growing conditions; as a result, Kona coffee is world-renowned for both flavor and aroma. Take the opportunity to embrace Kona coffee culture with a free tour at the Mountain Thunder Coffee Plantation, which is a 15-minute drive from downtown Kona. Tours run every hour on the hour from 10am to 4pm, seven days a week. Be sure to take home a souvenir of coffee beans or grounds while you're there!
4. Whale Watching
Along the Waikoloa coastline near Kona, you can learn about humpback whales with an experienced guide who will give you the scoop on these incredible animals' mating and migratory habits. Humpback whales are truly remarkable to see in person, especially as they breach out of the water.
Check out this well reviewed 2.5 hour whale watching cruise tour.
5. Kealakekua Bay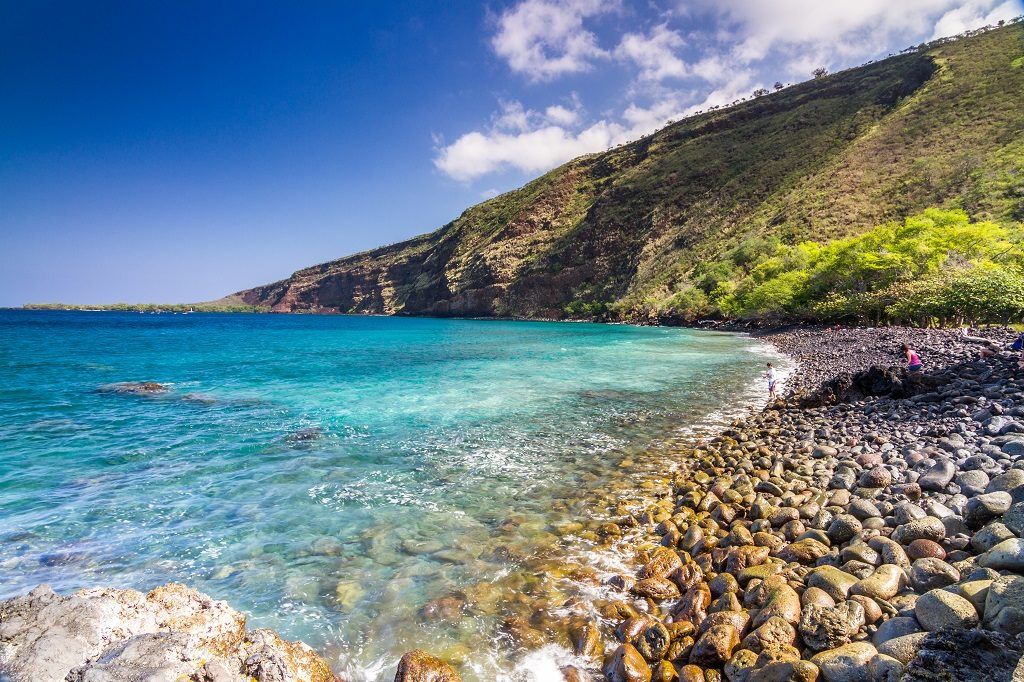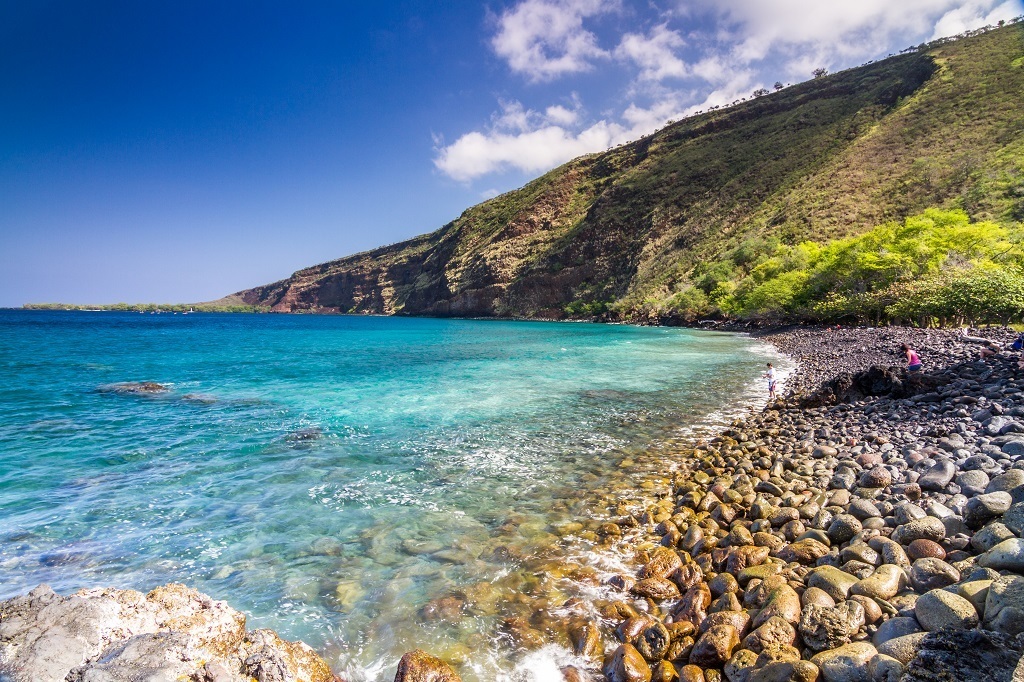 About 20 miles south of downtown Kona is Kealakekua Bay, where the infamous Captain Cook landed in 1779. The bay is widely believed to be the site of the best snorkeling in all of Hawaii — how could it not be when it looks like this? However, this treasure is well guarded, as the snorkeling spots can really only be reached by a strenuous hike. A better option is to join a guided snorkeling or kayaking tour which will make sure you get exactly where you need to be with no trouble at all.
6. Zipline Over Waterfalls
If you want a little boost of adrenaline while you visit Kona, this is the activity for you. Zipline over lush green treetops and waterfalls in a private nature reserve on this epic ziplining adventure. You'll also get to go for a swim in a swimming hole and check out hidden waterfalls in the forest.
7. Anaeho'omalu Beach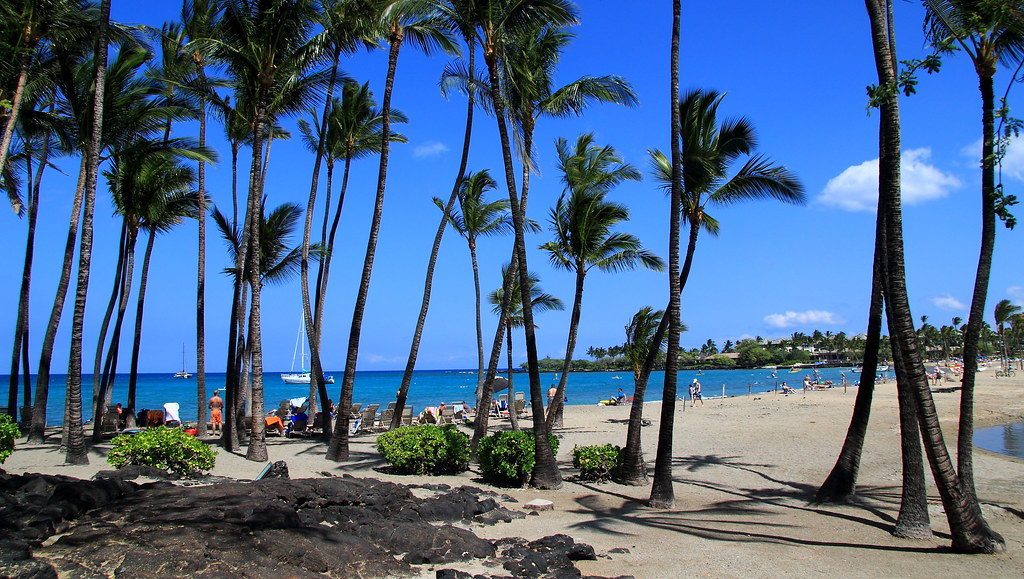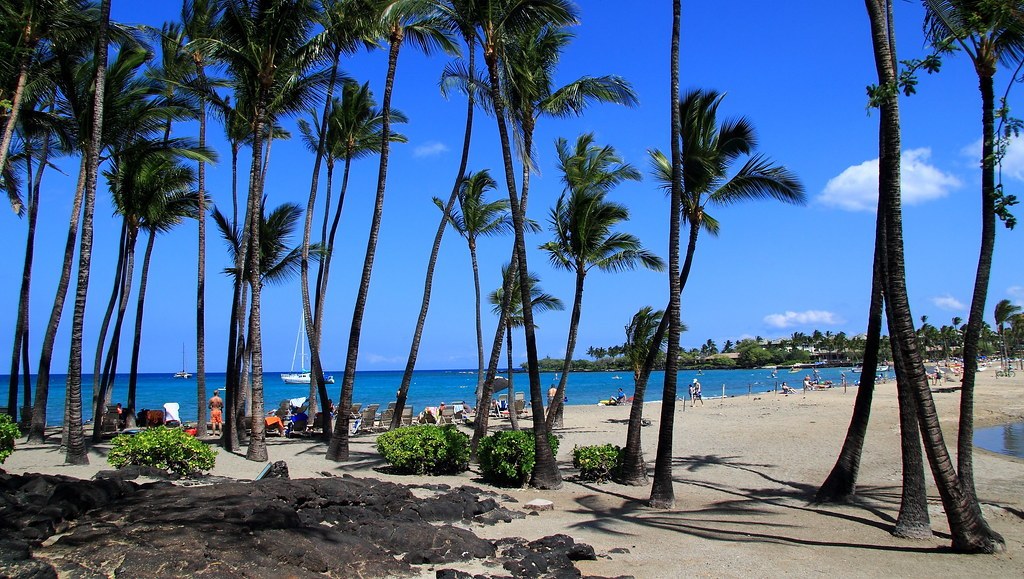 Drive 30 miles north of Kona to get to Anaeho'omalu Beach. The beach is protected by an offshore reef, keeping the water calm and providing ideal circumstances for snorkeling, swimming, and diving. You also have the option of renting outdoor equipment to play with for the day, like kayaks, hydrobikes, and bodyboards. And, of course, everyone loves a good sunset, and this beach is the perfect place to watch one.
8. Old Hawaiian Chocolate Factory
The Kona region of the Big Island produces some incredible chocolate from 100% Hawai'i-grown cacao pods. The Old Hawaiian Chocolate Factory was the first to start producing chocolate in the region and is the best place to not only buy Kona chocolate but also learn about how it's made.
There are tours available of the chocolate factory and plantation, which you can book here.
9. Kona Farmers Market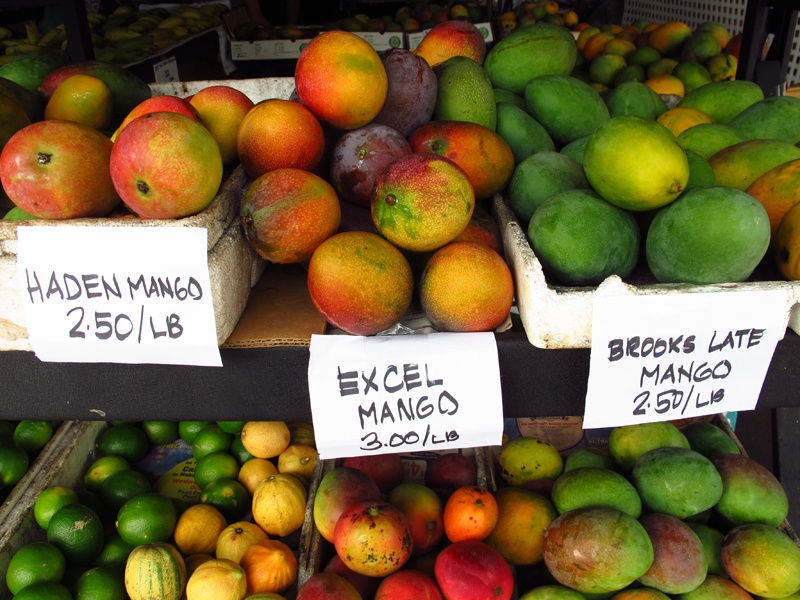 Get into the local feel with the Kona Farmers Market, open Wednesday through Sunday from 7am to 4pm. The market is located in the heart of Kona, and more than 40 vendors offer everything from a wide variety of fresh local produce and flowers to Kona coffee and arts & crafts. Whether or not you end up purchasing much, it's a great opportunity to find a healthy snack and chat with locals!
10. Fly in a Helicopter
If seeing Kona and the Big Island's beauty from the ground is beautiful, imagine getting to see it all from above! Get jaw-dropping views of hidden black and white sand beaches, five towering volcanoes, huge waterfalls, and so much more on this 1.5-2 hour helicopter tour that takes off in Kona.
A special communication system allows you to ask your pilot questions about what you'll see below, giving you a rundown of the island's unique geology and history while you fly.
11. Historic Kailua-Kona Town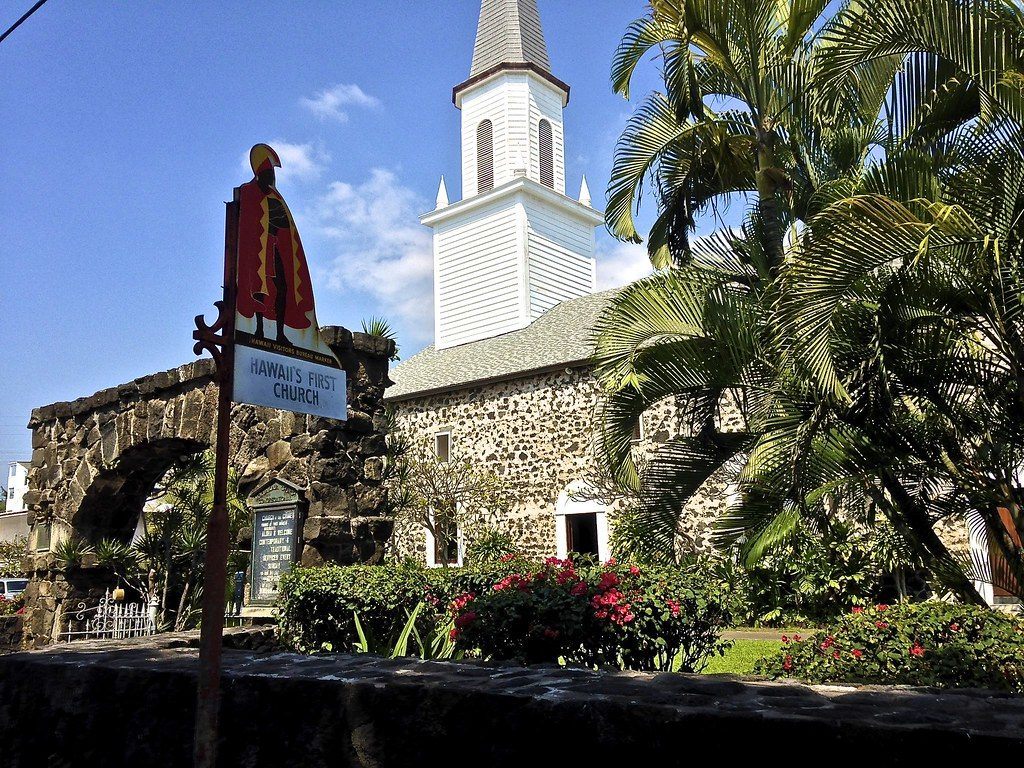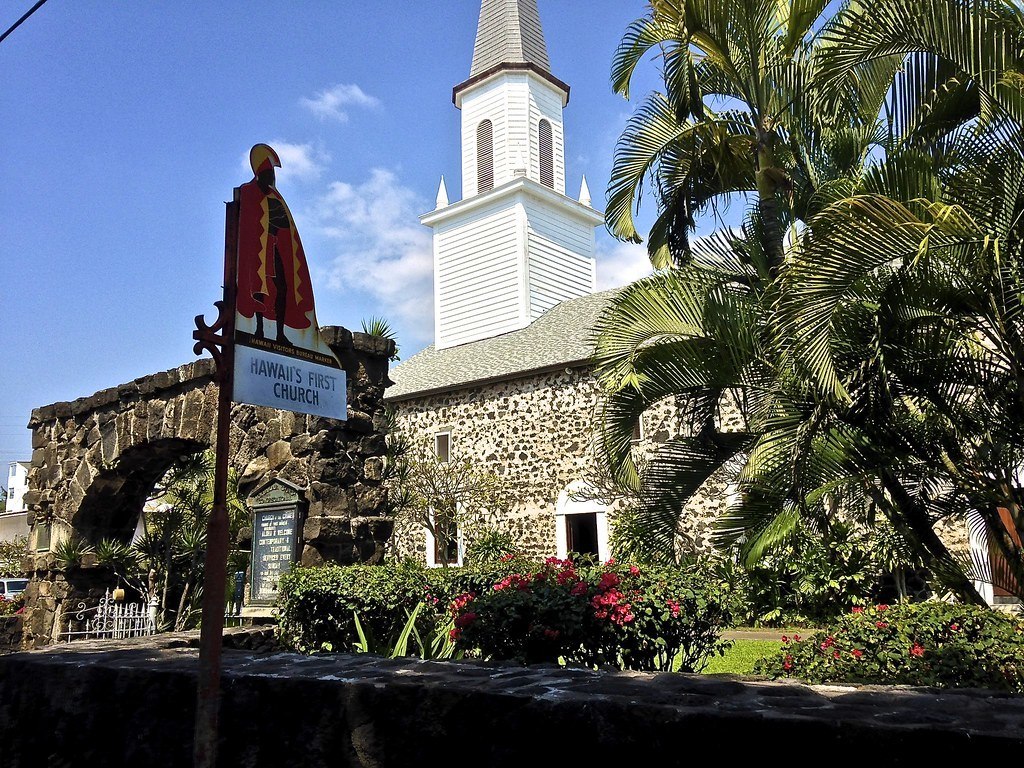 Check out the historic downtown area of Kailua-Kona, which is home to several famous landmarks. Two of the most notable are Hulihee Palace and Mokuaikaua Church (pictured above), both on the main road running through downtown. The area was once a place where Hawaiian royals like King Kamehameha liked to reside and where fishing was the main occupation of those who lived there. Today, its roots are still clearly evident but exist alongside a modern spirit marked by vibrant food, music, and people.
12. Go Golfing
Skilled golfers find Kona to be a wonderful place to get out for 18 holes because the high elevation provides an added challenge. Not only that, but the lush green scenery makes for a beautiful golfing experience for anyone who enjoys the sport. Plus, you can get a great view of Mount Haleakalâ on Maui from the course at Makalei Golf Club in Kona.
13. Kua Bay (Manini'owali Beach)
This secluded white sand beach is just so pretty! The beach is part of Kekaha Kai State Park, about 15 miles northwest of Kona. The clear, calm waters here are ideal for snorkeling and swimming, and the beach is easily accessible by paved road. Other helpful amenities here include bathrooms, showers, barbecues, and picnic tables. Overall, Kua Bay is a great spot to spend a day, but keep in mind that it can get busy on the weekends, so maybe save this one for the middle of the week.
14. Luau with Buffet
Get a taste of Polynesian culture with this luau with buffet experience. You'll be captivated by the performances of traditional Hawaiian songs and Samoan fire knife dances while you enjoy a heavenly traditional Hawaiian meal. This is one of the quintessential experiences that visitors to Hawai'i love.
15. Stargazing at Hawai'i Volcanoes National Park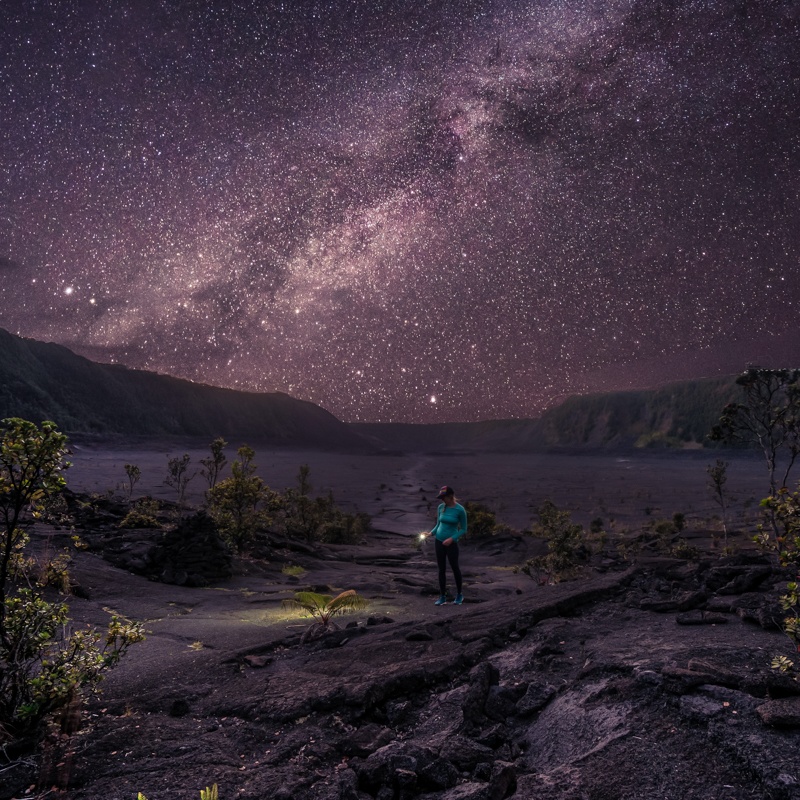 This is more than just any ol' stargazing you'll find anywhere else. This twilight stargazing tour offers a detailed depiction of the unique history, geology, and culture of Kona and the Big Island. The tour packs in a visit to a Kona coffee farm, a scenic view of the Kealakekua Bay, a visit to Punalu'u Black Sand Beach, stargazing in Hawai'i Volcanoes National Park, and more.
I can't think of a better way to spend a day in Kona than this tour, which is perfect if you have little time and want to see as much as possible.
16. SUP at Kahalu'u Bay
Stand up paddleboarding (SUP) is easily one of my favorite things to do at a calm beach like Kahalu'u Bay. It's a fun way to get out on the water, plus it's a great workout! Since there are generally only gentle waves at Kahalu'u Bay, it's an ideal spot to SUP and you can rent a board at Kahalu'u Surf & Sea. If you're a beginner, they also offer SUP classes!
17. Take a Surf Lesson
If you're at Kahalu'u Bay and want to take your board skills to the next level, take a surf lesson! The calm waters are perfect for beginner surfers, so you'll be able to learn at your own pace in a relaxed environment. This small group surf lesson is an excellent option for all skill levels.
18. Enjoy Great Local Food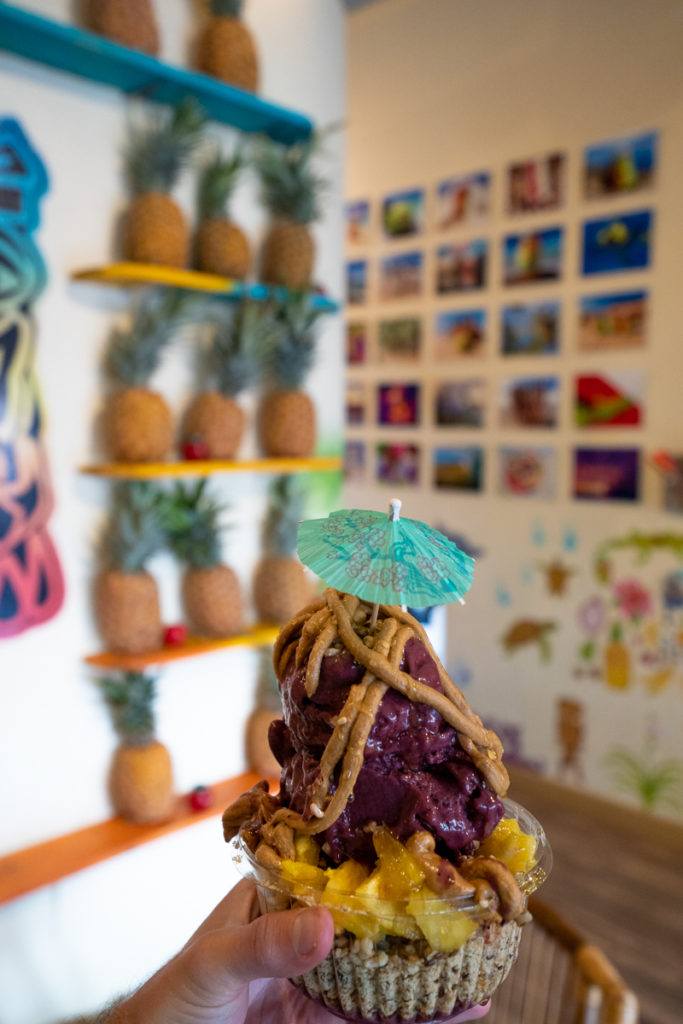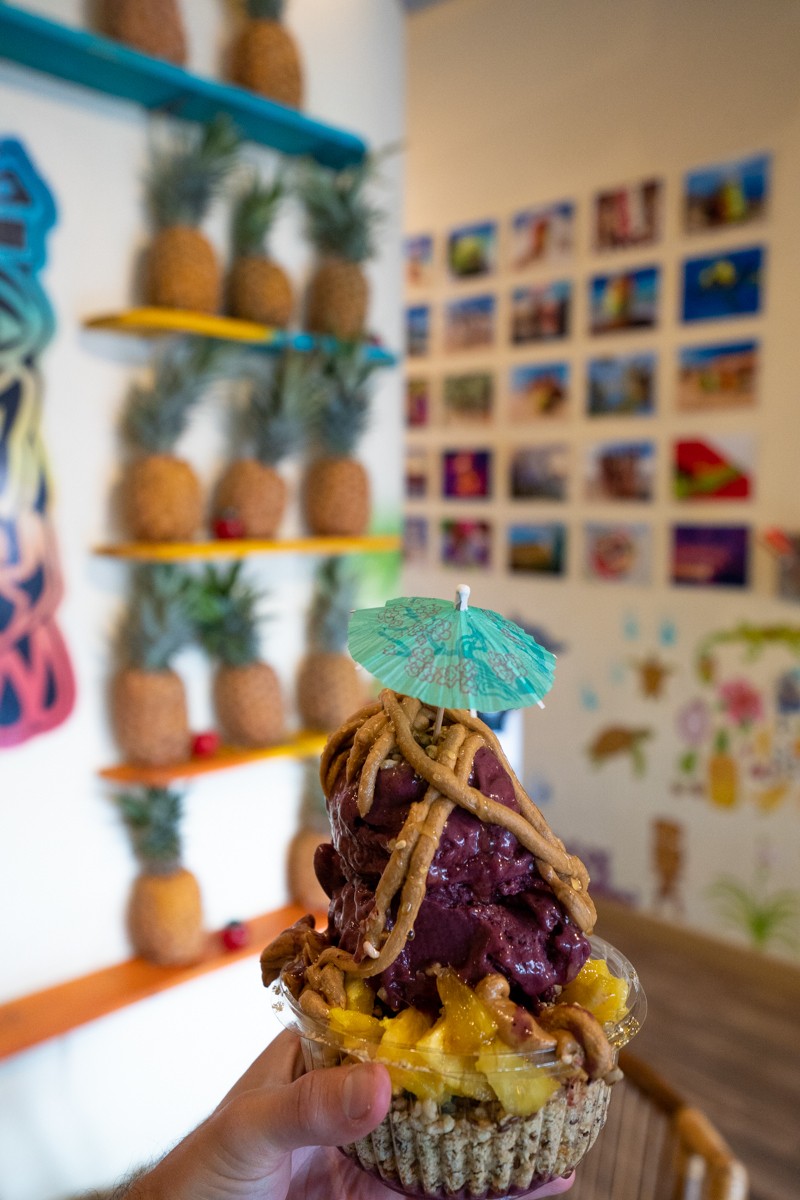 Half the fun of going on a trip is getting to experience the local cuisine, and Hawaii is an especially awesome place for great food. With a focus on fresh, local ingredients, the food scene in Kona has a lot to offer. Here are some delicious spots to check out:
Huggo's on the Rocks: Huggo's offers a fun and laid-back atmosphere and a fresh menu of burgers, salads, sandwiches, fish, and more. Plus, happy hour from 3 to 5pm every afternoon and live music every night mean that this is the perfect place to wrap up a busy day in Kona. If you're looking for a sunset dinner on the water that isn't too fancy, this is a great spot!
Umekes: Umeke's is known both near and far (they have more than 10,000 followers on Instagram) for delicious poke and seafood made with only high quality, local ingredients. Umekes has two locations in Kona: one at Ali'i Plaza and one on Kaiwi Street (as a fish market bar and grill), each of which has its own menu and atmosphere.
Island Ono Loa Grill: Some say that Island Ono Loa Grill makes the best burgers in Kona, and with good reason: they fire-grill them over lava rocks and serve them on Hawaiian sweet buns! What's more, their ingredients are locally sourced, and it's both a quick and inexpensive stop. Besides the mouth-watering burgers, there are also cool hot dogs, specialty sandwiches, and local plates on the menu.
Papa Kona Restaurant and Bar: Papa Kona features local musicians almost every night of the week, and their pub-style lounge menu of appetizers, burgers, tacos, and more makes for a laid-back atmosphere. This seems to be a great spot for a bite, a drink, and some music. They also have an awesome brunch!
Broke da Mouth Grindz: This spot has been featured on Guy Fieri's Diners, Drive-Ins, and Dives and is beloved by tourists and locals alike. The menu is full of traditional Filipino staples with a fresh Hawaiian spin on them. It seems to be one of the best places to eat on the Big Island, hands down!
Hayashi's Sushi (You Make The Roll): This small, family-run sushi place is hugely popular among locals. In fact, if you go at lunch hour, you'll likely have to wait an hour or more for your sushi! However, for delicious, affordable, and high-quality sushi, it seems to be worth it. Maybe just try to go at an off-time so you won't spend so long in line.
Basik Açaí Cafe: You can't go to Hawaii and not have an açaí bowl! Basik Cafe is a great place to get one, with a variety of fresh, colorful bowls and smoothies which are all dairy-free and plant-based. Plus, they're just gorgeous!
Herbivores: This drive-through and walk-up spot uses the phrase, "healthy fast food" as its claim to fame. I don't even know what category to put this cool little place under, because they offer breakfast, lunch, dinner, coffee, and smoothies, all of which look delicious! Its menu is largely plant-based and gluten-free, and has a laid-back atmosphere.
Kalikala Cuisine: Kalikala Cuisine is a family-owned oceanfront lanai on a picturesque street. Sit in the shaded patio and order one of their beautiful breakfast or lunch plates while you enjoy the seaside views. The atmosphere isn't the only good part, though; the food is supposed to be excellent!
808 Grindz Cafe: Some say that 808 Grindz has a hole-in-the-wall vibe, but in the best way: big portions, friendly staff, and reasonable prices. Overall, it's a great spot for a casual and authentic Hawaiian breakfast, and its largely frequented by locals. Just keep in mind that it's cash-only!
Barefoot Zone: Barefoot Zone is a healthy option which focuses on fresh, whole foods in a fun way. Try one of their colorful bowls packed to the brim with fresh fruit, or indulge your sweet side with a gluten-free, dairy-free crêpe. They also have tons of other plant-based options, including veggie sushi!
Island Lava Java: The oceanside Island Lava Java restaurant has a huge menu which covers breakfast, lunch, and dinner, all made with fresh, locally sourced ingredients. The restaurant itself has a bright, cheery atmosphere, plus there's an on-site bakery if you want to take one of their delicious breakfast pastries with you on the go!
Holy Donuts: Head to Holy Donuts for quirky, fun donuts freshly made every morning. It's said to have the best donuts on the Big Island, and with good reason! They look both gorgeous and delicious, thanks to unique flavors like pineapple fritter and creme brûlée.
Kona Wave Coffee: Kona Wave Coffee is a cute little place with a full espresso bar, açaí bowls, and all natural shave ice. This isn't your typical cup of shave ice, either: it's a saucer full of it with add-ins like ice cream, natural fruit syrups, boba, mochi, fresh fruit, and anything else you want to throw in there!
I hope this post helps you to discover the amazing beach and aquatic adventures that Kona has to offer, along with the delicious side! For more about the Big Island as a whole, check out my 25 top things to do on the Big Island beginning in Kona.