Hey there my fellow solo female travelers, today comes another installment of traveling alone in an amazing place in the world: New Orleans.
Initially I wasn't sure that New Orleans would be fun alone, but it's one of the most enjoyable solo trips I've had! The friendliness combined with the huge variety of things to do kept me entertained and hardly lonely. For my solo travelers out there, here's everything you need to know about New Orleans:
Is New Orleans Fun Alone?
As I already hinted, New Orleans is tons of fun solo! While after nine years of it, I'm certainly biased towards traveling alone, I'd venture to say New Orleans is one of the best places to travel solo, and I'd recommend it for first timers as well.
Every time I ate alone, it really didn't feel that way because the wait staff and the others in the restaurants would be so talkative. Pretty much everyone I met had a suggestion for me on where to go, and I was never bored. I never felt like the odd woman out either as I sometimes do in beachy or couples' destinations.
Being able to decide everything I wanted to do on a moment's notice and on my own time gave me an opportunity to see the Big Easy my way. So if you're considering going alone, do it!
Things that are Fun to Do Solo in New Orleans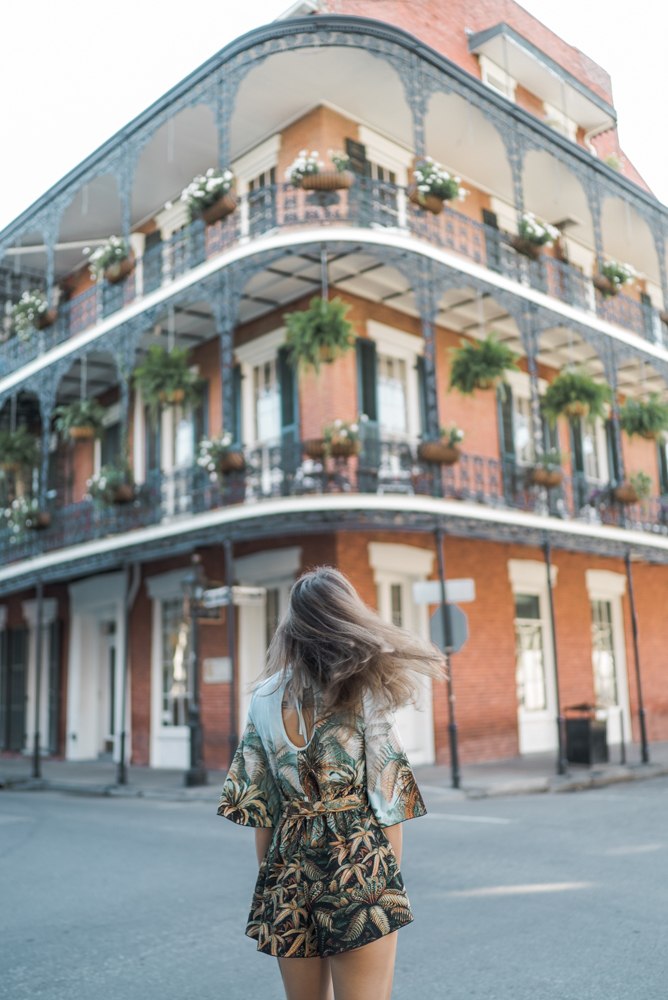 Shopping in the French Quarter:
I don't know about you, but shopping with friends is one of my least favorite ways to do it (I still love you guys, though!). I feel like I'm always waiting around for someone to try something on or have to go into a store I'm not that interested in. So when it comes to shopping I value going solo for the efficiency!
Some of the best shopping is in the French Quarter. The following are the quirkiest and most interesting places I found:
Tours: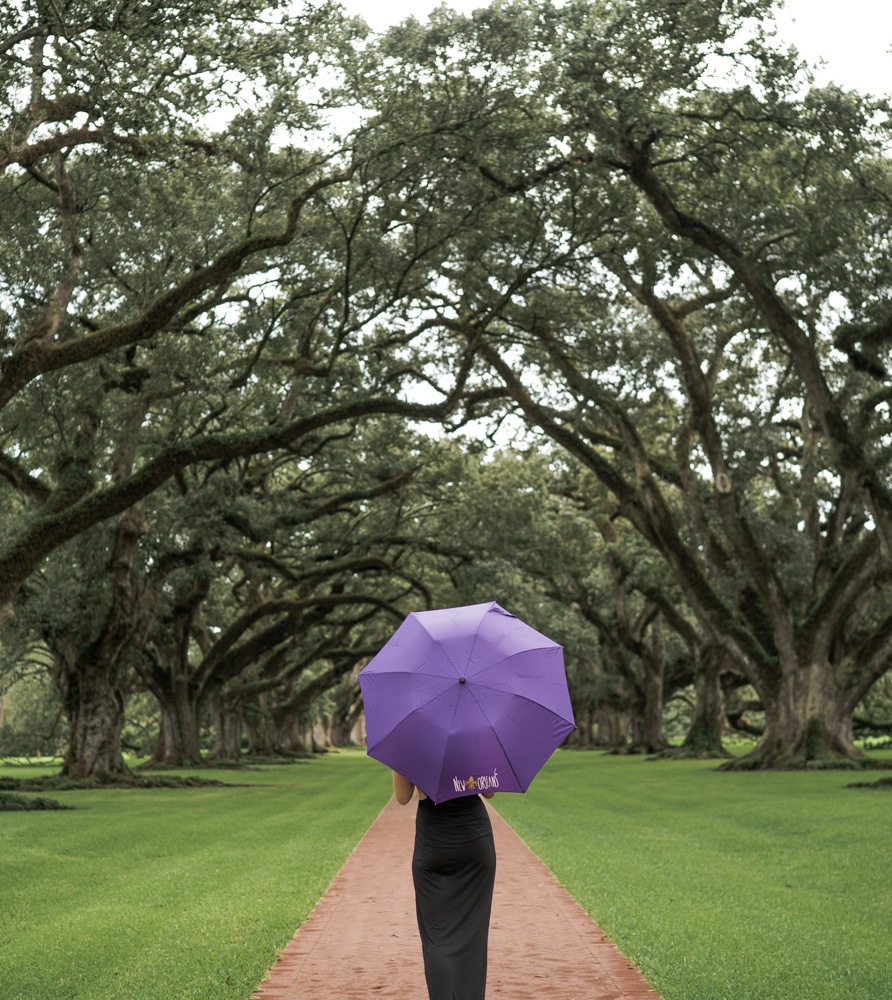 When I'm solo I often like to take day tours because it makes it easy to meet other people and means that at least for a couple hours or maybe a whole day, I don't have to worry about planning anything. I suggest the following:
Two Chicks Walking tours: I took a two hour walking tour with this company in the French Quarter at 9 AM. It was perfect because it wasn't busy and crowded yet, and I could get a lay of the land before exploring by myself. I was the only one on my tour so that gave me the chance to structure it the way that I wanted to, which was fun! But if you meet others on your tour then that's a potential built-in friend group so it's a win either way.
Double Plantation Tour: To be honest, I wondered if it was strange to tour plantations considering how much pain and misery took place there. But then I thought, isn't it my duty to understand my own country's history? In order to do this I had to choose wisely and ended up going on the Gray Line two plantation tour, stopping at Whitney plantation and Oak alley. It was the perfect combination between educational and beautiful.
The Whitney plantation is the first museum ever dedicated to slavery. It was so well done, telling the story of slavery directly from the slaves' point of view, drawing from historical quotes and records. The whole thing had memorials and monuments purely dedicated to the experience of the slaves. It's confronting and painful to see, but so important to understand American history and its ties to the present. To visit the plantations without visiting this one would be an incomplete experience, so if you go, definitely go to the Whitney!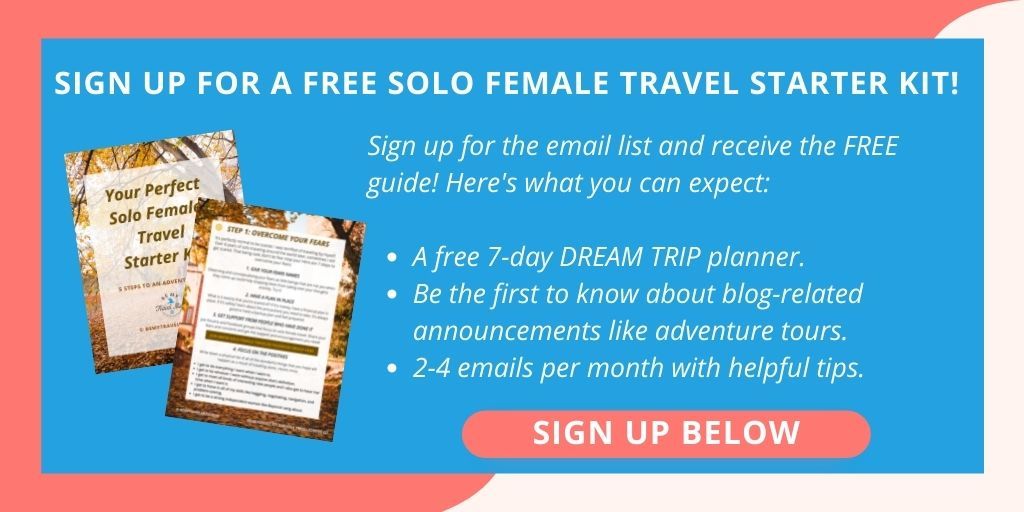 Oak Alley is the second plantation I visited and the one that you're most likely to see photos of when tours are advertised. The long alley of oak trees leading up to the mansion entrance made this plantation famous, and when you see it for yourself it's easy to see why. It's absolutely beautiful. That said, the tour did not provide nearly the educational opportunity that Whitney did, which is why I suggest seeing both.
Both are located about 45 minutes outside of New Orleans. So you could rent a car, but the easiest and most economical way is to take a tour (click here for the Whitney plantation tour, and here for the Oak Alley tour) which provides transport in an air-conditioned bus and a guided walking tour of both plantations. Bring your own water and snacks!
Saint Louis Cemetery No. 1: I'm suggesting the cemetery for one big reason: Marie Laveau's tomb. She was a free mixed-race woman and Voodoo priestess during the time of slavery and from what I learned, a total boss. It was said that she walked like a queen and performed rituals for the elite. You can only see the cemetery on a tour, offered Monday through Saturday at 10am, 11:30am and 1pm, and Sunday at 10am. They cost $20 per person.
There are certainly more tours out there that you could check out, like the New Orleans haunted tours, though I heard they are pretty hokey, or swamp tours which I heard the same about. Depending on how much time you have in New Orleans, it might be worth looking into either of these if you have a keen interest.
Get Your Tarot Cards Read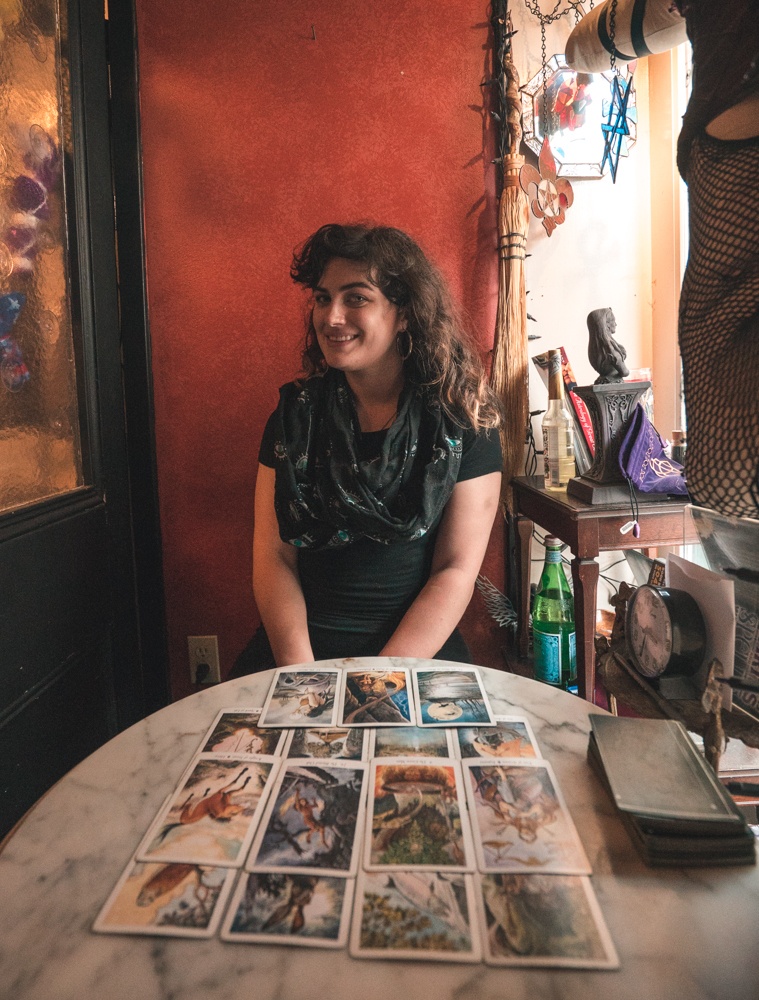 Getting your tarot cards read is one of the things to do in New Orleans. You'll see options everywhere, including sidewalk tarot readers, particularly by Jackson Square. However I went to Hex, which was recommended to me by a local. I did a 30-minute reading and thought it was a fun addition to the afternoon. Whether you've done one before or not, or whether or not you put stock in such things, it's a very NOLA activity.
Explore the Bywater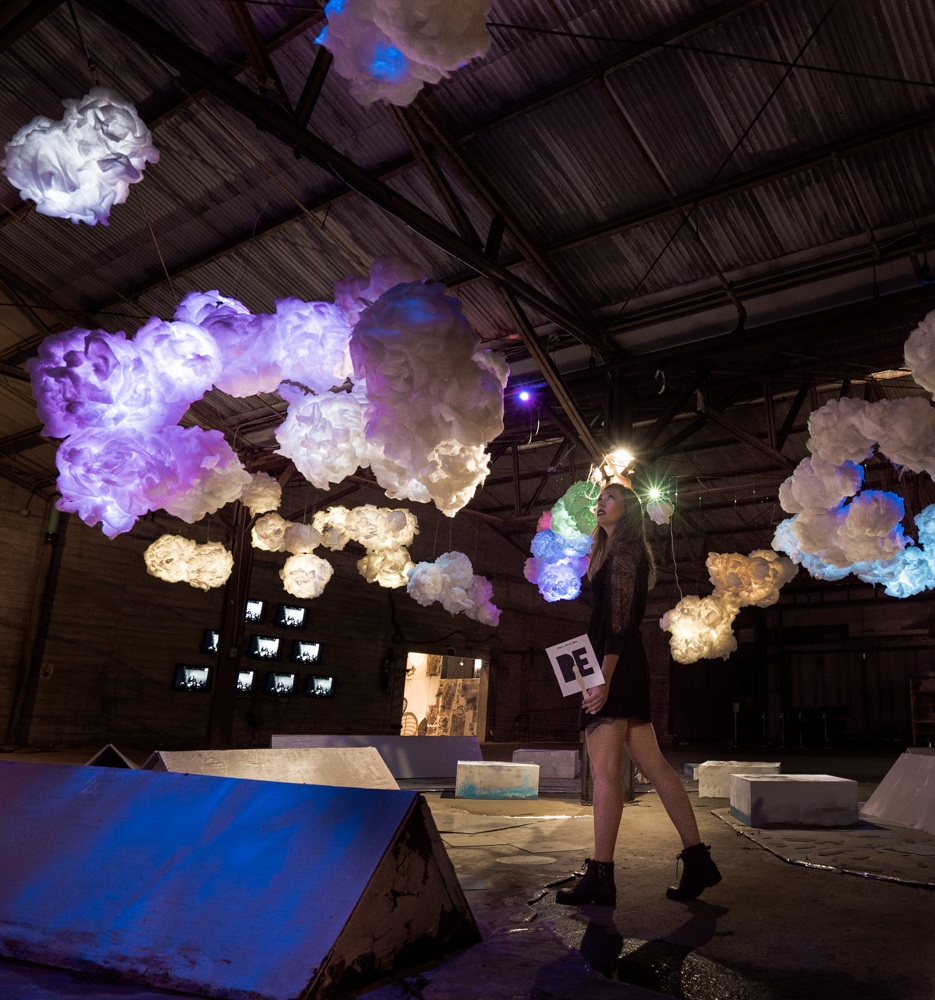 While the French Quarter is cool and all, I couldn't believe how rad the Bywater is! If you like the artistic and the quirky, you will find it there. The cafés are delicious, the Healing Center and Studio BE are must-sees, and Crescent Park is a great place to watch the sunset. I loved it so much I have an entire article devoted just to things to do in the Bywater, so check it out!
Nightlife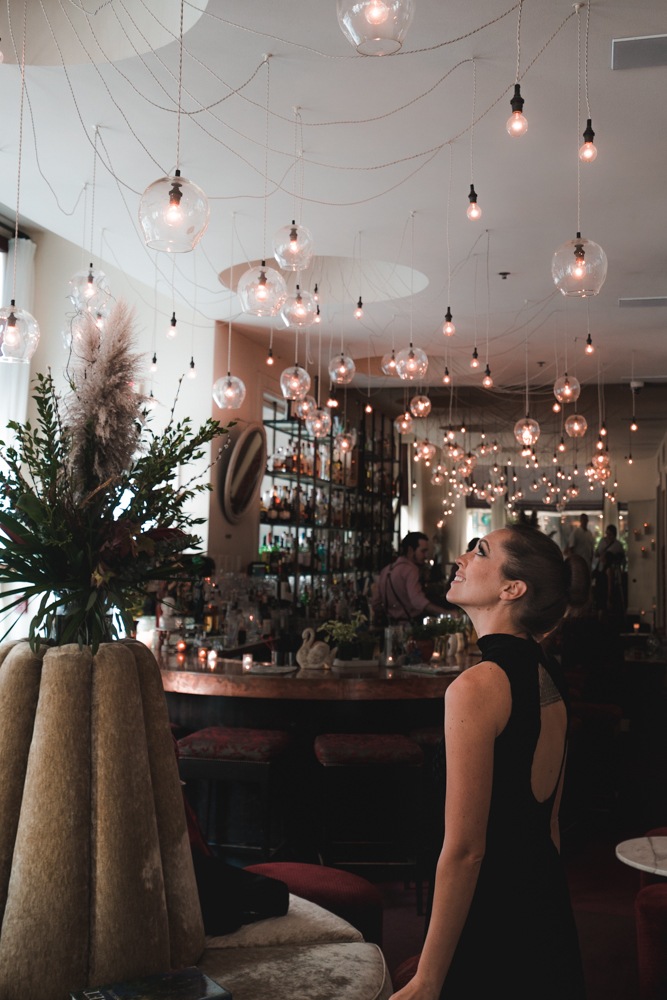 I'm sure if you've heard much of anything about New Orleans, you would've heard of Bourbon Street. I got mixed reviews on this coming from locals, one of whom told me I 'hadn't been to New Orleans if I hadn't been to Bourbon Street' and another one said, 'oh yes you have!' I chose not to go, because rowdy bars are not really my scene. However if you still want to experience some nightlife, I highly recommend checking out some live music on Frenchmen Street. This is more of a local hangout and it gives you something to do other than drinking, which I suggest you limit or avoid altogether if you're traveling solo. Click here for information on the shows that are on tonight – You can find something on every night of the week!
You can also find festivals year-round in New Orleans, in addition to the famous Mardi Gras. Check the New Orleans official website for more on what's on now.
Safety
Since we just touched on it in the last section, let's get the subject of safety out of the way.
Safety when traveling solo is a concern not just in New Orleans, but everywhere. There are two main things I do to stay safe when I travel – one is to avoid walking alone in any parts of the city that are quiet and dark, like any alleyways, and to limit my alcohol intake. The last one has been easy since I stopped drinking altogether almost 4 years ago, but for those of you who want to visit New Orleans and still try out a French 75 — and who could blame you? — just make sure that you don't overdo it. Almost every unfortunate circumstance for solo travelers of both sexes is borne out of drinking too much and becoming an easy target.
Unfortunately there was lots of catcalling in New Orleans but that's a worldwide scourge, and unfortunately happens to me in Berlin and other parts of the US, too. Thankfully it wasn't aggressive in the way that I experienced in South America.
For more safety tips when traveling solo, check out this post with 31 tips from 31 solo female travelers.
Where to Stay
I recommend that you pick accommodation that has security, like a front desk, or if you're staying in an Airbnb, try to pick one that is in someone's courtyard, is located upstairs, or isn't immediately visible from the street.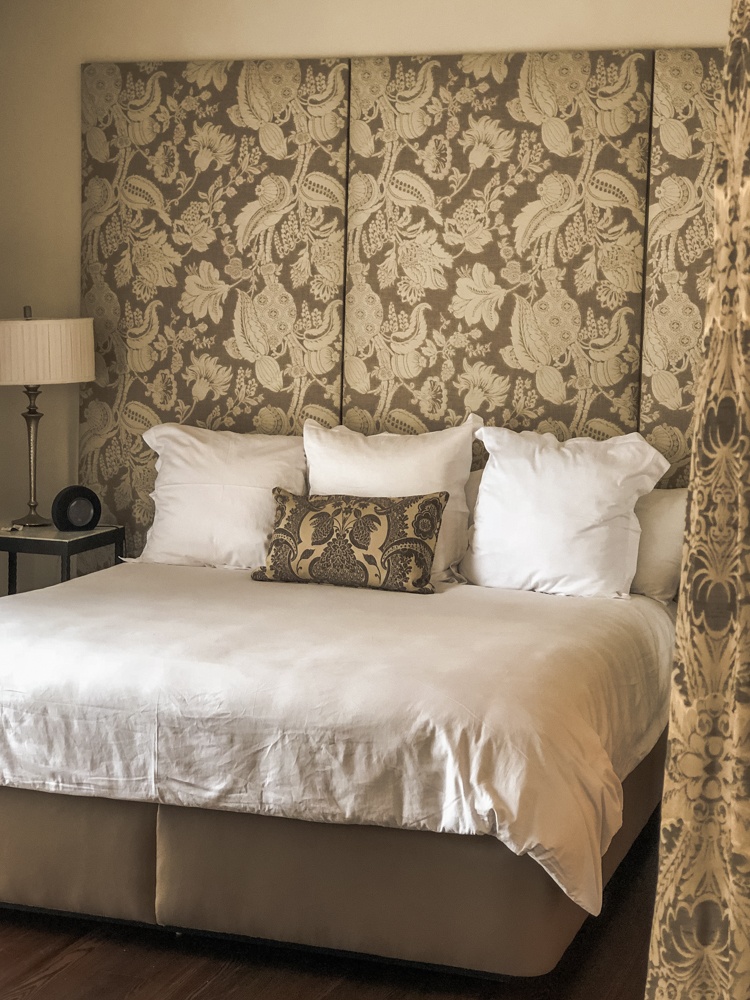 I stayed in the International House Hotel, which is just a short walk from the French Quarter. It was the perfect location for me, since I ate and explored in the CBD and the French Quarter. It was nice to be somewhere quiet and out of the madness as well. I really enjoyed my time there, and felt plenty safe. There are plenty of stylish boutique hotels in New Orleans to choose from, click here for a curated list!
What to Pack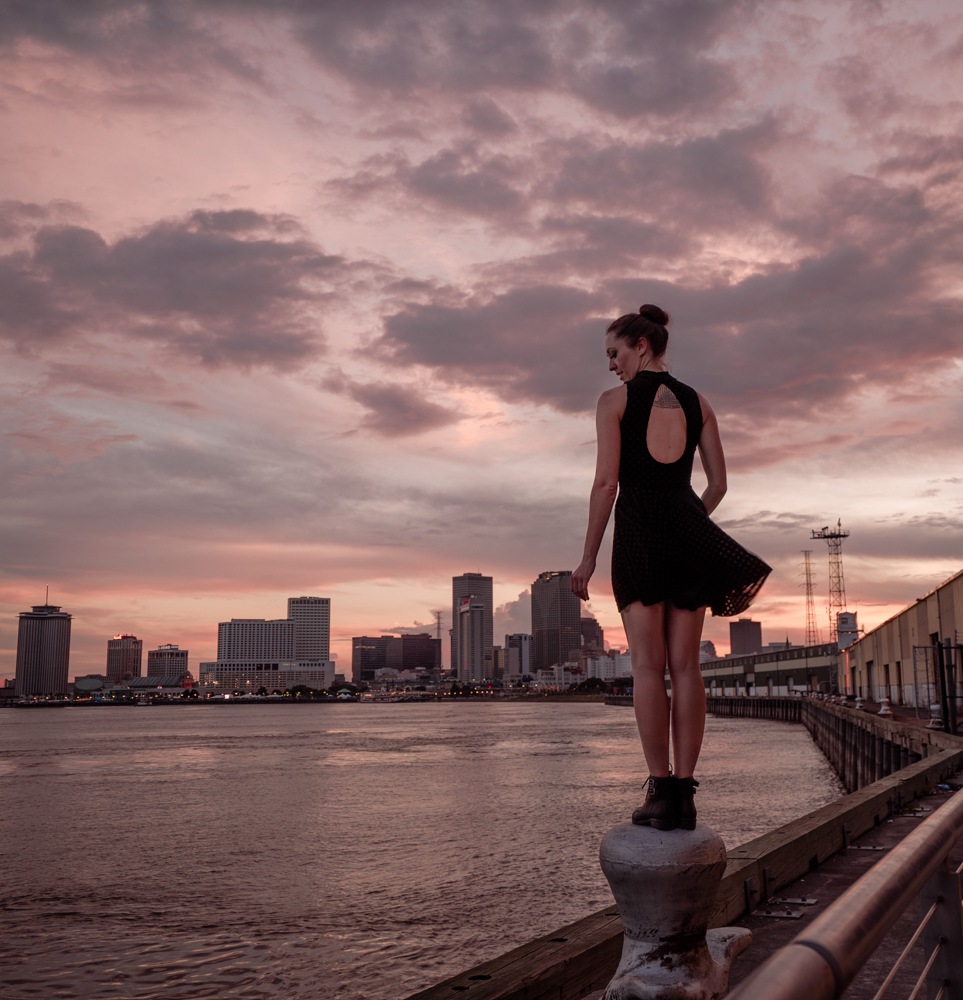 New Orleans is very hot and humid. The main thing I would prioritize is comfort, but that doesn't mean you have to sacrifice style! I mainly wore rompers and dresses with cut outs to let the air flow. I also wore ankle boots that were comfortable and fashionable at the same time to make walking easier, because chances are you'll be doing a lot of it.
Eating Solo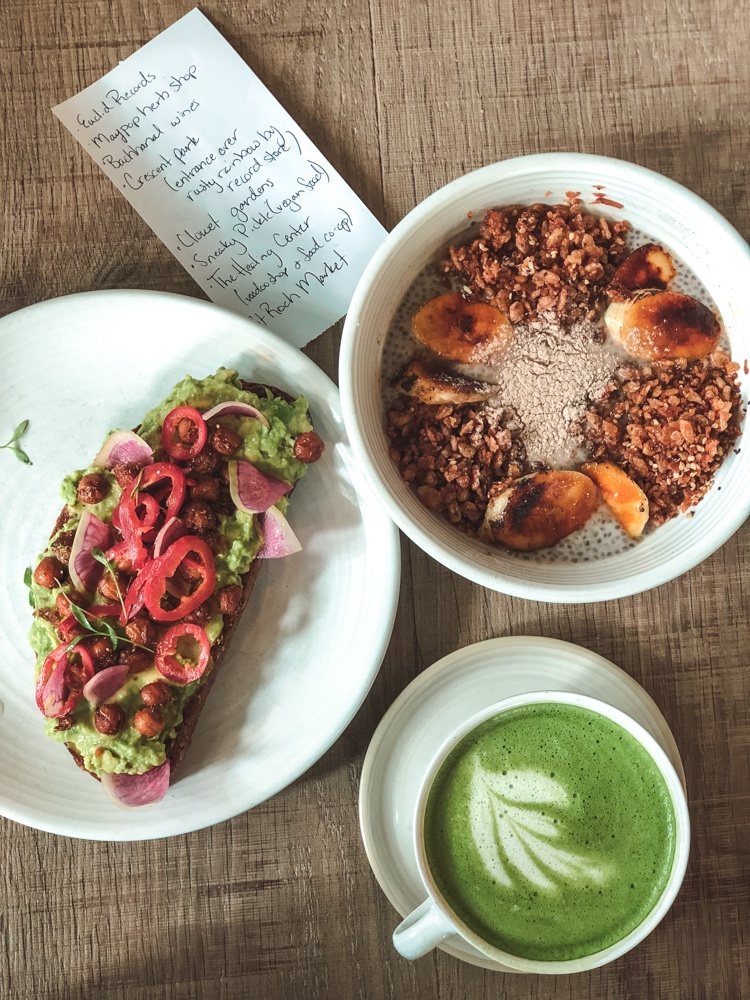 Eating my meals on my own really never gets easier, but it actually wasn't that bad in New Orleans.
Firstly, Uber Eats delivers in New Orleans so if you just can't be bothered to go out on your own, you can get food delivered to your door.
I also really liked the following options, which were either stands or quick restaurants where I didn't have to sit and twiddle my thumbs for too long:
Getting Around
In a city as small and compact as New Orleans I really appreciated being able to get around mostly by foot, especially once you get to your neighborhood of choice. The French Quarter is pedestrian friendly, as is the Bywater.
When I needed to get farther than I felt like walking, the streetcar and bus system both worked pretty well, and it's cheap at only three dollars for a whole day pass (pay the driver directly in exact change). I just used Google Maps to navigate bus lines and found it all pretty easy and reliable. If that makes you feel a bit uncomfortable, both Lyft and Uber are available.
In closing, I thoroughly enjoyed New Orleans as a solo traveler and was even looking up short term apartment rentals because I found it so friendly and full of fun things to do! I already know that I will be back to explore more of it, perhaps longer-term.
So ladies, and gents if you're reading this too, don't worry about going to New Orleans by yourself, it's probably one of the best places to travel alone!
Pin me for later: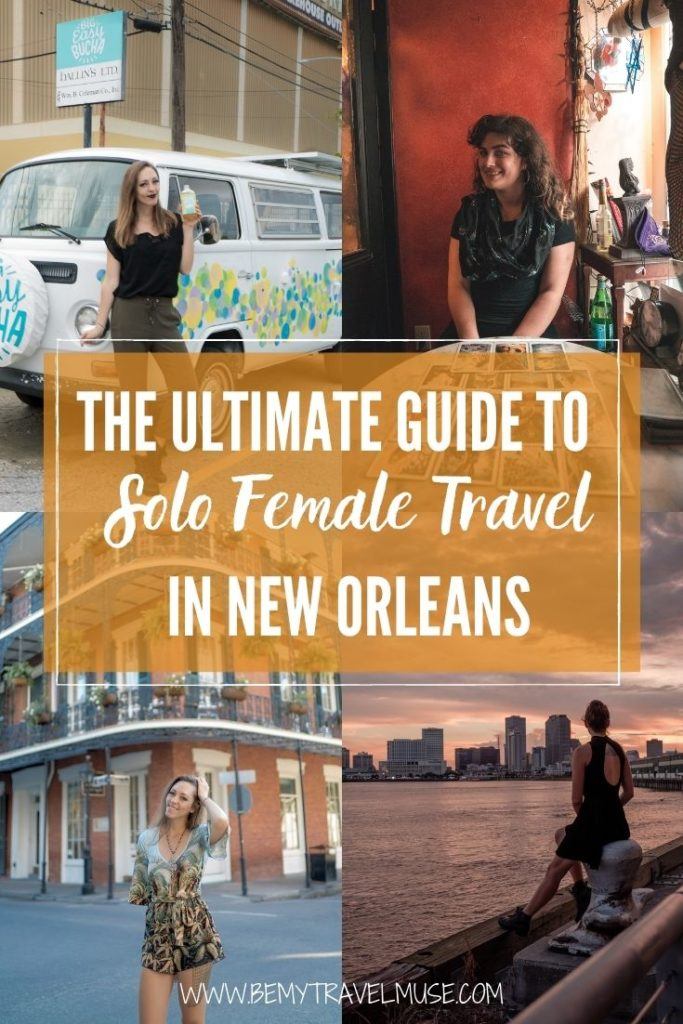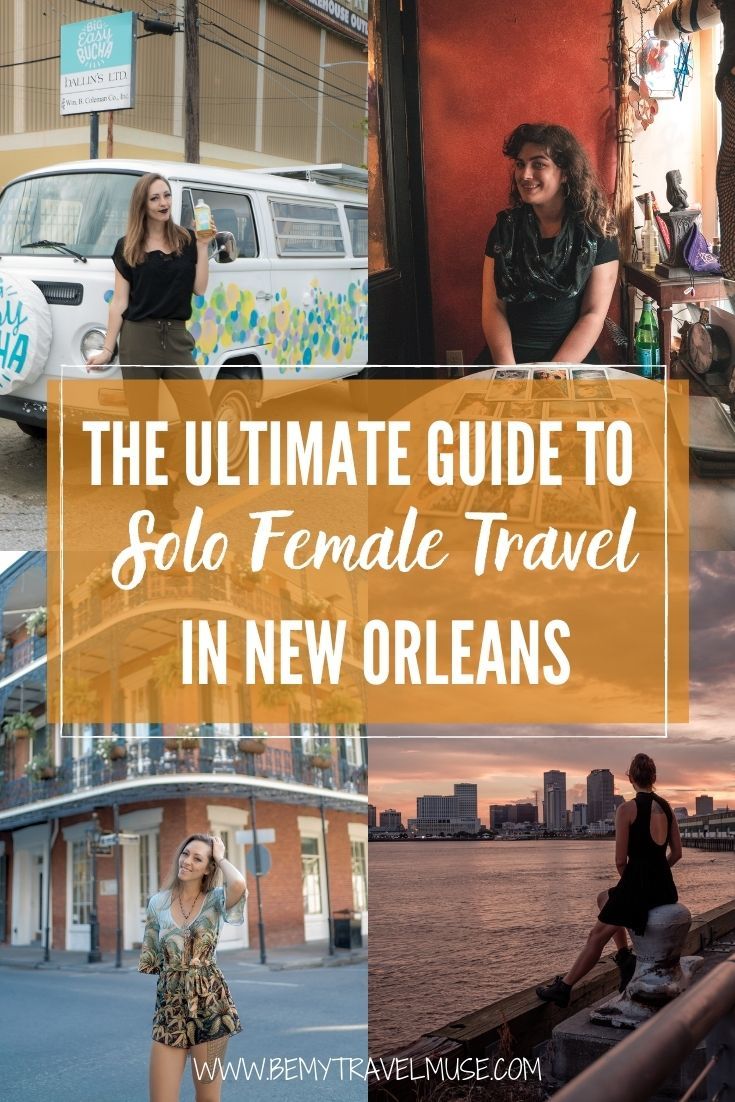 *This post was brought to you in partnership with New Orleans & Company, however this itinerary was designed by me and all recommendations are my own – your trust always comes first!