Picture this: It's one of those nights when the moon rises and everyone says, "wow!" because even though we've all seen it countless times before, that night it just managed to look super, mega, cartoonishly huge. I had never seen a moon that big before as it rises.
The sun was setting exactly opposite to the moonrise, reflecting orange and purple across the calm waters of Lake Superior, looking like some kind of psychedelic quicksilver that went from the purple and pink of the sun to the blue and white of the moon.
It was hard to know which direction to look in. That's the kind of night it was.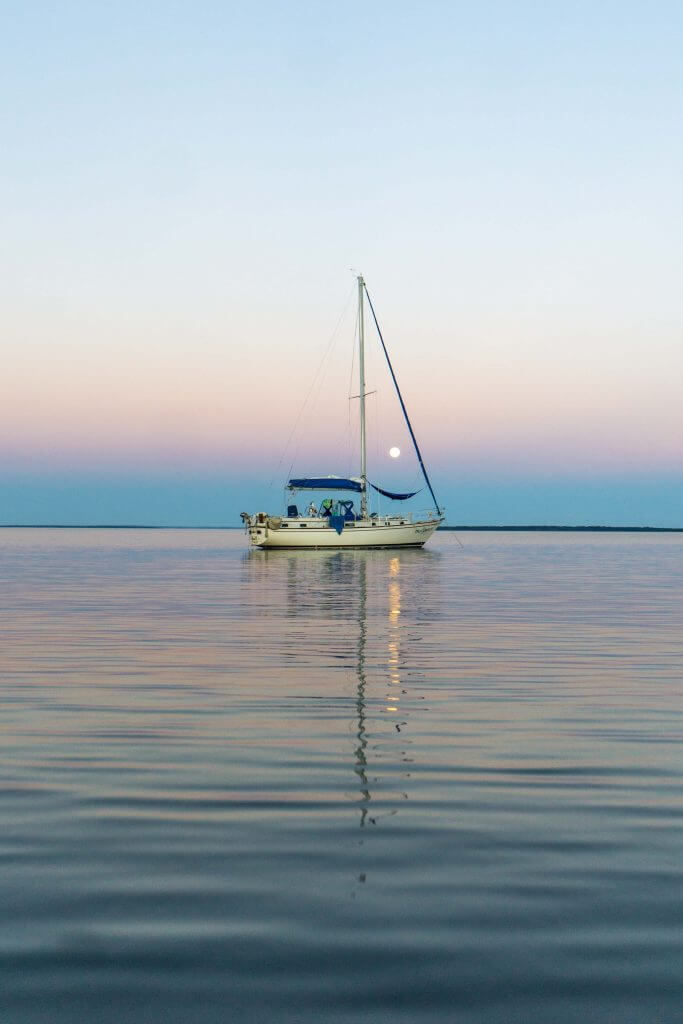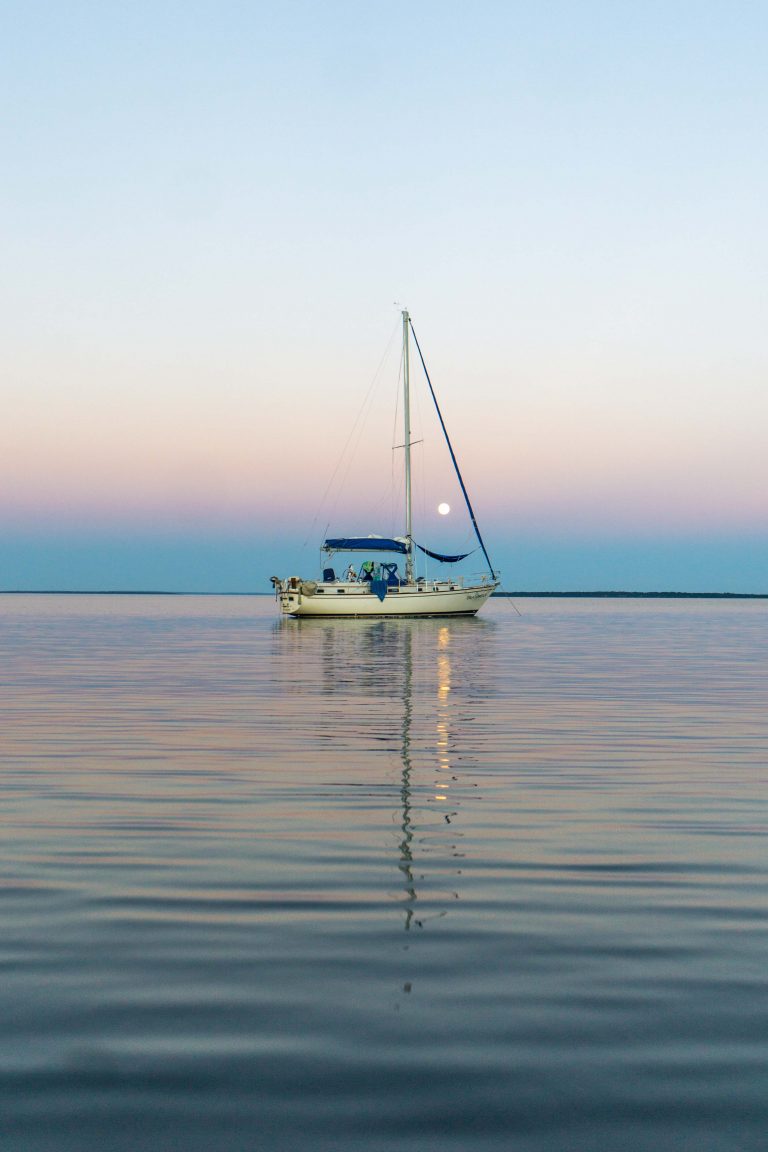 "The water's certainly not always this calm," warned Captain Jen Dale, and I believed her, because how else would these orange caves of all shapes and sizes exist without the waves that carve them?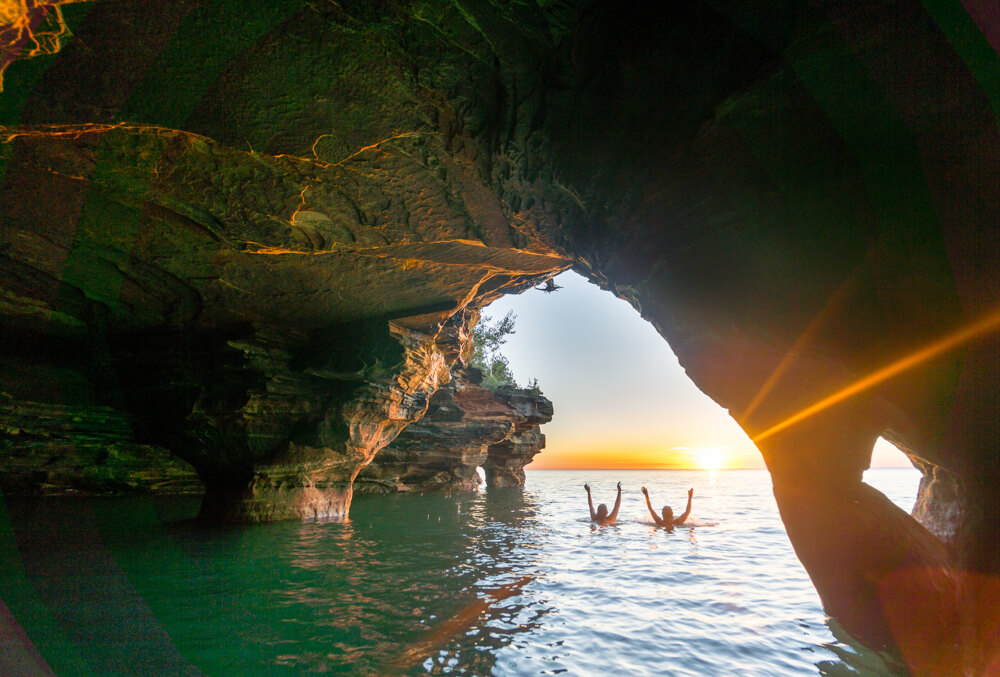 These are the sea caves of the Apostle Islands in Wisconsin and they really are incredible in person.
They're unique to the area thanks to the strand of iron-rich sandstone that comprises the bottom layer of the Apostle Islands, also known as the Devil's Island Formation, and displayed in the photos you see here. It was deposited approximately one billion years ago.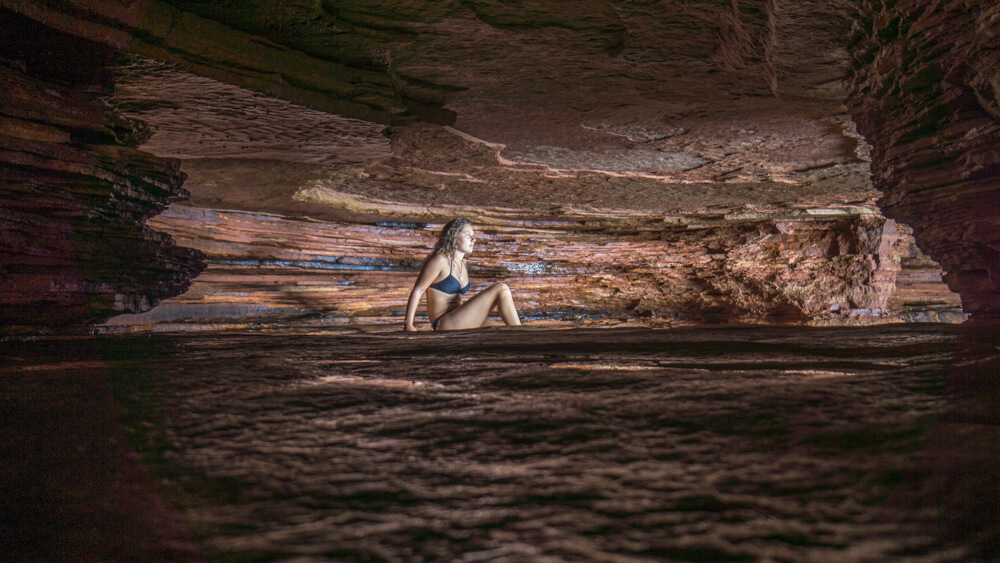 Deglaciation and erosion of the thin layers of sand created the sea caves found on the cliff faces. The resulting sight is layers of rock that have been chipped away at to form, in some cases, huge caves and diamond-like formations in the rock.
You're as into rocks as I am, right?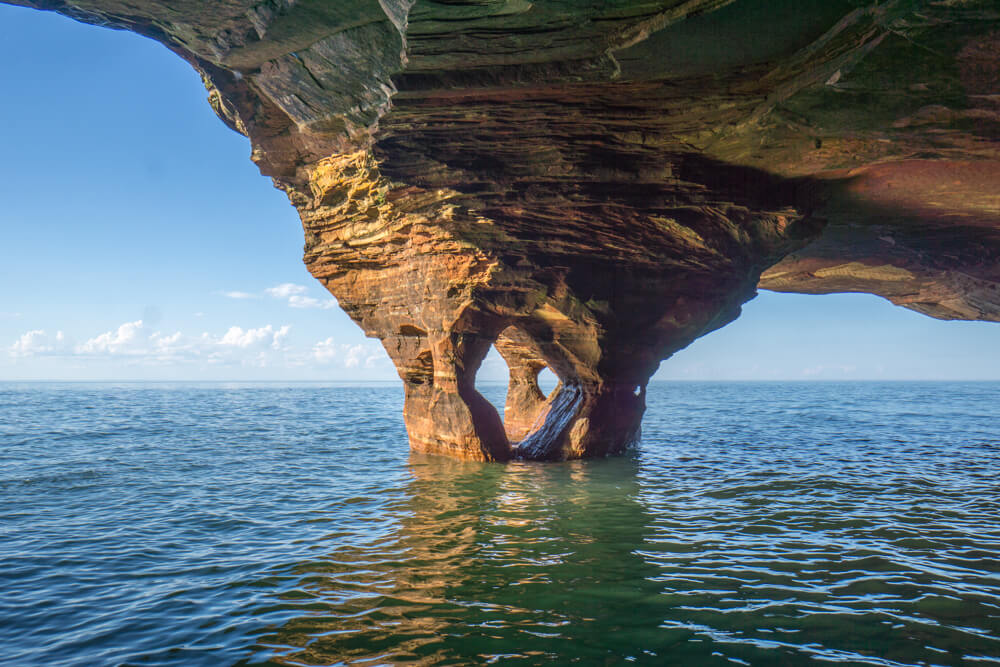 The islands were my main draw for this visit. I'd seen photos on Instagram, (which drives more and more of my travel choices these days, honestly!), and after seeing them, knew that I just had to photograph those caves myself.
It's not just about the caves, though. There's something special about Lake Superior, too. Though calm in that moment, I understood it the way I do the ocean – ready to turn to waves and wind at any moment, just not salty kind.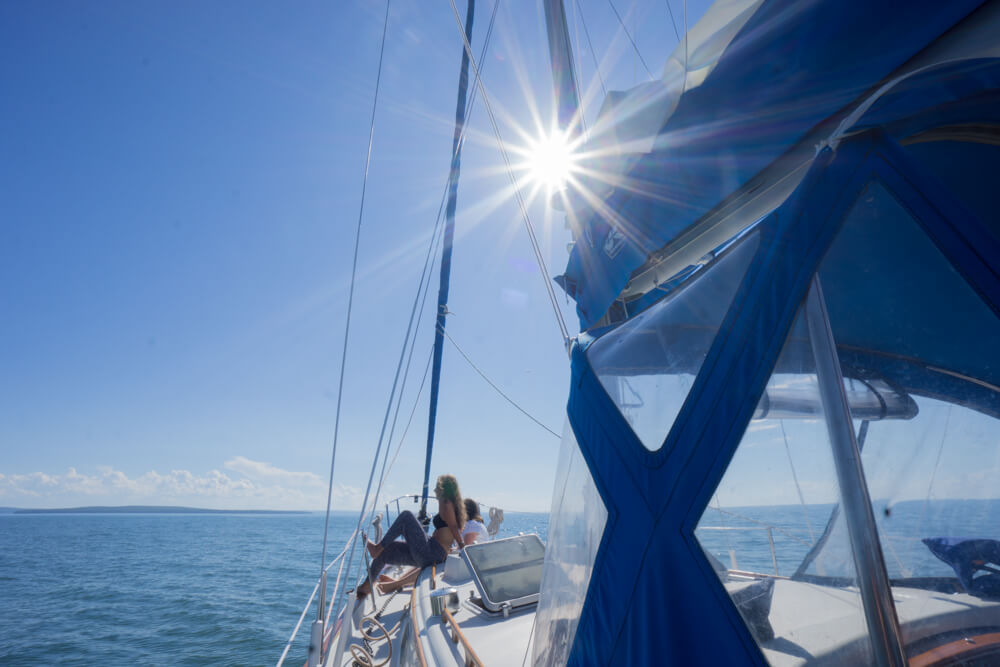 By surface area, Lake Superior is the world's largest freshwater lake and the third largest by volume. It actually contains 10% of the world's surface fresh water, so it felt like an ocean!
It's also incredibly clean, boasting the title of cleanest of the Great Lakes (hopefully it stays that way!).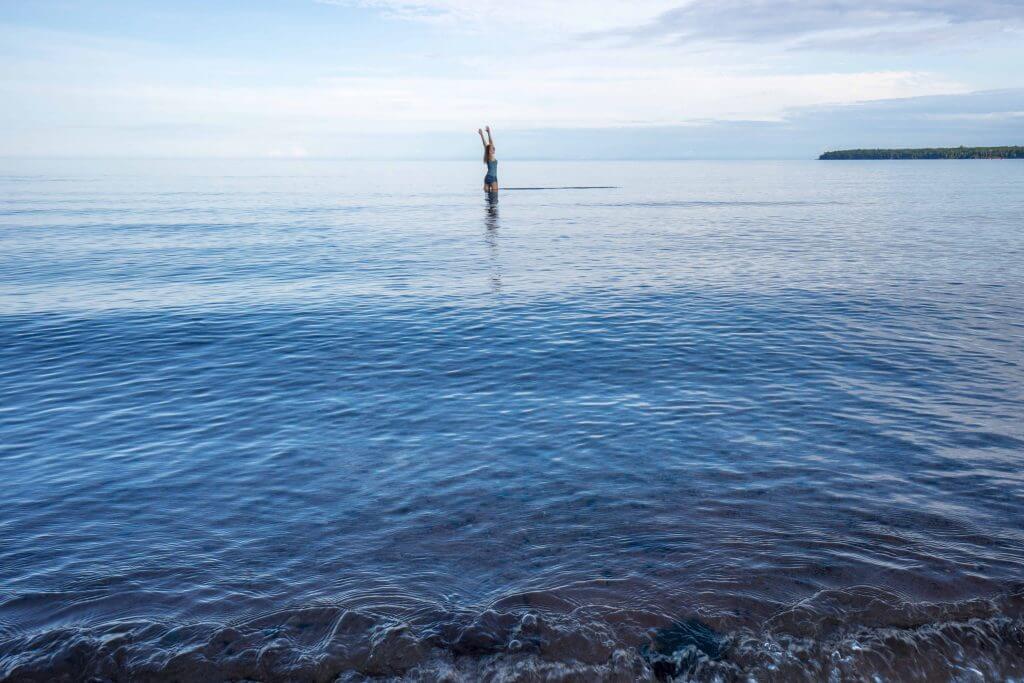 I'd wanted to see the caves, that was for sure, but I didn't realize that I'd like the town of Bayfield, the jumping off point for the Apostle Islands, so much too.
Whilst flipping through mostly country and Christian rock radio stations while driving through the countryside from where my plane landed in Ironwood, Michigan to Bayfield, Wisconsin, I readied myself for some serious small-town in the middle of America vibes.
Except that's not what happened.
I arrived in one of the loveliest, quaintest, most artist-friendly towns I've had the pleasure of visiting. This was my first time in the Midwest and I came to find that the stereotype about the incredible friendliness of the locals is true, as well.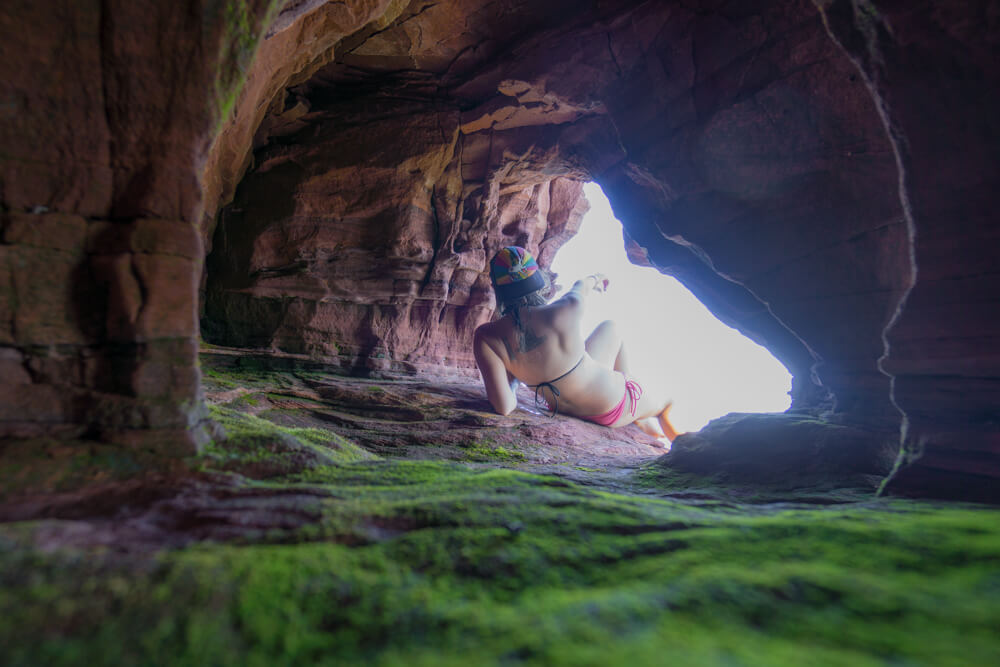 Laying in the hammock that night on the boat and looking up at the stars I couldn't believe what I had stumbled upon. How was it that caves this big and over a lake that clear and lovely didn't have tons of people visiting them?
I've seen other caves over water just once before (the Marble Caves in Chile) and while beautiful, they weren't nearly as big nor extensive as these.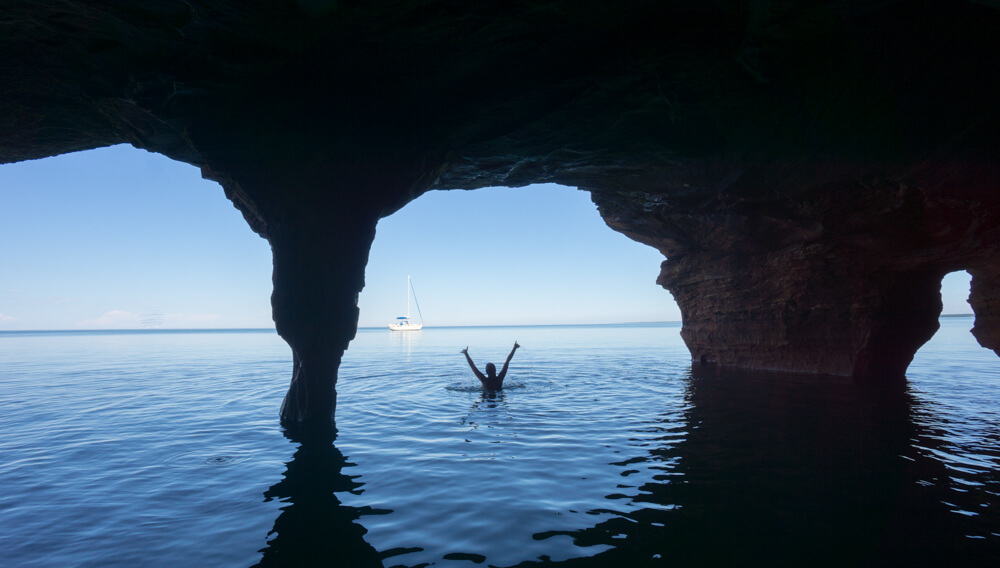 In the summertime boating around them is a great way to enjoy them. You can charter your own private boat with a captain and open itinerary (Contact Dreamcatcher Sailing to book. It includes two nights of accommodation on the boat and isn't too expensive when split amongst a group!), which is how I got out to the Devil's island to see the most impressive caves.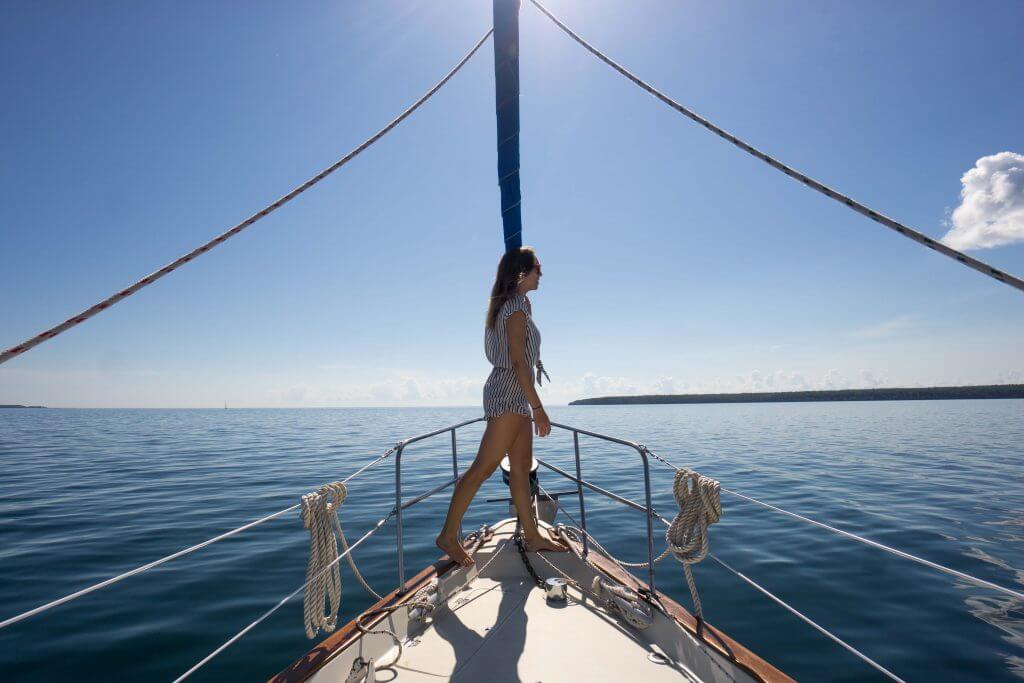 It's also possible to kayak to the caves on the mainland just a short drive away from Bayfield. I chose a full day of kayaking as well as the sailing, and saw giant cracks in the rock as well: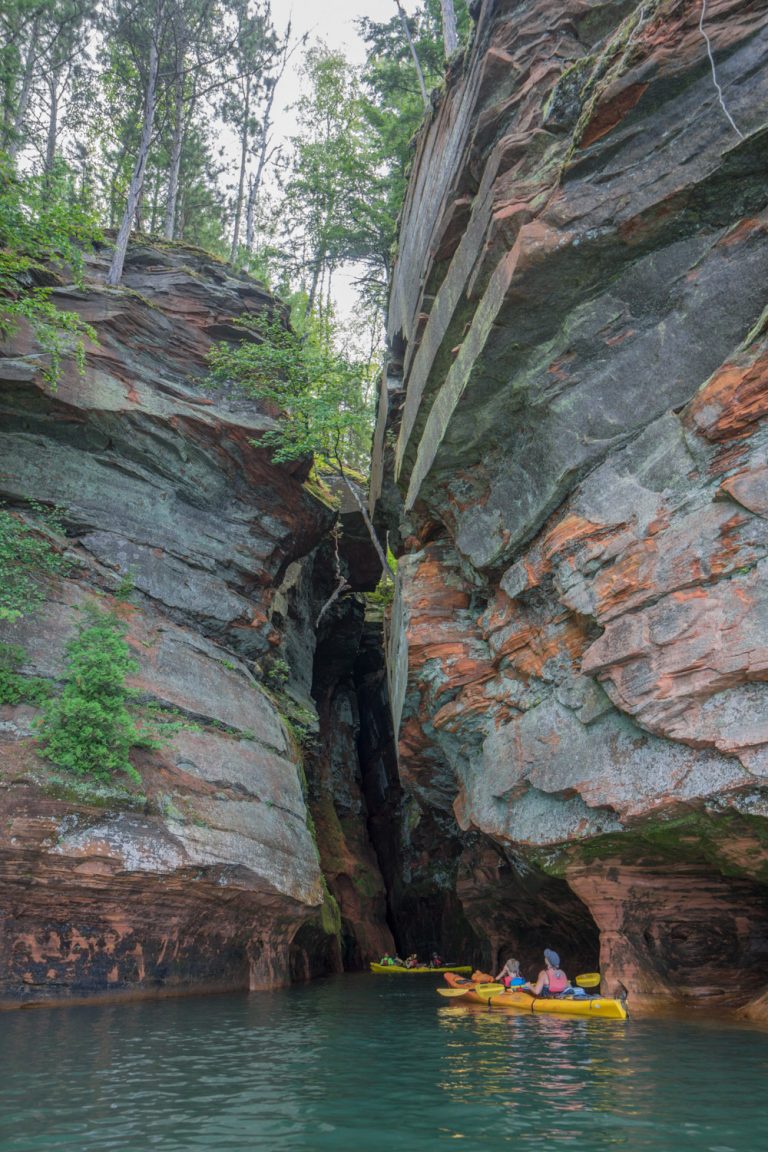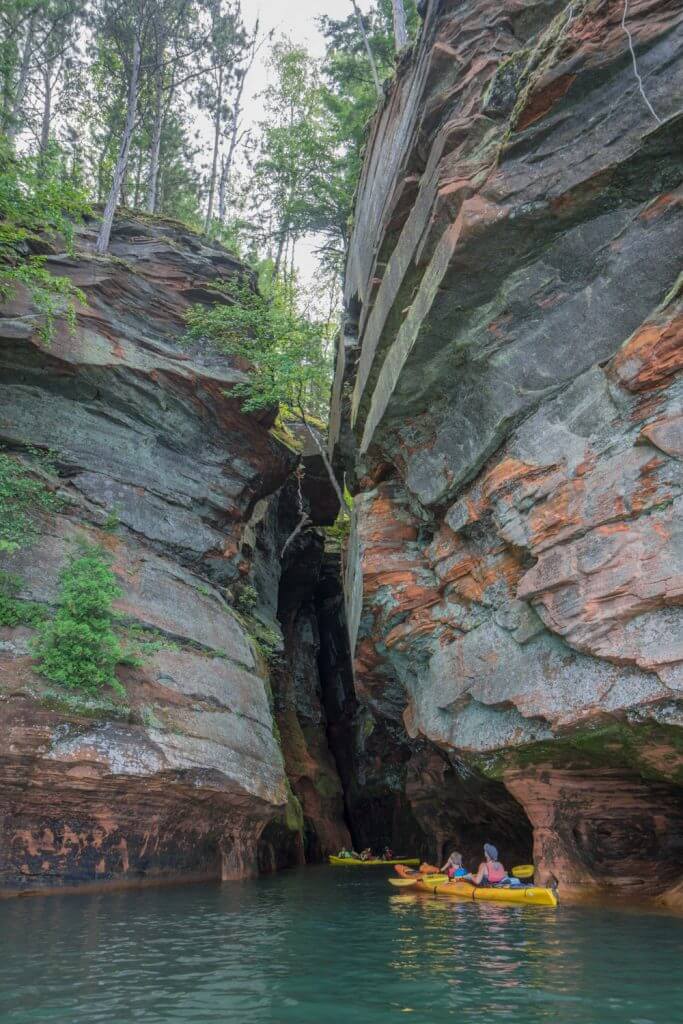 And in the winter, the caves actually freeze over and the kayaking route turns into a hike.
Great, and now I need to go back in the winter, and probably the fall when the leaves change, too.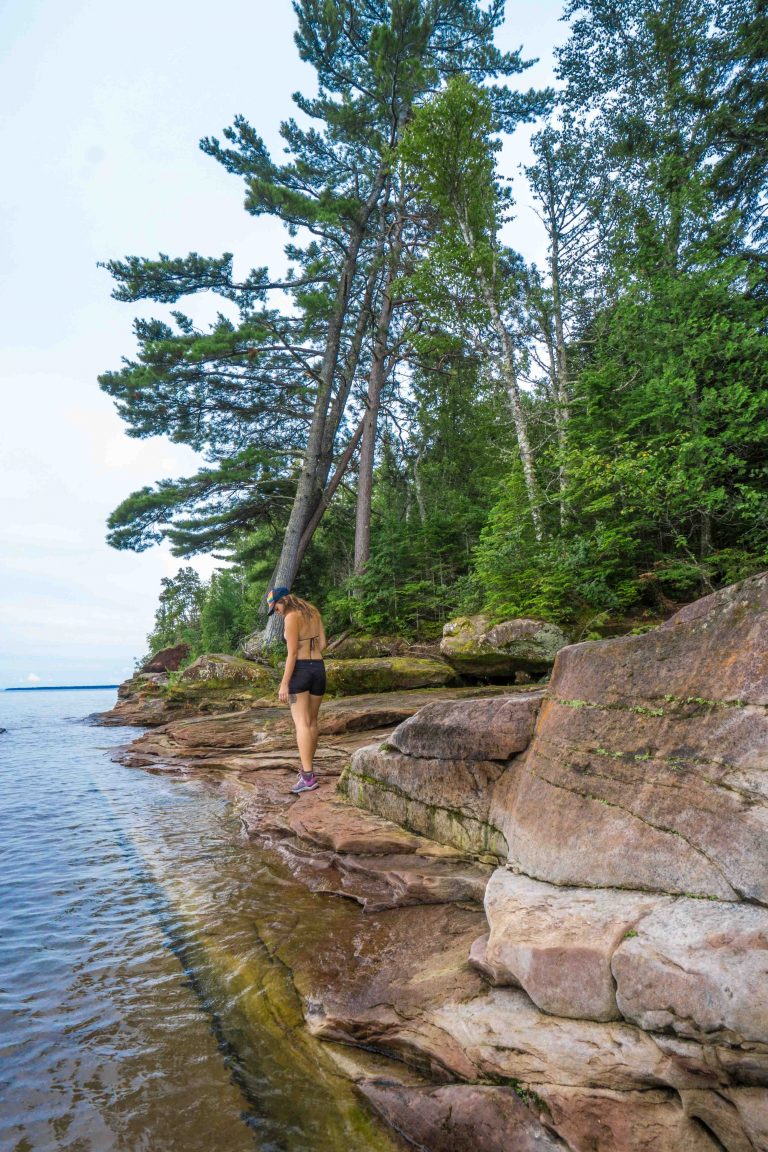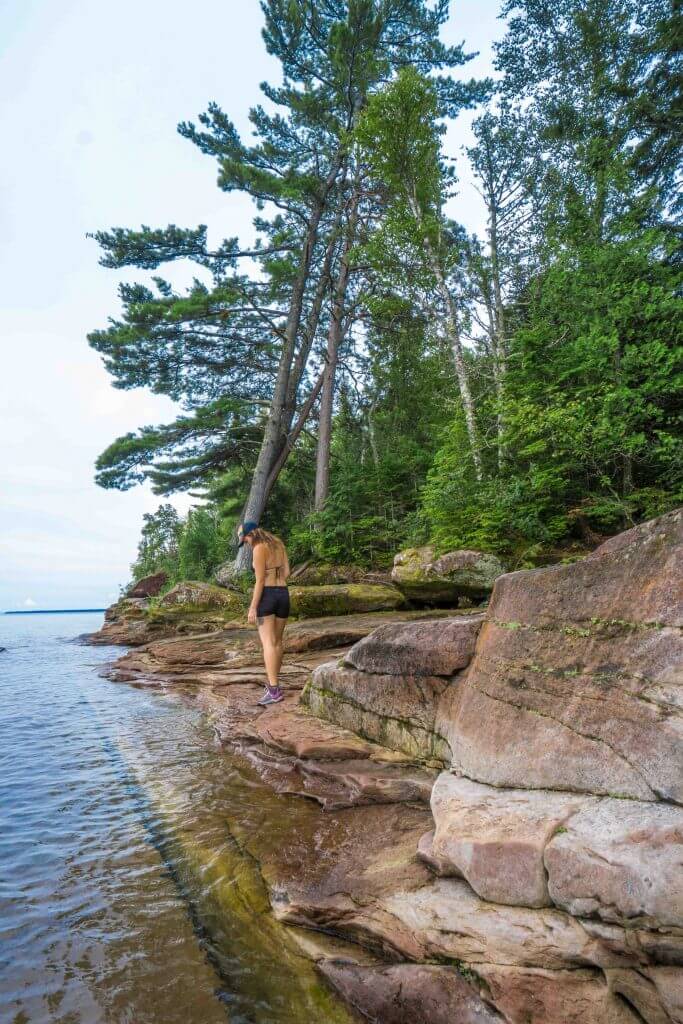 Did I forget to mention the camping? It was lovely, too.
I had an entire campsite all to myself, hardly seeing anyone else throughout the day (by choice, as I wanted to be far down on the coast). I made fire from kindling on the ground, made some hobo stew, and watched as a storm thundered through then left a dazzling red sunset in its wake.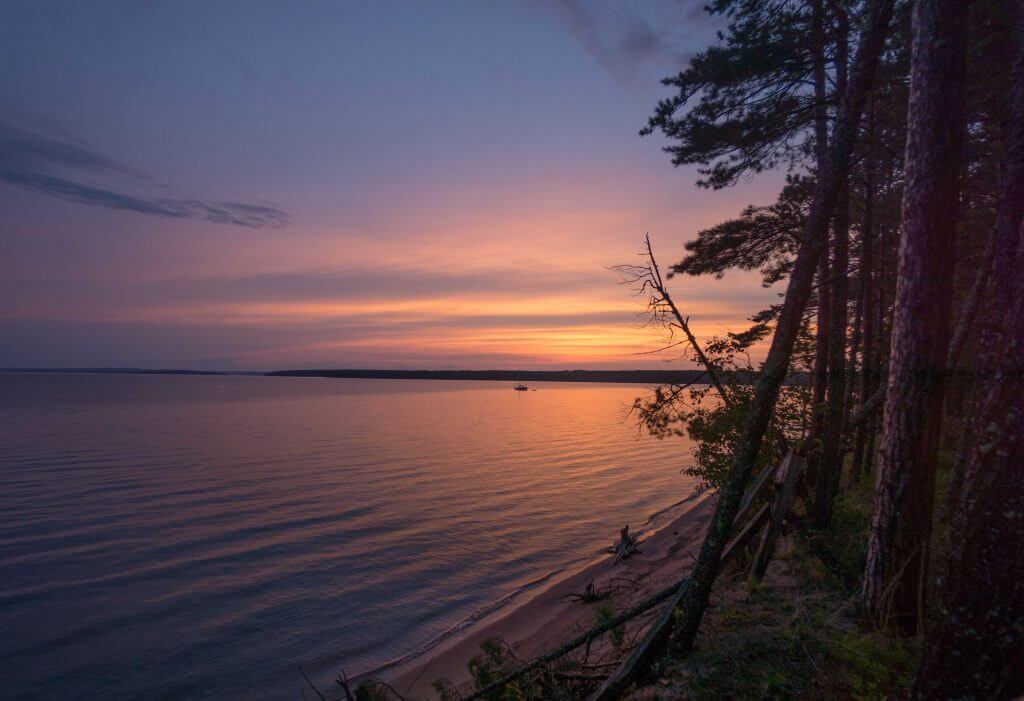 It had me wondering if sunsets are just a thing there, along with those amazing caves and that gorgeous lake.
It may have been my first time to the Midwest, but with the impression it made, sailing the Apostle Islands has awakened in me a desire for a lot more America appreciation in my future.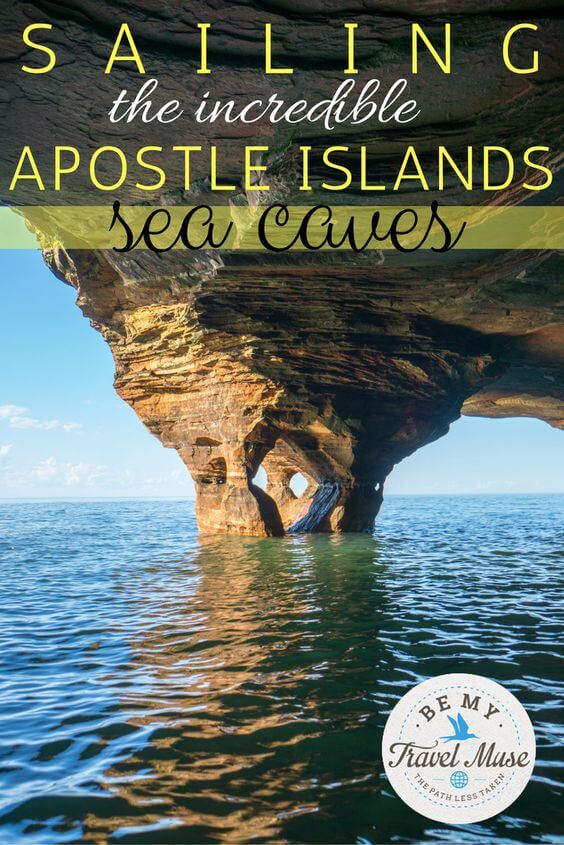 Do it yourself:
Getting there:

Fly into Ironwood or Duluth via Chicago and Air Choice One flights. Take a rental car (I used Red's in Ironwood), the 1.5 hour drive to Bayfield.

Stay
Eat (All of these restaurants are on Rittenhouse Ave., the main street in town)

Fat Radish is excellent for healthier, local food
Ethel's at 250 has great Italian

Drink

Visit Tom's Burned Down Cafe on Madeline Island, just a short ferry ride over from Bayfield. It's super funky!

Do

Kayak with Living Adventure
Sail with Dreamcatcher Sailing
Visit the orchards and pick fruit
Camp and hike!
*This post was brought to you in collaboration with Travel Wisconsin. A special thanks for the great experience! They did not ask me to write a favorable review and all loving words towards the caves are my own.