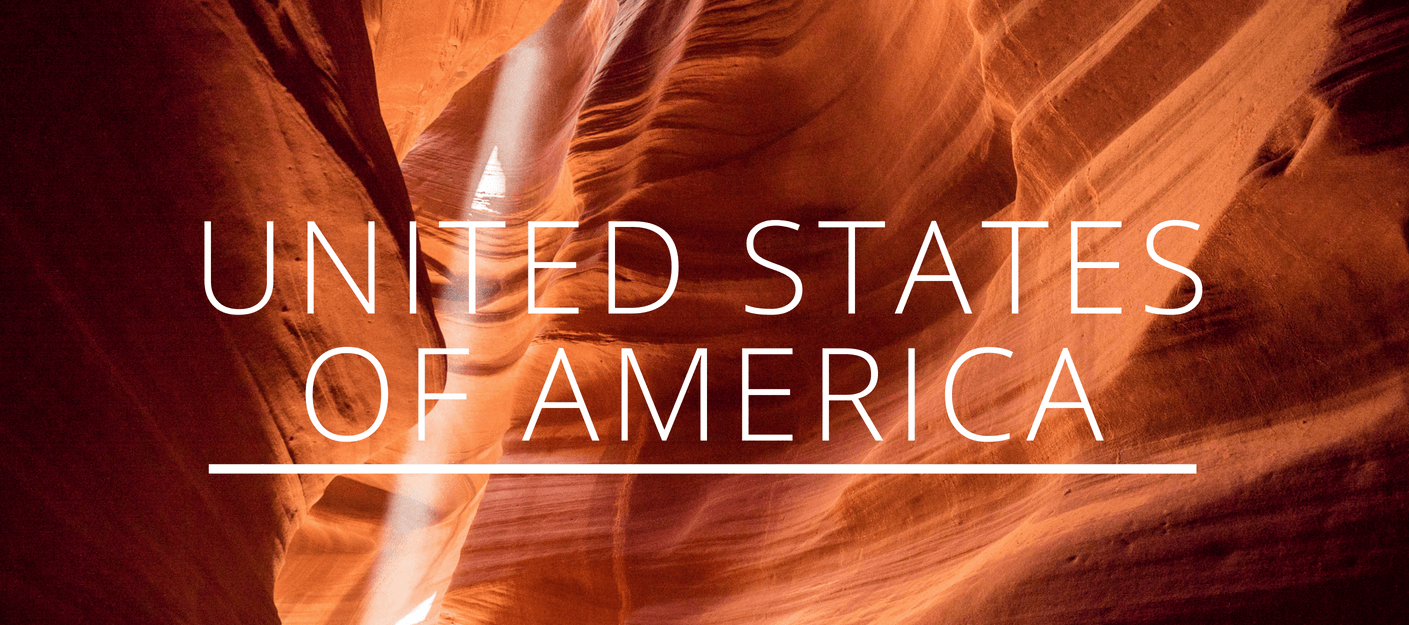 My home country, the good ol' US of A, truly has it all. If you want to find rugged nature, it's everywhere in the national and state parks spanning from sea to shining sea. If you want to find culture, each state, and even each little borough within each state, has something unique to offer you. Thanks to the diversity, both of the people and of the landscape, the United States truly does have something for everyone.
If you want to get your surf on, head to California or Hawaii, or hike through deep canyons and orange rocks, head to Arizona or Utah. If you prefer to become one with nature in one of the most unspoilt places on earth, head to Alaska.
It's a country of friendly people with tons of activities, and if you approach it with an open heart, it's a place that's very easy to love.
Where in the USA?

USA
Quick Tips
Currency

: United States Dollar (

click here

for current conversion rates)

Visa: 90-day visa waiver program through ESTA, depending on your home country (Canada, Bermuda, Marshall Islands, Micronesia, and Palau are totally visa free, remainder need a B-2 tourist visa)." Pay special attention to rules pertaining to air/cruise vs. land entry as land entry doesn't even require an ESTA, essentially visa-free. On the other hand, even if just in transit via air/cruise, obtain an ESTA prior to arrival. Find out more here
Safety rating

: Ranked 128 on the

Global Peace Index

with a score of 2.40

Solo Travel Friendliness

: Most parts of the country are awesome for solo traveling. People are friendly and outgoing, and the streets are generally safe and easy to navigate. There are places where crime rates are high, and I will not pretend like the current political state of the country is great, but as far as traveling and exploring solo go, the US is still a fun place to be

Climate

: Since the US is so big, the climate varies quite a bit. In coastal California, plan on long, dry summers and don't expect to encounter snow, but as soon as you head to the mountains it could be dumping down. On the East Coast, plan on gorgeous fall foliage, while in the South, anticipate mild winters and hot, humid summers, and in the Midwest, expect long, snowy winters, with also short, but often hot summers

Best SIM cards

: T-Mobile prepaid plans are the cheapest in the US, particularly if you buy the SIM card at Walmart. Bring your passport

Random useful tip:

Americans are generally friendly and outgoing – we tend to smile and even say 'hi!' to perfect strangers
Accommodation
Budget Solo Travelers (free - $30): Camping and couchsurfing are the way to go for travelers on a shoestring budget. iOverlander is a great website to locate free campgrounds throughout the country. The couchsurfing community is huge in the States - it started in this country, after all! If you are going on a road trip, consider renting or buying then selling a campervan so you can save on accommodation as well. While hostels are not popular, cheap motels and inns are widely available in major cities and along the highway. Price range-wise, it largely depends on which city you are traveling to. Click on the individual states on the map to read more.
Mid-Budget Solo Travelers ($35 and up): Hotels with style ranging from budget to boutique to extravagant can be found throughout the country. In the cities, indulge a few nights at the mid range hotels which cost about $70 - $200, with great facilities like a gym and pool included. Airbnb is an awesome accommodation choice, especially in the countryside. You can find adorable tree houses, modern apartments, and seaside bungalows, depending on budget and location. A private room typically starts at about $25, and an entire unit at $80.
Transportation
Getting There: There are more than 5,000 public airports in the country that see close to a million visitors from all around the world traveling in and out of the States on an average day. A few things to note about America's airports: if you are locking your bags, make sure the locks are TSA approved; security is strict, and in some states like California, a 30 – 60 minute wait through security should be expected. Crossing overland from Canada and Mexico is relatively straightforward. Expect the possibility of having your car searched, and make sure that you have all of your documents, visas, and insurance ready.
Getting Around Town: Public transport varies wildly from city to city where some places, like New York, have excellent public transport while others, like Los Angeles, have terrible public transport options. Generally, buses and trains in major cities are cheap. Cycling is also increasingly popular. Metered taxis, Uber, and Lyft are widely available. Driving could be stressful in the cities, but it is certainly a convenient way to get around. Most car rental companies have outlets at the main airports, and it is also easy to rent a car in major cities.
Long Distance Traveling: Given the distance between one state and another in the country, it is important to plan ahead and, if possible, arrange your transportation in advance. Flying is the easiest and fastest way to travel between cities, especially on Southwest Airlines, the country's best budget airline. The railway system, dominated by Amtrak, is another option though the network is not comprehensive, and the tickets are sometimes more expensive than flying. If you plan to make a lot of stops along the way, traveling by bus or a rental car would be ideal. Hitchhiking is pretty common along the highway, though it could be illegal in some states.
Food
Grocery Shop & Cook Your Own Food ($5 - $10): To save money, you can buy your own groceries at the local supermarket or farmers market and cook your own meals. There are also all kinds of small casual eateries, and food trucks that sell fresh, delicious snacks and mains for cheap.  The American staples include steaks, hotdogs, and burgers, though in cities like San Francisco and New York City, healthy, raw-based diets are on the rise. The variety depends heavily on where you are, with lots of international options along the coasts and in big cities versus more diners and fast food in the small towns in middle America.
Restaurants & Bars ($10 - $30): It's not just about burgers! The culinary scene in the USA is varied and inventive, thanks to all of the different cultures. From casual cafes to funky food trucks, hole-in-the-wall style restaurants, hippie cafes, and high-end restaurants, there's so much to discover as far as food goes, especially in the major cities. Expect portions to be big. Most major cities are buzzing with nightlife, and it's easy to find a nice place for a night out as well.
*Tipping: Due to a low minimum wage, tipping is not just common, but expected. It's customary to tip 20% in restaurants, which may seem high, but it's our culture - unless the service is particularly bad, then you should let the restaurant know, and they may refund your meal.
Things to Do
Go on a road trip: Whether it's the Pacific Coast Highway road trip, an epic West Coast road trip, or the American Southwest road trip, renting a car and driving various routes in the country is the best way to see just how massive and beautiful America is.
Experience Authentic Hawaii on Molokai: If you want to find how Hawaii was 50 years ago, go to Molokai. While the island sometimes has the rep of being unfriendly, the locals tell me they just want the right tourists - the ones who don't want to change Molokai, but who want to learn, appreciate, and be transformed by it instead. It is my favorite place in Hawaii, where I swam under the 250-foot Mooula Falls, found a secret beach, and experienced a traditional ritual that involved the Aloha. Molokai may not have fancy resorts, 5-star restaurants, spas, or even traffic lights, and I might be covered in mud and mosquito bites from the Halawa Valley, but this is my happy place.
"Hike Coyote Gulch in Grand Staircase-Escalante in Utah: Grand Staircase-Escalante National Monument is a massive sequence of sedimentary rock formations stretching from Zion to the Grand Canyon. It's an outdoor enthusiast's dream with hiking, rock climbing, bouldering adventures, 4×4 roads, and wide-open spaces that you can climb all over and free camp in. There are thousands of hikes you could do in the Grand Staircase, so pick one that best fits your schedule and fitness.
Sail the Apostle Islands in Wisconsin: Charter your own private boat and go sailing! The sea caves of the Apostle Islands are incredible in person. The islands are also home to Lake Superior, the world's largest freshwater lake. Other activities include kayaking, hiking, and camping. The jumping off point for the Apostle Islands, the town of Bayfield, is also a lovely and artist-friendly place worth visiting.
Visit Sun Valley in The Winter at Idaho: There's just so much to do in Sun Valley in the winter. The hot springs with various temperatures allow visitors to hop back and forth between the cold and hot waters; the powdery, snowy mountains are perfect for skiing and snowboarding; snowshoes can be rented for a beautiful walk in the snowing mountains, and the town is buzzing with warm hospitality – can you tell that I had a really good time there?
Visit Grand Teton National Park in Wyoming: Grand Teton National Park is beautifully blanketed in white during winter, making it a perfect spot for snowshoeing. If crowded Yellowstone is not your cup of tea, you can seek refuge in Grand Teton – it took me one and a half hours before seeing another soul.
Visit Antelope Canyon: No trip to Arizona is complete without seeing the incredible Antelope Canyon, a striped and bright orange Navajo Sandstone canyon in Arizona carved by flash flooding and erosion. There are actually two of them, and both canyons are located on Navajo land. The only way to see them is by taking a guided tour. I only saw Navajo guides, which made it feel more authentic and connected. Visit both if you can, but if you can't, I posted a comparison of the Upper vs. the Lower Antelope Canyon for you.
Explore New York City: It's crowded, it's busy, it never sleeps, it's a place where everything becomes a possibility, it's a concrete jungle where dreams were made of (I'm sorry if the song is stuck in your head now!). Check out Brooklyn, relax and people watch in Central Park, get to the top of the Empire State Building, see Times Square, or simply explore the entire city freely.
The United States of America on @BeMyTravelMuse's Instagram