It was a piping hot day in Bangkok, I was walking out of the bustling Grand Palace and some curious Thai teens started asking me questions. Noticing that I was alone, they were intrigued and wanted to know more.
"Oh, so lonely!" they said to me when they learned I was, indeed, traveling solo for the long haul. I smiled and shrugged.
They didn't know I've hardly been alone.
Each day has brought a new person into my life. There was my epic bike crew in Siem Reap, the big group outing for BBQ in Phnom Penh, my chill, hippie posse in Otres Beach, the awesome German crew I rode with during my moto jaunt around the Bolaven Plateau, the amazing family of friends I made in Pai, and everyone before, after, and in-between.
Often, it's as simple as just saying hi, asking a question, walking up to a group at a bar, street stall, or restaurant and asking to join, or calling out things like, "I like your hat!" to another traveler. I've completely come out of my shell here, as has everyone else.
What we might fear doing around strangers at home is not of worry on the road.
I'm surprised by how much more outgoing I've become.
Instead of putting my head down and ignoring the person who may be passing me on the sidewalk, like I used to do back home — oh, who am I kidding? Nobody walks anywhere in Southern California — I smile and say hello.
The traveler crowd is much like the Burning Man crowd – open, interested in dialogue, and generally very friendly. We already have so much in common just by virtue of being travelers. We're a little more adventurous, take things as they come, and share an appreciation of the world as well as a robust addiction to new experiences, people, and places.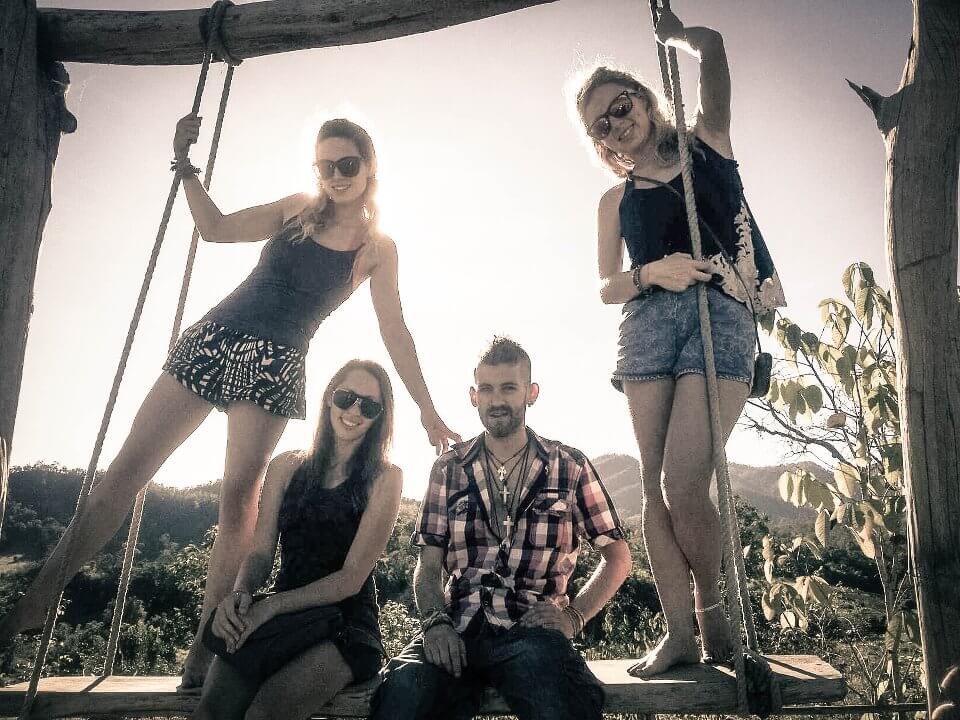 The only tragedy is the fleeting nature of the relationships one builds on the road. I've felt sad more than a couple of times over parting ways with an awesome fellow traveler. But, that's the nature of the beast, and there are always exciting new people and possibilities just the next town over.
Part of the fear of taking this trip was the knowledge that I'd be doing this alone. Initially, I tried to get friends to meet up with me for various legs of the journey. I asked close friends, then even not-so-close friends, then slowly realized that I might never travel if I waited around for a time when a friend of mine would be free to join me.
If I was really going to do this, it would have to be solo.
As it turns out, traveling solo is the best choice I could have made. I've had complete flexibility to do things like serendipitously paint a mural, or impulsively join a 10-day meditation retreat.
These are things I simply could not have done if I had someone to meet up with, or a friend traveling along with me who wanted to keep a schedule, or had different ideas of what he or she wanted to do.
You always have to make concessions when you travel with others. Sometimes, you have to do things you don't feel like doing.
But me? I do what I want, when I want, wherever I want. I don't plan a thing, and nobody is annoyed by my flighty and impulsive nature. If I want to spend all day walking around a temple snapping photos, nobody is bothered. If I feel like laying in bed reading blogs and downloading documentaries (nerd alert!) all day, nobody is bored with me.
Solo travel is amazing. And really, unless I truly want and seek out solitude, I never am alone. I always have a group. I never feel left out. Sometimes, being alone forces you to reach out to people you might not otherwise have ever met.
So don't fear traveling alone. It's the best high there is.
Some tips:
Stay in dorms. They're a great way to meet others, and have a built-in network of potential friends.
Be friendly and upbeat, and the whole world will be your friend.
Don't be afraid to talk to strangers – this is the best advice of all.
Don't fear speaking to people you haven't met formally, interjecting in conversations when the time is right, or you have something to add. Invite yourself along (politely), feel out the group, and decide if it seems they're open to companions. Usually, they will be.
Couchsurf.