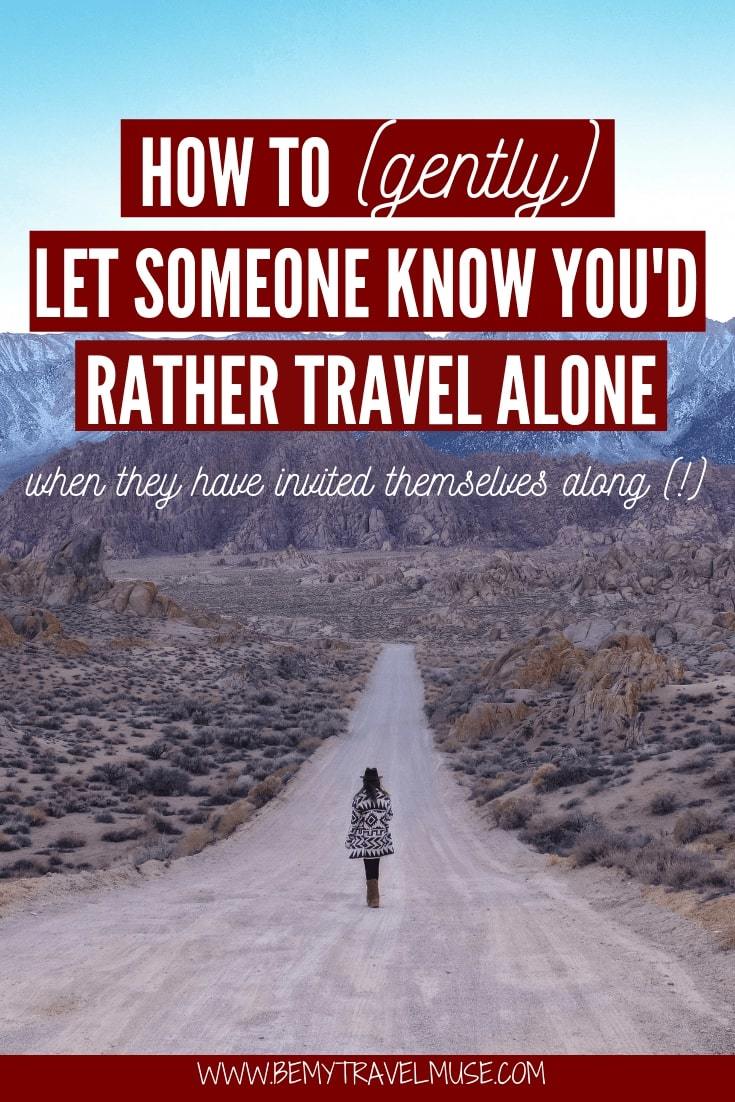 So you've planned out an amazing trip and have every intention of doing it solo. You excitedly talk about it with someone else and the unexpected happens: they invite themselves along.
Now you might love this person, or at least want to keep peace with them, but you know that you want to do this trip on your own. So what should you do to preserve the relationship and minimize their hurt feelings?
Though every relationship is different and this can't possibly be one-size-fits-all advice, the following are some tips that I would try to gently let them know you'd rather take this trip solo:
1. Focus on your reasons why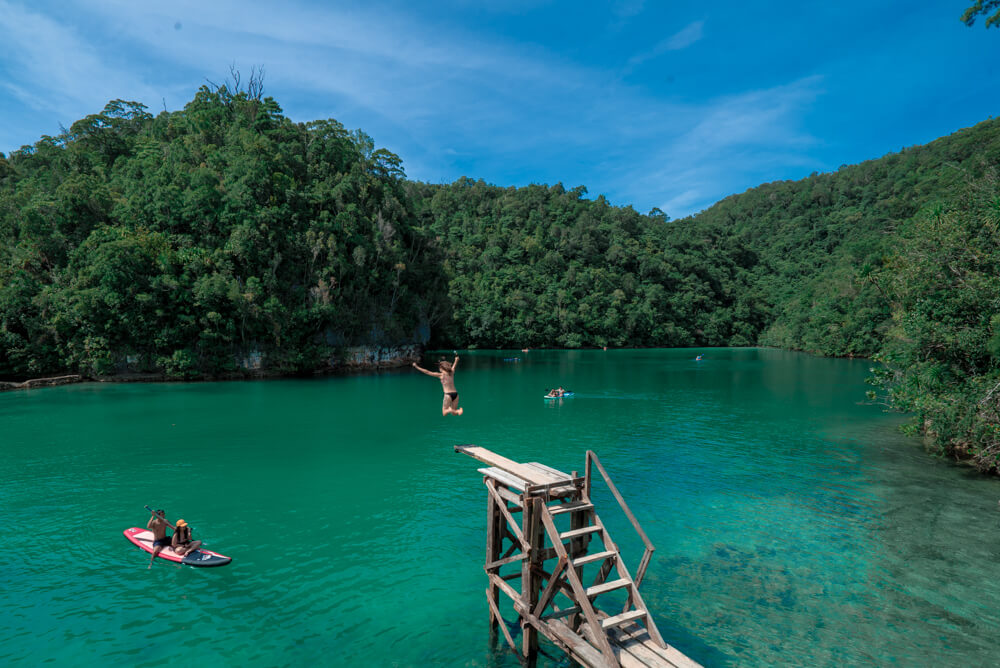 The best thing you can do when broaching the subject of taking this trip alone is to focus on you.
Why is it important for you to do this on your own? What do you hope to achieve for yourself that you can only do while solo?
Hone in on the growth and deeply personal reasons why you NEED to do it alone. Hopefully that won't leave room for pushing or questions. Here are some reasons I would give:
I don't get to be on my own often, and I feel I really need to get to know ME better.
I'm so emotionally tied to this trip, I feel I need to do this solo just as I've always envisioned it.
I have XYZ coming up in my life and I'm afraid if I don't do a solo trip now I may never get the chance. I just want to know what it's like to travel on my own for once.
Or considering I travel solo all the time, I personally would say I know that I travel well solo and that this trip is one I'd do better on if I'm on my own.
2. Use "I" statements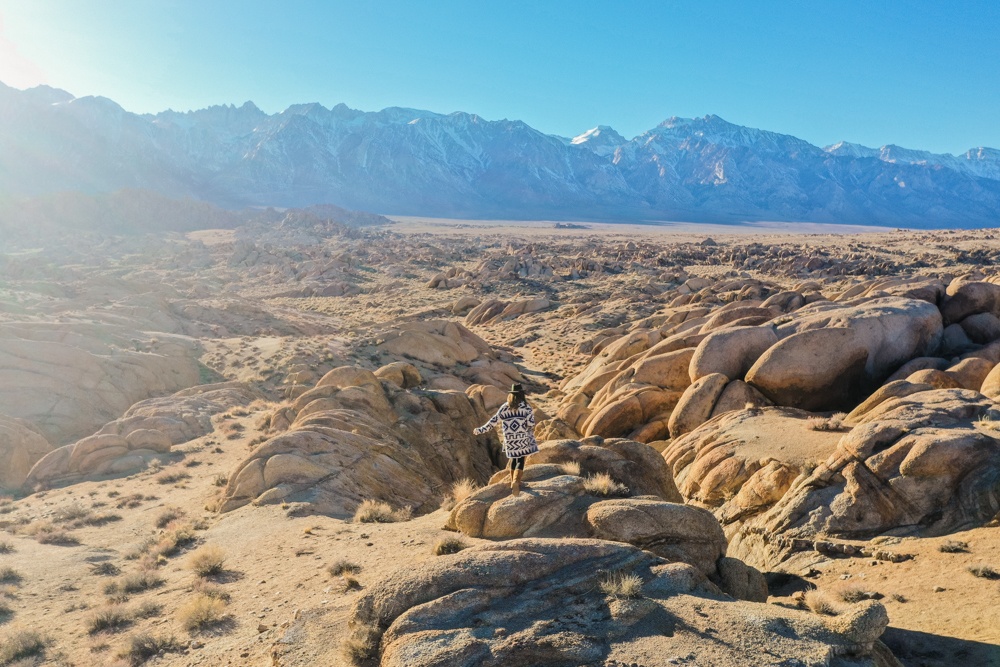 Maybe your reason for not wanting to travel with this person is because you think your personalities will clash or experience has shown that you don't get along well for extended periods of time. There may be something in particular that this person does that drives you crazy, but I strongly caution you against bringing that up.
Whatever your reasons as they pertain to the relationship dynamic, it's best to avoid any 'you' statements and just focus on your side of the street.
If there are issues within your relationship that make you not want to travel with this person, it's probably best to bring those up at some point so that you can clear it, but since this rejection will already sting, it's best to treat it as a separate issue.
3. Be firm and direct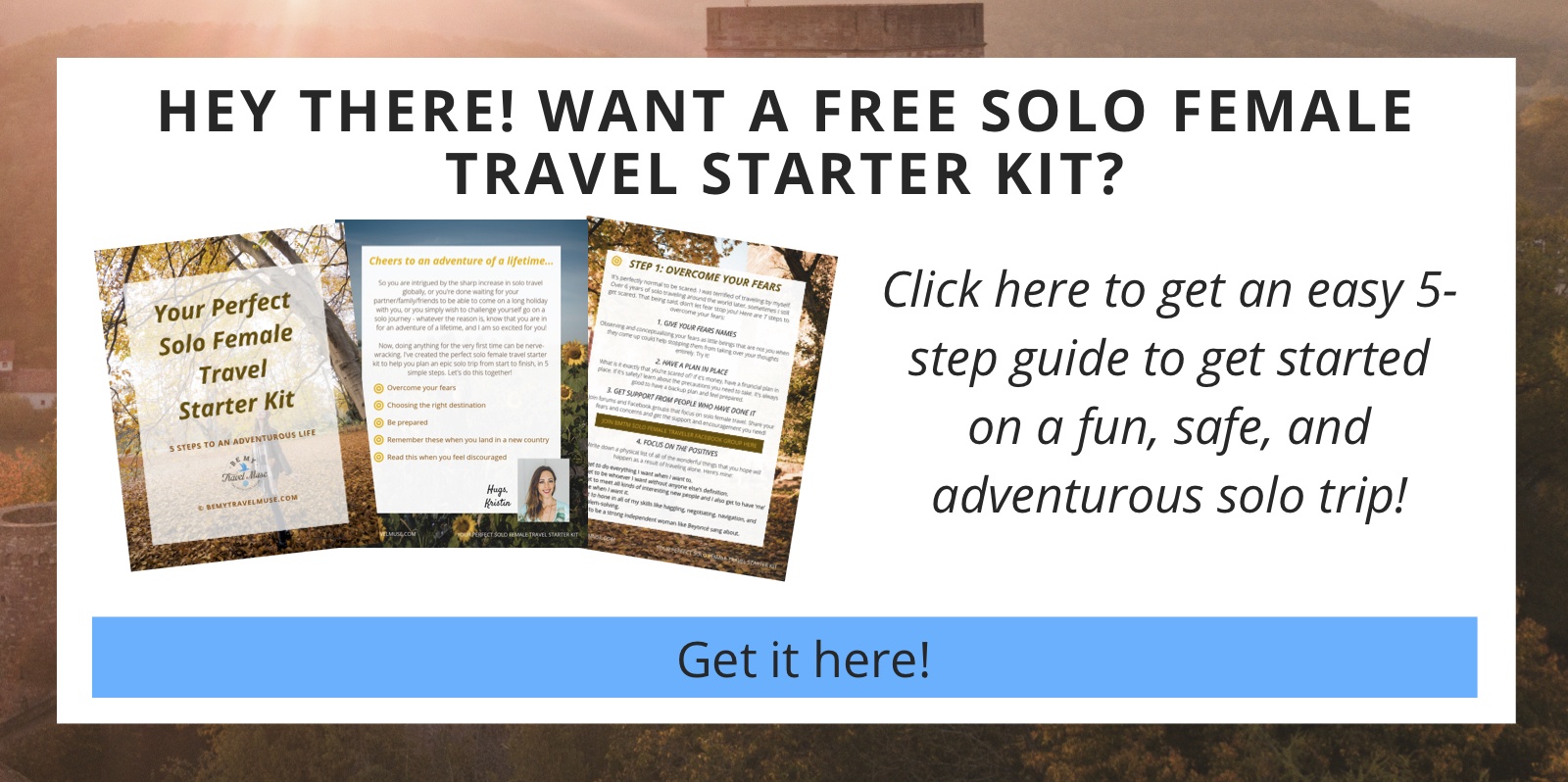 Depending on their reaction, it might be tempting to leave the door open rather than saying a strict 'no.'
However the land of 'maybes' is a dangerous place. Best not give the other person a sense of false hope or leave room to change your mind, because then they'll feel strung along and that's not good for either of you.
If it's a family member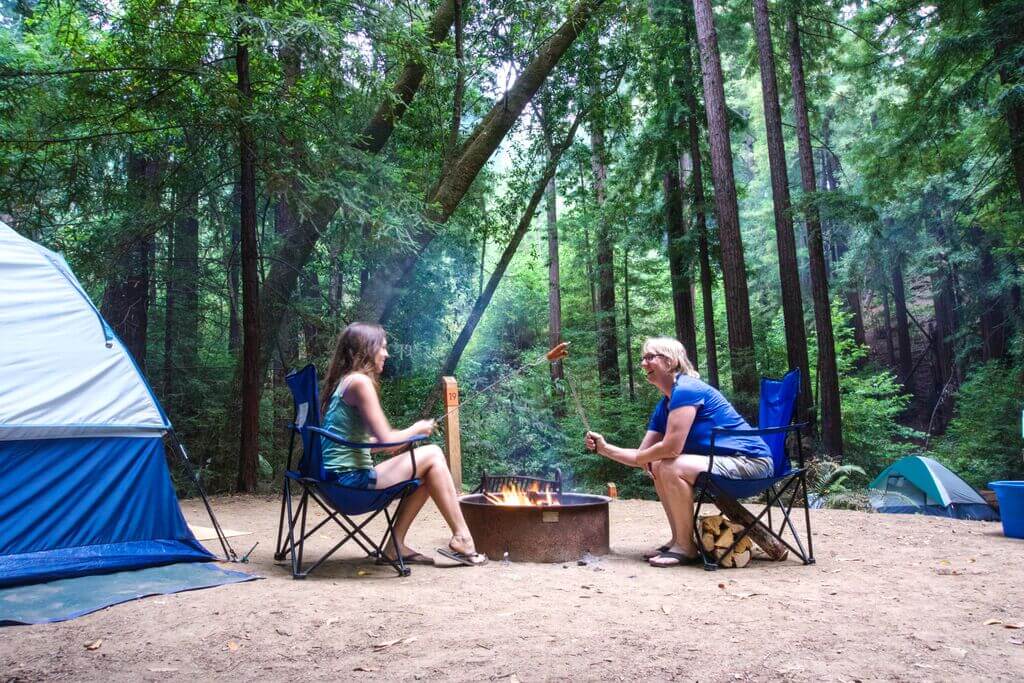 If the person who has invited themselves on your trip is a family member, the above advice applies. However, if it's a parent insisting that you don't go alone and forcing a sibling into the mix, that can bring up a whole host of other issues surrounding your independence and life choices.
This topic warrants an entirely different post, which I did cover in this interview with my mother about traveling solo. But to sum it up with a few good points, I would say the following:
"Don't you trust me to make the right choices for myself and my life?"
"Don't I deserve to give this gift to myself, for myself, and by myself?"
If they're questioning the safety of you traveling solo, it might be helpful to show them this post.
I know that family pressures are difficult for a lot of solo travelers and all I can offer is:
Your life is yours.
The person who will deal with the decisions you make the most is you. You just get one chance at life, spend it wisely.
Your family members love you, and if they want to see you happy then they will hopefully come to support the choices that you make for yourself. That's unconditional love.
If it's a significant other
Traveling on your own when in a committed relationship or marriage may raise a few eyebrows, but studies show that couples who have separate interests and spend some time apart tend to be healthier on average. It gives you a chance to miss each other and to focus on your personal growth without outside influences.
I can see how it could be hurtful to be told by your lover that they want to travel without you, so start off with stating how wonderful the other person is and how much you love and value your time together, but be honest about the reasons why you want to do some solo soul searching. It doesn't have to indicate a problem in the relationship, but rather an opportunity for you to come back as a better half of it.
For more info, in this post, several women have shared how and why they travel solo even though they are in relationships.
The bottom line is, all relationships need trust. If you can't travel without your partner, it might be worth looking deep into the reasons why not, and working on those so that you can spend some healthy time apart every now and then.
If you are worried it's not a strong relationship and that traveling alone could break it, take a look at this post to see if it resonates.
If it's a good friend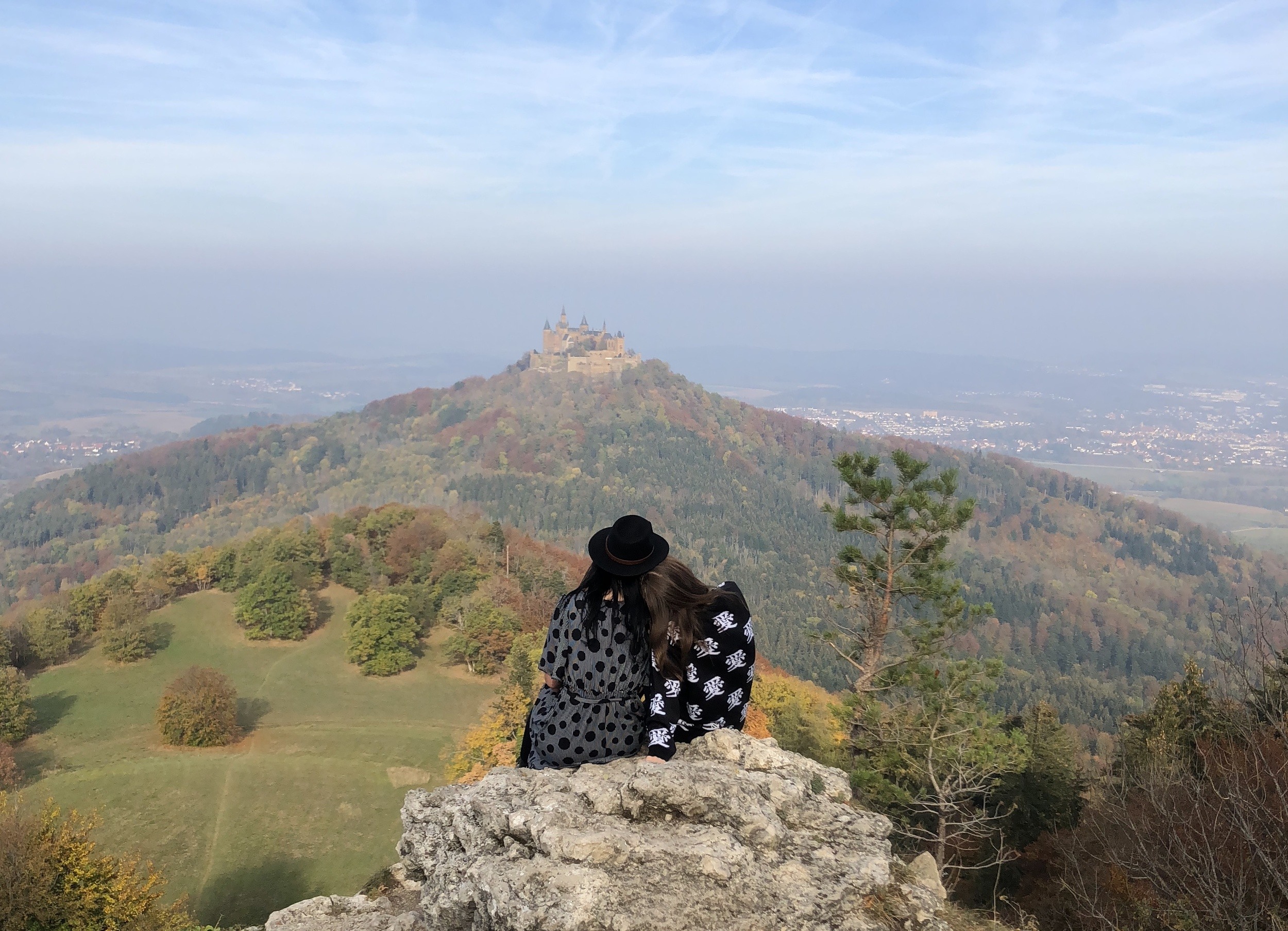 Good friends can be so wonderful to travel with, and yet sometimes it can be the opposite. Even though you would give the shirt off your back for your friends, sometimes it can be a sisterly relationship with bickering and disagreements. It's a good way to ruin a trip and potentially even damage or end a friendship.
If that's what you're worried might happen if you travel with your friend, then go back to the statements at the beginning of this post about the reasons why YOU need to take this trip solo.
Focus on that rather than expressing how worried you are that you'll fight. Hopefully, if it's a friend who loves and supports you, though they may be hurt initially, they'll understand and support you.
Though this probably goes without saying, I strongly caution you against turning around and inviting someone else on the trip after you've rejected your friend. Social media is ubiquitous and chances are good they'll find out, so if your excuse is that you want to take a solo trip, actually make it a solo trip.
4. Know that they may be hurt
Getting rejected hurts. Even if the other party is incredibly understanding, they may still feel the sting of 'no' and the best thing you can do is be patient and gentle with them. They may have a strong reaction and the better prepared you are for that, the less defensive you'll (hopefully) be.
Remember to stay firm and clear, but if you want to make it up to them, consider the advice in the next section.
5. Offer an alternative for both of you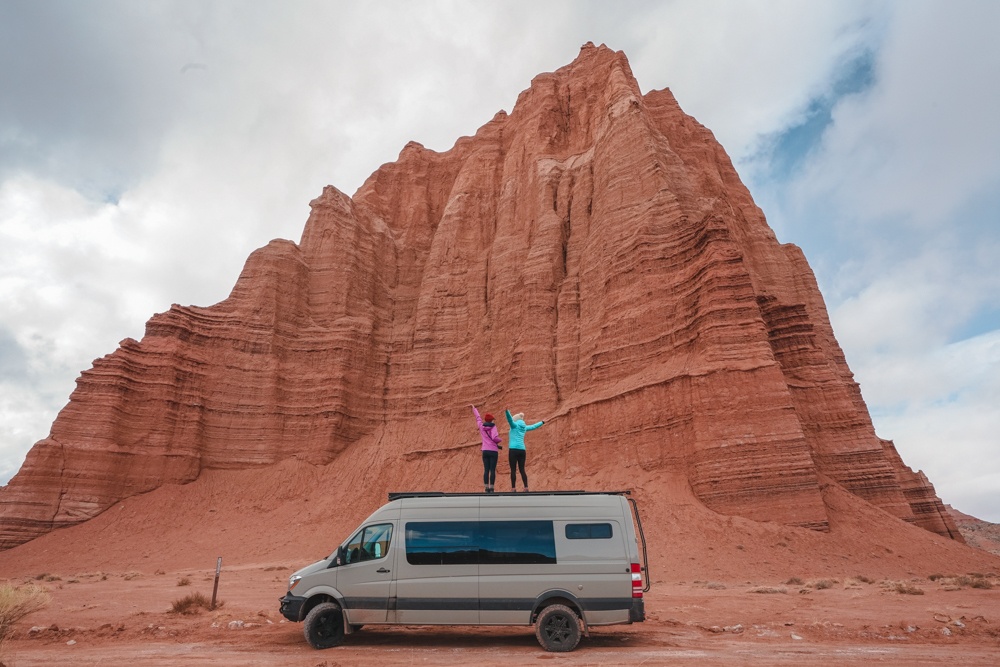 Soften the blow by offering an alternative trip, explaining that this one is something you're aching to do alone, but you'd love to go on a trip with them later, assuming you're willing to travel with this friend/family member. This will feel like less of an outright rejection if presented carefully, like another fun opportunity rather than a pity trip.
Focus on a place or activity that you know you'll both enjoy, and something that you will be more relaxed about giving up control over. For example, I might have a very specific idea of what I want to do in Bali but could be a lot more laid back about an impromptu trip to Utah.
If you don't have more time off to travel together, spending quality time doing something you both love at home on the weekends can be equally wonderful.
That's what it's all about anyways, right?
I hope this advice helps to make it a bit easier to break the news that you want to go alone. Depending on the person it could turn dramatic, but hopefully these tips make it less likely to go in that direction.
Just know that it's okay and important for you to honor your needs, and that you're not a bad person for it. That's what it is to have co-committed rather than codependent relationships.
Have you ever had to go through this uncomfortable process? What worked for you? Share with us in the comments!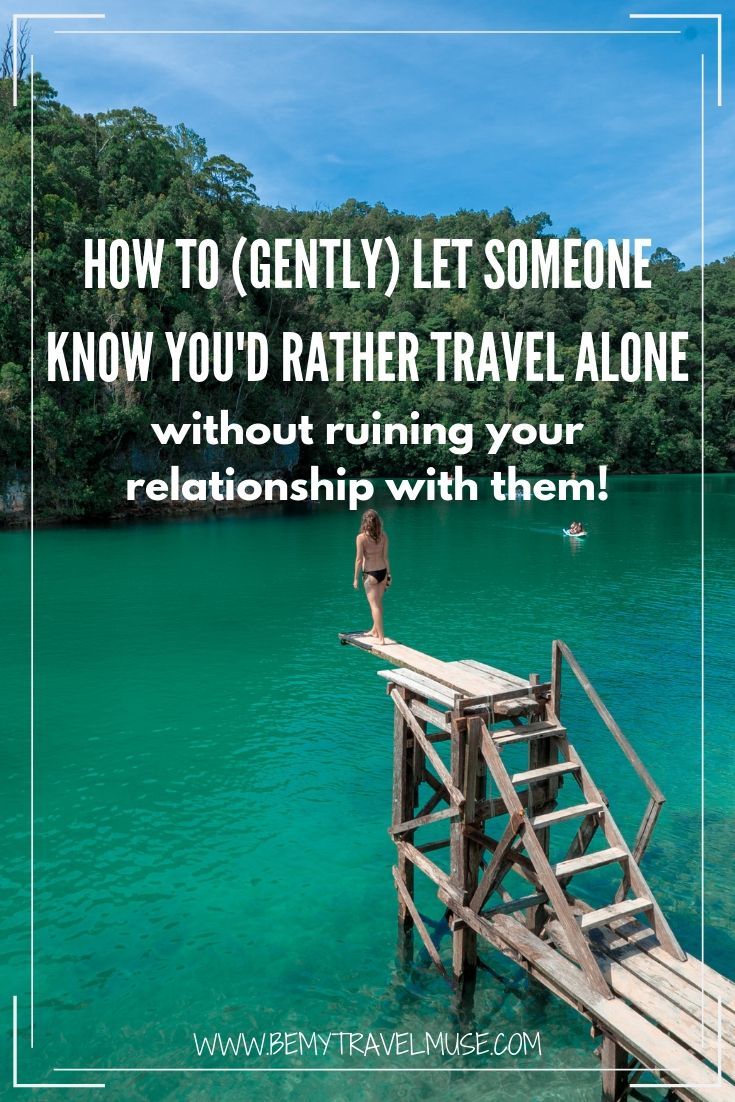 READ NEXT: