I've been traveling regularly for about 7 years now, and up until recently when my electronics load got a little out of control and warranted a second bag, I'd even been traveling carry-on only.
Needless to say, minimalism when it comes to travel toiletries is a must, not just for me but for any girl who wants to be able to carry all of her own bags (essential for my fellow solo female travelers), doesn't want to pay overweight baggage fees, and simply wants to practice self care without overpacking.
Over the past couple of years, I've also become increasingly aware of how absorbent our skin is, and more concerned with potentially cancer-causing ingredients like parabens, phthalates, and aluminum. And though studies are always negating each other, it's not hard to figure out that the more natural a product is, the less risky it is, right? Since our health and body is our most important asset, this is my tried and true travel toiletry list for the minimalists out there: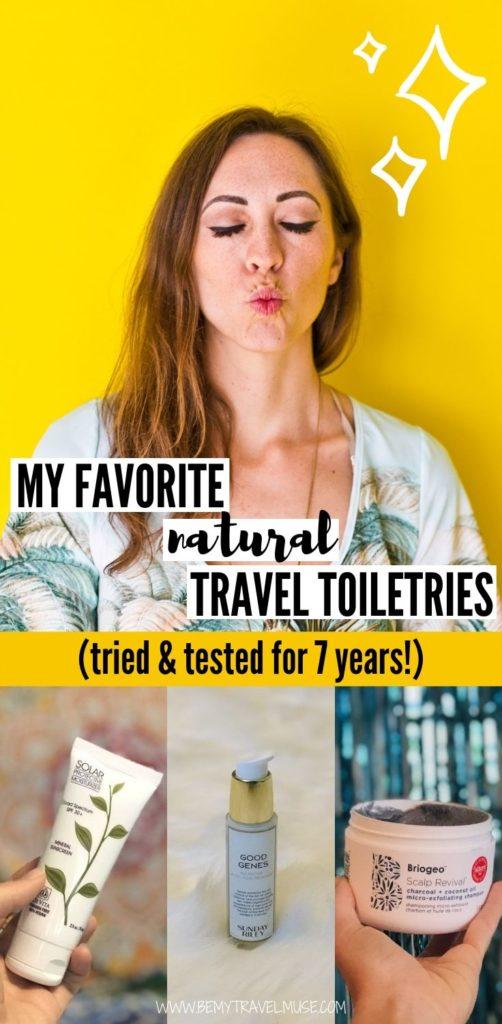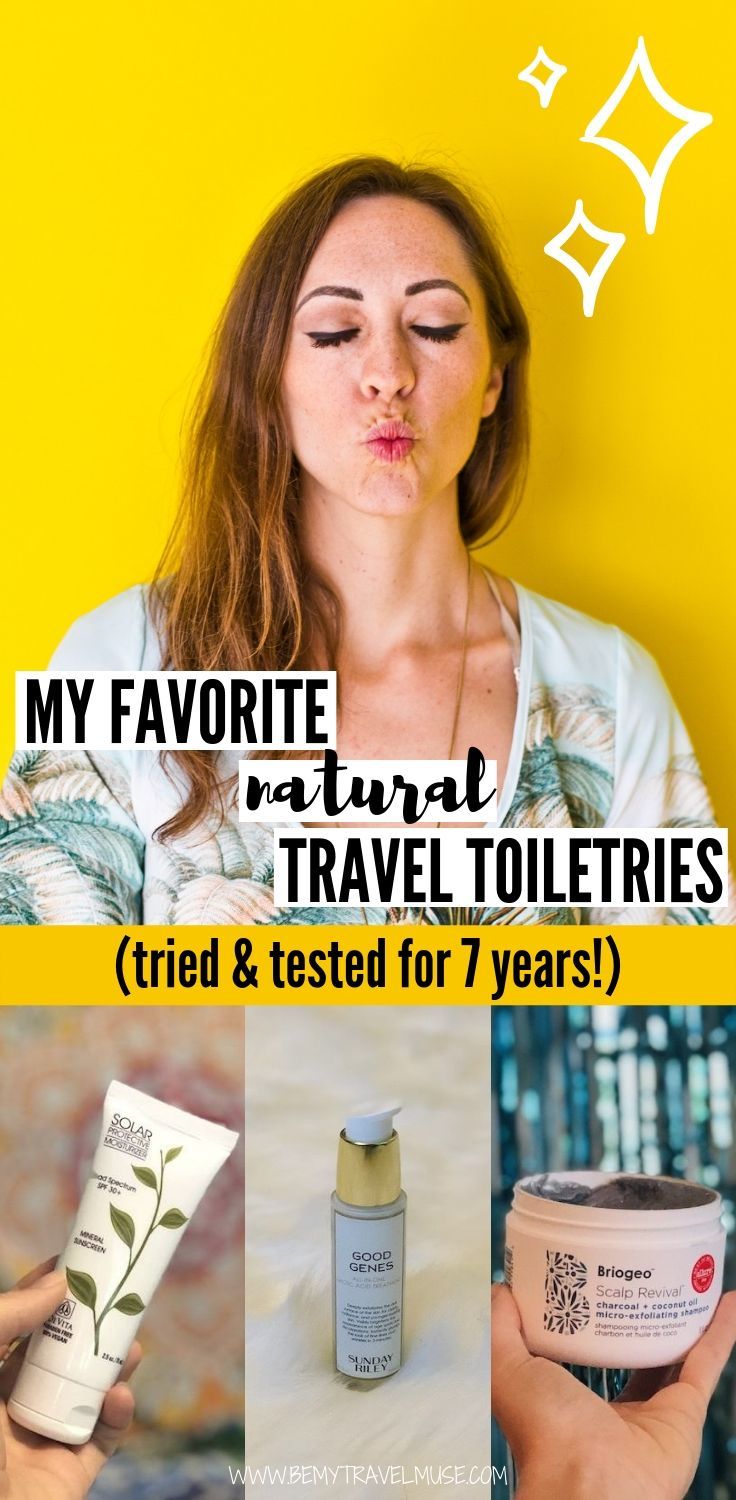 Ujjayi Deodorant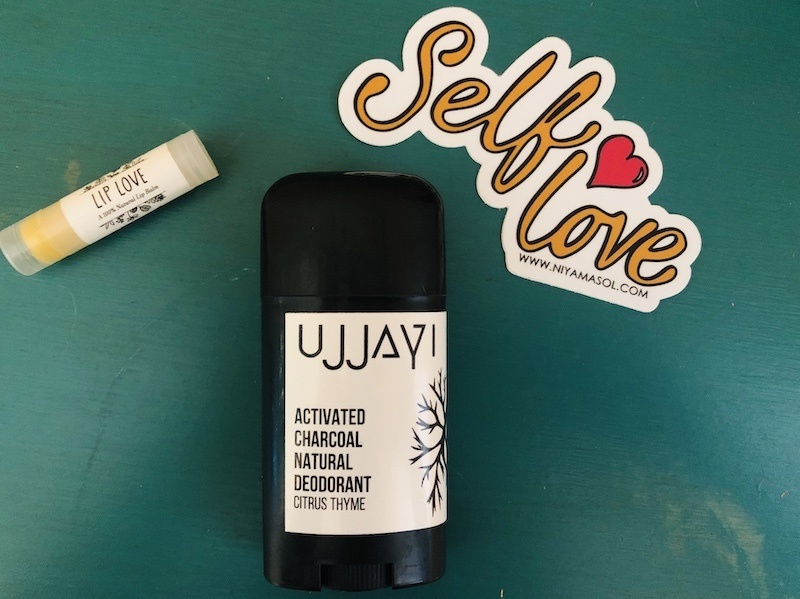 You guys, I've been searching for a natural deodorant that actually works for years and am overjoyed to have finally found one!
To be excessively honest with you, I am a heavy sweater. I used to wear the extra strength, extra aluminum deodorant and still smell after a few hours because I'm just that, I don't know, #blessed? So when I set out to find a natural deodorant I had quite a few blunders and skin rashes with Tom's, African black soap, and salt sticks. Ujjayi, which utilizes activated charcoal, is the best deodorant I have ever used. I can go all day, or even more than a day, without smelling at all. I put it #1 on this list because I love it that much.
It comes in two scents – tobacco and citrus thyme. It seems like tobacco would smell odd but it smells great and out of both scents, is stronger, although I've found the consistency of the citrus thyme to be better. I love and use both, though.
Lip Love & Eco Lips Lip Balm
Lip balm is another thing I recently gave more thought to after learning that petroleum gel can actually dry lips out and make chapped lips worse.
If I'm in a humid environment, I don't use lip balm at all because it's better to stay hydrated and let lips regenerate on their own, but since I am often in dry environments, I've turned to Candelilla wax-based lip balms. I love Lip Love, but this is only a good recommendation for Europe-based readers. Eco Lips has a similar list of ingredients for those who are based in North America.
DeVita SPF 30 Solar Moisturizer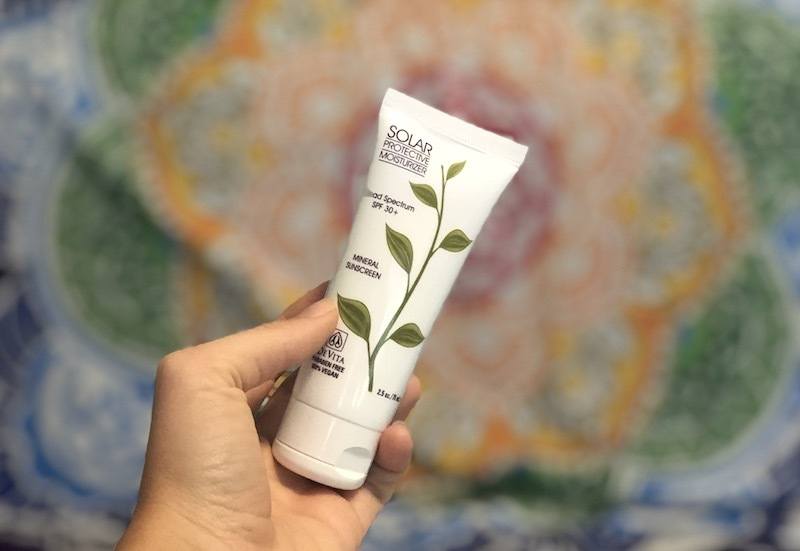 I've been recommending this facial moisturizer for 7 years on the blog and have been using it for about a decade IRL. You guys, the single most important thing to keeping youthful-looking skin is managing sun exposure (and not smoking cigarettes but duh). When we travel, we tend to be in the sun a lot more than usual. Visiting Europe? You'll be walking a lot. Visiting Southeast Asia? It's always summer! Visiting Africa? That sun is strong! You get the point.
I like DeVita because aloe vera is one of the key ingredients, and it's affordable. My only issue is they recently changed up the ingredients and it's whiter on the skin now, so the SPF 15 tinted one is a good alternative. You can see the product range here.
Alaffia Purely Coconut Face Cleanser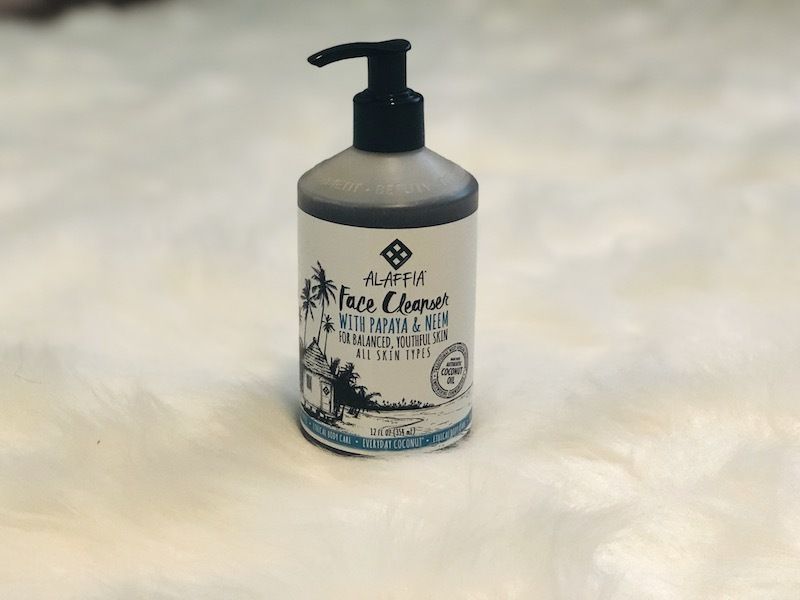 I've been struggling for a while with my skin. I used to have nice, dewey, glowing skin in my mid-20s and suddenly at 32 my skin broke out horribly, without any apparent cause. My dermatologist told me my only recourse was pills, but I didn't want to go that route.
I started trying all kinds of different things to fix it, and Alaffia's Coconut Facial Cleanser has been one of my godsends. It's mostly made of oils, but still lathers nicely and most importantly, doesn't dry my skin out.
This face wash and the following things on this list have all helped me slowly but surely get back to clearer skin, along with a change in diet (balance, balance, balance and only non-GMO, organic, whole foods whenever possible), as well as using a lactic acid treatment.
Sunday Riley Good Genes All-in-One Lactic Acid Treatment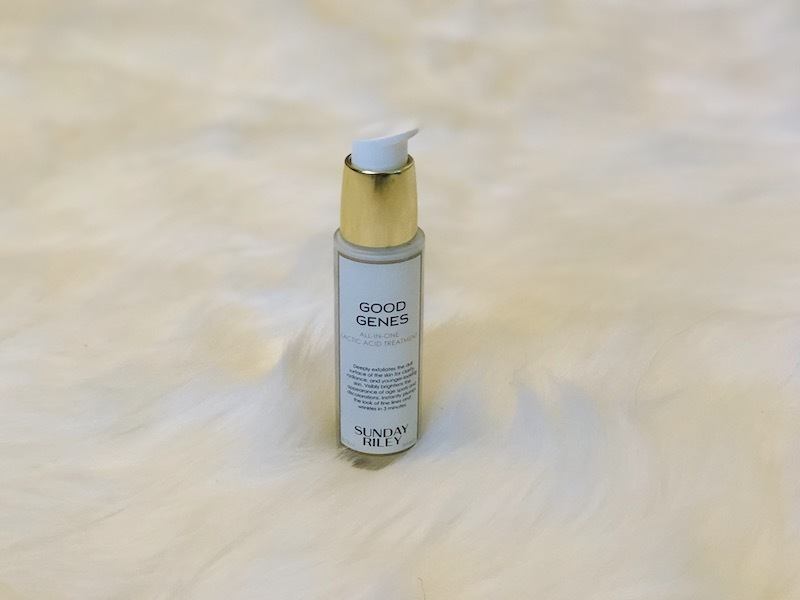 Hi, okay, yes I know this is hideously expensive, whereas everything else on this list is pretty darn affordable, but I have no regrets in terms of purchasing and using this. It has saved my skin.
This lactic acid exfoliant is mostly made from fruit extract and smells like lemongrass. My biggest issue is my dry skin clogging my pores, so even though many have a love/hate relationship with it, mostly due to price, it's been worth it for me.
Briogeo Scalp Revival or Lush Shampoo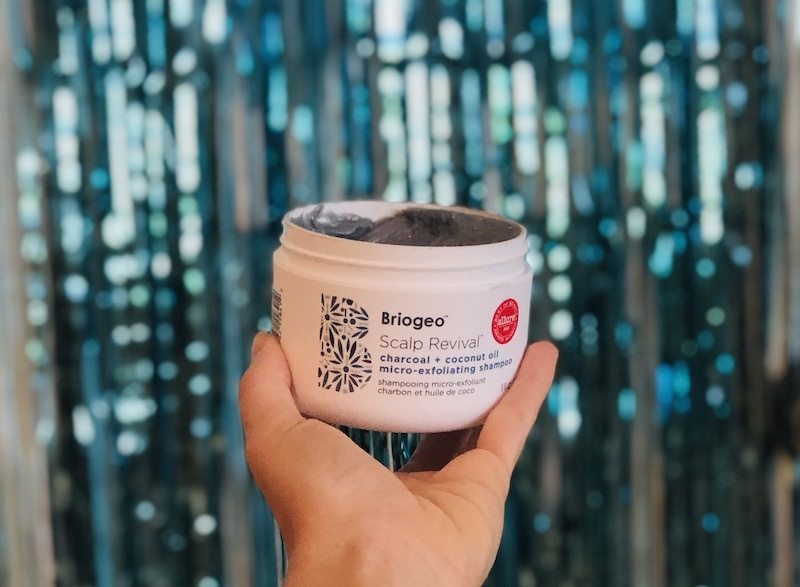 Now let's talk about shampoo. You can easily find Pantene and Dove almost everywhere in the world, which is what I used to do, but I couldn't deny how dry my scalp always was. Yes I am sweaty, have acne-prone skin, and fine hair with a flaky scalp to boot. What the hell, right?
Briogeo has been helpful, but if you don't have the same dry scalp issues, nobody can beat Lush's shampoo bar in terms of convenience and plastic reduction. I know plenty of women who rave about it.
Both companies make conditioners as well.
That said, I don't use the Briogeo every single day. It's only when my scalp is feeling itchy. I supplement with Kerastase shampoo and conditioner.
Dr. Bronner's Lavender Body Wash
To keep chemicals off my skin, I switched to Dr. Bronner's, which is mostly oils. I love the lavender scent because lavender is my favorite essential oil of all time, but there are several to choose from like peppermint and citrus.
I used to just use whatever soap I could find in a hotel room, including the cheap ones in hostels in Southeast Asia back in the day, but then I learned how much waste those little bottles create and knew I had to switch. Besides, this is better for my skin anyway.
Other Incidentals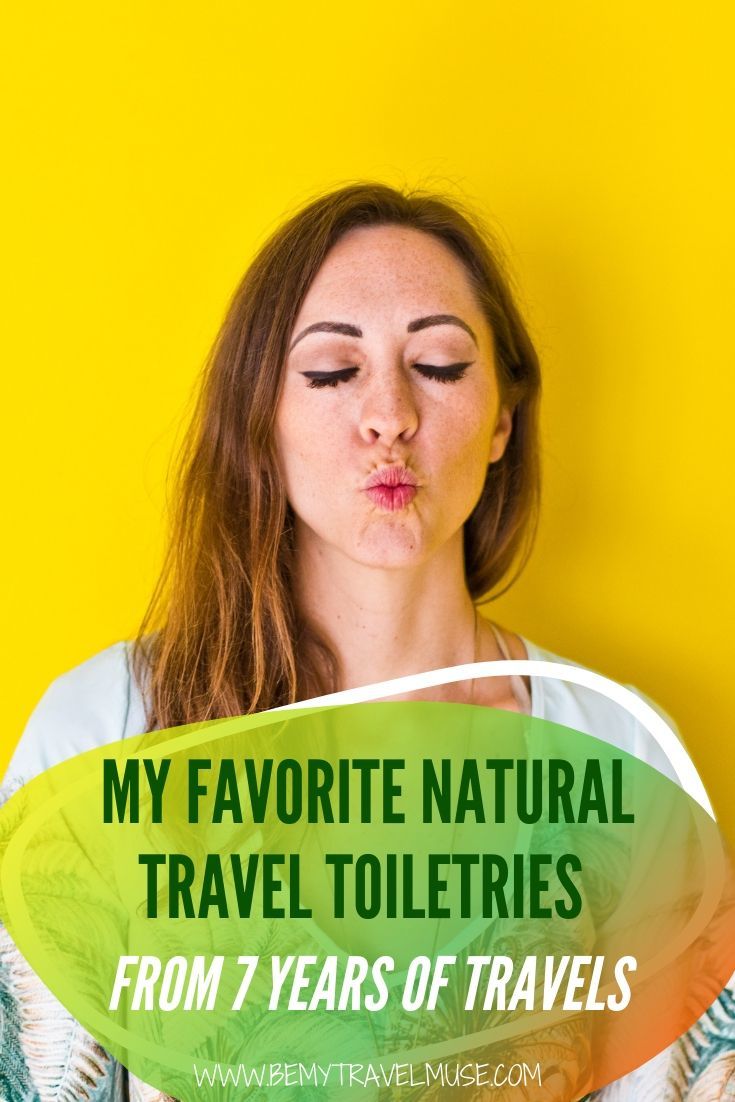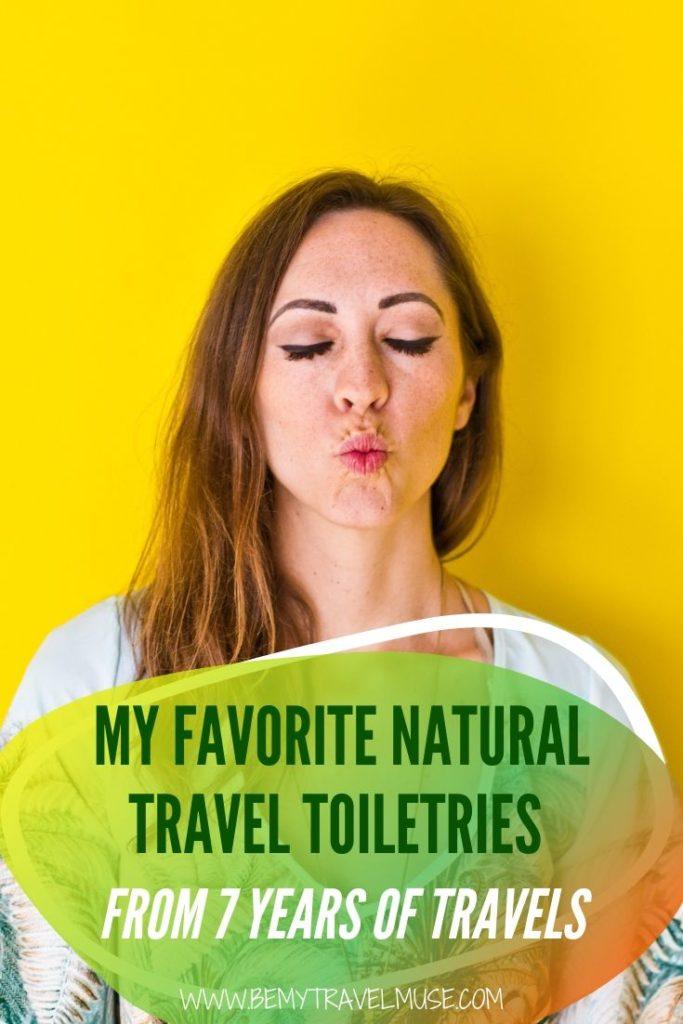 Ladies, make sure you bring razors you like with you. Depending on where in the world you're going, you won't be able to find them abroad. Since I usually just use soap instead of shaving cream, I get nice razors so I don't nick myself – I'm clumsy.
Toothpaste is usually easy to replace, but floss isn't always. If you want a specific toothpaste that's natural, like Tom's, you're better off bringing it from home, though.
Humangear Silicone GoToob+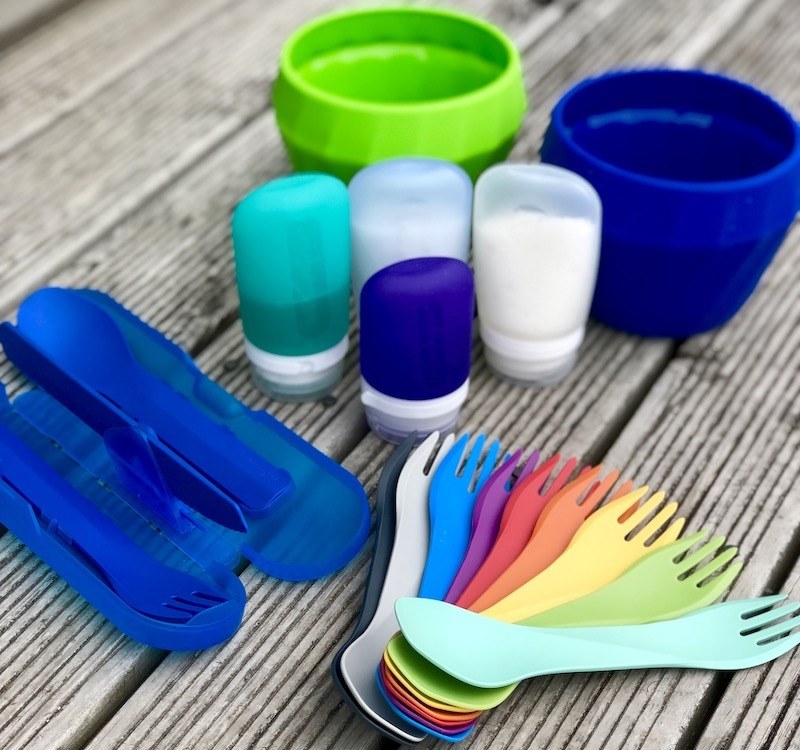 Speaking of using reusable tubes, I love the humangear silicone GoToob+ for my soap, face wash, shampoo, and conditioner. I'm good for 3 weeks to 1 month with one tube, which is right at the 100ml carry-on limit. They're more eco-friendly than buying small travel sizes, they're BPA-free, and they're fun to squeeze.
You can click the kit below to get everything on this list (except for the Sunday Riley, since I don't want to push an expensive product on you. You can buy separately from Sephora):
All-in-all, my toiletries take up a pretty small amount of space. I just make sure my skin is moisturized and taken care of, my hair and body are washed, and that it's done in a way that's kind to my body and skin. To minimize things even more, I usually go makeup-free when I travel, particularly in Southeast Asia and Africa where it gets so hot.
What are some of your favorite travel toiletries?
*I am not sponsored by any of these companies except for humangear and my reviews are always genuine. However if you do make a purchase through one of my links, I get a few cents as an affiliate at no extra cost to you. Thanks for supporting!
Read Next:
Click to read more posts about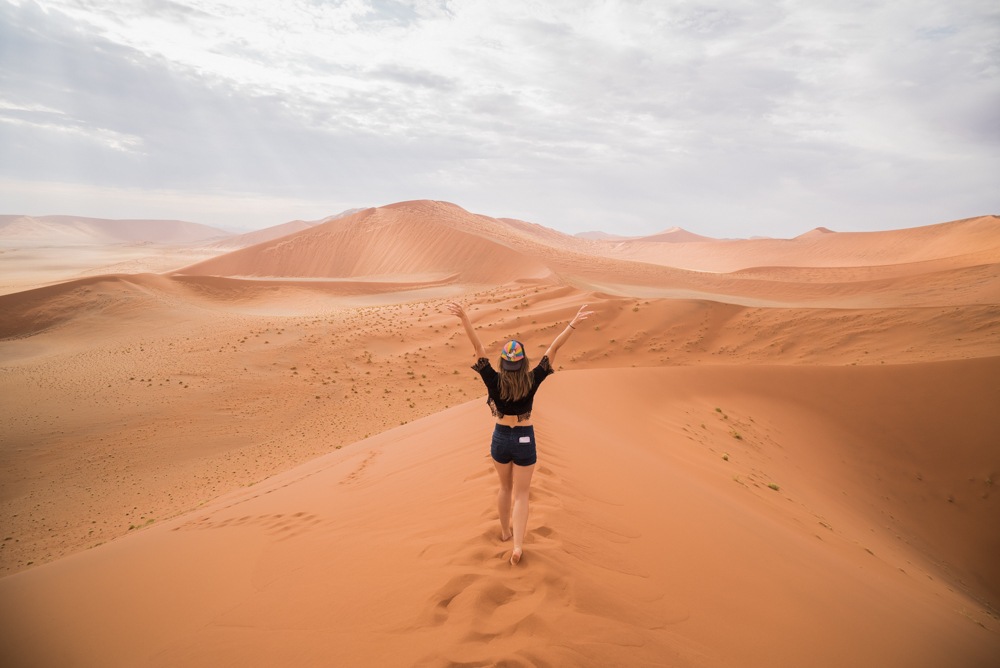 Travel Resources