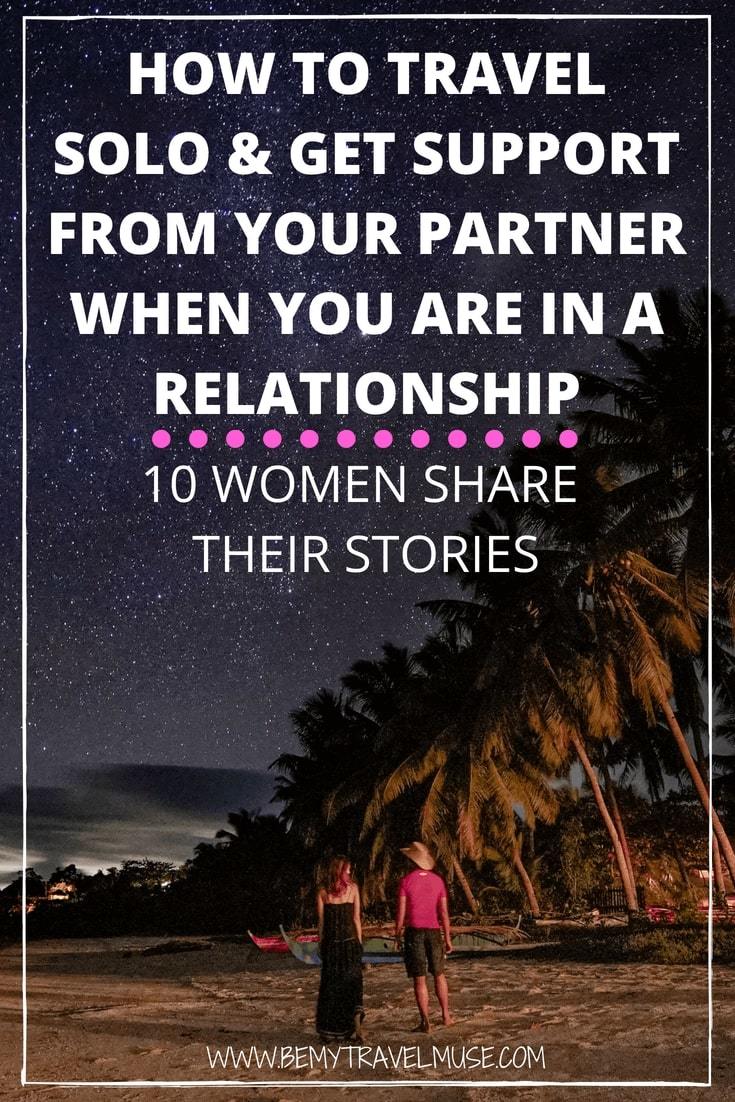 Is solo traveling off the table for women who are in relationships?
This is a common question for many would-be solo female travelers. They want to experience the life-changing, empowering, fulfilling magic of traveling alone, but they don't know how to approach this with their partner. Will he or she be offended? Will other people assume there is something wrong with the relationship? Is it selfish?
I have met plenty of solo travelers, both male and female, who are in relationships. For one reason or another, they decided to travel solo and it absolutely did not mean there was anything wrong with their relationship. But as a woman who has never been married and has done most of her solo traveling as a single gal, it's hard for me to give concrete advice on this topic.
So I asked the ladies in the BMTM Solo Female Traveler Connect Facebook group who have first-hand experience with traveling solo while in a relationship to share how they approached it with their partner, what the benefits have been, and to give us some tips on how they do it:
"He knew from the beginning that traveling is a huge part of who I am."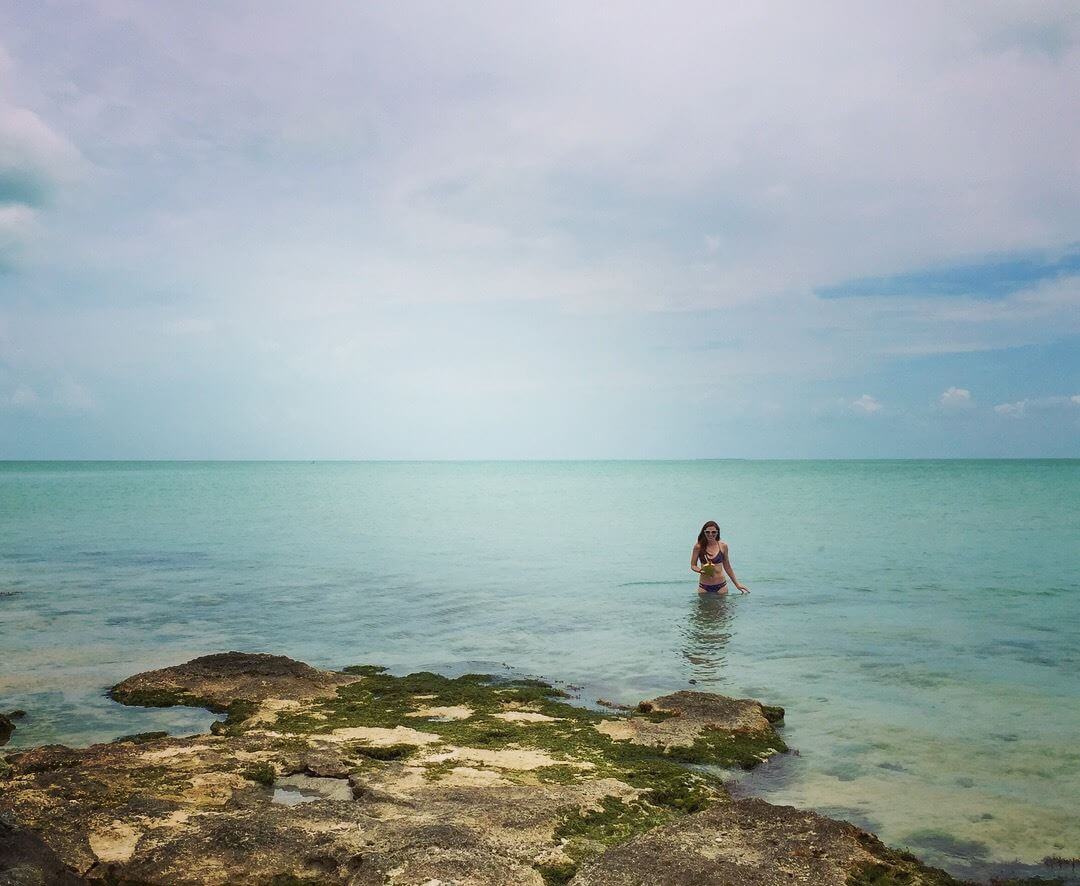 "I'm fortunate to have a very supportive partner. Before meeting my now fiancé, I'd lived in Switzerland, Germany, and Hong Kong and had already traveled to nearly 40 countries on five continents. My partner has known from the beginning that traveling is a huge part of who I am. But, especially in the early stages of the relationship, I was afraid to tell him I wanted to travel alone.
I was so nervous the first time I went on a solo trip after meeting him that I didn't even tell him about it until just a few weeks before leaving. That first trip was six weeks in Portugal, Spain, Morocco, and Munich, and I never dreamed he'd be so supportive and encouraging!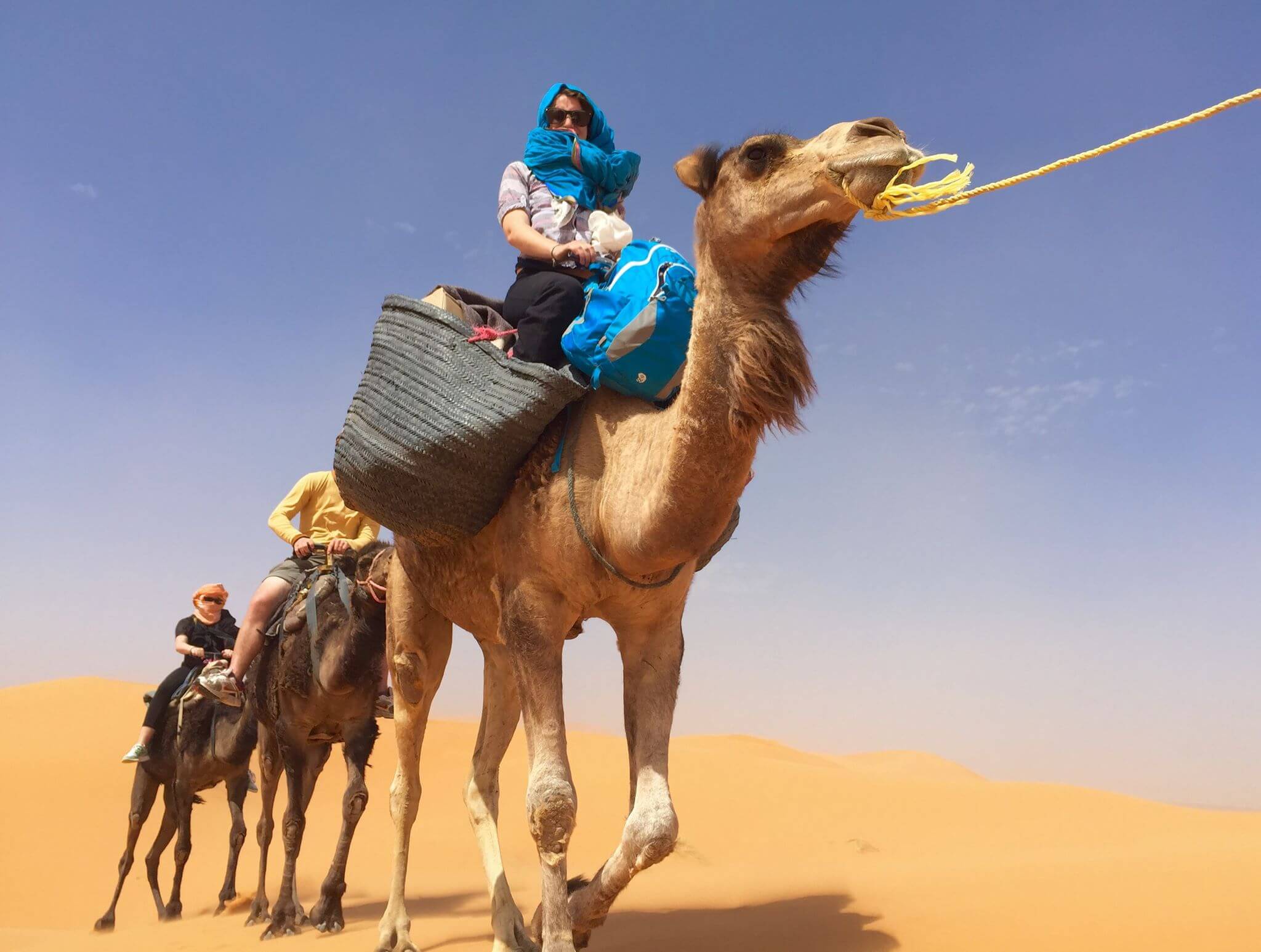 Now, almost four years later, I continue to travel extensively. My partner always encourages me to go without him and has even bought my plane ticket on occasion. If anything, it's harder on me because I tend to get FOMO for him. But, overall, I think my solo travel has made our relationship stronger. I'm happier when I'm able to travel, he's happier because he doesn't feel like he's holding me back, and we both enjoy our independence when we spend some time apart. Solo travel really brings out the best in me. I am more social and make more friends when I'm alone, and I am more spontaneous when I'm not worried about someone else's needs and desires. While I'm off traveling on my own, my fiancé uses his solo time to go on afterwork hikes with coworkers, meet up with friends, and visit his family – things that never seem to happen often enough when we are together with our busy lives and schedules." – Emily, 31, Seattle (follow her on Instagram here!)
"I have gained so much confidence in myself."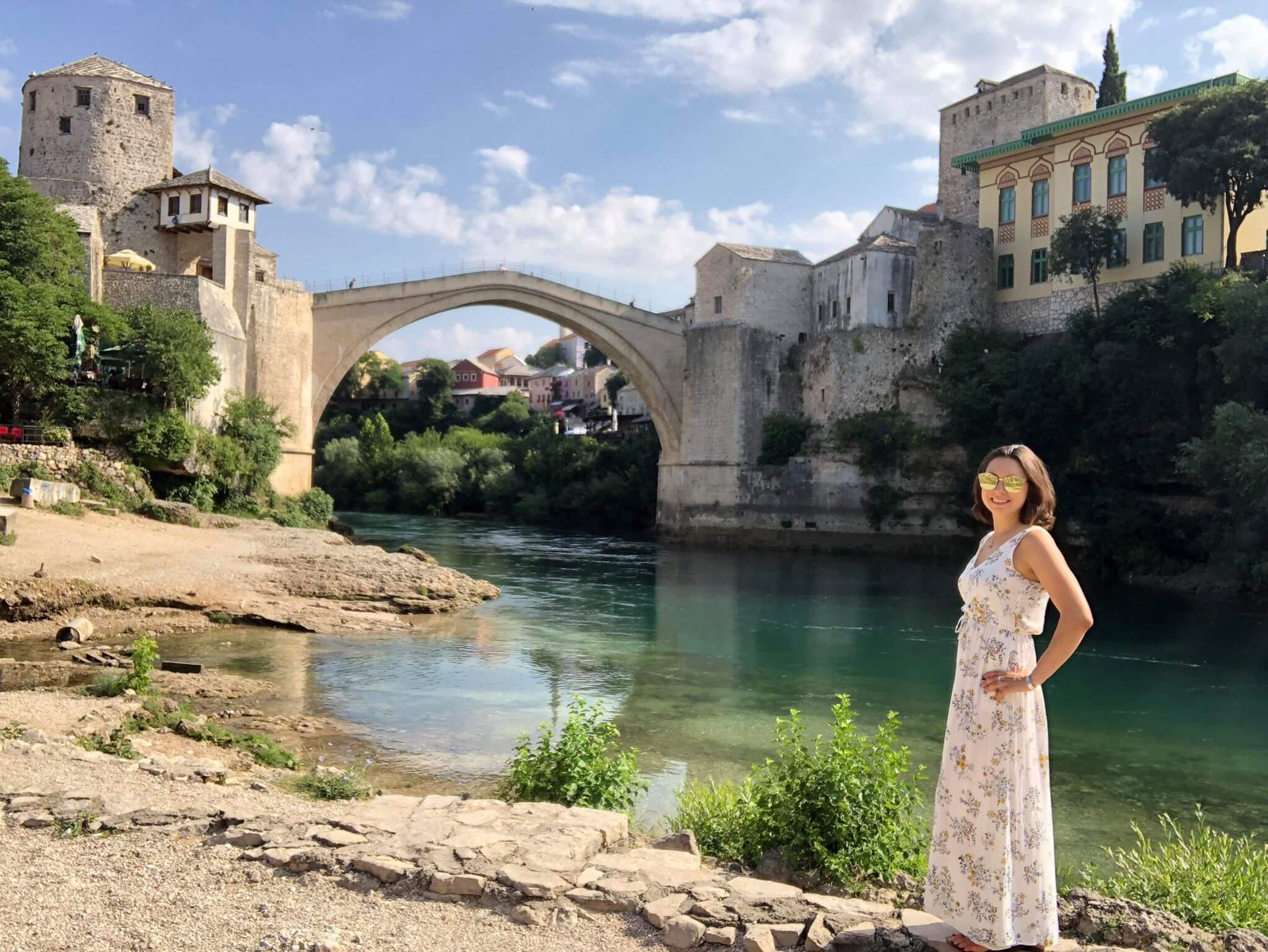 "The nature of my job as a speech-language pathologist and vacation time allows me to opportunity to take longer trips than the average American. The past two years I have spent 5 weeks abroad in Europe. Not all of that travel was solo, but this year my boyfriend was not able to join me for any of it. I eventually decided that I didn't want to cut my travel abroad short just because I had no one to go with me with whole time. I have gained so much confidence in myself and my ability to navigate a new place alone. I'm shy by nature, and solo travel has actually helped me become more outgoing. I also like setting my own schedule and have become more comfortable in my own company.
My boyfriend has generally been supportive, but has admitted to feeling some resentment that I am able to go on long adventures and his job does not allow him to do so. We have worked through these issues and learned what makes the time apart manageable.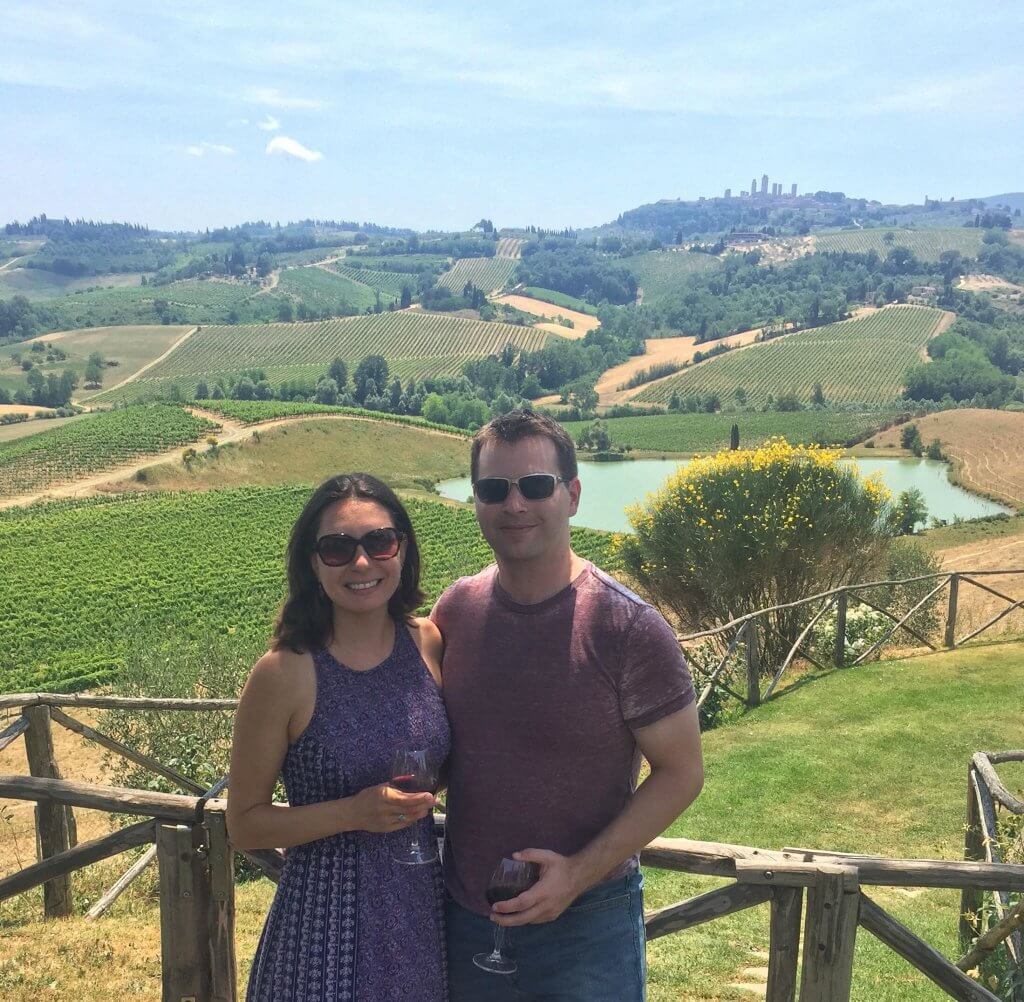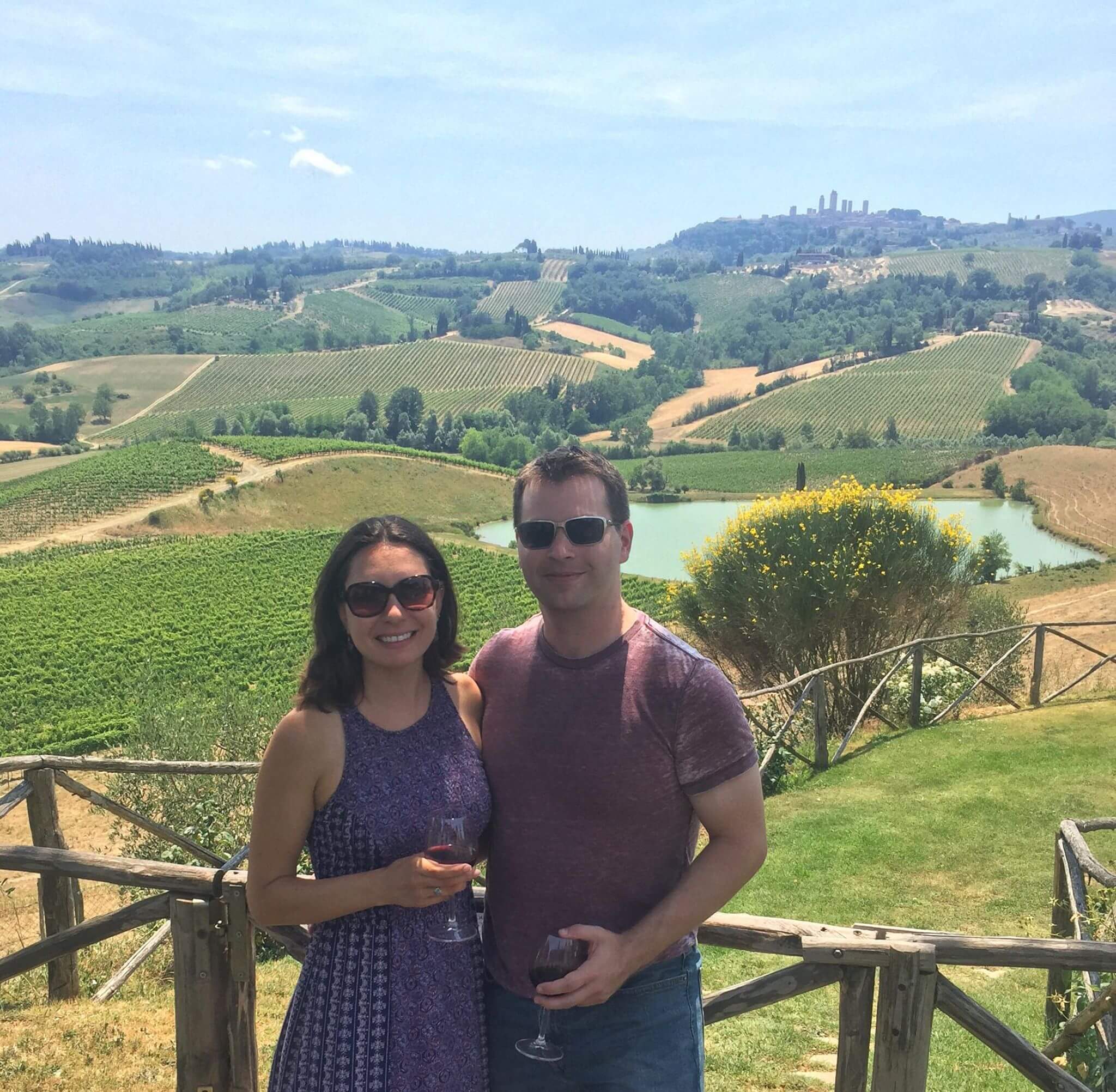 Wherever I go abroad, I buy a local SIM card to be connected at all times when navigating through a foreign country, and also to chat with my boyfriend throughout the day. There were several days this trip when I was outside of the EU and my SIM card didn't work. While it was nice for me to disconnect and just enjoy my surroundings, it was harder on him not hearing from me all day. I have had to recognize that even though I may not want to text or chat all the time when I'm traveling, it is important to him to hear about my adventures on a daily basis to feel connected.
Another thing we did this year while I was traveling was to write emails back and forth. We focused a lot on topics important to our relationship, like discussing future plans and goals. It was good to be able to have ongoing conversations about these topics so that we could connect on a deeper level beyond just recounting our days." – Kassidy, 31, Arizona
"If I don't take care of myself, who would?"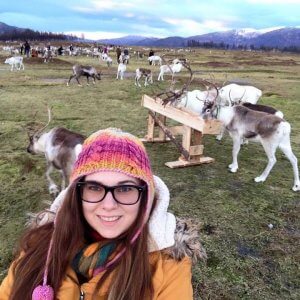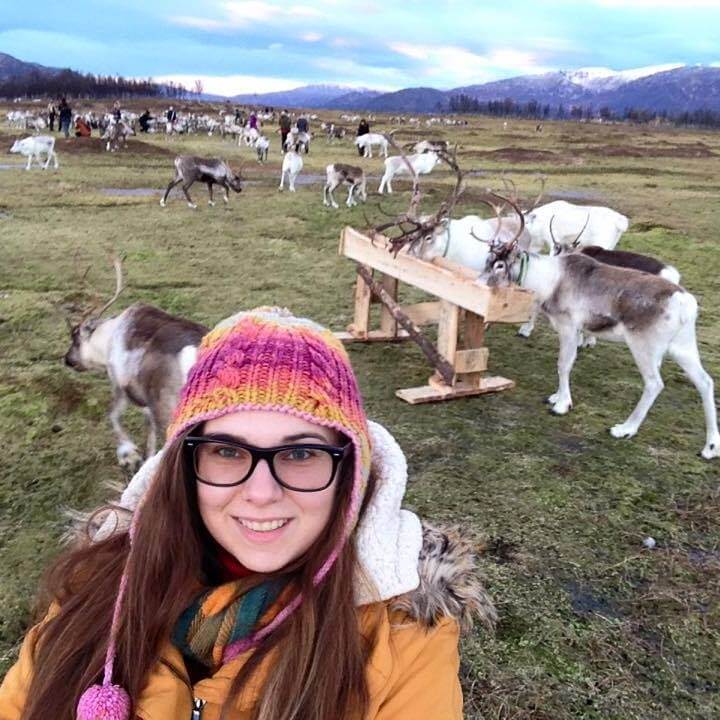 "I wanted to go to a surf camp to celebrate my birthday last year. I was picturing laid back days, surfing lessons, yoga in the morning, orange trees and beautiful secluded beaches! I was so SO looking forward it, trying on surfing was a dream I have had for a while but never had the guts or the financed to back it up. Finally I had both and there I was, researching the best places. My boyfriend however wasn't very convinced. He didn't want to sleep in tents, he wasn't interested in surfing whatsoever and he was so indecisive that by the time I convinced him to try it and come along with me, all the good places were booked for my dates and the price of the available ones has tripled. I ended up spending my birthday at home with nothing to remember it by except how much disappointed I was.
That was the day I promised myself I am not going to wait on anyone anymore when it comes to my dream travels. This year in April I went to Portugal on my first solo trip. It was a surfing camp for girls in Lagos and I enjoyed it so much. I felt incredibly empowered and proud of myself for following my heart and my dreams. Leaving my boyfriend behind was easier than I thought and even though he was freaking out, eventually he had nothing else to do but accept it.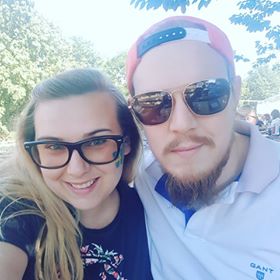 Shortly after that I booked the trip to Africa with Kristin. My boyfriend didn't understand why I would go on such an amazing trip and not even ask if he wants to tag along? The truth is I knew that he couldn't afford that trip at the time. Was I supposed to miss out on such a great opportunity so I can wait for him to save up, something he may or may not do at all? Hell no, not anymore, If I don't take care of myself, who would? No one else will chase my dreams for me and I am really done waiting on others. And if I have to be honest, he still hates the fact I am ditching him and doing it by myself but I won't let that stop me ever again." – Boryana, 30, Norway
"He supports me fully in living my dream."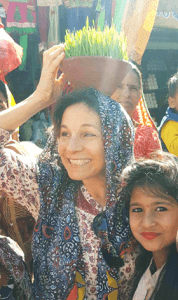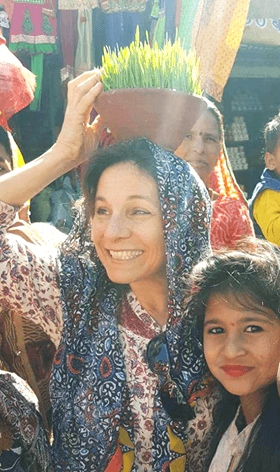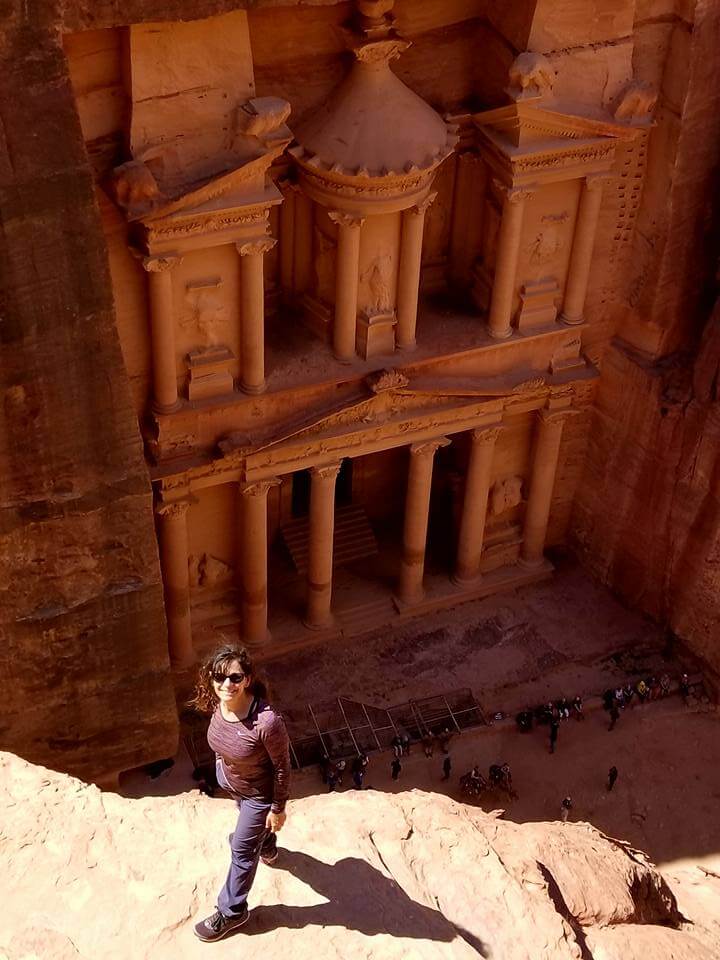 "When I met my husband to be at 24 years old, I told him that as soon as our youngest was off to college, I was going to see the world. Three years ago, I began traveling for 2 – 3 months at a time and then coming home for a few months.
I feel very fortunate to have such an amazing husband… he supports me fully in living my dream – financially, emotionally and physically by picking up extra things to be done in my absence. He works very hard and long hours and his work is his passion. He feels that it is selfish for him to not support me in living my passion and since I'm 56 now he feels that I should do it while I have the physical health and stamina. It really hasn't had much of a negative impact on our relationship. We certainly miss each other but we do Skype and chat a lot.
I've just returned from the longest trip yet, which was a four month sort of round the world trip. I'm a diver and obsessed with Indonesia so I started and ended my trip there. In between I went to Jordan and Israel solo (using AirBnB) a small group tour (Intrepid) to Morocco since I was nervous going alone there and then spent solo time in Europe before meeting my daughter for 5 weeks in Italy. She was studying in France so I worked my travels around her. Asia is by far my favorite place and I've spent almost a year total there over the past three years!" – Lisa, 56
"It made me more independent."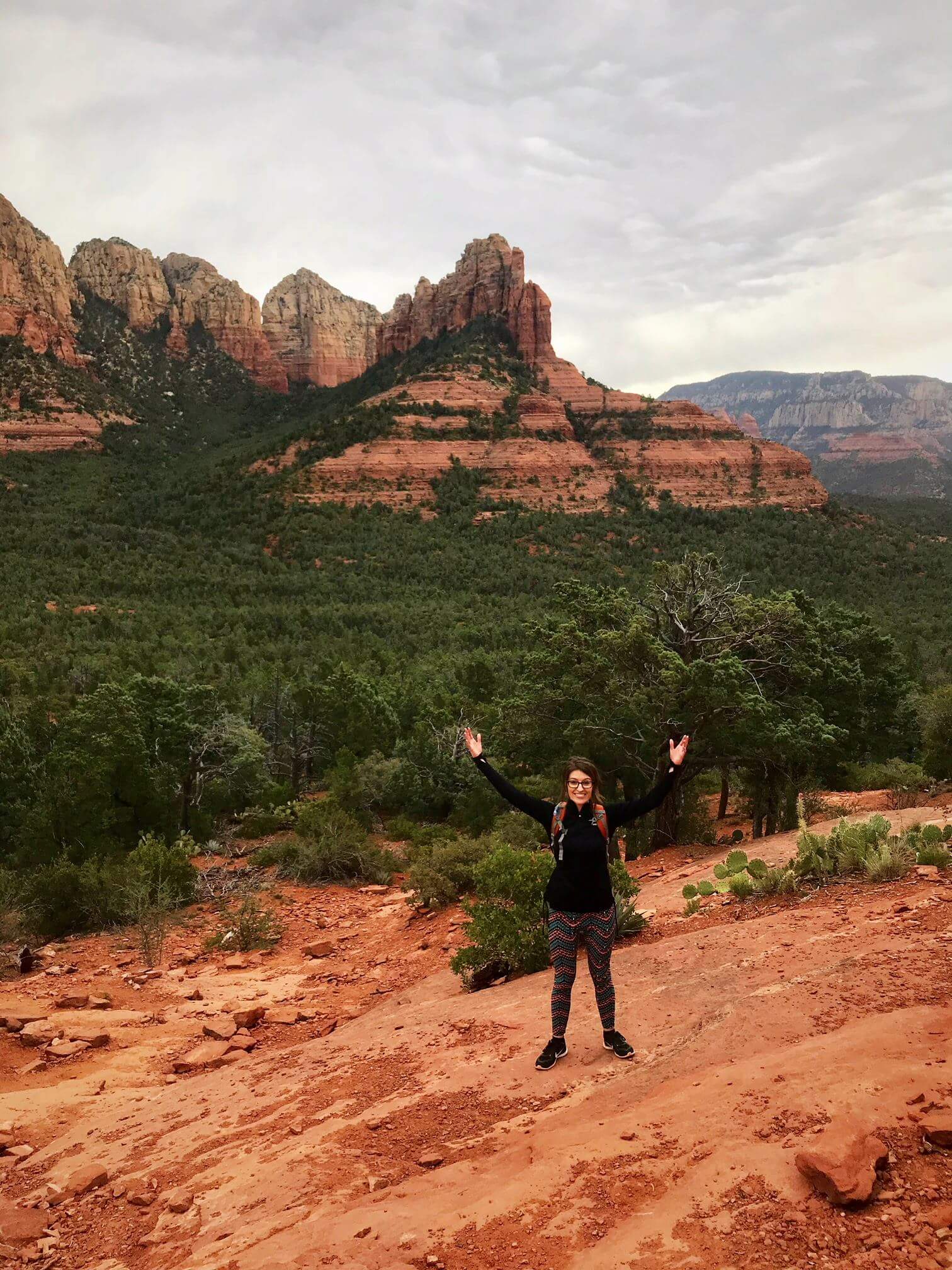 "I've hopped around to new cities every few years as a TV news reporter. It's an industry that doesn't allow a lot of time off, so any days I can get — I'm traveling! I love solo travel, and plan to keep doing it for the rest of my life!
Interestingly enough, my relationship was essentially the catalyst to try solo travel. But if I'm totally honest with myself, it was partially rooted in frustrations and expectations I was putting on my boyfriend to plan vacations with me. We work in the same industry, but he works behind the scenes as a director, with the same limited time off policies.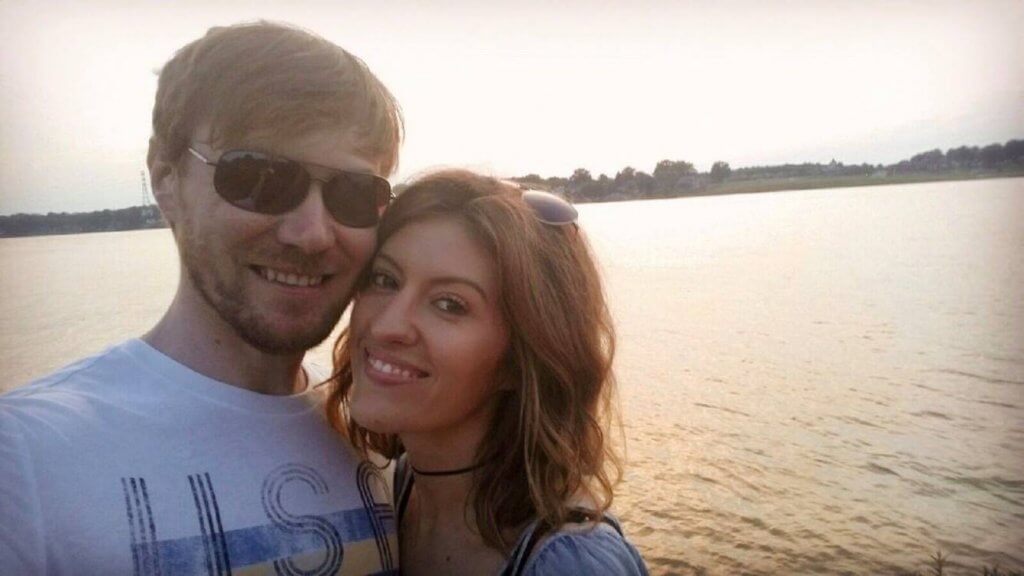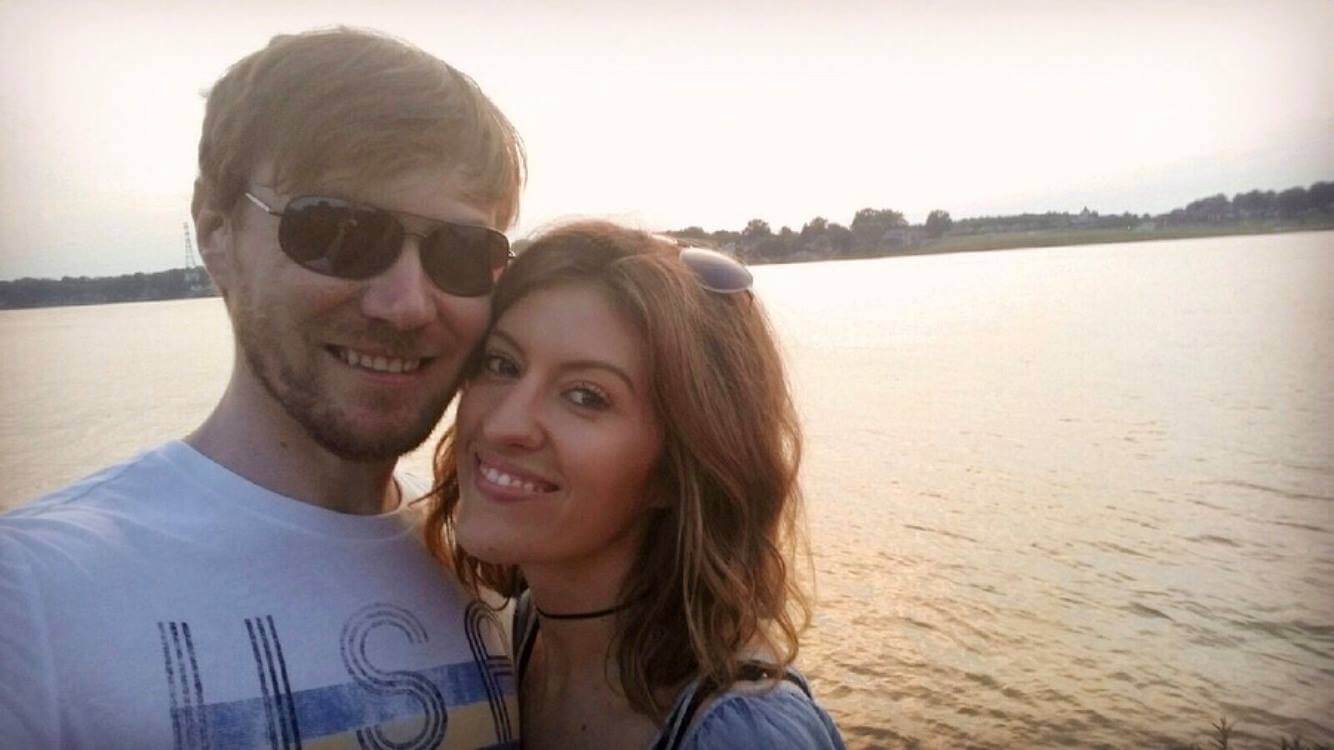 We've been together for 3 years. He has been a solo traveler, and it was one of the things that I initially found attractive and interesting before we ever started dating. However, I was really hurt when I wasn't part of a solo trip he took to Europe last summer. He wasn't interested in some of the places I wanted to visit, but I started to take it personally, and it wasn't good for the relationship. I was expecting him to do everything I wanted to do, selfishly. I reached a point where I was like, fine, if I can't convince someone else to go to the same places or take the same days off… I'll just do it myself!
I realized my unrealistic expectation that my partner and I should share all of our personal time off was kind of a lie I had constructed because of all the couples around me who only vacation together. I'm so thankful that I had my solo travel experience, because it made me more independent, more laid back, more accepting, and more self aware — not only in my relationship, but life in general. A trip together in the future isn't off the books by any means, but I'm planning more trips by myself now!" – Sara, 29, Kentucky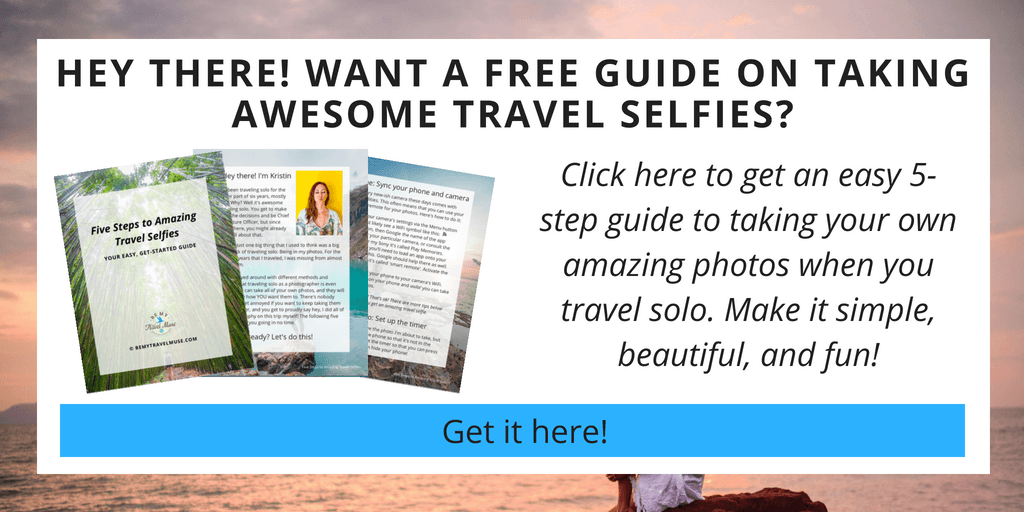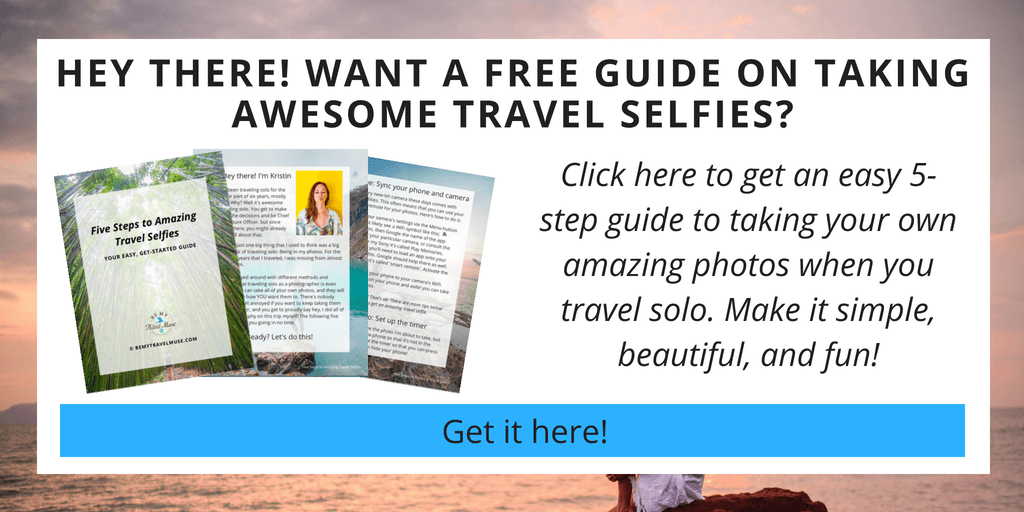 "He continues to be the biggest champion of my solo trips."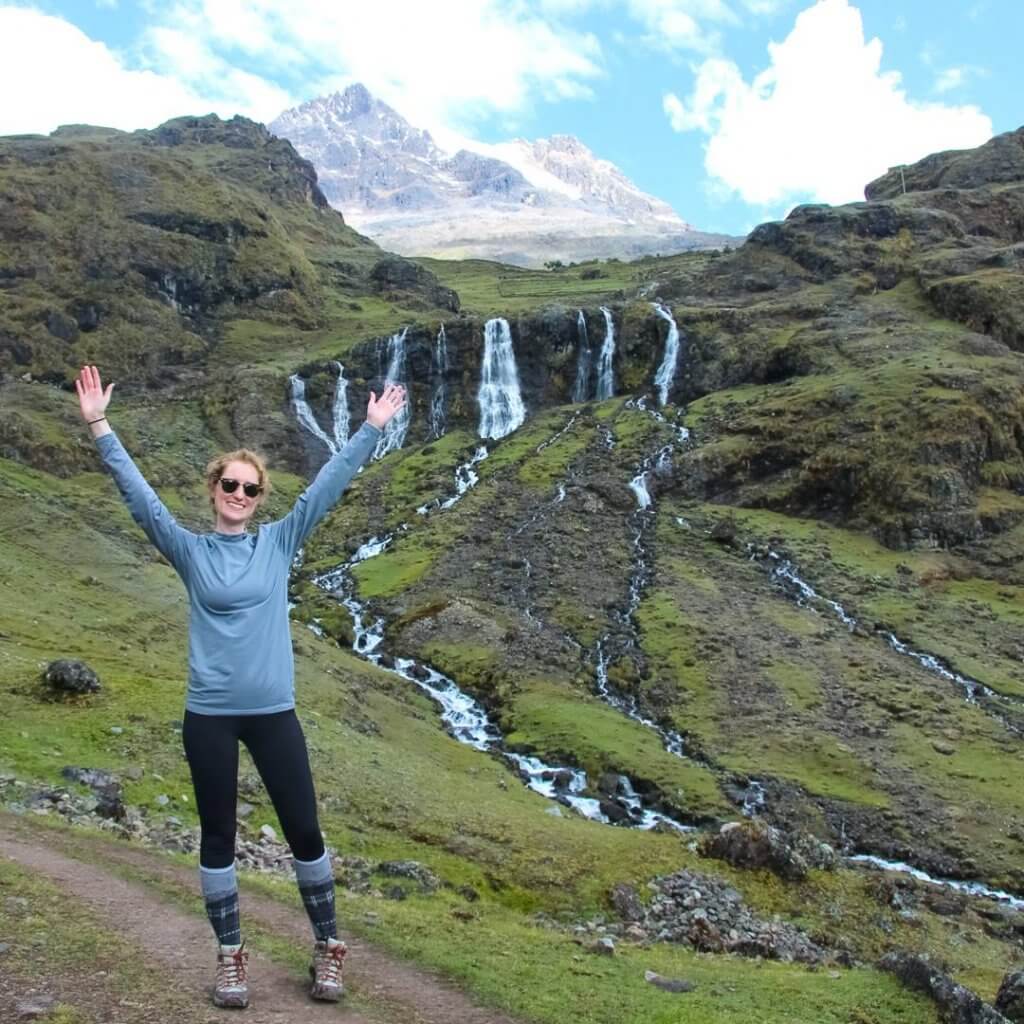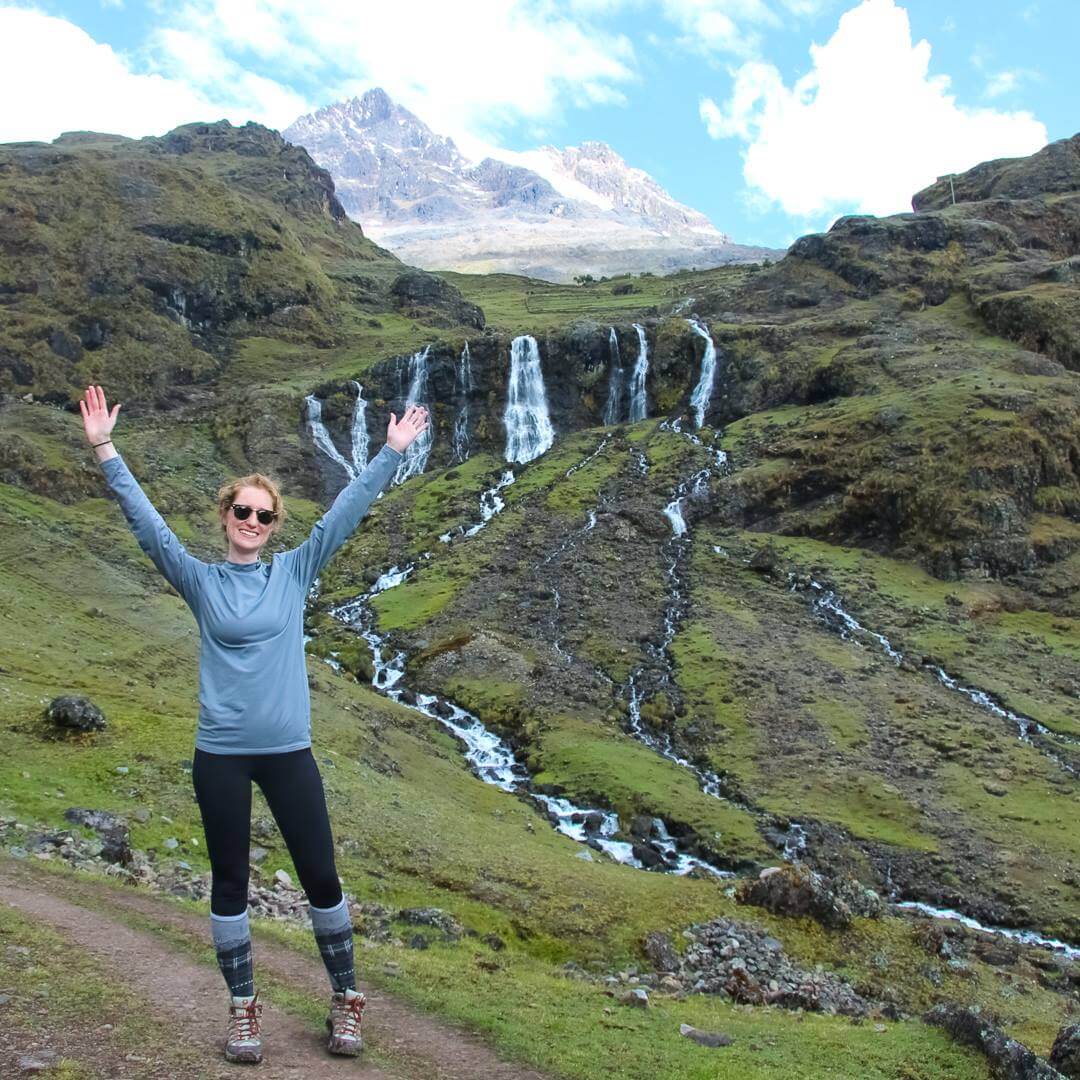 "I'm 26 and recently quit my job to travel solo in South East Asia and the Middle East for 4-6 months. I started solo traveling when I worked abroad in Brussels in college. I'm currently living my first multi-month solo trip after years of smaller solo-excursions on weekends and shorter timelines. My partner, Jack, is a software developer and lives in Amman, Jordan full time while I am based in Boston, MA. We've been together two years, and have been doing distance for one.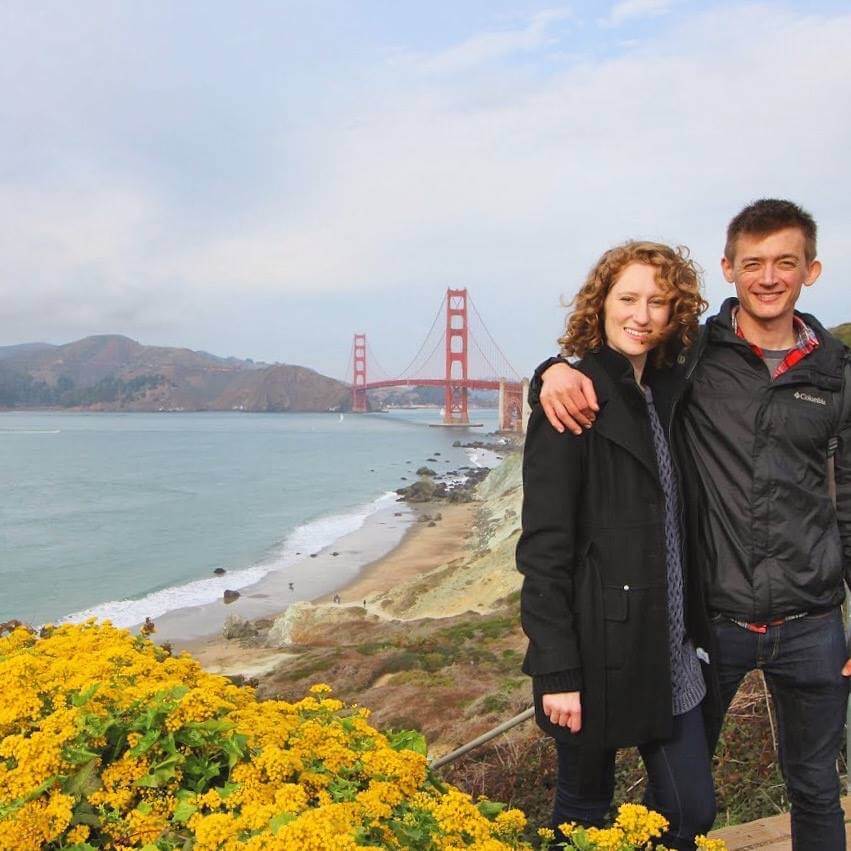 Jack and I bonded over travel immediately when we started dating, and really build our day-to-day lives around saving for joint or solo trips. Coordinating two careers, schedules, etc can be hard, which is why we are super supportive of each other getting as much travel and world exposure as possible. He has been, and continues to be, the biggest champion of my solo trips. While I would love for him to be with me, we respect the satisfaction and self-reflection time that solo travel allows, and thoroughly enjoy supporting and growing with each other through our trips. For us, travel makes us feel like better and more centered individuals, which makes us better partners." – Scarlett, 26, Boston (follow her on Instagram here!)
"We find a balance."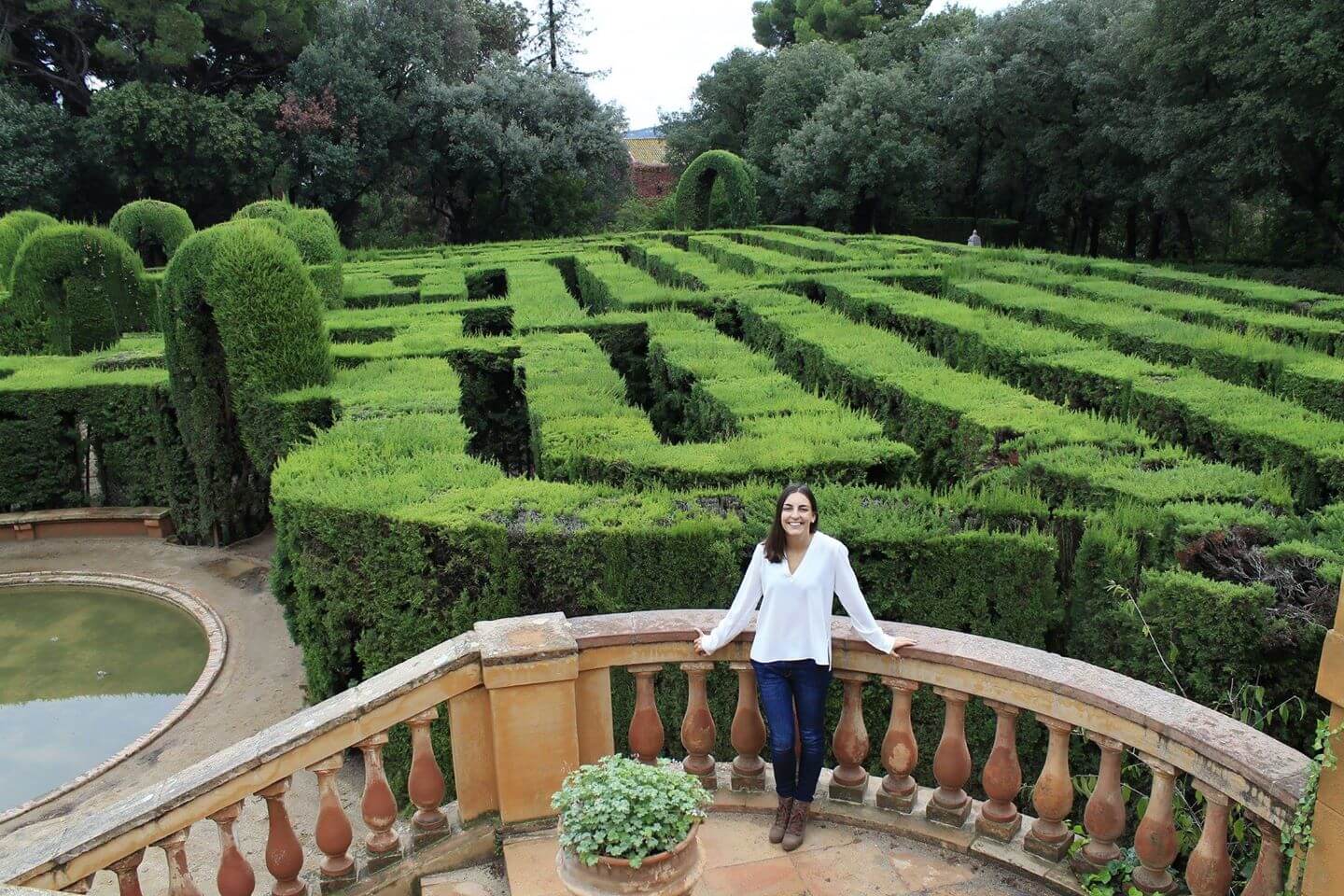 "During the first year of our relationship, we had a long distance relationship. Luckily both our jobs allowed us to travel so we could meet for weekends away around Europe (mostly). I think our special situation taught us to enjoy each other's company while exploring a new city/area. We feel very comfortable traveling without each other as we've done it before, but of course, we find a balance to travel together as well.
I think it is all related to money and time. If you have a small budget and limited leave days, you want to plan around those to get the most out of it. It is true that you will want to find that balance between getting your solo adventures and including some couple trips. The misconception that solo travel has to be international is very untrue. I would say a weekend away to a National Park two hours away from home is an amazing solo adventure and a very attainable one, without compromising your possible 1-2 big trips for the year (If you have a 9 to 5 job)." – Anna, 24, Cape Town (check out her blog here!)
"Encouraging each other's passions has helped make us better people as individuals and a couple."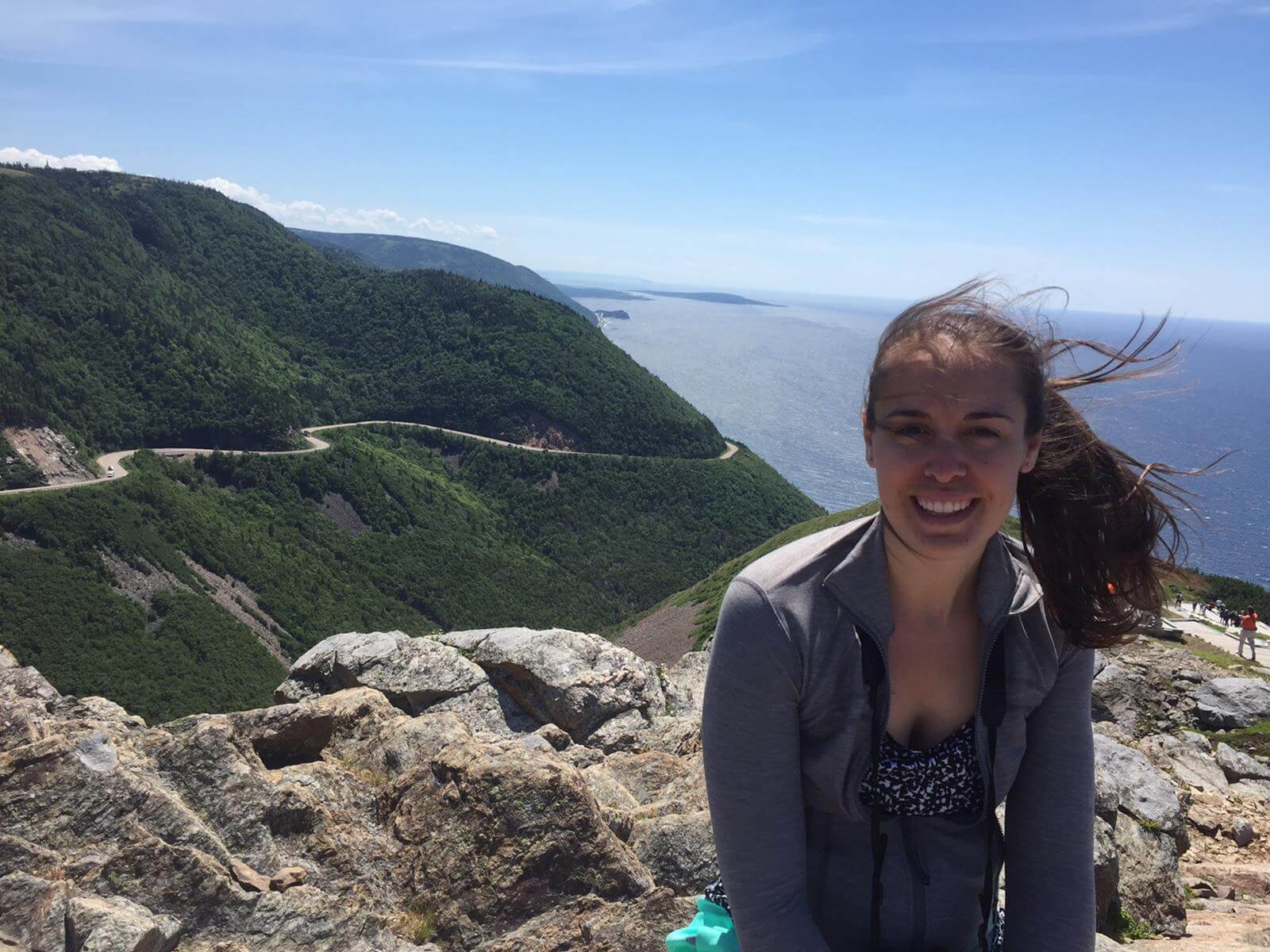 "I have found that when I travel solo I am more open to meeting people and new experiences on the fly than I am when I travel with friends. The people that I meet often have recommendations for day trips, restaurants and other cities and having the freedom to explore those suggestions or to join those people in exploring is something I value. I also enjoy having the flexibility to be alone to just read or write in a journal.
My partner has always been supportive of my solo travel. We were friends for a while before we got together so he already knew it was something I was interested in and he appreciates my independence. He deals with more questions than I do about my solo travel, generally from colleagues who ask "why do you "let" her go?", to which his usual response is something about me being his girlfriend not his pet or that it allows him more video game time (which is a definite perk for him). I don't think he's ever thought that it was anything but normal for me to want to travel on my own. We now tend to plan trips together that also allow me some solo travel time either before or after.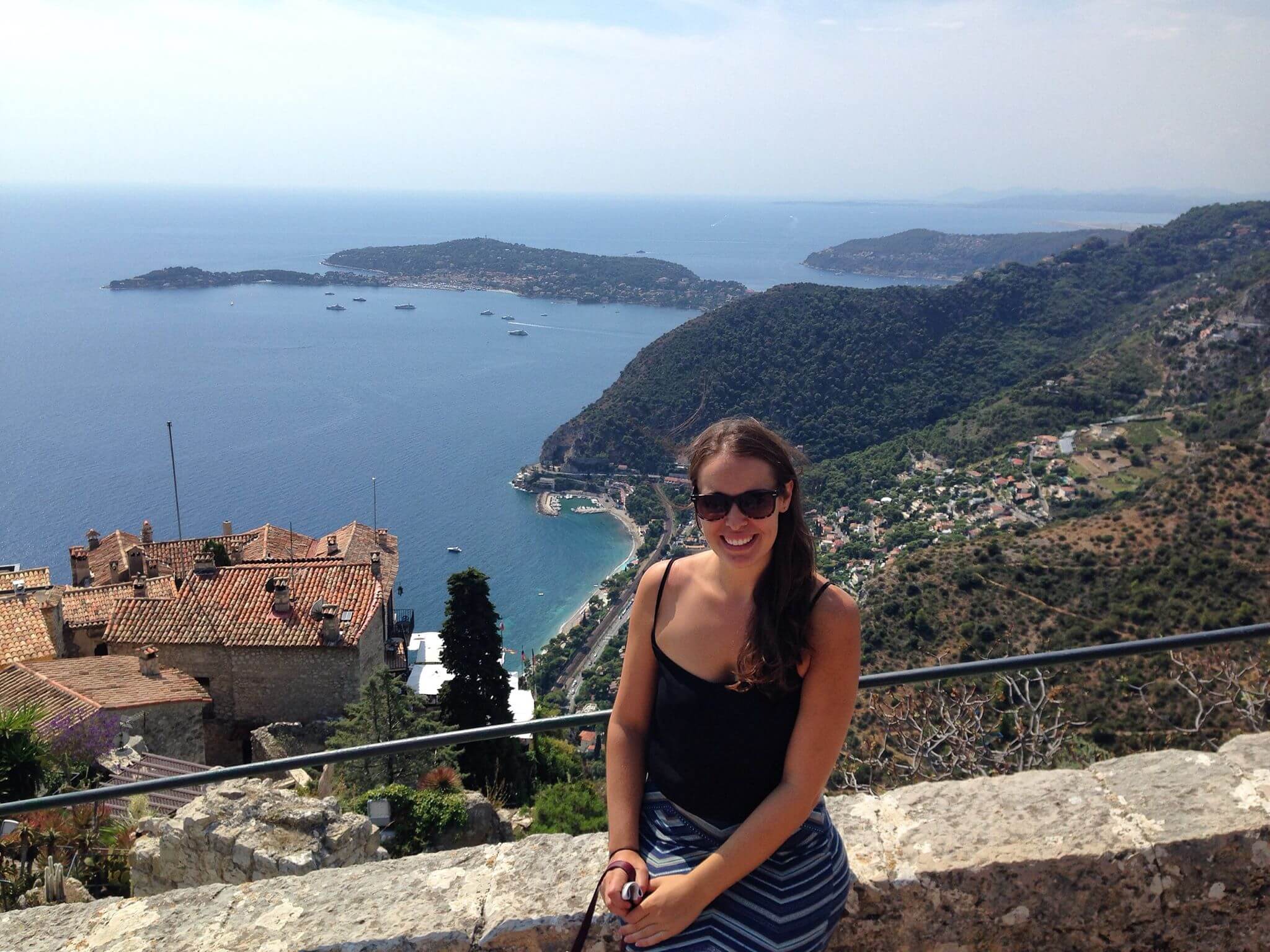 I have met some incredible people and made lifelong friends while travelling and it is something I plan on continuing to do through my whole life. Furthermore, my independence is important to me and I don't think I could be with someone who didn't understand that and support it, and I do think encouraging each other's passions and independence has helped make us better people as individuals and a couple. It important to take time for yourself, whether you're in a relationship or not; it just so happens that my "me" time usually necessitates a plane." – Lindsay, 28, Toronto
"Your happiness is just as important as your partner's."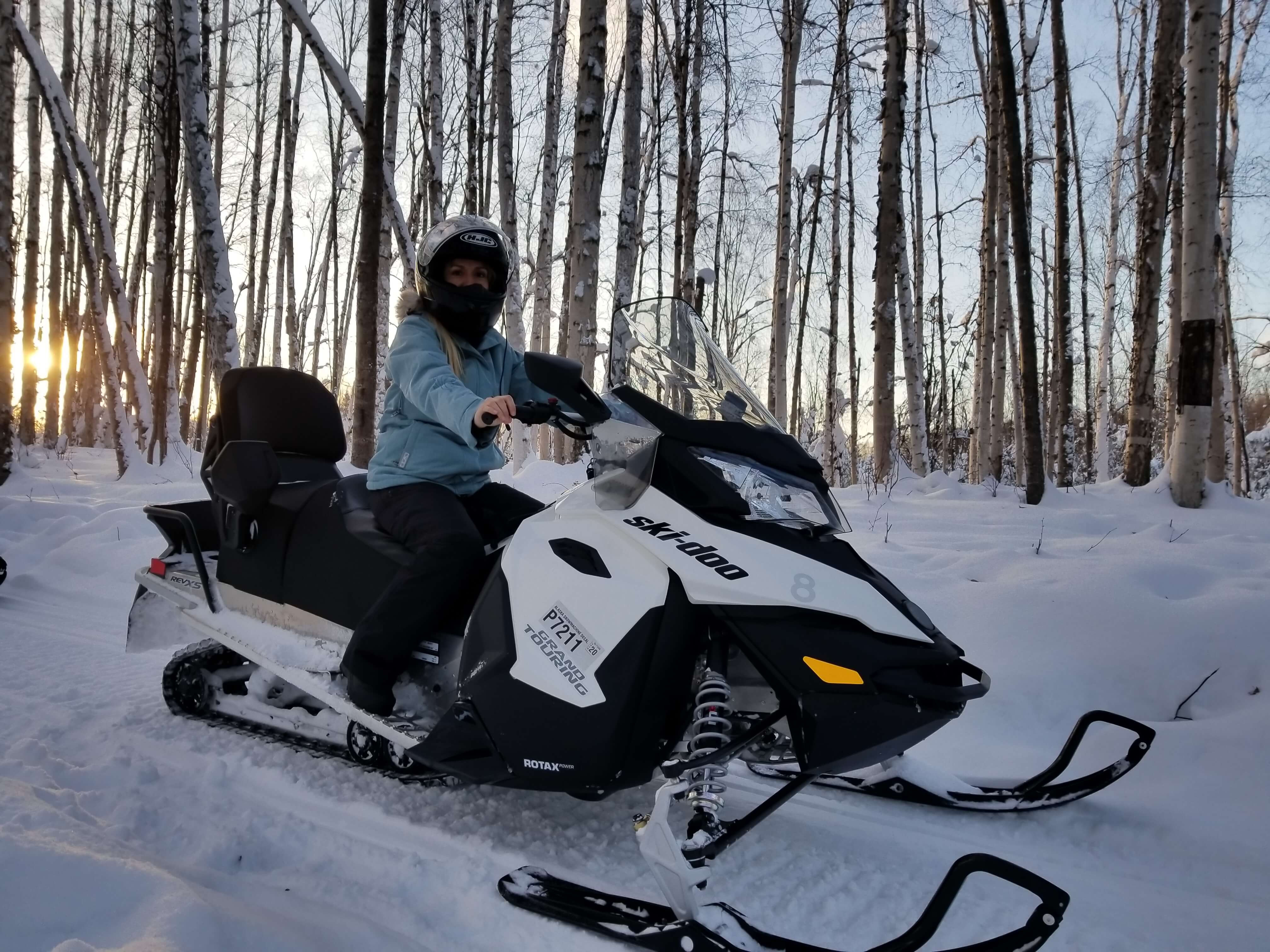 "My boyfriend and I have been dating for almost 4 years. He has known since our very first date that I have a love of travel and am not afraid to travel alone. I quit working two full-time jobs at the end of 2017 and set a goal of traveling somewhere every month for the entire year of 2018. He has been less than supportive and prefers me to only take short trips. I've told him I will not stop traveling and he needs to deal with it. I am not willing to sacrifice my happiness for his.
This may seem selfish, but if I'm in a relationship that I feel like is impeding my happiness, then I will want out of it. I'm sick of living in a society that thinks women need to take care of everyone else and to hell with what we want or need. We are not obligated to spend our lives taking care of others. I have already spent 18 years of my life taking care of my daughter as a single mom. I have no desire to spend my prime years taking care of a grown man.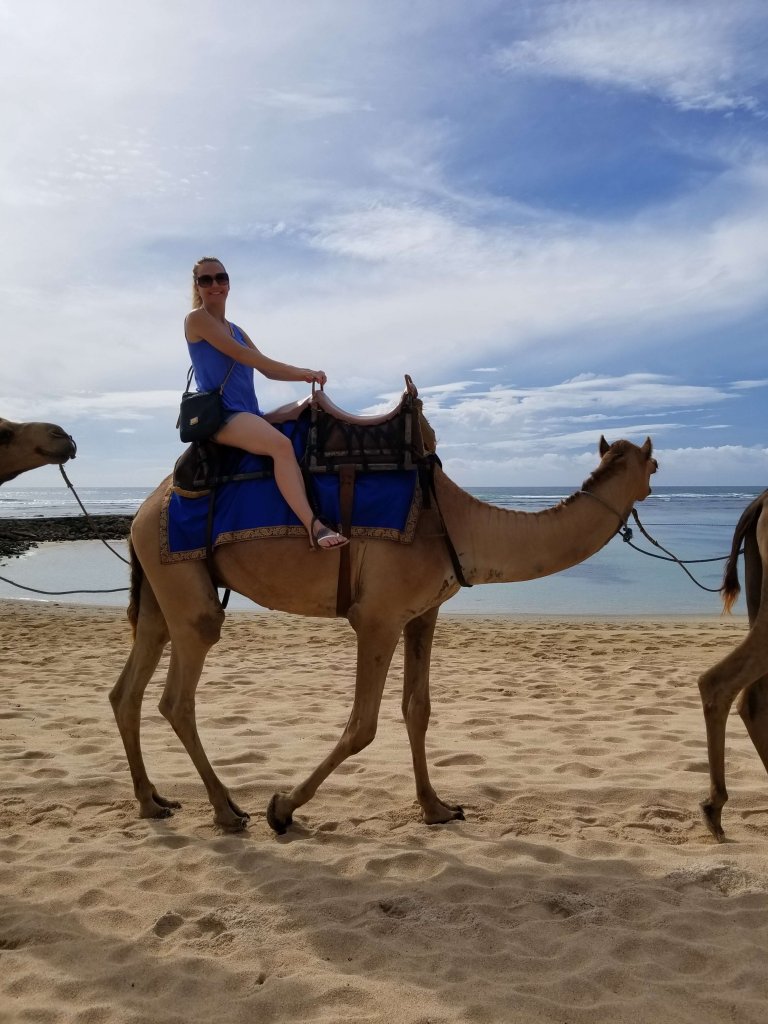 My advice to other women who have a partner who doesn't love their solo travels is to keep traveling. Your happiness is just as important as your partner's. Do not let anyone stop you from traveling solo. You need to explain to your partner why you want to travel solo and why it's important to you. They need to respect your reasons and your happiness." – Becky, 35 Arizona
"He understood that I needed to do this for me."
"I was always an independent traveler and have traveled on my own over the years. But after college, it got much harder. Due to work, it was difficult to find time off. I felt really burnt out, and I convinced my employer to give me a three month sabbatical. India and Nepal have always been on my radar, but because of safety and crimes portrayed in the media, I was scared to go. This time, I decided I needed the challenge.
When I discussed my plans with my husband, Timon, he was incredibly supportive. He was concerned about me traveling to places deemed "unsafe" for women, but because I had traveled on my own before, he was confident that I would be able to take care of myself; we have a very trusting relationship. I think he wished he could come with me, but he understood that I needed to do this for me.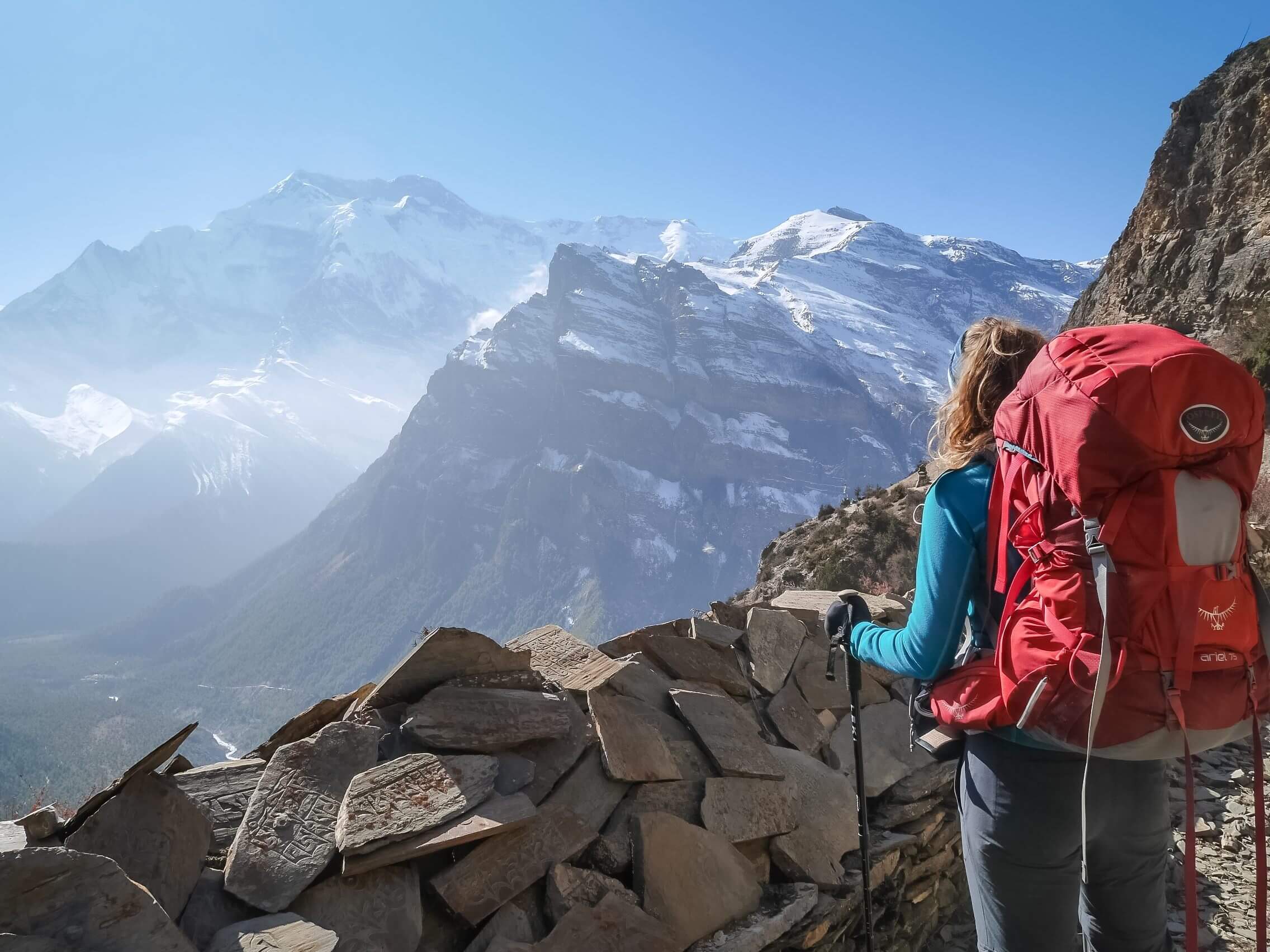 The trip to Nepal and India was very eye-opening. Sometimes I felt alone and frustrated, but most of the time I felt confident and strong. It was important to me to be able to depend on myself, and that gave me confidence in so many other aspects in life. I met some amazing people and had some beautiful experiences.
I find it interesting when people say places are unsafe for women. You have to take it with a grain of salt. Do your research and do not let anyone tell you what you can and cannot do because you are a woman. While traveling, communicating with Timon was sometimes hard. While hiking the Annapurna Circuit, reception and wifi were abysmal; I think we spoke twice in 17 days. However, most of the time I checked in every few days. When I came back, our relationship was stronger than ever. I realized that we needed a change, and we decided to quit our jobs and use our savings to travel full time. It has been an incredible journey, and I am so lucky to have a partner to share it with. Even though we have commitments to each other as partners, that doesn't mean we cannot give each other room to grow." – Yana, 32, nomadic (check out her travel blog here!)
"The cage has opened."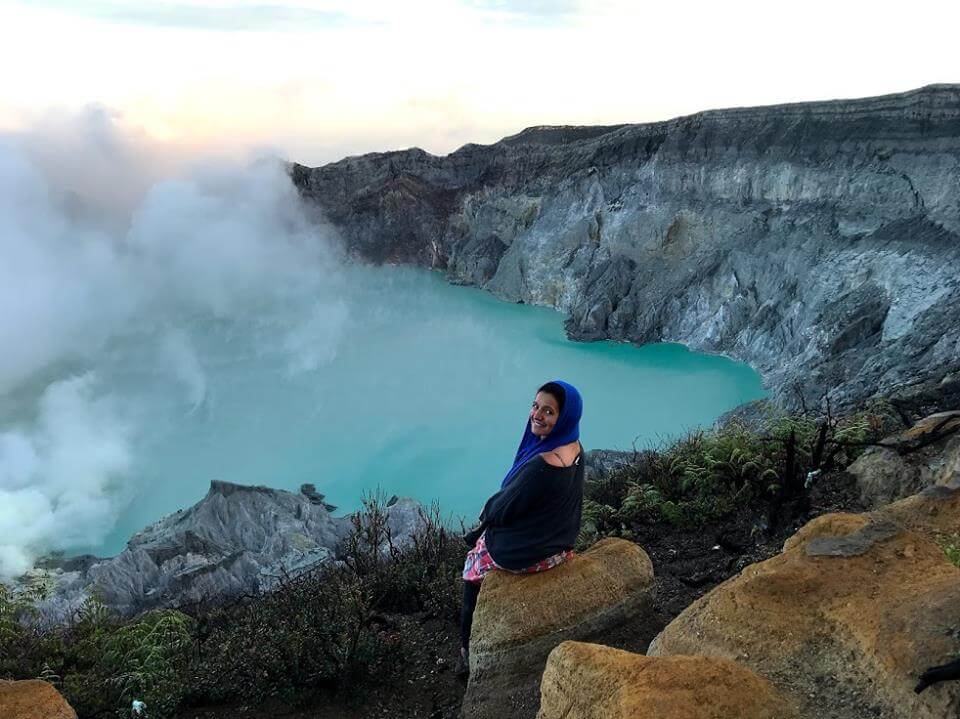 "I've always wanted to travel solo, but I was scared and naive. The big, bad world intimidated me fully and although solo travel was in my heart, I was too young and to unaware of my potential and power to reach it. And so I caged my inner "free" bird and put my desires on the shelf. Little did I know how much traveling would later become such a part of who i am.
Then I met Josh, who is a solo backpacker 10 years in the making. He would do really long stints, enabling himself to see more places. I was amazed and inspired by him, and so as his life as a solo backpacker evolved to partnership, my solo backpacking dream manifested. The cage has opened.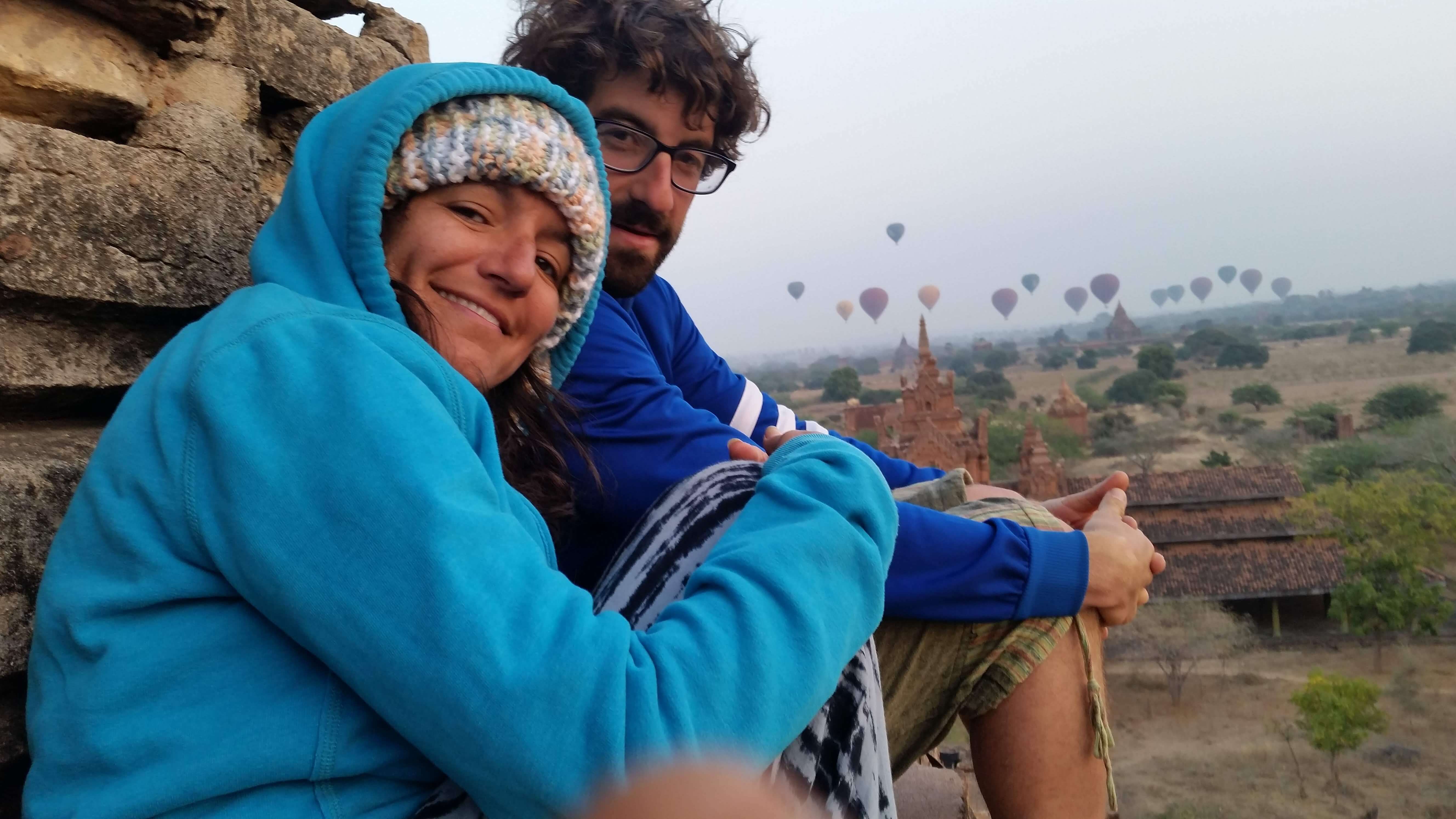 While solo traveling and maintaining a relationship at home, I find that it is very important to share in all the moments. And I know that no matter how warm, or sometimes cold the road can be to me that there is always a face on the other side of the world ready to hear my story. And because of his extensive travel he usually has a similar story to share. Encouraging me to remember it is all part of life on the road.
My advice to all women contemplating solo travel while in a relationship is to go for it!!! I do believe communication is key and being on the same page is everything. This will allow for genuine respect and support to take its place. It could be tricky if BOTH of your hearts are not fully committed to the idea and plan. This is your time to shine and your heart and mind deserves to be free!" – Courtney, 39, Florida
—
We hope this post helped to show that traveling solo while in a relationship can be an incredibly healthy practice, for both parties. It gives you both time and space so that when you come back to the relationship, it can be even stronger, enriched with new experiences. It can help to build trust and appreciation, not to mention empowerment.
If you like posts like this, join the conversation in the BMTM Solo Female Traveler Connect Facebook group. It's a vibrant community of women from all over the world who support each other and share their travel plans, along with their discoveries.