I looked at my friend quizzically many times over the two days that we shopped and prepped for the 8-day circuit in Torres del Paine, Chile – my first ever backpacking trip. There were so many things he knew that I didn't know, like putting everything in its own individual bag, to exactly what to eat in order to cut down on weight, to how to eliminate every unnecessary gram.
Had I been on my own, I would have ended up with the world's heaviest backpack. Thank goodness I had some guidance!
Since then I've completed several multi-day backpacking trips on three continents, most recently, completing a 4-day trip completely on my own. The following is my ultimate backpacking checklist after all of these experiences.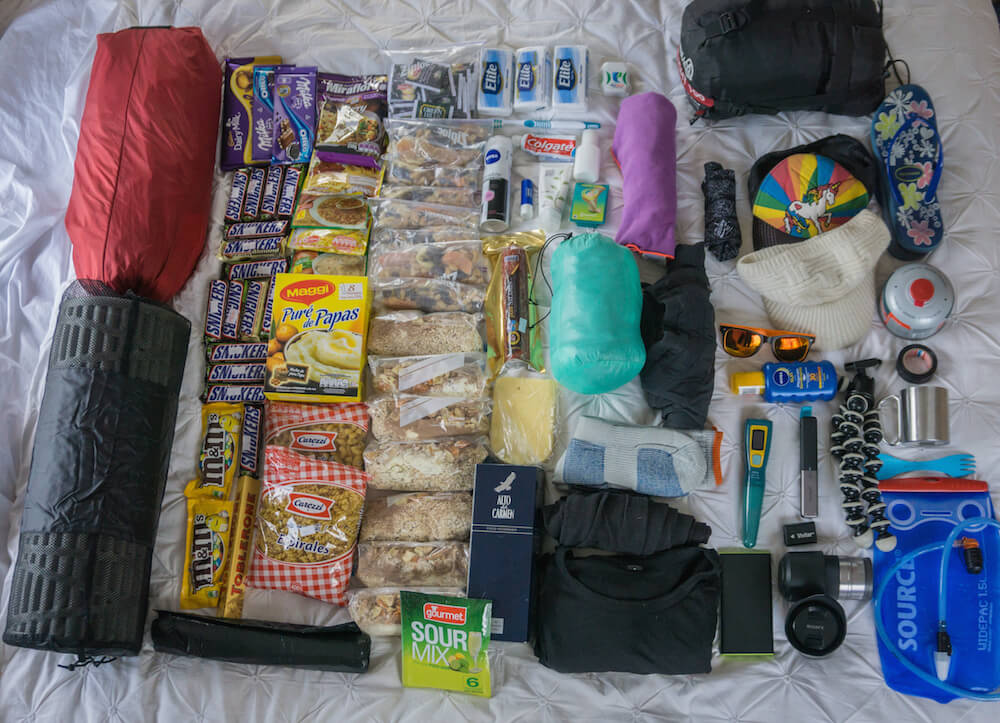 Just a note: There are ultralight backpackers who sleep under just a tarp and barely bring any gear or food. That's not my style, though I do take every effort to cut down on weight while still being safe from the elements, and comfortable.
Food Checklist
I usually go one of two directions with my food. Either I'll bring instant backpacker meals, which are convenient, pack up really nice and small, and can be quite delicious, or I shop at smaller markets and buy things like pasta and powdered sauce. Neither one are going to be incredibly amazing cuisine, mind you.
That said, food tastes a lot better on the trail. Maybe it's the hunger from hiking all day, maybe it's the fact that you're staring at a glacier or gorgeous valley while you eat it. Either way, I'd say that making food I'd only be mildly disappointed eating at a restaurant back home while on the trail is a success.
If you want to bring instant backpacking meals, I have a definitive ranking of best to worst here, including organic and vegetarian options.
If you're shopping at the grocery store, here's what I recommend:
150 grams pasta, powdered potatoes, couscous, or some other quick-cooking carb per person per day. Increase or decrease depending on your personal needs.
4 85-gram powdered pasta sauces.
Optional small block of cheese or salami to make pasta more exciting (one block is better than individual slices which mold more easily).
80-100 grams oatmeal per person per day.
Powdered milk and chocolate milk.
1-2 Snicker's or Lara bars (vegan), or some other form of nutrition bar per day.
100 grams dried fruit and nuts per day for lunches.
1 lightweight treat per day (oreos, candy bar, something you'll look forward to).
Enough ziplocks to portion out each meal (please reuse them after!).
This food list assumes that you will have water readily available on the trail. The only backpacking trips I've done are ones where I didn't have to bring all of my own water in, though you may very well encounter that if hiking in the desert. In this case you should also bring 1-2 gallons per day for drinking, plus 0.5- 1 full gallon more for hygiene and cooking. You'll also need a method to clean water just in case you run into an emergency and you need to take it from your environment, and are able to find it, listed in the gear section below.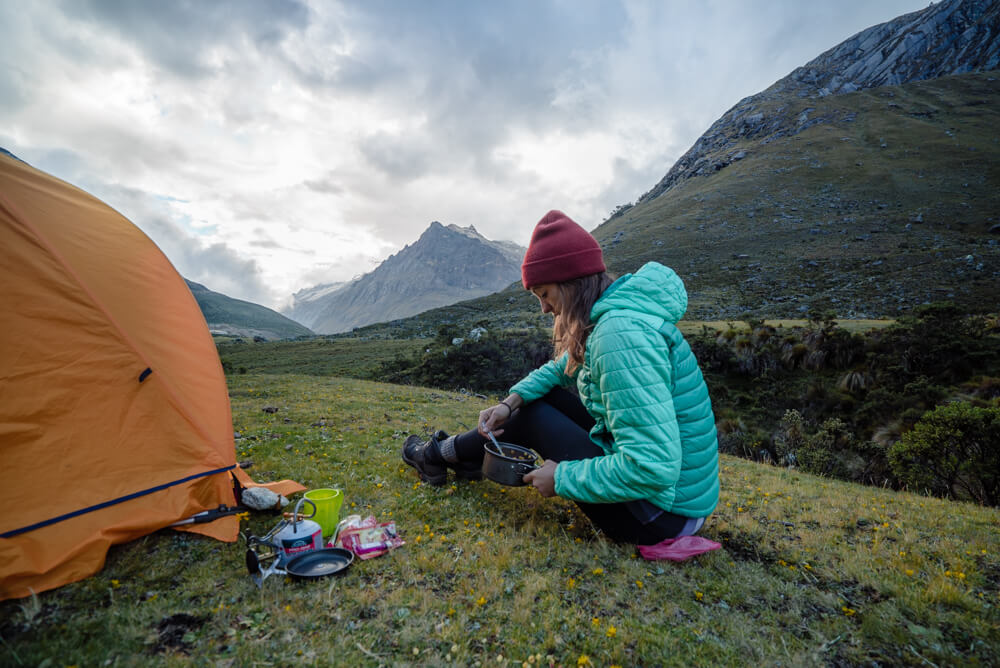 Gear Checklist
The gear you bring is going to depend heavily on what kind of weather you will encounter. Almost all of the multi-day backpacking trails I've done have been in the mountains in Patagonia, Peru, Kyrgyzstan, and Alaska, which usually equates to cold weather and the possibility of snow. However if you are hiking in the desert you will have different needs.
In all of these cases you can count on cold temperatures at night, so that you're list below is meant for harsher conditions where it's cold and potentially very wet and windy:
Light tent (compare different kinds here)
Lightweight sleeping bag for 0-C or under: It's very important that your bag keeps you warm and doesn't weigh much! If I'm in sub zero like in Alaska, I use the REI Coop magma sleeping bag in long (I'm 5'8 so the regular is too short) and I'm in love with it.
Sleeping mat (this one is so worth the money! How did I ever use anything else?)
Backpack that can fit all of your gear inside. It will rain, a rain cover often isn't enough to keep your sleeping bag dry, especially if it's windy and the cover blows right off.
Hiking boots: I love this pair, even after 8 days in Alaska I didn't have a single blister, and they keep my feet warm and dry.
Trekking poles – optional but very helpful for the knees. I always use them!
SteriPEN, or some other method to sterilize your water
Cooking stove and at least 2 gas containers (or 1 per every 4 days)
Waterproof matches or firestarter
Spoon/fork or spork
Knife or multitool
Toilet paper and a bag to put the used paper in when you're done – pack it out!
Small first-aid kit with medical tape
Any prescription medications, in a waterproof container
Waterproof map and compass, offline map with GPS, and if really in the backcountry, a satellite phone and personal locator beacon.
For the best hiking backpacks for women, check out my post reviewing the best backpacks on the market right now.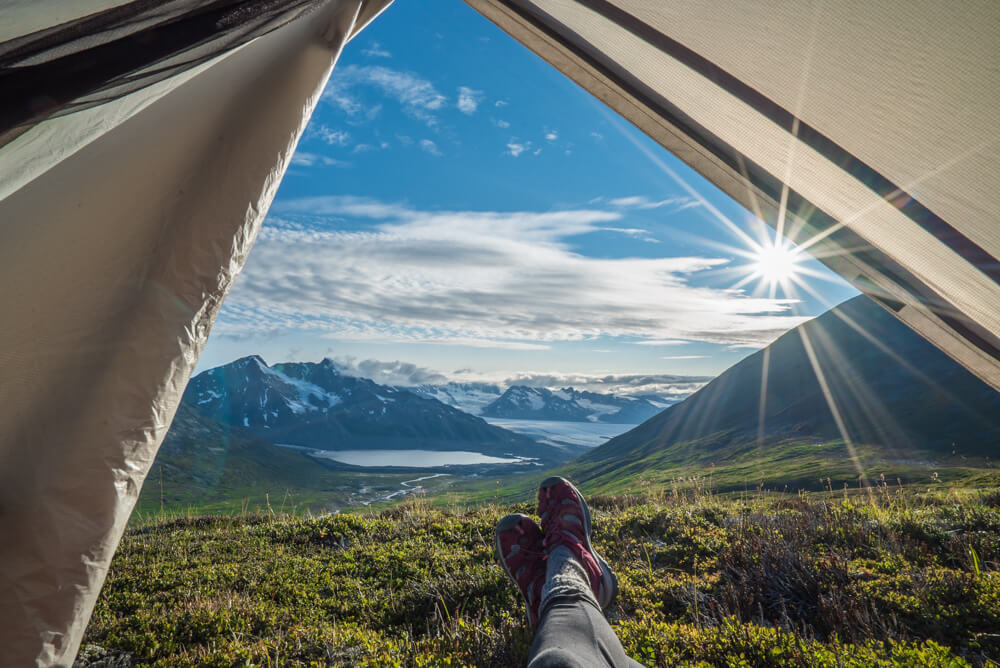 Clothing Checklist
For those who have never backpacked before, brace yourself because this is going to sound really gross: You should only bring two sets of clothing for your trip. Extra clothing adds unnecessary weight and there's really no point in putting on fresh clothes only to make them gross and sweaty within five minutes anyway. Regardless of the length of my hike, whether it's one day or eight, I still follow this rule. I do bring enough underwear for each day, and I bring extra socks.
You'll have one set of clothing to hike in, and one set for sleeping in. If your hiking set gets wet and sweaty, I recommend either putting it in your sleeping bag with you while you sleep so that it can warm up and dry from your body heat, or if you're not too cold once you get to camp, keep wearing it and let it dry out on your body. Yes, you will stink, yes, it will be kind of disgusting, yes, it is so totally worth it!
1 sports bra
Enough underwear to change daily
2 pairs of yoga pants or whatever you prefer to hike in
Toiletries and Hygiene
Toiletries take up a lot of unnecessary space and they are very heavy. I personally only bring along:
Toothpaste
Toothbrush
Sunscreen
Menstrual products (a menstrual cup is definitely the easiest and most lightweight option)
A small pack of wipes
I don't usually wash my face at all on the trail, which I realize is probably really weird to most people, so if you want to be able to wash your face, bring along facial wipes and get water from the streams. If it's glacial water and it's way too cold, make peace with the wipes. I don't personally think it's worth it to bring extra gas to be able to heat up water to wash my face.
Deodorant is pointless, makeup is definitely pointless, and so are shampoo and conditioner, unless you will be able to shower along the trail. If you're really in the backcountry there's no point.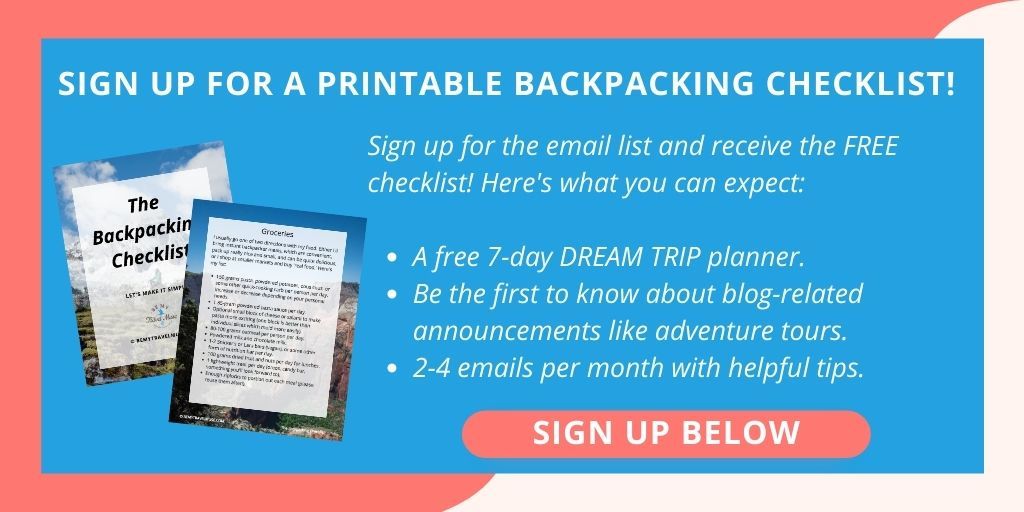 This list is the bare bones necessities of what you'll need when backpacking. Remember that less is more and that every small item adds up when you're carrying everything with you on your back. Happy backpacking!
*Some links in this post are affiliate links for products and services we personally use and love. Any purchase you make through them supports us at no extra cost to you. Thanks so much!