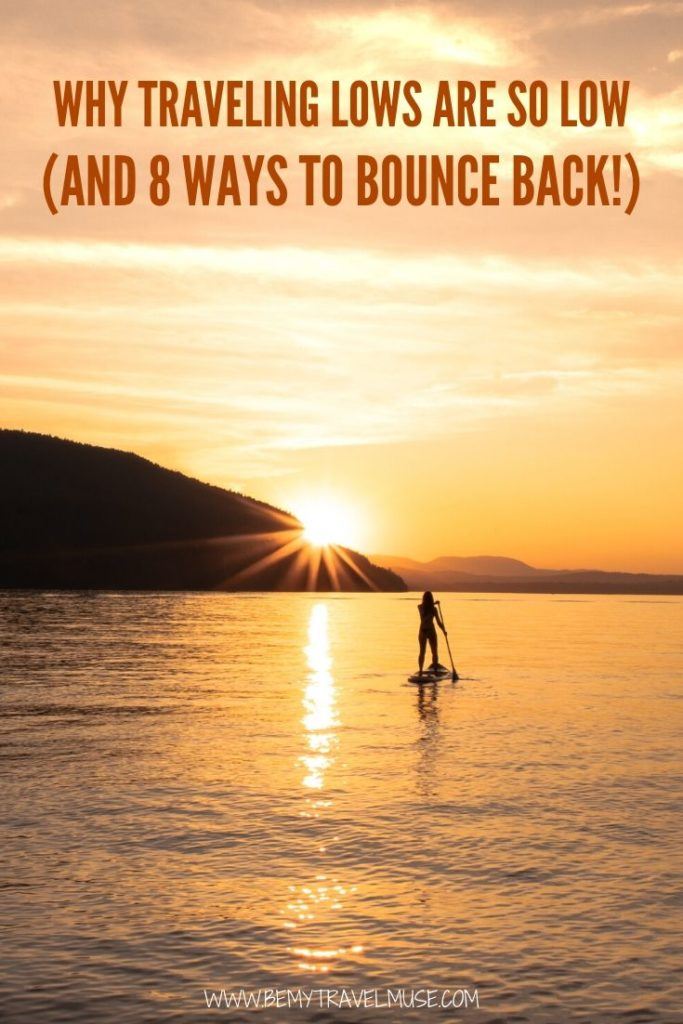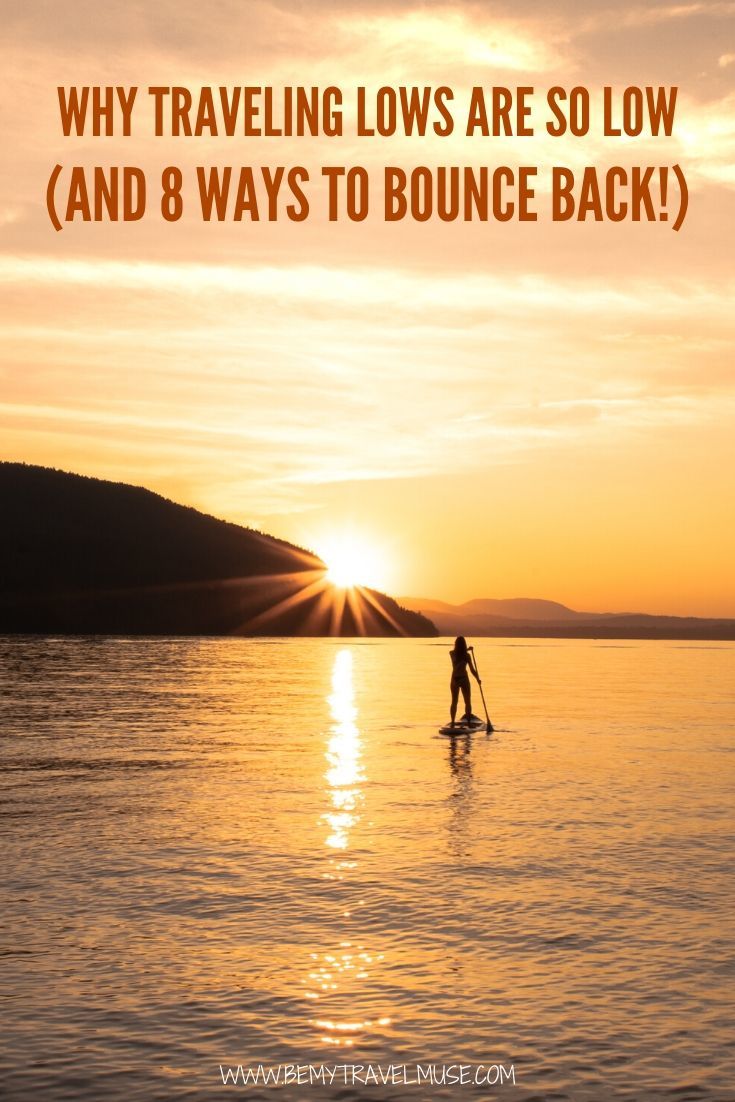 "Enjoyment appears at the boundary between boredom and anxiety, when the challenges are just balanced with the person's capacity to act."
Mihaly Csikszentmihalyi, the former head of Psychology at the University of Chicago, wrote the words above in Flow, a book that explores the nuances of happiness.
Flow is total absorption in a moment or activity, completely investing ourselves in the present, resulting in extraordinary pleasure.
Artists experience it during an intensely creative moment and children when enthralled with a toy. Nothing else is on their minds and nothing else matters. When the creative juices are interrupted or stop flowing for an artist, just as playtime does for a child, both are left devastated coming down from the high.
I read the words with the mind of a traveler, who experiences flow when so absorbed in a moment that nothing else in the world seems to exist. Flow is when I stop checking my social media accounts, don't worry about emails, and cease thinking of times past and the home I don't live in anymore. I'm not worried about anything else. There is only the present.
However flow is pleasurable because it's rare. Since life is ever-changing, flow will inevitably get disrupted. The fall and crash from such a high is not welcome, though it is unavoidable.
When I started traveling three years ago, I recall a seasoned travel blogger advising me to enjoy the beginning months, because nothing would be that amazing and carefree ever again. I recall cycling through Angkor Wat my first week in thinking, what is she talking about!? Nothing could be better than doing this on a daily basis!
Then the months passed and I finally understood her words as I sat on a beautiful beach in Thailand, completely unimpressed with it and feeling like a brat. Flow was a very easy state to get into in the beginning of my trip, but harder to come by as it wore on and became my new "normal".
Flow was disrupted for me again when, after a week in Coffee Bay, South Africa, spent barely checking my phone and pretending that the outside world didn't exist, it came time for me to leave.
My time there was perfect. I went swimming every day, jumped from high rocks into rivers, walked over hills from beach to beach with friendly dogs in tow, and hung out in hammocks with new friends. I didn't want any disruptions. I was in flow.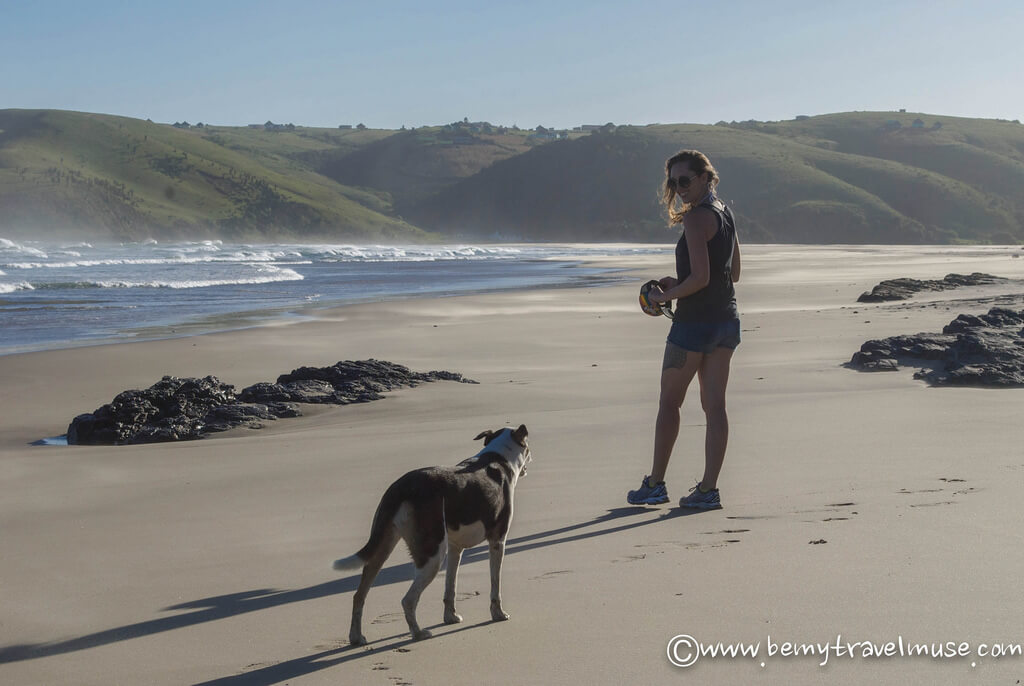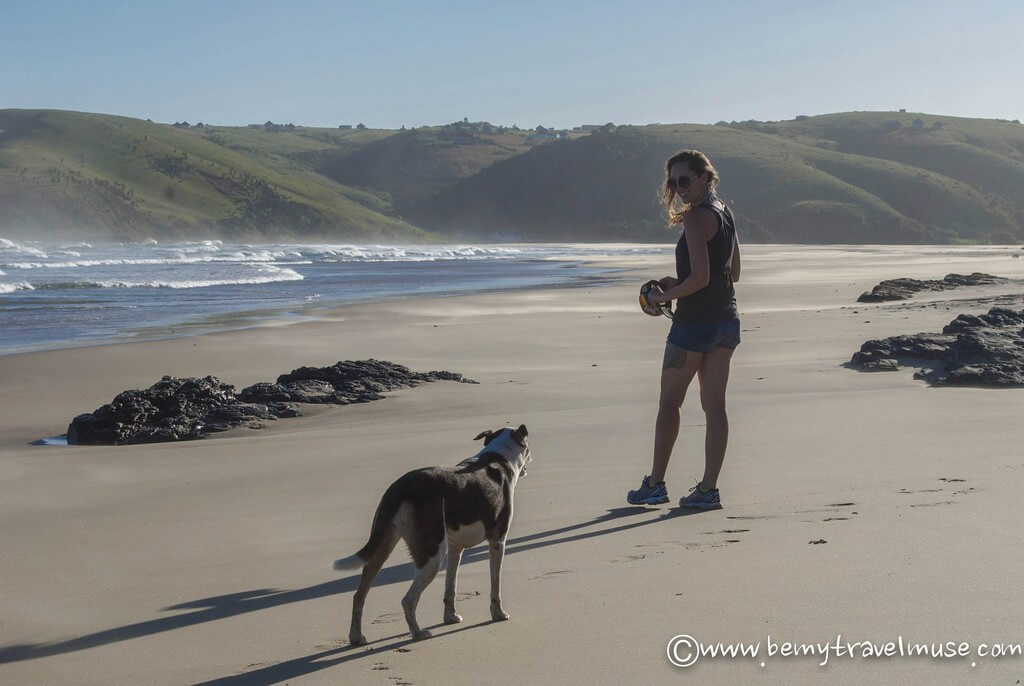 Then, like a tsunami wave crashing down and wiping everything out, a deadline crept up and I had to leave to work on a project. The weeks that followed were lonely and took me to a traveler's low. I missed home, I missed Coffee Bay, I wanted to be anywhere but Cape Town. It didn't matter that I was in one of the most beautiful cities in the world, full of young and social people. I could have been anywhere at all and it would have felt lonely.
What the Heck?!
This is why traveler's lows are so low. It seems like in such a stimulating environment and when in a place doing an action we dreamed of and planned so ardently for, there's no excuse not to be happy.
These moments will hit you too – searching inside for what's wrong and why you feel so alone, you might start to question yourself. Why isn't this making me happy like it's supposed to? Why does everyone else seem to be having such a fantastic time except for me? What's wrong with me?
Then comes the regret: a feeling that we should have known. Something didn't work out and we envision alternate realities where it could and should have been different.
An item on the itinerary will be missed. The sky will be too cloudy to see that amazing view and you'll most likely never get another chance to go back to that place. You'll miss a flight and have to cancel something you really wanted to do. Inevitably, something will not go as it appeared in your mind when you planned it. That's the silent agreement we make when we travel, but that doesn't make it easy.
Where traveling is concerned we expect it will be nothing short of amazing or we would not make so many monetary and time sacrifices in order to experience it. This is why when a vacation hits low points, it's so much more intense.
So how can you bounce back from the lows? How do you get back into a state of flow? Try the following: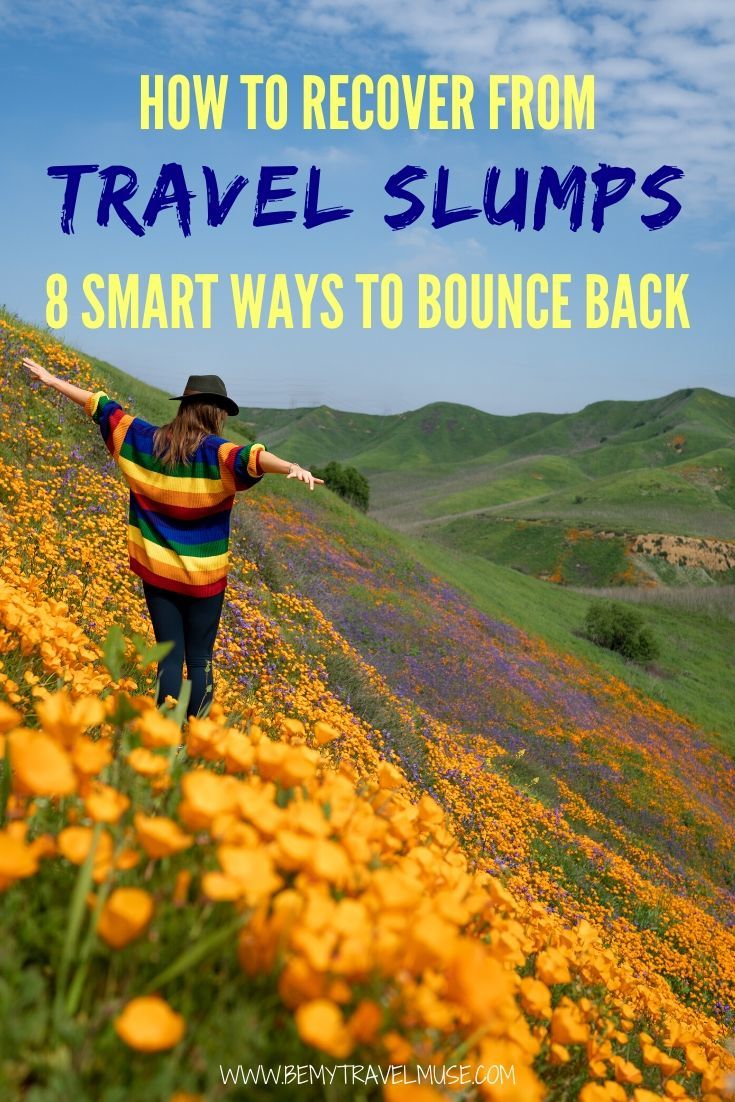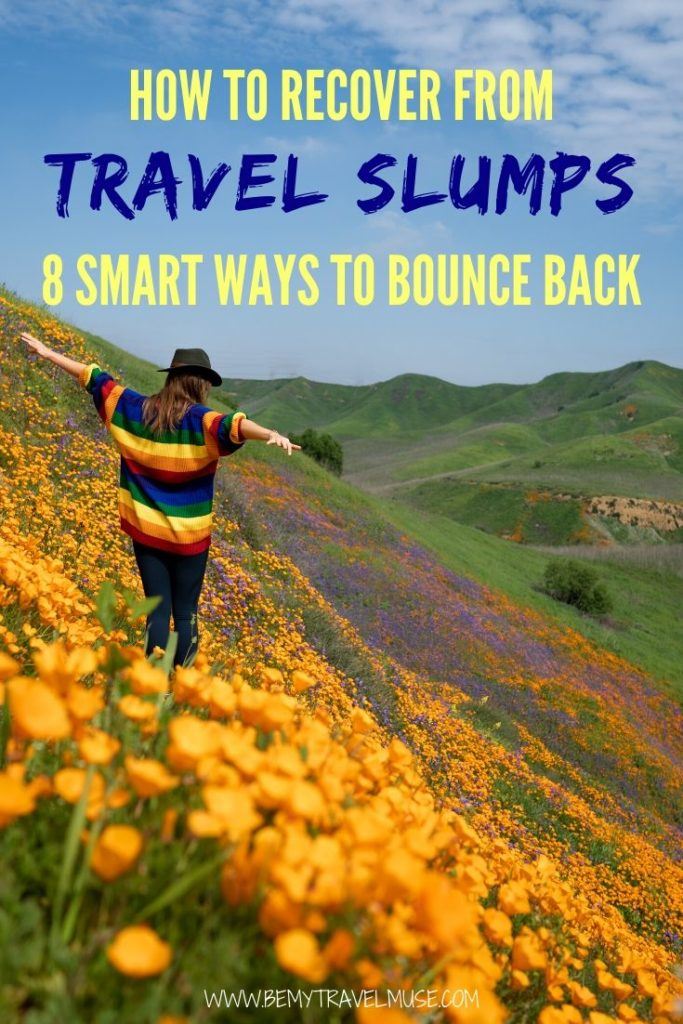 Know that it will happen and you can't avoid it
As most experienced travelers know and newbies come to find out, there are many long physically and mentally taxing days, instances of acute loneliness, and times of confusion when traveling. These exist back home, too. They're just a part of life.
Nothing good lasts forever, and thankfully nothing bad does, either. Preparing for the worst while allowing for the best isn't necessarily negative. On the contrary, it can be constructive. It doesn't mean to expect the worst, it just means that knowing bad times will come and go helps for dealing with them better when they do show up.
Slow Down
Does finding a place to eat, a new place to stay, and something to do all start to get exhausting? When you're traveling and feeling overwhelmed, it's likely because you're not allowing yourself to rest.
We're so used to a lifestyle of constantly having to 'go' and 'do' that we forget we have cycles. Nature experiences cycles – just look at trees, animals, and seasons. We're not meant to be going and doing all the time, and rest is just as important as the activities. If you're tired, slow down. It's okay, and it's essential to your well-being.
Stay off of Facebook
Social media is dangerous when traveling. If you're feeling homesick, it can exacerbate the problem as friends back home post photos having fun doing the things without you that you used to do together.
Remember that only people's best moments are shared on Facebook, and that comparison is the thief of joy. Chances are they feel similarly jealous of all of the wonderful things you're posting, as well. It's all perception, and Facebook can skew that perception greatly.
Talk to a friend or family member
When I am really feeling down, my friends tend to help me through it, even if they're far away. We find a time to Skype or have a phone call. It's important to hear the voice of someone who knows and loves you, rather than just text chatting, so that you can feel that sense of comfort again.
Also remember that they can't fix your problem for you, just like they couldn't back when you were at home. Try not to burden them with only negativity, but simply enjoy connecting with someone familiar again.
Use the feeling down time as an opportunity to build problem-solving skills
The whole point of traveling is to experience something that isn't home, which naturally means it will not be anything you think it could be or are used to. There will be plenty of frustrating and bewildering times that push you to the brink. However these are all opportunities to come out of it stronger and more capable than before. Learning to pull yourself out of down times is a gift, and you have to earn it by experiencing a low now and then.
Don't drown your sorrows
A bottle of wine or a night out is fun in the moment and can help you forget your problems momentarily, but if it's a seriously low low, then the next day the anxiety will tend to creep in. Drinking is a band-aid that'll be ripped off too soon when the hangover comes. Find other ways to make it through tough times.
Do what makes you happy
If you love being outside, leave the city and go for a hike. If you love swimming, find a beach. If you love food, take a cooking class. Think about what distractions can put you in a state of flow again and seek them out.
Read things that lift your spirits
Reading and soul-searching tend to be really helpful for me when I'm feeling down. Zen Pencils is an example that lifts me back up with inspiring quotes drawn into comic strips.
Reading about human psychology helps as well, so that I can better understand why my brain is following negative thought patterns. A few books that have given me new perspective are What Makes You Not a Buddhist, The Art of Happiness, and Thinking, Fast and Slow.
In the end, time is your friend. In time everything heals and change is always just around the corner. Try to pull yourself out of the negativity by deciding to be happy rather than sad. It's amazing how much remembering that you're captain of the ship can help things to move back into a positive direction.
Remember, you're not alone in having travel slumps. It truly does happen to everyone, and the good times will come again.