Last week I returned from my fourth stint at Burning Man. You know, that festival I don't write about.
Each year I've come home to confront a pretty profound set of the post-playa blues, which is basically a hard dose of reality after living in a giant playground for a week. Burning Man is, most importantly for me, a week of complete digital detoxing and living in the moment – something I really never do for an entire week straight. I didn't even manage it when I was living out of a tent in Eastern Africa for a month.
This year was different, though. I came back with one feeling and one feeling only: empowerment.
I credit this with one action: I finally decided to listen to my inner child, and it was the best decision I could have made. I made it about magic and dancing more, following my own desires more, and wandering off alone way more often, following any whim that struck me.
Photos by Yvonne
I didn't get it totally right at first, but as the week progressed it turned more adventurous than intentional, and slowly, without noticing, I turned into a six year old again. Not in a childish way, but rather in embodying my childhood mindset of openness and wonder.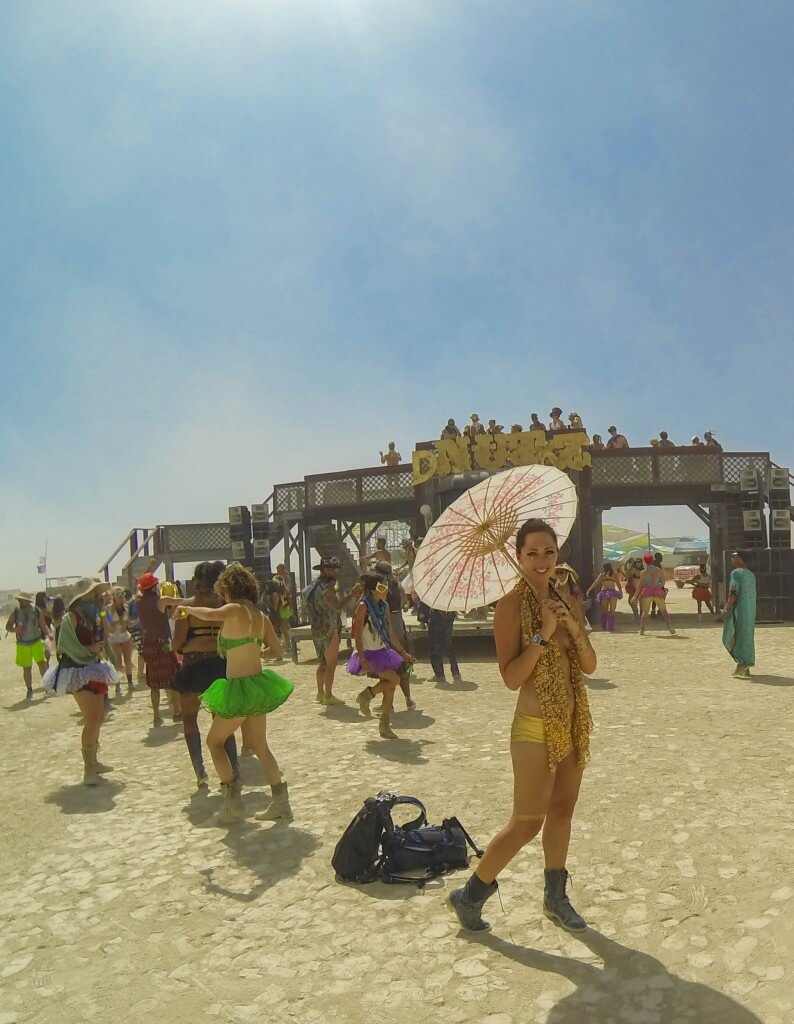 Ever since I found myself suddenly grown, I've watched kids with admiration mixed with envy for their carefree ways. They approach things with open wonderment and friendly curiosity. They're still silly, and haven't learned to fear peer judgement quite yet. They are openly themselves, and don't really care what color is so in right now or whether or not they look fat in that dress.
Burning Man was my avenue to return to that state of mind, and to remind myself of who I really am again. Six year old Kristin adored unicorns. Dressing up in costumes was her religion. She could easily become absorbed into a world of imagination and fantasy. For once I decided to fully be her again.
Life that week was a playground, and I could move from spot to spot with the extreme enthusiasm of a child. My vibe seemed to call to the others who were conducting a similar experiment. Just like it used to be, people would come up and interact like kids again, asking, "What are you doing? What makes you happy? Are those rainbows and unicorns on your pants?! Awesome!
We just said what we felt at the first compulsion, unafraid of a negative reaction, because we were just talking simply out of love and curiosity.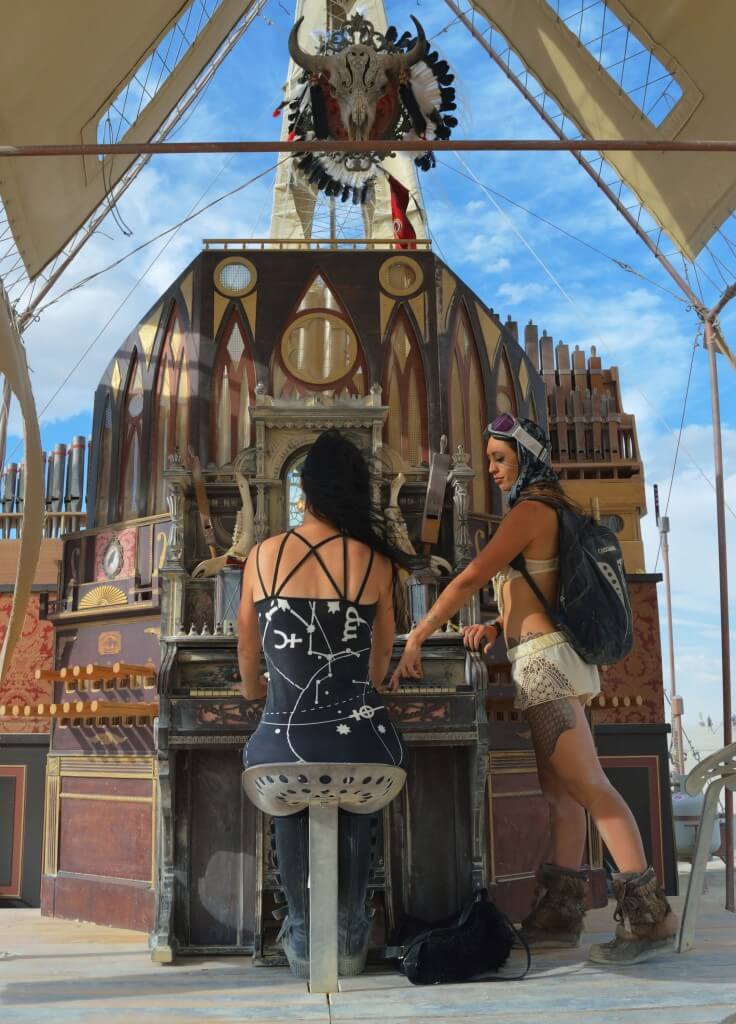 Yet six-year-old Kristin had freedoms she'd never had before.  I was finally an unattended child in a wonderland, ready to embark on an magical adventure into another realm through the interstellar forces of pixie dust and imagination. Nobody could kill my joy. As soon as anything stopped being stimulating, I moved on, able to consider my desires only. I didn't have to worry about losing anyone, competing desires, or sticking around anywhere for a second longer than I wanted to.
Many people came into my story, some for only a moment and others would become repeat encounters. Each time it was like finding a kid I knew on the playground who I could go on an adventure with, and when I was ready to be independent again, I moved on, so the positivity levels stayed high.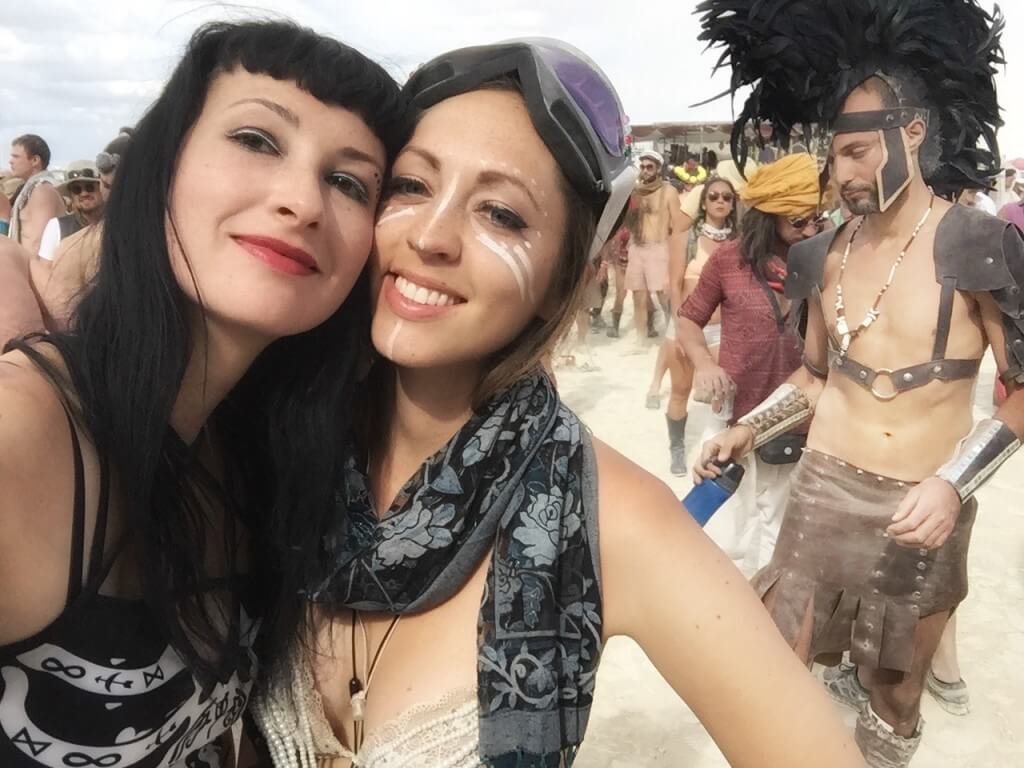 On Friday night, as I watched the sun set, completely alone as the sky went from pink to purple then blue, an Astronaut biked up. He didn't speak – only made beeping noises – as he pointed to the pack on the back of his bike that read, 'space ice cream.' He took out a nugget of the creamy chocolate (which was much like the consistency of the marshmallows in Lucky Charms cereal), handed it over, then biked away without a word. I smiled broadly as the sun dipped below the mountains, and I savored the treat. Mine to experience and remember. Mine only.
Just the night before, as I paused on my bike to plug in my light-up wolf hood, someone noticed me and came over to shine a light so that I could see better. After five minutes of chatting he told me he brought his cello with him.
The cello happens to be my all-time favorite instrument. Ask anyone who knows me. It makes me get a lump in my throat. It makes me kind of want to cry out of some kind of joyous pain left by another soul in a lifetime past. That's the only way I can explain it.
A few days later he found me again, took me to a giant white balloon that had inflated just one block over and happened to be acoustically perfect, and played two beautiful songs.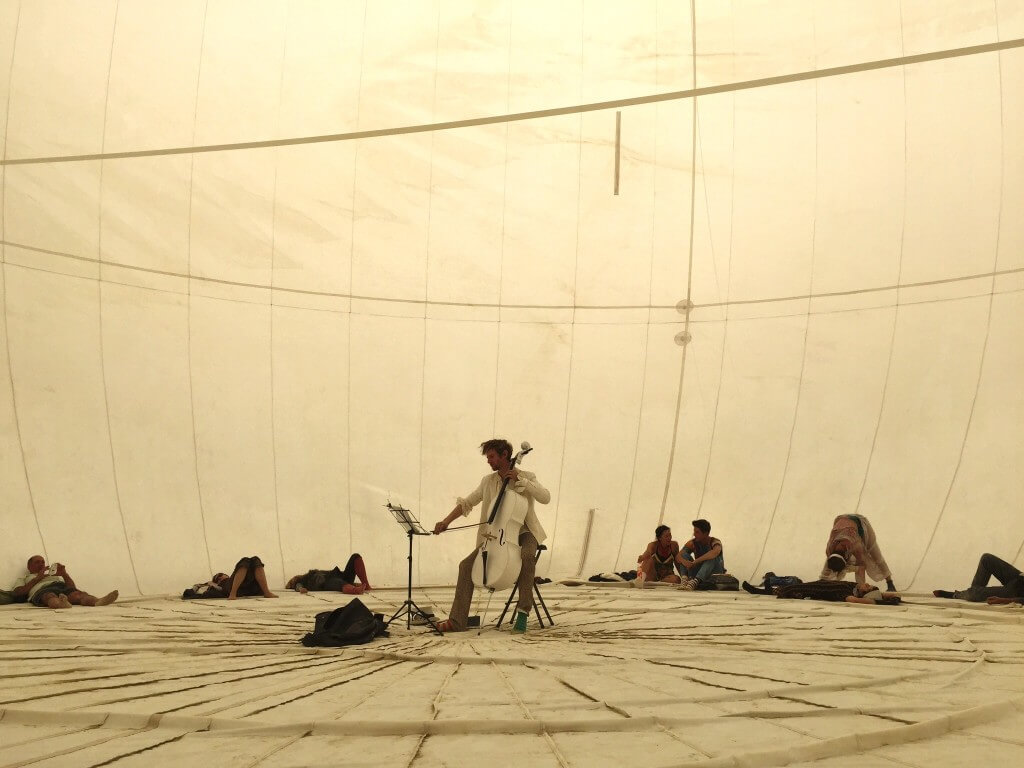 I could go on all day with stories like this of the serendipity, but you're probably running out of time and my heart couldn't be pounding any harder as it is, overflowing with beautiful memories. It just might break my chest.
On the final night — the night the man burned — I took it full throttle and dressed myself exactly the way six year old Kristin would have, with rainbow-unicorn-robot battle pants, a furry pink jacket, star face paint and rhinestones around my eyes.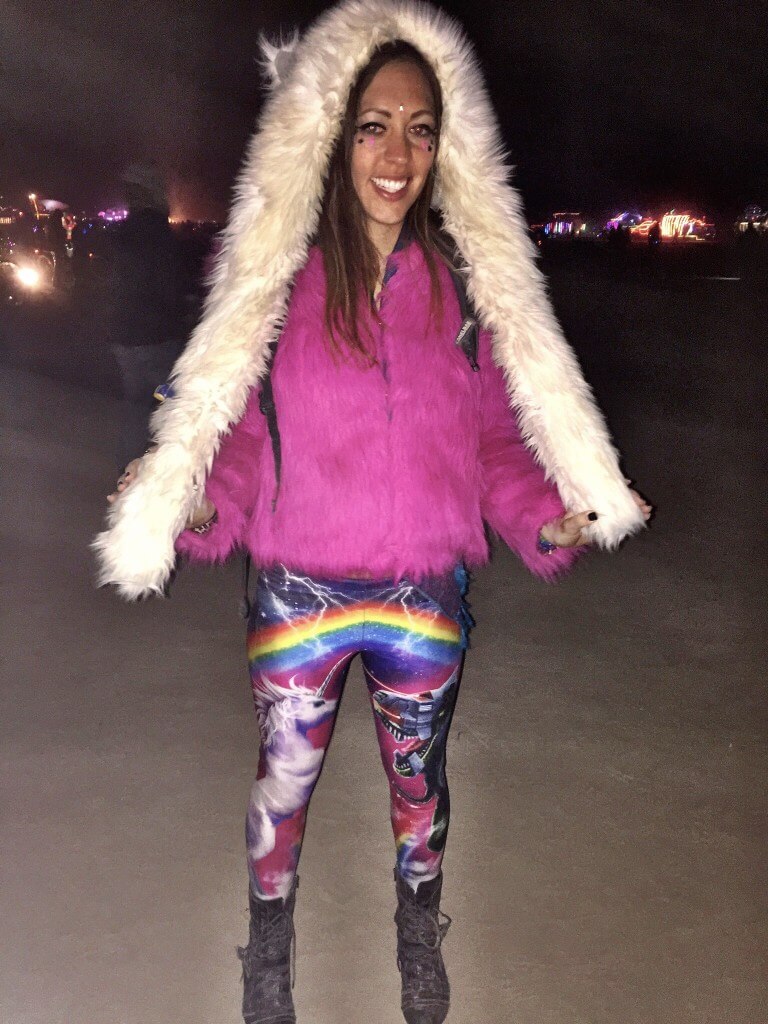 Letting go and simultaneously pulling in this new-yet-old me led me to a mental breakthrough. Even though I've traveled alone for three years, I've always made it a point to meet as many others as possible. I would become depressed without fellow human interaction, which I knew was born of a need for external validation. This time, the critical voice in my head began to fade, I stopped talking harshly to myself, but rather softly and forgivingly. I started to like and understand this person inside me who I'd previously sometimes been at odds with.
Could we reach a mutual understanding? What if I approached life with the zest of six-year-old rainbow unicorn Kristin – Creatively, openly, and inwardly inquisitively? What if I never reserved a compliment and remained open and hungry for adventure? With an unstifled and optimistic view of life, unencumbered by old scars, could anything be possible?
While I can't say this eureka moment is due entirely to one week at Burning Man, as I've explored happiness, Buddhism, and the benefits of a healthy mental state ever since I started traveling solo three years ago, I can say that it was the final cherry on top I needed, simply because it gave me space to think and to be me again.
And you know what? I can finally say, without that little pit in my stomach that says, "you're lying," or "you're being narcissistic", that I really like me.
I am finally enough.
I just hope I can hold onto this feeling.
—
Thanks for reading to the end. I have an announcement for you! There's a project I've been working on all summer long, and it's partially responsible for the lack of writing you've seen on this blog lately. 
Many of you, in one form or another, have sent me messages over the years that say similar things: you want to travel the world but you're scared. There are insurmountable barriers in your way and you don't know how to cut them down. I've been pouring my heart and soul into a project to calm those fears, and next week, it will be available to you. More on it all to come. 
Because you deserve to finally feel like enough, too. 
Click to read more posts about