Today, I've finished a three-day motorbike loop in the Bolaven Plateau in Laos, covering a good 300 kilometers (186 miles).  As the wind whipped my face I thought to myself that so much has changed since the last time I took off alone for a solo journey to Asia.  I was a 21-year old fresh college grad who was about to move to Taipei, Taiwan to study Mandarin.  I was terrified of what laid before me.
Now, 5 years later, I feel like a completely different person as I think about what I'm willing to do at 26 vs. 21. It might be maturity, or simply enough time spent in a cubicle to desire more adventure now after starving for it for so long.  Just about everything about my travel style has changed:
What I packed
Then: Two larger-than-life suitcases chock-full of things I ended up not wanting or needing, consisting of mostly clothing and shoes that didn't suit the climate nor the style in Taipei.
I mean, c'mon, I brought leather flip flops for crying out loud! Who does that when heading to a place where it rains more days than it doesn't?
Now:
I wisely packed rubber flip flops that can handle rain, and downsized my luggage load to a 35 liter pack.  Most people thought I was crazy (some still do) when they saw my pack in the days leading up to my departure.  I have no regrets bringing such a small amount of things with me.  I am never tempted to buy useless souvenirs and my back thanks me daily for it.
How I reacted to change
Then: I was terrified during my first few days in Taipei.  I didn't want to leave my hotel during the first three days after my arrival for fear that I'd get lost or run into a situation I didn't know how to handle with my limited Mandarin.
I was so lonely over the first few days that I told my mom I might want to come home early.  Luckily, she talked me out of it and things improved quickly as I established a group of friends in my new surroundings.
Now:
I headed straight to Khao San Road in Bangkok on my first day, checked into a guest house without having pre-arranged anything, and quickly made new friends my first night in.  That trend has continued as I've met amazing people at each destination, and have done my best to take myself out of my comfort zone and try new things whenever presented with the opportunity.
I'm strangely comfortable in Asia. I feel at home.  Nothing really phases me.
What I was willing to eat
Then: I have a confession to make: I never ate street food when I lived in Taipei! Yes, for a solid 8 months, this prima donna wasn't willing to touch anything from a street stall. I missed out big time by only eating at a bagel cafe near my flat, Ice Monster shaved ice, and Sababa (a Middle Eastern pita joint, though it was delicious and I still think about it from time to time).
Now: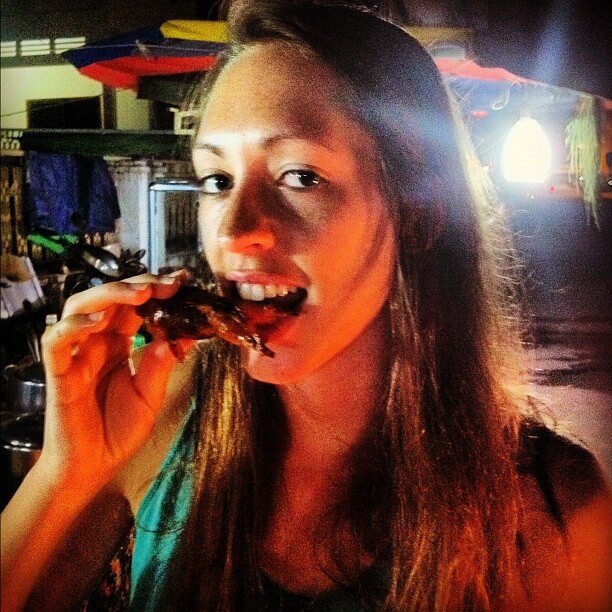 I actively search for street food and try to order Western food as little as possible – it's always a disappointment anyways.  Hell, I even ate frog, and possibly dog, in Cambodia.
What new adventures I was willing to try
Then: I saw a motorbike accident in one of the busiest intersections of the city during my first week in Taipei and swore off ever getting on one of those "chariots of doom," as I called them, for the remainder of the year.
I seldom ventured out of my comfort zone and would often stay indoors most of the day on Facebook, lamenting the end of my college years and stressing about the future.  I wish my 26-year-old self could have talked some sense into that silly girl back then.  I was missing out big time and I regret it.
Now:
I will now ride a chariot of doom, will SCUBA dive, am always up for a cycling adventure, and seek new challenges whenever possible.  I want to be tested.  I want to be challenged.  I feel more alive when I do these things.
I'm not saying I'm a perfect traveler now. I certainly make mistakes and stress out from time to time, but it's nothing compared to how I was previously.  Perhaps it's experience that has changed me, but I'm glad for the more open traveler I am nowadays.
How has travel changed you?