I realize the irony, considering that yes, I am writing about Burning Man right now.  Stick with me, though, and you'll see that this is, and simultaneously isn't, about Burning Man at all.
If you're a subscriber to my newsletter (see that signup form on the right?!) and/or follow me on social media (see those icons above the cover photo?!), you already know that I just attended the Burning Man festival, which finished two weeks ago. The dust is finally off of my clothes, my hair is completely back to normal, and the crowd surfing wounds on my legs are almost healed (but they will leave a scar).
Though it's incredibly hard to explain, Burning Man is an arts festival in the desert in Nevada where a city of over 70,000 people is erected basically overnight. The main components are radical self-reliance and radical self-expression. This means nothing is provided and attendees must bring all of their own food, shelter, and water (showers inclusive). No money can be used, so nothing can be bought nor sold, and nothing can be thrown away."
You can find whatever you want there, even if that means doing nothing but participating in orgies, taking yoga and meditation classes, or dancing your face off to music. That's really the best way to describe it, and apart from attending, you'll never really understand what it is.
This year was my third consecutive burn (meaning I've been three times). I come home around this time each year specifically because I want, I need, to attend this festival. Those of us who are regulars refer to it as returning home. Which, for me, has a double meaning since it's also when I return home to the US each year.
Most other travel bloggers who attend write several articles about the festival, yet apart from that first article after my first year, shortly after the birth of this blog, I haven't shared photos, haven't written a word, and have stayed mostly silent.
Why?
I need to keep it to myself
When I looked through my photos this year, I laughed. Each one of the 10 or so snaps was of a sunset. I had no photos of the art, and I had almost none of myself or my friends. I spend hours upon hours hand making all of my costumes. Trust me, they're impressive. How many photos do I have wearing any? One, it was candidly taken, and you can't even really see my outfit.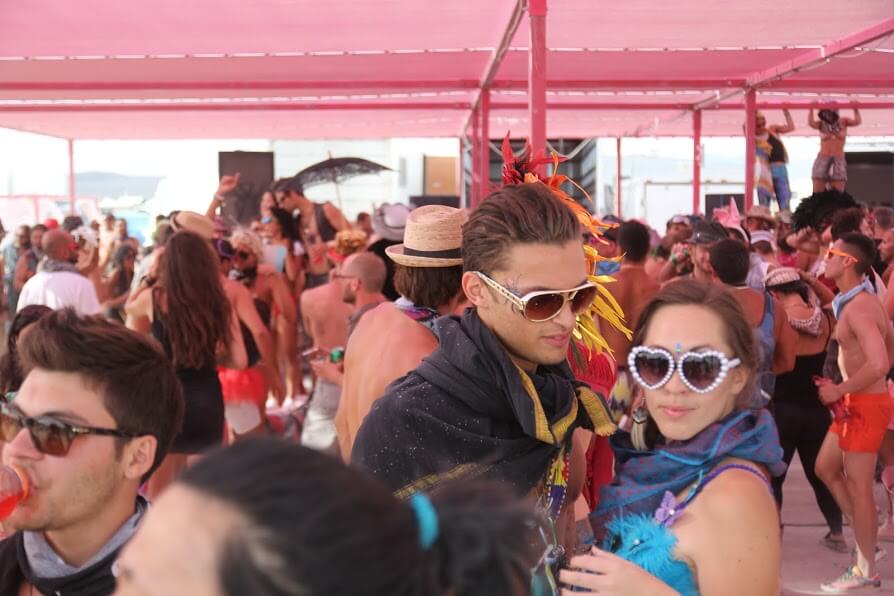 There is mind-blowing art at Burning Man. There are things that seem like they couldn't possibly be real. (Take a look at Trey Radcliff's photos for a good idea of the kinds of things that can be seen during this week-long festival.)
Why don't I walk around taking pictures considering that's a huge part of my travel-style and a big focus of this blog? It's simple: I don't want to.
Burning Man is my week that I follow every whim, do whatever the heck I want in that moment, and completely forget the outside world – especially work.
Do you have a special place or time like that?
I also tend to suffer from post-playa depression after Burning Man. Last year it was severe. This year I've managed it a bit better. I tend to be unable to read articles about it without feeling like crying just a little bit. I can't look at photos, and I can't think about the fact that it's another 12 months away. I also had intense FOMO (fear of missing out) last year, worried that I hadn't maximized my time.
This year, I finally accepted that in a city of 70k, where nearly everyone is contributing in some incredible way, it's impossible to see even 1/50th of all that there is to see. Each year, it's exactly what I make it, and exactly what I need it to be. That's why I keep going back – I know the experience will be different every time.
Aren't most destinations that way, after all?
I want it to stay pure
After my first year, when traveling I'd tell everyone about how amazing I thought Burning Man is. I talked about it constantly. Then, tickets sold out in 2013 in 45 minutes.  Millionaires and billionaires started building VIP camps. Celebrities started tweeting about it. Suddenly I felt protective. The whole point is that the city is inclusive, not exclusive. It isn't and never has been an event where anyone is more important than anyone else. It has to stay that way.
After myself and a few other bloggers wrote about Sak Yant tattoos, I heard through the grapevine that Wat Bang Phra had seen an influx of foreign visitors, many of whom were not respectful of the customs. They're even thinking of moving locations to combat the problem. I've also seen Pai gradually become more and more built up. This past visit, I saw a resort being built. It made my heart ache.
Of course I'm not so arrogant to think I singlehandedly did any of this, but the wat and Pai are small places. Even an increase of a few hundred or thousand will make an impact. If we all keep talking about the good and never the bad, things start to get ruined (think Koh Phi Phi after the fame of The Beach) by visitors who just want to make these places another party.
In closing, in a way, Burning Man is like my sunset pictures. What I wanted it to be. Just like a sunset, you can't talk about it and expect others to understand the magnitude of how it looked or made you feel in the moment. We've all seen them, and we all have our favorite.
I want to keep it that way in my heart, so I try not to relive it online over and over. Despite what I know could be a lot of clicks and a lot of traffic to my blog by writing about this place, it's one of the destinations on my secret list that will remain that way.
What else is on there? I'll never tell.
Do you have secret places you keep to yourself?
Click to read more posts about