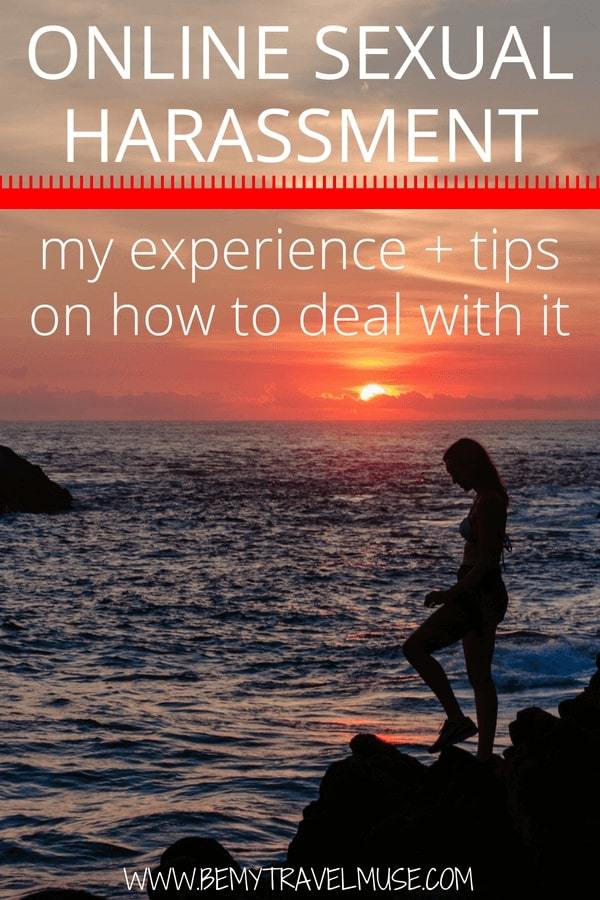 The sun came through the window in fragmented rays that afternoon as I sat on my bed in Huaraz, Peru. I'd just finished grocery shopping for the four-day Santa Cruz trek, which I'd attempt independently and solo, in the following days.
I signed into Instagram to reply to comments on my recent post and saw one that made me laugh and made my skin crawl at the same time:
"Kristin, you are so beautiful. Let me send you $3k in exchange for a selfie. I'm just retired."
¿Que?
I looked at his profile which read, 'Retired, money all I have to give.'
Right. 
Then another commenter, presumably a woman but obviously also him, commented, "He's legit! Don't pass this up!"
Thoroughly creeped out, I blocked and reported them both. I'd had some weird ones before, including commenting on my 'flat' and 'boxy ass' or a full on death threat on one of my videos. I've been on the receiving end of unsolicited dick pics and videos as well, which ultimately led me to deleting Snapchat. Those somehow felt less invasive to me than this public comment on a post about empowerment, though.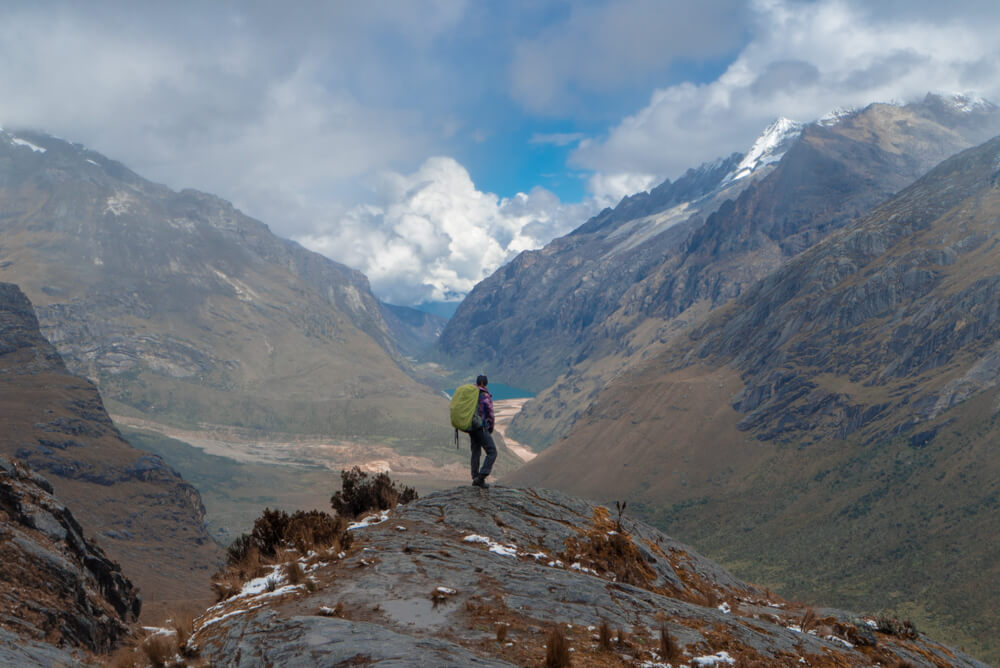 I forgot about it within the hour and moved on, but a few days later, another account in another iteration of the same troll name, Ian Richards (not his real name, BTW, as I now know), posted again on my photos, this time offering $10k for a nude selfie. I blocked him on there, then received a friend request, to my personal page, on Facebook. This account was also fishy. It had been around for a while but all it had were sugar daddy videos and pictures of trucks on it. I reported the account, blocked him, and then received an email, both from him and from one of his 'benefactors'.
In the fake exchange, she begged him to stop leaving public comments on my photos and he replied that his patience was 'wearing thin.'
At this point, I figured I needed to get it on record that I wanted him to stop, and said that the answer was no, and that it would always be no. He replied that he'd keep trying, wouldn't stop, and that it only 'looked' like he was harassing me in an effort to get my attention.
And let me tell you, this guy's really been putting in that effort. He's created nearly 30 accounts now.
You can see screenshots of our exchanges in this video:
Through his desperation to keep getting my attention he started reaching out in ways that made it a lot easier for me to figure out who he is. I now have a full name and even a registration number for his work. His name isn't "Ian" and there's no $10k on the table, not that this is what it was ever about.
It was bait. Bait to see if I'd actually do it. If I'd go against my message of independence and self-reliance and secretly take money for this exchange. It's no surprise that the comments were typically on photos where I posted uplifting captions.
It was also a bandaid. A bandaid for someone who is really lonely, yearns for real love and connection, and is acting out his frustrations.
Though I still don't know where this is going, I did learn a lot that in a strange way, ultimately made me grateful to have woken up to this side of being a woman online. This is what I know so far:
Online sexual harassment and cyber bullying is all too common
Though this site is for everyone, over the past few years, I've written more and more with women in mind. My focus is on solo female travel, one of the most empowering things a woman can do for herself in terms of building up her courage, resilience, self-confidence, and strength. I could go on (and on).
The online abuse I've received is just the tip of the iceberg. According to Forbes, a study of powerful women conducted by media and communications group Havas UK found that women at the top of their game receive an average of 200 abusive tweets per day. Out of over 50 million tweets over a six-month period aimed at 152 women in politics, media broadcasting, sports, and entertainment, 6.5 million of them were sexually abusive or threatening in some way.
While politicians were found to be targeted with the most abuse in the study, feminist writers might have it the worst, regularly dealing with rape and death threats. Feminist writer Jessica Valenti famously quit Twitter for a while after receiving a rape and death threat targeted at her 5-year-old daughter.
Strangely, those of us in travel get it, too. My friend, Brenna Holeman of This Battered Suitcase, shared the following with me:
"I've been blogging for 15 years, and I can still remember the first time someone left a degrading comment on my blog – it happened after about two years of writing online, back in 2005 – a comment meant to shame me and sexualise me. Since then, and especially in the last five years, I have had to deal with hundreds of comments or messages that are meant to humiliate me, provoke me, or hurt me. Just a few days ago, the very first thing I read when I woke up was a message from a stranger saying, "You're such a slut". Another stranger recently used photos of me on his own online profiles and then starting messaging me inappropriately; it took weeks of constant reporting for Facebook to take it seriously. And why does this happen? I can only assume it happens – sadly – simply because I'm a woman on the Internet "
I asked Kate McCulley of Adventurous Kate about her experiences as well, which have extended to in-person situations:
"I was once invited to meet up with a reader named "Pat" and her teenage daughter, who she said was a huge fan of mine. From the way the email was written I assumed they were a mother and daughter; once I arrived I saw that Pat was actually a man.
Okay, no big deal. But then it became clear that his daughter was not a fan of me, nor travel, and this meetup turned into Pat mooning over me the whole time and saying things like, 'My wife doesn't like to travel anymore. We could go to Greece — I'll pay!' Hell fucking no, creepster.
But because this was an in-person meeting and his daughter was there, I felt uncomfortable about getting up and walking out. This is one of the reasons why I refuse to meet with older men one-on-one anymore. They're welcome at group meetups, but never on their own. Too often the conversation turns into, 'Well, I got divorced sooooo,' or 'We could go somewhere together!'
I am not so desperate to travel that I'll go on vacation with a random older dude who pays! I don't talk about my romantic life on my blog, so many readers assume I'm perpetually single, which is not necessarily the case. But even if I were, it doesn't matter. Too often people mix up fantasy and reality and assume I'm just waiting for them to come along and sweep me off their feet."
Even more troubling, this isn't limited to women in the public domain. According to BBC reporting a study by Childnet, one third of teenage girls have been sexually harassed online.
Unfortunately, there's not much that social media sites, which have repeatedly let me know that they aren't finding any suspicious behavior on "Ian's" accounts, or the police do about this right now. The LAPD website for cyber crimes actually states that the "internet is a big place." Even with proof, not much is ever done by law enforcement about online sexual harassment.
This led me to asking what we could do.
We have to be louder
A few well-meaning people told me that the best thing I could do is ignore the problem. It'll eventually go away.
Women are often told to keep quiet in their workplaces as well when they're sexually harassed. If you stir things up, it could look bad, become a huge hassle, and turn into he said she said. It's easier to just pretend like it's not there.
Well Instagram is my workplace, and the truth is, maybe eventually this guy will get bored and stop, and then there will be another, and another. The farther I go with my aspirations, the more of this kind of negative attention I'll receive.
So, no, my intention is not to ignore it.
My intention is to say no, to say it's enough, and to get louder.
We have to talk about this. We have to support her and share it when a woman tweets about threats online, we have to encourage people to speak out and stand up for themselves, and we have to believe women who come forward with abuse claims. We have to spread the word when stuff like this happens rather than pretending it's not there. Enough is enough.
Men are not the enemy
I have to emphasize an incredibly important point here: Men are not the enemy.
Men are not necessarily the source of most of the abuse in cases involving body shaming. The Forbes study mentioned earlier in this article found that tweets involving body objectification came from an almost equal number of men and women. Additionally, the online condemnation site that I refuse to link here, called Get Off My Internets (yep, I've been dragged on there too), is almost entirely aimed at and populated by women.
The real enemy is a society that accepts this kind of behavior and objectifies women.
What to do about people like "Ian"
I also realize now that trolls are acting out of a place of pain and extreme loneliness. It's a misguided, misdirected, and ineffective way of getting attention, because at the root of it everyone just wants to be loved. We are wired for connection.
While part of me would love to get revenge, which I could easily do now that I have this person's real identity and workplace, for the negative emotions and memories of abuse I felt every time I'd open my phone and find another message, or the day I lost trying to reach law enforcement and report the accounts, but I know this wouldn't be a move towards positivity.
I'm inspired by women like Sarah Silverman and a mentor of mine who reminded me that it's not personal and it's someone acting out of a place of pain. I'm not going to be a victim today.
For those who feel alone online, I encourage you to heal. If you can't do it in person, start online with support groups where you can find people who can relate to your pain, and take proactive steps to get better. Learn more about your individual condition, exercise, eat well, get enough sleep, and choose love over hate. It feels so much better, I promise you this.
And for those who have dealt with or are still dealing with this kind of online cyber bullying, I'm here for you. Feel free to share your story in the comments, and if you need help speaking out, tweet me any time.