You may have noticed a little something if you're a regular reader of this blog.
I'm not in Asia anymore, and my posts have been scarce recently.
I was a little sheepish about telling you why that is.  But at this point, I frankly don't have anything to hide anymore.  I'm naked, picking up the pieces of who I was.  So here's the inside scoop:
I had decided that I needed to be single for at least the next year of my life when I initially took off for my solo trip around Asia back in September.  I had just ended a four-year relationship and the weight of it had yet to fully hit me.
It was like every day during my first two months of travel were in high-definition, smell and taste-o-vision, intensified bliss.  I felt freer than a bird.  I was higher than any drug could have taken me.  To say the feeling was ecstasy would be doing it a disservice.
Life was everything I had always wanted it to be.
All was going pretty well, and nothing was going to shake me. Then, standing at the Blue Lagoon in Vang Vieng, he turned around, and I smiled at him.
That's when it all started, and picked up momentum, and became a roller coaster, and before I knew it, I had lost all control.  The wheel had been passed from me to someone else.  I lost myself.
However, he wasn't nomadic like I was.  His was a much shorter trip.
To make what had quickly morphed into a new relationship work, I had to move to where he lived – Australia.  I had to give up my nomadic dream of Asia.  I had to change myself.  And for some reason, in my rose-colored glasses state, I did it.  I moved to Melbourne.
I made the ultimate sacrifice – my freedom, and my dreams.
I didn't listen to anyone who said it was silly.  I didn't pay any heed to blog posts that talked about the ridiculousness of following a backpacker romance.  Surely it worked out for some people, so why not me?
I had visions of changing my blog to focus on Australia.  I thought one day I'd write about an Australian wedding, and changing my last name.  How insane is that?
Of course, you're never the person on the road who you are in real life, with its real stress, and real demands and, well, realness.  By moving to Melbourne I jumped head first back into the western world with a thud, wearing hippie pants and missing Asia terribly.  I was back in the rat race and wanted none of it.  After all, I had worked so hard to leave it and take a career break in the first place.
I gave it a real effort. I bought jeans, I wore shoes again, and I even picked up a few odd jobs to make ends meet.
In the end, it wasn't enough.
I originally arrived in Melbourne with starry eyes.  The city drew me in.  I loved everything about it — or maybe just the person I was with.  Then, just as things began to fizzle, I noticed a thick line of smog on the horizon. It reminded me of the smog back home.  It reminded me of everything I had intentionally left behind.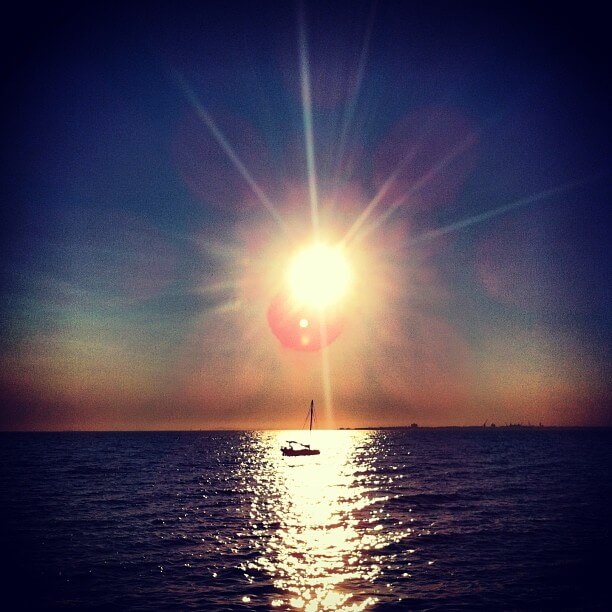 And so, the love affair ended.
In an ugly way, and I cried.  A lot.
It took everything in me not to pick up the phone and call a few times.  I just wished those plans we had made for the future could have a chance of coming true.  I wanted so badly to go back to it – to make everything right.  I looked for reasons why it was good, why it should work, and why it simply HAD to be fixed.
Then my friend, Fiona, sat me down and said something that resonated: I never gave myself the chance to lament the relationship that ended before I left for my trip.  It was a long one, it took up the bulk of my early twenties.  I was looking for that security and affection that I had been missing.
I didn't take enough time for me. 
Sure enough, she was completely right.
But it didn't make it easier.
Just like every other time, I'll pick up the pieces, and I'll move on.
Asia, my darling, I'm coming back to you.  Thank you so much for waiting for me.  I always knew you would.
Have you ever lost yourself on the road by falling for a guy or gal?  Have you ever fallen hard only to fall on your face? Comment so I feel like less of a miserable failure.